EXECUTIVE SUMMARY
The BASIC Bank Limited (Bangladesh Small Industries and Commerce Bank Limited) established as a banking company under the erstwhile Companies Act 1913 launched its operation in 1989. It is governed by the Banking Companies Act 1991.
The Bank started as a joint venture enterprise of the BCC Foundation with 70 percent shares and the Government of Bangladesh with 30 percent shares. The BCC Foundation being nonfunctional following the closure of the BCCI, the Government of Bangladesh took over 70 percent shares of the BCC Foundation on 4th June 1992 and became 100 percent owner of the Bank.
I have worked all the key major departments of this bank. General Banking Department plays a vital role in facilitation of the country.
General Banking comprises of account opening, bills, remittance, clearing, cash and computer sections. Through these it establishes Banker Consumer relationship, collects bills for customers, remit funds of customers from one place to another, and honor Cheque drawn on this branch. General banking department provides these services in a faster and better manner.
Bank investments are greatly emphasized and we can call all this as the 'Heart' of the bank because they are a major source of bank's income. They are very important to the economy as a whole because the expansion and condition of the bank investment affect the level of business activity through their effect on the nation's money supply. The banks extended its Investment facilities to different sectors to diversity its Investment portfolio in compliance with credit policies of Bangladesh Bank. Investment Department plays a vital role in augmenting the bank's growth and earnings. It provides different types of Investment facilities too its customers like Secured Over Draft, Cash Credit, House Building Loan, Trust Receipt (TR), Inland Bill Purchase (EBP), Foreign Bill Purchase etc. To give security to the banks funds, Investment section takes various documents like DP notes, Letter of Lien, Registered Mortgage of Collateral Security etc. while sanctioning these Investments.
Introduction
Background of the Study:
BASIC Bank Limited is the state owned schedule Bank. Last year Bangladesh Bank under look a project to review the list of best performing Bank. BASIC Bank placed topped in that list.
Banking is one of the most important sectors for a countries wealth building activities. At present the modern business, industrialization foreign trade almost is dependent on banks. But now a day the banking sector of Bangladesh is suffering the default culture, which is the consequence or result of bad performance of most of the banks of Bangladesh.
BASIC Bank Limited playing an important role toward the growth and economic development of Bangladesh.
This study is an attempt to produce a constrictive report performance of BASIC Bank Limited with special features of General Banking activities.
Last year Bangladesh Bank undertook a project to review the global best practices in the banking sector and examines in the possibility of introducing these in the banking industry of Bangladesh. Four 'Focus Groups' were formed with participation from Nationalized Commercial Banks, Private Commercial Banks & Foreign Banks with representatives from the Bangladesh Bank as team coordinators to look into the practices of the best performing banks both at home and abroad. These focus groups identified and selected five core risk areas and produce a document that would be a basic risk management model for each of the five 'core' risk areas of banking.
The five core risk areas are as follows: –
Objectives of the Study:
The main objectives of education are to acquire knowledge. To acquire knowledge ultimately we must do some practical application in addition to theoretical knowledge. Through this report, I tried my level best to present my practical knowledge as find out some objectives.
The main objectives of the Report: –
è    Company Background.
è    Company's major functions.
è    Financial Highlights.
è    Types of Account.
è    Paper/Documents required for opening & closing of various types of Accounts.
è    Special cases in Account opening.
è    Cash receive and payment.
è    Procedures of T.T, D.D, P/O, I.B.C.A & O.B.C.
è    Clearing House – Inward & Outward Clearing.
è    Investment.
è    Foreign Trade.
Scope of the study:
BASIC Bank Limited is the prominent bank in whole banking sector. BASIC Bank Limited, commercial bank is under general special guidelines of the central bank framed for the banking system as a whole and for bank of individual sector.
BASIC Bank Limited is not so old bank but now giving emphasis to create a constructive and meaningful competition with other private sector banks. Also called new generation bank. BASIC Bank owners are dividing by shares but this share is not come into the open share market because Government of Bangladesh is the owner of total shares. It is the one of highly profitable bank.
Methodology of the Study:
The following methodology will be followed for the study: –
è   Primary Sources, and
è   Secondary Sources.
Both primary and secondary data sources will be used to generate this report.
Primary Sources:
Primary data sources are scheduled survey, informal discussion with professionals and observation while working in different desks.
The primary sources of my information are as below:
Direct observation
Special outlook
Questioning the concerned persons.
Discussion with the other Bankers.
Secondary Sources:
The secondary data sources are annual reports, manuals, and brochures of BASIC Bank Limited and different publications of Bangladesh Bank.
The secondary sources of my information are as below-
è Annual report of BASIC Bank Limited
è Desk report of the related department
è Other manual information
è Different reference books of the library
è Some of my course elements as related to this report.
To identify the implementation, supervision, monitoring and repayment practice- interview with the employee and extensive study of the existing file was and practical case observation was done.
Limitations of the Study:
à   Objective of the practical orientation program is to have practical exposure for the students. My tenure was for twelve weeks only, which was somehow not sufficient. After working whole day in the office it way very much difficult, it not impossible to study again the theoretical aspects of banking. On the other hand to prepare my internship report I have faced some limitations as follows.
à   To collect data and information, it is a common tendency of any departments to keep back their departmental data and information.
à   Unavailability to required published documents.
à   I observed that one or two unskilled and unfair persons are present in BASIC Bank; they are not able to teach us various aspects.
TIME PERIOD OF THE STUDY:
BASIC Bank Limited
Main Branch
Bana Shilpa Bhaban
(Ground Floor)
73, Motijheel C/A,
DHAKA-1000
General Banking Division            :           Eight weeks [Major]
Foreign Trade Division                   :           Four weeks
                                                                        Total  :           Twelve weeks
HISTORICAL Background
The BASIC Bank Limited (Bangladesh Small Industries and Commerce Bank Limited) establishes as a banking company under the companies Act 1913 launched its operation in 1989. It was incorporated under the Act on the 2nd of August, 1988.The Bank started its operation from the 21st of January, 1989 .It is governed by the Banking Companies Act 1913.The Bank was established as the policy makers of the country felt the urgency for a bank in the private sector for financing Small Scale Industries (SSIs). At the outset, the Bank started as a joint venture enterprise of the BCC Foundation with 70 percent shares and the Government of Bangladesh (GOB) with the remaining 30 percent shares. The BCCI, the Government of Bangladesh took over 100 percent ownership of BASIC on 4th June 1992.Thus there is state-owned. However, the Bank is not nationalized; it operates like a private bank as before.
Basic Bank is unique in its objectives. It is blend of development and commercial banks. The Memorandum and Articles of Association of the Bank stipulate that that 50 percent of loan able funds shall be invested in small and cottage industries sector.
Steady growth in client base and their high retention rate since Bank's inceptions testify to the immense confidence they repose on its services. Diversified products both liability and assets sides particularly a wide range of lending products related to development of small industries and micro enterprises, and commercial and training activities attract entrepreneurs from varied economic fields. Along with promotion of products special importance is given to individual clients through providing personalized services. In fact individuals matter in this Bank. This motto has been followed for development of clientele as well as human resources of the Bank.
Coping with the competitive and rapidly changing financial market of the country, BASIC Bank Limited maintains close connection with its clients, the regulatory, the shareholders (Government of Bangladesh), other banks and financial institutions.
Functions:
1  BASIC Bank Limited offers:
Þ                     Term loans to industries especially to small-scale enterprise.
Þ                     Full-fledged commercial banking services including collection of deposit, short-term trade finance, working capital finance in processing and manufacturing units and financing   and facilitating international trade.
Þ                     Technical support to Small Scale Industries (SSIs) I order to enable them to run their enterprise successfully.
Þ                     Micro-credit to the urban poor linkage with Non-Government Organizations (NGOs) with view facilitating their access to the formal financial market for mobilization of funds.
Þ                     In order to perform the above tasks, BASIC works closely with the clients, the regularly authorities the shareholders Government Of Bangladesh (GOB), banks and other financial institution.
1 
CORPORATE STRATEGY: –
¯    Financial establishment of small units industries and businesses and facilitate their growth.
¯    Steady and sustainable growth.
¯    Investment in a cautious way.
¯    Adoption of new building technology.
¯    Profit maximization.
¯    Establishing small industries.
BOARD OF DIRECTORS:
As stated earlier the government holds 100 percent ownership of the Bank. The Government of Bangladesh appoints all the Directors of the Board. The secretary of the Ministry of Industries is the Chairman of the Bank. Other Directors of the Bank are high Government and central Bank executives.
The Managing Director is an ex-officio member of the Board of Directors. There are at present 7 Directors including the Managing Director.
BOARD OF DIRECTORS

BOARD OF DIRECTORS

BOARD OF DIRECTORS

[1]

Dr. Nurul Amin

Chairman

BASIC Bank Limited

&

Secretary

Ministry of Industries

Govt. of the People's Republic of Bangladesh.

[2]

Mr. Musharraf Hossain Bhuiyan

Director

BASIC Bank Limited

&

Head Office

Dhaka.

[3]

Mr. Mohammed Tareque

Director

BASIC Bank Limited

[4]

Mr. S.R.Osmani

Director

BASIC Bank Limited

&

Chairman

Bangladesh Small and Cottage Industries Corporation (BSCIC).

[5]

Mr.Md. Ehasanul Hoque

Director

BASIC Bank Limited

&

Derector Geneneral,

Chief Advisors Office

[6]

Mr. Asaduzzaman Khan

Director

BASIC Bank Limited

&

Executive Director

Bangladesh Bank.

Mr. AKM. Sajedur Rahman

Managing Director

BASIC Bank Limited.

Head Office

Dhaka.
1  Organizational Structure:
To achieve its organizational goals, the Bank conducts its operations in accordance with the major policy guidelines laid down by the Board of Directors, the highest policy making body. The management looks after the day-to-day operation of the Bank.
 1  MANAGEMENT:
The Managing Director heads the management. The two General Managers and Departmental Heads in the Head office assist him. BASIC is different in respect hierarchical structure from other banks in that it is much more vertically integrated as far as reporting to the Chief executive is concerned. The Branch Managers of the Bank report direct to the Managing Director and, for functional purpose, to the Heads of Departments. Consequently, quick decision making in disposal of assess is ensured.
Organizational Goals:
1  BASIC Bank's ambitions:
Ñ     BASIC Bank Limited dedicated their service to the nation through active financial participation in all segments of economy, small industries, trade, commerce and service sector etc.
Ñ     The Banks main manifest to progress as an institution par excellence to customer satisfaction.
Ñ     Global Banking has change rapidly and BSIC as worked hard to adapt to these changes.
Ñ     To pay a vital role in human development and employment generation.
Ñ     To undertake project promotion to identify profitable areas of investment.
Ñ     To search for newer avenues for investment and develop new products to suit such needs.
Ñ     To establish linkage with other institution which are engaged in financing micro enterprise.
Ñ     BASIC keeping pace with the changing environment.
Ñ     To corporate and collaborate with institutions entrusted with the responsibility of promoting and aiding SSI sector.
Ñ     Deep commitment to the society and growth of national economy.
[ORGANOGRAM OF BASIC BANK]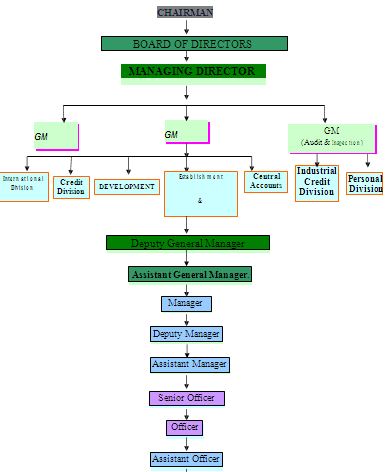 Resource and Capabilities:
Basic Bank is a well prepared to and capable of meeting the demand for a broad range of banking services .It has got adequate resources, both human and physical, to provide the customers with the best possible services.
1 
Physical and technological resources:
A great deal of investment for developing the physical resource base of the Bank has been made. BASIC has its presence in all the major industrial and commercial hubs of Bangladesh in order to cater to the needs of industry and trade. At present, there are twenty-seven conveniently located branches in all over Bangladesh. There   are ten branches in the capital city Dhaka, Twelve in Chittagong, and Six in Narayanganj and one each in Narshingdi, Rajshahi, Saidpur, Bogra, Khulna, Jessore, Sylhet, Moulovibazhar, Barisal, Khatunganj, Chawmuhoni, and Comilla.
1   Major features and Benefits of these Branches
¯ Global banking has changed rapidly and BASIC as worked hard to adapt to these changes.
¯ The banks main manifest during force for the banks progress as an institution par excellence to customer satisfaction.
¯ Fully computerized accounts maintenance.
¯ Well decorated and air conditioned facilities.
¯ To pay a vital role in human development and employment generation.
¯ A fully operational computer network which is currently being implemented .The work of Local Area Network (LAN) and Wide Area Network (WAN) installation having reliable and secured communication between the branches and the Head Office is in progress to facilitate Any Branch Banking and ATM Services.
¯ Money counting & Money checking machine making cash transactions easy, security and prompt.
¯ The bank look forward with excitement and a commitment to bring greater benefits to customers.
¯ Eighteen out of twenty seven branches are authorized dealers of foreign exchange. This facilities speedy disposal of transaction of export and import trades.
¯ A group of professional bankers to render personalized services.
¯ BASIC dedicated their service to the nation through active financial participation in all segments of economy, small Industries, trade, commerce and service sector etc.
¯ BASIC keeping pace with the changing environment.
¯ Deep commitment to the society and the growth of national economy.
Human Resources:
BASIC bank has a well-diversified pool of human resources, which is composed of people with high academic background. Also, there is a positive demographic characteristic –most employees are comparatively young in age yet mature in experience .As of 31st December 2003 the total number of employees is 537.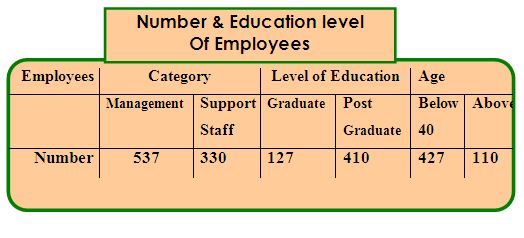 1  Training:
Interactive training on a regular basis, is imported to employees of both management and non-management levels to meet the challenges in the banking industry and to help employees adapt to changes and new working conditions. During he year 2003, a total of 164 employees of the Bank were imparted training in various fields. Out of them 6 employees participated in training course abroad.
Monetary /Financial Resources:
Like any other financial intermediaries, BASIC is no exception in performing its core functions viz, mobilization of fund and utilizing such und for profitable purpose.
Mobilization of Fund:
The main sources of fund for BASIC are: –
a)     Deposit.
b)    Borrowing.
1  Deposit:
Deposit is the mainstay for BASIC Banks sources of funds. The following includes the usual types of deposits of the Bank:
Þ       Current Deposit–
Different group of industrial customers encouraged to open current deposit account includes: commercial, small scale industry, medium scale industry, and large-scale industry. Minimum requirements for current deposits worth TK 50,000, and maximum amount can be deposited up to TK 10,00,00000.
Þ       Savings Deposit-
                              General clients are targeted group of savings deposit along with the industrial customers. Savings deposit has no particulars to deposit minimum, and maximum. But depositors used to get deducted facilities for drawing money from the deposited figure.
Þ       Term Deposit-
Depositors with a minimum TK10, 000 are given term deposit facilities for at least six months by means of highest interest rates. Fix deposit term valid up to six years, and then afterwards depositor can redeposit the sum. Another form of term deposit called short-term deposit (STD), a minimal rate of interest given to deposits whereby depositors can withdraw the after term over. Both for Fixed Deposit (FDD), and Short Term Deposit (STD), all type of commercial, and industrial customers are given preferred services to open a term deposit along with a credit & commerce account.
Activities:
1  Industrial Credit:
BASIC Bank's services are directed towards promotion and development of the entrepreneurs in the small industries sector. Its exposure to small industries sector accounted for 57.21% of the total loans and advances. A small; industry, as per industrial Policy 1999 has been defined as an industrial undertaking whose total fixed investors is less than Tk. 100 million. In 2003, total outstanding industrial loans including term and working capital stood at Tk.6252.50 million, compared with 2002 Taka of 4653.55 million. It registered a growth of 34.36% over the previous year. Total outstanding term loans stood at Tk.2273.77 million as on December 31, 2003. It was compared with previous year growth at 40.75%. During this year 187-term loan were sanctioned, where 74 projects were new. As on 31 December, 418 projects were in the portfolio of the bank. The textile sector including garments being one of the major contributions to national economy dominated the loan portfolio of the bank. Other sectors financed include engineering, food and allied industries; chemicals, pharmaceuticals, paper, board, printing, packaging, glass, ceramics, and other non-metallic goods and jute products. Recovery rate of project loan was 88 percent
1  Commercial Credit:
BASIC Bank lends support towards development of trades, business and other commercial activities in the country. Short other term trade finance and other non-fund services get full attention in the Bank. The Bank offers a complete range of services to the exporters and importers by extending various facilities. The Bank provides cash credit for local trade, export cash credit, packing credit, local and foreign bills purchase facilities. As on 31 December 2003, total amount outstanding in respect of these facilities stood at Tk.3029.70 million. This includes cash credit for local trade; export cash credit including packing credit, local bills purchase and foreign bills purchase etc.
1  Micro Credit:
BASIC launched a Micro Credit Scheme in 1994. Micro Credit Scheme provides support for the poor for generation of employment and income on a sustainable basis, particularly in urban and suburban areas. The Bank follows three systems of credit delivery. These are
Þ     Lending to the NGOs who on-lend to their members. At present there are 17 such NGOs.
Þ     Lending direct to the target groups or ultimate borrowers under the Bank's own management.
Þ    Lending direct to the member-borrowers and NGOs providing non-financial services like group formation and monitoring and supervision fee. As at the end of 2003, a cumulative amount of micro credit of TK. 181.00 million was disbursed. Recovery rate during this period remained at a satisfactory rate of 98.00 percent.
1  Foreign Trade:
The Bank handles foreign trade in which it has a comparatively large share despite its small size. BASIC provides various facilities related to L/C and post import finance like loan against imported merchandise (LIM) and loan against trust receipt (LTR) to the importers and back to back L/C and pre-shipment finance facilities like export credit, packing credit and foreign bills purchase (FBP) to exporters. So far the Bank has established correspondence relationship with as many as 11 foreign banks in order to facilitate foreign trade. Handing of import business grew from Tk. 8930.50 million in 2003. Export business handled by the Bank also increased of Tk.6523.00 million in 2003.
The Bank became a proud member of SWIFT (Society for Worldwide Inter-bank Financial Telecommunication) that would pave the way to achieving uninterrupted connectivity in foreign exchange business and fund transfer.
1   Other Activities:
The Bank provides services floor remittance, underwriting, guarantee, public offering of shares etc. The Bank also provides funds to investment and leasing companies. The Bank has recently created a venture capital fund for equity support to innovative but risky projects.
Cash:
Cash section demonstrates liquidity strength of a bank. It also sensitive as it deals with liquid money. Maximum concentration is given while working on this section. As far as safety is concerned special precaution is also taken. Tense situation prevails if there is any imbalance in the case account.
1 
Cash Section:
The function of this unit is to receive and payment of cash. The vault limit cash limit of the branch is TK.15000000 and TK.1000000 respectively. The head teller is allowed to en cash check up to TK.100000 with her own signature. If additional cash is required then the second man of the branch makes arrangement on request. There are one chief officer, one senior officer, and two Banking officers in this department.
Operation of this section begins at the banking hour. Cash officer begins her/his transaction with taking money from the vault, known as the opening cash balance. Vault is kept in a very secured room. Keys to the room are kept under control of cash officer and branch in charge. The amount of opening cash balance is entered into registered. After whole days' transaction, the surplus money remains in the cash counter is put back in the vault and known as the closing balance. Money is received and paid in this section.
1 Cash Receipt:
è    At first the depositor fill up the Deposit in the Slip. For saving account and current account same Deposit in Slip is used in this Branch.
è   After filling the required deposit in slip, depositor deposits the money.
è   Officers at the cash counter receives the money, count it, enter the amount of money in the register kept at the counter, seal the deposit in slip and sign on it with date and keep the bank's part of the slip. Other part is given to the depositor.
è   All deposit slip of saving; Current and STD A/C are maintained in accounts section.
1   Cash Payment:
Cash payment of different instruments is made in the cash section. Procedure of cash payment against check is discussed below elaborately. Cash payment of check includes few steps.
Ñ   First of the entire client comes to the counter with the check and give it to the officer in charge there. The officer checks whether there are two signatures on the back of the check and checks his balance in the computer. After that the officer will give it to the cash in charge
Ñ   Then the cash in charge verifies the signature from the signature card and permits the officer in computer to debit the client's account by giving posting. A posted seal with teller number is given.
Ñ   If the signature matches with the one given previously then the teller will make payment keeping the paying check with him while writing the denomination on the back of the check
Ñ   Cash paid seal is given on the check and make entry in the payment register.
There are few things that shall be scrutinized and checked before making payments.
è  Name of the drawer.
è  Account number.
è  Specimen signature.
è  The validity of the check and make it sure that it is not post dated or undated.
è  The amount in words and figures are same.
1  Cash Balance Calculation:
The officer in charge of cash section does the calculation and then Sub-manager or authorized officer will check the balance and sign in the cash balance book.   The balance is maintained in the balance book. Opening balance of current day is the closing balance of the previous day. Total receive of the current day is added with the opening balance and total payment is deducted for calculating the closing balance or cash balance.
Types of Account:
keeping an eye on the needs of the customers and to ensure their full satisfaction BASIC Bank has a full range of deposit products.
There are mainly five types of Accounts are as follows: –
1    1. Savings Deposit (sb)
1    2. Current Deposit (CD)
1    3. Short Notice Term Deposit (STD)
1    4. Fixed Term Deposit (FTD)
1    5. Bearer Certificate of Deposit (BCD)
Savings Bank Deposit Accounts (S.B):
è  Savings Bank Deposit account may be opened in the name of adult individual or jointly in the names of two or more persons payable either or both or all     them or to the    survivor with total satisfaction of Bank.
è  These are interest bearing deposit accounts. (Present interest rate 5.00% in BASIC Bank Ltd.
è  Savings Bank Account shall not be allowed to be overdrawn.
è  Saving Bank Account must not be allowed to be conducted as Current Account.
è  The drawings are restricted in respect of both the amount of withdrawal and the frequency thereof so that the payment of interest does not become non-compensating for the banker.
è  No interest will be paid in a Savings Bank Account for the month in which withdrawals have been made more than twice a week or over 25% of the balance of his/her accounts without notice. For withdrawal of sum exceeding 25% of the balance, 7 days notice in writing should be given to the bank.
è  Interest shall be calculated on the minimum balance at the credit of an account between the close of the 5th day and the last day of the month.
è  Interest will be applied half yearly on 30th June & 31st December at the prescribed   rates as advised by Head Office
è  These accounts intended for individual savings and are not suitable for business     concerns that require frequent withdrawals.
è  Bank may however refuse without assigning any reasons to open savings account by   any body.
è  The Bank reserves the right to close any Savings Bank Deposit account with prior     notice.
 Current Deposit Account (C.D):
è  A Current Deposit Account may be opened in the name of person(s) having contractual capacities. Any individuals, firm, company, club, association, and corporate body may open a Current Account.
è  Drawings are allowed on demand from such an account without any restriction within the funds available in its credits.
è  No interest is payable on the balance of current accounts.
è  Bank may however refuse without assigning any reasons to open current account by any body.
è  The Bank reserves the right to close any current account with prior notice.
 Short Term Deposit Accounts (STD):
è  Short Term Deposit Account (STD) are opened usually by Corporations, Banks and FinancialInstitutesetc.
è  These deposits are withdrawn able on 7 days' notice by the account holder(s). Withdrawal is allowed after the expiry of notice period.
è  Interest on such deposits are payable at the rate determined by Head Office from time to time. (Present interest rate on STD A/C is 3.00% in BASIC Bank Ltd.)
è  Interest shall be calculated on daily product basis and applied half yearly at end of June and December or when an account is closed.
 Fixed TERM Deposits (FTD):
è  Fixed Deposits may be opened by one adult individual singly or by more than one adult individual jointly or by any Government/Private /Autonomous or other organization.
è  These deposits shall be opened for a fixed period ranging from three months to two years.
è  Interest on FDR shall be payable only after maturity of the FDR along with the principal.
è  Following rate of interest on FDR is prevailing in BASIC Bank Limited.
1  . Bearer Certificate of Deposit (BCD):
è  From 1983 a saving scheme named Bearer Certificate of Deposit (BCD) has been introduced under circular of Bangladesh Bank to bring the black money in investment cycle.  BCDs are issued for multiples of
Tk.50, 000.00 such as Tk.1, 00,000.00, Tk.1, 50,000.00 and so on for    unlimited amount. No signature is required to issue a BCD. The holder is owner of BCD.
è  Who can get it issued: Any individual without disclosing his/her identity and without Opening any account.
è  Period: These deposits shall be opened for a fixed period ranging from three months to two years.
 Interest rate is 1% bellow as that of FDR. 
Account Closing:
To close an account, parties may be requested to send an application along with the unused leaves of the Cheque Books issued to them.
¯  On receipt of the application, the following will be done:
¯  The signature of the account holder shall be verified.
¯  The number of unused Cheque Leaves shall be noted there on.
¯  Before the account is closed the Branch In Charge shall approve the application after asserting the liability, if any, and incidental charges to be debited to the account.
¯  After debiting the incidental charges to the account, the account holder shall be advised to draw the remaining balance from his account.
¯  The " Account Closed" stamp shall be affixed on the Account Opening Form and Specimen Signature Cards.
¯  The application shall be posted with the account Opening Form and the Specimen Signature Cards shall be kept separately under lock and key.
¯  An Authorized Officer shall destroy the unused Cheque leaves.
Account Opening procedure [Flowchart]:
Account Opening Procedure with a Flow Chart: –

CUSTOMER SERVICE:
Through this section customers can do D.D, T.T, PAY ORDER, I.B.C.A, & I.B.D.A.
Procedures of D.D, T.T, PAY ORDER, I.BCA, & I.B.D.A:
There are three types of transaction can do through D.D, T.T, & Pay Order as follows:
¯  Cash– Receive cash and send pay order to another branch.
¯  Accounts to Accounts – One can transfer his accounts to another branch through D.D, & T.T.
¯  Clearing – If any client submits any cheque of any other bank, in this case this cheque will collect through clearing house of Bangladesh bank, they collect it in same process.
1 Foreign Trade and Foreign Exchange:
International trade refers to trade between the residents of two different countries. Each country functions a sovereign state with its set of regulations and currency. The difference between the National Exporters and Importers presence certain peculiar problems in their conduct of international trade and settlement of the transaction arising there from. Important among such problems is-
¯   Different countries have different monetary units.
¯   Restrictions imposed by countries on import and export of goods.
¯   Restrictions imposed by nations on payment form and into their countries, and
¯   Differences in legal practices in different countries.
Foreign exchange means foreign currency and includes: –
¯   All deposits, credits and balances payable in may foreign currency and any drafts, traveler's checkups, letters of credit and bills of exchange, expressed or drawn in Indian currency but payable in any foreign currency.
¯   Any instrument payable, at the option of the draw or holder thereof or any other party there to, Either in Indian currency or in foreign currency or partly in one and partly in the other. Thus, foreign exchange includes foreign currency, balances kept abroad and instruments payable in foreign currency.
FUNCTION OF FOREIGN EXCHANGE:
The bank actions as a media for the system of foreign exchange policy. For this reason, the employee who is related of the bank to foreign exchange, specially foreign business should have knowledge of these following functions: –
è    Rate of exchange.
è    How the rate of exchange works.
è    Forward and sport rate.
è    Methods of quoting exchange rate.
è    Premium and discount.
è    Risk of exchange rate
è    Causes of exchange rate.
è    Exchange control.
è    Convertibility.
è    Exchange position.
è       Intervention money.
è    Foreign exchange transaction.
è    Foreign exchange trading.
è    Export and import letter of credit.
è    Non-commercial letter of credit.
è    Financing of foreign trade.
è    Nature and function of foreign exchange market.
è    Rules and regulation used in foreign trade.
è    Exchange Arithmetic.
SWOT ANALYSIS
The Bank's strength and competitive capabilities can be shown by the SWOT analysis. The SWOT analysis is grounded in the basic principle that strategy-making efforts must aim at producing a good fit between a company's resource capability and its external situation. The SWOT analysis of BASIC Bank Limited is as follows:
 Strength
i)                   Reputation of the Bank: Since the inauguration the bank has managed their activity with their own images to serve their customers. They have provided services successfully and have achieved goodwill among the Shariah Based Banks. The Bank is opening with its efficiency and integrity.
ii)                Sponsor: BASIC bank has sponsors from various sectors of Bangladesh. The most successful entrepreneurs from various sectors started this company. As a result there was a combination of different thoughts and skills in the management of the bank, which is very much essential for success in today's competitive market.
iii)              Top Management: BASIC bank has a very competent and experienced top Management. The current Managing Director Mr. A.H. Iqbal Hossain has banking experience for a long time period. He had the experience of marketing and customer relationship management in his long career. This has helped the bank to achieve its goal.
iv)              Shariah Based Banking: BASIC Bank is operating based on Islamic Shariah. As Bangladesh is a Muslim country, the Shariah banking has been able to attract customers and achieved a great success in the private banking sector.
v)                 Branches: BASIC bank is operating their business all over the country with 30 branches and still planning to expand their business by opening new branches in the country. It has strengthened the distribution of the bank's services.
vi)              Government Bank: The 100% Share of BASIC Bank is Government. So it is a very Good Strength for any Company.
Weakness:
i)                   Promotion: The bank does not any formal promotional activity. They do not give any sort of advertisement or do not have any marketing activity. They do not even too many billboards. This is why they are far behind the competitive in the private banking. Even some people do not know that BASIC Bank is operated according to Shariah.
ii)                Remuneration: The remuneration of the officers of BASIC bank is lower compared to other private banks. Even the internship students are paid nothing. This is why high skilled human resources are discouraged to join here.
iii)              Online Banking: At Present Every bank try to converted them to the Online banking. BASIC bank has no Online Banking System. So it is a great weakness for the Bank. I hope that BASIC Bank also introduce the Online banking System & serve his Client very Smoothly.
iv)              Centralization Decision Making: The decision making of the bank is too many centralized. No decision is made without the authorization of the head office. Sometime some quick decision is needed to be taken, but from the branch, no one can make decision. It is one of the major draws back of the bank.
v)                 Lacings of some officer: Some of the officer of the BASIC Bank LTD are not sincere their work. They do not come regularly; if they come they do not work properly. They just talk & pass the time. Some of the officers are not suitable for his position.
Opportunity:
i)                   Consumer Banking: BASIC bank is operating corporate banking. In our country there is a huge opportunity of consumer banking. So BASIC bank can reposition their branding and introduce consumer banking with corporate banking.
ii)                ATM: The banking sector of the country is becoming modernized in the country. People like to draw money any time from anywhere. So ATM card is getting popularized in the country. BASIC bank can introduce ATM system in their bank. More Over, Shariah Based banks are not providing ATM cards. So those who want ATM card but do not like interest, they can be attracted by ATM card issued by a Shariah Based Bank.
iii)              More Branches: The economy of the country is expanding. The business outside Dhaka is also expanding. As a result, the demand for banking service is increasing day by day. So BASIC bank can open more banks in the country and can expand their business.
iv)              Shariah Based Banking: In our country people are religious. Most of the people are Muslim. They are becoming educated and know the bad impact of interest. So they are moving towards Shariah based banking. BASIC bank takes this opportunity.
v)                 Government Bank: BASIC Bank is Govt. Bank. So it has a great opportunity to expand itself.
Threat
i)                   Competitions: In Bangladesh, after economic reform, more private bank has started their operation in the country. They are coming with different types of attracting products. This has increased the completion among the private banks.
ii)                Devaluation of local Currency: The value of local currency is decreasing. So investment in local banking is decreasing. More over the inflation is increasing in the country. So people want to save money but in many cases they cannot. As a result, the banks are getting less deposit.
iii)              Bank Default: There is a tendency of the people of the country to become bankrupt. Few days ago Oriental bank has a great suffering. In our country, the receivable from top 20 bankrupt companies stood 88.36 billion. This is discouraging banks to make new investment.
Recommendation
Basic Bank is one of the top class banks in our country. When I was placed at Motijheel Brach I didn't have serious problems regarding the operation, customer service, management, human resource department or anything else.
In spite of this I found few problems as follows:
Ñ         The time to reach Permanent Position from probation period takes almost two years, which is a very long time process as I considered and it should be less than two year.
Ñ         Some Officers of the bank are not self-motivated. They should be self-motivated by training.
Ñ         Basic Bank has only 27 branches, which are not so satisfactory to serve the country widely. It requires more branches throughout the country.
Ñ         Some banking operations are still operated in manual basis rather than computer system that take more time. Computer should be used in all their activities.
Ñ         DD, TT takes more time to operate. It should minimize time.
Ñ         We require some valuable information for the purpose of making Internship report but these kinds of information is not available. We strongly suggest helping us in this matter.
CONCLUSION
The BASIC Bank Limited has been trying to operate its business successfully in Bangladesh since 1994. Basic Bank has already developed goodwill among its clientele by offering its excellent services through General banking, Credit division and Foreign Exchange divisions. This success has resulted from the dedication, commitment and dynamic leadership among its management over the periods. The working atmosphere of the BASIC Bank Limited is very simulating. During the short span of time of its operation, the bank has been successfully to the position itself as a progressive and dynamic financial institution in the country due to the following reasons:
Although there was huge loss in the establishment period of the bank due to huge sunk cost and operating cost, from the second year the bank was gradually able to reduce cost proportionately through an effective management.
Interest expanses of the bank are reducing proportionately compared to interest income due to huge accumulation deposits as a result of increasing number of depositors. The number of depositors and the amount of deposits lie in the upward trend due to offering attractive services to the customers.
Other income of the bank is also going up every year due to the increase of commission, exchange and brokerage fees in the foreign exchange section. Foreign exchange of the bank is operating effectively.
Operating expenses of the bank increasing every year compared to the growth in deposits.
All this together with its adoption of modern trend of Banking system has enable it to turn out as potential profiteering financial Institution. My course of internship in this Bank has been very valuable.