Overview of UBL
Uttara Bank formed in 1972 as a scheduled bank with assets and liabilities of the Eastern Banking Corporation set up in East Pakistan on 28 January 1965. It started banking business 22 June 1965 and became a member of the Dhaka Clearing House on 17 September 1965. At the time of establishment, Eastern Banking Corporation had a paid up capital of To 1.42 million and deposit resources of about To 10 million. It was the only scheduled bank formed with capital raised entirely from the small income group of people of East Pakistan.
Eastern Banking Corporation was nationalized under the Bangladesh Banks Nationalization Order 1972 and its name was changed to Uttara Bank. At that time, the bank had 211 branches. The government retracted 95% of its share capital and allowed it to operate as a private bank. It was transformed into a limited company on 15 September 1983 then it made its journey like a modern private Bank at its registered office and other branches. The initial Authorized Capital of the Bank was 20 (Twenty) core Taka. Which paid capital was 10 [ten] core taka. Government hold 6% share and rest 94% shares are distribute in privet sector. Uttara Bank's head office is suited in Motijheel c/a. Dhaka-1000. A new opportunity in this field of financial activities was opened for the business. UBL made a careful journey and maintained its successive growth for few years with its qualified professional management under most unpredictable, unregulated, uncertainties and limitations. The bank is listed with both Dhaka and Chittagong Stock Exchanges.
Uttara Bank at a Present
Uttara Bank is one of the largest and oldest private sector commercial bank in Bangladesh, with years of experience. Adaptation of modern technology both in terms of equipment and banking practice ensures efficient service to clients. 211 branches at homo and 600 affiliates worldwide create efficient networking and reach capability. Uttara is a bank that serves both clients and country.
Like clothes shops, candy shops, bake shops, food shops, Uttara Bank Limited is not a "debt shop" the term being used by many to call the present say banks. It is now been called a modern bank that undertakes all its operation at international standard. Although Uttara Bank Limited faces some primary difficulties in past, it has now emerged as a major player in the financial sector. It is listed in both Dhaka and Chittagong bourses IPO that raised the paid-up capital of the bank to Tk.10 core. In 31 March 2006 reserve fund was Tk178.4 core. Uttara Bank Limited   has built itself as one of the pillars of Bangladesh's financial sector and is playing a pivotal role in the extending the role of the private sector of the economy. The bank has a branch network nation wide with 211 branches
Corporate Mission  
We shall be the forefront of national economic development by
Anticipating business solutions required by all our customers everywhere and innovative supplying them beyond expectation.
Setting industry benchmarks of world class standard delivering customer value through our comprehensive product range, customer service and all our activities building an exciting team-based working environment that will attract, develop and retain employees of exceptional ability who help celebrate the success of our business, of our customer and of national development.
Maintaining the highest ethical standards and a community responsibility worthy of a leading corporate citizen.
Continuously improving productivity and profitability, and thereby enhancing shareholder value
Corporate Vision
To be in the front of national development by providing all the customers inspirational strength, dependable support and the most comprehensive range of business solution through our team of professional that work passionately to be outstanding in everything to do.
Corporate Objective
The main objectives of the Uttara Bank Limited are as follows:
a)         To establish, maintain, carry on, transact, undertake and conduct all types of banking, financial, investment and trust business of in Bangladesh and abroad.
b)      To form, establish and organize any bank, company, institutions or organization either singly and/or in joint collaboration of partnership with any individual company, financial institution, bank, organization
c)         Or any government and or government agency for the purpose of carrying on banking, financial investment and trust business and/or any other business as provided hereafter.
d)       To carry on any business relating to Wage Earner Scheme as may be allowed by Bangladesh Bank from time to time including maintaining of foreign currency accounts and any other matter related thereto.
e)         To contract or negotiate all kinds of loan and/or assistance, private or public from any source, local or foreign, and to take all such steps as may be required to be complete such deals.
f)         To form, organize assets, participate or aid in forming, promoting or organizing any company, bank, syndicate, consortium institute or any holding and subsidiary company in Bangladesh or abroad for the purpose of undertaking any banking financial investment and trust business.
g)      To take part in the formation, management, supervision or control of business or operations of any company or undertaking and for that purpose to render technical managerial and administrative services and act as administrator, manager and secretary.
h)      To amalgamate or reconstruct or recognize with any commercial bank, or body corporate or association in cooperation with any person, commercial bank or association.
i)          To establish and open offices and branches to carry on all or any of the above business abroad and within the country provided prior permission is obtained from the Bangladesh Bank.
j)          To establish provident fund, gratuity, pension, and other fund for the welfare and benefit of the employees and staffs, former or present and any matter related thereon.
UBL at a Glance
UBL is one of the largest private banks in Bangladesh.
It operates through 211 fully computerized branches ensuring best possible and fastest services to its valued clients.
The bank has more than 600 foreign correspondents world wide.
Total number of employees nearly 3,562.
The Board of Directors consists of 15 members.
The bank is headed by the Managing Director who is the Chief Executive Officer.
The Head Office is located at Bank's own 18-storied building at Motijheel, the commercial center of the capital, Dhaka.
                                                   UBL Networks
Corporate Offices ( Corporate Branch and Local Office )

2

Regional Office

12

Worldwide Affiliates

600

Total Branches ( Including Corporate Branch and Local Office )

211

Authorized Dealer Branches

38

Treasury and Dealing Room

1

Training Institute

1

Man Power

3562
Strategies of UBL
UBL Bank Limited mainly follows top down approach to take necessary decisions for the company. Basically they follow the centralize strategy where the Head Office of the Bank control and monitor all the activities of its branches. In case of marketing strategy they basically depend on 'word of mouth' as they are already well reputed for its long-term service in the banking industry.
Function of Uttara Bank LTD
Uttara Bank Limited performs all types of functions of a modern commercial bank, which generally includes:
1)   Mobilization of savings of the people and safe keeping of all types of deposit account.
2)   Making advances especially for productive activities and for the other commercial and socio-economic needs.
3)   Providing banking services to common people through the branches.
4)   Introduce modern Banking services in the country.
5)   Discounting and purchasing bills.
6)    Various information, guidance and suggestions for promotion of trade and industry keeping in view of the overall economic development of the country.
7)    Finance for both capital machinery and working capital.
8)    Relating to constructions of both commercial and residential.
9)    Finance under small business of self employed clients.
10)       Finance of farming and non-farming activities to rural people including purchase of agricultural equipments.
11)       Ensuing proper utilization of credit disbursed.
12)       Developing new products Market surveys before making any finance
13)       Finance for small transport.
14)       Monitoring and forecasting.
15)       Developing marketing campaigns.
16)       Finance for household durables.
17)       Work simplification studies.
18)       Monitoring diversification of portfolio among different sectors.
Corporate Information of UBL
Name of the Company
Uttara Bank Limited
Legal Form:

 

Uttara Bank Limited had been a nationalization bank in the name of Uttara Bank under the Bangladesh Bank (Nationalization) order 1972, formerly known as the Eastern Banking Corporation Limited which was started functioning on and from 28.01.1965. Consequent upon the amendment of Bangladesh Bank (Nationalization) Order 1972, the Uttara Bank was converted into Uttara Bank Limited as a public limited company in the year 1983. The Uttara Bank Limited was incorporated as a banking company on 29.06.1983 and obtained business commencement certificate on 21.08.1983. The Bank floated its shares in the year 1984. It has 211 branches all over Bangladesh through which it carries out all its banking activities. The Bank is listed in the Dhaka Stock Exchange Ltd. and Chittagong Stock Exchange Ltd. as a publicly quoted company for trading of its shares.
Registered Office:
Uttara Bank Bhaban (13th Floor) 90-91, Motijheel Commercial Area, Dhaka-1000, Bangladesh.GPO Box:818 and 217
Tele-fax:
88-02-7168376,88-02-9553081,88-02-9560820 and88-02-9568941
Cable:
BANKER
Swift Code:
UTBLBDDH
E-mail:
uttara@citecho.net,  ublmis@ciutechho.net,             ubldgen@uttarabank.com
Web Site:
www.uttarabank-bd.com
Chairman:
Mr. Azharul Islam.
Vice Chairman:
Mr. Md.Assaduzzman
Managing Director:
Mr. Shamasuddin Ahmed.
Company Secretary:
Mr.Md. Fazlur Rahman.
Auditors:
M/S. M. M. Rahman and Co.

Chartered Accountants.

M/S Rahman Mostafa Alam andCo. Chartered Account
                                                        Table-: Corporate Information of UBL
Human Resources Department
UBL has a separate Human Resources Division (HRD) to manage the employee policies and practices.  The executives and officers of the bank have been working for smooth banking operations. Bank follows a standardized human resources policy. HRD of the Bank follow a transparent and free and fair system to ensure the standard recruitment, training and development of human resources of the bank. The bank has defined HR policies including recruitment, training and development, promotion, leave, transfer and disciplinary action policy. Usually internal recruitment procedures are considered to fill up the mid and top management positions, while entry-level positions are filled with regularly through competitive recruitment exams. They follow transparent, well-defined and strict rules for appointment of officers and staff in the Bank's service.
ORGANIZATIONAL HIERARCHY:
At present there are 15 members in the Board of Directors. In Board of Directors 1, chairmen1, Management Director and 13 directors are involved in Board of directors. According to the Banking Company Act, Management Directors are not elected by the directors. They are appointed by Bangladesh Bank from outer sources; moreover, the committee selected by shareholders represents individual body that then looks after the periodic issue with the management and tries to solve the problem.                               
Organ gram of UBL at Darus Salam Road Branch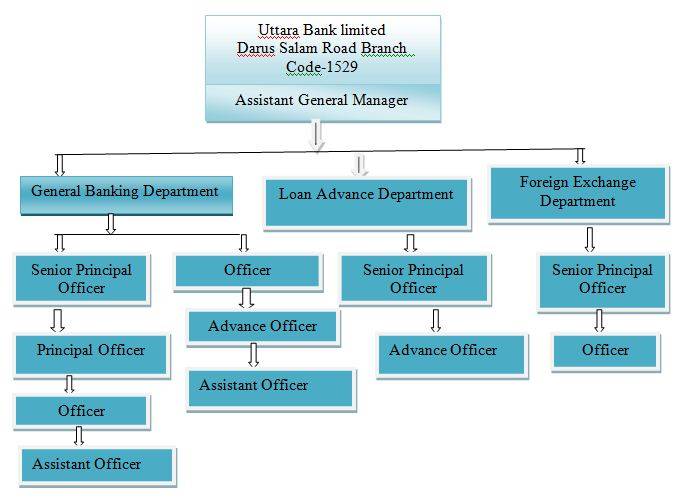 Figure-: Organ gram of UBL at Darus Salam Road
Branches of Uttara Bank Ltd
Departments of Uttara Bank Ltd at Darus Salam Road Branch
There are mainly three departments these are:-
General banking
Foreign exchange and
Loans and Advances
General banking:
General Banking Department is considered as the direct customer service center. It is the starting point of all the banking operation. It opens new accounts, remits funds, honor cheque, takes deposits, issues bank draft and pay order etc. general Banking is also known as retail banking. Following are the major banking:
Account opening section
Clearing section
Cash section
Remittance
Foreign Exchange:
This department is responsible for the following jobs:
 Verification o L/C application
 L/ C opening.
 Sanction the application
 Advising L/C
 Export trade financing
 Remittance
Loans and Advances:
This department is responsible for the following jobs:
1        Prepare the application form to provide loan
2        Preparing CIB  Statements
3        Preparing Credit Proposal and Statement
4        Administration of Retail Credit
Product and Services of Uttara Bank Ltd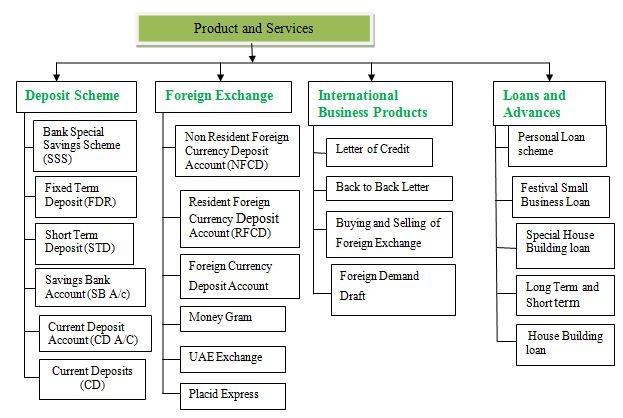 Figure-: Product and Services
Conclusion:
Uttara Bank is one of the largest and oldest private sector commercial bank in Bangladesh, with years of experience. Adaptation of modern technology both in terms of equipment and banking practice ensures efficient service to clients.  Bank not only oldest private banks but also surpassed almost all banks in terms of overall growth and profit. Stability of the financial institute in terms of growth, profitability and management is desirable for up-gradation of bank's image in the market.  Security of the deposit maintained i.e. the level of efficiency and effectiveness of the investment portfolio of the bank, as the deposit maintained is used for investment portfolio of the bank, direct relationship over the customer loyalty and this is the prime factor affecting the image of any financial sector in the market.