Customer satisfaction on Restructuring Retail
Banking Business Model of BRAC Bank Limited
Banking Industry is one of the most auspicious industries of our country. Generally by the word 'Bank' we can easily understand that it usually deals with money. There are different types of banks such as; commercial Bank, Agricultural Bank, Industrial Bank, Savings Bank & Exchange Bank. But when we use the term 'Bank' without any prefix, or qualification, it refers to the 'Commercial Bank'. Commercial banks are the primary contributors to the economy of a country. It helps to flow funds from surplus unit to deficit unit and through this it facilitated the efficient allocation of the resources as well as accelerated economic growth. This sector is moving towards new dimension as it is changing fast due to competition, deregulation and financial reforms. BRAC Bank Limited is a scheduled commercial bank in Bangladesh. It established in Bangladesh under the Banking Companies Act, 1991 and incorporated as private limited company on May 20, 1999 under the Companies Act, 1994. Its operation started on July 4, 2001 with a vision to be the market leader through providing all sorts of support to people in term of promoting corporate and small entrepreneurs and individuals all over the Bangladesh. BRAC Bank, for the first time among local commercial banks, starts providing loan facilities to small and medium trading, manufacturing and service oriented enterprises all over the country.
In this competitive banking industry, BRAC Bank is trying to differentiate them through their service and variety of products. BRAC Bank tries to provide service to its customers and gain the sustainable relationship with them.
OBJECTIVE OF THE REPORT
The objective of the report can be viewed in two forms:
General Objective
Specific Objective
General Objective:
The general objective of my internship is to get well acquainted with the retail banking service of BRAC Bank Ltd.
Specific Objective:
More specifically, this study entails the following aspects:
To get some knowledge about the other function related to retail banking division and also to know about the market position and background of BRAC Bank Ltd.
To know about the customer's acceptance level regarding the recent change of BRAC Bank retail banking division.
To know about whether the customer is satisfied with service of BRAC Bank Ltd. Or not.
To know about whether customer is getting more benefits from branches as the retail banking has shifted their focus from product centric model to customer centric model.
To know about customer's loyalty towards BRAC Bank Ltd.
SIGNIFICANCE OF THE REPORT
This study is momentous to all the employer, employees, and management practitioners in BBL as they can all take my findings into account and understands the effects on their performance due to the implementation of the new business model. It will also help me to understand the cultural attributes of the customers. There is also a scope for further studies into this topic for other banking and financial organizations.
To Employers:
This research will help employers to realize the status as well as the fortunes of latest business model enable to customer centric business process. Employers may get an elementary base on which to judge the tradeoffs they will be facing from increased expenditures and increased revenues and not to mention the core advantages from efficient and effective performance of the employees to implement and maintaining relationship with retail customers through RRBBM.
To Employees:
Employees are important stakeholders, inseparable from both an organization and the society as a whole. Any benefit for the company or society has important implications in an employee's life. Therefore, this study will be of significance to an employee, as it will help them to understand the importance of business process reengineering or restructuring in their performance.
To Management Practitioners:
This research paper will aim to sufficiently educate management practitioners about the insights of customer centric model and its application in the work place. The management of any organization is the key role player in complying with guidelines. As it is up to them to incorporate changes in the business model and relationship with customers, this study will be of sufficient significance to them.
To Customers:
This study will be of interest to retail customer groups to get better relationship and flexible banking facilities from the bank also in terms of realizing their right to claim such practices and facilities from important economic players as the banks.
METHODOLOGY
The study will be conducted as a descriptive research, also known as statistical research. It describes data and characteristics about the population or phenomenon being studied. Descriptive research answers the questions who, what, where, when and how. The description will be used for frequencies, averages and other statistical calculations. This qualitative research is followed by answers of why the observations exist and what the implications of the findings are.
Relationship depends on so many other things that determines whether a customer will be sustaining with this bank or switch to other. In a precise sense sometimes relationship depends on the satisfaction of the customers but satisfaction is not the only thing to define relationship.
Steps that are followed:
Step 1: Problem Definition
The topic of my internship report is "Customer relationship through Restructuring Retail Banking Business Model (RRBBM) of BRAC Bank Ltd". Based on the topic point that highlights are whether the relationship is satisfactory with the customers of BRAC Bank Ltd or not. Therefore, the research problem (opportunity) is "Customer relationship through Restructuring Retail Banking Business Model (RRBBM) of BRAC Bank Ltd is satisfactory".
Step 2: Research Design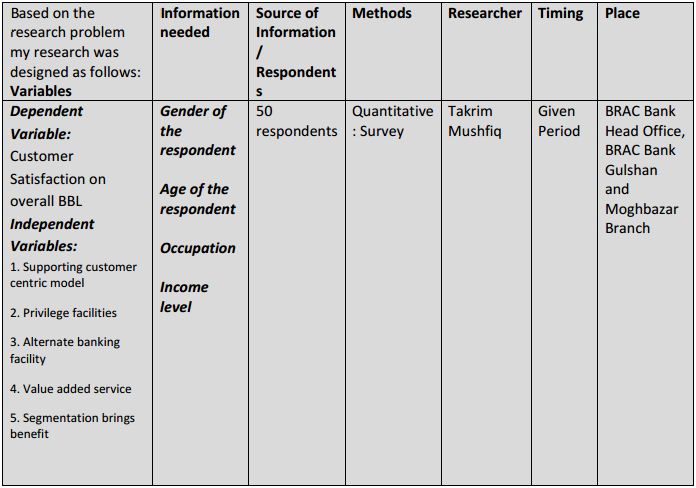 Step 3: Questionnaire form design
Part A- The questionnaire asked for some personal information like age, gender, occupation, income level, educational level, etc.
Part B- The questionnaire was detailed in such a way so that the customers can express their relationship level regarding every aspect, such as, customer service of the bank, privilege facilities for categorized customers, Service process, Credit Card service, Online shopping facility, alternate banking facilities, Annual fees, Customer service, etc. Moreover, the questionnaire form also included some questions out of which a qualitative conclusion can be drawn. The options are assigned on a Nominal scale. The Questionnaire is attached in the report later in the Appendix.
Part C- The questionnaire was set for assess the customer about his/her point of view of BRAC Bank Ltd.
Step 4: Collection of Data
Data were collected through survey. Both the qualitative and quantitative data were collected through the questionnaire. Then the collected data were input in the SPSS to derive finding (tables and diagrams). The purpose of the collection of data was to gain an overall picture of the relationship with the customers. This was done through a survey with the different race of customers. The customers were asked for their contribution for a little moment.
Step 5: Data Analysis
To analyze data the Statistical analytical tool SPSS is used, moreover some subjective judgments is also used to analyze data to find the result. Different tables (Frequency distribution) and graphs (Graphical presentation) are used to make the data meaningful and comparable. Ordinal regression, Correlation, Chi Square Test, and ANOVA etc. is shown also. Qualitative data is analyzed rationally and in comparison with current market condition. Necessary percentages and averages are calculated and the analyzed results will be described step by step.
Quantitative Tools: Software: SPSS Statistics 15.0
Step 6: Writing the research
After analyzing all collected data and following all the mentioned steps, writing this report was possible.
Research Findings (collected Data)
As I mentioned earlier that data were collected through survey. The questionnaire contained mostly quantitative questionnaire. In the qualitative questions options were assigned on a Nominal Scale, where 1 = strongly agree, 2 = Agree, 3 = Neutral, 4 = Disagree and 5 = strongly disagree. In some questions, 1 = very satisfied, 2 = satisfied, 3 = Neutral, 4 = dissatisfied, and 5 = very dissatisfied. In One case 1 = yes and 2 = no. The options are arranged on a nominal scale so that we can put value on the SPSS. Then the collected quantitative data were put in the SPSS according to the nominated points. Variables are provided in the Appendix.
SOURCES OF DATA
Most of the information was acquired by discussing with the officers working in the Head office of BRAC Bank Ltd.
Primary Source
Conducted survey questionnaire through different level customers of BRAC Bank Ltd.
For information relating to customer relationship level, interviews and discussion sessions were conducted with related departments of the bank to gather basic information related to the products and a market overview from BRAC Bank's perspective.
Observation and work experience with different divisional in-charges and suggestions of many executives of the bank.
The organization booklets of charges and fees, application forms and suggestions from the customer's feedback from customer relation unit.
Secondary Source
Various books, articles, compilations etc.
BRAC BANK's website
Newspapers and magazines regarding market and customer views on BBL.
Methods of Data collection
For data collection, "direct interview method" has been used. Interviews were carried out with the different segmented customers of BBL through questionnaire. As the population size of customers is huge, it is difficult to determine a representative sample size. So, a purposive quota sampling was used for the customers. Only the supreme and excel segmented customers were surveyed for the convenient reach of many clients at two places. The total sample size of customers that was interviewed is 50. The Customers were selected on a convenient basis for the face-to-face personal interview.
Overview of RRBBM
BRAC Bank Ltd recently has changed their business model from "Product Centric" to "Customer Centric" business model where there will be no traditional banking system and the latest customer wise different types of services will be provided. Actually they have segmented their customers in different categories and they will treat them by their segmentation. This type of segmentation from product centric to customer centric business model is first time implemented in Bangladesh and BBL is the first initiator of this.
Product Centric Model
A product-centric collections strategy is generally focused on account-level collections, per product, based on product-owner defined rules. Collections actions are product-focused, hence relatively simple to articulate, manage, automate and measure. A collections call is generally made for each account. In other words, even if multiple accounts of the same type are delinquent, the customer will receive multiple calls, each specific to one delinquent account.
The Advantages and Disadvantages of Product-Centric Model
Product-centric model allow for driving efficiency and productivity. This includes:
Standardization and automation of customer communications
Call scripting
Simple measurement
Training of collectors on a single-product and system
Simple incentivizing and performance measurement aligned with product metrics
However, a product-based collections approach has its disadvantages. In this approach the customer actions are based on customer information that is reflected in a single-product view.
This may result in a fragmented customer experience and inconsistent or contradictory treatment and messages. The business could also overlook the seriousness of cross product defaulters, and take inappropriate lenient initial action.
The product-centric model approach is most effective when the majorities of customers are single-product account holders, or in instances where customers are delinquent on a single product.
Customer Centric Model
Customer-centric collections strategies usually aspire to deliver consistent treatment of customers across products, and ensure customer management decisions (pricing, risk-based decisions, service-level, sales strategy, collections strategy, etc) at customer portfolio level.
Significance
A customer-centric firm hopes to achieve higher sales, profitability and new-product success because of their focus on customers. The firm also saves on costs for agent commissions and wins business over its competitors. According to studies quoted in the book "Designing the Customer Centric Organization," existing loyal customers are the most profitable group of customers. Rather than spending its resources on capturing new customers, a firm should instead use its resources on maintaining the loyalty of current customers.
Features
Becoming customer centric does not just involve customer service. A customer-centric firm detects the needs of its customers and uses its resources accordingly, while building relationships with them. All the business functions of the firm, including those that do not directly make contact with the customers, perform their roles with the customers in mind.
Identification
A customer-centric firm identifies the needs of its customers by dividing them into segments with common characteristics and determining the appropriate level of attention for them. A firm can classify its customers based on various factors, such as size, buying purpose, nature of products purchased, revenue, and potential for growth, geographic location and level of specialization required. A firm can collect the data using surveys and keeping data from all customer interactions, including sales, customer service, complaints, returns and third-party vendors.
Implementation
A customer-centric firm arranges itself around the customers. Its strategy, structure, processes, reward systems and people have to aim to maximize customer satisfaction. For example, the firm focuses on creating products that the existing customers need, as opposed to finding customers for its products. The firm rewards the managers who build customer relationships, rather than those who manage deadlines. The employees focus on customer retention, as opposed to reaching a certain share of the market.
Considerations
A firm must not over-customize its products to match customer requests to the point where profit suffers. For example, Japanese software companies often create many different versions of software products for different customers. As a result, they fail to reach economies of scale and do not have enough resources for international expansion. A firm should also not focus too much on its best customers when considering a new technology.
The Advantages and Disadvantages of Customer-Centric Model
One of the primary benefits of customer-centric model is that the customer experience remains consistent. All communication and messages required to be sent to the customer are integrated to reflect the true status of the customers overall delinquency status. All actions taken on the customer are appropriate as the actions are based on accurate customer information that has been assessed and well understood. However, since the business model collates customer information, the model is complicated by the need to accommodate multiple products in various stages of delinquency. This complexity of the customer centric model is difficult to monitor and measure.
This requires composite product and customer views in order to ensure a full and accurate understanding of the customer's delinquency status. This also limits the ability to measure a collector's performance, negatively affecting incentivizing, performance management and reward/recognition.
In addition, customer-centric model requires that employees have a wide range of knowledge across products and systems, complicating the training process and the length of time it would take to develop the requisite level of expertise. Further cost – and complexity – is caused by the fact that communications must be customized to accommodate multiple products.
The customer-centric model approach is most effective when:
Customer volumes are low and efficiency is not the driving priority
The number of customers with multiple delinquent products is high
There are complex products or cross-product dependencies (e.g. business plans, Small Business structure, securities, etc.)
Customer Segmentation:
BBL have grouped their customers into four segments namely,
Premium Banking
Supreme Banking
Excel Banking
Easy Banking
Product Centric Model Customer Centric Model
Maximizes product profitability Focus on Customer Segment wise approach
Overlook customers need and Push Sell products
Focus on customers need & customized offers
May lead to customer dissatisfaction and worsen relationship
Relationship based banking creates long term relationship
Does not focus on Customer experience Focus on Customer experience (e.g. touch points, products, pricing etc)
Customer looks for better alternative Customer will be attached through his life cycle with the bank
Conventional Banking Fundamental shift to "VALUE" based Retail
Banking business model
Customer can get service from our PB Lounges
Premium Banking
Following benefits will be entitled for Premium Banking customers,
Dedicated Relationship Manager
Personalized banking services
Discounts & Benefits from Tie up partners
Existing BSSOs from selective branches will be assigned as Shared RM
Supreme Banking
To be a customer of Supreme Banking segment, total deposit balance has to be within BDT 10 lakhs to less than BDT 50 lakhs.
A loan customer having 20 lakhs or above outstanding will fall under Supreme Banking for reporting purpose but the customer has to meet the deposit eligibility criteria to avail Supreme Banking facilities.
A Platinum cardholder will also fall under Supreme Banking for reporting purpose but have to meet deposit eligibility criteria to avail Supreme Banking facilities.
Following benefits will be entitled for Supreme Banking customers,
Dedicated counter in selective branches
Discounts & Benefits from Tie up partners
Special rates, discounts & benefits on selective banking products
Excel Banking
To be a customer of Excel Banking segment, total Relationship balance has to be within BDT 50k to less than BDT 10 lakhs.
A customer availing loan facility only of BDT 5 lakhs to less than 20 lakhs will fall under Excel Banking for reporting purpose but has to meet the deposit eligibility criteria to avail Excel Banking facilities.
Customer Satisfaction on RRBBM of BRAC Bank Ltd 33
A Gold Credit Card holder only will fall under Excel Banking for reporting purpose but has to meet the deposit eligibility criteria to avail Excel Banking facilities.
Following benefits will be entitled for Excel Banking customers,
Service through Branches
Discounts & Benefits from selective Tie up partners.
FINDINGS:
BRAC Bank Ltd is an organization which is operating their business successfully in the banking sector since 2001. Therefore, it is very tough to recommend on any aspect of the company.
However, as it is the requirement of the report so I have come up with few recommendations, after conducting the research. They are as follows:
BBL should try to improve the effectiveness of their alternate banking. From my survey I have found that 50% customers are neutral about the effectiveness of the alternate banking. So BBL should emphasize to decrease the numbers of neutral customers about alternate banking.
22% customers from my survey have disagreed that BBL take care of their customers. So BBL should consider the suggestion of all customers more consciously. Customer Satisfaction on RRBBM of BRAC Bank Ltd 68
64% customers have agreed that BBL should come with more new product and services. BBL should extend their product for working woman and student.
From my visit to BBL branches I have found that most of the branch of BBL is too small. Size of their branch is another reason to get hazarded so they should try to increase size of the floor of their branch.
Upper level management of BBL should emphasize on the monitoring of implementation of all the initiatives taken by BRAC Bank Ltd.
BBL should monitor whether their tied up merchant shops are giving any discount\benefit to their customers or not.
BBL needs to make sure that customers are well familiar with their all new initiatives.
Some of the customers do think that BBL charges more than other local private bank. So I guess BBL should also look at it.
BBL should review their customer centric product model to find out more improvement for their customers.
From my survey I have found that BBL has a small number of customers whose ages are less than 25. So BBL should look to the young generation too.
Most of the customers of BBL have an income of in between 21000 to 80000. Around 72% customers are in this group. So I guess BBL should emphasize more on those customers who have a salary of more than 1 lakh.
CONCLUSION
In this age of modern civilization bank is playing its splendid role to keep the economic development wheel moving. We can see lot of new commercial banks has been established in last few years and these banks have made banking sector more competitive. Maintaining a strong relationship has become a weapon for most of the private banks in this competitive market.
Customers are the main blessings for any business. Banking sector is service based business. So customer would prefer to take the service from those banks which are providing the highest level service to their customers and BRAC Bank is definitely one of them. On this regard BRAC Bank has taken some initiative by taking a new project of Restructuring Retail Banking Business Model (RRBBM) to improve the customer relationship. They are the first one in banking sector of Bangladesh introducing customer centric business model instead product centric model. So, if they can implement and continue it properly, hopefully they will be one of the top successful banks in Bangladesh.
It was an honor for me that I have worked as an intern in a reputed organization like BRAC Bank Limited. BBL is a bank that confirms the best service to its customers by adopting the modern tools of banking. BRAC Bank Ltd is always very keen to absorb any new stuff that can be fruitful to its customers. By working in the Supreme and Excel banking division, the knowledge I learnt would be helpful enough to sustain in the real organizational environment.
QUESTIONNAIRE
Dear Respondent, I am a student of BBS Department of BRAC University. I am going to measure the customer relationship level through 'Restructuring Retail Banking Business Model (RRBBM)' of BRAC Bank Ltd. This study is only for use of my academic purpose and the provided information will be treated confidentially. Thank you in advance for your kind cooperation.
Please read the questions carefully and just put a tick ( √ ) and kindly give your judgments where necessary.
Gender: a) Male b) Female
Customer Satisfaction on RRBBM of BRAC Bank Ltd 70
Age Group: a) 25 or less b) 26 – 40 c) 41 – 55
d) 56-70 e) 71 or above
Occupation: a) Student b) Service Holder
c) Business d) Unemployed e) Retired person
Income Level (Monthly income in BDT):
a) LESS-20,000 b) 21,000-50,000 c) 51,000-80,000
d) 81,000-100,000 e) 100,000- ABOVE
Education Level:
a) Below graduation b) Graduate
c) Post Graduate d) Ph.D.
PART-B
Organizational part
How long are you maintaining an account with BRAC Bank?
a) 1-2 years
b) 2-5 years
c) 5-8 years
d) More than 8 years
How better the service is after segmentation of customer type like supreme or excel?
a) More convenient
b) Previous type was better
c) Downsizing
Which change of this segmentation you like most?
Customer Satisfaction on RRBBM of BRAC Bank Ltd 71
a) Categorized Customer service in branch banking
b) Internet banking facility
c) Deposit based facility
d) Privilege facility on shopping
Level of BBL's Customer service compared to other banks?
a) Very Satisfied
b) Satisfied
c) Neutral
d) Dissatisfied
e) Very Dissatisfied
The best reason for what you want to keep relationship with BBL_______?
a) Customer service
b) Alternate banking
c) Privilege facility for different customers
d) Better package of interest rate
How much you are satisfied about overall BBL
a) Very satisfactory
b) Satisfactory
c) Neutral
d) Dissatisfactory
e) Very dissatisfactory
Do you want to switch BBL for any reason?
a) Yes
b) No