Retail Banking Unit and Performance Evaluation of IFIC Bank
To survive competitively in the market any business whether it is production or service oriented should make their product and services more diversified. Responding to the market demand IFIC Bank has a complete array of Commercial Corporate and Personal banking service covering all segments of society.
Now Commercial Banks are emphasizing on consumer loan due to minimize the risk of default. That is why I have decided to prepare my internship report on Retail Banking Unit & Performance Evaluation of IFIC Bank. This report has been conducted to find out the possibility of establishing the position of IFIC Bank in terms of retail products.
In this report the total credit portfolio of IFIC Bank has been shown that indicated a positive growth trend in the retail credit amount disbursed. Again in terms of interest income, retail credit is also accounting an increasing trend. One of the crucial parts of the report is that, IFIC Bank Retail Unit has been compared with other bank's Retail Credit, in some aspects to understand the current position in the market. From the comparison with banks, some problems and prospects are found in IFIC Bank Retail Credit. IFIC is offering diversified product portfolio and lowest rates and charges which are their strength to proceed further in the business. Again, IFIC Bank has a few problem regarding target clients segments and promotional activities that should be rectified. The retail credit disbursement procedure is also described in this report.
There are many opportunities for IFIC Bank to develop and enter in retail credit market with a massive amount of investment as this is one of the ways for risk diversification.
In recent banking business modern countries are focusing more and more on retail credit to shuffle their past ideas about investing in corporate credit. Though there is a tough competition in this sector, but to achieve a leading position IFIC bank should consider more its credit business on Retail Loan.
Introduction
Over the past ten years, banking system becomes accustomed to accepting the rapid pace of changes in terms of product and services. Change such as computerized banking, consumer credit, automated tellers etc, have been introduced.
Banks and Financial Intuitions play an important role in financial inter-mediation and thereby contribute to the overall growth in the economy. A bank is a financial institution whose primary activity is to act as payment agent for customers and to borrow and lend money. Banks have influenced economics and politics for centuries.
The primary purpose of a bank is to provide loans to trading companies. Banks provided funds to allow business to purchase inventory, and collected those funds back with interest when the goods were sold. Banking services have expanded to include services directed at individuals and risk in these much smaller transactions is pooled.
Banking Industry in Bangladesh is fully guided by the Central Bank, i.e. Bangladesh Bank. However different Bank has different management systems, operational techniques and different guidelines. The banking system of Bangladesh is composed of variety of banks working as Nationalized Commercial banks, Private Banks, Foreign Banks and Development Banks.
However, there are many private Banks in Bangladesh. At present among other banks IFIC Bank Limited operating their banking operations effectively and efficiently and providing bank services with a view to acceleration socio-economic development of the country. IFIC Bank is one of the best private commercial banks in Bangladesh in terms of efficiency, capital adequacy, asset quality, sound management and profitability having strong liquidity. Adoption of modern technology both in terms of equipment and terms of banking practice ensures efficient service to clients. Day by day new competitors appears with better ideas and products as well as services.
Historical Background of IFIC Bank Ltd.
International Finance Investment and Commerce Bank Limited "IFIC Bank" came in to existence In 1976 as a joint venture between the Government of Bangladesh and sponsors In the private sector with the objective of working as a finance company within the country and setting up joint venture banks/financial Institutions abroad.
IFIC was incorporated as a public limited company with an authorized capital of Tk. 20 core and paid up capital of Tk.10 core. IFIC commenced Its operation on February 28,1977 with a Subscribed capital of Tk.5 core, contributed by leading private sector entrepreneurs In the country. The Government held 49 percent shares and the rest 51 percent were held by the sponsors and general public.
But, In 1983 when the Government allowed banks In the private sector IFIC was converted Into a full-fledged commercial bank. The Investment company has transformed Into banking company In June 13, 1983 and started activities from June 24,1983 through Its Motijheel Branch.
Previously IFIC Bank Ltd was Government owned bank. Now the government of the Peoples Republic of Bangladesh holds 34.34 % of shares of the bank. Leading industrialists of the country own 34% of the shares and the rest of the 31.66 % is held by the general public. The founder of IFIC Bank Ltd was Jahurul Islam of Islam Group of Industries. He was the first Chairman and A.S. F. Rahman was first Vice Chairman. Board of Directors of the Bank is a unique combination of both private and Government sector experience. Currently it consists of 13 Director. Of them eight represent the sponsors and general public and four officials in the rank and status of Additional Secretary/Joint Secretary represent the Government.
At the very beginning the 60 percent share are owned by private entrepreneur and 40 percent are owned by Govt. at the end of 1984 the authorized capital was 10 core and the paid up capital was 7crore 15 lac Taka only.
Organization Principles of IFIC Bank Limited
Flat and flexible organization with few levels of management and broad spans of control, including project teams and task forces. Networking and horizontal communication are encouraged with clear accountability of the mangers and the hierarchy.
Clear levels of responsibility and well-defined objectives are a must. Teamwork and networking do not affect the manager's responsibilities; a team has always a responsible leader.
A structure which assures operational speed and personal responsibility, with strong focus on results, reducing bureaucracy as much as possible.
Objective of the Report
The core objective of this study is to analyze Retail Banking Unit of IFIC Bank Ltd & other banks in Bangladesh and draw a comparison between these banks to identify the position in the banking industry. The objectives of the report are as follows:
 Broad Objective:
To partial fulfillment of my BBA degree.
To match my academic knowledge with the real corporate business set up.
To enlarge my experience from a real corporate exposure
To enhance my adaptive quality with the real life situation
 Specific Objective:
To know organizational profile of IFIC Bank Ltd.
To evaluate the factors affecting performance of the bank.
To identify areas where these banks are performing well.
To emphasize areas where improvement is possible.
Comparative analysis to identify their position
Methodology of the Study
Data Collection:
Both the primary as well as the secondary form of information was used to prepare the report. The details of these sources are highlighted below:
(a)Primary Source
I have collected primary information by interviewing employees, managers, observing various organizational procedures, structures. Primary data were mostly derived from the discussion with the employees of the organization.
(b)Secondary Source
I have elaborated different types of secondary data in my research. Sources of secondary information can be defined as follows:
Internal Sources
Bank's Annual Report – 2005- 2010
Group Instruction Manual & Business Instruction Manual
Prior research report
External Sources
Different books and periodicals related to the banking sector
Bangladesh Bank Circulars
Website Information
Retail Banking
Banking concept has been evolved since the rapid development of Information Technology. Now a days almost all over the world, retail banking concept is welldirected name which has indeed added a new feather. Now we have to know what is RETAIL BANKING. Retail Banking is a typical mass-market banking in which individual customers use local branches of larger commercial banks. Services offered include savings and checking accounts, mortgages, personal loans, debit/credit cards and certificates of deposit. Retail Banking refers to banking in which banking institutions execute transactions directly with consumers, rather than corporations or other banks. The Retail Banking market is continuing to evolve and undergo significant marker change. The key for Retail Banking service provides to stay one step ahead of the competition is to recognize and understand the changing needs of the market and deliver a highly valued solution. New market entrants are appearing and new technologies developing at an ever-increasing rate. In order to compete, retail banks must first establish their strategy and build innovative products.
IFIC Bank Ltd. has huge retail banking unit and they are successfully operating this unit by fulfilling client's requirements.
Retail products has shown in chart below: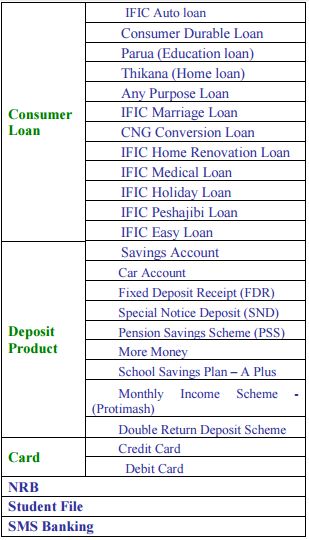 But in this report I am not assigned to analys Deposit Products, which is included in Retail Banking. Other than that Consumer Loan, Card, NRB, Student File, SMS Banking has analyzed broadly and properly according to the requirements of this report.
The target customer of Retail Banking is individual person to accomplish their personal need such as for buying car, for getting married, for getting higher education in abroad, or for any purpose IFIC Bank gives them these kinds of loan with a fixed interest rates.
Consumer Financing
Consumer finance is the segment of the financial services that tends money to individual consumers for meeting their personal, family and household needs.
Consumer finance is one of the parts of Retail Banking. Other Parts are- Deposit Products, Cards, NRB, Student File, and SMS Banking. The target customer of Retail Banking is individual person to accomplish their personal need such as for buying car, for getting married, for getting higher education in abroad, or for any purpose IFIC Bank gives them these kinds of loan with a fixed interest rates. The IFIC Bank offers 12 different products under Consumer Financing Namely- Easy Loan (Secured Personal Loan), Consumer Durable Loan, Parua (Education Loan), Thikana (House Building Laon), Any Purpose Loan, Marriage Loan, CNG Conversion Loan, Home Renovation/Interior Decoration Loan, Holiday Loan, Peshajeebi Loan( Loan for Professional), Auto Loan and Festival Loan.
Consumer Loans is for individuals need to deal with financial matters in their daily lives. Managing these day to day events correctly is the key to long term financial success and under the consumer loans IFIC offers 12 categories of loans.
IFIC Auto Loan
Owing a car means freedom of convenience for moving out, affords punctuality, shelter from rain and heat during traveling and above all guarantees the much needed safety. Owing a car is a dream of many people. To materialize your dream IFIC Bank has Auto Loan with more flexible, affordable and convenient package option.
Getting the Loan:
An adult employed person having an account with IFUC Bank then can easily apply for the AUTO LOAN.
Loan Size: Maximum Tk.20 lac *.
Loan Period: 12-60 months.
Interest Rate: 15.50% p.a.
Consumer Durable loan
Life is complex as it is. IFIC makes people's life-style easy and comfortable with the Consumer Durable Loan. IFIC creates an opportunity to satisfy customer's desire to purchase consumer durables like- computer, television, refrigerator, washing machine, air conditioner, music systems, motor cycle and lot of other things by Consumer Durable Loan. Interest rate is low. Processing is simple and quick. Bank's branch network is wide.
Getting the Loan:
An adult and employed person having an account with IFIC, then he is eligible to apply for the loan.
Loan Size: Maximum Tk.1 Lac.
Loan Period: 12-36 months.
Interest rate: 16.50% p.a.
PARUA (Education Loan)
IFIC Bank offers Education Loan that can make a student's dream come true. IFIC Bank firmly believes that expense for education is an investment for future. Only education can fulfill the dreams of an individual as well as a nation.
Getting the Loan:
All Bangladeshi Govt. / Semi Govt. / Corporation, Employees of Commercial Banks, Foreign Banks and other financial institutions, employees of multinational corporations and reputed Universities/Colleges and Schools and tax paying business men can enjoy this loan for higher education for their children. To take this loan customer must have an account with IFIC Bank Ltd. Loan size is Maximum Tk. 3, 00, 000/- (Tk. Three lac) without collateral security and Tk.8, 00, 000/- (Tk. Eight lac) with collateral security.
Loan Size:
 Maximum Tk.8 Lac* (With collateral security)
 And Maximum TK. 3Lac (without collateral security)
Loan Period: 12-48 months
Interest Rate:16.50% p.a.
THIKANA (House Building Loan)
Home is an address, a shelter for entire life and this is what one leaves behind for the family. To own a home from savings takes a long time and full payment at a time is difficult too. That is why IFIC Bank offers home loan which one can buy now and pay gradually. The purpose for this loan is to purchase Flat/ Construction of own house.
Getting the Loan:
To enjoy this type of loan service holder's and business holder's monthly income has to be minimum 3 times of equated Monthly installment and have to have an savings account at IFIC Bank.
Loan Size: Maximum Tk. 75 Lac.
Loan Period: Maximum 15 years.
Interest rate: 15.0% p.a
Any Purpose Loan
The demands and uncertainties of life getting you down. Here is the answer. "Come avail yourself IFIC's Any Purpose Loan to turn the uncertainties of life to a certainty you can control". IFIC Any purpose Loan creates to various need of salaried people.
With minimum formalities one can get a loan for any purpose.
Getting the Loan:
An adult Bangladeshi employed by the Govt/Autonomous body/ Bank/ MNC/ NGO or any other kind of employed person with at least monthly Tk. 10,000 salary then that person is eligible for the Any Purpose Loan.
Loan Size: Maximum Tk.3 lac*.
Loan Period: 12-36 months.
Interest Rate: 16.50% p.a.
IFIC Marriage Loan
The single most important day of any one's life, beginning of new life in new style. Money is only an object for such an important event and shouldn't be a barrier to its perfection. If you need extra funds to ensure your special day is one to remember than come into on IFIC Bank branch and trust us to help you realize your dream.
Getting the Loan:
An adult Bangladeshi employed by the Govt/Autonomous body/ Bank/ MNC/ NGO or any other kind of employed person with at least monthly Tk. 10,000 salary then you are eligible for the Any Purpose Loan.
Loan Size: Maximum Tk.3 lac*.
Loan Period: 12-36 months.
Interest Rate: 16.50% p.a.
IFIC Medical Loan
Medical is a noble profession which is evolving fast. In a country like ours it is important to be a part of those changes as we cannot afford to be lag behind. Keeping that in mind and with a vision to support and promote health services, IFIC Bank is at your side with our Doctors' Loan. IFIC Bank lets you to focus on Medicare of your family and yourself – taking away the worry of finance. IFIC Medical Loan caters hospitalization or other emergency medical needs to salaried people. The loans are easy & absolutely hassle free.
Getting the Loan:
Maximum age limit of the borrower is 60 years, in exceptional case, MD can relax the age limit up to any age depending on the merit of the case.
Loan Size: Maximum Tk.3 lac*.
Loan Period: 12-36 months.
Interest Rate: 16.50% p.a.
IFIC CNG Conversion Loan
Annoyed about fuel cost of your personal vehicle? You need not to worry; CNG Conversion Loan to help you to convert your personal vehicle to CNG. You can avail the loan with competitive rates, convenient features and simple procedures. Due to price hike of fuel, CNG conversion has become the necessity of time. IFIC Bank understands the needs and offers you the best suitable loan for CNG conversion of your vehicle.
Getting the Loan:
For IFIC CNG Conversion Loan confirmed service holders, Businessman, Professionals (Owner of the vehicle or valid user of the vehicle) & Corporate Clients (for more than one Car). Maximum age limit of the borrower – 60 yrs; in exceptional case, MD can relax the age limit up to any age depending on the merit of the case.
 Loan Size: Maximum Tk.1 lac*.
Loan Period: 12-36 months
Interest rate: 16.50% p.a.
IFIC Home Renovation Loan
There are plenty of good reasons for choosing to renovate rather than move. For most people, the high cost of purchasing a new home outweighs the challenges of renovating. Recent big house price rises also means many home owners have considerable equity in their property. This can make getting a renovation loan easier and reduces the risk of overcapitalizing. When you decide to renovate, finding the best loan to suit your needs is particularly important. Renovation loans can streamline the whole process and save you money and that is why IFIC Bank brings Home Renovation Loan for helping you to realize your dreams.
Getting the Loan:
An adult Bangladeshi employed by the Govt/Autonomous body/ Bank/ MNC/ NGO or any other kind of employed person with at least monthly Tk. 10,000 salary then he is eligible for the Home Renovation Loan.
Loan Size: Maximum Tk.3 lac*.
Loan Period: 12-36 months.
Interest Rate: 16.50% p.a.
IFIC Holiday Loan
When you plan to visit overseas with family or friend for taking a break from routine, enjoying nature, making a holiday – all these can happen through IFIC Holiday Loan.
IFIC Holiday Loans are easy & absolutely hassle free. If your finances don't stretch to accommodate a holiday at the moment, we have a Holiday Loan that could help – an affordable, short term loan with an interest rate that's fixed, so you know what your repayments will be each month, just what you need for that dream trip.
Getting the Loan:
Age: At least 25 years
Professional Experience:
– Salaried: Permanently employed for at least 2 years by a well-reputed organization including at least 6 months with present employer.
– Self employed: Professional exercise for at least 2 years (with adequate proof).
Minimum Monthly Income:
– Salaried: BDT 10,000
– Self Employed: BDT 25,000
Loan Size: Maximum Tk.3 lac*.
Loan Period: 12-36 months.
Interest Rate: 16.50% p.a.
IFIC Peshajibi Loan
Life is continuously facing unforeseen events. For which sudden financial support is essential. We are at your side to meet up your urgency at any moment through our "IFIC Peshajibi Loan" .Whether you are a Doctor/ Engineer/ IT professional/Management Consultant or any other professional come find out about IFIC's advancement Peshajeebi Loan that lays the foundation for your career elevation. IFIC works for your professional Satisfaction.
Getting the Loan:
Any adult salaried person in Govt. Organization/Semi Govt. Organization/Autonomous bodies /Multinational Com./Banks/Insurance Com./Financial Institutions/Educational Institution having an account with IFIC Bank can easily apply for the PESHAJEEBI LOAN.
Loan Size:Maximum Tk.10 lac*.
Loan Period: 12-48 months.
Interest Rate: 16.50% p.a.
Loan Approval Process
The responsibility for preparing the credit proposal would rest with the RM within the corporate/ commercial banking department. Credit proposal shall be recommended for approval by the RM Team and forwarded to the approval team within CRM and approval by individual executives. The recommending or approving executives shall be responsible and accountable for their recommendations or approval.
Proposal forwarder by RM (Branch Manager) to Head of Credit (CRM) HOC/CRM Executives advises the decision as per delegated authority to RM (Branch Manager).
Deputy Managing Director advises the decision as per delegated authority to HOC.
Deputy Managing Director support and forwards to Managing Director.
Managing Director advises the decision to Deputy Managing Director/ Head of Credit.
Managing Director presents the proposal to Board.
Board advises the decision to Managing Director.
Monitoring
Bank's loan portfolio should be subject to a continuous process of monitoring. This achieve by regular generation of over limit and overdue reports, showing where facilities are exceeded and where payments of interest and repayment of principle are late. There are some formal procedures and system in place to identify potential credit losses and remedial actions has to be taken to prevent the losses. Besides that the systems shall be in place to report the following exceptions to relevant executives in
Credit/Sales and Branch marketing staff:
Past due principal or interest payments;
Timely corrective action is taken to address findings of any interest, external or regulator inspection/audit.
 All loan facilities are reviewed annually.
Identification and Allocation of Accounts
When a customer fails to pay the minimum amount due or installment by the payment due date, the account is considered in arrears or delinquent. When accounts are delinquent, collection procedures are instituted to regularize the accounts without losing the customer's goodwill whilst ensuring that the bank's interest are protected.
IFIC Debit Card
IFIC Bank VISA Debit Card can be used at any ATM displaying VISA Logo for withdrawal of cash and at any POS displaying VISA Logo for purchase of goods & services within Bangladesh. ATM transactions are to be secured by Personal Identification Number (PIN) known by the concerned customer only. POS transactions will not require PIN. However, all the transactions are to be authorized by the system electronically IFIC debit card is issued against any individual savings/current account maintained with any branch of IFIC Bank Limited. The designated savings/current account can be operated by using the debit card without using cheques 24 hours in a day, 7 days in a week, 365 days in a year. The customers are not required to pay any charge for transactions at Merchant Point of Sale (POS) for purchasing goods and services. For cash withdrawal from ATM/Branches, a little charge may be applied. No interest will be calculated on cash withdrawal or purchases. No minimum amount due and no hassle of payment of monthly bills.
Minimum Documents Required
Filled-in Application Form, 1(one) copy of photograph
NRB Account
IFIC is providing following facilities to NRBs:
Foreign Currency A/C
They are offering Foreign Currency Account in USD/GBP/EURO for NRBs. Foreign Currency can be remitted by the Nationals of Bangladesh living abroad earned by them as wage earners or from other sources. Nominee of Account holder can also able to operate this Account.
NFCD
They issue Foreign Currency Fixed Term Deposit in USD/GBP/EURO with different tenure. Interest is paid in respective Foreign Currency as per published daily Exchange Rate.
Wage Earners Development Bond
A beneficiary of a wage-earners' remittance in foreign exchange in his own name or in the name of wage-earner can purchase Wage Earners Development Bond in Bangladeshi Taka for tenure of five years at 12.00% interest rate. In case of premature encashment interest will be paid at lower rate.
USD Premium Bond
These Bonds can be issued from the balance of the FC account with a tenure for Three years. Rate of interest is 7.5% p.a. in BDT.
Principal amount is payable in US Dollar.
Interest is payable in Bangladesh Taka.
Principal amount can be payable in Bangladesh Taka if the purchaser desires.
USD Investment Bond
These Bonds can be issued from the balance of the FC account with a tenure for Three years.
6.5% annual interest rate.
Principal amount and interest payable in US Dollar.
Principal amount and interest can be payable in Bangladesh Taka at the discretion of the investor.
Student File
Remittance of Foreign Exchange for Bangladeshi student going abroad for education purpose in regular courses in recognized educational institutions in Undergraduate & Post-graduate level.
Applicable Countries
U.S.A. & Canada
U.K., Australia, New Zealand
SAARC Countries, Myanmar
& other countries
Handling of Student File
Authorized Dealer Branches issue Draft for: Tuition Fees, Living Expense.
Currencies handled
U.S. Dollar, British Pound Sterling
EURO, Australian Dollar, Canadian Dollar
Moreover, other than academic courses
Commercial Flying
Computer Programming
Hotel Management and Catering
Chartered Accountancy
Cost & Management Accountancy are special fields for which students are allowed to open Student File.
SMS Banking
IFIC Bank Ltd. catered the demand of time in the era of modern banking technology through SMS Banking Service. It is indeed a fast, secure, convenient, economical and quickest way of banking. The service is available round the clock seven days a week. Get real-time banking information and be in touch any time with IFIC Bank from mobile. You can check your balance, account information, or even get your mini account statements through IFIC SMS Banking Service.
Account Service
Push /Pull Services
Balance Enquiry
Mini Statement Request (Last 5 Transactions)
Foreign exchange Rate enquiry
Fixed Deposit Rate enquiry
Interest Rate enquiry
Branch Location enquiry
PIN Change
Help
Push Services
Bank Product Information
Greetings
Loan Installment Notification (overdue)
Any other Massage
Card Services
Push /Pull Services
Current Outstanding Balance
Mini Statement Request ( Last 5 Transactions)
Minimum Payment Due
Payment Due Date
Push Services
Payment Due Alert
Transaction Notification
Anyone can get these information by sending an SMS to 6969.
Future Plan Regarding Retail Banking
Every company has its own future plan and IFIC Bank is not the different one because a good plan can lead a bank to achieve the success and also a bad planning can bring the worst situation for a company. So IFIC Bank has some future plan regarding the
Retail Banking Unit and this are-
To emphasize more on Student file by promoting this service with new ideas.
Bring new consumer loans for farmers in the rural areas like, IFIC Phol Phoshali Loan, with a minimum interest rate
IFIC bank will separate their deposit products from the retail unit but it will not happen in near future. It will take time but they have plan to di it.
IFIC bank is planning to include locker service under the Rwetail Banking Unit.
More promotional activities of Retail Banking.
Performance Evaluation of Retail Banking Unit of IFIC Bank Ltd.
The Retail Banking environment today is changing fast. The changing customer demographics demands to create a differentiated application based on technology, improved service and banking convenience. Higher penetration of technology and increase in global literacy levels has set up the expectations of the customer higher than never before. Increasing use of modern technology has further enhanced reach and accessibility.
The market today gives us a challenge to provide multiple and innovative contemporary services to the customer through a consolidated window as so to ensure that the bank's customer gets "Uniformity and Consistency" of service delivery across time.
And that is why every commercial banks of Bangladesh are very concern about the retail banking and they are increasing the number of products, making products more interesting and also make it easy to for the clients to take loan according their needs.
So to survive in the market and to be a market leader in banking sector become tougher. Competition become so high that every bank is now trying harder by improving their services, gaining trust of customers and obviously by keeping good relationship with the customers.
So for being number one banks need to compare their services with the other commercial banks to find out their position in the market and the steps that they need to take to improve their position, and that is why I thought to evaluate the Retail banking sector of IFIC Bank with the other commercial banks of Bangladesh. But as I have done my internship program at IFIC Bank so it was difficult for me to collect information about the other Banks as the information of banks are very controversial and that is why I could not compare IFIC Bank's retail unit with all the banks that I have compared in previous. In this part I have compared IFIC Bank's Retail Banking unit with the Trust Bank.
Already I have compared all the consumer loans with Trust Bank, Dhaka Bank, AB Bank, Prime Bank and it has shown that IFIC Bank is offering competitive interest rate and has verity of loans for the clients. And moreover IFIC Bank has more product variation in the retail banking unit than other commercial banks such as Dhaka Bank, AB Bank and Trust Bank.
Trust Bank has more or less all the qualities that a private bank has to have new private sector banks have great resource mobilizing and asset expansion capabilities which cannot be undermined by the fact these banks volume. Which have taken decades of option for the old private sector bank to build. These bank are dominating the market with new product, service and ideas. Now the emergences of the retail concept of the banking customers are expecting more and better services.To day customer prefer private banks because they can have personal relationship with the bank personnel, with lesser hierarchy and It is possible for these banks to forget closer ties with customers also. Trust Bank is one of the leading private commercial banks with a spread network of 40 branches across Bangladesh with a wide range of modern, corporate and consumer financial products, it has been operating since 1999 and has achieved public confidence as a sound and stable Bank. On the other side IFIC Bank which is the first private commercial bank in Bangladesh has 98 branches all over the country and confidently operating their banking since 1976 as a joint venture and in 1983 when the Government allowed banks in the private sector, IFIC was converted into a full-fledged commercial bank and both banks are operating their retail banking service very successfully and have their lot of products and services for their customers.
Overall Performance of IFIC Bank in 2010
In the midst of the economic scenario, IFIC Bank passed a successful year of financial performance in 2010. The Bank earned an operating profit of Tk.418.35 crore in 2010, registering a growth of 102% over the previous year. Deposits of the Bank registered a growth of 11.80% over the previous year and stood at Tk.5592.00 crore as at 31st December, 2010. Total outstanding loans and advances of the Bank stood at Tk.4883.00 crore marking an increase of 29.19% over the precedingyear. During the year the Bank conducted foreign exchange business for Tk.13190.00 crore and guarantee business for the 434.00 crore registering growth of 18.72% and 17.84% respectively in comparison with that of previous year. Due to strict monitoring and aggressive recovery drive, classified loan ratio of the Bank came down to 4.76% of total loans and advances at the end of the year. Return on Equity (RoE) increased to 28.55% in 2010 from that of 21.43% of 2009. Earnings per share of the Bank also increased by 85% to Tk 76.34 as on 31.12.2010 as against Tk. 41.27 on 31.12.2009.
Recommendations
In order to retain and attract new customers towards any particular bank, the bank management needs to have a clear operational efficiency and must thoroughly analyze the scopes for further development. Therefore it is a key area for the commercial banks to closely monitor their performance level, which comprises the functional units, that provides services to its clients. To make better position in the industry both bank need to expand some activities & should give emphasis on some field & need to introduce new and diversified financial products to provide wider option to customers.
Without having an effective customer base, it becomes difficult for any bank to compete and sustain in the competitive market for the banking services. Before drawing the end I would like to offer the following suggestions for bringing improvements of IFIC Bank (Lalmatia Branch):
Without proper knowledge in different laws, rules which set by Bangladesh Bank efficiency of employees cannot be optimize. Bank can arrange training program on these subjects and can test its employees which will improve their qualities.
IFIC Lalmatia Branch should established Foreign Exchange department to acquire more potential customer.
IFIC Bank should set up more ATM booth in all their branches.
IFIC Lalmatia Branch should established Student File to obtain more potential customer.
It seems to me that day-by-day customers operation is increasing individual employee has to handle different types of job. But that is pocking a back for an employee. As a result it might occur any big mistake by the employee and service is also timed consuming and customer has to suffer for this situation. May be it would be the reason for employee's de-motivation as well as the customer's dissatisfaction. So it should not happen in this branch.
IFIC Bank Ltd. should focus on their promotional activities.
They should also focus on the marketing aspects to let customers know about their products and offerings and more promotion should be given to attract new customer.
Lalmatia Branch can arrange a training program for the employees to learn the proper use of the software "Mysis".
To deliver quality service top management should try to mitigate the gap between customer's expectation and employee's perception etc.
To deliver quality service top management of this breach should try to mitigate the gap between customer's expectation and employee's perception and customer's convenience should give priority.
IFIC Bank Ltd should concern about CAMELS Rating.
IFIC Bank should separate the Deposit products from the Retail Banking.
Conclusion
The Banking arena in recent time is one of the most competitive business fields in Bangladesh. As Bangladesh is a developing country, a strong banking sector can change the socio economic structure of the country. So we can say, the whole economy of the country in linked up with its banking system. IFIC Bank is the bank which is highly potential commercial Bank of Bangladesh. This bank performs hundreds of important activities both for the public and for the government as a whole. It has an outstanding bearing to thrive our business sector. From the learning and experience point of view I can say that I really enjoy my internship at IFIC Bank of Bangladesh Ltd. From the very first day, I was confident that this 3 months internship program at IFIC Bank Ltd. of Bangladesh (Lalmatia Branch) will definitely help me to realize my future carrier in the job market. Performance analysis of a department of a bank is not so sufficient to measure and express perfectly within this short time of my internship period. But it is a great opportunity for me to get use to with the operational environment of commercial banking of IFIC Bank. I have tried by soul to incorporate the research report with necessary relevant information in my report.IFIC Bank should always try to improve their service level in every term.