The main objective of my study is to gather practical knowledge regarding banking system and operation.
The specific objectives of this study are as follows:
 1. To acquire some practical experience that will be helpful in the near future.
2. To find out the overall picture of Foreign Exchange Business of Pubali Bank Limited.
3. To gather knowledge the function and transactions of different type of Foreign Exchange business of Pubali Bank Limited and comparison of practice based on theory.
4. To identify the problems related of Foreign Exchange business faced by Pubali Bank Limited.
5. To demonstrate their Strength, Weakness, Opportunities and Threats.
6. To find out the reasons why people go to Pubali Bank Limited.
The report has been prepared from every day working experience, extensive. Discussion with the concern dealing officer of PBL, Foreign Exchange Branch, Dhaka, and the theoretical learning that I have achieved from library, journal and circular of Bangladesh Bank . It is not possible to pinpoint the each and every aspects of overall banking transaction due to this short span of time.
 The study is qualitative in nature. In depth interview of the company personnel, various official documents, study case, circulars were used as instruments to collect information.
Several group discussions arranged with the concern official of the different wing of department of PBL, Foreign Exchange Branch. The study contains a huge amount of data and information. In preparing this report, I had to follow some methods to collect information:
 I collect my information through face to face interview and discussion with the officers of different wings of PBL, Foreign Exchange Branch. I have gone through different types of publications. I had also used published data. These are:
Various publications of PBL.
Annual report.
Various reports were collected from internal bodies and library.
Main papers and documents were collected from different wings and desks.
For the data analysis the following steps are followed:
Software: Computer software (e.g. Microsoft Excel) is used, which has helped to make the analysis of data collected during the research proposal easier, more efficient, and more effective.
Tables: Frequency table, data analysis, etc have been used to describe the findings.
Graphics: Chart wizard, graph different types of figures have been used to represent the findings from the survey.
There were some problems efforts was applied to conduct the orientation program. A wholehearted effort was applied to conduct the orientation program and to bring a reliable and fruitful result.
In spite of having the wholehearted effort, there exit some limitation, which acted a barrier to conduct the program.
The study has suffered following limitations:
Respondents were reluctant to fill the questionnaire, which has impeded the preparation of the study.
Validity of the study is subject to the reply of the respondent.
Because of the resource constraint survey as per the sample size was not possible which has restricted the accuracy of the result.
All the concerned personnel of the bank have not been interviewed.
Lack of in-depth knowledge and analytical ability for writing such study.
Lack of experience.
To analyze SWOT of an emerging market is a wide survey material.
But time constraint restricted the study to specific feature.
In 1971, Bangladesh, was East Pakistan, emerged as an independent country. In immediately nationalized the entire Banks expanding 3 Foreign Banks, six Nationalize Banks were thus formed. In 1983 a new policy was implemented allowing private sector participation in the industrialization. As a part of this process, two national commercial Banks were against denationalization and a number of Private Commercial Banks were allowed to operate. Among these Pubali Bank and Uttara Bank were the first to be decentralized.
Schedule Banks in Bangladesh
| | |
| --- | --- |
| Particulars | Number of Banks |
| Nationalized commercial Bank | 04 |
| Privatized commercial Bank | 32 |
| Specialize Bank | 04 |
| Foreign Bank | 9 |
| Co- Operative Bank | 01 |
| Grameen Bank | 01 |
| Total = | 51 |
                                    Table:Schedule Banks in Bangladesh.
Pubali Bank limited is the largest Commercial Bank in Private sector. The Bank was incorporated in the year 1959 under the name and style of Eastern Mercantile Bank limited under company Act 1913. After liberation of the country in 1971, the Bank was nationalize as per policy of the Government of the People's Republic of Bangladesh under the Bangladesh Bank (Nationalization) order 1972(PO No 26 of 1972) and was renamed as Pubali Bank. Subsequently, the Bank was denationalization in the year 1983 and was again incorporated in Bangladesh under the name and styles of Pubali Bank Limited in that year 1984 on May 20 under the license no Bl/DA/1/84. The Government of the People's Republic of Bangladesh transferred the entire undertaking of Pubali Bank Limited, which took over the same as a going concern. It is listed in the Stock Exchanges at Dhaka and Chittagong as publicly traded company for its general class of shares. In 1983 PBL started their new journey with the deposit of Tk. 645.14 Crore and they sold 16 Lac shares in the market. It has a large asset position comprising of Tk.130, 121.42 million in March 2011. The Bank employs largest in private sector, which stood almost 5600 personnel in March 2011. Presently it has 400 branches in operations Principal branch is one of the big and important branches of PBL.
PBL intendeds to ensure the trust and confidence of the customers through focused customer's orientation qualities of services and state of art technology. The company philosophy-A Bank for the 21st century has been precisely the essence of the legend of the Bank success.
To get recognition as a dynamic, innovative and customer supportive Bank.
To maintain continuous & steady growth with utmost transparency and to diversify development of resources.
To enhance continuous development of information & technology to meet the demand and challenges of the time.
          To hold the position of best private commercial bank in Bangladesh with adherence to meticulous compliance of rules and regulation and strong commitment to social responsibility.
The bank will be a confluence of the following three interests:
Of the Bank: Profit maximization and sustained growth
Of the Customer: Maximum benefit and satisfaction
Of the society: Maximization of welfare
The objectives of the bank are to promote private sponsors to establish joint venture banks, financial companies, branches and affiliates abroad to satisfy their customers. It conveys its objective via their motto:
Be one of the best bank in Bangladesh
To establish, maintain, carry on, transact, undertake and conduct all types of banking, financial,
investment and trust-business in Bangladesh and abroad
To form, promote, organize, assist, participate or aid in forming, promoting or organizing any company, bank, syndicate, consortium, and institute or any holding or subsidiary company in Bangladesh or abroad for the purpose of undertaking any banking, financial, investment or trust business.
To encourage, sponsor and facilitate participation of private capital in financial, industrial or commercial investments, shares and securities and in particular by providing finance in the form of long, medium or short term loans or share participation by way of subscription to the promoter shares or underwriting support or bridge finance loans and/or by any manner.
 The Bank was established primarily as Private Bank. After liberation it was nationalized and it remained so for quite a long period. Though it has been denationalized again and has gone back to its Private norm it could not get rid of all the rules and norms of Nationalized Bank. Like any other business organization, the top management makes all the major decisions in PBL. The Board of Directors being at the highest level of organizational structure plays an important role on the policy formulation. The Board of Directors is not directly concern with day-to-day operation of Bank. They had delegated their authority to the Managing Director who is assist by Additional Managing Director (AMD), Deputy Managing Directors (DMD) and General Managers (GM) to look after the day-to-day affairs of the Bank. The Bank is running by an excellent management team under the direct supervision of a competent Board of Directors. The Board of Directors comprises total fourteen members headed by the Chairman. Mr. Hafiz Ahmed Mazumder is the present Chairman of the Board. The Managing Director (MD) heads management team. Under him a AMD, four DMDs, a GM heads each department of the Bank. Mr. Helal Ahmed Chowdhury is the present Managing Director of PBL. The management hierarchy of Pubali Bank Limited is given below:
All activities related to the loans and advances are directed and controlled by this division. This division is presently headed by a General Manager. The credit deals with different types of credit, like, Commercial credit (e.g., Secured overdraft, cash credit, etc.), Industrial credit. For monitoring, follow-up, supervision of the functions and to gather market information, there is a cell in this division.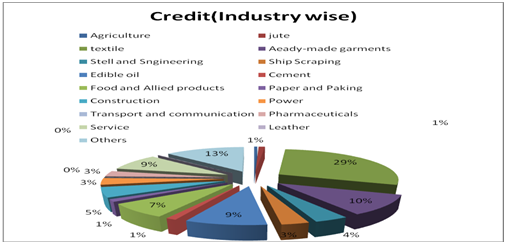 This division maintains all sort of accounts of the bank, performs fund management, management information system, expenditure control, budgeting, etc. This department is presently headed by a Chief Financial Officer and General Manager.
International division of Pubali Bank Ltd. performs the responsibilities of foreign trade and foreign exchange and foreign remittance on behalf of the branches. The division deals with the issues regarding opening, lodgment, and payment of import of Credit, PAD, LIM, LTR, etc. This division also relates to export such as advising, negotiating, export documents, etc.
This division is headed by a General Manager and works directly under the control of the managing director. The division is responsible to arrange periodical internal audit, conduct special audit, follow-up and monitor the bank's overall activities.
This division procures and supplies dead stock such as furniture, machinery, equipment and stationers, vehicles, etc. also renders some other common services and control central dispatch services. The division is presently headed by a General Manager.
The division is assigned to lead the computerization of the bank. It procures and maintains computer hardware and software, conducts computer training for the employee. Operation and maintenance of all electrical and mechanical appliance such as note counting machine, telephone, PABX, FAX, Telex, are usually done by the department. At present the division is headed by Mr. Mohammad Ali, Chief Technical Officer (CTO) and General Manager.
This division sanctions the loans related to household goods, car, flat purchase, educational loans etc. and makes periodical on site and off site supervision and initiate step to recover the loans. Presently the division is headed by a General Manager.
This division is assigned to perform the task to invest in Lease asset-Equipments, Machineries, Pick up Van and son. The division promulgates policies related to Lease Finance and takes all types of supervisory steps together with the Branch.
Conformity with Bangladesh Bank's regulations, this division is assigned to perform the duty of ensuring compliance by the Branch level to rules and regulations, policies promulgated time to time by the Bank and Bangladesh Bank as well.
This division is headed by a General Manager and works directly under the control of the managing director. The division is responsible to follow-up and monitor the credit at the post sanction stage and to arrange all types of procedures to recover the bad loans.
 This division is responsible for all types of legal aspects. This division is headed by a General Manager and he must be a legal representative.
This division is headed by a General Manager and works directly under the control of the managing director. The division is responsible to arrange the bank's overall development activities such as opening new branch and so on.
 This division is headed by a General Manager and works directly under the control of the managing director. The division is responsible to arrange the bank's overall research and
Development activities such as designing product policy program, controlling product quality, creating new brand product and so on.PBL is the largest commercial Bank in private sector of Bangladesh. The Bank within stipulation lay down by the Bank Company Act 1991 and directives as received from Bangladesh Bank from time to time provide all types of commercial Banking services. It has 400 branches all over the country and among them 205 Branches is online.
The authorized capital and paid up capital of the bank stood at Tk. 10000 million and Tk. 4968.60 million respectively in 2010. Out of total 86200 shareholders, Bangladesh government held 72 shares of Tk. 7200 while taka remaining shares of Tk. 2939.99 million where held by various shareholders.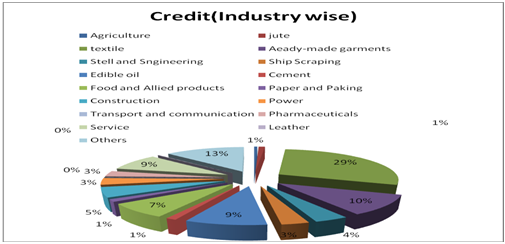 Chart: Capital Structure
 Conclusion
 It can be conclude that, since 1983, the Government of Peoples Republic of Bangladesh started taking ownership reform measures in financial sector. Two out of six NCBs were denationalized and a number of private commercial Banks (PCBs) were allowed to operate by the government. It results competition and improves the level of customer services operation efficiency of the Banking sector. As a result of this competition peoples are favoring a lot, Banking services are improved, employments are generated and public money earns more and more securities and benefits which ultimately developing economy as a whole.
It is also to be stated that this competition is not confined within the country. Due to high fuel cost and relatively lowers technological use made us competitive in the world economy. But we are in a state of consistent in economic sector maintaining on an average five (05%) percent of GDP growth. This constant growth results in high-tech introduction and positive competitive environment in financial sector especially within financial intermediaries (Banks). Introduction of high-tech services can ensure growth towards first generation Bank like Pubali Bank Ltd.
Bank always contributes towards the economic development of a country. PBL, compared with other banks are contributing more by investing most of their funds in fruitful projects leading to increase in production. It is obvious that right thinking of this bank including establishing a successful network over the country and increasing resources, will be able to play a considerable role in the portfolio of development financing in the developing country like ours.
PBL continues to play its' leading role in socio-economic development of the country as a companion of Independent Bangladesh. Besides its' traditional function such as deposit mobilization, deployment of fund in trade, commerce, industry, agriculture, import & export business, outward and inward remittance, as an agent of Bangladesh Bank, PBL has emerged as the pioneer of playing key role in the country.
Pubali bank limited, considering the environment, though far behind from other banks, the bank is in a state of steady growth. The top management of PBL is always trying their best to improve their service quality to the customers and enhance the reputation in the Banking business in our country as well as abroad. PBL recruits a good number of fresh talents every year and invests handsome money for necessary training purposes to ensure the fulfillment of better service. Now, the slogan of PBL is "Think Bank, Lead Bank".
Above all, bank is a risky industry with many diversified and complex inputs and outputs. Asset liability management has vast and difficult areas to manage. A bank only can minimize its risks and maximize profit by managing its balance efficiently. The manual is a guiding assistance for the purpose and not the whole thing of asset liability management. The issues contained in this manual may enrich one's skill for better performance in the field.