Introduction
Bangladesh bears a colonial legacy in its entire public administration system. Present day Bangladesh was part of the British Empire for almost two hundred years. In 1947 Pakistani rulers replaced the British and dominated the area then known as East Pakistan until a bitter war in 1971 brought about an independent Bangladesh. A colonial imprint persists in Bangladesh especially in political and administrative arrangements. The British tradition helped the bureaucracy to become an essential tool of governance. At the same time, it is accused of following the "Pakistani tradition of involvement in power politics." The political system of Bangladesh has survived a series of transitions. A few years of democracy were followed by nearly fifteen years of military rule. In 1990, for the first time, Bangladesh achieved a fully functioning democratic structure. Ironically, the nature and role of bureaucracy in both the pre and post-democratic period remained almost the same except for an increase in number of ministries, divisions, departments and statutory bodies.
Present Status of public Administration:
By the constitution of Bangladesh the present structure of administration are recognized. In the constitution of Bangladesh, the article of 48 to 58 about executive branch, article 65 to 93 about legislature branch, article 94 to 116 judiciary branches and article 59 to 60 about local government are discussed clearly.
Legal Structure of Administration of Bangladesh:
 As per the constitution of the republic it comprises three basic organs:
Legislative Branch
Executive Branch
Judicial Branch
Legislative Branch:
Unicameral National Parliament or Jatiya Sangsad; 300 seats elected by popular vote from single territorial constituencies and 45 reservad for female members serve five-year terms. The Parliament of Bangladesh (known as the House of the Nation) is vested with the legislative powers of the Republic. Parliament is the apex institution in Bangladesh's accountability system. It is Parliament that empowers the government and gives it its legitimacy. It is through Parliament that the enfranchised citizens determine who is to rule.
Executive Branch:
Prime Minister as Chief Executive and a President as the Head of State with very Circumscribed powers. The president's duties are normally ceremonial. Cabinet selected by the prime minister and appointed by the president President elected by National Parliament for a five-year term. The Prime Minister appoints and heads a Cabinet of Ministers which is collectively responsible to Parliament. The Executive is organized on the basis of Ministries and, within Ministries, by Divisions. A politically appointed Minister heads each Ministry, while a permanent civil servant (usually a Secretary) is the Ministry's administrative head and Chief Accounting Officer. There are currently 37 Ministries and 49 Divisions with close to one million public employees.
Judiciary Branch:
Supreme Court (the chief justices and other judges are appointed by the president).
The Constitution provides for the separation of powers with an independent judiciary, though up to now the administration of the lower judiciary has been in the hands of the Ministry of Law. The Bangladesh judicial system comprises four judicial institutions:
a) The Supreme Court,
b) The Subordinate Courts,
c) The Magistracy, and
d) The Administrative Tribunals.
The Administrational Hierarchy of Bangladesh:
a) Central Administration:
The government of Bangladesh has a two-tier administrative system. The upper tier is the central secretariat at the national level consisting of the ministries and divisions to provide policies and to perform clearinghouse functions. The other tier consists of 'line' departments/directorates attached to the ministries and divisions that are mainly responsible for general administration, service delivery to citizens and implementation of various government development programs at the sub-national level. At present, in Bangladesh there are 37 ministries, 11 divisions, 54 departments and 173 statutory bodies (ADB, 2005).The internal organization structure of a ministry reflects a hierarchical order. A minister is in charge of a ministry and is normally the "political head" of that ministry. A ministry consists of at least one division. A secretary or, in his absence an additional secretary, is considered the "administrative head" of the ministry.
b) Field Administration:
Division: Division is the main administrational unit of field administration. There are seven divisions in Bangladesh. These are Rajshahi, Dhaka, Khulna, Barisal, Chittagong, sylhet, Rangpur. A Divisional Commissioner (joint secretary) or an equivalent officer of Bangladesh government is in charge of a Division. Each Division consists of some districts. All administrative responsibilities depend on the officer in charge of the Division on behalf of the central administration. Division and District of Bangladesh:
| | |
| --- | --- |
| Division | Districts |
| Rajshahi Division | Bogra, Joypurhat,  Naogaon,  Natore, Nawabganj, Pabna, Rajshahi,  Sirajganj |
| Rangpur Division | Dinajpur  Gaibandha  Kurigram  Lalmonirhat Nilphamari  Panchagarh  Rangpur  Thakurgaon |
| Sylhet Division | Habiganj, Maulvibazar, Sunamganj, Sylhet |
| Khulna Division | |
| Dhaka Division | Dhaka, Faridpur, Gazipur, Gopalganj, Jamalpur, Kishoreganj, Madaripur, Manikgonj, Munshiganj, Mymensingh, Narayanganj, Narsingdi, Netrokona, Rajbari, Shariatpur, Sherpur, Tangail. |
| Chittagong Division | Bandarban, Brahmanbaria, Chandpur,Chittagong,  Comilla, Cox's Bazar, Feni, Khagrachari,  Lakshmipur, Noakhali, Rangamati. |
| Barisal Division | Barguna, Barisal, Bhola, Jhalokati, Patuakhali,  Pirojpur |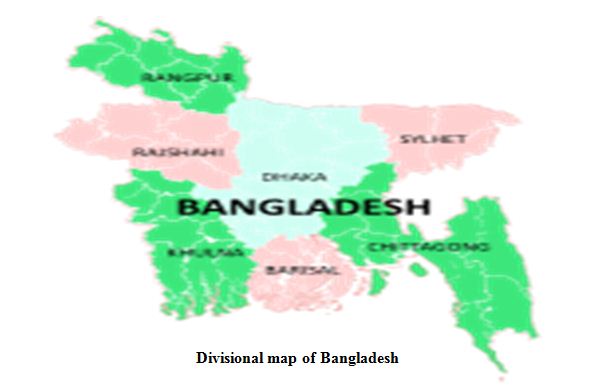 District:
After division District is one of the important administrative units of Bangladesh. There are 64 districts in Bangladesh. Normally a Deputy Commissioner (deputy secretary or a joint secretary of Bangladesh government) administrates a district. Some subordinate officers co-operate the district in charge. A district comprises some of upazilas to overlook overall function of the upazilla.
Upazila:
Upazila is the last administrational unit of Bangladesh. There are 498 upazilas and thanas in Bangladesh. upazila Nirbahi Officer (UNO) is in charge of a upazila who is a senior assistant secretary of Bangladesh. UNO looks over the whole welfare of the upazila. Local Government Under the close supervision of the district administration, there is a local government system composed of elected union parishads and municipal pourashavas, and appointed thana and district committees. The lowest level of government is the union parishad of which there are some 4,500.
 Way of Improvement of Public Administration of Bangladesh:
Citizen-Oriented Services
The evaluation of citizen-oriented services depends both on the role and performance of the service providers—the public servants—and also on the satisfaction of service recipients—the citizens. Under constant pressure from development partners, the government is trying to emulate business ethics such as effectiveness, decentralization, competition, efficiency, value-for-money, and partnership in public services.
Innovation in the Bangladesh Civil Service:
The last administrative reform committee, the Public Administration Reform Commission (PARC), proposed the preparation of performance standards and a citizen's charter for three ministries and five important organizations; and the creation of three public service commissions—one for general services, another for technical services and a third for education services. It is to be noted that none of these recommendations has been implemented. In recent years judiciary has separated from the 29 cadre service system.
Transparent and neutral recruitment system:
According to the current recruitment policy, there are three means of recruitment: direct recruitment—open competitive examinations; promotion and transfer; and direct lateral recruitment. Class I Officers are recruited directly by the PSC through an open competitive examination into 28 cadres and other government services. So, recruitments should be transparent and neutral.
Introduction of E-governance:
PARC recommended introducing e-governance. The activities of various ministries have already been computerized. A Ministry of Science and Technology was created. Websites containing important information for several ministries were launched. Ministry of Finance developed software for budget planning, sensitivity and impact analysis. Ministry of Communication created a database containing information about contractors and tenders. It also created a project monitoring system for tracking project progress. The achievement of Bangladesh Planning Commission, in this case, is noteworthy. It has a file sharing system through a Local Area Network (LAN), the capability for video- conferencing, and it maintains a digital library. It has also created software for interfacing between development and revenue budgets.
Administrative Reform Efforts should be effective: To meet the demands of a changing society, government tried to reform the administrative system. Successive governments appointed as many as fifteen administrative reform commissions and committees. Each tried to change the administrative system to make it more dynamic, efficient, effective and representative. Two of them, Administrative and Services and Reorganization Commission (ASRC) and Committee for Administrative Reform and Reorganization (CARR) should be activated.
Implementation of political commitment:
The commitment of political leadership is a driving force behind implementation of administrative reform effortsTherefore, in the Bangladesh context political commitment is circumscribed by clientele's politics, which is responsible for distracting the political leadership from embarking on comprehensive reform programs.
Increase capacity of Government:
Administrative reforms need concerted efforts on the part of the government in power. Unless it can demonstrate its capacity, its reform agenda is bound to fail to deliver the desired results. It is now a fact that successive governments in Bangladesh have miserably failed to demonstrate this capacity. A number of factors can be discerned that have stifled the capacity of successive governments to push through reform initiatives. The rule of law is in limbo, crippling public lives in all spheres. So, capacity of the government should be increased.  
Bureaucratic resistance:
There is a common perception that civil servants all over the world are more or less apathetic to the needs of the people and that they are even unwilling to listen to them. The situation is no different in Bangladesh; indeed, it may be even worse because an inadequate, faulty recruitment procedure can place a non-qualified person in a formalized organization; and because politicization—the priority of party loyalty—can amplify the pressures a bureaucrat already feels.
Removal of factionalism in the Public Sector:
Instead of implementing broad-based reform programs, successive governments have been interested in playing with the existing factional strife within the public bureaucracy, rivalry between freedom fighters versus non-freedom fighters, pro-Awami league versus pro-Bangladesh Nationalist Party civil servants, civil servants with a military background versus civil servants with civilian backgrounds, and factionalism based on district affiliation.
Effective New public management:
 It is known that, in developed countries, NPM is typically used to improve existing institutions where the bureaucracy is already conversant with basic public management processes. However, in most developing countries, including Bangladesh, solid institutional frameworks, rule of law, proper control structures, checks and balances, the civil service system, and accountability systems are all absent or ineffective.
Eradication of corruption:
Although corruption is one of the areas identified by different commissions, committees, it may be considered as a factor impeding the reform programs. Bangladesh administration has been plagued by both political and administrative corruption. Corruption is an old phenomenon In fact, it is difficult to find any sector of the government without corrupt practices. Almost all forms of corruption are found in politics and administration in Bangladesh: bribery, abuse of authority, nepotism, favoritism, patronage, theft, and deceit.
Politics Free/ Depoliticisation of administration:
There is also an unprecedented level of politicization of administration. While this phenomenon is common in almost all countries, it has taken an ugly turn in Bangladesh and its ramifications are detrimental to the basics of administration. With this pattern of politicization, it is an impossible task to reform the public administration system along the NPM model.
The role of International donor agency:
Being an aid-dependent country, Bangladesh has always remained susceptible to the pressures of the international donor agencies in formulating and reformulating its reform agenda. The decision makers of the developed world hold the lifeline of any regime in Bangladesh in their hands and can create havoc in the life of a country in a way that was inconceivable two decades ago. So the government should be careful about this.
Good governance:
Corruption everywhere may be largely responsible for the lack of "good enough governance" in Bangladesh. It is the time to eradicate corruption and ensure good governance in every sector in Bangladesh.
Conclusion:
Administrative improvement is not an easy task, particularly in a country like Bangladesh which is confronted with multifarious problems. This does not imply that the government should be indifferent toward improvement. This paper proposes certain measures for effective reform implementation. First, the political leadership must commit itself to reform programs, as they are bound to yield both high political and economic payoffs to the government itself. Second, the government must act promptly to restore discipline in the governing system through positive instruments of order, protection, provision and rule before embarking on micro level reforms in the administrative system.