Major Findings:
From my work experience in ACI Limited, I gained the knowledge that in order to maintain efficient stock management in the sector of Consumer Brands of ACI Limited the following steps are taken into considerations:
 Life Cycle of stock inflow and outflow of ACI Limited:
It has been observed, efficient stock management depends on inflow and outflow of stocks of products that enable the company to forecast stocks of products for future needs. Also it helps to predict investment opportunities or future stock deficiencies by providing information in making critical business decisions. The system of the stocks inflow and outflow of ACI Limited can be designed into the following ways: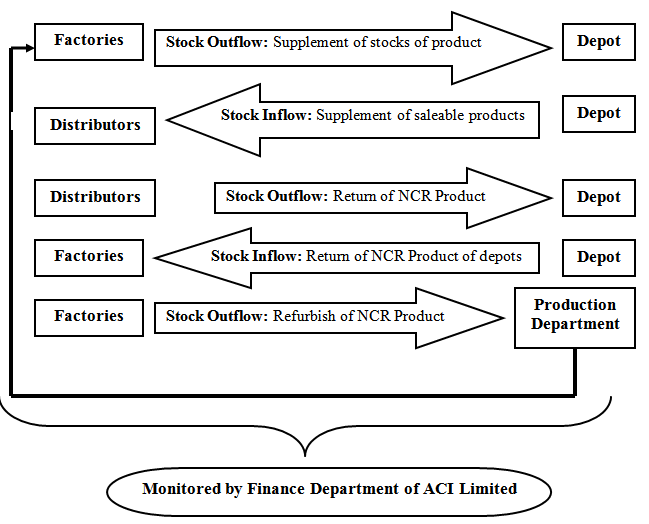 Management of Non Conforming Report:
ACI-FL and N.Gonj has a well-organized management of finished goods. They maintain a seperate sheet of Non Conforming Report for obsolete products for following reason.-
In future after refurbishment the products which recovered are send back again for resale and final damaged products are remarked for the write-off purpose. Also it is necessary to identify and differentiate between fresh stocks and  NCR stocks.
But it has been found that  Konabari and other factories prepare statement of sales return instead of Non-conforming report for obsolete goods. The management of obsolete products of these factories are shown below: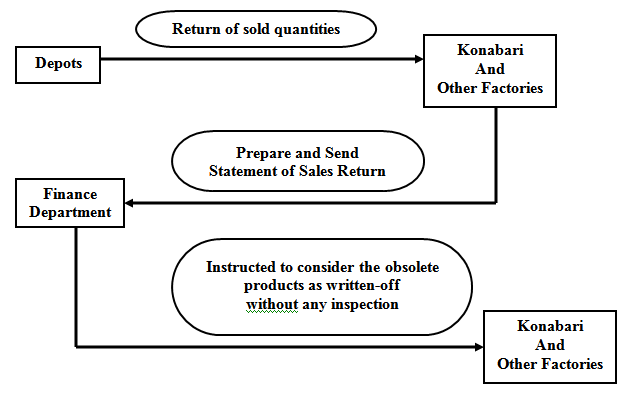 As there is no investigation of statement of sales return by finance department, the Company do not specify the reasons of sales returned stocks. Also it is the major problem in predicting the future stock quantities for higher customer satisfaction.
Commercial Documents:
The efficient stock management depends on total stock in and out to prevent excess/shortage of products. To do this properly, the company depends on some commercial documents such as Purchase Order, Invoice, Delivery Challan and Bill. The importances of these statements are as follows:
ACI Limited makes quick payments to suppliers/buyers on the basis of these statements.
These documents provide details about the products such as description of the products, the price per unit, the quantity being purchased / supplied and the delivery/receiving date. It may also include Special Conditions.
These documents help in accurate checking of stock inflows and outflows.
Issue by factories of ACI Limited to acquire Raw Materials from suppliers
Issued by N.Gonj factory to obtain Finished Goods from Manufactures.
These documents are major source to trace out the total quantities of products during the month. It has been observed that these documents are used in different areas which are as follows: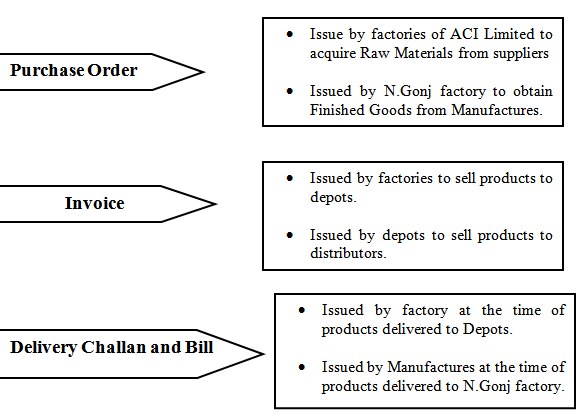 Though "Invoice" is issued by depots to distributors, but distributors don't issue any "Purchase Requisition Form" to depots. They send a verbal request via phone to depots for requesting the amount of products. In future, this may create a misconception between depots and distributors. The importance of Purchase requisition form is as follows:
Suppose, a distributors of Barisal Depot gave a verbal order of 20,000 mosquito coil on 10th February, 2009. But after few days later, if that distributor does not take delivery of those products, the depot can not force them to take those stocks as depots have no purchase requisition form of distributors. Also it is difficult to store this excess production until the next order.
To monitor the sold quantities during the month, the Finance Department only has access to Invoice prepared by depots. Sometimes monitoring only one-sided contract is not enough to get true picture of sale quantity.
Commercial Received Documents:
It has been observed that there are some documents produced when raw materials and finished goods are received into the factory. These documents usually accompany raw materials and finished goods to any inspection and are used to check before payment. In the following areas these documents are issued:

Also it is found that following facilities a Company can have by issuing these two documents:
These reports are prepared only after carefully checking the quantity, description, and condition of the raw materials and finished goods and signed by the person responsible for checking and taking custody of the stocks.
These  documents  will  provide the  Finance Department  with information  as to  the  identity,  condition,  and net  quantities  of goods  received.
 Cash and Credit Sales:
It has been observed that depots of ACI Limited are selling finished goods both in cash and credit. And at the end of each month, they prepare Monthly Stock Statement which state the total sold quantities. For this reason, the Company can have the following problems in future date:
The finance department would be unable to trace out how much quantities are sold on cash and how much on credit.
Sometimes depots take the advantage of this by giving cash on delivery products frequently as credit to the customers without payments.
 Inefficient Stock Management of Depots:
The depots play a major role in selling and distributing Consumer Brands products. But it has been observed that some depots are not maintaining effective sales management. The reasons of their lack of capability of stock movement to distributors are as follows:
No Sales Plan: It seems that some remote area depots like Maijdee, Sreemongol etc are not developing a sales plan to help manage the sales team. They are just only focused on distributors' requirement, not motivated.
Inefficient Workforce: It has been observed that there are some depots like Rangpur, Maijdee etc who hire a worker without providing them with the level of stock knowledge required to succeed.
Sales Metrics: Depots maintains "Sales Metrics" that include number of distributors, name of distributors, number of holding stocks and delivered etc that overwhelm the sales staff with excessive tracking numbers.
Lack of Sales Accountability: Regardless of the support and training, some workers of depots are not properly stick to the commitment on Company's policy. It seems they have deficiency in targeting, frequency of contact and communications with distributors.
Monthly Reporting:  According to Company's policy, each depot has to submit monthly stock information to the Finance Department. It is found that although two separate reports are sent from each depot the quantities mentioned in each do not match creating difficulty for the Finance Department to conclude the right figures.
Less Sales Control: It has been observed that some depots are less focused on sales. They have valuable skill set that quickly walk to the competitors rather than the product profitability.
Unrestrained Holding Stock: According to Company's policy, the holding days of stocks of products can not be exceeding more than three months. But it has been noticed that there are some products like Dabur, Vatika, ACI Salt, Pure Masala etc has low turnover and stocks remain in the depot for long time.
 Saleable Capability of Depots:
The maximum saleable quantity depends on the capability and efficiency of depots. Each depot is assigned to sale minimum 70,000 quantities of products to distributors' within two months. But it has been observed that some of the depots are not as efficient to sale maximum quantities of products. According to the stock statement of January to March 2009, the saleable capability of depots can be categorized into three levels.-
Maximum Saleable Capability
Minimum Saleable Capability
Lowest Saleable Capability
In terms of these levels, the saleable capability of depots is categorized below: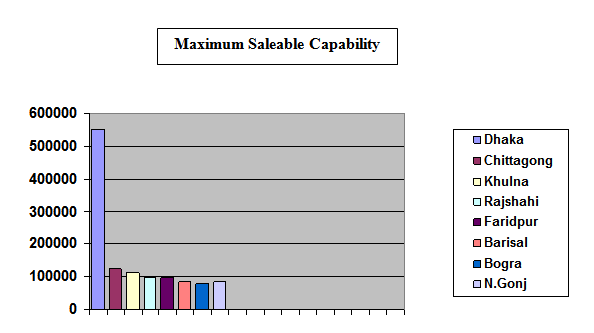 Monitoring Procedures of Finance Department:
Preparation of-
Sales Statement
Sample Statement
Statement of Credit Note
Non Conforming Report
Written-off Statement
Though ACI Limited has more than ten businesses, but it has only one finance department of all business sectors. It has been observed that to control the stock of products in the sector of Consumer Brands, the department is going through the following procedures: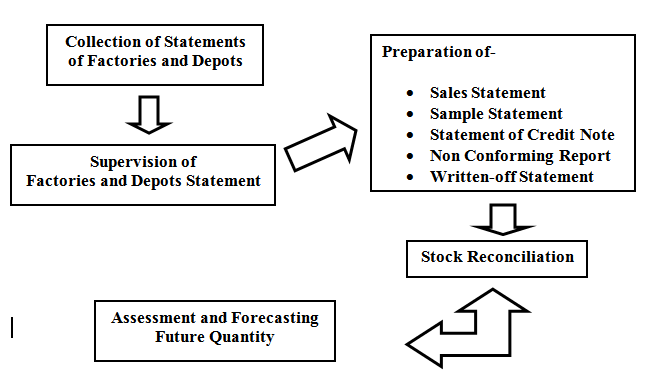 Sales and Depots Management Software:
It has been viewed that to keep track of all the sales invoice, the finance department use a Software named "Sales and Depots Management Software (SDMS)". The benefits of using this software are as follows:
It helps in keep tracking of all Invoices for proper sales.
 The department can easily sort out the sales management of depots.
It improves the efficiency by saving time and money.
The workout of SDMS Software is shown below: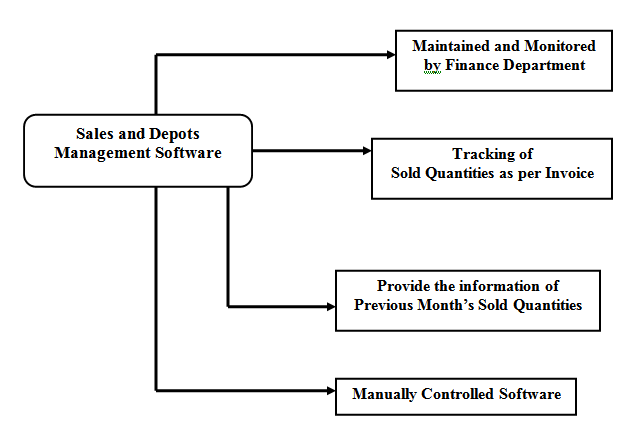 But it seems that SDMS has a limitations tat it does not indicate the overall stock position of products in each depot.
 Suggestions:
Transfer and Receive Statement within Depots: The Company should make a rule for every depot to inform the finance department for verification about their transferred and received of products during the month. The format of Transfer and Receive Statements is given on Appendix E.
 [Problem Stated: Stock Reconciliation; Page – 56]
Efficient Management of Non-conforming products: To specify the reasons of sales returned stocks as detected at Konabari and other factories, the manufactures should run investigation and evaluation procedures on the defected stocks. This will help the Company to identify the error in both production and warehouses.
                              [Problem Stated: Management of Non Conforming Report; Page – 58]
Management of Stock of Cash and Credit Sales: To analysis the actual sold quantities, the depots should prepare separate sheet (Appendix F) for cash and credit sales.
[Problem Stated: Cash and Credit Sales; Page – 61]
Product Management Software within Depots: There is software named "Featureplan" which is a customizable software solution for administering the vast quantities of data that depot managers content with during each step of a  product's lifecycle. The advantage of  this software is as follows:

It helps to save time and money by automating and simplifying the depots managers from preparing the most time-consuming and tedious statements so they can concentrate on innovation and the needs of the distributors.
It helps the depots to prepare a competitive analysis to finance department.
                                    [Problem Stated: Sale and Depot Management Software; Page- 65]
Purchase Requisition Form: Instead of Verbal request, the depots should sale the products on the basis of Purchase Requisition Form by issued by distributors. The format of Purchase Requisition Form is given in Appendix G.
                                                       [Problem Stated: Commercial Documents; Page: 59-60]
Increase of Efficiency of Depots: To hold maximum satisfaction of distributors and proper management, the Depots of ACI Limited should maintained the following procedures:

A depot requires regular planning tracking to direct day-to-day activities of stock inflow and out flow.
Sales plans should be established on a weekly basis instead of monthly basis to provide flexibility in stock management.
It should establish a proper "Sales Metrics" that focus on the few numbers for easy track of distributors and holding and delivered stocks.
The depot should implement "Honest feedback system" that will allow the staff of depots to have a way to comment about the proper stock management.
For effective sales management, the depot should share the responsibility with distributors to find the problems and seek the solution together in sales process to achieve their agreed results.
To ensure a high level of products acceptance, the Company should provide adequate training to the managers and workers and guide them toward the right objectives. Also, they should be given a sufficient knowledge about stock management.
Due to less turnover products like Dabur, Vatika, ACI Salt, Pure Masala etc the holding days are very high. So the stuff of the depots should trained in continuous promotional activities
                           [Problem Stated: Inefficient Stock Management of Depots; Page: 61-62]
Conclusion:
Bangladesh is a country of immense opportunities. With a huge population density and only 22% penetration rate, there is a big untapped market waiting to be discovered. ACI Limited is the biggest market player in the manufacturing industry and should think about these opportunities for retaining the market leader position.
Proper Stock Management of ACI Limited is needed to identify both cost and revenue. And after identification of cost and revenue, profit can be recognized. The Stock Management of Consumer Brands of ACI Limited is pioneering in introducing and implementing various modern financial statements like Monthly Stock Report, Refurbish Statement, Non- Conforming Report, Stock Reconciliation etc. Though they manage stocks in a systematic ways, but they need more automation in this management.
The Stock management function not only compiles and coordinates the company plan of the conglomerate but also instrumental in feeding the Local Market of the country as well as world in large. The Consumer Brands area is one of the most exciting areas in ACI Limited. But Company should think about incorporating more facilities, inventing newer services and increasing effectiveness and efficiency in Stock Management system. Only then it can remain in the position it is in now.