1.1 Origin of the study:                               
Internship Program is a part of our B.B.A program. At the end of our eleven semester B.B.A program we have to complete this 60 days internship. I have completed my internship from standard chartered bank. My report is the result of this program. To relate our academic knowledge with that of realistic group, internship plays a very important role for the study. Here we get experiences & know how about the application of the practical knowledge to the practical group & also the deviation of the facts from the theoretical knowledge.
1.2 Scope of the study:
The scope of the report was basically the operations & operations of standard chartered bank, in which I had undertaken the internship program. The scope of the study was in the organization standard chartered bank. The study was confined on the Mirpur Branch. The data based on practical working experience & the face conversation with the manager, officers & the clients. Data also based on published information.
1.3 Objectives of the study:  
      To present the evaluation of customer satisfaction at standard chartered bank Bangladesh.

       To know how standard chartered bank as a MNC operates all over the world.

      To know how the standard chartered bank provides world class services to their customers.

      To gather practical experience as a complete business in real professional life & last of all.

      To know what are their goals and challenges.

      To identify problems in clearing operations of standard chartered bank.

      To recommend suggestion for the successful clearing operations of standard chartered bank.
1.4 Rationale of the study:   
My report topic is evaluation of customer satisfaction at standard chartered bank. I have completed my internship in SCB (Mirpur Branch) appointed in the consumer banking division of standard chartered bank. But I have chosen consumer banking division as my report topics for the following reasons:
It honoured outward & inward cheque, drafts etc.

 It saves clients time & respond with their demand quickly.

Return instruments incase of dishonor.

  Response IBCA & IBD.

 Batch posting as and when required.
1.5 Limitations:
In preparing this report I have faced a few limitations. I could not work all the departments. I could not get the overall idea about the banking activities. The following problems that I have found in my internship program:
Insufficient information about the topics.
Time was too short to get in-depth knowledge of operations.
The study was mainly based on Mirpur Branch.
Unavailability of adequate relevant papers & documents.
In this chapter, I described the origin of the study, scopes & objectives of the study. I also described the rationale & the limitations of the study.
2.1 Sources of Data:
Both primary and secondary data used in this report. There are many tables and figures in this report which are based on both primary and secondary data primary data are emphasized than secondary data in this report.
2.2 Methods of Collecting Data:
The techniques of collecting primary data are not same as the techniques of collecting secondary data. The different methods and tools of collecting primary data and secondary data used in report are described as follows:
Collection of Primary Data:
Various data & information about the consumer banking of the standard chartered bank is collected from the following primary sources:
In-depth conversation with the respective officers the Branch.
Informal conversation with the clients.
Data from the company's documents and SCB's computerized information system.
Practical work exposures on different desks of the Branch covered.
Relevant file study as provided by the officers concerned.
Collection of secondary Data:
Data regarding the clearing process and performance evaluation of the standard chartered bank were collected from secondary sources like:
Annual Report (2006,2007,2008,2009,2010)
Previous reports and journals relevant to the banking industry.
Periodicals published by Bangladesh Bank.
The internet was also used as a theoretical source on information.
A number of leaflets, bulletins, and prospectus, which also helped me to get an overall idea about the bank.
2.3 Instruments Used in Analysis:
There are some tools which are used in analysis. There are various figures, tables, charts, SWOT (Strength, Weakness, Opportunity and Threat) analysis which are easier to understand. These instruments are used in the analysis with their sources. But most of the cases I used tables and bar charts, pie charts to present the condition in an easier way.
In this chapter, I described the sources & the methods of collecting data. I also mentioned the instruments used in the analysis part.
Banking Industry-Overview:
The Banking Industry is Bangladesh is one characterized by strict regulations and monitoring from the central governing body, the Bangladesh Bank. The chief concern is that currently there are far too many banks for the market to sustain. As a result, the market will only accommodate only those banks that can transpire as the most competitive and profitable ones in the future.
Currently, the major financial institutions under the banking system include:
Bangladesh Bank
Commercial Banks
Islamic Banks
Leasing Companies
Finance Companies
Of these, there are four nationalized commercial banks (NCB), 5 specialized banks, 11 foreign banks, 26 domestic private banks and 4 Islamic Banks currently operating in Bangladesh.                                           
All local banks must maintain a 4% Cash Reserve Requirement (CRR), which is non-interest bearing and a 16% Secondary Liquidity Requirement (SLR). With the liberalization of markets, competition among the banking products and financial services seems to be growing more intense each day. In addition, the banking products offered in Bangladesh are fairly homogeneous in nature due to the tight regulations imposed by the central bank. Competing through differentiation is increasingly difficult and other banks quickly duplicate any innovative banking service
 3.1 Background of Standard Chartered:
Standard Chartered Bank started its business in Bangladesh in 1948, opening its first branch in the port city of Chittagong. The bank increasingly invested in people, technology and premises as its business grew in relation to the country's thriving economy. At present the bank has 18 offices in Dhaka Chittagong and Sylhet, including the country's only offshore banking unit inside the Dhaka Export Processing Zone at Savar.
Extensive knowledge of the market and essential expertise in a wide range of financial services underline strength to build business opportunities for corporate and institutional clients at home and abroad. Continuous upgrading of technology and control systems has enabled the bank of offer new services, which include unique ATMs and Phone banking.
Standard Chartered's services in Bangladesh, ranges from Personal & Corporate Banking to Institutional Banking, Treasury and Custodial services.
Standard Chartered is highly reputable in providing flexible and innovative financial services solutions. Their expertise is in corporate and institutional banking including cash management, trade finance and custodial services, consumer banking and treasury operations. They adopt a proactive approach in tailoring customized packages to meet customers' ever-changing needs. They apply state-of-the-art technology to automate daily operations and electronic delivery system has been put in place to ensure that transactions are handled swiftly and efficiently. Customer Service Centers are staffed with experienced Cash Products Specialists to ensure that all customers are well served. The currency of the country is the Bangladesh Taka (SWIFT code: BDT). Foreign exchange has been significantly liberalized and the Taka is partially convertible. Standard Chartered fully understands the importance of time, convenience and efficiency to the success of business. They make easy the complex financial world and help to maximize every opportunity.
With over 140 years of experience in trade finance and an extensive international branch network, Standard Chartered is committed to help   in every competitive environment. To keep pace with changing needs, they will constantly review comprehensive cash; trade and treasury products and services, ensuring that a full range of flexible and innovative services is always available wherever trade.
Standard chartered is the world leading emerging market bank. Its employees 28000in over 500 offices in more than 50 countries in the Asia Pacific reason, South Asia, Africa, the Middle East, the United Kingdom, and the Americas.
The bank serves both consumer and wholesale banking customer. The customers banking provide credit cards, ATM cards, personal loan, mortgage, and deposit taking activity and wealth management services to individual and medium size business.
The wholesale banking provides services to multinational, regional and domestic corporate and institutional clients in trade finance, cash management, custody, lending, foreign exchange, interest rate management and debt capital markets.
With nearly 150 years in the emerging markets the bank has unmatched knowledge and understanding of its customers in its markets. Standard chartered recognizes its responsibilities lies to its staff and to the communities in which it operates.
Standard chartered bank intends to set standards as the market leader in Bangladesh by providing efficient, friendly and modern fully automated on line service on a profitable basis. Standard Chartered Bank goal is to provide mass financing to enable mass production and mass consumption and thereby contribute to the development of Bangladesh.
SCB is surviving in the large banking area through its unique products. In Bangladesh SCB is the only bank, which is first offering 100 % integrated on-line, banking services?
SCB is gradually growing up to establish itself in the banking arena of Bangladesh with Islamic banking to be the leader in terms of services qualities and developing partners of the people of the country.
SCB will promote broad based participation in Bangladesh economy through the provision of high quality banking services.
SCB believes that the pursuit of profit and development goals is mutually reinforcing.
Standard Chartered Bank is a socially responsible institution that will not lend to businesses that have a detrimental impact on the environment and the people. SCB will adhere to highly professional and ethical business principle and internationally recognize banking accounting standard. They talk that extra mile with enthusiasm and empathy to serve customers and to solve problems together so that customers succeed in business and remain loyal to bank. SCB is a world class Bank in terms of service quality and establishing relationships that helps its customer to develop and grow successfully. It is a bank of choice both for its employees and its customers, the model bank of the world.
Banking is the backbone of national economy. All sorts of economic and financial activities revolve round the axis of the bank. As the industry produces goods and commodities, so does the bank creates and controls money-market and promotes formation of capital. From this point of view, banking-a technical profession- can be termed as industry. Services to its customers are the products of banking industry besides being a pivotal factor in promoting capital formation in the country. As all economic and fiscal activities revolve round this important 'Industry', the role of banking can hardly be over emphasized.
Circumstances being such, it becomes imperative to find out the role that now playing in the country and analyze its operational aspects so as to ascertain the importance of this delicate financial sector and its overall impact on our national economy. In the global context, the role of banks is far – reaching and more penetrating in the economic and fiscal discipline, trade, commerce, industry, export and import- all carried through the bank. Banks are the only media through which international trade and commerce emanate and entire credit transactions, both national and international.
 3.2 The Early years:             
Standard Chartered is named after two banks which merged in 1969. They were originally known as the Standard Bank of British South Africa and the Chartered Bank of India, Australia and China. Of the two banks, the Chartered Bank is the older having been founded in 1853 following the grant of a Royal Charter from Queen Victoria. The moving force behind the Chartered Bank was a Scot, James Wilson, who made his fortune in London making hats. James Wilson went on to start The Economist, still one of the world's pre-eminent publications. Nine years later, in 1862, the Standard Bank was founded by a group of businessmen led by another Scot, John Paterson, who had immigrated to the Cape Province in South Africa and had become a successful merchant. Both banks were keen to capitalize on the huge expansion of trade between Europe, Asia and Africa and to reap the handsome profits to be made from financing that trade. The Chartered Bank opened its first branches in 1858 in Calcutta and Mumbai. A branch opened in Shanghai that summer beginning Standard Charterer's unbroken presence in China.
The following year the Chartered Bank opened a branch in Hong Kong and an agency was opened in Singapore. In 1861 the Singapore agency was upgraded to a branch which helped provide finance for the rapidly developing rubber and tin industries in Malaysia. In 1862 the Chartered Bank was authorized to issue bank notes in Hong Kong. Subsequently it was also authorized to issue bank notes in Singapore, a privilege it continued to exercise up until the end of the 19th Century. Over the following decades both the Standard Bank and the Chartered Bank printed bank notes in a variety of countries including China, South Africa, Zimbabwe, Malaysia and even during the siege of Marketing in South Africa. Today Standard Chartered is still one of the three banks which print Hong Kong's bank notes.
3.3 Standard Chartered Today:
Standard Chartered employs 38,000 people in 950 locations in more than 50 countries in the Asia Pacific Region, South Asia, the Middle East, Africa, the United Kingdom and the Americas. Standard Chartered is one of the world's most international banks, with employees representing 80 nationalities.
Standard Chartered PLC is listed on both the London Stock Exchange and the Stock Exchange of Hong Kong and is in the top 25 FTSE-100 companies, by market capitalization.
It serves both Consumer and Wholesale Banking customers. Consumer Banking provides credit cards, personal loans, mortgages, deposit taking and wealth management services to individuals and small to medium sized enterprises. Wholesale Banking provides corporate and institutional clients with services in trade finance, cash management, lending, securities services, foreign exchange, debt capital markets and corporate finance.
Standard Chartered is well-established in growth markets and aims to be the right partner for its customers. The Bank combines deep local knowledge with global capability.
The Bank is trusted across its network for its standard of governance and its commitment to making a difference in the communities in which it operates.                                                                               
Banking Services:
Standard Chartered Bank is providing two types of services.
   Business or Corporate Financial Services

   Retail or Consumer Financial Services
Business or Corporate of Financial Services:
It is very true that major contribution to the bank's equity has been from business banking sector. It provides several types of services under business banking (Figure). As figure shows, SCB offers corporate banking facilities to both local corporate and multinationals. Besides, it also provides commercial, Industrial, Quasi Government or Correspondence and treasury banking facilities.
Corporate Banking
SCB is recognized as the leading financial institution in corporate finance services in Bangladesh. A professional management team caters to the needs of its clients and provides them with a wide range of financial services some of which are project financing and investment constancy, syndicated debt and equity, bond and guaranties, local and international treasury products.
Institutional Banking
This service of SCB is designed for different fund based organizations like donor agencies, NGOs, voluntary organizations, foreign missions, airlines, shipping lines and their personnel with the facilities like convertible and non-convertible current accounts, convertible Taka accounts, which are freely convertible to major international currencies, local and foreign currency remittances through a large network of branches and correspondence.
Commercial Banking                                                                                                                 
SCB offers different commercial banking facilities to all commercial concerns especially those with particular involvement with import and export finance. It provides the finance facilities like trade finance facilities including counseling, confirming export L/Cs and issue of import L/Cs backed by its international branch and correspondent network. It also provides bonds and guarantees, investment advice, leasing facilities, project finance opportunities.
Treasury Banking
The treasury of SCB is one of the leading treasuries that offers foreign exchange requirements, provides market commentaries, economic forecasts and advisory to its major corporate clients. To keep its customers' up to date with what is happening in the money markets, SCB has "Weekly Treasury Updates".
Consumer Banking Services
The service of PFS and Credit Card Services are known as Retail Banking or Consumer Banking. Retail banking deals with the providing the bank services to individuals on a one-to-one basis.
Personal Banking Services
SCB started its personal banking services in March 1992. Besides usual deposit services, consumer finance services of SCB have been most popular. This section of report discussed all these personal banking services; consumer finance services of SCB have been most popular. This section of report discusses all these personal banking services provided by SCB.
Locker Facilities
SCB's locker service allows the customers to keep their valuable in a safe and secure place and access the same at convenient times. These strong and heat resistant steel lockers lodged in reinforced concrete steel vault, round the clock security guards, sophisticated anti-burglary alarm systems provide maximum protection to the valuables of customers.
Government Bonds
Like other banks, SCB provides its customers with bond services. Three types of government bonds are available with the bank. These bonds are sold and related accounts are maintained according to the already established procedures.
Retail or Consumer Financial Services:
Consumer Finance
SCB first introduced consumer finance in Bangladesh and until today they are the market leaders. It has varieties in financing its retail customers with innovative products. These include different types of credit and saving schemes shown in the following Figure.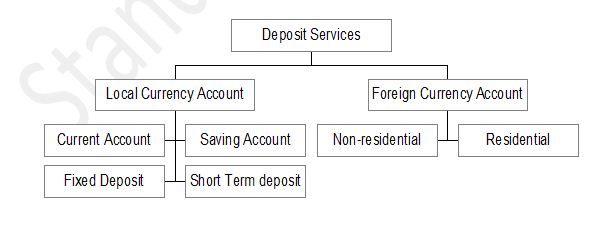 4.1 Mission Statement:
Mission
To Consistently help the customers make Intelligent Financial Choices.
By being the preferred provider of the Highest Quality services in the Chosen business areas, Relevant to all the Constituencies…
By being a Workplace of Choice that fosters Excellence, builds Intellectual Networth and results in Absolute Professionalism.
Values                                                                                         
The values of Global SC and thereby our SCB too is as follows:
We believe in putting customers at the heart of our business. We spend time listening to our customers to understand who they are and how they operate to anticipate their needs. We recognize for our friendliness, and we go out of the way to make colleagues and customers feel at home. We empower our employees to deliver great service, through enabling them to take decisions which positively impact our customers. Our people take personal ownership for our dealings with customers, are knowledgeable about what we do and promise only what we know we will deliver. We understand that all employees are different, and have unique talents and individual needs.
It is our people who set us above other organizations through their unique ability to build trusted relationships with all stakeholders. Trustworthy is about meaning what we say, being able to explain our actions, doing what we promise and being consistent in our approach. It means that we know how we will be treated and that there are no surprises. It requires us to be direct and honest in our dealings. We trust people to make the right decisions and trust them to act accordingly. Team success is as critical as individual success in achieving our business goals. Trust and integrity are the foundations for working together as one Bank in supportive and productive teams.
We encourage employees who can see a better way of doing things to contribute their ideas. The quality of our people and the diversity of our backgrounds means that we have an infinite capacity for fresh ideas and alternative solutions. We seek to tap this creativity. We are courageous enough to allow employees to take considered risks, recognizing that creativity comes from experimentation rather than limiting our thinking to the tried and tested. We believe in setting clear expectations, but give our people the freedom to achieve their goals in the way that is best determined by their individual talents.
We respect the local communities where we do business, and share their aspirations to build long-term security and prosperity. We know we can make a difference to the lives of others through sponsorship of community projects and by encouraging employees to actively participate in local programmers'. We thrive on the diversity of our people and the breadth of thinking their experience brings. We offer a meritocracy, where people are valued and recognized for their contribution, rather than their backgrounds. We believe in working as "one Bank" across all geographies and businesses, providing a seamless relationship to our customers. We uphold consistent ethical standards wherever we operate.
We encourage our people to take measured risks to deliver improved results for all our stakeholders. Where this results in mistakes, we seek to learn from our experience, to build better long-term solutions. We Endeavour to create an environment where employees feel confident in expressing their views in the knowledge that these will be valued, even where they run counter to prevailing thinking. We are prepared to give open and constructive feedback and take tough decisions to continually improve our performance. The support we provide to employees gives them the courage to develop their talents and skills so they can make a difference, and the confidence to achieve challenging goals.
4.2 Value Proposition:
With SCB, one gets financial values, convenience of accessing account through a wide range of channels and expert advice from our Relationship Managers who strive to make banking with SCB a pleasurable experience.
SCB provides comprehensive corporate banking solutions through dedicated teams to ensure top quality service.
Lending products and trade finance
Structured finance including local currency, syndications, private placements, international project finance, structured project finance etc.
SCB provides spot and forward foreign exchange service including tailored hedging products for corporate and financial institutions.
SCB integrated cash management solutions provide:
Online fund transfer between all metropolitan cities.
Efficient collection mechanisms at different outstation points.
Secured electronic payment mechanism at over 100 locations across the country.
Innovative and competitive deposit products.
Web based electronic banking services
Prompt distribution of inward remittance at competitive rates.
Corporate Governance Mechanism Approach:
Management Discipline
Balancing the pursuit of growth with firm control of costs and risks.
Participation
Focusing on attractive, growing markets where we can leverage our customer relationships and expertise.
Competitive Positioning
Combining global capability, deep local knowledge and creativity to outperform our competitors.
Commitment to Stakeholders
Customers
Passionate about our customers' success, delighting them with the quality of our  service
Our people
Helping our people to grow, enabling individuals to make a difference and teams to win
Communities
Trusted and caring, dedicated to making a difference
Investors
A distinctive investment delivering outstanding performance and superior returns
Regulators
Exemplary governance and ethics wherever we are.
5 Market Analysis:
Market Analysis:
Corporate Banking
Account Services
Domestic and International Payments
Domestic and International Collections
Outstation Cash Collections
Outstation Check Collections
Cash Pick-up and Delivery
Travelers' Cheques
WorldLink
PayLink
Trade Finance
Letters of Credit
Export Letter of Credit Advising or Transfers
Guarantees: Bid, Performance, Financial
Discounting/Refinancing of Acceptances and Letters of Credit
Letter of Credit Confirmations
Documentary Collections / Negotiations
Working Capital Finance
Pre-export and Import Finance
Receivable Financing
Corporate Finance
Credit Structures Enhanced by Export Credit Agencies
Commercial Paper or Fixed Income Securities
Syndicated Loans
Project Finance
Financial Institutions
US Dollar Demand Deposit  Account with SCB
Euro accounts with SCB London/ Frankfurt
US Dollar Electronic Funds Transfers
Sweep and Investment Services or Products
Daily Account Statements
Customer Inquiry handling
Letters of credit advising / confirming
Reimbursement Authority Processing
Electronic banking (NCB)
E Banking
MTMS32
Paylink32
NCB Cash
NCB FI Trade
NCB Corporate Trade
Internet Banking
6.1 Standard Chartered Bank Services:
Apart from its financial products Customer service is the most vital factor for an organization especially for banks.  It becomes a matter of utmost importance because a bank is directly involved with its customer. To run the business safe and sound, a bank must have to maintain a good relation with each and every customer.
Basically a SCB provides cash deposit service, utility bill payment service, small finances, corporate or business finance service, loan related services etc. Standard Chartered Bank has qualified service team who can provide the best service to the customers and can make the customer a satisfied one. The products and services that are basically provide its customers are presented bellow.
Account Opening
There are different types of accounts provided by SCB. This includes Savings Account, Current Account, Access Account, VIP super savers account(VIPSA), Short Term Deposit (STD) /Call Account, Resident Foreign Currency Deposit (RFCD) Account, Non Resident Currency Deposit (NFCD) Account, Business Account, Corporate Account, Company Account, Salary Account for different firms etc.
Basic requirement to open a personal account and salary account:
 A person who wants to open an account with Standard Chartered must have to fulfill one of these are 4equirements, such as having a valid passport, driving license with attested photo or a valid voter ID card with attested photo. And the person is to require being a citizen of the country. These are the basic requirements to open a personal account. Also an introducer is required to introduce the applicant and the introducer must be account holder of Standard Chartered at least for six months. The introducer has to sign the applicant photo and also account opening form on behalf of the applicant. This application is valid for any kinds of account.
To open a salary account the applicant must have to bring a reference letter from the HR Manager. The letter has to full fill with proper information about the applicant. Such as; date of birth, present address, permanent address, joining date, fathers name and mothers name etc of the applicant.
To open an EVSA Account or a STD/Call Account:          
These options are same for RFCD, NFCD Accounts. But an extra requirement is the applicant must have to provide wage earner certificate from the employer where the applicants is working.
Business account
To open an account for sole proprietorship, Limited Company Account, Partnership Company the applicants are required to bring all the necessary materials. An extra requirement for a sole proprietor is Trade License, TIN number and for partnership and Limited Company Partnership deed is required.
Resident Foreign Currency Deposit (RFCD)
This account has a specially designed format which facilitates transaction of foreign currency by Bangladeshi people. Offers varied opportunities to build a deposit base in foreign currency. Helps make payment for overseas commitments and dues like credit card bills, traveling expense etc. its main features include:
Offered in USD, GBP and Yen.
Competitive interest on deposit.
Can only be opened within one month of arrival from abroad.
Deposit can be made in foreign currency only (cash, TC or Drafts).
Cash withdrawal in local currency only. Fund remittance (in both Lcy and Fcy) to any place in and out of the country (without restriction)
Non-Resident Foreign Currency Deposit (NFCD)
A short-term foreign currency deposit account suitable for Bangladeshis living abroad offering most competitive interest rates available in both local and international markets. Its features include:
Interest paid in foreign currency.
Can be opened for a team of 1 month, 3 months, 6 months or 12 months.
Interest rates are tiered (based on amount and term)
Interest payable on maturity.
Automatically renewable (with or without interest).
Can be used as security against personal/commercial loan.
Foreign Currency Account
Applicable to Bangladeshis working abroad, it can be opened in USD, GBP and Yen without restriction on transaction frequency. This can be operated through nominees in absence of the account holder. Fund remains in foreign currency and is freely remittable. Main features include:
Deposit can be made in foreign currency only (cash, TC or drafts or Transfer from other FCY account) cash withdrawal from the account is in local currency only. Fund remittance (in both LCY and FCY) to any place in and out of the country (without restriction).
Fund can be used to make investment in wage earners' development bond.
Fixed Deposit
This is an ideal product for nesting surplus deposit for future long term investment. Fixed deposit, known for its high-yield, helps you earn the maximum possible return in addition to the following features:
Can be opened for a term of 3 months, 6 months or 12 months.
Tiered   interest rates, offering higher rates for larger amounts.
Interest payable on maturity
Automatically renewable (with or without interest).
Can be used as security against personal/commercial loans.
Other Types of Account
Other type of account includes, such as registered Non Government Organizations (NGO) employee accounts. Different project accounts etc.
The Charges for deposit accounts are given bellow in a chart: (3.8)
| | | | | | | | | |
| --- | --- | --- | --- | --- | --- | --- | --- | --- |
| Category of deposit schemes | Access Account | Savings Account | VIPSA Account | Current Account | STD/Call Account | Business Account | NFCD Account | RFCD Account |
Features:*
Interest Rate
2.75%- 3.00%
2.75%-        3.5%
4%-5%
Not Applicable
2.00%-3.75%
4%-5%
1.12%-1.24%
1.4%-1.71%
Opening balance
BDT

20000

BDT 100000
BDT

500000

BDT

50000

BDT 250000
BDT

500000

USD

5000/

GBP 3000

USD

1000/

GBP 500

Minimum Balance
Not Applicable
BDT 100000
BDT

100000

BDT 50000
BDT 250000
BDT

250000

USD

5000/

GBP 3000

USD

1000/

GBP 500

ATM Service
Yes
Yes
Yes
Yes
No
No
No
No
Phone Banking Service
Yes
Yes
Yes
Yes
Yes
Yes
No
Yes
Cheque Book
No
Yes
Yes
Yes
No
Yes
No
No
Charges:*
| | | | | | | | | |
| --- | --- | --- | --- | --- | --- | --- | --- | --- |
| Minimum Balance fee | N/A | BDT 1000***Half yearly | BDT 100***Half yearly | BDT 100***Half yearly | N/A | N/A | N/A | N/A |
| ATM Card Fee (Annually) | BDT 650 | BDT 650 | BDT 650 | BDT 650 | N/A | N/A | N/A | N/A |
| ATM Card Replacement Fee | BDT 300 | BDT 300 | BDT 300 | BDT 300 | N/A | N/A | N/A | N/A |
| Phone Banking | Free | Free | Free | Free | Free | Free | N/A | Free |
##VAT is applicable @ 15% on all fees and commissions effective from
     1st July 2002.
Chequebook
The customer service department helps the customers to collect new chequebook. The Chequebook is sought due mainly to two reasons: If the customer has lost it or if it is stolen.. in addition to these services, officers also take order for new chequebook for the customers. Usually it takes two workings days to collect a new chequebook.
ATM Services
There are various services provided to ATM card users like they can apply for new ATM card. The customer can apply to halt the lost ATM card. The bank for free of charge provides an ATM if it's normally being expired. If the customer damages the card then there's a replacement fee of BDT 300tk to collect a new ATM card. Also customer can collect the card after 24 hours from customer service department without any fees.
Accounts Statement and Certificate
Usually every account holder gets statement through mail as per their requirements when they open the account. There is an option in the account opening form about statement frequency and the customer can mention the period to send statement through mail. Except this, most of the time customer came to collect statement or certificate from the bank for many purposes like visa purpose, tax payment purpose etc. As the detail information is up to date time to time through online services and software's, the customer service officer normally can provide one year statement for the customer on the spot and for  certificate it requires one day to be made because it has to make manually by the officer. For each service the charges are BDT 200 respectively collected automatically from the accounts holders accounts. If the account holder ask for more than one year statement than it requires two working days because it as to collect from the mail archive which is located in the head office. For this charges are more than before.
Closing an account
An account holder is required to bring all the materials that have been provided by the bank during opening the account if the customer wants to close an account. Basically an ATM card, a chequebook is provided by the bank for an account holder. Whenever an account holder comes to close the account the customer service officer tale backs those materials from the customers and destroyed it in front of the customer. A bank account closing charge and government excise fee being taken from the customers to close an account. This is the formality to close an account.
Purchase of Sanchaya Patra on Behalf of a customer
SCB is providing free service for the account holder by purchasing Sanchaya Patra on behalf of the customer. If an account holder wants to purchase Sanchaya Patra than he or she can apply directly from any branch of Standard Chartered Bank. The fund is transfer from the account as much as the customer wants to purchase based on the government rules and regulation. The customer can in cash this security to refund purpose. The customer also can deposit coupon interest into their account very easily.
Different types of queries
Many customer come to various branches of SCB with different types of queries. Most common queries are given bellow:
To know the account opening process.
To know about loan facilities.
To know about the account position.
To know the account balance.
To know about any fund transfer.
Enquiry about lost Cheque, and ATM card.
To know about any returned Cheque information.
To know how to operate the ATM machine.
To know about different charges for different activities regarding account/ card services.
These are the most common queries of the customers. Queries vary according to situations and instances of emergency.
Credit Card Services
SCB provide credit card services in an exclusive manner with different offerings for the customers. To be a card holder the applicant must have to provide TIN number, trade license, voter id with attested photo/passport/driving license, minimum six year bank statement or source of income to get a credit card. The authority decides the credit limit by analyzing the statement of the applicant. There are four types of credit card offered by SCB.
24 Hours Call Center
24 hour call centre is the one-stop shop for banking solutions at any time at any day. Both the account holders as well as credit-card holders, can pay his/her utility bills at the touch of buttons, settle credit cards dues or simply want to make an enquiry about the account. Customers can easily contact the call center for 4 hours a day, 7 days a week. Also following things can be done through call center:
Cash advance to account.
Credit card bill payment.
Utility bill payment.
Fund transfer within the same master number.
No more standing in the long queues.
No need to worry about the payments.
Customer can order for new chequebook.
Customer can stop payment of lost/stolen Cheques.
Customer can know about foreign currency current rates.
Other services available during the working hours include account opening information, remittance query, stop payment instruction, request for draft, renewal of fixed deposit, change of address etc.
These are all the features of Standard chartered Bank's Call Center. Call Centre is discussed in greater lengths below.
E-Statement Service
This is secure and reliable way to receive Credit Card/Account Statement's anywhere in the world. Account holders of SCBcan receive e-Statements from the bank. It is a fast, reliable and efficient service of Standard Chartered to minimize customer's convenience.
There is no charge involved; SCB has designed a unique system that enables a customer to receive monthly credit card/account statement via-e-mail absolutely free. To get this facility a customer is only required having an e-mail address. Application forms are available at all branches. One just has to fill up the form to get e-Statement facility absolutely free.  
ALICO Insurance Premium Pay Service
An account holder of SCB can pay ALICO Insurance Premium by filling up a auto debit instruction form. It's a very convenient way to pay premium-quarterly, half yearly or annually.
Having Auto Premium Pay facility a customer is no longer requiring going to pay the premiums directly to Alico. Because it offers a customer a very friendly and relaxed environment. There is no confusion for the customers because Alico will send premium received slips directly to their customers.
Auto Bills Pay Service
It is the simplest way and most convenient way of paying Monthly Bills of mobile phone, electricity, internet, cable TV, etc. Paying any bills has never been so easier. With the help of Account/Credit Card, a holder can put an end to the hassle and frustration involved in paying bills as the traditional way.
Having auto bills pay service an account/card holder no longer have to go out of his/her way to pay bills, stand in long queues or run around different places. Auto bills pay offers the customers one-stop bill payment solution in a friendly and relaxed environment. Once a customer becomes a member of auto bills pay. The bank will make payment of customer's bill every month by debiting his/her standard chartered Credit Card/Account. Confirmation will be send to the customers with the statement with detailed narration of bills. A Customer just requires filling up an auto bills pay form to have this facility.
 6.2 Saving Schemes Services of Standard chartered Bank:
There are other types of savings schemes in SCB available for its customers. Those are given bellow in a brief form:
Fixed Deposit
Minimum Amount requirement
Tenor
BDT 2M &  below
AboveBDT 2M &uptoBDT10M
AboveBDT10M

& BDT15 M

AboveBDT15M
1 Month
5.25
5.50
5.75
6.00
3 Month
5.75
6.00
6.25
6.50
6 Month
6.00
6.25
6.50
7.00
1Year
7.00
7.25
7.50
7.50
2 Years
7.00
7.25
7.50
8.25
3 Years
7.25
7.50
7.50
8.50
4 Years
7.50
7.75
7.75
8.50
5 Years
7.75
7.75
10.00
10.00
Monthly savings Schemes (Insurance Covered)
Insurance coverage facility is an added feature for this scheme. In this facility nominee will receive the maturity amount in case of the untimely death of schemes holder. This facility is available in different maturity based on the schemes such as 3 years, 5 years and 10 years.
This scheme is for fixed team and sold in units. To buy one of this units a customer need to deposit taka 10000 at the beginning and a monthly deposit of taka 1000 till the maturity of the scheme. A portion of EMI (Equal Monthly Interest) will be paid by the bank as premium for the insurance on behalf of the accountholder.
An applicant of this scheme should be an accountholder of SCB, Bangladeshi nationals, minimum age must be 18 and maximum age at the end of the scheme must not exceed 60. Residing in Dhaka, Chittagong, Narayanganj, Bogra, Khulna and Sylhet. If someone is interested to open this scheme with SCB than he/she must have to open an account at first.
An approximate tenor and profit amount at maturity has given bellow in a table:
| | | | | | |
| --- | --- | --- | --- | --- | --- |
| Tenor | Initial deposit | Monthly Deposit | Total payment | Value at Maturity (With Insurance) | Profit |
| 3 Years | 10000 | 1000 | 46000 | 52819 | 6819 |
| 5 Years | 10000 | 1000 | 70000 | 86934 | 16934 |
| 10 Years | 10000 | 1000 | 130000 | 197274 | 67274 |
N.B: These are indicative figures only and tax is payable as per government rule.
Millionaire Schemes
If someone is interested to open this scheme with SCB than he/she must have to open an account at first. This is a fixed terms savings scheme. Customer can buy any number of Millionaire scheme. The scheme requires an initial deposit of BDT 100000, which will be followed by monthly installment of BDT 10000 till maturity.
The scheme is for 5 years 9 months and for 10 years.
It will be a non-transactional account where interest will accrue on daily basis and will be credited on monthly basis.
An approximate tenor and profit amount at maturity has given bellow in a table
| | | | | | |
| --- | --- | --- | --- | --- | --- |
| Tenor | Initial deposit | Monthly Deposit | Total payment by customer | Profit | Value at Maturity |
| 5 Years | 100000 | 10000 | 790000 | 220528 | 1010528 |
| 10 Years | 100000 | 10000 | 1300000 | 672737 | 1972737 |
Locker Service
Standard Chartered Bank's locker service allows a customer to keep their valuable in a safe and secured place and access the same at their convenient time.
Service offers the following facilities to its customers:
Friendly and personalized services from the locker custodian.
Complete privacy: A locker holder can operate the locker in private environment.
Convenient location of locker complexes.
Air-conditioned locker rooms.
Complete safety and security: Locker complexes have the best available security features such as:
Alert, round the clock security guard.
Strong, heat-resistant steel lockers lodge in reinforced concrete steel vaults for maximum protection.
Sophisticated anti-burglary alarm systems.
Highly advanced smoke-sensor devices placed all over the ceiling backed by the fighting equipments.
Protection against varying weather condition.
Timing for visiting locker
Locker services are available on:
Saturday to Wednesday from 3.00pm to5.00pm.
And for Thursday timing is 1.00pmto 2.00pm.
This service is unavailable on weekends and government holidays.
Available locker size and charges:
| | | | | |
| --- | --- | --- | --- | --- |
| Type | Height | Length | Width | Charges (Yearly) |
| Small | 4.5"*7.0" | 23.5"* 23.5" | 6.5"*4.5" | BDT 3000 |
| Medium | 4.25"*14.0" | 23.5"* 23.5" | 13.0"*4.5" | BDT 4200 |
| Large | 4.5"*14.0" | 23.5"* 23.5" | 13.0"*7.0" | BDT 5400 |
 7.1 Standard Chartered Bank Profile:
A customer can visit locker before banking scheduled time but a service charge of BDT 100 imposed to the locker holder.
In the organization part of this report, I have chosen two nationalized commercial banks such as Agrani Bank and Janata, two private commercial banks such as City Bank and Prime Bank, and one foreign bank named Standard Chartered Bank in order to do the industry analysis. In this report, I have compared the total Shareholders equity and total assets of all these five banks for some years.
The total Shareholders equity of Janata Bank, Agrani Bank and Standard Chartered Bank in the years of 1999 and 2000 has been shown separately in the following table.
Table 1: The total Shareholders' Equity of  Agrani Bank, Janata Bank and Standard Chartered Bank in the Year of 2000 and 2001.
Name of the Bank
Total Shareholders' Equity(In Taka)
Year 2000
Year 2001
Agrani Bank
3,017,720,822
3,253,092,422
Janata Bank
3,125,235,431
3,133,624,188
Standard Chartered Bank
1,058,891,891
1,224,998,886
We find that the total capital of shareholders' equity is significantly less for Standard Chartered Bank compared to the total capital or shareholders' equity of Janata Bank and Agrani Bank in the years of 2000 and 2001.
The total Shareholders' equity in the year of 1999, 2000 and 2001 for City Bank Prime Bank and Standard Chartered Bank have been shown separately in the following table.
Table 2: The total shareholders' equity of City Bank, Prime bank and Standard Chartered Bank in the Years of 1999, 2000 and 2001
Name of the Bank
Total Shareholders' Equity(In Taka)
Year 1999
Year 2000
Year 2001
City Bank
356,454,521
423,119,640
503,119,640
Prime Bank
668,993,688
897,000,729
1,261,433,233
Standard Chartered Bank
1,058,891,891
423,119,640
503,119,640
We find that the total capital or shareholders equity is higher for Standard Chartered Bank compared to the total shareholders equity of City Bank and Prime Bank in the year of 1999, 2000 and 2001.
Total assets of Agrani Bank, Janata Bank and Standard Chartered Bank in the year of 1999 and 2000 have been shown separately in the following table.
Table 3: Total Assets of Agrani Bank, Janata Bank and Standard Chartered Bank in the years of 2000 and 2001.
Name of the Bank
Total Assets (In Taka)
Year 2000
Year 2001
Agrani Bank
114,249,553,111
123,262,947,481
Janata Bank
116,468,993,963
128,567,889,759
Standard Chartered Bank
13,568,511,854
16,086,573,324
The Total Assets of City Bank, Prime Bank and Standard Chartered Bank in the years of 1999, 2000 and 2001 have been shown seperately in the following table.
Table 4: The total Assets of City Bank, Prime Bank and Standard Chartered Bank in the Years of 1999, 2000 and 2001.
Name of the Bank
Total Assets (In Taka)
Year 1999
Year 2000
Year 2001
City Bank
13,420,209,035
17,208,058,373
20,726,350,021
Prime Bank
8,709,826,907
12,845,859,469
15,736,942,503
Standard Chartered Bank
13,568,511,854
16,086,573,324
21,968,329,919
I can find that the total assets of Standard Chartered Bank are significantly higher than the total assets of Prime Bank. But the total assets of City Bank was little higher than the total assets of Standard Chartered Bank in the year 2000 and again in the year 2001 the total assets of Standard Chartered Bank became higher than total assets of City Bank.
Community Services of SCB
Apart from Business SCB also associated with community services. They have aimed to restore sight to One million people in partnership with Sight Savers International and VISION-2020– the international body for elimination of avoidable blindness. They have identified 12 flagship projects in Bangladesh, China, India, Indonesia, Kenya, Nigeria, Pakistan, Sri Lanka, Thailand and Vietnam to fund cataract operations, training of eye care doctors, building of training facilities and vision centers.
Banks in Bangladesh
Name of Bank
Number of Branches
 
Inland
Abroad
 A. Nationalized Commercial Banks
1. Sonali Bank
1313
7
2. Janata Bank
897
4
3. Agrani Bank
978
—
B.  Specialized Banks
1. Bangladesh Krishi Bank
836
—
2. Rajshahi Krishi Unnayan Bank
300
—
3. Bangladesh Shilpa Bank (Industrial)
15
—
4. Bangladesh Shilpa Sangstha
5
—
5. Grameen Bank
1110
—
C. Private Commercial Bank
1. Rupali Bank
515
1
2. Pubali Bank Ltd.
351
—
3. Uttara Bank Ltd.
198
—
4. Arab Bangladesh Bank Ltd.
58
1
5. International Finance & Investment & Commerce Bank Ltd. (IFIC)
55
2
6. Islamic Bank Bangladesh Ltd.
100
—
7. National Bank Ltd.
66
1
8. The City Bank Ltd.
80
—
9. United Commercial Bank Ltd.
79
—
10. Al – Baraka Bank Bangladesh Ltd.
33
—
11. Prime Bank Ltd.
16
—
12. Dhaka Bank Ltd.
9
—
13. Al-Arafa Islami Bank Ltd.
20
—
14. South East Bank Ltd.
10
—
15. BANK OF Small Industries & Commerce
21
—
16. Eastern Bank Ltd.
21
—
17. NBL
27
18. Social Investment Bank Ltd.
5
—
D. Foreign Commercial Banks.
1. American Express Bank Ltd.
2
2. Credit Agricole Indosuez
2
3. The Standard Chartered Bank
15
5. Habib Bank Ltd.
2
6. State Bank of India
1
7. Muslim Commercial Bank
2
8. Citi Bank NY
1
9. National Bank of Pakistan
1
10. Hanil Bank
1
11. Dutch Bangla Bank
2
12. HSBC
5
82
Source: www.bangladesh-bank.org
8.1 Porter's five forces:
Rivalry among existing competitors
The rivalry among the competitors and the growth in the industry depends upon the intensity of competition. A high amount of competition is observed in the banking sector of Bangladesh. There are more than 50 commercial banks in Bangladesh that fight for there own share of the market. The national banks have the highest banking network in Bangladesh. They compete against the banks with their low cost of operation and government support. Again, SCB is the largest multinational banking network in Bangladesh that has its network in many metropolitans of Bangladesh. There are other international banks that also take part in the competition and are aggressive in nature. This high intensity of competition makes companies difficult to sustain in the long run.
Threat of new entrants
The next force highlights the possibility of new competitors entering the market. Existing firms may try to discourage new competition by aggressive expansion & other types of entry barriers. The banking sector of Bangladesh seriously faces the threat of new entrants. However the threat comes from two directions. The first threat comes with the arrival of the multinational banks and her branch expansion particularly due to the booming energy sector. Secondly, the continuous entry of local banks with lower cost structure also poses a severe threat to this industry.
In the context of SCB the various new & upcoming Banks pose a significant threat, being new entrants in the banking sector of Bangladesh. But SCB is aware of these potential competitors and is trying to expand countrywide to make the sector unattractive & to create entry barrier.
Threat of substitute products
This force considers the potential impact of substitutes. New products that satisfy the same customer needs are important sources of competition including alternative products in the definition of product market structure identify substitute forms of competition.
SCB continuously faces the threat of various substitute products launched by its strong competitors in the market place. For example, the launch of premiere banking by HSBC poses a strong threat on SCB's premium customer group and SCB is at a condition where it should launch an even better product. More over the various consumer credit schemes offered by various local banks with lower interest rates and cost also pose a strong threat on the SCB personal banking products. Again the lower service charges at national banks also discourage a wide group of customers to hold account in SCB. These are some of the threats posed by substitute products in the market place.
Bargaining power of suppliers
The fourth force is the power of suppliers that may have impact on the producers in an industry. Companies may pursue vertical integration strategies to reduce the bargaining power of suppliers.
In the context of SCB, suppliers are those customers and organizations that provide financing to the firm via depository schemes. If the cost of financing rises, then SCB will have to increase the interest rate that it charges to its customer in order to remain in the business. This may result in severe customer dissatisfaction & as a result poor profitability. SCB is aware of this devastating situation.
Bargaining power of buyers
Finally, buyers may use their purchasing power to influence the producers or service providers. Understanding which organizations have power & influence in the distribution channel provides important insight into the structure of competition.
In the banking sector of Bangladesh, customers have a strong bargaining power since there a large number of commercial banks providing similar services. Customers have a wide range of options in deciding where to bank. They can either go for the Multinationals or turn to new local banks for getting quality service. Others may also consider the national banks for large credit facilities. Therefore banks have to pursue the customers with attractive interest rates and provide them with tailor made customized services in order to attract the customer or hunt depositors.
In the context of SCB, the firm is more or less free from the cope of the bargaining power of the buyers. SCB has its own policies to carry out its operations & employees follow those rules to deal with the customers. But too much rigidity of the prevailing policies when to deal with the clients may under cut its client base as well as profitability. To overcome this worst scenario – a positive & personalized approach to the needs of customer – has become SCB'S motto.
Stakeholders
SCB understand that it is important to look at the business from stakeholders' perspective and to find areas where agendas of both parties overlap. This means listening to and working with the stakeholders across the globe and being very clear about SCB's intentions and priorities.
According to SCB, 'We define anyone who comes into contact with the Bank as a stakeholder'. Below are some specific groups with whom we SCB is constantly seeking to broaden relationships and dialogue.
Socially Responsible Investment Analysts
SRI analyst forum was held in London in 2004. The intention was to make this an annual event and widen the audience. SCB's aim was to meet each SRI analyst on at least two other occasions annually as well as remaining in regular telephone dialogue.
Professional Bodies
The Bank is a signatory to the UNEP Financial Institutions statement and is a joint member of the UNEPFI/GRI Financial Services Sector working group. It also participates in the UK-based Business in the Community corporate responsibility and environmental indices. The Bank is an active member of the UN Global Compact UK working group.
Bank employees
Every year an employee engagement survey is run called, the Q12 Gallup Poll. This covers a broad range of HR-related topics. In 2004 a presentation was delivered at a conference held in New York for all our Country Chief Executives to explain and develop the approach to Corporate Responsibility. In 2005 SCB extended this activity to all other employees, principally through the leadership of these individuals, through the Corporate Responsibility Committee and through targeted internal communications.
Existing and Potential Shareholders
SCB communicate with shareholders through Annual report, Annual General Meeting and through this web site. SCB's Investor relations team work on an ongoing basis with our major institutional investors.
Customers
SCB has an obligation to ensure that the customers they serve are treated fairly and are sold products that are appropriate for their needs. The bank believe this is far more than a compliance issue but is central to a creating a sustainable business.
Social and Environmental risks in lending continue to gain prominence and SCB is working closely with customers to understand how this impacts their business and the opportunity to work with them.
The Outserve programme is designed to ensure that SCB offer exceptional service to customers. SCB participate in the Greenwich Quality Index to track the opinions of customers in the Wholesale banking operation, while Consumer bank customer attitudes are tracked independently by Market Probe.
Business Partners and Suppliers
The Bank has established systems for embedding Social and Environmental considerations into our procurement processes. The next step is to work with the business partners to improve these systems over time. SCB held a Supplier Forum in the UK in 2004 to begin the process of engaging the suppliers in a new approach to managing social and environmental risk.
Government
SC has worked extensively with the UK Government and other leading UK companies with African interests to facilitate the launch of the Commission for Africa. It is specifically involved in programmes addressing micro-finance for people and communities usually excluded from mainstream banking services, small and medium sized enterprises and HIV/AIDS.
Non-government Organizations (NGOs)
SCB has talked with to many NGOs including Global Witness, Banktrack, Friends of the Earth, PLATFORM and the CornerHouse on specific projects and issues. SCB's approach to working with and talking to NGOs has always been on a deal or issue specific basis. Although this is likely to remain the case, SCB recognizes the importance of understanding how the Bank can contribute to the global and local issues that the NGO community focuses on.
8.2 Alternate Delivery Channel:
The Alternate Delivery Channel means the way how the customers can bank themselves. They do not need to go to the branches even. They can have service staying at home or at abroad. Standard Chartered Bank is calling it Self Service Banking which is launched in 2004. The alternate channels are as follows:
The State-of-the-Art 24 Hour Call Centre.
iBanking
 BillsPay Centres
ATM services
E-statements
SMS Banking
Fees & Charges:
 There are no additional fees or charges associated with any of the self service banking. However, normal fees and charges relating to products and services will be applied.
Call Centre
Definition: A call centre is a central place where customer or non-customer calls are handled by an organization, usually with some amount of computer automation. Typically, a call centre has the ability to handle a considerable volume of calls at the same time, to screen calls and forward those to someone qualified to handle them.
Objective: To provide cost effective alternative delivery channel to customers in order to attain service excellence in terms of:
Convenience
Quality
Responsiveness
Easy accessibility
24 hours one Window service
technology based solution(IVR)
Necessity-Call Centre
 Increasing Customer expectation
Convenience
Easy access
Responsiveness
24/7 One Window service
Technology based solution
Alternate channel
Divert calls from branch
Reduce queues
Resulting in enhanced branch service quality
Feedback centre of the Bank
One point complaint
Effectiveness of marketing campaigns
Response to new products and services
Competitive edge
Services offered: Standard Chartered Bank's 24-hour Call Centre is the easy answer to our customer's banking needs. No more queuing at the branches and it's absolutely free. The call centre has two components: The automated system IVR (Interactive Voice Response) and the human Interface CSRs (Customer Service Representative). The CSR are divided into 2 units: Branch banking and Credit Cards. The services are provided through both IVR and CSR as detailed below
Services Offered—CSR (Customer Service Representative)
Branch Banking-CSR
Account inquiries
Balance confirmation, interest, Sanchay Patras, and loan related certificate request
Stop payment of cheque
ATM hot marking and replacement request
Pay order and demand Draft
Duplicate statement and change of statement cycle or date
Complaint resolution
Credit Card-CSR
Authorization- manual, forced and reversals
Card account inquiries
Card activation-new and renewed
Card block, replacement and re-instatement address, telephone number change
Duplicate statement and statement cycle change
Instabuy transfer
Online TIN generation
reward redemption
merchant queries
safetyNet re- enrolment
Services Offered-IVR (Interactive Voice Response)
 IVR-Non financial
Balance inquiry
Transaction details
Foreign currency exchange and deposits rates
Product information
Duplicate statement by mail
Cheque book request
Forms by fax
IVR-financial
Fund transfer
Utility bill payment from account or credit card
Credit card bill payment
Transfer from card to bank account
How to apply for service at the SCB Call Centre:
To avail SCB's call centre services, a bank accountholder (liability or asset) has to complete the Call Centre Form available at the branches. The application is forwarded to Account Services for generating the TIN (Telephone Identification Number). The customer can collect TIN from his desired branch after two working Days from the day of submission of the submission of the application.
For credit card customers, the TIN is generated online. The cardholder contacts the call centre and after the necessary security checks have been conducted, generates the TIN himself. Process is stated below:
Call 8961151 or 0173041400-19
Press 1 for Bangle or 2 for English
Press 2 for Credit Card services
Press 3 to generate a new or forgotten TIN
Call will be forwarded to CSR. After verification, customer call will be sent back to IVR to generate the 4 digit TIN.
Note:
A TIN will remain valid even if it is not used for any period of time.
In case of replacement TINs, the previous TIN is deactivated automatically when the new TIN is generated.
I-banking
Objective
 To provide simple, hassle-free, and secure internet banking service to all Standard Chartered Bank, Bangladesh customers.
Attain service excellence in terms of:
Easy 24 hour accessibility
Security
Convenience
Quality
Technology  based structured solutions
Services Offered
Account services: view relationship with the Bank at a glance, check account balance, view and download statements, order statements and cheque books.
Fund transfer: transfer funds between own Standard Chartered Bank accounts. (Even if under different master).
Standing order: Request the set-up of standing orders ( accounts and Cards)
Cheque status: check the status of cheque issued from accounts.
Utility bill Payment: Pay utility bills online.
Credit Card payments: Pay from the account to card, both of which should be linked with iBanking.
Credit card services: View card statement, check the balance, and apply for a credit limit increase.
Loan services: view loan type and amount, outstanding balance and overdue amount, if any.
Personal information: change existing password.
Market watch: get updated on foreign exchange rates.
Criteria for iBanking access
All customers including Credit Card only customers are eligible for iBanking with the exception of the following:
Customer with a company account.
Where the mandate to operate is "jointly or both" / jointly or all and the customer does not have any other relationship with the bank.
Customers having Convertible accounts
Customers having any Foreign Currency accounts (excluding RFCD accounts).
How to apply for iBanking
Method 1
Customers submit a completed Ibanking Application Form
Receives his/her ibanking ID by email.
Customer collects the password from his specified branch in 3 working days.
Logs on to www. Standardchartered.com/bd and starts enjoying our ibanking services.
Method 2
The customer visits the website
Fills out the iBanking application form online and creates his own iBanking ID.
Then prints, signs, and drops the form at any SCB branch, along with a copy of valid passport.
Collects password from specified branch after 3 working days.
Logs on to the website.
Minimum requirements:
      Please log on the website. While log on the customer have to make sure no other window is open.
Internet Explorer version 5.8 or above.
Java soft version 1.3.1_11 ( JRE)
Bills Pay
Definition: 24-hour Bills Pay Centre.  The Bills Pay Centre is Standard Charterer's one-stop bill payment solution. It is an automated service that is designed to ease the customer's bill payment problems. Customers can stop by these Centers and use the machine at any time of the day or night to make bill payments. They can also send someone else with a copy of their bill to make the payment on their behalf.
Location: the Bills Pay Centers are located at the following branch premises-
Dilkusha and Dhanmondi # 2.
Features available:
Bank Payments
 Credit Card payment
 Bank Deposit
Utility Payments
Process of Bills Pay Centre
The customers can make credit Card payment or payment of DESA, DESCO and BTTB through the Bills Pay machine.  After selecting the preferred option, the amount the customer wishes to pay has to be keyed in. then the mode of payment selected- the customer has the option of paying or depositing cash, check or debit instruction. He must put the cash, cheque or debit instruction inside the envelop and sealed it, write the transaction number on the envelop and drop it in the machine. The machines are serviced twice daily. Payments made until midday is updated in the system on the same day while payment made afternoon are updated the following working day.                                           
ATM Services
Automated Teller Machine (ATM) is a fast, easy and convenient way for you to withdraw or deposit cash and also avail other services without having to step into a branch.
Number of ATMs
Standard Chartered Bank has 27 ATMs in Bangladesh. The ATMs within branch premises are:
Dhaka
Chittagong
others
Dilkusha Main

Motijheel (ALICO)

Gulshan

Kawran Bazar

Sheraton

Banani

Uttara

Dhanmondi( 2 & 5)

Nasirabad

Agrabad

Khulna

Bogra

Sylhet

Narayanganj
The offsite ATMs are located in Dhaka and Chittagong. They are:
Dhaka
Chittagong
Johnson Road

Tejgaon

BAT( Mohakhali)

Syamoli

Shanker

Pallabi

Uttara

Motaleb Plaza

J.K. Road
 Evaluation of Customer Satisfaction at Standard Chartered Bank Bangladesh:
Response from Customer Calls
Sep – Oct 2005
A survey was done on customers who were frequently operating their accounts in various branches of SCB.
On one hand, customers seemed to be either too happy with Standard Chartered Bank, its image, products, services. On the other and very much contrary to the former opinion is the utter and bitter opinion on us. Quoting Mr. Md. Mushihur Rahman Senior Manager, British American Tobacco Bangladesh BATB, "unfortunately our Company account is with your bank and I have no hand over it. But I have transferred all my Personal account of me and my family members from SCB. I have also talked to my Colleagues and relatives and they all seem to be very frustrated with SCB so much so that most of them transferred elsewhere from SCB and some are thinking of it."
The complains that were received were mainly belonging to these fields:
Issues related to Credit card
Service charge high
Employee behavior at branches
Limited Branches
Long queue
ATM Machine disorder
Low Interest rate for depositors
Difficulty in obtaining loan
Cheque dishonor
Not receiving Bank statement
and worst of all Total Fund transfer to another Bank
There was also provision for Miscellaneous complains where there were problems including Car parking issues, difficulty in understanding the IVR system of Call Centre.
The Survey
Number of respondents: 508
Question to respondents:
Do you have any complain/query/suggestion regarding our bank?
If no complain, may you please suggest us ways so that we can improve. This is you helping us to serve you better.
For respondents who were reluctant to make complains fearing and unexpected occurrence.
The following is the complaints made against specific branch and employees. Most of the time, respondents could give description of the person they are complaining against. They could not recall names.
Following is the graphical presentation and the findings of the complains made by the respondents.
Very Satisfied:
21% of the 508 respondents has expressed their level of satisfaction to be high with the bank. A few respondents also mentioned particular employees they are specifically happy on.
Satisfied:
Amazingly true with the study is that respondents were found to be too satisfied with SCB's performance or they were too dissatisfied. As low as 1% were found to be moderately satisfied with SCB.
Credit card:
3% has complains regarding Credit card. Complains include:
Applied for credit card but didn't get any. He is in LPR and that's why he was denied from Karwan Bazar.
He is really dissatisfied with Credit card. He has been receiving calls from SCB that, he is going to get a gift for the Card. But it has been 3 yrs now.
Applied for credit card but it was denied although she had all the necessary documents.
SCB should not charge us for using credit card. In India and Pakistan Banks send credit cards in customers' home and on the contrary SCB is charging for using one.
Credit card takes too much irritation while it searches about us. We are with SCB for 10 yrs. SCB should be able to find out about us through our dealings and transactions.
SCB called him frequently to take a card and then disregarded him of the card.  The reason was shown to be not satisfactory. The person has Amex Gold card, VISA and Master Card. And now after inviting him for the card, they refuse him for no apparent reason. It's utterly ridiculous to him.
High service charge:
5% has complains regarding high service charge. Complains include:
He complains he was unduly charged Tk.. 500 + VAT for a problem by the Bank. SCB. The bank found he fell short of Average Balance actually this never happened.
Very high charge. SCB has cut Tk 550 for a Bank statement.
Interest rate:
1% has complains regarding Interest rate to be low for depositors compared to other foreign and local banks. Complains include:
Interest rate is very low when we deposit. The rest of the not-so-famous banks offer higher interest rates against deposits.
Interest rate for depositors should be more attractive.
Loan:
1% has complains regarding Loan. Complains include:
Very deceptive loan, first they seem to be lucrative but later on they turn out to be really expensive.
Car loan is obtainable much easily elsewhere in better terms but it is scary in SCB. She get  frequent loans from EXIM and One Bank.
Loan obtaining is very difficult.
Home loan says it will take only 24 hrs but he applied for 6 months and no result. HSBC's home loan is much easier to get.
Cheque dishonor:
2% of the respondents complained against their cheques being dishonored frequently. Complains include:
Cheque dishonor is very frequent. Signature if not matched then cheque is dishonored right away.
Cheque dishonor is very frequent. Signature if not matched then cheque is dishonored right away.
Not receiving Bank statement:
1% of the respondents were receiving bank statement irregularly or not at all. Complains include:
After changing his address, he received two bank statements only. It has been long he is not receiving one.
Do not receive Bank statement from Dhanmondi branch regularly. He gave the new address, and also received some statements but very irregularly.
Total Fund transfer to another Bank:
3% of the respondents are going to or already has transferred to another bank. Complains include:
Transferred to Janata Bank.
Her husband switched to HSBC and is also requesting her to switch to HSBC from SCB.
She totally transferred to EXIM, due to slowness of SCB employees, low interest rate.
Her father who is government service holder is switching is account to another bank.
ibanking:
Two customers had problems regarding ibanking. Complains include:
He uses iBanking and has not received Local Card even after applying twice.
He applied for ibanking but it has been a month and he isn't informed of anything.
Others:
6% of the respondents had problems regarding issues that are not mentioned above. They include:
SCB is unwilling to make payorder after 1 p.m., while other banks are doing it after 4 p.m. Importers undergo demurrage as payorder is done late.
SCB has no right to ridicule poor people. They have to wait for three long hrs. Mangers are really not cooperative and friendly.
It is too much showy and spends much on buildings, and other unnecessary enhancements but less on customer service.
He was not provided a certificate for a remittance from USA. This was in Gulshan branch. Now he is receiving the certificate from a different bank.
Signature is not matching with his original one very frequently in Hadi Mansion branch. In all other banks there seems to be no problem as such.
Account opened in Dhaka Main but cheques are always dishonored in other branches including DD2 DD5 and Uttara. All the branches except his principle branch complain that "Signature is not matching".
Other complains include:
Technical difficulties – Some customers are discouraged to use the IVR system of Call Centre as they complain they do not understand the automated voice well. Complain include, 'Call center is vague. When I try to call, it's too many complications to go through before getting the information I really want.'
Parking problem – It is not a privilege but a mandatory requirement for the customers that should be provided to the bank. Gulshan branch has no parking.
Utility bill (t&t phone) of Sep is paid by SCB in October. Aug payment made to Sep. It is always delayed by the bank for which the customer has to pay Penalty fees with his Utility payment.
Out of 508 respondents, 126 were satisfied and 205 were dissatisfied. Figure 1 below gives a graphical representation.
| | |
| --- | --- |
| Satisfied | 126 |
| Dissatisfied | 205 |
Out of 205 dissati./sfied customers, the distributions to different problems are shown below. The various causes are listed and following that is the graphical representation.
| | |
| --- | --- |
| Complains | |
| Credit card | 20 |
| Service charge | 27 |
| Employee behavior | 30 |
| Branches/Long queue/ATM Machine | 44 |
| Interest rate | 7 |
| Loan | 7 |
| Cheque dishonor | 10 |
| Not receiving Bank statement | 8 |
| Total Fund transfer to another Bank | 15 |
| Others | 37 |
10.1 SWOT Analysis:
Strong corporate Identity
SC is the leading provider of financial services worldwide. With its strong corporate image and identity it can better position in the minds of customers. This image has helped SCB grab the personal banking sector of Bangladesh very rapidly.
Wide range of Financial Product Offerings
SCB serves both Consumer and Wholesale Banking customers. Consumer Banking provides credit cards, personal loans, mortgages, deposit taking and wealth management services to individuals and small to medium sized enterprises. Wholesale Banking provides corporate and institutional clients with services in trade finance, cash management, lending, securities services, foreign exchange, debt capital markets and corporate finance.
Deep Local Knowledge with Global Capability
Standard Chartered is well-established in growth markets and aims to be the right partner for its customers. The Bank combines deep local knowledge with global capability.
The workforce comprises over various nationalities (including 45 at senior management level in the Headquarter) and close to half is female. SCB wants to lead by example in building a multi-talented, diverse and representative workforce and leadership. The simple logic behind SCB's commitment to diversity and inclusion is to attract and retain the best talent and harness the differences individuals bring, enabling them to realize their full potential. SCB sees individual differences as strengths, allowing them to deliver higher performance and true competitive advantage. The Diversity Council provides a strategic, global focus to diversity and inclusion in the Bank.
Distinct Operating Procedures
SCB in known worldwide for its distinct operating procedure. The company's managing for Value strategy better satisfy customers needs and also keeps the firm profitable.
Distinct Schedule
Everyone in SCB from the appraiser to the top management has to work to the same schedule toward a different aspect of the same goal, interfacing simultaneously at all level over quite a long period of time.
Strong employee bonding and belongingness
SCB employees are one of the major assets of the company. The employees of SCB have a strong sense of commitment towards organization and also feel proud and a sense of belonging towards SCB. The strong culture of SCB is the main reason behind this strength.
Efficient Performance
SCB provides hassle free customer service to its client base comparing to the other financial institutions of Bangladesh. Personalized approach to the needs of customers is its motto.
Young Enthusiastic Workforce
The selection & recruitment of SCB emphasizes on having the skilled graduates & postgraduates who have little or no previous work experience. The logic behind is that SCB wants to avoid the problem of 'garbage in & garbage out'. & this type young & fresh workforce stimulates the whole working environment of SCB.
Companionable Environment
All office walls in SCB are only shoulder high partitions & there is no executive dining room. Any of the executives is likely to plop down at a table in its cafeteria & join in a lunch chat with whoever is there. One of the employees has said, "It's exciting to know you may see & talk to the top management at any time. You feel a part of things".
No Communication Barriers
DBD has tried hard to avoid communication barriers & structural bureaucracies. The little existence of authoritative barriers among the different level of management stimulates a feeling of importance as their work get priority over the position.
Equalization
At SCB workshops are conducted periodically. On the workshops, all people participate as equals, with new members free to openly challenge top managers.
Free Exchange of Communication
At SCB the main objective is to setting up workshops are to remove authority from an artificial spot at the top, & place it where the most knowledgeable people are, the people closest to the operations. The free exchange of ideas is reinforced by a policy of "constructive confrontation". Each employee is expected to challenge ideas openly & aggressively, but never attack an individual's motives for presenting an idea.
MBO
SCB also has Management by Objectives (MBO) everywhere. Each person has multiple objectives. All the employees must have to get the approval of their bosses on what they are going to do. Later they review as how well they have performed their job with their management as well as the peer group.
"One-To-One" Meeting
The MBO makes the review a communication device among various groups. The key to the system is a "one-to-one" meeting between a supervisor & a subordinate. In the meeting, the problems in dealing with customers are put forward first & every one dug it to solve them.
Modern Equipment & Technology
SCB owns the best banking and information technology equipments in Bangladesh. It ultra modern banking systems starting from terminal pc's to HUB's are based on the international SCB group standards and are the latest. The Hexagon product is one of the best examples in this context.
Visually Appealing Facilities
SCB has some of the best visually appealing branches and office premises in Dhaka & Chittagong that highly attracts customers' attentions and customers also feel the international environment while banking with SCB.
Wide Operating Span
SCB has a many branches in Bangladesh and mentionably many at Dhaka. Due to the convenient branch location and presence of neighborhood branches, people are currently obtaining the many-faced services of SCB.
Strong Branding Activities
SCB in the world around has sound marketing activities. It is known to sponsor Music Concerts, Charity shows very regularly in Bangladesh. Like international matches sponsored by Head SC, SCB too sponsors cricket Matches of National, Local as well as School-College Level. It also sponsors billboards at various significant places around the major cities of the country.
Achievement of High Customer Confidence
As SCB is operating successfully for more than one decade in the banking industry of Bangladesh, customers throughout the country has put high level of confidence in SCB and judge the bank as an 'Expert' at what it serves.
Credit Cards, Debit Card and ATM
All of these services are directed towards receipt of money with ease and absolute safety in a politically and socially volatile country such as ours. Not just that, it also reduced and at times eliminate the need to carry huge amount of cash by the pocket round busy working days.
Value addition through Acquisition
SCB is one of the experts in acquiring various firms and organizations. In Bangladesh it can also diversify quickly by acquiring various local established banks and increase its total operation within Bangladesh rapidly.
Distinct Operating Procedures
SCB is noted for its distinct operating procedures. Repayment capacity as assessed by SCB of individual client helps to decide how much one can borrow. As the whole lending process is based on a client's repayment capacity, the recovery rate of SCB is close to 100%. This provides SCB financial stability & gears up SCB to be remaining in the business for the long run.
Countrywide Network
The ultimate goal of SCB is to expand its operations to whole Bangladesh. Nurturing this type of vision & mission & to act as required, will not only increase SCB's profitability but also will secure its existence in the log run.
More Experienced & Managerial Know-How
The top management team of SCB is expert in banking activities. The operating policies established by them are unique & unified. All the members of the team carry out their management roles exhaustively. They equally contributed to SCB's superior leadership, by carrying out their unique roles. They worked well together, respecting each other's abilities, & arguing openly & without any rancor when they disagree.
Weaknesses
No Investment Products
Currently the personal banking divisions of SCB do not have investment products for its customers. The banning of investment loan by central bank posses a strong pressure to design new products.
Too Many Contract Workers
SCB has contract workers who lack the commitment with superior quality service and also are pretty dissatisfied as being a contract worker. This hampers the bank's service quality as a whole. This also increases the risk of internal information of SCB being leaked out to potential and incumbent competitors.
Concentration on Varied Financial Products
In the eyes of Industry Analysts, SCB is pursuing an aggressive differentiation with respect to its Financial Products as a means of expanding its current line of business. The management is now considering the option of congratulating new parents of a new born baby so that since its birth the baby can run account with SCB. Instead of providing so many varied to the customers SCB should concentrate on what it does best and that is 'Relationship Banking'.
Very Little Active Account Being Maintained Till the End
This is a serious problem faced at SCB. The numbers of default accounts are increasing at an increasing rate. At various branches people are opening the account and then discontinuing suddenly without letting SCB Authority formally closing the account. This Problem was known to us from Employee at mid-level Management in the Head Office Branch of SCB.
No Transparency Regarding the Decisions Taken By Upper Management
The communication flow is always downward at SCB. The problems, queries, suggestions and comments by employees at entry level re seldom or never considered.  Upper level bosses take a decision which may mean to lower level employees that decisions are tailored towards meeting the self interest of upper level employees. This is at times true creating a situation of no transparency regarding the decisions taken by the upper management.
Loss of Valuable Market Information due to Top-Down Communication Method
Lower level employees interact with customers the most. They know best what customers want, when do they want, how do they want. They are the first ones to become aware of the market changes. As SCB do not take lower level employees in decision-making process, they lose valuable market information that can be achieved without heavy expenses on market research due to Top-Down Communication Method.
10.3 Opportunities
High Demand of Housing Loans
Since housing is one of the basic needs of people, there is a high demand of housing loans. SCB personal banking division can focus on this category of products and grab this segment of customers.
Rules and Regulations Becoming Easy and Relaxed
This comes as a big and lucrative opportunity for all the foreign banks operating in Bangladesh. To encourage and facilitate more FDI, the State of Bangladesh has relaxed many stringent banking laws. More are under the process of reformation.
Growing Awareness among People toward Quality of Service and Technology
People of Bangladesh are becoming more learned through imposition of higher investment of Human Capital. They now need the services of a state-of-the-art bank more than ever. Also as, many Bangladeshi people are living abroad more than in any time of history they can use most use of SCB foreign bank like SCB.
Growing Customer Consciousness about the Risk Management Capability of the Banks
In continuation with the last point, a growing customer consciousness in visible about the risk management capabilities of a bank. People now can feel that more than the bureaucratic banks of the State, the foreign banks are much more efficient and profit-oriented with the money that people keep with them. This is a huge opportunity to be exploited.
10.4 Threats
Upcoming Banks
The upcoming private local & multinational banks posses a serious threat to the existing banking network of SCB. It is expected that in the next few years more commercial banks will emerge. If that happens the intensity of competition will rise further and banks will have to develop strategies to compete against and win the battle of banks.
Default Culture
This is a major problem in Bangladesh. As SCB is a very new organization the problem of non-performing loans or default loans is very minimum or insignificant. However, as the bank becomes older this problem will arise enormously and the bank may find itself in a more threatening environment. Thus SCB has to remain vigilant about this problem so that proactive strategies are taken to minimize this problem.
Low Foreign Exchange Reserves in the Country with Falling Exports
Alarmingly, the country's export rate is falling. This poses threat to SCB as less transaction will be covered by tem leading to lower profitability in future.
Stricter Regulations against the Foreign Banks
Although many rules are eased out, the State is still very cautious about the activities towards foreign banks. The government rather possesses a bossy attitude toward foreign banks.
Standardized Product Offerings from the New Local Private Banks
The local banks with increasing investment is becoming strong and utilizing state of the art technology in banking. This poses serious competitive threat to SCB.
Slowdown in Global Economy
Not just Bangladesh, but the whole global economy has slowed down due to the war and unmerciful events taking place, posing serious threat to economic and financial institutions of the world. SCB is not different.
10.5 Findings:
The findings that I have come across while preparing this report are:
The representatives in the Core Bank are not efficient enough to send deposit slip, which results in duplication of same deposit slips being faxed, unclear fax copy etc.

Customers can not differentiate between an upcountry cheque and local cheque. There by raising problem for the representatives to segregate the cheques before transmitting those to NCS unit via fax.

 In case of any delay in sending report or missing case of documents, the customers of PSB are very impatient; they straight complain to the manager.

 The courier service seldom deposit bills after due time. This creates problem as there might be some cheques which might get over dated because of late deposit.
11.1 Conclusion
During the internship program at SCB, almost the desks have been observed more or less. This internship program, in first, has been arranged for gaining knowledge of practical banking and to compare this practical knowledge with theoretical knowledge. Comparing practical knowledge with theoretical involves identification of weakness in the branch activities and making recommendations for solving the weakness identified. Though I have completed my internship in the Evaluation of Customer Satisfaction, it is not possible to go to the depth of each activities of branch because of time limitation. However, highest effort has been given to achieve the objectives of the internship program.
In this report, I presents the overall history of Standard Chartered Bank it also brief idea about the Mirpur Branch of Standard Chartered Bank, from which it present the product and services it used and the organ gram of the Branch.
  A bank is an intermediary institution, which deposited customer's money and again invests it to another customer to reach the goal as well as specific objective. A bank can't be able to reach the goal until it makes the customer satisfied by providing services as much as the customer needs.
After preparing this report it's become easy to say that there should be a goal to make the customer always happy and satisfied with the service, only then a bank can run its business safe and soundly in this competitive era.
11.2 Recommendation:
Present banking business is very competitive. In the competitive market to provide service a bank always have to find some new business strategy to provide services. In the light of my study I am providing some recommendation.
Standard Chartered Bank should develop their product line & quality to ensure better service.
Train the employees to work more efficiently and condfidently to provide fast & quality service to the client.
The bank should appoint a number of efficient workers in every department.
The bank should increase the number of branches; on this regard they also take the initiative.
The realtionship with the clearing house, e.g.with Bangladesh Bank should be improved as someties BPU sometimes receives some cheques at the eleventh hour.
Standard Chartered Bank has to give emphasis on the advertisment.
To bring more smoothness in the action of NSC repredentatives of SCB should fax the deposit slips properly. Moreover, it will help people in the NCS can credit the clints' accounts against the clients' cheques correctly.
Theus by providing these various services through its Evaluation of Customer Satisfaction, the Standard Chartered Bank is playing a vital role in the banking system as well as the economy of Bangladesh.