Real estate includes the land as well as any permanent improvements attached to it, whether natural or man-made, such as water, trees, minerals, buildings, homes, fences, and bridges. Real estate investing is the purchase of property for the purpose of generating income rather than living in it as a primary residence. In layman's terms, it is any land, building, infrastructure, or other tangible property that is usually immovable but transferable.
Real estate investment is one of the most tried and true methods of generating wealth all over the world. The great thing about investing in real estate is that you don't have to wait for the right time to profit because you can always rent it out. A house, an office building, agricultural land, a commercial plot, and so on is all examples of real estate. It is regarded as a safe form of investment.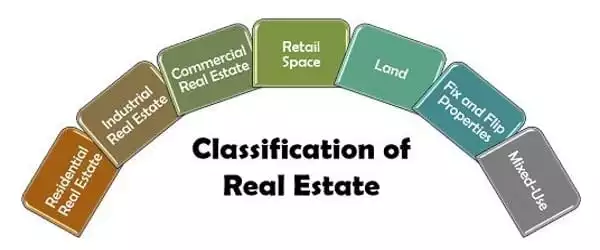 Classification of Real Estate – Real estate includes various properties which can be classified by their uses. These are as follows:
The real estate that consists of a home, such as a single, duplex, triplex, township, bungalow, and so on, and is used for residential purposes. Any home that is used for residential purposes. Single-family homes, condos, cooperatives, duplexes, townhouses, and multifamily residences with fewer than five individual units are examples. Whether it is a newly built property or a house that the owner intends to resell.
Any property used for manufacturing, production, distribution, storage, or R&D. Factories, power plants, and warehouses are a few examples. Industrial real estate refers to large-scale property used to construct factories, manufacturing units, warehouses, distribution centers, and so on.
Apartment complexes, gas stations, grocery stores, hospitals, hotels, offices, parking facilities, restaurants, shopping centers, stores, and theaters are examples of commercial properties. A complex's properties or office buildings are divided into multiple small units. These are rented or used to run a variety of businesses. As a result, they are referred to as commercial real estate.
Cemeteries, government buildings, libraries, parks, places of worship, and schools are examples of public property. These properties are used as showrooms, restaurants, shopping malls, retail stores, and so on. They can be single units or multiple units in a prime location.
Undeveloped land, vacant land, and agricultural land are examples of these (farms, orchards, ranches, and timberland). Real estate also includes any vacant land where activities such as ranching or farming take place.
Fix and flip properties are residential properties that are in disrepair and are available at a low cost. When these properties are purchased, the buyers are involved in the renovation and repair of properties in order to modify them and sell them at a high price.
Mixed-use real estate refers to a single high-end real estate project that consists of the various types of properties mentioned above in order to ensure diversification and reduce the risk of project failure.