Performance Evaluation of Investment Corporation Bangladesh
ICB is investment bank. It generally invests in the public sectors. It mobilizes funds from surplus economic unit to the deficit one. As banking financial institution it receives term deposit and provide margin loan. As a development financial institution it provides term loan to finance equity gap, provides working capital. As a market maker it issues unit certificate, underwrites securities, manages issuance of securities. It also issues and manages mutual funds.
The Investment Corporation of Bangladesh was established on October 1, 1976 under Investment Corporation of Bangladesh Ordinance (No. Xl of 1976) to encourage and broaden the base of investment, develop the capital market , stock trading, portfolio management, operating mutual fund both open ended and close ended. The establishment of ICB is a major step in a series of measures undertaken by the government in the past years to accelerate the pace of industrialization. The re-creation of ICB has met the long felt need to provide institutional support to meet the equity gap of the industrial enterprises in the absence of which the process of industrialization in the private sector was slowed down. Through the enactment of ICB (Amendment) Act, 2000 (XXlV of 2000), space of ICB's activities through the formation and operation of subsidiary companies has been expended. To meet the needs of investors of all types, wide range and adequate number of securities should be made available in the capital market. Institution and institutional supports are absolutely necessary for such capital market activity. ICB, the national investment house, is the lone organization to perform the activity by creating demand for securities and on the other hand to ensure the supplies of securities in the Bangladesh capital markets. At present the corporation is being operated under the '' Investment Corporation of Bangladesh Act, 2014.
Objective
The main objectives of education are to acquire the knowledge. To acquire the knowledge ultimately we must do some practical applications in addition to theoretical knowledge .Thus the following are the important objectives:
(i) To know the activities of the Investment Corporation of Bangladesh.
(ii) To know how ICB play an important role in the capital market
(iii) To know the performance of ICB by calculating different ratios portfolio analysis.
(iv) To gain in-depth knowledge on merchant banking & capital market of Bangladesh.
Business policy of the ICB:
The Corporation has adopted a realistic business policy framework within which its operation is conducted. The Corporation, in its operation, acts on commercial consideration with regard to the interest of industry and commerce, investment climate, capital market, depositors, investors, and to the public interest generally. The operational policies of the Corporation are as follows:
– Underwriting/ bridge finance, debenture finance and other assistance is provided only for industrial projects/ organizations/ institutions which are economically feasible, financially sound and socially desirable and broaden the base of investment.
– Assistance is provided to that enterprises/ institution which is in line with the development plans of government. In case of the industrial projects preference is given to project oriented, import substitution and to projects mainly based on local raw Martials and those be located in the less developed areas of the country.
– Maintains the policy of diversification, as far as possible, both with regards to the location and types of industries.
– In accordance with the normal; business practices adequate security is obtained to cover bridging debentures loan.
– The Corporation does not generally seek any controlling interest in any of the enterprises financed by it except when that becomes necessary and expedient in the interest of the corporation and other shareholders.
– ICB will liquidate its underwriting holdings when they mature to declare dividends and show capital appreciation. The corporation will not be guided exclusively by consideration of profit. It will keep the larger interest of the market uppermost and will unload its holdings under conditions that do not disturb the stability of the capital market.
Functions of the ICB:
In order to achieve its objectives ICB Carry out the following functions. The main functions of the ICB are as follows;
– Underwriting of initial public offering of shares and debentures.
– Underwriting of right issue of shares.
– Direct purchases of shares and debentures
– Including placement and equity participation
– Providing lease finance singly or by syndicate
– Managing investor's accounts.
– Managing Mutual Fund and Unit Fund.
– Operating of the Stock Exchange.
– Providing investment counsel to investors and issuers.
– Participating in government divestment program.
– Participating in financing of joint venture projects.
– Introducing new business products according to market demand.
Dealing with other matters, this is related to capital market operation.
Products and Services
Capital Market Segment
– Advance against Equity, Private Equity, Placement of Shares
– Advance against Share Repurchase arrangement
– Advance against ICB Unit & Bangladesh fund certificates
– Managing Margin Loan Accounts, Unit and Mutual Funds
– Stock Market Operation
– Portfolio Management
– Investing in Preference Shares
– Investing in Secondary Market
– Agent for Divestment of Govt. Shares
– Mergers & Acquisition
Infrastructure Segment
– Equity and Entrepreneurship Fund/Venture Capital Financing
– Debenture Financing
– Lease Financing
Money Market Segment
– Dealing in Money market instruments: Subordinated, Zero Coupon Bond, Term Deposit Receipt
– Fixed Deposit Receipt
– Issuing Bank Guarantee
– Consumer Credit Scheme and Corporate Finance Advice
Business Performance of ICB for the Year 2013-14
ICB is proud to have demonstrated the underlying strength of its business strategy by consistently delivering profits over the past decade, despite turmoil in global and regional markets. Its top priority is to add value and achieve attractive returns for our shareholders. Prudent portfolio management is one of the strategies for income generation. ICB always try to diversify its investment portfolio. ICB's investment in sustainable income generating securities results in yielding profits even in such an unstable market situation. The Corporation will continue to strengthen its presence in the field through its strategic investment decision in promising directions. ICB (holding company) alone has shown its proficiency and achieved sound financial results with booking a net profit before Tax of Tk. 310.51 crore during the FY 2013-14 with an impressive return on equity of 12.97%. The graph below presents the trend of the corporation's capital gain during this year as compared to its achievements in other heads of income. The growth in other heads including dividend income, fees, commission & charges remained smooth over the year. Net profit available for appropriation surged at the rate of 25.26% which ensures the corporation's revenue generating efficiency. Products and services that play pivotal role for bolstering the operating income include investors' scheme, private placements, venture capital, debenture financing and fees/commissions for operating as banker to the issue, trustee and custodian to the issue of securities and providing bank guarantee, lien against unit certificates, corporate financial advice, etc. The assets of ICB stood at Tk. 8618.42 crore, while the corporation maintained an impressive capital adequacy of 29.68% (33.30% on consolidated basis), well above the required rate under BASEL-II of 10.00 percent. The ratio of non-performing assets to total assets was at a commendable 3.54% which is lower than the industry average,
Subsidiaries of ICB
 ICB Capital Management Limited (ICML)
ICB Capital Management Ltd. is a fully owned subsidiary of Investment Corporation of Bangladesh. The company obtained license from the Securities and Exchange Commission to act as Issue Manager, Underwriter and Portfolio Manager and to carry out other merchant banking operations under the Securities and Exchange Commission (Merchant Banker and Portfolio Manager) Regulations, 1996. The company was incorporated under the Companies Act, 1994 on 5 December 2000 and obtained registration from the Securities & Exchange Commission on 16 October 2001. The company started its' operation from 01 July, 2002 upon issuance of gazette notification by the government. The Company has a separate Board of Directors comprising 3 members from the private sector having good academic qualification, expertise and experience in the field of business, finance and investment. The Managing Director of ICB is the Chairman of the Board. The company has excellent working environment being equipped with logistics and computer facilities.
Activities:
Underwriting
In order to raise long term debt and equity from the primary market, the Government bodies, enterprises corporation or companies may seek intermediary assistance from ICML in the form of underwriting.
Issue Management
To act as the manager to the issue of shares and debentures, ICML provides professional services in respect of syndicate underwriters and bankers to the issue. Besides, it also helps in preparing prospectus, getting their approval from SEC and arranges publication of the same.
Placement of Shares
ICMLA act as non-Placement Agent.
Investment Counseling
ICML provides investment counsel to the issuers and investors' including financial engineering and corporate advisory services.
Managing Investment Accounts
ICML, at its discretion, may grant loan at a ratio of 1: 1 against the assets of an account  subject to a maximum limit of Tk.25.0 lac. An accountholder may use the combined balance of his / her equities and loan to buy shares / securities. To help the investors to develop diversified and balanced portfolio to minimize risk and earn a reasonable return. ICML provides professional advice and other support services.
 ICB Asset Management Company Ltd. (IAMCL):
ICB Asset Management Company Ltd. a subsidiary of Investment Corporation of Bangladesh (ICB), commenced its journey on 5th December, 2000 with the objective of professionally managing investment funds. The Company offers different types of investment schemes where savings are pooled for investment in the capital market. These schemes are designed to hand out best possible benefits to the investors at the lowest possible risk. Investment in the securities market, for that matter any investment, carries risk. But there are many techniques to reduce such risk. The Company is managed by a group of experts who have the necessary skills, knowledge and aptitude not only to handle risk but also to ensure optimum return taking into consideration the environment prevailing in the market. We, at ICB Asset Management Company Ltd., are in a unique position to handle risk-return profile of an investment efficiently and prudently. You can let us manage your investments. We advise you to read and understand the contents of each and every scheme offered by us before investing in those schemes. The prospectuses are available and you can view or download the prospectus from our website. You may also consult your banker, broker, investment manager and financial advisor for better understanding. You can also keep yourself update on the performance of the funds just by clicking the various options. We are now managing fifteen funds – ten close-ends Mutual Fund and five open-end Mutual Funds known as Unit Fund. Some more new funds are in the offing.
The company is engaged in investment management; more specifically floating and managing both open-end and closed end mutual funds. The company is dedicated towards development of mutual fund industry as well as the capital market of Bangladesh.
ICB Securities Trading Company Ltd. (ISTCL):
ICB Securities Trading Company Limited (ISTCL) was formed as a subsidiary company of Investment Corporation of Bangladesh (ICB) in the year 2000 to perform stock brokerage functions, as part of the restructuring program of ICB under the Capital Market Development Program (CMDP) initiated by the Government of Bangladesh (GOB) and the Asian Development Bank (ADB). The Company is being operated pursuant to its own Memorandum and Articles of Association, BSEC's rules and regulations and other applicable laws. It has independent Board of Directors and separate management.
The Company emerged as a public sector stock broking company just after the introduction of Automated Trading System in the country. The then Transaction Department of ICB turned into ISTCL adopting electronic trading system and upgraded technologies in delivering services. At the opportune moment, ISTCL was established amidst high hopes and aspirations of the country's investors in trading securities. The Company started brokerage activities in Dhaka Stock Exchange Limited (DSE) and Chittagong Stock Exchange Limited (CSE) after having licenses from Bangladesh Securities and Exchange Commission (BSEC) on 13 August 2002 and 07 February 2004 respectively. The Company started its Stock Dealer function from 15 February
2010.
The Company offers stock brokerage services for its diverse clients through the extended network of head office and 07 (seven) branch offices in major important cities of the country. These services are made available by a highly dedicated workforce of 118 employees through 58 trading terminals, one of the largest networks in Bangladesh. ISTCL has passed 13 years of its voyage in providing full-fledged standard brokerage services and thus it has become the country's leading stock brokerage service provider and gained trust and reliability of both the individual and institutional investors.
Corporate Service
– Provides online trading facilities for buying and selling securities listed with the bourses;
– Works as a full service Depository participant in the Central Depository System;
– Performs other brokerage services;
– Trades Securities for its own portfolio as Authorized Dealer of DSE;
– Acts as selling agent under "Direct Listing Regulations 2006".
Development Activities:
Equity support through consortium arrangement
ICB invests in different companies through equity participation singly/under consortium arrangements by different Banks and financial institutions.
Counseling to the Government
In case of Govt. divestment program ICB provides professional & financial advice through analyzing the companies to be privatized and the attitude the prospective buyers. Government enterprises intending to go public often seek professional financial advice on corporate restructuring and reengineering, ICB through its expertise provides such advice.
Term deposit
ICB receives deposit as term deposit from individuals/institutions offering attractive and negotiable interest rate which helps to mobilize savings for profitable investment in securities.
Disinvestment Program
ICB is actively associated with disinvestment process. With a view to off-loading of Govt. shareholding through the Stock Market ICB has been entrusted with the responsibility of selling Govt. owned shares of different listed Companies.
EEF
ICB Capital Management Ltd. acts as project appraising institute for equity participation of EEF unit of Bangladesh Bank.
Ratio Analysis & Graphical Representation
Net Profit after Tax: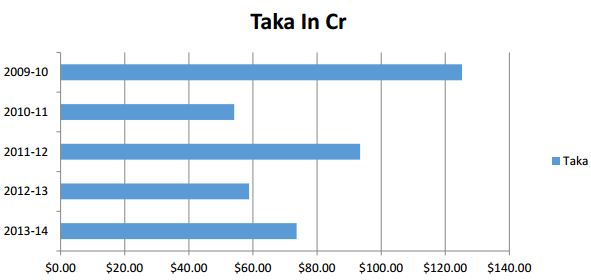 This Graph shows the income of ICB last five year. They earn net profit more than three hundred crore for three consecutive year. The highest earnings is year 2011-12is taka 394.14 crore. However the net profit reduced in 2012-13. The reason of this downfall is higher operating expenses and lower capital gain. Also the fall of capital market shows its gradual impact.
Earnings per Share:

The earnings per share is fall dawn from year 2009 to 2014. The EPS is fall dawn gradually and substantially in recent five years. The ICB claim the fall of capital market and lack of investment in recent year is the reason for this fall. Yet the EPS is still quite handsome and considerable.
Book Value Per share: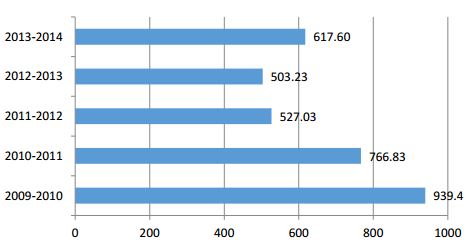 The book value per share was highest in the previous years. Due to the increase in total number of securities and types of securities purchase the book value decrease over time from 939.4 to 617.60/ Taka.
Performance of ICB Mutual Fund:
Mutual funds are formed under trust act 1882 as trust and managed by Securities and Exchange Commission rules, 2001. Mutual funds are formed by the money given by the sponsor and sell proceed of unit sold to public. The portfolio of Mutual Fund is managed professionally and investor gets a chance to invest in a diversified portfolio with relatively low risk. ICB Mutual Funds are the market leader in mutual fund market. The history of capital market of Bangladesh shows those ICB mutual funds performed highest and hold the trust and confidence of investor continuously.
Risk Analysis:
The risk free rate of Dhaka Stock Exchange is (DSEGN) 7.80%, market return 21.25% and the beta is 1.00
Standard Deviation:
Standard deviation measures the dispersion of data from its mean. In portfolio it measures the volatility. A volatile stock would have high standard deviation.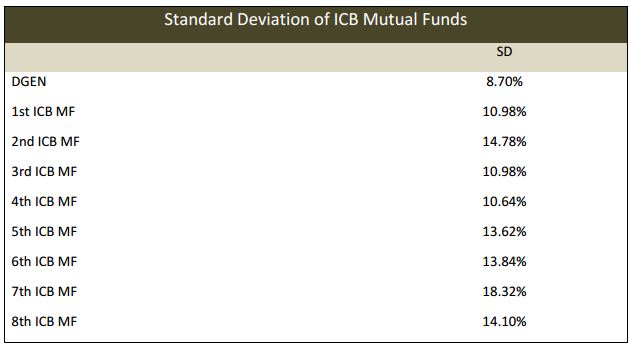 The monthly standard deviations of the return from ICB mutual fund are calculated based on the 120 monthly return (January 2004 to December 2013). The risk of every mutual fund is higher than that of market. But the seventh mutual fund experienced the highest risk 18.32%. However, Fund 1, 3, 4 risk is close to market risk.
Beta Coefficient:
Beta coefficient or Beta is a measure of volatility. It is the indicator of systematic risk. The beta is calculated through regression analysis.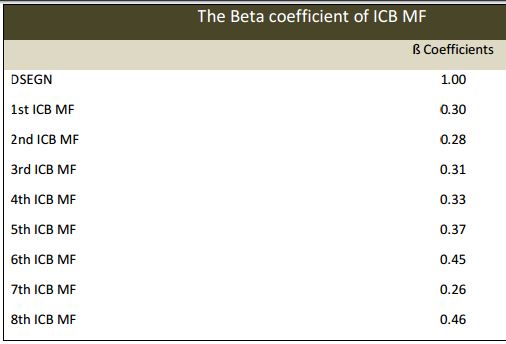 The beta coefficients of all the ICB mutual funds are lower than the market beta. Also they are to away from market beta. Only 6 & 8 mutual funds betas are more reactive than other. ICB mutual funds are the most stable fun in Bangladesh Capital Market. Even in previous two radical market falls, ICB mutual funds hold their reputation as a profit gaining investment entity.
Findings:
ICB operate in the capital market with skilled and experience financial experts. The credit of its good performance and reputation solely goes to its professionals. All of its security trading and investment decision is taken by professional management team. Especially ICB mutual funds always have investor confidence. The capital adequacy ratio, EPS, ROI of ICB is quite satisfactory.
Studying the portfolio of mutual funds I have some finding that might have impact on investor confidence.
All the mutual funds follow the same patter in their respective income statement. Their secured income and dividend income are very low compared to capital gain. The dividend declaration as a percentage of face value of all mutual funds except 1st ICB MF is quite low compare to earnings. Most of mutual funds dividend performance varies from 200% to 350%.
The dividends of mutual funds are different though all mutual funds maintain same type of portfolio. Only first and sixth mutual fund has provided higher dividend in compare to their capital gain.
The Sharp ratio of ICB mutual funds are varies from 1.8 to 2.25.
The Tray nor ratio of most mutual funds are below 1.
Jensen's Alpha of all funds is below 0.25 which should be at least 0.50 to justify high risk.
The general reserve and retained earnings of all mutual funds are substantial compare to other financial institute in the market.
At the time of my intern I find that like other government organization ICB also has suffer file keeping and information management problem. Moreover, network system is almost unprotected. As a financial institute the IT system is unsatisfactory.
Recommendations:
Although ICB is the top performing company in merchant banking, I have some suggestion for ICB to improve its performance be more efficient.
ICB has skilled and experiences fund manager but they perform only on security trading. The trade monitors and stock fraud monitoring tram of ICB is lac of human resource. ICB should enroll more human capital on those fields.
The portfolio categories of almost all the ICB mutual funds are almost same. They should have different portfolio category so both high risk and low risk investor will be interested to invest.
The first ICB mutual fund provides high return comparing capital gain but other doesn't do that. To attract more investor ICB have to change its policy. ICB should have a strong IT setup and the network (internet & intranet) field should have to be developed.