Executive Summary
Banking system of Bangladesh has gone through three phases of development: Nationalization, Privatization and Lastly Financial Sector Reform, National Bank Limited were born as the first hundred percent Bangladeshi owned Bank in the private sector. From the very inception it is the firm determination of National Bank Limited to play a vital role in the national economy. NBL are determined to bring back the long forgotten taste of banking services and flavors. Want to serve each one promptly and with a sense of dedication and dignity. The then President of the People's Republic of Bangladesh Justice Ahsanuddin Chowdhury inaugurated the bank formally on March 28, 1983 but the first branch at 48, Dilkusha Commercial Area, Dhaka started commercial operation on March 23, 1983.
My internship project is divided into Three sections. In the first section I have discussed about the various products and services of National Bank Limited. Here I have discussed about various types of deposit schemes, then I have discussed about the credit products that means various types of loan, then I have discussed about the card products of NBL.
Second I have discussed about the mechanism of foreign exchange of NBL. Here I have discussed, what is meant by foreign exchange, how to open L/Cs, how foreign exchange department works etc.
Third I have shown the comparison of NBL foreign exchange with the present year to previous year and I have shown the comparison between NBL foreign exchange and Shahjalal Islami Bank Limited foreign exchange.
Introduction
Banking system occupies an important place in a nation's economy because of its intermediary role; it ensures allocation and reallocation of resources and keeps up the momentum of economic activities. A banking institution is indispensable in a modern society. It plays a crucial role in the economic development of a country and forms the core at the money market of any country. In a developing country like Bangladesh the banking system as a whole has a vital role to play in the progress of economic development. The overall purpose of banking is to collect money from surplus unit and transfer it to the deficit unit. The subject of my report is "The procedures of foreign exchange of NBL and comparison with the previous years and other banks' foreign exchange". So my focus is mainly on foreign exchange activities of NBL for contributing total profit of the bank.
Foreign trade plays an important role in economic development of a country. The economic development of a country is comprised with domestic production and foreign trade (especially the balance of export and import). It plays a vital role in the balance of payment (BOP) of a country. Surplus (export-import) is favorable for a country. Although Bangladesh usually exercise deficit BOP (import-export) it has to continue foreign trade. Because it needs to import the essential goods and services, which does, not produced domestically. In this sense, foreign trade is essential for each and every country for its complete economic development Devaluation or exchange rate fluctuation may influence the export import business and inward remittance.
To conduct foreign trade of a country, bank plays an important role; usually this duty is played by commercial banks. As a commercial bank, National Bank Limited (NBL) also engaged in the dealing of foreign trade in Bangladesh. Foreign trade operations play a significant role in the overall business of NBL in order to strengthen its position. NBL has further consolidated its relationship with the existing network of international correspondents.
Objectives of the Study
The prime objective of this report is to achieve practical knowledge about the foreign exchange of National Bank Limited, specific objectives are as follows:
1. To oversee the nature and relationship among different components of Foreign Exchange transaction regarding the business of commercial Banks viz. devaluation, exchange rates and so on.
2. To acquire practical experience about work environment, to know relation among staff, discipline and behavior of an organization that will help me to buildup future working life.
3. To reveal the nature of foreign exchange transactions.
4. To know foreign exchange acts.
5. To know export import procedures.
7. To acquire practical knowledge about foreign exchange activities of NBL.
8. To know the performance of NBL in foreign exchange aspect.
9. To know, if there is any relationship among NBL' profit and foreign exchange operations.
10. Try to find out the growth rate of export and import operation of NBL.
 Methodology
The report is prepared on the extensive use of secondary data available in different text, reports, journals etc. as well as primary data collected from the bank personnel by means of informal interview. I consulted banks Annual report (Income Statement) and made discussion with the officials of Elephant Road Branch, international division and other department about methods and procedures of export-import business, problems related to foreign exchange transactions etc. I also had to talk to the exporters and importers for getting impression about NBL. The methodology that was followed through out the study may be summarized below: For this study I have relied on both primary and secondary source of Data. The sources are as follows:
Primary sources:
(a)        Officials records of National Bank Ltd.
(b)        Oral and informal interview of officers and employees in NBL
(c)        Informal interview with the exporters and importers.
Secondary Sources:
(a)        Annual report of NBL.
(b)        Printed forms and documents supplied by NBL.
(c)        Booklets of international Division of NBL.
(d)       Relevant Books, Journals, Booklets etc.
For analysis I used some graphical presentation that helped me to compare easily.
Scope of the Study
I have been assigned in the Elephant Road Branch of National Bank Limited.  I have had an opportunity to gather experience by working in the all departments of the branch. The concerted area of concentration of this report is found out the various procedures of foreign exchange of National Bank, Elephant Road Branch. The comparison with other bank and foreign trade procedure followed in NBL fall within the scope of this study. For making this case study, survey were conducted on Head Office and Elephant Road Branch of National Bank Limited.
Limitations of the Study
Every thing has its limitations. My report is not also out of weakness. There were several constrains while preparing this report. I have considered the following causes as the limitations of the study.
1.         Learning overall activities and performance of a bank within three months is really difficult.
2.         As this is the year ending period and employees are too much busy with their regular activities and can not provide enough time to me so sometimes I was unable to focus many important activities.
3.         National Bank Limited has no regular publication.
4.         Only 12 weeks were not sufficient to visit all the desks of the division.
5.         I may be impaired by resource constraint and limited experience and exposure in the field of foreign exchange markets.
Background of National Bank Limited
Economic development activities in the post liberation period required service from private commercial banks. To fulfill this demand as well as to improve the commercial banking set-vice in Bangladesh, the National Bank Limited emerged as a private limited company. The emergence of National Bank Limited in the private sector is an important event in the Banking arena of Bangladesh. When the nation was in the grip of severe recession, Govt. took the farsighted decision to allow in the private sector to revive the economy of the country. Several dynamic entrepreneurs came forward for establishing a bank
with a motto to revitalize the economy of the country.
 Formation of the Bank
National Bank Limited was born as the first hundred percent Bangladeshi owned Bank in the private sector. From the very inception it is the firm determination of National Bank Limited to play a vital role in the national economy. NBL are determined to bring back the long forgotten taste of banking services and flavors. Want to serve each one promptly and with a sense of dedication and dignity. The then President of the People's Republic of Bangladesh Justice Ahsanuddin Chowdhury inaugurated the bank formally on March 28, 1983 but the first branch at 48, Dilkusha Commercial Area, Dhaka started commercial operation on March 23, 1983. The 2nd Branch was opened on 11th May 1983 at Khatungonj, Chittagong.
National Bank Limited has its prosperous past, glorious present, prospective future and under processing projects and activities. Established as the first private sector Bank fully owned by Bangladeshi entrepreneurs, NBL has been flourishing as the largest private sector Bank with the passage of time after facing many stress and strain. The member of the board of directors is creative businessman and leading industrialist of the country. To keep pace with time and in harmony with national and international economic activities and for rendering all modern services, NBL, as a financial institution automated all its branches with computer network in accordance with the competitive commercial demand of time. Moreover, considering its forth-coming future the infrastructure of the Bank has been rearranging.
Branches
The expectation of all class businessmen, entrepreneurs and general public is much more to NBL. Keeping the target in mind NBL opening new branches year by year. At present; NBL has been carrying on business through its 121 branches spread all over the country. In which in Dhaka there are 47 branches, in Chittagong 29 branches, in Rajshahi 16 branches, in Khulna 8 branches, in Barisal 5 branches and in Sylhet there are 16 branches. Besides of it NBL taking preparation to open more branches around the country.
 Overseas Operation and important activities
            The Bank has drawing arrangement with 415 correspondents in 75 countries of the world as well as with 32 overseas Exchange Companies. Since the very beginning, the Bank exerted much emphasis on overseas operation and handled a sizeable quantum of homebound foreign remittance. The Bank established extensive drawing arrangement network with Banks and Exchange Companies located in important countries of the world. Expatriates Bangladeshi wage earners residing in those countries can now easily remit their hard-earned money to the country with confidence, safety and speed. NBL have many branches in rural area, many bank like BRAC bank used to send their money through pay order to their customer in rural area
Important activities of the Bank
            NBL was the first domestic bank to establish agency arrangement with the world famous Western Union in order to facilitate quick and safe remittance of the valuable foreign exchanges earned by the expatriate Bangladeshi nationals. NBL was also the first among domestic banks to introduce international Master Card in Bangladesh. In the meantime, NBL has also introduced the Visa Card and Power Card. The Bank has in its use the latest information technology services of SWIFT and REUTERS. NBL has been continuing its small credit program for disbursement of collateral free agricultural loans among the poor farmers of Barindra area in Rajshahi district for improving their lot. Alongside banking activities, The year 2007 marked the addition of yet another golden stair in the chronicle of NBL's success story.. The Bank invested 25% equity in Gulf Overseas
Exchange Company LLC, a joint venture Exchange Company in Oman, operating since November, 1985 under the management of our Bank. The Bank received Riyal Omani 11875 equivalent to Tk.2.10 million as dividend for the year 2006. Now NBL is on line to establish trade and communication with the Prime International banking companies of the world. As a result NBL will be able to build a strong root in international banking horizon. Bank has been drawing arrangement with well conversant money transfer service agency "Western Union". It has a full time arrangement for speedy transfer of money all over the world. Banking is not only a profit-oriented commercial institution but it has a public base and social commitment. Admitting this true NBL is going on with its diversified banking activities.
Mission
Efforts for expansion of our activities at home and abroad by adding new dimensions to our banking services are being continued unabated. Alongside, we are also putting highest priority in ensuring transparency, account ability, improved clientele service as well as to our commitment to serve the society through which we want to get closer and closer to the people of all strata. Winning an everlasting seat in the hearts of the people as a caring companion in uplifting the national economic standard through continuous up gradation and diversification of our clientele services in line with national and diversification of our clientele services in line with national and international requirements is the desired goal we want to reach.
Vision
Ensuring highest standard of clientele services through best application of latest information technology, making due contribution to the national economy and establishing ourselves firmly at home and abroad as a front ranking bank of the country are our cherished vision.
Products and services of NBL
Deposits Product
Savings Deposit (SD)
National Bank Limited offers customers a hassle free and low charges savings account through the branches all over Bangladesh.
Condition Apply:
Interest rate of 6.00% on average monthly balance.
Minimum balance Tk.1000.
Maintenance charge yearly Tk. 400.
No hidden costs.
Standing Instruction Arrangement are available for operating account.
Account Opening:
2 copies of recent photograph of account holder.
Nominee's Photograph.
Valid photocopy of Voter ID Card.
Current Deposit (CD)
National Bank Limited offers customers current deposit facility for day-to-day business transaction without any restriction.
Condition Apply:
Minimum balance Tk.2000.
Minimum maintenance charge yearly Tk. 800.
No hidden costs.
Standing Instruction Arrangement are available for operating account.
Easy access to our other facilities.
Account Opening
2 copies of recent photograph of account holder.
TIN certificate.
Nominee's Photograph.
Valid photocopy of Voter ID Card.
Short Term Deposit (STD)
National Bank Limited offers interest on customer's short term savings and gives facility to withdraw money any time.
Condition Apply:
Minimum balance Tk. 2000.
Minimum maintenance charge yearly Tk. 800.
Standing Instruction Arrangement are available for operating account.
Account Opening:
2 copies of recent photograph of account holder.
Nominee's Photograph.
Valid photocopy of Voter ID Card.
Fixed Term Deposit (FDR)
National Bank Limited offers fixed term savings that will scale up the savings amount with the time.
Condition Apply:
Any amount can be deposited.
Premature encashment facility is available.
Overdraft facility available against term receipt.
Account Opening:
1 copy of recent photograph of account holder.
Nominee's Photograph
Monthly Savings (NMS)
            National Bank Limited offers monthly savings scheme for it's retail customers. There are three periodic NMS, three years, five years and eight years.
Condition Apply
Monthly amount can be 500 and multiple of it.
Premature encashment is availbale for urgent need.
Loan facility can be availbale up to 80% against NMS account balance.
Standing instruction facility can be available to auto transfer installment to NMS account.
Account Opening:
1 copy of your recent photograph.
Nominee's Photograph.
RFC Deposit
National Bank Limited gives opportunity to maintain foreign currency account through it's Authorized Dealer Branches. Bangladesh nationals residing abroad or foreign nationals residing abroad or Bangladesh and foreign firms operating in Bangladesh or abroad or Foreign missions and their expatriate employees.
Condition Apply:
No initial deposit is required to open the account.
Interest will be offered 1.75% for US Dollar Account , 3.00 % for EURO Account and 3.25% for GBP Account.
They will get interest on daily product basis on the credit balance (minimum balance of US$ 1,000/- or GBP 500/- at least for 30 days) maintaining in the account.
Account Opening:
2 copies of recent photograph of account holder.
Nominee's Photograph.
Passport Copy.
ID of residence in abroad.
Credit Products
Overdraft
NBL offers overdraft facility for corporate customers for day-to day business operations.
Condition Apply:
Low charges in overdraft account maintenance.
Facility is available against deposit receipt or mortgage property.
Low interest rate 13-16%.
Account Opening :
Inroductory current account .
Others necessary documents as per loan requirement.
Lease Finance
National Bank Limited offers leasing facility for clients with easy installment facility.
Financing Area:
Capital machinary.
Different equipments.
Gas, Diesel generator and Power plant.
Medical equipments.
Lift or elevator.
Inroformantion Technology equipments.
Construction equipments.
Consumer durables.
Condition Apply:
Competitive monthly rental.
Tax benefit.
Fast processing.
Easy handover after leasing period
Home Loan
NBL offers home loan facility for purchasing flats or construction of house Any Bangladeshi citizen or NRB, who is capable of repayment, can apply for this loan.
Condition Apply:
Financing amount extends upto 70% or Tk. 75,00,000 which is highest of total consturction cost.
Grace period avilable upto 9 months in flat purchase or 12 months in consturction.
Competitive interest rate.
No application or processing fee.
Eligibility:
Any bangladeshi citizen or NRB, who is capable of repayment can apply for this loan.
SME Loan
NBL offers financial support to small businessmen/enterprises with new products named "Festival Small Business Loan" and "NBL Small Business Loan" has been introduced in the bank. Any genuine and small businessman/ entrepreneur/ enterprise having honesty, sincerity, and integrity can get this loan.
Condition Apply:
Maximum Tk.3.00 lac (Festival Scheme) and Maximum Tk.5.00 lac (Small Business Scheme) .
3 Months (Festival Scheme) and 5 years (including 1 month grace period (Small Business Scheme))
Collateral Free Advance.
Eligibility:
Any genuine and small businessmen/ entrepreneurs/enterprise having honesty, sincerity, and integrity.
Consumer Finance
NBL offers consumer credit facility for retail customers.
Financing items:
Electornics consumer products.
Computer or Computer acessories.
Condition Apply:
Fast processing.
Competitive interest rate.
No application or processing fee.
Easy monthly installment.
Trade Finance
NBL provides comprehensive banking services to all types of commercial concerns such as in the industrial sector for export-import purpose as working capital, packing credit, trade finance, issuance of import L/Cs, advising and confirming export L/Cs. – bonds and guarantees.
Benefits (Condition Apply):
Low interest rate 13.00%-14.50%.
Minimum processing time.
Low service charges.
Social Responsibility
NBL is actively involved in sports and games as well as in various Socio-Cultural activities.
Employment
NBL has been continuously creating new fields of employment every year by way of expansion of its business activities and branch network in 2008, the bank created employment for 305 personnel.
Education
National Bank Limited Foundation was established in 1989 for fulfilling responsibilities of societal welfare. It has been running the National Bank public School and Collage in Moghbazar, Dhaka. In 2008, 53 students appeared at the SSC Examination and among them, 25 students achieved Golden A+ while 32 students appeared at the H.S.C. examination out of which 4 students achieved Golden A+.
The bank has been accommodating prospective graduates of recognized universities for completing their internship. NBL also awarded stipend and scholarship to the brilliant children of the employees of the bank.
Sports and Culture
National Bank has a tradition of patronizing and sponsoring sports and cultural of the country. The "National Bank Volleyball league -2007" was arranged under patronization of the Bank. NBL has been arranging annual picnic for gathering and recreation o its executives, officers and staff.
Disaster and relief
National Bank Limited always extends its helping hands and stands by the suffering and helpless people in times of natural calamities. In 2007, National Bank Limited donated Tk. 40.00 lac to help the victims of flood, Tk. 20.00 lac for relief operation for landslide victims and Tk. 50.00 Lac for Sidr victims to the relief fund of the Chief advisor and the Army Chief. The Bank has also taken a pilot project for post flood agricultural rehabilitation at Sirajgonj.
On 10th March, 2009 a Payment Order for Tk.25.00 lac has been handed over to the Honorable Prime Minister as a donation/financial assistance to the bereaved family members of the martyred Army Officers killed in the BDR carnage held on 25th February, 2009.
On 1st April, 2009, NBL donated Tk. 24.00 Lac to the Honorable Prime Minister to hand over the same to the family  members of the martyred Army Officer which will be paid to 5 (five) families @ Tk. 40,000/- per month to each family for 1 year which will continue for 10 years. Thus total amount of donation will be Tk. 2.40 Crore.
Other responsibilities:
National Bank Limited has always maintained their corporate social responsibility in various ways. It has always appreciated various kinds of fair, festivals and other gatherings organized by different private or public sectors.
Corporate objectives
Provide high quality financial services that will enhance the well-being and success of individual, industry and business communities.
Aim to ensure competitive advantage by upgrading banking technology and information system.
Quality earning generated in core markets.
Strong capitalization.
Through commitment to the Bank and the Customers whom NBL serve, National Bank should become the best Bank in Bangladesh providing a very efficient customer service at a competitive price.
Disciplined growth strategy.
Deliver the highest quality services and performance in order that customers choose NBL first.
High standard of corporate and business ethics.
Create shareholder wealth.
Make the stock as being superior long term investments so that Investors come forward to buy NBL stock.
Create and maintain a congenial atmosphere so that people will be proud and eager to work in National Bank Limited.
To be the best for the customers, NBL want to become a team that would manifest unfailing faith in the Bank, show respect for colleagues and commit to the high standard of quality and professionalism.
Management of NBL
In 2001National Bank Limited made commendable progress in all section, like deposit, credit, fund management, investment, foreign remittance and credit card. Bank has expended business activities a holding &parallel by diversification its investment to new products.
The management processes are as follows:
The strategic planning approach in NBL is top down. Top management formulates strategy at the corporate level and then it transmitted through the division to the individual objects. Board of directors usually takes the decisions.
Organization of National Bank Limited is based on departmentalization. The organization is divided into twelve departments headed by Executive Vice President or Senior Vice President.
In the National Bank Limited the whole operation is centralized and authority is delegated by written guidelines which are as follows:
Operation manual approved by head office, where each aspect or banking operation is elaborately defined.
Advance manual including advance limit for different management level.
Bad and doubtful recovery manual
Code of conduct.
Foreign banking guidelines, etc.
Different management position holders in departments and branches practice their authorized power in different cases.
Employees are promoted to the higher position for their outstanding performance. It is found that the average length of a position held by an employee is around 5 years. Entry level recruitments process of the National Bank Limited is conducted in three ways such as one way is recruitment of probationary officer. Each probationary officer has one year probation period. After completion of probation period of the officer join as grade 3 officer. The career path of probationary officer is headed toward different management position. Second way of recruitment is to recruit non probationary officer, who join as an assistant officer. The career path of an assistant officer is lengthier than probationary officer. Last way is to recruit of staff and sub stuff such as typist, driver, guard etc.
The bank has strict control over its all organizational activities. Audits and inspection are conducted by different parties to cheek whether the bank implement these control system properly or not. The central bank conducts credit inspection by a team. The National Bank Limited has audit and inspection department to measure the internal operations. Audit team send to the branches now and then and is responsible for preparing report that will be submitted to the chief administration to take necessary actions.
Organization Structure and Department
Organization setup of the bank is consisting of three organizational domains. First the central top management, which contains board of directors, managing director, additional managing director. Major responsibilities this management to take central decision and transmit it to second step. Second, central executive level management, which contains executive vice president, senior vice president, vice president and assistant vice president. Major responsibilities of this part are to super vise and control division or department or branch. Thirdly branch operation management which contains branch manager and other mid or lower level management. Major responsibilities of this part maintain the branch and report to the head office from time to time.
Meaning of Foreign Exchange
Foreign Exchange refers to the process or mechanism by which the currency of one country is converted into the currency of another country. Foreign Exchange is the means and methods by which rights to wealth in a country's currency are converted into rights to wealth in another country's currency. In banks when we talk of foreign exchange. We refer to the general mechanism by which a bank converts currency of one country into that of another. Foreign trade gives rise to foreign exchange. Foreign trade is transacted either in the currency of the exporter's country or that of the importer's country or that of a third country acceptable to both the exporter and the importer.
Dr. Paul Eingiz defines Foreign Exchange as the system or process of converting one national currency into another and of transferring the ownership of money from one country to another. Foreign Exchange is concerned with the settlement of international indebtedness. the methods of effecting the settlements and the instruments used in this connection, and the variation in the rates of exchange at which settlement of international indebt ness is made.
In terms of Foreign Exchange Regulation Act. 1947, as adapted in Bangladesh, Foreign Exchange means foreign currency and includes all deposits, credits and balances payable and foreign currency instruments, such as, Drafts, Travelers, Cheques , Bills of Exchange , Hundi and Promissory Notes payable in any foreign country.
Fundamentals of Foreign Exchange
There are 3 fundamental aspects of the general mechanism of Foreign Exchange:
Every country has its own currency – legal tender/ distinctive unit of account.
Banks by book- keeping entry carried out into two centers concerned effect the conversion of one currency into another.
These exchanges are affected by means of credit instruments visa, Draft, Mail Transfer, Telegraphic Transfer etc.
Administration of Foreign Exchange in Bangladesh
The statute for administration o foreign currency in Bangladesh is the Foreign Exchange Regulation Act, 1947 as adapted in Bangladesh. Under the Act, 1947 as adapted in Bangladesh. Under the Act, the responsibility and authority of administration of foreign exchange invested by the government with the Bangladesh Bank. Central Bank the country. Any who deals with foreign exchange has to abide by the directions given by Bangladesh Bank in that behalf.
Authorized Dealers
In exercise of the powers conferred by of the Foreign Exchange Regulation Act, 1947 on certain schedule banks, which are authorized to deal in foreign exchange by Bangladesh Bank, the selected branches of the bank can transact such businesses. They are known, as "Authorized Dealers" Bangladesh Bank does not directly wit the members of the public; the transactions are done by Authorized Dealers in accordance with the guidelines given by Bangladesh Bank.
Authorized Dealership License
License to deal in foreign exchange are normally granted only to schedule banks that have offices in Bangladesh, after being satisfied that they have adequate number of staff/officers properly trained in handling foreign exchange transactions and will be able to comply with the requirements of the administration of exchange control. Authorized Dealership License can at any time be withdrawn by Bangladesh Bank if the bank in whose favor it is issued fails to conduct its business to the satisfaction of the Bangladesh Bank. National Bank Have its Authorized dealer ship license in January 2008.
 Foreign Trade
The Foreign trade of a country refers to its imports and exports of merchandise from and to other countries under contract of sale. No country in the world produces all the commodities it requires. On the contrary, a country may produce more of those commodities in the production of which it has a greater or comparative advantage, and may or may not produce smaller quantities o those in the production of which it has a greater or comparative disadvantage.
Composition of Imports and Exports
The composition of imports and exports is an important aspect of a country's foreign trade. The gain from trade depends on both its total value and commodity structure. The types of goods imported and exported indicate stage of development of the economy, the standard of the living of the people, and nature of economic activity in the country.
Imports of Bangladesh may be classified into three categories:
Capital goods
Industrial raw materials
Consumer goods
The capital goods comprise of machinery, plant and spares, transport equipment etc. The raw materials imported are raw cotton, cotton ware, mineral oil, dyes, chemicals etc. The consumer goods are electronic goods, drugs and medicines, milk power etc.
Guideline of Foreign exchange transaction
National Bank follows three guideline in foreign exchange transaction. These are as below:-
1) GUIDELINE FOR FOREIGN EXCHANGE TRANSACTION, Voll.1, 2.
2) Commerce and Finance Ministry jointly made the rules and procedures of Import Policy.
3) Uniform Custom Practice of Documentary Credit (U.C.P.D.C)
National Bank,Gulshan Branch has its Authorized Dealership of Foreign Exchange in January 2008, so it is a new player in this area. But it has opened more than 173 imports L/C and 827 exports L/C in 10 months (January to October).Because it has only 11 months of financial data so I use past 10 months data (Jan-Oct).
National Bank mainly deals with import L/C.Mainly readymade garments, knitwear, frozen food, fish, tanned leather, handicraft, tea etc. were the major export finance sectors.
Import L/C given to the company that import capital machinery, half finished goods to prepare  finished goods, import Fabrics for garments purpose.
Documentary Letter Of Credit
         Letter of Credit (L/C) can be defined as s "Credit Contract" whereby the buyer's Bank is committed (on behalf of the buyer) to pay an agreed amount of money at the seller's disposal under some agreed condition. Since the agreed conditions include, amongst other things, the presentation of some specified documents, the Letter of Credit is called Documentary Letter of Credit. The Uniform Customs & Practice for Documentary Credits (UCPDC) published by the international Chamber of Commerce (2007 Revision, Publication no. 600) defines Documentary Letter of Credit as:
 Credit means any arrangement, however named or described that is irrevocable and thereby constitutes a definite undertaking of the issuing bank to honor a complying presentation.
 Payments Terms
The payment terms, on the other hand, stipulate when, where and how the payment will be effected. The terms relating to payments for the goods constitute the most important part of a sales contract.
Terms involving payment within a period of 6 months from the date of shipment are deemed as short- term payment terms, while those involving a period beyond 6 months but within five years are medium terms payment terms.
Documents of Foreign Exchange
As foreign trade involves transactions in between the countries, the formalities attached herewith are complicate and multifarious. Quite naturally a large number of document are used in it, which is on the increase due to the growing complications introduced into the trade because of the impositions of different types of checks and controls in different countries. The documents used by NBL in foreign trade may be classified into following categories:
ü  Bill of exchange.
ü  Bill of lading.
ü  Air Bill.
ü  Invoice.
ü  Consumer Invoice.
ü  Marine insurance policy.
ü  Certificates of origin.
ü  Packing list.
ü  Survey report.
ü  Bill of entry.
ü  Certificate invoice.
ü  G.S.P.
ü  Black listed certificate.
ü  Export form.
a. Bill of exchange/Draft:
The bill of exchange is particular instrument through which payment is effected in trade deals both internal and international. Characteristics of bills of exchange are as follows:
b. Bill of Lading (B/L):
It is the document issued by the shipping company or it's agent acknowledging the goods mentioned therein on board, the carrying vessel in apparent good order and condition unless otherwise indicated therein, for shipment to the consignee on terms and conditions as agreed upon as to their carriage
c. Certificate of origin:
The certificate of origin may be issued by the chamber of commerce & Industry of exporter's locality or by the supplier as stipulated in the L/C. the goods must be originated from the country as per indication given in the L/C.
d. Bill Lodgment:
After getting the shipping documents in order i.e. clean documents lodgment of documents to be made with in three working days.
 Following steps to be taken for proper lodgment:
Bank and branch name seal to be affixed on the forwarding schedule, B/E seal on all shipping documents and banks crossing seal in bill of exchange and bill of lading to protect fraudulent use of the same.
To put B/E serial number on all shipping documents.
e. Commercial Invoice:
It is the seller's bill for the merchandise. It contains a description of the goods the price per unit at a particular location, total value of the goods packing specifications terms of sale L/C, bill of lading number etc.
f. Black List Certificate:
A country at war with or having a signed strained political relationship with other countries may require a certificate that:
v    The goods are not of the origin of the particular country, or
v    The parties involved in the transaction are not blacklisted, or
v    The transport vessel will not touch the other country.
g. Marine Insurance Policy:
In the international trade marine insurance policy is an essential policy. It covers the risk of loss on consignments while they are on seas. The marine insurance is the responsibility of the buyers (consignee) under FAS, FOB and C F R contracts and the seller (consignor/shipper) under CIF contract. The policy must be of the type as specified in the relative contract/credit.
h. Indent:
The indent is an order placed by import to his overseas exporter. It should convey in full detail, and every particular the exporter should know, so that he can satisfy buyer's requirement. The essential particulars may include the quantity of goods and prices, the modes of making up and packing of goods, the instruction for shipping, insurance, number of bill of lading and invoice required, whether a consular invoice and certificate of origin to be included.
i. Proforma Invoice:
At the negotiating stage of a deal the buyer may require the seller the quota the prices of the goods showing their details particulars of order to enable him examine the competitive position. It is an offer by the seller to sell the goods and exactly similar to customary invoice except that it is marked "Proforma". Sometime it serves the purpose of indent when there is no indenting agent as middle man in between the seller and the buyer. L/C is opened on the basic of "Proforma Invoice". However it may note that "Proforma Invoice" is accepted while opening L/C only special circumstance and allowed under import policy.
j. Dock Warrant:
A document issued by the authorities to importers acknowledges the details of the goods deliverable to him or his nominee. It is transferable by endorsement and is a document to title to goods but not negotiable.
k. Ware House:
House normally within the port area providing storage facility for imported goods under the control of the custom are called the bounded ware house. Because of the fact that bounded goods are not immediately released for consumption, duty is not collected on such goods.
l. Delivery Order:
This is order by the owner of goods to the warehouse keepers to delivery the goods specified in the order to named person or his order or to bearer. It is a transferable but not negotiable instrument.
m. Trust Receipt:
At times, the documents of title to goods (not the bills) are by the banker to importer against trust receipt. This is done in exceptional cases to valued customers. By signing the receipt, the importer undertakes to hold the goods and the proceeded of any sale of them as a trust for the banker who holds lien over them until the dues are paid by him. If the importer fails to hand over to the banker the proceeds of the goods sold, the former is liable for criminal breach of trust. In Bangladesh such practice of trust receipts is normally allowed for the imports sector in case of packing cash credit and to clearing and forwarding to clear the goods from the port.
Types of letters of credit:
Almost all commercial letters of credit are documentary credits. Therefore, the UCPDC deals only with documentary credits. A documentary credit may be classified under the following types depending upon the particular provisions it contains:
                    Revocable and irrevocable credits
                    Confirmed and unconfirmed credits
                    With Resources and without resources credits
                    Fixed and revolving credits
                    Transferable credits
                    Bach-to-back credits
                    Red clause and green clause credits
                    Stand by credits
A. Revocable and irrevocable credit:
            As per UCPDC-600 there is no revocable Credit. The Irrevocable Credit is a commonly used type of documentary credit. The Credit which cannot be revoked varied or changed/amended without the consent of all parties.
B. Confirmed and unconfirmed credit:
When a letter of credit is advised to the beneficiary through a bank in the beneficiary's country without adding its confirmation, if the advising bank adds confirmation to the credit, it becomes a confirming bank and the credit a confirmation credit.
All confirmed credit is also irrevocable letter of credit. It is so because no bank in the exporter's country would be willing to undertaking a liability on a revocable credit on which there is no definite undertaking by the issuing bank
C. Fixed and Revolving Credit:
            A fixed credit is where the terns of trade is fixed. A revolving Credit is one where, under the terms and conditions thereof, the amount of the Credit is renewed or reinstated without specific amendment to the credit being needed. Revolving credit may be revocable or irrevocable.
D. Back to Back Credit:
            One credit backs another. It may so happen that the beneficiary/seller of an L/C is unable to supply the goods direct as specified in the Credit as a result of which he needs to purchase the same and make payment to another supplier by opening a second letter of credit. In this case, the second credit called a "Back to Back Credit". This concept involve opening of second credit on the strength of first credit, i.e. mother L/C opened by foreign importers. Under Back-to-Back concept, the mother L/C stands as security for opening of second credit, i.e. Back to Back Credit. The beneficiary/seller of the first credit as applicant of the second credit remains responsible to the bank for payment whether payment against first credit is made or not.
E. Transferable Credit:
            A Transferable Credit is one, which can be transferred by the original beneficiary to one or more parties.
F.   Red Clause Credit:
            A Red Clause Credit is credit with a special clause incorporated into it that authorizes the advising bank or confirming bank to make advances to the beneficiary before presentation of documents. The clause is incorporated at the specific request of the applicant, and the wording is dependent upon his requirements. It is so called because the clause was originally written in red ink to draw attention to the unique nature of this credit.
G. Green Clause Credit:
A Green Clause Credit is a credit with a special clause incorporated into it that which not only authorizes the advising bank to grant pre-shipment advances but also storage cost for storing the goods prior to shipment.
H. Standby Letter of Credit:
The Standby Letter of Credit is very similar in nature to a guarantee. The beneficiary can claim payment in the event that the principal does not comply with its obligations to the beneficiary, payment can usually be realized against presentation of sight draft and written statement that the principal has failed to fulfill his obligations.
Import Policy Order
Under the Import and Export (control) Act, 1950 the Government of Bangladesh formulates the import policy through Ministry of Commerce. The import policy has come into effect on june14, 1998 and remains valid up to June 2002.
A. Main features:
Import Restriction: There is a list of conditional items, import of which is subject to fulfillment of certain conditions. There is another list of banded items, which can not be imported. Items beyond these items are free items, which can be imported freely.
Banded: Pig (live), chicks (excluding parent stock and grand parent stock), egg (excl, hatching) opium, lurd, petroleum gas, silk, fabric, poly bags, live and processed livestock products and semen from European countries from October 03, 2001.
Conditional: Sugar, reconditioned cars (not more than 4 year's age, cement fertilizer (ingredients and specification approved by Ministry of Agriculture). Allowed import of used computers of a minimum of Pentium 2 model to make the machine available for the middle class.
Banned and conditional items can be imported by public sector agencies with prior approval of Ministry of Commerce.
General Condition for Commodity Import
                 Using of eight digit H.S code (Harmonized System of Coding & Commodity Description) is compulsory in issuing L/C Authorization form to importers or opening L/C by banks according to Import Control Schedule, 1988.
No goods can be imported from Israel or produced in Israel and transportation by the Israel flag carrying ships is prohibited.
Goods must be imported through Bangladesh flag carrying ships. For individual importers maximum 20 tons and for group importers maximum 100 tons are allowed to be transported through foreign ships. In other cases, if foreign ship is required, the certificates of waiver must be taken from directorates of Sea Transportation. Import under foreign aid-foreign shipping lines can be used.
In case of export orientated industries, shipment is permitted through ships of other countries.
Import must be made at higher competitive price.
Import on CFR or FOB basis can be done by road, sea and airways, Under FOB Bangladesh Bank circular should be followed. Import on C.I.F basis is not permitted without prior approval of Ministry of Commerce. Import under foreign aid CIF can be used.
Importers are bound to submit import related documents at any time to Chief Controller of import and export if required.
Radioactivity certificate is compulsory for the import of food items.
Export process & Registration
a. Export L/C:
Export L/C received from outside of Bangladesh. After receiving of the export L/C. Genuineness should be verified and checked very well. Original L/C will be advised and given to the party and duplicate to be kept in office file. Advising charge Tk. 500/- will be deducted from beneficiaries account as per charge schedule.
b. BTB L/C opened:
         Duly assessed the export L/C FOB value to be calculated and BTB L/C to be opened 75% or 80% (as per export policy) keeping lien of export L/C as per request of applicant (exporter) should submit proforma invoice + L/C application + IMP form + LCA form + Insurance cover note when opening of BTB L/C four
Types of BTB L/C may be open against Export L/C.
a)                  BTB (Foreign) Þ LC app + LCAF + IMP + PI + insurance cover note + credit report of supplier (if necessary).
b)                  BTB (Local) Þ L/C app + PI
c)                  EPZ Þ Treated as foreign as like (sl a)
d)                 EDF Þ required as per sight L/C fund covered by Bangladesh Bank.
After receiving all paper's to opening L/C a office note will be prepared to ensure fund is available against respected export L/C. and to be transmitted through swift, telex or postage.  L/C serial number to be given in the L/C register and necessary voucher to be passed for liability and other charges. The tenor of the L/C is normally open at 90 days (local) and 120 days sight (foreign). For Example $ 1,000 L/C opened conversion with BC selling rate: $1,000 x 69.45 = Tk 69450 x .5% = Tk. 347, minimum com: Tk. 500, tax: 5% = Tk. 25.
NBL decided the conversion rate using daily rate sheet which was delivered by the head office through SWIFT.
Contra voucher (local)
Contra voucher (Foreign)
Customer liability on L/C (BBI)      Dr.               Customer liability on L/C (BB)      Dr.
Banker's liability on L/C (BBI)       Cr.                Bankers liability on L/C (BB)         Cr.
Foreign BTB L/C:
Debit Voucher
Credit Voucher
Party A/C                            Tk. 4350/-                 Income A/C com. On L/C (BB)    Tk. 475/-
Total                                   Tk. 4350/-           Income A/C com. On telex        Tk. 3,000/-
                                                                              Income A/C com. On D/max         Tk. 700/-
                                                                              Stamp in hand                                Tk. 150/-
                                                                              S/deposit A/C I/Tax on L/C com.   Tk. 25/-
                                                                              Total                                           Tk. 4,350/-
Local BTB L/C:
Debit Voucher                                               Credit Voucher
Party A/C                            Tk. 950/-        Income A/C com. On L/C (BBI)      Tk. 475/-
Total                                   Tk. 950/-       Income A/C com. On postage        Tk. 300/-
                                                                        Stamp in hand                               Tk. 150/-
                                                                        S/deposit A/C I/Tax on L/C com.   Tk. 25/-
                                                                             Total                                              Tk. 9 50/-
c. ABP (Awaiting Bills for Payment):
After receiving the Original shipping documents from beneficiary's Bank (Negotiating Bank) Document to be scrutinized / checked as per L/C. If any discrepancy found it should be informed to Negotiating Bank and also to the applicant Within 7 day's of receipt the document. Acceptance commission fixed by the head office present rate 1st quarter, 30% and test quarter, 15%. Transmitted telex/swift for foreign ABP and by letter to the local ABP.
If any discrepancy found the documents deducted the beneficiary's (when payment) local L/C $10, foreign L/C $50, If documents accepted by the applicant despite of the discrepancy then maturity date to be calculate and communicated with the negotiating bank confirming them that payment would be made on or before maturity.
d. FDBC (Foreign documentary bill collection):
After making shipment of the goods exporter submit the necessary documents to the bank for repatriation the proceeds from abroad. The document in order then bank may negotiate the documents and send the same for collection on abroad.
If the document found discrepant then it should be sent on collection basis without negotiation. If the document purchase a proposal should be prepared.
Import Procedures
a. Formalities & Restrictions:
The word "Import" is most familiar to the bankers, which means bringing of goods and service to own country from other countries. The word is widely used by the bankers allover the world for the same purpose as stated earlier.
Way of Import:Import into Bangladesh may be two ways – (1) By way of opening L/C & (2) Without opening L/C.
(1) Import by way of opening L/C requires fulfilling following criteria in of private sector importer;
a)                  Registered importer having valid IRC
b)         Trade license (valid)
c)         Membership certificate from local chamber of commerce of related association.
d)         Income tax clearance/ declaration in case of new comer. e) VAT registration certificate.
If a private sector importer fulfils above requirements, a banker can process an L/C for import of goods & services from abroad but following papers/documents are to be obtained before opening of L/C in addition it the above mentioned papers/documents:
I.          L/C application.
2.         Indent! Performa invoice/purchase order/contract/agreement.
3.         Charge documents duly & properly executed.
4.         LCAF duly sealed & signed. 5. Insurance cover note
The importer must be a customer of the L/C issuing bank / branch & the L/C may be opened after sanction by the competent authority.
(2) Import into Bangladesh without opening L/C may be made in the following cases against LCAF:
a) Books, journals, magazines, periodicals against sight draft or. Any importable item by making payment from Bangladesh to the tune of maximum USD. 2500/ -in a year
b) The items allowed by the credit, Loan, Grant.
c) International chemical reference by registered allopathic industrial unit with the approval of Director, Drug Administration.
Import vs Export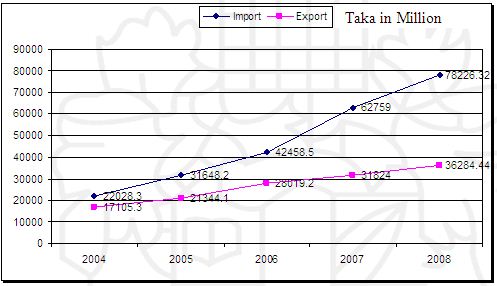 Foreign trade in Bangladesh is still dominated by import resulting in advance balance of trade. Export has registered a significant volume of growth the past years and the export import gap is reducing every year. In early seventies the export of Bangladesh was dominated by jute items only. In fact 90% of the export earning at that time was from jute section and the rest 10% from leather and tea sector. The situation however stared changing with the introduction of non traditional items like shrimps, fish, readymade garments, finished leather, newsprint, handicraft etc.
The overall export earning achieved a moderate growth in FY07 somewhat lower than expected. Exporters in RMG sectors, especially exports of knitwear achieved an impressive growth of 19.3 percent. Frozen shrimps and fish, which was 4.2 percent of total exports, grew by 12.2% in last fiscal. Volume of leather decreased but the value increased in unit price. Exports of engineering products, home textiles and ceramic table wear increased in the last fiscal over the performances of the FY06.The country however needs to reduce the dependency on ready made wear exports and diversify its export basket to utilize 97% duty and quota free market access pledged by the developed markets.
The import structure of Bangladesh has not been changed much; import payments have increased due to the increased prices of oil, capital machinery and other essential products resulting in unfavorable terms of trade and due to economical imbalance in all over the world. The major import includes petroleum products, rice, articles, iron, cotton, capital goods, cements, steel and other consumer items.
If we compare the earning of NBL between imports and exports then it is clear that import earning is more than the export. Though earning from both import and export increasing year by year, there is far difference between export and import. In 2006 the total earning from export was taka 28019.20 million where as the earning from import was taka 42458.50 million which is taka 14439.30 more than the previous year.
In 2007 the earning from export were of taka 31824 million where export were 62759. and the difference was taka 30935 million. That means the difference increased more than double from the previous year.
In 2008 the earning from export was taka 36284.44 million, and the earning from import was taka 78226.32 million. That means taka 41941.88 million was earned more than the export. And it also increased the difference of taka 11006.88 million more than the previous year.
So it is clear that the earning of NBL from import increasing year by year rather than export.
Major Findings
The major findings   are as follows.
(1)        National Bank Ltd. has a good set of institutional owners which gives it a better board of directors than many other banking companies.
(2)        NBL has been successful in developing a professional job environment where each officer has substantial level of authority and responsibility.
(3)        The organization is divided into departments, then into units and sub units and thus the total flow of work has become very systematic.
(4)        The company has started to diversity its business into different areas of the country.
(5)        NBL has a very good pool of human resource i.e. Foreign Exchange Officers.
(6)        The growth of the company has so far been very steady and very high.
(7)        The company is maintaining steady profitability up to 2003.
(8)        It faces many problems due to classified loan.
(9)        There is no Reengineering Department for quicker customer service and implementation of newer products; moreover they have no customer care which helps the customer in case of any product or services.
(10)      There is a rich foreign exchange department of NBL
(11)      The foreign exchange department is divided into two unit, i. Import & ii. Export.
(12)      The total import and export and remittance are increasing day by day.
(13)      In the internal comparison we have seen that import department earns more than export.
(14)      In the comparison with SJIBL, we have seen that in the sector of import, export, and remittance, NBL is far ahead than SJIBL.
SWOT Analysis
Not surprisingly, in the competitive arena of marketing are SOWT analysis is a must based on product, price, place and promotion of financial institute like private bank. from the SWOT analysis we can figure out ongoing scenario of the Bank . So to have a better view of the present banking practices of Ntional Bank Ltd. SWOT analysis is very necessary.
In SWOT Analysis Two Factors act as prime movers
Internal factors which are prevailing inside the concern which include strength and weakness.
· On the other hand another factor is external factors which act as opportunity and threat.
Strengths:
The main strengths, as observed during the study include the following:
Usage of faster PC Bank Software, Leads Foreign Exchange module.
Qualified, professional and experienced Foreign Exchange Officers
Efficient Administration
Cooperation with each other
On-Line Banking, ATM Card service
Membership with swift
Good Banker-customer relationship
Strong financial position
Energetic as well as smart work force
Weaknesses:
Based on observation and analysis, the following weaknesses were observed:
Reluctance to ad campaign
Existing manual vouching system
Shortage of Branch
Lack of Consumer Credit Scheme.
The Branches of the bank have to depend on its Head office for any minor decisions.
Opportunities:
The opportunities for the bank, as opined by concerned people are stated below:
Huge Business Area
Growth of Sales Volume
Introducing any Branch Banking through Online
A large portion of our population is Muslims and they prefer Islami Banking to Conventional Banking.
Threats:
The possible threats that bank may encounter are the following:
Different services of   Phone Banking / Home Banking  by other banks.
Default loan
Entrance  of new  PCB,s
Higher competition among the banks.
Political unrest.
Some foreign and local banks may be threats for SIBL for their financial products.
The selection of default customers may be a barrier of its rapid growth.
Problems of NBL Regarding Foreign Trade
NBL faces various problems which are as follows:-
Political Disturbances:
It is not favorable for bank business in Bangladesh. It is the main problem of NBL. It is also a problem of all banking system in Bangladesh.
Decrease Trend in Import Business:
It is directly related in the banking system. Most of its income comes from import business. After 9/11 there was huge change world economy, which also affects us. As our export decrease then, people not interested to invest more in this sector which also reduce the attitude to import capital goods
Competitive Banking Market:
Different types of commercial banks are now serving in our banking market, which increase the competitiveness between them. So every bank has to take quick and correct decision to capture the market share, which helps the customer but for the banks the condition is very tough
High Rate of Government Security:
Practically, the government securities like bond, security, saving certificates, etc give high rate of interest than the commercial banks. So most of the investors are invested purchase the government securities due to high rate to utilize their idle fund.
Credit Sales:
Now a day, businessmen maximize their profit by enhancing credit sales, so they need working capitals. That's why they are not capable to deposit the extra money in banks.
Lack of Modern Tools:
Most of the private banks of Bangladesh use latest technology for banking purpose, NBL as the first privet bank can use the opportunities to increase the profit. They still not modern like the other banks like Dhaka Bank, One Bank, Brac Bank
Market Image:
NBL does not promote marketing activities itself for catering its services to the public or to the business persons. NBL has a higher book value per share but market value per share is very low corresponding to its book value.
Online Facilities:
NBL yet not connect itself with online banking activities. Online banking not only decrease expenses but also increases its public reputation.  As the first private bank, NBL must ensure faster services by removing the problems.
Recommendations:
 The following steps may be taken for the betterment of the company:
¯  Branch should intensify its quality of client service. Customer services must be made dynamic and prompt.
¯  Bank should be more innovative and diversified in its services.
¯  Put more emphasis on Export business, the depository service and create more depository services.
¯  Human resources, in branch, are not equipped with adequate banking knowledge.  Majority of the human resources is the lack of basic knowledge regarding money, banking finance and accounting. Without proper knowledge in these subjects, efficiency can not be optimized.
¯  Technological Skills should be developed. NBL should establish its own networking system between its branches so that they can exchange their information faster and efficiently.
¯  National Bank Ltd. should develop their E-Banking system.
¯  National Bank Ltd. should train up their officers about all sort of information regarding SWIFT and its services.
¯  National Bank Ltd. should always monitor the performance of its competition in the field of Foreign Trade and General banking Service.
¯  The Training Institute should be developed Valuable human assets.
¯  NBL should be located their branches in the important places of the rural area so that most people will know about the Foreign Remittance Service of NBL.
¯  Investment/credit policy of NBL should be easy, and flexible.
¯  The Bank should create such situation so that people put confidence on private bank for huge money transaction.
¯  NBL should sponsor seminar and symposium for the purpose increase awareness about the services of NBL.
¯  NBL should conduct strong Marketing Innovation activities to increase business in & outside Bangladesh.
¯  NBL should invest its fund in the profitable sector that will produce More profit for the owner of the account so that people will attract for NBL.
¯  Bank should encourage in small entrepreneur to increase industrialization that is good sign for social well being.
¯  Encourage and facilitate Imports of Industrial goods.
Conclusion:
Transparency and accountability of a financial institution is reflected in its Annual Report containing its Balance Sheet and Profit & Loss Account. In recognition of this, NBL was awarded Crest in 1999 and 2000, and Certificate of Appreciation in 2001 by the Institute of Chartered Accountants of Bangladesh. A team of highly qualified and experienced professionals headed by the Managing Director of the Bank who has vast banking experience operates bank and at the top there is an efficient Board of Directors for making policies.
During the tenure of last twenty five years the bank has made significant contribution towards gradual overall development and substantial growth in all its spheres as a result of which today National Bank Limited is regard as a lading sound, healthy, strong and modern private commercial bank in the Bangladesh equally recognized so by our foreign correspondents leading international banks. NBL is prepared to meet the challenge of 21st century and confidently look forward to anew horizon with a distinctive version of making this bank a highly competitive, more modern commercial bank with equipped with the state of art technology.
Despite the expansion and introduction of private commercial banks aimed at ushering in a spirit of competition, the healthy of banking sector in Bangladesh was showing signs of steady deterioration partly due to directed lending and misallocation of resource and partly due to inefficiency and corruption. All these necessitated the setting up of a National Commission of Money, Banking and Credit in 1984 which had submitted its report to the government in 1986 after reviewing the entire banking and credit system. On the basis of this report and recommendation of World Bank, the government initiated the Financial Sector
Reform Program (FSRP) in 1990. The main objectives of FSRP were deregulation of interest rates, pursuance of monetary policy with indirect means of control, strengthening the operational efficiency if banks, establishment of appropriate accounting standards and modes of recapitalization, improvement in Bangladesh Bank's prudential regulation capabilities, development of human resource in banking sector and improvement in the process of loan recovery. As a result, the banking sector as a whole showed marked improvements in their activities after the period from 1990-91 to 2000-01
Finally it can be said that the banking system of Bangladesh inspire of the policy change from time to time witness substantial improvement during the last few years and is expected to operate with increased efficiency in the days ahead provided they do not abandon actually mean change for the better for banks. Here too the old proverb works that you may take a horse to water, but you cannot force it to drink.
The motto of NBL is to explore a new horizon of innovative modern banking creating an automated and computerized environment providing one stop service and prepare itself to face the new challenge of globalization. One of the main objectives of the bank is to be the provider of high quality products and services to attract its potential market. The bank also caters to the needs of its corporate clients and provides a comprehensive range of financial services to national and multinational companies.