Executive Summary
The banking system plays a critical role in underpinning economic development. Against the background of Financial Sector Reform Policy in Bangladesh, Sonali Bank Limited (SBL) has resulted in great success in all areas of operation with a view to improve the socio-economic development of the country.
Banking is very important sector for the development of any economy. Sonali Bank Limited is one of the most renowned banks of our country, which is successfully operating, from several decades. For the keen interest on my university as well as the bank. I have worked in the General Banking System. I have chosen this topics of my internship reports because its helps me to practical acquaintance on the general banking. Secondary I tried to identify the problem and find out the solution to the shortcoming the general banking and provide suggestion that may supportive for the betterment of the system thought comparing it with other banks.
This help to know the overall function of the Sonali Bank Limited. While I work on the general banking, I had to know deposit, cash remittance and clearing and accounts department. I have shown different types of account that are provide by the SBL as well as the procedure of opening, maintain and closing of them. All the aspects of remittance are also covered. Others services which are provided by SBL are described in the theoretical part. Supplementary belonging, which are relevant to General Banking such as clearance and cash handling procedure, are including s well. To fulfill the objective I have done the analysis of some numerical data and showed them with the help of significant graph. The graph shows a clear up word trend SBL's continues success regarding the financial position and the effectively of General Banking of the Foreign Exchange Branch as well as the SBL.
Necessary recommendation is provide to hold the services, which are accelerated by the bank according to the analysis of the report. SBL is institutions this is not only serving people and special service but also with great coverage. For this reason, the profit of SBL is drastically increasing from about the last decade, which is clear from the analysis of this report.
Origin of the Report:
This report on "Overview of General Banking system of Sonali Bank Limited (A_Case Study of Ramna Corporate Branch. Dhaka)" was initiated as a part of the Internship Program which is a BBA Degree requirement of the Department of BBA World University of Bangladesh, Dhaka . A 90-Days internship at the Sonali Bank Limited, Ramna Corporate Branch, Dhaka preceded the preparation of the report under the supervision of Mousumi Dhar Lecturer, Department of BBA, and was submitted to the Chairman, Internship Placement Committee.
Objectives of the Report:                 
The report was prepared with the following objectives:
Find out the services provided by the Sonali Bank Limited;
Identify the functions related to customer services;
Identify the outcomes of different types of services provided by Sonali Bank Limited.
Identify the Over view of General Banking System of Sonali Bank Limited.
Methodology of the Report:
To make the report more meaningful and presentable, two sources of information have been discussed. Those are
Primary Data
Secondary Data
PRIMARY DATA:
Primary data was collected through:
Observing the day-to-day activities of the bank.
Interviewing the bank officials.
Interviewing the customers of the Bank.
Informal conversation with clients.
Practical work experience from the desk.
SECONDARY DATA:
Secondary data was collected from:
The annual report of the bank.
The Scheduled Bank Statement reports generated for Bangladesh bank.
General Banking Operational Manual
 Banks website and other publications.
 Scope of the Report:
The scope of the report is limited to facilities provided by Ramna Corporate Branch of Sonali Bank Limited. Sonali Bank provides a wide range of facilities to its customers. Employees are very much caring to their customers. But the scope of the report can be described in terms of two grounds like-
Orsanizational Scope: I have worked in all the desks of general banking division of Sonali Bank Limited. I could not get the opportunity to work in Foreign Exchange Department, Credit Department and Cash Department.
Periodical Scope: Practical Orientation in bank has started from the 5 January 2012 and the duration of this internship was 90 days.
The report is confined to explain the detailed explanation of other Department, such as, credit department foreign exchange department, card division, cash department. Credit related to foreign exchange transactions (L/C, LTR, etc.) were excluded. Consumer Credit or retail credit facilities and Credit provided against Share have also been excluded from the scope of this report. Various types of credit provided to the staffs of Sonali Bank has also been ignored, as they are special types of credit provided as a motivating tool for the employees with special terms and conditions.
Importance of the study :
To identify the problem of SBL.
To achieve practical knowledge of banking side of SBL.
To observe interrelated activities of foreign exchange department of SBL.
To gain practical knowledge about over all banking system and especially foreign exchange sector.
Limitation:
The study is constructed with some limitations. These are given bellow:
The main limitation of this report is the internship program is time, because this is very short span of time to make an extensive report on the total banking activities, which consists of various things.
The employees of Sonali Bank Ltd remain so much busy with their own work that it is quite tough to provide time for making concept clear in a particular area.
Every organization has their own secrecy that is not revealed to others.
Lack of knowledge, experience and expertise in banking field that's why it becomes hard to understand each and everything during practical program.
Background:
Sonali Bank Limited (SBL) started its operation on 17th April 1995 with an Authorized Capital of TK. 1000 million and Paid-up capital of TK. 200 million. Its Paid-up Capital was raised at Tk.700 million as on December 31, 2003. SBL is a fourth generation commercial bank in the banking arena of Bangladesh. The Bank was promoted by a group of highly successful entrepreneurs from various fields of economic activities such as shipping, finance, petroleum, textile and insurance. The Bank has made significant progress within a very short period due to its highly competent Board of Directors, dynamic Management and introduction of various innovative and customer friendly Deposit and Loan Schemes.
PBL was incorporated under the Companies Act, 1994 on February 12, 1995 and on that day, filed a duly verified declaration in the prescribed form that the condition of section 150(l)(a) to (d) of the said Act, have been compiled with, is entitled to commence business as a public limited company.
Prime Bank Ltd. being a banking company has been registered under the Companies Act 1913 with its registered office at 5, Rajuk Avenue, Motijheel commercial area, Dhaka 1000. Later it was shifted to Adamjee Court Annex building, 119-120, Motijheel Commercial Area, Dhaka-1000.
The bank operates as a scheduled bank under banking license issued by Bangladesh Bank, the central bank of the country on April 17, 1995 through the opening of its Motijheel Branch at AdamjeeCourtAnnexBuilding, Motijheel commercial area, Dhaka-1000. The bank is having an authorized capital of Tk. 1000 million and paid up capital Tk.700 million sponsored by 22 members of board of directors.
Mission, Vision, Strategic Priorities and Objective of Sonali Bank Limited
Vision:
To be the best Private Commercial Bank in Bangladesh in terms of efficiency, Capital adequacy, Asset quality, Sound management and profitability having strong liquidity.
Mission:
To build Prime Bank Limited into an efficient, market driven, customer focused
Institution with good corporate governance structure.
Cost reduction through integration of technology at all level.
 Strategic Priorities:
To have sustained growth, broaden and improve range of products and services.
Objective:
Prime Bank Limited is designed to provide commercial and investment banking services to all types of customers ranging from small entrepreneurs to big business firms. In this regard it emphasizes on the priority sectors of the economy like agriculture, industry, housing and self-employment. Besides the bank aims to provide different customer friendly deposit and loan products in the field of personal banking to fulfill the banking needs of individual customers.
SBL's Effort to Be Focused:
SBL's effort to be focused on delivery of quality service in all areas of banking activities with the aim to add increased value to shareholders investment and offer highest possible benefits to our customers.
Management Hierarchy of Sonali Bank Limited: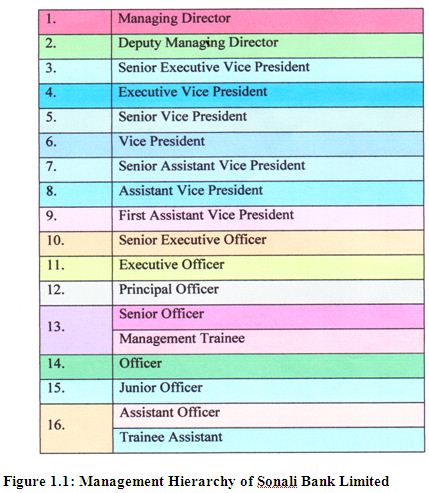 Functional Structure of the Bank:
• Logistics and Support Services Division:
Functions of this division are classified as Establishment & General Banking.
This is the function related to the establishment of new branches. Functions include:
1.   Establishment of the Branch physically (facilitating work place through leasing, procurement, rental, Decorating the office, etc.)
2.    Supply necessary security papers and stationeries.
3.   Procure and supply all types of furniture and fixtures.
4.   Evaluate the demand for vehicles, telephones, etc from the branches and supply them as necessary.
5.   Install and maintain all types of facilities in the bank.
Its main functions include:
1.   Issuing of power of attorney to the officers of the Branches.
2.   Maintaining general correspondence with Bangladesh Bank and other Banks etc.
Financial Administrative Division (Fad):
Financial Administrative Division deals mainly with the account side of Sonali Bank Ltd.
It deals with all the head office transactions with Banks and its Branches and all these are controlled under the following heads:
a.    Income, Expenditure Posting: All income and expenditure are maintained and posted under this head.
b.   Cash Section:  Cash section generally handles cash expenditure for office operations and miscellaneous payments.
c.    Bill Section: This section is responsible for only inland bills.
d.   Salary Wages of the Employees: Salary and wages of the head office executives, officers & employees are given from this department.
e.   Maintenance of Employee Provident Fund: Here employee's provident fund accounts are maintained.
Consolidation of Branch's Accounts:
All branches periodically (especially monthly) send their income & expenditure i.e., profit and loss accounts and head office made the consolidated statement of income and expenditure of Sonali Bank Limited. Here Branch statements are reviewed. This division also prepares different monthly, quarterly, half-yearly statements and submits to Bangladesh Bank. It also analyzes and interprets financial statements for the management and Board of Directors.
The main function of this division is managing Sonali Bank's credit portfolio. Major functions are the followings:
1)   Receiving proposal
2)   Appraising the proposals
3)   Getting approval from the head office credit committee.
4)   Communication with the customer and sanctioning the credit.
5)   Monitoring and follow-up of the credit facilities
6)   Setting prices for credits and making it effective.
7)   Prepares required statements as made mandatory by the Bangladesh Bank.
The objective of this division is to assist the management to make international dealing decisions and guide Branches to implement the decisions made. Its functional areas are follows:
1.   Maintaining correspondence relationship.
2.   Monitoring foreign trade & exchange dealings.
3.   Maintaining accounts and reconciliation;
4.   Authorizing of signature and test key;
5.   Monitoring Foreign Exchange returns & statement;
6.    Sending updated exchange rates to concerned branches.
Information Technology Division:
Prime Bank uses automated accounting system. Its transaction system is fully automated. And the computer Division is responsible for keeping the system running. The major functions of this division are:
1.   Designing software to support the account operation;
2.   Provide required hardware & software.
3.   Updating software if there is any lacking.
4.   Improvisation of software to get best possible output out of that;
5.   Train the concerned executives and officers regarding the operation of newly developed software.
6.   Hardware & software trouble shooting;
7.   Provides updated CD's of Online accounts to the branches;
8.   Provides routine check-up of computers of different branches.
Public Relations Division:
Public Relations Division is responsible for making liaison with the stakeholders. The Board's routine functions can be enumerated as follows:
1)   Receiving and sanctioning of all advertisement application;
2)   Keeping good relation with different newspaper offices;
3)   Inviting concerned one for any occasion;
4)   Keeping good relation with different offices of electronic media;
Marketing division is responsible for making the stakeholders concerned about the different products of Sonali Bank Limited. The marketing department is always in persuasion for attracting different customers to take their facilities.
Human Resources Division (HRD):
HRD performs all kinds of administrative and personnel related matters. The broad functions of this division are as follows:
1.   Selection & recruitment of new personnel
2.   Placement of manpower
3.   Dealing with transfer, promotion and leave of personnel
4.   Training & development
5.   Termination and retrenchment of employees
6.   Keeping records of every employee of the Bank
7.   Maintenance of employee welfare fund
8.   Arranges workshop for employees & executives;
Monitoring and Inspection Division:
Monitoring and Inspection division works as internal audit division of the company. The officers of this division randomly go to different Branches and examine the necessary documents regarding each single account. If there is any discrepancy, they inform the authority concerned to take care of that/those discrepancy. They help the Bank to comply with the rules and regulations imposed by the Bangladesh Bank. They inform the Bangladesh Bank about the current position of the rules and regulations followed by the Bank.
Prime Bank obtained the principal membership of Master card International in the month of May 1999. Within a period of 6 months, the bank successfully launched Master Card-Credit Card which created a new dimension in its customer service and consumer financing.
The Special feature of the Prime Bank Master Card is that its bears the card holder's photo on the card, which is the first of its kind in Bangladesh and adds security against misuse. Currently Prime Bank offers four types of cards;
a)   Local Silver Card;
b)   International Silver Card;
c)   Local Gold Card
d)   International Gold Card;
Merchant Banking and Investment Division:
This division concentrates its operation in the area of under writing of Initial Public Offer (IPO) and advance against shares. This division deals with the shares of the company. They also look after the securities portfolio owned by the company. The company has a large amount of investment in shares and securities of different corporation as well as government treasury bills and prize bond.
Board and Company Secretary Division:
The main functions of this division are as follows:
a.    Conducting meeting of the Board of Directors;
b.   Dealing with Company Act;
Sonali Bank Training Institute:
Sonali Bank Training Institute is all along supporting the Bank through various in house training courses, workshop and seminars. The Institute is playing a significant role in strengthening the capabilities of their human resources. It constantly works on improvement of training methods and materials. In 2003, the Institute imparted training to as many as 500 participants and it had enhanced the skill level of their human resources quite successfully.
Sonali Bank Foundation and Social Services:
While strengthening risk management and improving asset quality is the main focus for the Bank, They are also aware of their responsibility to the society to which they belong. Sonali Bank Foundation was created in the later part. The Foundation and employees of the Bank take part in diverse charitable and voluntary programs. The main objective of the Foundation is to invest part of the Bank's profit in poverty alleviation and community welfare. Accordingly, the Foundation has made allocation in different areas of poverty alleviation and primary health care programs for the low income group. Substantial fund has also been allocated for research works on various socio-economic issues confronting the nation. To add to the above, the Bank participates in major sponsorship programs in the area of sports such as Football and Cricket to popularize the same among the public. In all their business decisions, they strictly adhered to environmental and safety regulations and in no way do they compromise on ecological imbalance for which future generation.
Products and Services:
Besides traditional Banking services, Sonali Bank Limited has added a wide range of products/services in its service portfolio. Various products & services offered by SBL include:
Current Account Deposits;
Savings Bank Deposit;
Fixed Deposit;
Remitted Foreign Currency Deposit
Contributory Saving Scheme;
Monthly Benefit Deposit Scheme;
Special Deposit Scheme;
Education Savings Scheme- ran by Islamic Banking Branch;
Non-resident Foreign Currency Deposit;
 Wage Earner's Development Bond;
Non-resident Investors' Taka Account;
Multicurrency Account;
General Loan Scheme;
Hire Purchase;
 Lease Finance;
 HouseBuilding Loan/Apartment Loan Scheme;
Advances against Share
 Custodial Services for investors (both individual& institutional) investing
through Stock Exchange;
Consumer Credit Scheme;
Car Loan;
Any purpose Loan;
Loan Against Salary;
 Doctors loan;
Small And Medium Enterprise Scheme,
Credit Card;
One stop services for payment of utility bills;
 Locker service
Islamic Mode of Investment:
Sonali Bank started its operation with the slogan "Udvaboni Banking a Apner Bisoshtho Songi". From the very inception of the Bank it showed its difference in its different activities. Opening of Islamic Banking Branch is one of its achievements within the frame work of conventional banking. Sonali Bank Ltd. started its Islamic Banking operation by opening its first Islamic Banking Branch at 19, Dilkusha C/A, Dhaka on 18.12.1995. Bank opened its 2nd Islamic Banking Branch at Amberkhana, Sylhet on 17.12.1997. The salient features of Islamic Banking are as under
To conduct all its activities as per Islamic Shariah.
To conduct its monetary matters free of interest.
To establish banker-customer relationship on the basis of partnership.
To follow Islamic principle in all its investment port-folio.
To develop living standard of the poor incoming group.
To render excellent services to the clients cordially.
To conduct welfare related activities to the people.
Automation in Banking Operation:
Technology integration for automation of business process and procedures is an integral part of SBL's customer service. Since the very beginning, they have made conscious efforts for induction and up gradation of information technology at various levels to gain competitive edge over the others. All their branches are now in an automated environment as far as customer transactions are concerned and excepting a few branches in locations not accessible by Lease Line, all other branches are under a wide area network. Their Website (wwwsonalibank.com) is frequently visited from home and abroad. The site is always updated with current information about their services and products. All necessary information about their product and services are available at their website.
| | |
| --- | --- |
| Habib Bank Ltd. | http://www.habibbankltd.com/ |
| State Bank of India | http://www.statebankofindia.com/ |
| National Bank of Pakistan | http://www.nbp.com.pk/ |
| Citibank N.A | http://www.citi.com/domain/index.htm |
| Woori Bank | http://www.wooribank.com |
| Bank Al-Falah Limited | http : //www.bankalfalah.com |
| The Hong Kong and Shanghai Banking Corporation. Ltd. | http://www.hsbc.com/ |
Role of Sonali bank limited in the national economy:
Economy and banking Industry go together and are inseparable. Sonali Bank has been playing an important role in the economic development of the country. As many as 26,085 people are in the employment of the Bank as on December 31, 2008. Besides, Sonali Bank has generated employments for hundreds of people in the projects and industries established under finance. The Bank has been financing the trade and commerce of the country since inception of the Bank in 1997. We have handled a big volume of countries exports and imports. The deposits our Bank mobilized through the outlets of branches helped in the formation of capital in the country. Our lending to borrowers reached Tk. 23163.18 million as on June 30, 2009. It has contributed to the industrialization and improvement of trade and commerce of the country which ultimately accelerated economic growth and national welfare through multiplying effect. We have collected VAT and tax on interest / profit earnings of customers of the Bank. For relief and rehabilitation of natural calamity-hit people of the country in 2007 the bank has donated a denotable amount of money.
Foreign Remittance:
To develop national infra-structure and economy of Bangladesh Sonali Bank Limited has been playing dominant role to bring hard earnings of Bangladeshi expatriates working / living abroad through banking channels. For this purpose, Sonali bank Limited has established a bank named Sonali Bank (U.K) Ltd., U.K and an exchange house named Sonali
Exchange Company Inc (SECI), U.S.A. Our bank has also established drawing arrangement with various exchange houses / banks in Middle East, Canada and Malaysia. Under this arrangement, remitters can easily send their hard earnings to the beneficiaries in Bangladesh through 1184 Sonali Bank Limited Branches across the country. They can remit their money through Demand Drafts (DDs), Telegraphic Transfers (TTs), SWIFT and / or Computerized Payment Instructions (PC to PC via dial up modem) on Sonali Bank Limited selective branches.
 Trade Financing:
Sonali Bank Limited extends multiple credit facilities to boost up trade, commerce and industry. The credit packages and interest rates are as under:
| | |
| --- | --- |
| Credit Packages | Interest Rates (Floating) |
| l.Credit to Tread and Commerce | 14% |
| 2. Credit for Power Driven Vehicle/Water Transport | 14% |
| 3.Overdraft against: | |
| Fixed deposits | 13% |
| SDPS Accounts | |
| Five years period | 12% |
| Ten years period | 14% |
| Insurance Policy/Shares and Debenture of Public Ltd. Co. | 14% |
| Work order of Govt. Semi Govt / Corp. | 14% |
| Wage Earners Dev. Bond | 13% |
| 4. Housing Loan | |
| Residential | 13.5% |
| Commercial | 14% |
| 5. Small Loan | 14% |
| 6. Consumers credit | 14% |
| 7. Loans to Public Sector Enterprises | 14% |
| 8. Cash credit facilities for Small Business enterprises | 14% |
| 9. Cash Credit facilities against Bricks Manufacturing | 14% |
Investment Banking:
Central Accounts & Fund Management Division at Head Office maintains Investment Portfolio of the Bank. With a view to implementing Government policies & decisions and accelerating the growth of the Capital Market of the country, surplus funds of Sonali Bank are utilized in the following areas:
a) Short Term:
1. Call Loans: An overnight investment to other Banks & Financial Institutions.
2. Treasury Bills: Investment made to the Government through Treasury Bills.
b) Long Term:
1. Government / Public Bonds: Sonali Bank Limited purchases bonds issued by the Govt. of Bangladesh and other Public Bodies.
2. Shares / Equity Participation: Sonali Bank Limited participates in the IPO and extends bridge finance to the equity of Public Ltd. Companies, Institutions and Public Bodies.
3. Debentures: Sonali Bank Limited purchases debentures issued by the Public Bodies and Financial Institutions under Government.
Ethical principles of Sonali bank limited:
Sonali Bank believes that it will become a leading bank in the government sector. They believe that their aims and objectives can only be realized fully and sustained overtime by faithfulness to ethics that cannot always be built into sets of rules and regulations. In this belief in ethics that motivates the bank in its dealings with customer, regulators & employees.
Commitment to clients of Sonali bank limited:
Sonali bank limited has trying to concentrate on modern banking through continuous using modern technology. We also trying to help more to customer by providing various savings schemes like as EDS, MES, and DBS etc. Our Commitments to the clients are the following:
Provide service with high degree of professionalism & continuous use of modern technology through proper use of young generation officers.
Create long-term relationship based on mutual trust with customers.
Share customer's values & beliefs.
 Provide product and service at competitive pricing.
Ensure safety and security of customers' valuables in trust with us.
Over view of General banking
General banking is one of the major sections of any branch of any bank, the services of general banking are cash receive and payment, account opening, DD, pay-order, TT issue and clearing .the success of a bank depends a lot on the success of general banking. In prime bank all the general banking activities are performed under the control of GB (General Banking) head. GB head monitors the daily activities and solve the problems of general banking department.
Cash Payment to Customer:
Cash is paid to the customer or to the person to whom the bank is legally responsible to do so.
Procedure of Cash Payment:
The customer places cheque, pay order, money order recipe or any debit voucher to the cash counter.
The officer receives the cheque and check the customers account balance at the computer
If the customer has available balance in his account then the officer will debit the customer's account (the amount which is written on the cheque the account).
The tracer number must be written down by the officer while giving posting on the computer
The signature of the customer will be verified at the signature verification software
If the signature matches then disbursement of the cheque takes place.
Cash Received from Customer
Another important activity of this department is cash receive from the customer. Customers deposit money to pay bills, insurance premium, and monthly deposits of the scheme.
Cash Receive Procedure:
The customer has to fill the credit voucher or deposit slip properly and place to the cash deposit counter
The receiving officer will receive the money and the voucher and check the
deposit slip and will make posting of the transaction in cash receive register and he will credit the customer account.
If all the requirements are fulfilled then the process will be completed.
On Line Cheque Debit
If the customer has on-line advantage in his or her account, then he will be able to receive money from the branch presenting the cheque of other branch, this transaction is "Transfer Transaction" for the order receiving branch, in this case, the branch which cheque has been presented should maintain the following procedure:
Debit the customer account by the amount of the cheque.
Credit the account of the ordering branch by the amount of the cheque.
 Prepare four IBCE (Inter Bank Credit Advice) comprising main copy, responding copy, HO copy and originating copy with the IBCA no, responding branch name and code. A/C name and number and amount of the cheque
Main copy and responding copy of IBCA are sent to the responding branch and HO copy is sent to Head Office of Prime Bank Limited through courier or messenger.
Payment of On-Line Cheque
As we mentioned, customer can receive money from one branch by present the cheque of another branch of Prime Bank limited. In this case cash disbursing branch will maintain the following four steps:
Make payment of the cheque after proper presentation of it.
Debit the amount of the branch which cheque has bee presented by the written amount
Prepare four IBCA comprising main copy, responding copy, HO copy and
originating copy with the IBDA no, responding branch name and code. A/C name and number and amount of the cheque.
IBDA will be signed by two P. A. holder of the originating branch
Main copy and responding copy of the IBDA are sent to the responding branch and HO copy is sent to Head Office of Prime Bank Limited through Courier or messenger.
Savings and Current Account Opening:
Account opening is a very important task to establish banking relationship with a customer. Mainly the account opening section deals with opening with all kinds of accounts. The most two popular accounts are savings and current account. An adult individual having sound mind can open a Savings account signally or jointly. Guardian can open minor account. Any club, society and similar organization are also eligible to open SB a/c by providing Bye-Laws/Resolution/articles of association which is acceptable to the bank. An illiterate person can open SB a/c as per applicable laws of the bank by left hand thumb impression and physical attendance. On the other hand a person can open a current a/c signally, jointly or in the name of an organization, club, association, or institution can open current account providing Bye-Law and articles of association acceptable to the bank.
The procedure of opening of both of these accounts:
Account opening form to be filled in and signed by each of the applicant with
largest passport size photograph (2 copies) for each applicant attested by the introducer, copy of passport/any identity card, introduction of the applicant to be signed by introducer with account number, one copy of the nominee's photograph and signature of the nominee. Minor accounts additional requirements are copy of the birth certificate and photograph.
Verify officer of the branch will verify the introducer signature by checking it up with the signature provided by signature verification software.
After verification of the introducer's signature, accounts opening officer will give the customer the current a/c or savings a/c no which he intended to open and will posted it to the account opening register.
Then the customer wiljl deposit the initial deposit (Tk.2000 for SB a/c and Tk.5000 for current account) in the account number provided by the opening officer.
Then a/c opening officer and signature verification officer will sign on the form. Then the form will be ajpproved by the HOB and Operation Manager.
 The officer at the computer then post the a/c opening form with any special instruction and credit the customer's account by the initial amount.
After that the compliance officer of the branch will check the a/c opening form whether all the instruction of Bangladesh Bank is followed up to open the account.
FDR Account Opening;
FDR (fixed Deposit Receipt) is another popular scheme of Sonali bank Limited. Here a depositor will deposit fixed amount at the FDR. He will get the principal and interest amount at the maturity of the FDR.
Procedure of opening an FDR account:
The customer will fill up the FDR account opening form with a passport size
photograph, nominee's photograph, mailing address, permanent address, period and special instruction.
The account opening officer will provide a FDR no. on the form, posted it on the register and at the computer.
The customer will deposit the FDR amount in the accounts.
Then the a/c opening officer will sign on the form
Properly completed form will be signed by HOB and Operation Manager.
 After these steps the officer will write down a receipt and hand over it to the customer.
Then the compliance officer will check the a/c opening form and regularize it.
Rate of interest applicable to different period of time:
| | |
| --- | --- |
| Period | Rate of Interest |
| 1 month | 7.5% |
| 3 months | 12% |
| 6 months | 12% |
| 12 months | 12% |
Mature Encashment:
When there is a mature encashment, the customer will get the principal amount deposited and interest on the deposited principal amount at the rate which is prescribe in the particular account opening form, the income tax on interest amount is deducted from the maturity amount.
Pre-Mature Encashment:
In the case of pre mature encashment the officer has follow some terms and conditioned. The account holder will get less than he should get at the maturity date if he does pre­mature encashment.
Function of Accounts Department
Accounts department is called the head of the general banking. That is why the function of accounts department is worth of mentioned separately. In Ramna Corporate Branch of SBL there are 5 employees are working in accounts department. The functions of the accounts department are mentioned below:
All the vouchers-cash, clearing, transfer is maintained in a very systematic way so that no voucher can get lost. Sometimes, it may require that customers want to see the previous voucher to make sure that the bank statement is providing the correct information.
All the vouchers issued at a particular working day are counted properly andmake entry about the quantity of each type of voucher in the voucher register.
Voucher for internal expenditure of the branch are prepared by the accounts department. These expenditure vouchers must be approached by the branch manager.
All types of auto vouchers are also prepared by accounts department. Auto vouchers are the vouchers which are prepared for auto transaction such as maturity of MBDS, proceed from FDR transaction to savings account etc.
 Various types reports to head office and also may be to Bangladesh Bank are prepared by accounts department, these reports may be monthly liquidity position of the bank, year end performance of the branch
Products include-
Personal banking:
Sonali Bank Limited extends all the major personal banking facilities and services to its customers with its skilled manpower and largest network of around 1187 branches covering all the urban and remote rural areas of Bangladesh. Sonali Bank Limited provides Local & Foreign Remittance in quickest possible time. Foreign remittance is available in both Taka cash. & Taka draft.
1.  Transfer of fund from one branch to another by – Demand Draft Savings A/C – Mail Transfer Daily Profit A/C – Telegraphic Transfer FDR A/C.
2. Transfer of fund on Standing Instruction Arrangement (Trade Finance).
3. Collection of cheques through clearing house/beyond Clearing House.
4. Issuance of Payment Order / Call Deposit.
5. Locker facilities for safe keeping of valuables.
6. Corporate Client Services with computerized system at selective branches.
Rural credit
Rural Credit Bangladesh is an agricultural country. A major portion of its population (about 85%) lives in the rural areas. About 75% of the active rural population depends on agriculture as the main source of their livelihood. Agriculture contributes about 22% to the GDP. Majority of the farmers are either small or marginal. So Credit plays a paramount role to augment the capital base to support agriculture production. Sonali Bank Limited the largest state owned commercial bank has been playing a vital role in the socio-economic development & poverty alleviation since 1973. Keeping in view that Credit is one of the many inputs that complete the cycle of agricultural production .Sonali Bank extending rural credit through 1187 branches over the country. Sonali Bank Limited introduced indirect rural credit in 1973 through the then IRDP (Now BRDB) there after continuing lending in the following programs:
1.   Crop Loan (Special Agricultural Credit Program): This program was
Introduced in 1977 to increase crop production and is continuing through 707 branches. Recently Sonali Bank Limited introduced Revolving Crop Credit Limit System from one branch of each district.
2.   Special Investment Program: This program was introduced in 1993 for creating self employment by establishing small & medium farms (Poultry, Dairy & Fishery) through bank finance and is extended through 236 selected branches over the country. Maximum ceiling of loan is Tk. 5.00 Lac.
3.   Farming & off farming program: This program was introduced in 1994 to Involve unemployed rural people in income generating activities (Poultry, Dairy, Fishery, Horticulture, Nursery, Beef fattening) by establishing small & medium farms through bank finance and is extended tjhrough all branches over the country. Maximum ceiling of loan is Tk.15.00 Lac.
4.   Krishi Khamar Rin Karmasuchi (Project) :This program was introduced is 1993  for creating new employment,  increase national income & Socio economic development by establishing medium & big project (Poultry, Dairy & Fishery) through bank finance.
5.   Pond Fisheries credit Program: This program was designed to extend bank credit for pisiculture in derelict ponds/Tanks/water bodies in 1977 Credit is extended through 200 branches over the country. Maximum ceiling of loan is Tk.5.00 Lac.
6.   Fertilizer Dealers Credit Program: This program was introduced to extend bank credit among the approved fertilizer dealers operating at primary distribution point of BADC for lifting their quota of Fertilizer from BADC for ultimate distribution among the farmers in 1981.
7.   Sugarcane production loan program in mill Zone area: This program was introduced in 1975 to increase sugar production. Under this program credit is extended to 11 (eleven) sugar mills for ultimate disbursement among their affiliated farmers.
8.  Social A forestation Program: This program was introduced in 2004 to increase forestation and to reduce greenhouse and is intended through all branches over the country. Maximum ceiling of this program is Taka 5.00 lac.
Micro credit
Poverty mitigation has appeared to be the focal point of all policy formulation and development issues of the nation. As such, it has been globally accepted as an effective strategy for poverty alleviation in one hand and generating employment opportunities on the other. In commitment to reduce poverty in urban, semi-urban and rural areas, Sonali Bank Limited has started functioning in Micro Credit through a full pledged micro credit division in its Head Office in the year 2003. Presently, 32 projects are being run under the control and supervision of this Division. Among all others projects, Bank-NGO Linkage program and Credit for Urban Women Micro Enterprise Development (CUMED) in Dhaka City, Goat rearing, Lamb rearing, Fruit, Herbal, Medicinal and Nursery Project, Micro-enterprise program- 'Unmesh' in Moulavibazar district, MSFSCIP in Kurigram district, Loan for Disable Persons etc. deserve special mention for channelizing the financial resources into the various          potential  avenues  of   microfinance. Sonali Bank Limited jointly with Swanirvar Bangladesh, BRDB and ADB has been providing huge investible funds into the different Upazillas within the country. 152 Upazillas have been covered by the Rural Livelihood Programme (RLP). Further, this Division has provided taka 179.09 crore to 68 NGO's under its widely accepted Bank-NGO Linkage Programme on whole sale basis and whose recovery rate is 100%. Specially, for the disable people Disable Loan Programme has been undertaken to bring the disable section of the people under the micro credit facilities. The Goat Rearing Programme undertaken by this Division has been running with a remarkable impact in reducing the rate of massive- scale rural poverty. Sonali Bank has already disbursed 46.47 crore upto 31 December, 2008. Further, in order to create employment opportunities and to generate income of the rural people two loan schemes under the name and style "Rural Small Farming Loans scheme " and "Rural Small business loan" scheme have been introduced in-2004 . In both the programs there is a provision of collateral free loan up to Tk. 50,000/- . In 2006 a new program has been introduced named " Daridra Bimochane Sahayta Karmasuchi"for the extremely 'Monga' affected rural people. Moreover, in 2007 a special program has been introduced for SIDR affected 12 areas in which there is a provision of collateral free loan up to TK.20,000/-. Upto December 2008, Tk. 3299.47 crore has been disbursed under various project/ programs of this Division where as this disbursement figure was Tk. 3056.63 crore upto December 2007. The key features of some running projects/Programs of Micro Credits given as follows:-
Features:
| | | | |
| --- | --- | --- | --- |
| SL. | Project/Programs | Target group | Loan size in Tk. |
| 1 | Swanirvar Credit Program 4 | Poor Landless people | 1,000-15,000 |
| 2 | Crop Godown Credit Project | Small & Medium Farmers | Highest 10,000 |
| 3 | Sonai Bank -BARD, Comilla Priogik Gabesana Rin Prokalpa | Bittahin rural male & female | Highest 10,000 |
| 4 | Sonai Bank- RDA, Bogra Priogik Gabesana Rin Prokalpa | Bittahin rural male & female | Highest 10,000 |
| 5 | Marginal and Small Farms System Crop Intensification program(MSFSCIP) | Marginal, Poor & Small Farmers | Highest 10,000 |
| 6 | Herbal & Forestry, Medicinal Plant & Nursery Development Credit program | Bittahin, Poor Energetic Youth | 5,000-25,000 |
| 7 | Grameen Khudra Babsa Rin Karmasuchi | Poor People | Highest 50,000 |
| 8 | Daridra Bimochane Sahayta Rin Karmasuchi | Hard Core Poor People | 5,000-10,000 |
| 9 | Loans to Disable People | Disabled People | 25,000-50,000 |
| 10 | Unmesh Credit Program | Micro Entrepreneurs | 50,000-2,00,000 |
| 11 | Goat Rearing Credit Program | Small &Medium | Highest 50,000 |
| | | Entrepreneurs | |
| 12 | Credit for Urban Women Micro Enterprise Development (CUMED) | Urban Women Entrepreneurs | Highest 5,00,000 |
| 13 | Bank-NGO linkage Credit Program | Poor People | Highest 5000-50,000(Loan Wholesaling to NGOs) |
| 14 | Khudra Khamar Rin Karmasuchi | Small Entrepreneurs | Highest 50,000 |
| 15 | Salt Production Credit Program | Actual Salt Producer | 5,000-12,500 |
| 16 | Individual Irrigation / Agriculcural* Equipment Credit Program | Small, Marginal & Medium Farmers | 10,000-16,500 |
| 17 | BRDB Crop Credit Program | Small, Marginal & Medium Farmers | 8,000-15,000 |
| 18 | BRDB Integrated Rural Development Program | Co operative Poor Male & Female Member | 1,500-20,000 |
| 19 | BRDB Rural Livelihood Program | Small, Marginal & Medium Farmers | 5,000-20,000 |
| 20 | BRDB -Shrimp Culture Credit Program | Small, Marginal & Medium Farmers | 2,333-28,000 |
| 21 | Special Loan for SIDR affected Area | SIDR affected People | Highest 20,00 |
International banking
Sonali Bank Limited expertise in International Banking has a record of in-house growth over more than half a century. Its pioneer role in handling foreign trade and foreign exchange transactions ever before independence of the country still remains unchallenged. With wide network of branches at home and also a large number of correspondent banks world-wide it is singularly handling the largest volume of export-import business including home-bound remittances.
Industrial Financing:
Industrial Finance Credit Schemes : Long term loan for setting up new industrial units and BMRE of existing units including working capital finance are extended by Sonali Bank Limited to cottage industries, small-medium-large scale industries and also to self-employed persons with a view to creating employment opportunities, deployment of resources, increasing GDP and over-all industrial development of the country. Currently the following credit schemes are on offer by the bank: Some of the main Credit Schemes:
Industrial Financing for Thrust Sectors.
Sonali Bank Industrial Credit Scheme.
Special Investment Scheme for Cottage and Small Industries.
Financing Large Scale Industries through Banks' Consortium.
Financing Software Development and Data Processing.
Designated Branches: About 100 branches including all the corporate and district headquarters branches are designated to handle industrial credit. Sonali Bank Limited has also come up with very low rate of interest to finance the following thrust sectors of the economy as identified by the Government:
Software development and data processing.
Agro-based industries [excepting cold storage for preservation of potatoes).
Manufacture of artificial flowers.
 Frozen foods.
Gift items (preferably export oriented).
100% export oriented finished leather goods.
100% export oriented jute goods.
Jewelry and Diamond cutting and polishing.
Oil and Gas.
Sericulture and silk industries.
Stuffed Toys (preferably export oriented).
100% export oriented textile industry (excepting garments manufacturing  industries).
Ancillary services:
Sonali Bank Limited offers multiple special services with its network of branches throughout the country in addition to its normal banking operations.
Collection:
      Gas bills.
      Electricity bills.
      Telephone bills.
      Water/Sewerage bills.
      Municipal holding Tax.
      Passport fees, visa fees and Travel tax.
      Customs & Excise duties.
      Source tax and VAT.
      Jakatfund.
      Hajj deposit.
      Land development tax.
Payment:
      Pension of employees of Government and other Corporate Bodies.
      Bangladesh Bank employee's pension.
      Army pension.
      British pension.
      Students' stipend/scholarship.
      Govt. & Non-Govt. Teachers' salary.
      Food procurement bill on behalf of the Govt.
Social Services:
      Old age allowances.
      Widows, divorcees and destitute women allowances.
      Freedom Fighters' allowances.
      Rehabilitation allowances for acid survival women.
      Maternal allowances for poor women.
      Disability allowances.
Sale & Encashment/Purchase:
      Savings Certificates.
      ICB Unit Certificates.
      Prize Bonds.
      Wage Earner's Development Bonds.
      US Dollar Premium & Investment Bond.
      Lottery tickets of different Semi-Govt. and Autonomous Bodies.
      Sanchaypatra.
      Public Service Commission's application form.
      Judicial Service Commission's application form.
      Exchange of soiled / torn notes.
Digitization of Sonali bank limited:
1. Branch Computerization: 234 branches are on live operation while automation of 691 branches is going on full swing. Out of 1184 branches at home, 925 branches have already been entered in the automation network.
2. Foreign Remittance : Bank's own in-house software "Remittance Management System" (RMS+), having, among others, the feature of paying foreign remittance instantly over the counter is being implemented at all branches. This web based software provides digital services to the expatriates through its unique advantage of sending confirmation message to the mobile phone of the remitter/beneficiary.
3. ATM: Sonali Bank Limited is a member of Q-Cash ATM network. At present the bank has 25 ATM booths. Establishment of 43 more ATM is going on. Sonali Bank's ATM cardholders enjoy the access to the ATMs and POS of Dutch Bangla Bank Ltd. and Brae Bank Ltd. besides those of Q-Cash consortium. Sonali Bank recently launched Credit Card. ATM Network
4. Online and SMS Banking: At present   31  branches of Sonali Banks are included in the Online Any Branch Banking (ABB) network. The bank is seriously working on connecting all branches in the Real-time Online Banking network gradually. Branches having ABB facility are also rendering SMS banking services.
Sonali Deposit Scheme (SDS)
Duration-5 years
Amount of monthly savings-500-10000 Tk. & rate of interest is yearly 8.5%.
Date of payment-16-25 of every month.
 
Cumulative total after end of duration

Monthly

Payment amount

Bonus

Bonus + Interest after end of duration

500

1500

38689

1000

2000

76378

2000

3000

151756

3000

400

227134

4000

5000

302512

5000

6000

377891

6000

7000

453269

7000

8000

528647

8000

9000

604025

9000

10000

679404

10000

11000

754782
Strength of Sonali Bank Limited:
1.   A powerful  strategy  supported by good corporate  governance to increase hareholders value by being efficient, professional transparent and accountable to society and environment.
2.   SBL has strong brand image as it has won the prestigious ICAB award for being the best bank in Bangladesh and "A" graded bank according to the CAMEL rating.
3.   Products and services are as diversified as the market segment demands and the customer group range from individuals, big corporate clients, NGOs to Non residents.
4.   PBL has strong capital position.
5.   The asset and liability committee (ALCO) of the bank maintains a satisfactory trade-off between liquidity and profitability.
6.   The bank is able to achieve higher growth of loans and deposit than the industry rate.
7.   Sonali bank limited has strong balance sheet with favorable ROE and ROA.
8.   Low non-performing assets or classified loans of the bank signify strengths in credit customer selection.
9.   The bank has covered all the global locations of homebound remittance.
10. The bank has now a network of 65 branches throughout the country.
11. The quality of asset is one of the strong areas of operation of SBL.
12. Many of the branches of SBL are under CBS T24. This is helping to minimize the errors.
13. SBL has well diversified asset portfolio to retail, SME and capital market.
14. SBL has a good credit rating of AA which is rated by Credit Rating And Information Services Limited (CRISL).
Weakness of Sonali Bank Limited:
1.   All of the branches of PEL are still not under the CBS T24.this lacking is creating operating inefficiency such as human error, fraud and forgeries.
2.   The junior level management of SBL is not as efficient as the mid and top level management. This may be because of the lack pf proper training to the junior and training officer.
3.   risk management of lending portfolio often require stress testing which are based on sophisticated mathematics tools and cannot solely be dependent on existing MIS.  The  level  of technology  in  banking  industry  is yet acquiring that sophistication.
4.   the employees of the branches Which are under T24 are facing some sort of problem to cope up with the new software that is why it is taking more time to serve a customer.
5.   The ATM booths owned by the SBL are not sufficient in comparison to the other banks.
6.   SBL has lack of manpower to serve the growing customer demand.
Opportunity of Sonali Bank Limited:
1.   SBL took a strategic shift towards developing and expanding the SME financing which has received considerable attention of policy makers.
2.   Implementation of world class CBS T24 in number of branches will reduce fraud and forgeries and other operating risks arising from human error.
3.   this bank has establish remittance arrangement with 24  leading exchange companies and banks including the global money transfer agency Western Union in 2007.
4.   The bank introduced direct selling service recruiting highly trained and customer focused professionals.
5.   Finance Act of 2007-08 has withdrawn the withholding tax on purchases by credit card and it is expected that credit card business will again have fast growth in 2008.
Threats of Sonali Bank Limited:
1.   Changes in general economic condition resulting from calamities and political disturbance.
2.   The bank is now facing increasing interest sensitive customer who are demanding higher rate of return.
3.   Changes in government policy issues viz.
•    increase in tax, VAT on banking services,
•    increase in corporate tax rate,
•    increase in CRR and SLR of the banks,
•    withdrawal of incentives given to some thrust sectors which may make the     project slow moving,*
4.   By the other banks are great threats for the bank. Introduction of compliance issues raised by the international forums which is likely to affect the export growth.
•    The rising price of oil and other importable directive to reduce the lending rates to finance essential items,
•    increase in provisioning requirement would reduce the ROA and ROE,
•    Reducing the margin ratio for investment accounts.

CONCLUSION
During my internship I got the experience to work with the relationship managers. Moreover I got to interact with the officials of different departments in course of doing my job as an intern. Based on my observation and experiences I have tried to portray the operations of client relationships department, and the internal and external interactions undertaken in this process. I have also tried to find out the shortcomings this department have, and the possible solutions.
As an organization the Sonali Bank has earned the reputation of top banks operating in Bangladesh. The organization is much more structured and it is relentless in pursuit of business innovation and improvement. It has a reputation as a leader in financing manufacturing sector.
Client Relationships unit of Sonali Bank has the major contribution to the overall revenue of the bank. This core unit of corporate banking group is with the basic job of attracting and persuading new customers as well as providing superior service value to the existing customers.
Sonali Bank needs to restructure its client relationships department, should concentrate more on relationship manager recruitment and development process, CR should ensure more cordial working environment and more sincere efforts from the relationship managers. As client relationships performance depend on proper functioning of a group of internal departments as a team, internal co-ordination should be ensured. Moreover Client Relationships department needs to be more customer-oriented.
Recommendation 
Sonali Bank Limited should follow the following recommendations:
Sonali Bank Limited should innovate new products keeping in tune and perfect harmony of modern technology. Implementing E-Banking or the Internet Banking service, Sonali Bank may gain more market share by winning the hearts of many.
Sonali Bank should offer credit card facility that can only be used for the consumption of products and services. The naming of this credit card should be "Credit Card".
The bank should expand to strategically important places for its business rapidly. Some of the proposed places are Asadganj, Riajuddin Bazar, Sir Iqbal Road, Clay Road, Daulatpur (Khulna) Lakshmipur (Rajshahi) and Barogola, Thana Road (Bogura), Shariatpur & Madaripur. Some of its rivals already entered in some of favorable regions and some are on the way, so the bank should expand in these regions without making any delay.
Without making any delay, the bank should establish a research and development department immediately. To run this department, the bank may snatch its competitor's employees by offering them attractive package.
The bank should increase its investments in such sectors, real state, health care garments sector etc. In order to make adjustment in its credit portfolio.
The bank's management should reduce the gap between its interest rate sensitive assets and interest rate sensitive liabilities by investing more in interest rate sensitive assets.
Findings 
While working at SBL, (Ramna Corporate Branch, Dhaka), I have acquired some experiences. After always of the collected and other related information, I have the following findings to which, I think, should be given much attention for attaining the objectives of SBL.
There are some irregularities in sanctioning loans and advances to the customers. The concerned bankers are involved in such irregularities for their personal benefits and interest.
Branches have no effective initiatives for relationship banking concepts.
More financial institutions are coming with their new products considering the customer's demand but SBL is not so much advanced as other banks.
Lack of skilled and efficient employees and demands for more employees in some departments are another important findings.
Number of ATM booths are not satisfactory, SBL have to give more emhasize on increasing number of ATM booths.
The bank follow the online banking system to provide the customer better services, but all the branches of SBL are not follow the online banking system.
Existing Human Resources are not sufficient for SBL. They have to recruit more skilled employees.
The modern technology is not used in the recruitment and selection process. The backdated methods are using for selection till today.
Security system of many branches is not sufficient.