Customer relationship management (CRM) provides businesses with a holistic picture of the customer experience, allowing them to make informed decisions about how to enhance it and increase revenue. It is a method through which a company or other organization manages its connections with customers, usually through the use of data analysis to examine vast amounts of data.
This complete connection covers direct encounters with customers, such as sales and service-related operations, forecasting, and the analysis of consumer patterns and behaviors, from the perspective of the company. Customer relationship management's purpose is to collect enough information about a customer and use it effectively enough to boost that customer's pleasant interactions with the organization, resulting in increased sales.
For growing businesses, a CRM streamlines sales, marketing, customer service, accounting, and management. The information concerning a client's customer journey can be accessed and edited by multiple parties. CRM's ultimate goal is to improve the customer's overall experience.
CRM systems collect information from a variety of sources, such as a company's website, phone, email, live chat, marketing materials, and, more recently, social media. They enable organizations to gain a better understanding of their target audiences and how to best respond to their demands, resulting in client retention and sales growth. Software, cloud computing, and artificial intelligence are all major growth areas in CRM technology.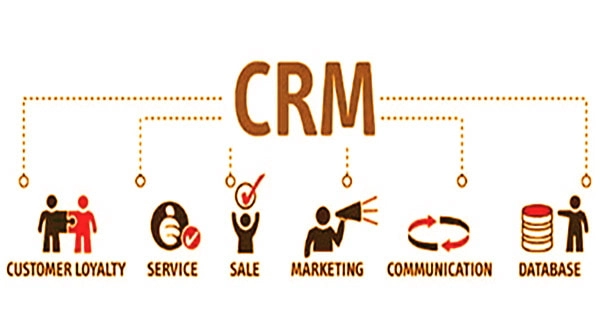 CRM can be used with current, previous, or future customers. Customer relationship management (CRM) actually refers to the principles, procedures, and policies that a company uses while dealing with its customers. CRM involves methods and systems for small enterprises:
Lead generation and conversion: Identifying and targeting a company's ideal customers; creating high-quality sales leads; and designing and executing marketing campaigns with specific goals and objectives.
Relationship building: Creating frequent communication channels; creating and improving customer relationships; giving the most profitable consumers individualized attention.
Customer service: Providing information to the staff so they can better understand customers' goals and needs, handle complaints, solve problems, and improve customer satisfaction.
CRM includes everything from a business's website and emails to bulk mailings and phone calls. Companies use social media to adapt to trends that improve their business line. Marketers can utilize a CRM solution to adopt a data-driven strategy to manage and optimize campaigns and lead journeys, as well as gain a better understanding of the sales or prospect pipeline, making forecasting easier and more accurate.
Customer happiness was evaluated via annual surveys or front-line asking in the early 1970s when the notion of customer relationship management was born. Businesses had to rely on separate mainframe systems to automate sales at the time, but thanks to advancements in technology, they could now categorize clients in spreadsheets and lists. The goal of CRM is to generate pleasant customer experiences that encourage them to return so that a business may build a loyal customer base.
Customer relationship management systems give business owners and managers a clear picture of the customer experience, allowing them to make informed decisions about how to enhance it and increase sales. CRM is increasingly being used to refer to technological platforms that businesses can employ to manage their external customer interactions at all stages of the customer lifecycle, from discovery to education, purchase, and post-purchase.
The work of Siebel, Gartner, and IBM popularized customer relationship management in 1997. Leading CRM programs were enhanced with shipping and marketing capabilities between 1997 and 2000. In 1999, Siebel released the first mobile CRM app, Siebel Sales Handheld. Other top providers at the time, including PeopleSoft (bought by Oracle), Oracle, SAP, and Salesforce.com, quickly adopted the idea of a stand-alone, cloud-hosted customer base.
CRM software includes desktop and browser-based software as well as cloud-based programs that collect and organize client data. To better corporate communication and end-user experience, the most prominent CRM packages were linked to business intelligence systems and communication software in 2013 and 2014. The current tendency is to replace conventional CRM solutions with industry-specific ones or to make them sufficiently customized to satisfy the demands of each company.
CRM technology is commonly regarded as the fastest-growing corporate software sector, which mostly encompasses the broader software-as-a-service (SaaS) market, with an estimated global market value of over $40 billion in 2018. Collecting thorough data about your clients is the key to a successful CRM system. At every point where the company interacts with customers, there should be data capture points (or potential customers).
Customer relationship management is used by businesses for a variety of reasons, but the end goal is to improve the customer experience and increase sales. Building and managing customer relationships through marketing, watching relationships as they evolve through discrete phases, managing these relationships at each level, and realizing that the value of a relationship to the firm is not distributed evenly are the primary components of CRM.
Without effective management and decision-making from humans, all of the computer software in the world to assist with CRM is useless. Firms may benefit from adopting a range of tools to help with organizational design, incentive schemes, customer structures, and more to maximize the reach of their marketing campaigns when creating and managing customer connections through marketing. Companies must learn to distinguish between useful and superfluous data for successful CRM, as well as filter out any duplicate or incomplete records that may provide staff with misleading information about customers.
Information Sources: