A Study of the Performance of Mutual Trust Bank Limited with Special Emphasis on Training & Development
Now a day, it has become essential for almost every person to deal with banks somehow in their bred and better life. As a result it has become essential for every person to have some idea about the bank and banking procedure.
At present time, the banking procedure is becoming faster, easier and the banking arena is becoming wider. As the comparative field of the banking sector, the banking organizations are coming with innovative ideas.
The banking system in the territory of Bangladesh grew slowly during the British and Pakistan periods. There were only 25 bank branches in 1901 and the number grew to 668 in 1946. In the last few years, the banking sector has witnessed tremendous growth. This is largely due to new reforms and implementation of effective polices in the sector. Now 49 banks in our country.
Human resources management is an important division of an organization and it encompasses those activities designed to provide for and coordinate the human resources of an organization. The human resources of an organization represent one of its largest investments. As a result, those organizations who give concentration on this fact make a great profit. The primary goal of human resource management in any organization is to facilitate organizational performance. To meet the challenges, of the future tomorrow's human resource departments must be much more sophisticated than their predecessors.
Every organization needs to have well trained and experienced people to perform the activities that have to be done. If the current or potential job occupant can meet this requirement training is not important, but when this is not the case, it is necessary to raise the skill levels and the versatility and adaptability of employees. Inadequate job performance or a decline in productivity or changes resulting out of job redesigning or a technological break-through require some type of training and development efforts. As the job becomes more complexities importance of employee training and development also increases. In a rapidly changed society, employee training and development is not an activity that is desirable but also an activity that an organization must commit to maintain a viable ands knowledgeable work force. Throughout the years, training has become one of the most important tools of work life. As the subject of human resource management evolved, the training and development of human resource became one of the important dimensions.
Purpose of the study
The Purpose of the internship program is to familiarize myself with the real market situation, to compare them with the business' theories & at the last stage make a report on assigned task. The main objective of the study is to have an assessment on Training and development of MTBL, through different aspects of the banking sector and its effectiveness in this regard. Besides the primary objective of this report is to achieve practical knowledge about how MTBL provide training and development to its employees and how much it is effective.  But the Broad and Specific Objective of the study are given below-
Broad objective of the report:
Obviously, this report has some reasonable objectives. Mutual Trust Bank is one of the renowned organizations in the country. MTBL strictly using different HR issues through the organization. This is why the broad objective of this report is to how MTBL using HR issues specifically in their recruitment process, how MTBL provide training and development to its employees.
Specific objective of the report:
Specified objectives of the report consist-
The training provide by the MTBL
To understand the training and development process of the MTBL
To pick the key factors on which the organization put emphasize when they evaluate the training and development
To enhance the view of the impact of training and development process on the human resource management decisions and as well as other department overall organizational objectives
To brings mutuality between the employee and supervisor
How MTBL preparing employees for performing in future by reinforcing development program
Scope of the report
This report will identify the training assessment of the employees regarding with the company's training method, motivation level, job characteristics, on the working period, trainee output efficiency. This research will find out the training effectiveness of the employees. Though human resource management is new for our country, is has a well future. But unfortunately most of the companies in Bangladesh don't follow proper HR steps. They simply used the traditional recruitment systems without proper guide lines, except some multinational companies most of the companies don't have any training facilities and. In that perspective if the company follow proper system then their productivity and efficiency will increase a lots. Mutual Trust Bank Ltd is one of them that using different trainings to improve their employees this report is basically on the Training and Development and of the Mutual Trust Bank Ltd that should follow to achieve the goal.
Methodology
This study based on both primary and secondary data.
Primary data were colleted from Bank employees through a questioner and personal interview.
Secondary data has been collected from various printed document like, Annual Audit Report Journals, Banks office record web-site, etc.The collected data an analyzed by using some statistical tools.
Data sources:
In order to collect the information and data followings potential sources has been used:
Data requirements:
To accomplish this research the information is needed as following:
To get information about MTBL
To get information about the employees' training
To get information how other banks are trained to the employees'
To get information about MTBL
To get information about MTBL employee
Primary source:
Interview of the employees of Mutual Trust Bank ltd at different level. They are-
Manager, Asst. Vice-President, senior principle officer, Principle officer, senior officer, officer, junior officer.
 Secondary source:
Some secondary source like as-
Printed papers – annual report 2009-2010, corporate brochure, and profile.
Company's Web Site- www.mutualtrustbank.com
Training Institute of MTBL.
Corporate intranet of MTBL.
Data collection:
In order to make the Report more meaningful and presentable, two sources of data and information have been used widely. Those are:
Primary data
Secondary Data
Primary Sources:
Primary data has been collected from the individual account holder by questionnaire survey. Also oral conversation has been done with different customers of the bank.
The primary sources include interviews with the Employees.
Practical work exposures from the different desks of the department of the branch covered.
Relevant file study as provided by the officers concerned.
Face to face conversation with the customers.
Secondary Sources:
Some secondary sources are
Annual Report of Mutual trust bank Ltd: 2011
Different manual and synopsis.
Various books, articles, compilation etc.
The Internet was also used as a theoretical source of information by browsing their website address.
Brochures and leaflets of the bank.
Head office circulars.
Relevant business research books.
Website of the bank
Some unpublished information.
Text books (Human Resource Department, Organizational Behavior, Management Process, and Business Research).
Method of collecting data:
The information was collected mainly through my working experience in MTBL. As there is no performance evaluation or no comparison objective so there was no survey study. The objective was to see how bank works and whether they are separated from theory. And that why practical orientation takes the utmost preference and importance and works as the most important mechanism for collecting data.
Data processing and analysis:
After collecting all the required data, the question area has been coded and data processed by a specific form in SPSS software for analyzing purpose. This software also had been used to prepare graphical representation and the graphs have been interpreted accordingly. The data has been collected from the respondents through structured questionnaire. After that, data has processed through the following ways.
At first the questionnaires has given a serial number
Respondents' answers are categorized according to their personal information, present banking habit, experience, preference, attitude, behavior, satisfaction level about MTB and so on.
After that respondents answer are recorded in numeric figure.
Service of MTBL
Retail Banking:
Consumer credit is a concept, which has conceived in the minds of many a banker and has been through about to bring the unexplored area of the consumers who belong to the middle class to enjoy the benefits of Banking finance. The group consists of the people who are employed individuals, self-employed persons and even businessmen. The Mutual Trust Bank arranges credit facilities for these individuals who have a limited income and helps them to buy a car or any electric items, like- TV, fridge, etc. or spend for house renovation or expenses for marriages and enjoy a minimum comfortable living standard.
Corporate Banking:
At Mutual Trust Bank we provide completes range of solutions to meet Corporate Customers' requirement. Our Corporate Banking solutions include a broad spectrum of products and services backed by proven, modern technologies.
Corporate Lending:
Our specialist teams offer a comprehensive service providing finance to large and medium-sized businesses based in Bangladesh. For more information as to how we might best meet your corporate debt needs, please contact us at our Corporate Head Office.
Structured Finance:
We have a specialist Structured Finance Team who arrange and underwrite finance solutions including Debt and Equity Syndication for financial sponsors, management teams and corporate. Also we provide corporate advisory services. We aim to provide tailored financing solutions with a dedicated team who can rapidly respond to client needs.
Following are some of the products and financial tools of Corporate Banking:
Project Finance
Working Capital Finance
Trade Finance
Cash Management
Syndicated Finance, both onshore & off-shore
Equity Finance, both onshore & off-shore
Corporate Advisory Services
Large Loan and Project finance:
In order to cater the demand of client Mutual Trust Bank has segmented its portfolio in terms of loan size. As per this segmentation any loan over Tk. 10.00 Core falls under the purview of Large Loan Unit in Mutual Trust Bank, there is also a separate Project Finance unit who evaluate the business. The unit is entrusted to handle the portfolio in a focused manner. MTBL is always in fore front to support establishment of new projects of diverse nature which will help to broaden the manufacturing arena vis-à-vis to generate to employment.
Swift
Swift, it is a society in the international banking. There are large number of banks are member of this society. It's headquarter is in Norway. National bank is one of the members in this society. So, in this society they have one secret code and identity number in every bank, who is the members of this society. Every banks head office is controlling it.
Bank Identification Code (BIC) for the MTBL Branches is: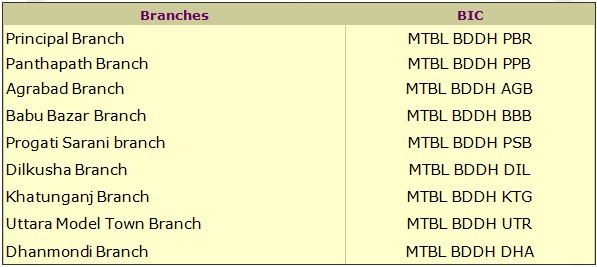 (Source: MTBiz of MTBL)
The Five-Step Training & Development Process
Training program consists of five steps which are given below:
Needs analysis step
MTBL identifies the specific job performance skills needed, analyzes the skills & needs of the prospective trainees, & develop specific, measurable knowledge & performance objectives.
Instructional Design:
Here the HR manager of MTBL decides, compile & produce the training program content, including workbooks, exercises, & activities.
Validation Step:
In this step the bugs are worked out of the training program by presenting it to a small representative audience.
Implementation:
Training the targeted employee group.
Evaluation & Follow-up:
In this step management of MTBL assesses the program's successes or failures.
Objectives of Training & Development of MTBL
For the increasing complexity caused by the rapid changes in the environment, the role of the top executives in the bank is becoming more and more challenging. They have to work under constraints of time and resource as well as the burden of routine timework. With the expansion of activities and diversification, the top executives are finding it extremely difficult to cope up with new emerging challenges in a creative and innovative manner. As such the top executives need to develop a skilled and motivated manpower within the bank and with the ends in view MTBL has been set up with the following objectives:
To develop understanding of job-knowledge though theoretical background of banking officers.
To make available and ensure adequately trained, skilled and motivated manpower within shortest possible time foe the growing needs of the bank.
To develop analytical and decision making skills of the employee.
To provide technical skills to the operational level officers for efficient desk-operations through case study\practical exercise\workshop etc.
To develop the sense\understanding of human relationship\conceptual skills of organizational culture, behavior, discipline.
To make understanding about the importance of customer service by techniques of deposit mobilization from the potential customer.
Role of Training & Development division of MTBL
To identify the advance training procedure for employees to build there position at the best.
Provide the equal training towards the employees.
To recover the lack of knowledge of the employees providing the effective training process.
Provide effective training so that the employees will able to be qualified, efficient, and skilled for providing the best performance.
Method of Training Process of MTBL
Several types of method need to apply for providing the appropriate training of the employees of MTBL. MTBL is familiar two types of training method which are applied to provide the training among the employees.
Pre-Service Training:
Pre-service training is a process through which individuals are made ready to enter a certain kind of professional job. They have to attend regular classes in a formal institution and need to complete a definite curriculum and courses successfully to receive a formal degree or diploma. They are not entitled to get a professional job unless they can earn a certificate, diploma, or degree from the appropriate institution. Pre-service training contents emphasize mostly technical subject matter.
Basically MTBL try to give the enough chance to the employee so that they will be able to get the proper training by involving with them. So the pre-service training is one of the greatest advantages for the employees from the MTBL.
In-service Training and Staff Development:
In-service training is a process of staff development for the purpose of improving the performance of an incumbent holding a position with assigned job responsibilities. It promotes the professional growth of individuals.
"It is a program designed to strengthen the competencies of extension workers while they are on the job (Malone)".
In-service Training is a problem-centered, learner-oriented, and time-bound series of activities which provide the opportunity to develop a sense of purpose, broaden perception of the clientele, and increase capacity to gain knowledge and mastery of techniques.
So this type of training method is other types of important method which is also applied in MTBL for the betterment of the employees. And this type of training method is plays a vital part for MTBL.
There remain different types in In-Service Training Methods, those are given below:
 Foundation training is in-service training which is appropriate for newly recruited personnel. Besides technical competence and routine instruction about the organization, every staff member needs some professional knowledge about various rules and regulations of the government, financial transactions, administrative capability, communication skills, leadership ability, coordination and cooperation among institutions and their linkage mechanism, report writing, and so on. Foundation training is made available to employees to strengthen the foundation of their service career. This training is usually provided at an early stage of service life.
Maintenance or Refresher Training:
 This training is offered to update and maintain the specialized subject-matter knowledge of the incumbents. Refresher training keeps the specialists, administrators, subject-matter officers, extension supervisors, and frontline workers updated and enables them to add to the knowledge and skills they have already. "Maintenance or refresher training usually deals with new information and new methods, as well as review of older materials. This type of training is needed both to keep employees at the peak of their possible production and to prevent them from getting into a rut (Van Dersal)".
 This is ad hoc or regularly scheduled training, such as fortnightly training under the training and visit (T&V) system of extension, and is provided by the superior officer or the subject-matter specialists to the subordinate field staff. This training is generally problem or technology oriented and may include formal presentations, informal discussion, and opportunities to try out new skills and knowledge in the field. The superior officer, administrator, or subject-matter specialist of each extension department must play a role in providing on-the-job training to the staff while conducting day-to-day normal activities.
Career or Development Training:
This type of in-service training is designed to upgrade the knowledge, skills, and ability of employees to help them assume greater responsibility in higher positions. The training is arranged departmentally for successful extension workers, at all levels, for their own continuing education and professional development. Malone opined that extension services that provide the opportunity for all staff to prepare a plan for career training will receive the benefits of having longer tenured and more satisfied employees, which increases both the effectiveness and efficiency of an extension service. Malone stated that "career development is the act of acquiring information and resources that enables one to plan a program of lifelong      learning related to his or her work life". Although extension workers are responsible for designing their own career development education, the extension organization sometimes sets some criteria and provides opportunities for the staff by offering options.
 For centuries, Apprenticeships were the major approach to learning a craft. Seeking apprenticeships may be a very useful & effective way to eventually develop a new skill. The apprentice worked with a recognized master crafts person.
Continuing Professional Development:
Many professions require verification of ongoing training to retain certification, e.g. , social workers some fields of law, nurses, etc. Professionals must stay up-to-date in the views & practices necessary to lead & manage in today's organization.
Continuous learning is learning how to learn. Typically this involves developing skills in reflection, which is the ability to continually inquire & think about experience to draw conclusions & insights.
 Distance learning has become a mainstream approach in training and development. This typically includes learning by getting information and / or guidance from people who are not face-to-face with the learner, e.g., learning via satellite broadcast, broadcast over the Internet, e-mail or postal mail correspondence, etc. Some people consider online learning (e.g., information, tutorials, etc,. available on diskette, CD-ROM, over the internet, etc.) to be distance learning, as well.
Job assignments are wonderful opportunities from which to learn. To cultivate learning, consider having employees write short reports, including an overview of what they did, why they did it, what areas of knowledge & skills were used, how the job might have been done better, what areas of knowledge and skills would be needed to improve the job.
This can be one of the most powerful forms of development, allowing learners to experience a broad range of managerial settings cultures & challenges.
Hopefully, learners find experienced managers in the work place who are willing to take learners "under their wing" and provide ongoing coaching & mentoring.
This occurs when workers are taken away from their place of work to be trained. This may take place at training agency or Local College, although many larger firms also have their own training centers.
There are an increasing number of approaches to online learning. Sources of online training include learning from computer diskette, CD-ROM, the Internet or Web-Based training, etc.
 This includes having some one other than the learner identify the training goal, methods to achieve the goal, & approaches to evaluating the training & progress toward achieving the training goal.
This includes formats where peers focus on helping each other learns, e.g., by exchanging ongoing feedback, questions, supportive challenges, materials, etc. Perhaps the best example is the action learning process.
Professional Organization:
A wide variety of professional organizations often offer courses, seminars, workshops & sessions from conventions
Highly motivated learners can usually gain a great deal of knowledge & skills by identifying their own learning objectives, how to meet those objectives & how to verify they have met the objectives as well.
Simulated training occasionally called vestibule training, is a method in which trainees learn on the actual or simulated equipment they will use on the job, but are actually trained off the job. This is a necessity when it is too costly or dangerous to train employees on the job as in air plane pilot training. Simulated training may take place in a separate room with the same equipment the trainees will use on the job. However, it often involves the use of equipment simulators.
 Various television networks often have a wide variety of very enlightening shows about basic job skills, such as computer basics, business writings, etc.
Training Courses & Workshops:
 Workshops, seminars, convention sessions, etc, are useful, in particular for highly focused overviews of a particular subject or training about particular procedures. Workshops typically include some hands-on practice by the learner, & can be very practical means to learn a certain technique or procedure.
Training is generally associated with operation or non-management employees: management development is associated with managerial personnel. This is a process of developing & educating selected personnel in the knowledge, skills & attitudes needed to manage in future positions. Companies use management development to ensure the long-run successes of the organization, to furnish competent replacements, to create an efficient team that works well together, & to enable managers to reach their potential. It may also be needed because of high executive turnover, a shortage of management talent, & our society's emphasis on lifelong education & development.
So the entire terms of training method is very much important for the employees of MTBL. But at the same time they don't follow the whole methods. They try to identify the effective training process for the particular employee under the proper training methods. So the term of training methods is very effective for the single employee to achieve the effective training.
Training on Different Criteria
Training on value:
The Bank's values guide the way they work with colleagues, customers, suppliers and other stakeholders. The values – responsive, trustworthy, creative, international and courageous – show how they can build the culture which will help them to achieve their business goals and make Mutual Trust a great place to work. The values reflect extensive internal, customer and market research and show how they   can all be lead by example to be the right partner.
Training on people wise:
Having prepared their staff for People wise through an extensive communications and change management programmed, they needed to train around 8,500 people quickly and cost effectively in how to use People wise and the new people management processes. These people were in different global locations, covered the whole range of positions in the Bank, and for many English were a second language. People needed to understand about new people management processes, elements of the new structure like the HR Shared Services Centre and how to use People wise itself, given sometimes low levels of IT literacy. Finally, People wise is constantly being updated and modified. They needed an easy to use and extremely flexible solution. As a result they used the e-Books in Enlighten to structure the considerable amount of learning, each Book being a platform for integrating and launching a range of learning solutions.
Their research suggests that the staff found the training attractive and the 'book style' presentation and navigation easy to use. As a result they are now looking at further use of the Books to launch, train and educate managers and staff in a number of other people oriented initiatives.
Training on corporate responsibility:
The corporate responsibilities of the Mutual Trust bank are-
Researching Diversity & Inclusion.
Employee Engagement.
Learning & Development.
Performance Management.
Reward & Recognition.
HR Operations

Health & Safety.
Human Rights.
Labor Standards.
Typical topic of employee training and development of MTBL
Now a day's communication plays a vital role in the business world. As a result organization have to pat an attention on communication while provide training to there employees.
In the modern business world organizations even can't think without computer. As because MTBL is an international organization and all of its works are computer based, employees need to have this skill is mandatory.
To achieve the customer confident on any organization employees have to be well trained in customer service operation.
Work force diversity training makes an employee confident about his or her career development.
Training creates the attitude to create the relation with others both inside and out side of the organization to achieve the individual and organizational goals.
Safety training increases the employee awareness to deal with the different situation.
Sexual harassment training usually includes careful description of organization's policies and inappropriate behaviors that hampers the organizational law and order.
Different people have different morality. Training helps to accommodate and combine their ethical view towards a common point achieve a common organizational objective.
Training and its Instraction Design of  Mutual Trust Bank Ltd.
The HR and Training function of Mutual Trust Bank embarked on a re-engineering project in response to changing business needs. The HR and Training Re-engineering identified the following challenges, to:
Simplify the HR and Training structure.
Improve HR and Training processes so that they are consistently leading edge, more efficient and involve less paper.
Improve information flow through the use of the global database.
The key changes that resulted were threefold:
New processes:
New global people management processes (for example, covering learning and development and recruitment) were developed involving streamlining, standardization and bench marking against best practices.
New HR Management System, People wise:
People wise are a web-based system that provides manager and employee self-service, giving access to people and employment-related data. It allows people to undertake a wide range of transactions from their desktops e.g. updating of personal records, enrolling on a learning activity, requesting leave or raising a job requisition.
New ways of delivering HR support to the business:
HR transactional work is increasingly carried out at the HR Shared Services Centre in India freeing up time for in-country HR to work directly with the business providing more value-add services.
Pre Training
It is easy to determine that all the activities that are carried out before the training process is known as pre-training. Before training is done, it is necessary to identify whether the training is really needed or not. If the training is needed then it is necessary to identify the areas where it is essential, and the person to whom it is necessary. Graphically pre-training can be shown as bellow:
Person analysis:
Person analysis helps the HR manager to identify whether training is appropriate and which employees need the training. In certain situations, such as the introduction of all new technology or service, all employees may need training. From HR manager's point of view of MTB training should be consideration if any of the following is true:
The performance discrepancy has the potential to cost the company a significant amount of money from lost productivity or customers.
Employees do not know how to perform correctly. They received little or no previous instruction, or the training they received was faulty.
If the employee can't use the previous training's experience and knowledge.
Performance exceptions are clear, there are no obstacles to performances and nonperformance are not rewarded in some way.
Other options such as job aids, redevelopment of employees and job redesign are too expensive or unrealistic.
Training will be best suit the long-term interest of the firm.
Confused about performance appraisal.
Task analysis:
Task analysis result in a description of work activities, including tasks performed by the employee and the knowledge, skills and abilities required to successfully complete the task. Task analysis in MTBL involves the following activities:
Selecting the jobs to be analyzed.
Developing a preliminary list of tasks performed on the job by interviewing and observing expert employees and their managers and talking with others who have performed a task analysis.
Verifying the importance of the tasks for the job through task inventories or expert committees composed of managers, employees and other persons.
Identifying the knowledge, skills or abilities necessary to successfully perform each task using interviews and questionnaires.
Selecting Training Method
MTBL's HR authority believes that training is salient thing to achieve organizational goals precisely. Therefore, they strictly follow modern and sophisticated training progress that is attributable on their existing employees. Survey results suggest that MTBL uses the following methods. The training methods are divided into two broad categories:
On the job training
Off the job training.
Now they are described in below-
On the job training:
On the job methods are refer to methods that are applied in the work place, while the employee is actually working. Virtually every employee of MTBL gets on the job training when he or she joins the MTBL. MTBL uses this training process for newly hired employees, upgrading the skills of experienced employees when new technology is introduced, cross-training employees within a department or work unit and orienting transferred or promoted employees to their new jobs. The principles of standard on job training that are followed by MTBL-
Demonstrate to the employee how to perform the task.
Explain the key points or behaviors involve in the task.
Let the employee try to perform one or more parts of the task.
Help the employee to perform the whole task.
Provide specific feedback concerning necessary improvement.
Allow time for additional practice.
Let the employee work his or her own to complete the task.
MTBL provides several types of on the job training techniques. The most familiar is the coaching or understudy method. Here experienced worker or the trainee's supervisor trains the employee of MTBL. At lower level, trainees may acquire skills for, say, by observing other experienced employees. Nevertheless, this technique is also widely used at top management level in MTBL.
Off the job training:
Off the job covers (a) presentation technique and (b) other modern techniques.
MTB uses presentation techniques for new facts, information, different philosophies an alternative problem solving solutions through traditional class room instruction and audiovisual techniques.
Beside above techniques MTBL also uses the following modern techniques based on necessary:
Simulation: in case of real life situation, MTBL uses this technique. Such as while taking a new investment decision, then some potential top-level executives observe the process under their supervisor.
Action learning: this is also like simulation but the main difference is that executives directly involve the real life problem and performs it.
Before giving any training MTBL made a clear concept about their strategic intent to its employees, the culture of the bank, & values they give priority.
To collect the training outcomes MTBL follows the following methods:
Surveys
Observations
Focus groups. And
Personal records.
The Example of Training Procedure Program
MTB holds training on Anti Money Laundering:
A day long training programmed on Anti Money Laundering was held at Mutual Trust Bank Training Institute recently. A total of 42 participants from all branches and head office took part in the training session. Mr Anis A. Khan, Managing Director of MTBL inaugurated the session as chief guest.
The Managing Director gave much importance on newly enacted money laundering prevention ordinance 2008. He said in his speech that this particular training would help gaining knowledge in account opening and KYC procedures and thus can all exercise proper banking norms and practices.
Among others Swapan Kumar Biswas, VP; A F Mosihur Rahman, Principal; Md Sirajul Haque, faculty of the training institute MTBL and Golam Mohiuddin, Asst Director, Bangladesh Bank were present on the occasion.
MTBL holds training on Bankers Advance :
A 12-day long training programmed on Bankers Advance was held at MTBL Training Institute recently. A total of 26 participants from different departments, divisions and branches took part in it.
Mr. Anis A. Khan, Managing Director of MTBL distributed certificates among the participants at the concluding ceremony as chief guest.
The Managing Director gave much importance on bankers advance training. He said in his speech that all bankers should have clear and thorough knowledge in order to exercise proper banking norms and practices.
Among others Mr A F Mosihur Rahman, Principal; Mr Md Sirajul Haque, faculty of the training institute were present on the occasion.     
MTBL holds training on SME & Consumer Banking:
Day long training programmed on SME and Consumer Banking was held at Mutual Trust Bank Training Institute recently. A total of 33 participants from all branches and head office took part in the training session. Mr Anis A. Khan, Managing Director of MTBL inaugurated the session as chief guest.
Highlighting the importance of SME and Consumer banking the Managing Director said, in the days ahead MTBL will expand further in these sectors. He further suggested that we should be more careful and thorough in selecting right clients.
Among others Morshedul Quader Khalili, AVP & Head of SME; Mohammad Iqbal, AVP&
 Head of Consumer Banking; AF Moshiur Rahman, Principal and Md Sirajul Haque, faculty    of the training institute, MTBL were present on the occasion.
MTBL holds training on BASEL II:
A day long workshop on BASEL II was held at MTBL Training Institute recently. A total of 35 participants from all branches of MTBL attended the workshop. Managing Director of MTBL, Mr Anis A. Khan  inaugurated the workshop as Chief Guest while Mr AKM Wadud, Deputy General Manager, Bangladesh Bank was present in the session as special guest.
In the inaugural session Mr Wadud, DGM, Bangladesh Bank appreciated the initiative of MTBL in holding such workshops to acquaint with the standard banking norms.
The Managing Director gave much importance on implementing BASEL II in order to manage risks in banking operation. He said in his speech that this particular training would help gaining knowledge in compliant banking and thus MTBL staff members could exercise proper banking norms and practices. He further reiterated the bank's firm commitment to remain fully compliant as per initiative and directives of central bank. Among others Mr. Md Nurul Islam, EVP; Mr Md Abul Bashar Akhond, SVP; Mr AF Moshiur Rahman, Principal of the institute were present on the occasion.
MTBL holds training on BACH Implementation:
A day long session on BACH implementation was held at MTBL Conference Room at Head Office recently. A total of 23 participants from both head office and branches of MTBL attended the session. Managing Director of MTBL, Mr Anis A. Khan inaugurated the BACH implementation while Mr Chowdhury Mohidul Haque, General Manager, Bangladesh Bank was present in the session.
The session highlighted on Bangladesh Automated Cheque Processing Systems, Bangladesh Electronic Fund Transfer Network, Legal, regulatory issues including risk, connectivity and technology and readiness for implementation of the bank's BACH programmed.
In the inaugural session Mr Chowdhury Mohidul Haque, GM, Bangladesh Bank and James Murray, Director Sales and Marketing of Apart appreciated the initiative of MTBL in holding such workshops and readiness to acquaint with the standard banking norms.
The Managing Director gave much importance on BACH in order to maintain conformity with other banks in banking operation. He said in his speech that this particular session would help gaining knowledge in compliant banking and thus MTBL staff members could exercise proper banking norms and practices.
Among others Mr Quamrul Islam Chowdhury, DMD and other senior officials of different depts were present on the occasion.
MTBL holds training workshop on Anti-money Laundering :
A day long training workshop on Anti-money Laundering (AML) being the first batch of   the planned series of training workshop for the year 2009 on AML was held at the Conference Room of Mutual Trust Bank Ltd(MTBL), Head Office, : MTB Centre, 26 Gulshan AvenuePlot 5, Block SE(D), Gulshan 1, Dhaka 1212.
A total of 37 participants from various branches took part in the training session. Mr Anis A. Khan, Managing Director of MTBL formally inaugurated the session as chief guest while Mr M Mahfuzur Rahman, General Manager, Anti-money Laundering Department (AMLD) of Bangladesh Bank, Head Office, Dhaka and Mr. Md. Hashem Chowdhury, Senior Executive Vice President of Mutual Trust Bank were present as special guests. Mr. Swapan Kumar Biswas, Vice President & Central Anti-money Laundering Compliance Officer (CAMLCO) of Mutual Trust Bank conducted the session. General Manager of Bangladesh Bank M Mahfuzur Rahman also conducted a session.
The Managing Director gave much importance on training on Anti-money Laundering including Combating Financing of Terrorism (CFT). He said in his speech that all employees of all levels should have clear and thorough knowledge on Anti-money Laundering and Combating Financing of Terrorism (CFT). Due to shortage of knowledge on AML and CFT, transactions of such kind may pass through the Bank which may bring great legal risk for the bank, he explained. He suggested that the participants will be attentive in gathering full knowledge on Anti-money Laundering including CFT during the tenure of the course .Senior Executive Vice President Mr Md. Hashem Chowdhury concluded the session and in his closing speech he advised the participants to apply the knowledge gathered from the training very prudently so that the laws are complied properly but customer service is not hampered.
Definition Development
MTBL is concerned with attempts to improve the overall performance and effectiveness of their bank. Development refers to those learning opportunities design to help employees grow. Efforts towards development often depend on personal drive and ambition.
Employee development method of MTBL
Job rotation:
Job rotation is one of the most popular on the job technique to develop bank personnel. Job rotation can be either horizontal or vertical. SBC generally follows horizontal job rotation method at the early stage of service life.
Assistant to positions:
Assist to positions is another good technique to develop employees of MTBL. Employees with demonstrated potential are given the opportunity to work under an experienced or successful employee. In this process an individual, perform many duties under the watchful eye of experienced person. In doing so, these are groomed for assuring the duties of the next higher level.
Seminars:
Seminar is a traditional from to develop employees. it is a widely practiced by MTBL. These offered an opportunity for individuals to acquire knowledge and develop their conceptual and analytical abilities.
Lecture courses:
Lecture is verbal presentation of information by an instructor to a large audience. The lecture is presumed to posses a considerable depth of the subject at hand.
Mentoring:
In case of mentoring, a senior employee takes an active role in guiding another individual. Mentoring is a helpful device to develop employees and it is widely followed to develop new employees of MTBL.
Importance of Training & Development Division in MTBL
Typical Reasons for Employee Training and Development:
Training and development can be initiated for a variety of reasons for an employee or group of employees, e.g.
When a performance appraisal indicates performance improvement is needed.
To "benchmark" the status of improvement so far in a performance improvement effort.
As part of an overall professional development program.
As part of succession planning to help an employee be eligible for a planned change in role in the organization.
To "pilot", or test, the operation of a new performance management system
To train about a specific topic.
Optimum Utilization of Human Resources:
Training and development of MTBL helps in optimizing the utilization of Human Resource that further helps the employee to achieve the organizational goals as well as their individual goals.
Development of Human Resources:
Training and development of MTBL helps to provide an opportunity & broad structure for the development of human resources, technical & behavioral skills in an organization. It also helps the employees in attaining personal growth.
Development of Skills of Employees:
Training and development of MTBL helps in increasing the job knowledge & skills of employees as each level. It helps to expand the horizons of human intellect & an overall personality of the employees.
Productivity:
Training and development of MTBL helps in increasing the productivity of the employees that helps the organization further to achieve its long-term goal.
Team Spirit:
Training and development of MTBL helps in inculcating the sense of team work, team spirit, & inter team collaborations. It helps in inculcating the zeal to learn within the employees. Recently team sprite is increasing of MTBL.
Organization Culture:
Training and development of MTBL helps to develop & improve the organizational health culture & effectiveness. It helps in creating the learning culture within the organization.
Organization Climate:
Training and development of MTBL helps building the positive perception & feeling about the organization. The employees get these feelings from leaders, subordinates & peers.
Quality:
Training and development of MTBL helps in improving upon the quality of work & work life.
Healthy Work Environment:
Training and development of MTBL helps in creating the healthy working environment. It helps to build good employee relationship so that individual goals align with organizational goal.
Health & Safety:
Training and development of MTBL helps in improving the health & safety of the organizations thus preventing obsolescence.
Morale:
Training & development of MTBL helps in improving the morale of the workforce.
Image:
Training and development of MTBL helps in creating a better corporate image.
Profitability:
Training and development of MTBL contribute towards profit orientation.
Training institute of MTBL
MTBL have its personal training institute which call MTBL training institute. From where it also train employee that is given below:
Local
Bangladesh Institute of Bank Management (BIBM)
BD Jobs.com
Prothom Alo Jobs.com
Bangladesh Institute of Management (BIM)
Financial Excellence Limited
Foreign
In case of abroad training they mostly send their employee to India, Thailand, Malaysia, Sri Lanka, Dubai and some other places. Institute names are given below:
BSE Training Institute (India)
The Banking Academy (Thailand)
Union De Banques Arabes Et Francaises (Malaysia)
CITI BANK N.A (Malaysia)
Primary dealer Bangladesh Limited (Srilanka)
CISCO SYSTEM (Kolkata)
National Institute of Bank Management (India)
Satisfaction about the Training
Almost employee satisfied on MTBL training session at home and abroad. Here on thing is    important to say that is MTBL almost employee is recruited before 11 years ago. So when they recruited that time training process was so worse. However at the recent time MTBL training session is standard level. Because almost employee have good idea about the training. MTBL has provided standard training manual and evaluation paper. So the employees also have idea about the training manual. Employees are satisfied on the training and appreciated training manual.
Weakness of MTBL Training
MTBL training has some weakness. Like as-
lack of need base training
lack of motivational training for entry level.
lack of training instrument
Volume of foreign training program in low in number.
It is not necessary that all company has to apply training and development processes. Only those company can use these training processes those who are needed this. But it is also true that if any company uses these training processes they can be able to improve their image as well as their profitability. Applying Training and Development process a company can fulfill their all lacking. It brings perfection not only in a person but also in a company. Also the training procedure may able to gather the better reward by providing proper training guideline to the employees of MTBL.
Finding from survey:
In this part of the report, Surveying on employees tried to show their opinion of training and development process of Mutual Trust Bank Limited. On the basis of the 10 question outcome that have been designed from the questionnaire (giving in Appendix.). This chapter deals with the training and development procedure of Mutual Trust Bank Limited. The data collected from the survey have been used in this chapter to analyze with the help of Pie Chart. However the following outcomes have been analyzed in this part.
Survey on Employees
Training procedure is one of the fundamental parts for every employee in MTBL
Training procedure is appropriate path to get the advance knowledge about the banking sector
Employees may able to provide the better performance by getting the training progress
Need to establish the proper training manual to design the effective training procedure
Training need assessment need to establish for identifying the problem-oriented training program
Training environment should be friendly to trainee
Need to establish the proper monitoring sector in every branch of MTBL
Training need to provide from top to bottom levels employees in MTBL.
Training & Development division helps to achieve the better reward of HR division in MTBL
Satisfaction level of existing Training and development procedure of MTBL
Overall Findings:
Mutual Trust bank, as we know, is one of the fastest growing banks in Bangladesh. This credit goes to HR department. HR department works with people and we know that for making an organization more effective the necessary thing is to be ensure that "right people in right place with right skills and knowledge". They are doing this thing very much effectively. No doubt MTBL is different from other organization but some little lacking is founded by me. They are:
The Training and Development process is structured.
The Training and Development process is both qualitative and quantitative.
The Training and Development process is open ended and where the employee can express their view in this regard.
MTBL provide Training and Development program at home and abroad but number of employee to abroad for Training is few number.
The on the job and off the job Training and Development programs used by the MTB are remarkable. Beside this they have to arrange more facilities like they can arrange outside visits, what their competitor did and get better results.
Organizational Structure is flat for each and every department, so employee can easily communicate with their supervisor. In MTBL employees are evaluated all the time. As a result they are always worried about their performance. For a service provided organization, it is necessary to evaluate the employees but some time the presser may de-motivate them. So they have to make clear concept about the evaluation process to create motivation among them.
MTBL always try to follow the HR issues perfectly but it not possible for any organization to follow all the terms and conditions without any fault. MTBL is also not the exceptional. This is why they need to practice HR issues more perfectly.
Organizational culture is a big fact for an organization where mutual trust bank has a nice corporate culture with friendly environment.
People get the both formal and informal environment over there.
Working environment is very nice that is why employee feels comfort to work with such environment.
This organization provides a nice learning environment which helps the newly joined employees to work with previous employees.
Finally I will say that MTBL is growing fast because of their employee effectiveness and the effective employee is provided by HRD.
Recommendations
MTBL has extremely wonderful and systematical working techniques. To recommend MTBL is quite difficult thing for me as an internee. The HR function is adding more and more value to modern organizations. The new changing HR professionals carry with new responsibilities and confronts. But all things around us are changing at an accelerating rate. Today is not like yesterday and tomorrow will be different from today. Given the fast changing, dynamic global economy and the increasing pressure of globalization, liberalization, consolidation and disintermediation, it is essential that MTBL has a robust Training and Development procedures that are sensitive to these changes.
I identified problems of Training and Development of MTBL and my proposed some solutions for betterment Training and Development procedure are described in below-.
Use better training manual:
MTBL use a traditional training manual but HRD should research their providing training manual is how much effective. If MTBL use a better training manual to provide training to the trainee then trainee will more fruitful and it is helpful for organization to achieve goal.
To be upgraded with used latest technology:
In the training institute of MTBL, although they use latest technology but the training process should be upgraded with used latest technology as much first that they alive with competitive world.
Number of Trainee is to be increased:
Number of trainee is not satisfactory so MTBL should increase number of employee to provide training program not only our country but also foreign country.
Training is needed when an employee is transferred from one department to another:
In the branch level when an employee could transfer to another department during that time that employee is needed at least ten days training according on the transfer position.
E.g. General banking to the foreign exchange banking
Training should both in formal and informal way:
At MTBL training is provide in formal way. It is ok but informal training can be a way to improve the skills of the employee.
Evaluation process from should more modernized:
Training evaluation process and form is to be more modernized
Should Provide motivational training :
MTBL is not providing motivational training to entry level. If they provide motivational training then entry level employee will more motivate about organization.
More training and work shop on increase customer interaction:
Employee trainings and workshops should be administered in order to give them knowledge and professionalism in customer interactions. They should be taught about how to deal with problem customers and problematic situations.
Need sufficient training instrument:
MTBL's training institute has not sufficient training instrument as a result HRD can not provide training to large number of employee at a time. So MTBL should increase their training instruments.