DEFINITIONS
Recruitment is defined as, "a process to discover the sources of manpower to meet the requirements of the staffing schedule and to employ effective measures for attracting that manpower in adequate numbers to facilitate effective selection of an efficient workforce." Edwin B. Flippo defined recruitment as "the process of searching for prospective employees and stimulating them to apply for jobs in the organization." Recruitment is a 'linking function'-joining together those with jobs to fill and those seeking jobs. It is a 'joining process' in that it tries to bring together job seekers and employer with a view to encourage the former to apply for a job with the latter.
Recruitment and selection Policy of Robi company
As we know, Recruitment refers to the process of finding possible candidates for a job or function, usually undertaken by recruiters. It also may be undertaken by an employment agency or a member of staff at the business or organization looking for recruits. And Selection is a process by which candidates employment are divided in to two classes those who will be offered employment and those who will not.
Recruitment and selection is one of the most important for every employee. Cause by this company makes a person as the member of it. There is a general process of recruitment and selection that a company should follow. In Bangladesh perspective many company does not follow any specific process for recruitment and selection. There are lots of limitations a company face in case of recruitment and selection process. But the recruitment and selection process must be developed, modern and fair.
In ROBI recruitment and selection is done by a specific process and which is very much modern. It starts with the manpower requisition and end with appointment. And after that ROBI arrange various types of training and development program for the employees to develop their skill. In true sense ROBI follow a developed recruitment process for selecting right people in right place.
            Role of Human Resources in Recruitment & Selection Process:
In recruitment and selection process the main role is played by HR division. The process is start with manpower requisition and end with appointment.
When there is a need of manpower, the required department send the manpower requisition to HR consist the approval of MD.  Then HR starts the process. The process include some step or task that done by a sequential order. First step is manpower requisition. When the requisition comes HR starts sorting suitable CVs for that post. After sorting of CV the second step starts. The second step is written exam.
When a candidate passed the written exam then he or she gets call for interview. Generally the candidates have to face one interview but sometimes they have to face two interviews. After interview a candidate is selected by the interviewers. Then the selected candidate has to go for medical check up. Last of all he gets the appointment.
This is the procedure that ROBI HR follow to recruit people. Actually in ROBI the recruitment and selection is totally control by HR Division. HR Division makes the policy for recruitment and selection and also takes decision sometimes that a department required manpower. When the requisition comes HR starts the process.
HR also supervise that Recruitment and Selection are not simply mechanisms for filling vacancies rather they are viewed as the key factor for suitable placements.
For a better recruitment and selection process HR arrange done some task like
Collecting suitable and better CVs
Arranging written exam
Arranging interviews
Ensure medical tests
Appointment letter and others
Basic Rule of Recruitment in ROBI
For recruitment ROBI HR follow some rules. These rules are set up by HR for better recruitment and selection. The rules are
ROBI Recruitment is to hire the right kind of people at the right place selecting them through an effective process from a pool of candidates in the job market. Effective recruitment shall ensure the competency and high quality performance of the whole organization.
Axiata (Bangladesh) Limited (ROBI) Recruitment does not allow any favor or preferential treatment to any one.
No one who is below 18 years of age can be hired as an employee for ROBI on regular, contract or temporary status.
Under no circumstances a regular or contract employee of any other organization is allowed to undertake regular or long-term contract employment in ROBI.
The employment status can be changed from regular to contract or vice versa depending on the situation arising from Company need or a situation that arises on the ground of performance.
The Process of recruitment and selection at ROBI is consisting of number of sequential steps.  The following picture can show the process very clearly: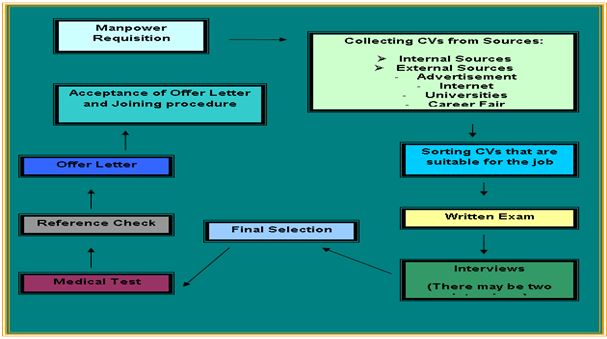 Figure: Recruitment & Selection Process at ROBI.
Recruitment Sources
First and foremost step of recruitment is collecting CVs from sources. There are two sources of recruitment:
Internal source (within the organization)
The external job market.
Internal Sources
For encouraging the internal candidate, job vacancies in ROBI may be advertised through internal notices to all Axiata (Bangladesh) Ltd (ROBI) employees. Recruitment from the internal source may be through Promotion or delegating individuals with new assignments.
In the case of internal sourcing, HR along with the concerned Division/Department will identify prospective candidates on the basis of Individual Capability matching with Competency/Role Profile and will conduct appropriate tests to select the most suited person. In internal source ROBI consider mainly three types of employees:
Contractual
Part-Time
Interns
Contractual employees are those who are working in a contact of six months or one year. And part-time employees are those who work in Call Center. And also interns, after completing their internship and completing their graduation can apply for job.
External Source:
In short external sources mean collecting CVs from outside. ROBI collect a lot of CVs from outside. Recruitment from external sources will be through
Executive search – for Senior Managers and Above Positions.
Advertisements   – for managers and below positions.
The CVs are collect by following ways:
HR CV Box
Advertisement
Internet Job Sites
Employee Reference
Universities
Career Fair or Job Fair
Other
CV Box of ROBI HR:
   There is a Box for CV in ROBI HR. In that box anyone can drop his or her CV in anytime.From this CV Box HR sort out suitable CVs for the required position. This box is open for everyone who wants to drop their CV. Almost everyday this box get full of CVs. It contains about five hundreds of CVs. By this way ROBI HR collect a lot of CVs for job.
Advertisement
Advertisement is a well known and world wide accepted source of recruitment. Like other company ROBI also use this source for recruitment. The main rules for advertisement in ROBI are Newspaper Advertisement will be posted on the national dailies (maximum two). Advertisement texts must be in the prescribed and approved format of ROBI.
Internet:
Internet advertisement is another new source of Recruitment. Now a day every employee has a website and they collect CVs by internet. Ever there is lots of job website and company can send advertisement over there.
Like other company ROBI also give advertisement over net. Generally ROBI gives advertisement in www.bdjobs.com. The interested candidates whose profiles match with the requirement can apply for job over the net. By this way ROBI gets many CVs.
Employee Reference
Employee Referrals may be collected through circulation of advertisement to all employees. ROBI consider employees reference because it got some advantage,
The internal employees know how to do the work so he can easily understand who can do the work.
If an employee refer someone that means he knows about him better and that helpful for the company because ROBI believes employees cannot be harmful for company.
Universities
Universities are big sources of recruitment. There are many public as well as privet universities send CVs for job. When students completed their courses, universities send their CVs to ROBI for internship. And sometimes they send CVs for job also.
Career or Job Fair
This is another big source of recruitment. By participating in fair or sponsoring fair ROBI gets a lot of CVs. ROBI participate in many fair like
IBA Fair 2006
ROBI Career Fair 2007
Between them ROBI was the main sponsor of ROBI Career Fair 2007 in which the author (myself) got chance to participate. This fair was arranged by Dhaka University Finance Department and ROBI was the main sponsor of it. It was a grand branding for ROBI as well as ROBI got a lot of suitable candidate's CV.
This is a great success for ROBI. Almost three thousands of CVs was in ROBI box when the fair over. The main theme of the fair was to encourage student to come to ROBI and drop CV in for job in ROBI. By this way ROBI HR collect CVS for job.
Other Sources:
Depending on the circumstances professional employment agencies, notice boards of technical universities like BUET/ KUET/ CUET/ RUET, other universities like IBA, NSU etc., and journals may be chosen for attracting applicants against job opening
Screening of Candidates
Following publication of Job Vacancy, concerned Divisional/ Department Head and HR Division will scrutinize the applications and short list candidates for inviting to oral interviews or written tests where applicable.
When screening the following criteria will be followed:
For the Executive position, candidate must be at least graduate (from ROBI preferred universities)
For Executive and above, candidate must have at least 2nd class in all academic level. However, in case of competent candidates with strong experience in the relevant field such educational qualification may be relaxed.
For Non-Executive permanent employees, minimum educational requirement is SSC.
For Non-Executive contractual employees, candidate must be of class eight pass.
Written Exam
For every job ROBI HR arrange a written exam for candidates. The written exam is must for each and every candidate.
The written exam is called "General Ability & Psychometric Test".  It contain two parts,
In this section, the general ability of the candidate have been checked.
This is one kind of physiological test by which the behavioral sides of candidates have been checked.
This is the way of written exam that taken by ROBI for job. It is a very important and useful way to find our good candidate from the all kind of candidate.
Oral Interview
For the oral interview, competency based structured interview will be conducted. The standard Interview Assessment Form along with probing questions will be supplied by HR Division.
Position specific structured interview with necessary Proving Questions and Assessment Form can also be developed/ used.
The oral interview may take place in different phases according to the decision of HR Division and concerned Division/ Department and on the basis of Position:
Conducted by the respective immediate Manager, another member from cross functional area & HR.
Second Interview or Final Interview:
Conducted by next level managers along with the respective Divisional/ Departmental Head..
Interview of Key Position:
If the recruitment is for any key position/ AGM or above level a final interview must be conducted with the Managing Director.
Sometimes one interview makes the final result and sometimes there is two or three interview.
Interviews are arrange by HR. HR arrange interview for every post even for a tea boy and for a driver.
Generally these interviews are held in HR floor of ROBI. There is a separate room for interview.
These interviews are generally taken by managers of the required division and there must be an HR person in that interview. In interview the interviewer find out the fact candidate behavior as well as the ability of the candidate. Interviews also test the intelligence and smartness of the candidate.
Pre-interview Form
Before the interview the candidates will be asked for filling up the pre-interview Form (Appendix-RP-3), which will include all necessary information related to the candidates.
A Pre-Employment Form generally contain the following
Personal Information
Name
Father's Name
Mother's name
Permanent address
Present address
Date of birth
Contact number
Educational Background
Job experience
Reference
Signature
ROBI take some practical for the technical candidates. Basically technicians have to face this test. This test is called "tower Test".
Tower Test is a practical test. In this test the candidates have to claimed up a technical tower which is twenty fit high. The reason of this exam, is to find is the candidates is able to claimed up a seventy five fit tower or may be more then seventy five fit tower.
This interview is generally taken by technical people. They find out about the technician can do that or not. They also ask questions about and select candidates who is suitable for the post.
Final Selection
From the interview some suitable candidates comes out. Once the final incumbent is selected, HR Division (Compensation & Benefit) will initiate the compensation Plan and will make offer/ process the appointment formalities. This time HR discuss about few things like:
Terms and condition of company
Salary and benefit
Joinin Final Approval
Like the requisition for appointing candidate the approval of MD is needed. This time HR sends the approval to MD that these candidates are selected in interview for this position and they are going to appoint these candidates for the post.
Medical Test
When the MD approved the appointment of the candidate HR call the candidate for a medical check up. The candidates have to collect a letter for medical from HR and go for the medical test. The selected candidate must undergo a medical check up and subject to satisfactory medical report formal appointment letter will be issued.
Reference Checks
When a canidate is selected for the job, his or her given reference has been checked by HR. Reference check may be conducted by HR Division upon acceptance of offer. Subject to satisfactory response joining will be accepted
Appointment or Offer Letter
At last the after the medical test and reference checked, the offer letter for the candidate has been issued. After that the candidate gets the call that he or she has been appointed and he or she has to collect the letter from HR.
Acceptance of Offer Letter & Joining Procedure
The joining also has some procedure. In time of joining at first the candidates have accept the offer letter by signing it. Then he or she has to fill up some forms like,
–       HRIS form
–       ID Card form
–       Declaration
When all this formalities are over the candidate will become one of the member of Axiata and start working as an employee of ROBI.
Recruitment Cycle
Human Resources Division will take maximum 50 days to complete a recruitment process. The break down of the 50 days as follows:
| | |
| --- | --- |
| Requisition | = 2 days |
| Advertisement | = 14 days |
| Short listing/Screening | = 14 days |
| Written test | = 7 days |
| Compilation & Approval | = 2 days |
| Reference Check | = 7 days |
| Medical Check | = 3 days |
| Appointment letter | = 1 day |
Recruitment for Internship
Internship is one of the parts of graduation for student. In case of Bachelor of Business Administration and Master of Business Administration, it is an obligatory. For this reason Universities send CVs of student to ROBI for internship.
Recruitment of interns just like the recruitment of contractual. The candidates have to face the interview and if they get selected then they will appoint as intern. Generally for internship ROBI ask for CVs to the reputed Universities like Dhaka University, North South University and East West University etc.
The requisition for interns is send by the departmental head or the employee who need intern. When requisition comes HR sort CVs and then arrange interview.
 Reference :
*Robi customer care
*http://robi.com.bd/