Successful employment planning is designed to identify an Organization's needs. Recruiting is the process of discovering potential candidates for actual or anticipated Organizational vacancies. It is a linking activity that brings together those with jobs to fill and those seeking jobs. Recruiting is discovering potential applicants for actual or anticipated Organizational vacancies. It involves seeking viable job candidates. The two goals of recruiting are to generate a large pool of applicants and to provide enough information for individuals to self-select out of the process.
The principal sources for recruiting employees include internal search, advertisements, employee referrals or recommendations, employment agencies, temporary rental services, schools, colleges, universities, professional organizations, the internet and casual or unsolicited applicants.
The three important variables that response rates to job recruitment's are identification of organization, labor market conditions and the degree to which specific requirements are included in the advertisement. Internet recruiting provides businesses with low-cost and unprecedented access to potential employees worldwide. Cyberspace recruiting also helps increase diversity and finds people with unique talents.
So far, we have introduced organizational recruiting activities. When recruiters decide to hire employees, they often announce the job in some format. Seeing that announcement, and recognizing a potential match between what you can offer and what the organization wants, you need to throw your hat into the "hiring ring."
All job applicants need to circulate information that reflects positively on their strengths and to sent that information to prospective employers in a format that is understandable and consistent with the organization's hiring practices.
OBJECTIVES OF STUDY
To know the recruitment process of Kallol Group.
To determine whether the recruitment system is worthwhile or not.
METHODOLOGY
Primary Data Sources:
Oral conversation
Direct Observation
Secondary Data Sources:
Reference books.
Journal
Internet-website
Print and Electronic Media
Research Paper.
Kallol Group of Company
Welcome to the world of Kallol Group of Companies. K G C offers highest level of satisfaction to the consumers through high standard and quality services available throughout the country. Secret of strength, people, 1,020 people strong, team spirit, distribution network, state-of-the art know how, consumers trust. We are on their top of the mind and lastly our mission to be on the top and to be the best. The journey began in 1972 with a few local brands. 1987 – A year to mark the door of success. Kallol became the licensee of Fay International Ltd. UK, producing wide variety of tissue products in Bangladesh and finally 1993 made it all happen into the world of distribution of international reputed FMCG and consumer durables (Watches & Writing Instruments) nationwide.
Now Kallol represents 25 leading international brands and more than 300 SKU in FMCG category and 18 international leading Watches and Writing instrument brands. The group possesses distribution reach in all 64 districts of the country with 282 distributors servicing 135,000 plus outlets for its FMCG. Kallol owns 35 showrooms named "Time Zone" and authorized 139 dealers throughout the country to serve watch lovers directly. Kallol has its own manufacturing facilities for Detergent powder and washing soap, conversion facilities for Tissue and personal hygiene products; and Dying, Printing and finishing units for raw fabrics. Lately Kallol stepped into GSM business through distribution of Warid Scratch Card. With an annual turnover of 50 million US Dollars, a dedicated team of more than 1,000 professionals and a nationwide network are aiming to provide uncompromising highest level of quality service to our customers. All Kallol Group are guided by the principle that enduring success is not only measured in financial terms, but also the commitment that Kallol have for the nation and its people.
No compromise with quality. We set standard to customers' life through satisfaction
Mission Statement:
To provide maximum satisfaction to consumers and customers with high standard of products and services.
Vision Statement:
To be recognized as the most eminent and professional business house in Bangladesh with an array of comprehensive team of professionals and high quality products.
Kallol is a local, action-oriented company characterized by the brands  represent and commitment to consumers for quality. In more than 3 decades Kallol has crossed many miles and set several milestones on its path, evolved and adapted to a changing world, but basic foundation is unchanged from the time of initiation of Company, which reflects in the basic principle of integrity, ethics and a general concern for the people of country. Let's work together to stand-out from the crowd and reach for the sky to be number 1.
Nature of Business
FMCG
Consumer Durables
Telecom
Textile
Our Concern
Kallol Industries Limited
Kallol Enterprise Limited
Kallol Distribution Limited
Kallol Limited
Kallol Textiles Limited
TLRA Holdings Limited
Our Principals
Al-Futtaim Watches, UAE
APP, Indonesia
Asian Food Industries Ltd.
A T Cross Company, USA
Berly Jucker Cellox Ltd. , Thailand
Bayer, Thailand
Cadbury India Limited
Citizen Watches (HK) Ltd
Dickson Concepts, Hong Kong
Eagana Europe (Holding)
Fay International Ltd. UK
Jyothi Laboratories, India
Kellogg India Limitedx
Kimberly Clark, Thailand
Kolber  S. A. Switzerland
MS Interfood Co. Ltd. Thailand
Media Food Co. Ltd. Thailand
Nestle Manufacturing
Nutrifood, Indonesia
RADO, Switzerland
Romanson Co. Ltd. Korea
Tissot S.A.Switzerland
Titan Industries Ltd. India
Warid Telecom International Limited.
Kallol Brand
Kallol deals with diverged categories like FMCG, Consumer durables, Telecommunication and Textiles. In FMCG, Kallol represents wide range and categories like Chocolate & confectionery to breakfast cereals and instant powder drink, Detergent powder to fabric whitener, insecticides to toiletries, Tissue and other personal hygiene products.
Kallol represents some of the most respected world leaders in its Consumer durable category like watches and writing instruments. In Telecommunication, Kallol represents Warid scratch card distribution, a reputed GSM service provider in Bangladesh. Kallol owns a dyeing, printing and finishing facility for raw fabrics. Brands represent in Consumer Durables category (Watches & Writing Instrument).

Meaning of Recruitment
According to Edwin B. Flippo, "Recruitment is the process of searching the candidates for employment and stimulating them to apply for jobs in the organization". Recruitment is the activity that links the employers and the job seekers.
A few definitions of recruitment are:
A process of finding and attracting capable applicants for employment. The process begins when new recruits are sought and ends when their applications are submitted. The result is a pool of applications from which new employees are selected.
It is the process to discover sources of manpower to meet the requirement of staffing schedule and to employ effective measures for attracting that manpower in adequate numbers to facilitate effective selection of an efficient working force.
Purpose & Importance of Recruitment
Attract and encourage more and more candidates to apply in the organization.
Create a talent pool of candidates to enable the selection of best candidates for the organization.
Determine present and future requirements of the organization in conjunction with its personnel planning and job analysis activities.
Recruitment is the process which links the employers with the employees.
Increase the pool of job candidates at minimum cost.
Help increase the success rate of selection process by decreasing number of visibly under qualified or overqualified job applicants.
Help reduce the probability that job applicants once recruited and selected will leave the organization only after a short period of time.
Meet the organizations legal and social obligations regarding the composition of its workforce.
Begin identifying and preparing potential job applicants who will be appropriate candidates.
Increase organization and individual effectiveness of various recruiting techniques and sources for all types of job applicants.
Barriers to Recruiting Success
Image of the Organization
Attractiveness of job
Internal/ Organizational policies
Government influence
Recruiting costs
Image of the Organization
We noted that a prospective candidate may not be interested in pursuing job opportunities in the particular organization. The image of the organization, therefore, can be a potential constraint. A poor image may limit its attraction to applicants. Many college graduates know, for example that those in the top spots at Disney earn excellent salaries, receive excellent benefits, and greatly respected in their communities. Among most college graduates, Disney has a positive image. The hope of having a shot at one of its top jobs, being in the spotlight having a position of power means Disney has little trouble in attracting college graduates into entry –level positions. Microsoft, too, enjoys a positive image. But some graduates have negative or more specifically, pessimistic views of some organizations. In certain communities, local firms have a reputation for being in a declining industry; engaging in practices that result in a polluted environment, poor–quality products and unsafe working conditions; or being indifferent to employees' needs. Such reputations can and do reduce these organizations' abilities to attract the best personnel available.
Attractiveness of Job
If the position to be filled is an unattractive job, recruiting a large and qualified pool of applicants will be difficult. In recent years, for suitably qualified individuals for manual labor positions. In a job market where unemployment rates are low and where a wide range of opportunities creates competition for these workers, a shortage results. Moreover, jobs viewed as boring, hazardous, anxiety creating, low paying, or lacking in promotion potential seldom attract a qualified pool of applicants. Even during economic slumps, people have refused to take many of these jobs.
Internal Organizational Policies
Internal organizational policies, such as promote from within wherever possible," may give priority to individuals inside the organization. Such policies, when followed, typically ensure that all positions, other than the lowest-level entry positions, will be filled from within the ranks. Although this looks good once one is hired, it may reduce the number of applications.
Government Influence
The government's influence in the recruiting process should not be overlooked. An employer can no longer seek out preferred individuals based on non-job –related factors such as physical appearance, sex or religious background. An airline that wants to hire only attractive females for flight attendant positions will find itself breaking the law if comparably qualified male candidates are rejected on the basis of gender-or female candidates are rejected on the basis of age.
Recruiting costs
The last constraint, but certainly not lowest in priority, centers on recruiting costs. Recruiting efforts are expensive-costing. Sometimes budget restrictions put a time limit on searches. Accordingly, when an organization considers various recruiting sources, it considers effectiveness, like maximizing its recruiting travel budget by first interviewing employees using conference calls or through video conferencing.
Recruiting Sources
Imagine work for a large global company in human resources. You face some special staffing needs for a few departments you serve. You know that the people you're looking for must be well trained and able to do the job immediately. When staffing gets tough, therefore, you often turn to temporary staffing agencies for assistance. But today's challenge is a bit more complex. An effective recruiting process requires a significant pool of candidates to choose and the more diversity within that group the better.
Recruiting is more likely to achieve its objectives if recruiting sources reflect the type of position to be filled. Similarly, the Internet is rewriting all the rules. Jobs at all levels can be advertised on the Internet and potentially reach literally millions of people.
Certain recruiting sources are more effective than others for filling certain types of jobs. As we review each source in the following sections, we will emphasize their strengths and weakness in attempting to attract lower-level and managerial –level personnel.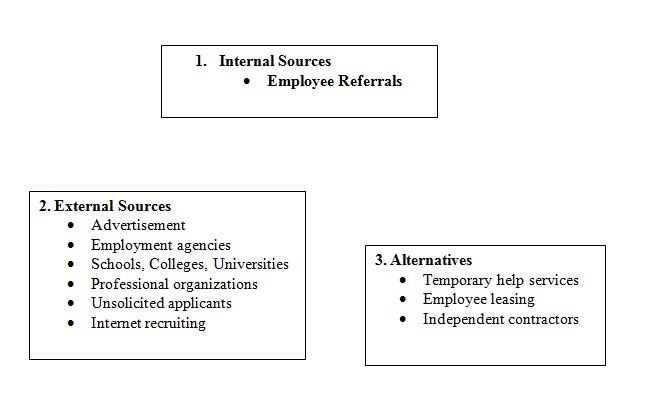 The Internal Sources
Many large organizations attempt to develop their own low-level employees for higher positions. These promotions can occur through an internal search of current employees who have bid for the job, been identified through the organization's human resource management system, or even be referred by a fellow employee.
The possible policy has advantages:
It is good public relations.
It builds morale
It encourages good individuals who are ambitious.
It improves the probability of a good selection, because information on the individual's performance is readily available.
It is less costly than going outside to recruit.
Those chosen internally already know the organization
When carefully planned, promoting from within can also act as a training device for developing middle and top level managers.
There can be distinct disadvantages, however, to using internal sources:
They could be dysfunctional if the organization uses less-qualified internal sources only because they are there, when excellent candidates are available on the outside. However, an individual from the outside, in contrast with someone already employed in the organization, may appear more attractive because the recruiter is unaware of the outsider's faults.
Internal searches also may generate infighting among rival candidates for promotion and decrease morals levels of those not selected.
The organization should also avoid excessive inbreeding.
Occasional new blood can broaden current ideas, knowledge, and enthusiasm, and productivity question the "we've always done it that way" mentality.
In many organizations, it is standard procedure to post any new job openings and to allow any current employee to apply for the position. This action, too receives favorable marks from the EEOC. The posting notification can be communicated on a central " positions open " bulletin board in the plants or offices, in the weekly or monthly organization newsletter, or, in some cases, in a specially prepared posting sheet from human resources outlining those positions currently available. Even if current employees are not interested in the positions, they can pass these notices on to other individuals who may seek employment within the organization the employee referral.
Employee Referrals and Recommendations
One of the better sources for individuals who will perform effectively on the job is a recommendation from a current employee. Because employees rarely recommend someone unless they believe the individual can perform adequately. Such a recommendation reflects on the recommender and when someone's reputation is at stake, we can expect the recommendation to reflect considered judgment. Employee referrals also may receive more accurate information about their potential jobs. The recommender often gives the applicant more realistic information about the job than could be conveyed through employment agencies or newspaper advertisements. This information reduces unrealistic expectations and increases job survival. As a result of these pre selection factors, employee referrals tend to be more acceptable applicants, to be more likely to accept an offer, and once employed to have a higher job survival rate. Additionally, employee referrals are an excellent means of locating potential employees in those hard to fill positions. For example, difficulty in finding certain IT professionals, computer programmers, engineers, or nurses with specific skills has prompted some organizations to turn to their employees for assistance. Many of these organizations include a reward if an employee referral candidate is hired for these specifically identified hard to fill positions. Referral bonuses are not fit; the employee receives a monetary reward and the organization receives a qualified candidate without the major expense of an extensive recruiting search.
There are, of course, some potentially negative features of employee referral. For one, recommenders may confuse friendship with job performance competence. Individuals often like to have their friends join them at their place of employment for social and even economic reasons; for example, they may be able to share rides to and from work. As a result, a current employee may recommend a friend for a position without unbiased consideration to the friend's job related competence. Employee referrals may also lead to nepotism, that is, hiring individuals related to persons already employed by the organization. Although such actions may not necessarily align with the objective of hiring the most qualified applicant, interest in the organization and loyalty to it may be long term advantages. Finally, employee referrals may also minimize an organization's desire to add diversity to the workplace.
Employees referrals do, however, appear to have universal application. Lower level and managerial level positions can be, and often are, filled by the recommendation of a current employee. Higher level positions, however, are more likely to be referred by a professional acquaintance rather than a close friend. Jobs that require specialized expertise and where employees participate in professional organizations often produce acquaintances between current employees and individuals they think would make an excellent contribution to the organization.
External Sources
Looking externally for candidates, organizations often open up recruiting efforts to the external community. These efforts include advertisements including Internet postings, employment agencies, professional organizations, and unsolicited applicants.
Advertisements
When an organization wishes to tell the public it has a vacancy, advertisement is one of the most popular methods used. The type of job often determines where the advertisement is placed. The higher the position in the organization, the more specialized the skills or the shorter the supply of that resource in the labor force, the more widely dispersed the advertisement is likely to be. The search for a top executive might include advertisements in national publications perhaps posted on executive search firm web sites. On the other hand, advertisements of lower level jobs usually appear in local daily newspapers, regional trade journals, or on broad based Internet job sites.
Two important variables influence the response rate to advertisements:
Identification of the organization, labor market conditions, and the degree to which the advertisement includes specific requirements. Some organizations place a blind box ad, one that includes no specific identification of the organization. Respondents are asked to reply to a post office box number or to an employment firm acting as an agent between the applicant and the organization. Large organizations with a national reputation seldom use blind advertisements to fill lower level positions; however, when the organization does not wish to publicize the fact that it is seeking to fill an internal position, or when it seeks to recruit for a position where there is a soon to be removed incumbent, a blind box advertisement may be appropriate. Although blind ads can assist HRM in finding qualified applicants, many individuals may be reluctant to answer them. Obviously, there is the fear, sometimes justified, that the advertisement has been placed by the organization in which the individual is currently employed.  Also the organization itself is frequently a key determinant of whether the individual is interested; therefore, potential candidates may be reluctant to reply. Such advertisements also have a bad reputation because some organizations place ads when no position exists in order to test the supply of workers in the community, to build a backlog of applicants, or to identify those current employees who are interested in finding a new position. Others place ads to satisfy affirmative action requirements when the final decision, for the greater part, has already been made.
The job analysis process is the basic source for ad information. The ad can focus on descriptive elements of the job or on the applicant, a choice that often affects the number of replies received.
Employment Agencies
We will describe three forms of employment agencies:
public or state agencies
private employment agencies
Management consulting firms.
The major difference between them is the type of clientele served. All states provide a public employment service. The main function of these agencies is closely tied to unemployment benefits because some states supply benefits only to individuals registered with their state employment agency. Accordingly, most public agencies tend to attract and list individuals who are unskilled or have had minimum training. This, of course, does not reflect on the agency's competence, but rather reflects on the image of public agencies. Prospective applicants tend to think state agencies have few high skilled applicants. The result is self fulfilling prophecy; that is, few high skilled individuals place their names with public agencies, and similarly, few employers seeking individuals with high skills list their vacancies or inquire about applicants at state agencies.
 The major difference between public and private employment agencies is their image; that is, private agencies are believed to offer positions and applicants of a higher caliber. Private agencies may also provide a more complete line of services. They may advertise the position, screen applicants against the criteria specified by the employer and provide a guarantee covering six months or a year as protection to the employer should the applicant not perform satisfactorily. The private employee, or agency's fee can be totally absorbed by either the employer or the employee, or it can be split.
The third agency source consists of management consulting, executive search, or "headhunter" firms. Executive search firms canvass their contacts and do preliminary screening. The seek out highly effective executives who have the right skills, can adjust to the organization, and most important, are willing to consider new challenges and opportunities. Possibly such individuals are frustrated by their inability to move up quickly in their current organization, or they recently may have been bypassed for a major promotion. The executive search firm can act as a buffer for screening candidates and, at the same time, keep the prospective employer anonymous. In the final stages, senior executives in the prospective firm can move into the negotiations and determine the degree of mutual interest.
Professional Organizations
Many professional organizations, including labor unions, operate placement services for the benefit of their members. Professional organizations serving such varied occupations as industrial engineering, psychology, accounting, legal, and academics publish rosters of job vacancies and distribute these lists to members. It is also common practice to provide placement facilities at regional and national meetings where individuals looking for employment and companies looking for employees can find each other building a network of employment opportunities. Professional organizations, however, can also apply sanctions to control the labor supply in their discipline. Professional organization can significantly influence and control the supply of prospective applicants.
Unsolicited Applicants
Unsolicited applications, whether they reach the employer by letter, email, telephone, or in person, constitute a source of prospective applicants.
Internet Recruiting
Newspaper advertisements and employment agencies may be on their way to extinction as primary sources currently use the Internet to recruit new employees by adding a recruitment section to their web site. Large organizations or those planning to do a lot of Internet recruiting often develop dedicated sites specifically designed for recruitment. The best designed of web sites include an online response form, so applicants need not send a separate resume by mail, email, or fax. Applicants fill in a resume page and hit the "submit" button. They are up their own pages-frequently called websumes-to "sell" their job candidacy when they learn of a possible job opening, they encourage potential employers to "check me out at my web site." These same websumes are also frequently searched by recruiting firms that scan the Internet in search of viable job candidates. Internet recruiting provides a low cost means for most businesses to gain unprecedented access to potential employees worldwide.
Recruitment Alternative
Much of the previous discussion on recruiting sources implies that these efforts are designed to locate and hire full-time permanent employees. However economic realities, coupled with management trends such as rightsizing have created a slightly different focus. More companies today are hiring temporary, help leasing employees and using independent contractors. Remember, temporary or contingent workers may also raise some legal issue for employers especially over the question about whether or not an individual is in fact an employee.
Temporary Help Services
Organizations such as Kelly Services and Accountants supply temporary employers. Temporary employees are particularly valuable in   meeting short term fluctuations in HRM needs. Although traditionally developed in office administration, temporary staffing services have expanded to a broad range of skills. It is now possible, for example to hire temporary nurses, computer programmers, accountants, librarians, drafting technicians administrative assistants even CEOs.
In addition to specific temporary help services, another quality source of temporary workers is older workers, those who have already retired or have been displaced by rightsizing in many companies. An aging workforce and some individuals desire to retire earlier have created skill deficiencies in some disciplines. Older workers bring those skills back to the job. The reasons older workers continue to work vary, but they bring several advantages: flexibility in scheduling, low absenteeism, high motivation and mentoring abilities for younger workers.
Employee Leasing
Whereas temporary employees come into an organization for a specific short term project, leased employees typically remain with an organization for longer times. Under a leasing arrangement individuals work for the leasing firm. When an organization needs specific employee skills, it contracts with the leasing firm to provide trained employees, For example, consider Robert Half International. As a leasing firm, Robert Half has on its staff fully trained accountants ready to meet an organization's accounting needs. If tax season requires additional tax accountants, Robert Half can supply them; the same holds true for other accounting areas. One reason for leasing popularity is cost. The acquiring organization pays a flat fee for the employees. The company is not directly responsible for the benefit or other costs, such social security payments it would incur for a fulltime employee. Furthermore, when the project is over, employees return to the leasing company, thus eliminating any cost associated with layoffs or discharge.
Leased employees are also well trained. They are screened by the leasing firm trained appropriately and often go to organizations with an unconditopma; guarantee. Thus, if an individual doesn't work out, the company receives a new employee or makes arrangements to have its fee returned. There are also benefits from the employee's point of view. Some of today's workers prefer more flexibility in their lives. Working to work when they want for the length of time they desire.
Our discussion in regarding professional employee organizations is precisely what employee leasing is about. As more and more organizations especially smaller ones move toward PEOs, we can expect the trend of employee leasing to increase significantly. When that happens, the effort organizational members expend on recruiting will drop significantly.
Independent Contractors
Another means of recruiting is the use of independent contractors. Often referred to as consultants, independent contractors are taking on a new meaning. Companies may hire independent contractors to do specific work at a location on or off the company's premises. For instance, claims processing or medical and legal transcription activities can easily be done at home and routinely forwarded to the employer. The continuing growth of personal computers, fax machines and voice mail ensures that home work is timely.
Independent contractor arrangements benefit both the organization and the individual. Because the worker is not an employee, the company saves costs associated with full or part time personnel, such as social security taxes and worker's compensation premiums. Additionally, such opportunity is also a means of keeping good individuals associated with your company. Suppose an employee wants to work but also to be at home when the kids are home. Allowing the individual to work at home, on his or her time, can be a win solution to the problem.
External Recruitment Methods 
External recruitment process involves a systematic procedure from sourcing the candidates to arranging and conducting many resources and time. It should be willing to learn and strive for further professional and personal development.
External Recruitment process carried out in several steps: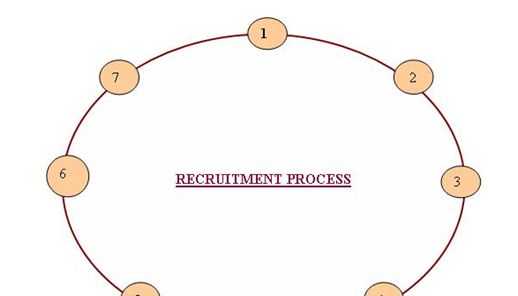 Identify vacancy
Prepare job description and person specification
Advertising the vacancy
Managing the responses
Screening & Short-listing
Arrange interviews
Decision making
Identify vacancy: The recruitment process beings with the human resources department receiving requisitions for requirement for any department of the company. These follows:
• Posts to be filled
• Number of persons
• Duties to be performed
• Qualifications required
Prepare job description and person specification: Job description is not a legal requirement but it will help to decide what type of person is looking for and to write the job advert. The person specification includes a person essential and desirable knowledge, experience and skills for successful applicant to have in job advert.
A job description should include:
the job title
the main duties and purpose of the role
information about the company and what it does
the job location
Advertising the vacancy: Job openings can be advertised by job posting, that is, a strategy of placing notices on manual and electronic bulletin boards, in company newsletters and through office memoranda. Referrals are usually word-of-mouth advertisements that are a low-cost-per-hire way of recruiting.
Traditionally, advertising is seen as a person specification; Advertising helps the HR professionals of the organizations to concentrate on the strategic functions and processes of human resource management routing work.
Using the Internet is faster and cheaper than many traditional methods of recruiting. Jobs can be posted on Internet sites for a modest amount (less than in the print media), remain there for periods of thirty or sixty days or more – at no additional cost – and are available twenty-four hours a day. Candidates can view detailed information about the job and the organization and then respond electronically.
Managing the responses
The Recruiting Manager is responsible for deciding the process. Using a mix of top-line technology and proven recruiting expertise, Resume Response is a highly reliable solution to efficiently manage key processes: candidate sourcing, assessment, screening and communication.
Short-listing
Talent management software is used by companies to  screen,  track, and manage applicants for employment as known as short-listing. Also known as talent management, talent management technology, talent management solutions, talent management system and applicant tracking system. Talent management solutions include applicant tracking, candidate assessment, employee appraisal, and compensation and performance management.
Applicant tracking systems provide following Tips:
Resume Writing: Applicant tracking systems work best with text and resume should be designed accordingly.
 Use Online Job Applications.
Resume Font: There are a few reasons important to keep resume simple.
Format of Cover Letter: Depending on the hiring organization either it viewed on not.
Resume File Format: The file format may vary based on the company's applicant system.
Arrange interviews
Job interview is typically a one-on-one interview between the applicant and a hiring manager. The interviewer will ask questions about the applicant's experience and skills, work history, availability, and the qualifications the company is seeking in the optimal candidate for the job. Interview can be a more in-depth one-on-one interview with the person; it can be a day-long interview that includes meetings with company staff.
Types of Interview:
1. Open Interview
2. Screening Interview
3. Phone Interview
4. Dining Interview
Decision making
Cognitive processing has a primary role in decision making. The regulation and knowledge of cognition, affects decision making in a consistent and predictable way. Data collection involved four strategies on managerial decisions has received little attention.
(1) A hiring ratio used to report hiring outcomes
(2) Five hiring scenarios provided a measure of managers' ability to select the most appropriate candidate.
(3) A 52-item instrument designed to assess knowledge of cognition and regulation of cognition
(4) Demographic data relating to expertise and experience in hiring.
External Sources of Kallol Group
The recruitment system of K.G.C generally conducting following resources:
Internet sites
Company memorandum
Referrals are use world of mouths.
K.G.C recruitment process involves a systematic procedure. At first fill-up the vacant post of the company, the respective department of K.G.C informs the HRM about their vacant post through a demand note or a requisition letter. All correspondences are done through general letter. Most of the time HRM of K.G.C. informed the vacant post by official meeting or Board of meeting.  After receiving their requisition, HRM prepare required application form to fill-up the Vacancies. Being informed of the vacant post HRM analysis the vacant post according to the nature of job where HRM described the responsibility of position, activities of the position, required education, and applicant age limit, number of vacancies and location of job. Besides these in some cases, include the specification of the persons such as young and energetic, self motivated, experienced, also smart and good looking. After complete the work job description HRM process the publication to publish it. For advertising the job Kallol group always use internet system such as bdjobs.com website to submit the resume or post the applicant curriculum vitae. After advertising the vacancy,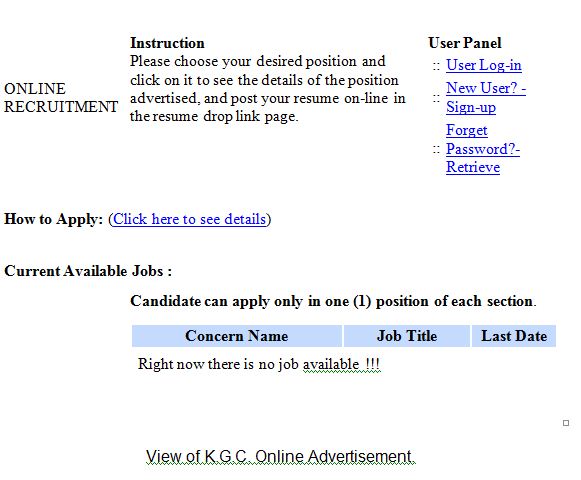 HRM section collects the application form correspondent section or companies to precede the recruitment process. Next activities of HRM of K.G.C are managing the applicant responses by sending a receiving inform to all application. To inform or response to applicant K.G.C is used phone call. Here HRM give responsibilities to the reception section. When reception section complete their applicant responses, the HRM of K.G.C start the short-listing process. To scrutinizing or short listing the application K.G.C is fully depending on advertising company where K.G.C published their vacant post. This is the advantages for K.G.C that receiving and short listing process done together by using online application system. When a candidate submits the resume, this system automatically screening the resume whether the resume fulfill the requirement the resume submitted otherwise rejected. So, here are no chances to apply duplicate or unexpected person's application. Also this is the first and time consumes process for HRM of K.G.C. After completing the screening and short-listing section HRM takes necessary steps for viva-test or interview. Only preliminary selected candidate who are selected by online application system call by phone to attend or faces interview with the following papers given bellow:
Photocopy of all academic certificate
resume
Photograph
In the same time, HRM section call the interview board and inform to the head of respective department and the managing director of the company to attend and select the candidate for the vacancies. In the interview board the managing director of K.G.C chose the candidate and taken the absolute and final decision. After interview session HRM published the decision of K.G.C decision or result of viva test and give a company database PIN code to each new applicant and finally completing recruiting process.
Internal Recruitment Methods
Internal recruitment is a process of recruiting people within the organization. It is also defined as the practice of selecting candidates among present company workers to fill a position  that becomes vacant.  Internal job candidate should be familiar to the organization and the HRM function provides the required background information for the hiring manager.
Internal sources of recruitment:
Current permanent Employees
Current temporary or casual Employees
Measurement for Internal recruitment:
Qualification
Candidate assessment/ achievements
Employee appraisal
Compensation and performance
The ways to know about internal vacancies:
Staff notice boards,
Intranets, In-house magazines
Newsletters (for a particular business)
Weekly staff magazine dedicated completely for advertising jobs within the organization.
Staff meetings.
Algorithm for Internal Hiring:
1. First step is to develop an effective method for spreading the word about openings.
2. Write up a brief description of the position along with the desired level of seniority, special skills, degrees and any other requirements.
3. Establish a procedure for applying to open positions.
4. To set up a process that works for all employees the same access to the application.
Advantages of Internal Recruitment:
The Internal Recruitment can build a strong loyalty with the organization as the employees have a chance to change their position after a period of time. The employees are not pressed to look for opportunities on the external job market.
 The Internal Recruitment can be cheaper for the organization and can save the costs dedicated to the training and induction of new employees. Also, as the candidate knows the organization, the possibility of the failure is not a significant issue to the organization.
The Internal Recruitment needs strong management from the HRM Function, which can lead to the conflicts and the HRM Function has to have a position to be able to act as a strong facilitator in the conflict resolution.
The Internal Recruitment can lead to huge issues when the candidates come from one department. The managers have to have the right to protect their own interests in the organization as they are responsible for the smooth operation.
The Internal Recruitment does not bring new skills and competencies to the organization and organization with an intensive usage of the internal recruitment can suffer from the fresh blood.
Internal Sources of Kallol Group
K.G.C. generally fill-up the vacant post through promotion and this promotion occurs through internal search of current employees. HRM section verbally informs the concerning section regarding the vacant post. K.G.C sometimes takes referral or recommendations from a current employee to fill the vacant post. Many a time K.G.C give first preference to the promotion system in recruiting. Beyond this, company's rule does not allow anyone to give promotion though the incumbent's due time of promotion has gone earlier. HRM section verbally conveys all Head of Department regarding vacant post to fill up these through promotion. Then as per procedure of the company HRM collects all performance and appraisals of deserving candidates from the Head of the concerning Department. Besides these, following criteria taken into consider action are:
Fitness for post
Education Qualification
Seniority
Length of Service
Direct Observation
Eagerness to work
Behavior
Managing Director of K.G.C gives top priority to the version of the concerning Head of Department for considering the skill of the candidate. M.D also consider the appraisal of the candidate prepared earlier by the concerning Departmental Head. K.G.C. generally prepare the annual appraisals of the employees. After then scrutinize the necessary educational Certificate of the candidate to fill up the vacant posts through promotion. Necessary helps are taken from the authority of relevant school, college, university and institution to verify those certificates of the incumbent. In respect of seniority, the date of joining is considered. And the date of joining in service till to the date of advertisement to fill the vacant post is considered as length of service. Normally it is counted through years together. Direct observation plays a vital role for promotion. For this promotion, interview of colleagues and Bosses are also taken in consideration. Besides these, company's day to day work observation is also followed for consideration. Decision of promotion of any candidate is taken by the HRM. This section issues an office order of promotion. Main copy of this office order is kept in the relevant file. And endorsement copies of this order are circulated to the candidate himself and Head of different section of K.G.C for information and necessary action. HRM section also sends another letter to the candidate which is known as joining letter. After receiving this letter the promoted employee send a thanks letter to HRM section thus all procedures of promotion of K.G.C completed here. If any employee fills that he deprives form promotion, he has right to appeal to the M.D for promotion.
Alternative Hiring process
Candidate Submittal is an alternative recruitment process. The fact that the candidate has completed some of the recruitment process themselves by sourcing their own jobs. Some of the options in this regard may be listed thus:
Temporary employees : Employees hired for a limited time to perform a specific job are called temporary employees. They are particularly useful in meeting short term human resource needs. A short term increase in demand could be met by hiring temporary hands from agencies specializing in providing such services. It's big businesses idea in United States these days ($3 – $4 billion industry). In this case the firm can avoid the expenses of recruitment and the painful effects of absenteeism labor, turnover etc. It can also avoid fringe benefits associated with regular employment. However, temporary workers do not remain loyal to the company. They may take more time to adjust and their inexperience may come in the way of maintaining high quality.
Subcontracting: To meet a sudden increase in demand for its products and services, the firm may sometimes go for subcontracting – instead of expanding capacities immediately. Expansion becomes a reality only when the firm experiences increased demand for its product for a specified period of time. Meanwhile the firm can meet increased demand by allowing an outside specialist's agency to undertake part of the work, to mutual advantage.
Employee leasing: Hiring permanent employees of another company who possess certain specialized skills on lease basis to meet short term requirements although not popular in India is another recruiting practice followed by firms in developed countries. In this case, individuals work for the leasing firm are the leasing agreements / arrangement. Such an arrangement is beneficial to small firms because it avoids expense and problems of personnel administrations.
Overtime: Short term fluctuations in work volume could best be solved through overtime. The employer benefits because the costs of recruitment selection and training could be avoided and the employee in the form of higher pay. However, an overworked employee may prove to be less productive and turn out less than optimal performance. Employees may slow down their pace of work during normal workings hours in order to earn overtime daily. In course of time, overtime payments become quite a routine and if any reason these payments do not accrue regularly employees become resentful and disgruntled.
Outsourcing: Any activity in which a firm lacks expertise and requires an unbiased opinion can be outsourced .Many businesses have started looking at outsourcing activities relating to recruitment training, payroll, processing, surveys, benchmark studies, statutory compliance etc more closely because they do not have the time or expertise to deal with the situation. HR heads are no longer keeping activities like resume management and candidates sourcing their daily scrutiny. This function is more commonly outsourced when firms are in seasonal business and have cyclical stuffing needs.
Alternative Sources of Kallol Group
Sometimes K.G.C recruits the contractual employees. Most of the time K.G.C recruit the contractual employees in their customer care section. In this recruitment they follow the internal searching process. Of course, this appointment is done through a reference from internal employee of the company. In this matter, the HRM recruit anyone in presence of the referral and the candidate himself after verbal discussion with them. In contractual recruitment, the referral is treated as the guarantee of the incumbent. Moreover the subject matter of the verbal discussion between the candidate and Administration of K.G.C is treated as final job agreement for contractual job in Kallol Group.
Discussion
The recruitment process begins with the human resources department receiving requisitions for requirement for any department of the company. In the form several things are covered like, posts to be filled, number of persons, duties to be performed, qualifications required   etc. then they began job opening through advertisement in different media.
K.G.C. generally fill-up the vacant post through promotion and this promotion occurs through internal search of current employees. HRM section verbally informs the concerning section regarding the vacant post. K.G.C sometimes takes referral or recommendations from a current employee to fill the vacant post. Response of candidates starts soon after the publication of vacancy.
To screen the applicants, the organization sometimes uses software, but most of the time it is done manually. The personnel at HR department perform this job. After that, selected candidates are called for interview. They have to go through a series of interviews.
K.G.C seldom goes for contractual employees. Most of the time K.G.C recruit the contractual employees in their customer care section. In this recruitment they follow the internal searching process. Of course, this appointment is done through a reference from internal employee of the company.
There are numerous scopes for development of the recruitment process. Job opening, advertisement, sorting and selecting all can be developed through proper policy making and implementing through HR department.
Conclusion
Kallol Group of Companies is expanding its venture. To improve efficiency of conducting business, it has to strengthen its workforce. This paper attempts to work on this area. Based on the study, it can be said that there are avenue for developing the process. Recruitment and selection allows an organization to asses the vacancy and choose the best personnel who will lead the organization in future. So the organization should give more emphasize on selecting a person. At this moment As a private company Kallol Group of Companies should analyze the recruitment and selection process of other national and multinational company of home and abroad. The most important key source factor of the an organization now a day is its efficient human resource. It is high time for the authority to look closely the prevailing issue of recruiting people and thus the company will get efficient professionals, which will increase the productivity as well as revenue.
Recommendations
HR department should develop such a system through which they can assess employees without any influence. So that they can develop self assistance system where employees will provide information to the HR department individually monthly.
In the selection and recruitment process the responsible personnel should be more transparent as some of the internal and external applicants mentioned.
They must attempt to develop their own low level employees for higher positions through more internal search.
Written test and demo should be implemented in order to right judgment to talented employees.
HR department should undertake a background investigation of applicants who appear to offer potential as employees.
Tactful discipline is required in order to implement sound human resource management system.
Finally Kallol Group of Companies should have the vision to automate it's all operations and functionalities and should be committed to achieve the goal to be a leading private organization in the country both in service and in technical aspect.