EXECUTIVE SUMMARY
This research intends to investigate the relationships of product and service development for Customer Satisfaction In Standard Chartered Bank  the largest foreign bank in Bangladesh. For this customer survey 13 questions have been asked to 50 different customers of standard chartered Bank. The sample for this study was the honorable client of SCB. The researcher distributed 50 questionnaires among the respondents. Collected data were analyzed by using the SPSS version 12.0. Correlation analysis, Means and standard deviation have been done to asses the hypothesis for analyzing the customer satisfaction of SCB customers. The correlation analysis provided full support to prove almost all the hypothesis and the means and standard deviation gives the reasonable answer.
Now standard chartered Bank is performing well as it has acquired the assets and human resources of higher quality. Customers have great faith to them and their quality of services. The expansion of banking volume also increases as the acquired Grindlys Bank and recently the American Express Bank. SCB had done a great job in our economy by adopting modern financial technology by extending their activities in human & social welfare.
 
BACKGROUND OF THE REPORT
A develop banking sector plays a vital role for financial stability of a country. In the BBA program, the internship is one of the vital parts, which has to be done by every student .the internship program provides an opportunity for the students to minimize the gap between theoretical and practical knowledge and will help in practical life. I got this great opportunity to perform my internship program in the STANDARD CHARTERED BANK. I have completed internship program based on theoretical and practical knowledge.
ORIGIN OF THE REPORT
I am very glad for getting the opportunity to accomplish my practical training in the Standard Chartered Bank at 14,kemal Ataturk Avenue, Banani Booth, Dhaka-1213. Commencing from March 16, 2006 to June 15,2006. This report is a partial requirement of BBA Internship Program in the Accounting and information systems department under Business Studies Faculties in the University of Dhaka and has been prepared after three month of the organizational attachment in SCB.
OBJECTIVE OF THE REPORT
The objective of study is to gather practical knowledge regarding over all banking system and its operations. Theoretical classes of BBA provide us theories regarding different subjects where as practical training gives us the chances to view those systems and their operations. The principal intent of this report is to analyze the trends modern banking and their customer's services. More precisely we can identify the objective of this report as follows:
• To observe the customers and their satisfaction towards the products and services of SCB.
• To observe the customers reaction towards the new product development of SCB.
• To study the services of Branches and various Booths of SCB.
• To describe the call centre, ATM facilities, ibanking and other facilities provided by SCB.
• To understand the other alternative customer services of the origination.
• To provide the recommendation for improvement of SCB.
METHODOLOGY OF DATA COLLECTION
For achieving the specific objective of this study, data were gathered from both primary and secondary sources.
PRIMARY SOURCES
• Direct conversation with the respective officers of the branch.
• Face to face conversation with the clients.
• Customer's opinion collected through Questionnaire.
• Observation of the banking activities.
SECONDARY SOURCES
• Various records of the bank.
• Different types of brochures.
• Website of Standard Chartered Bank.
• Different news letters of SCB.
SAMPLING:
POPULATION:
The population in the research is mainly the branch customer and employees this population has been selected mainly because we are conducting the survey on the perception about the matter amongst the branch customer and employees.
THE SAMPLE UNITS:
The sampling unit in case of this research consists of the branch customer and employees
THE SAMPLING FRAME:
The sampling frame usually contains a list of elements from which the sample is drawn. The survey has been conducted at different levels of customers coming to the branch such as Priority customer, Excel Customer, Corporate customer And so on. And also the different levels of employees in the branch.
THE SAMPLING DESIGN:
The sample design used in this case is random sampling method. When taking the random sampling into consideration there is always a chance that error might occur. This happens when there is a difference in the sampling that is done during the course of the survey.
There are different types of sampling that can be done. In the case 0f our report we have also used stratified sampling.
THE SAMPLE SIZE:
The sample size in our case is 50 customers of the different level and employees in the Banani branch.
THE SAMPLING PLAN:
We have gathered the data based on the focus group interview and experience survey through the questionnaire.
SOME IMPORTANT FACTS ABOUT THE OVERALL SURVEY:
• The Speed of data collection: moderate to fast
• The respondent's cooperation: Moderate
LIMITATIONS OF THE STUDY
Several drawbacks appeared at the time of preparing the report and hindered the total work process.
• Due to some policies of the bank I couldn't collect the organizational hierarchy to show the organizational decisions flow.
• SCB only publish their annual report in England. The branch was unable to provide me any copy of their annual report.
• It is difficult to make information based a rich report in a short time.
INTRODUCTION
The Standard Chartered Bank opened its operation in Chittagong in 1947 which, at that time was the eastern region of the newly created Pakistan. The branch opened mainly to facilitate the post war re-establishment and expansion in South East Asia. The bank opened its first branch in Dhaka in 1966 and shifted it's headquarter from Chittagong to Dhaka after the birth of the Republic of Bangladesh in 1971.
The bank increasingly invested in people, technology and premises as its business grew in relation to the country's thriving economy. SCB acquired ANZ Grindlays Bank for 1.34 billion dollars in the year 2000. The new venture that is the merger was named as Standard Chartered Grindlays Bank. Now after the takeover it is known as Standard Chartered Bank. Recently it also has acquired AMEX bank and has grown even more in strength and size as well as customer base.
Extensive knowledge of the market and essential expertise in wide financial services underline Standard Chartered Bank's strength to build business opportunities and institutional clients at home and abroad. Continuous upgrading of technology and control system has enabled the bank to offer new services, which include 33 ATM booths, Phone Banking services through call center, SMS banking and I-banking on a 24 hour basis through its 24 branches. Standard Chartered Banks services in Bangladesh, ranges from Personal & Corporate Banking to Institutional Banking, Treasury and Custodial services which has resulted in the expansion of the bank since its inception.
HISTORICAL BACKGROUND OF SCB
The name Standard Chartered basically comes after two banks which merged in 1969. They were originally known as the "Standard Bank" of British South Africa and the "Chartered Bank" of India, Australia and China.
Of the two banks, the "Chartered Bank" was established by Royal Charter from Queen Victoria in 1853. The key person behind the Chartered Bank was a Scot, James Wilson. He started "The Economist", which is still one of the world's pre-eminent publications and during his early days he also made his fortune in London making hats. He visualized the advantages of financing the growing trade links with the areas in the east, where none of the other financial institutions were present at that time and as such the Chartered Bank opened two branches in 1858 in Chennai and Mumbai. The same year the bank opened another branch in Shanghai. The following year the Chartered Bank opened a branch in Hong Kong and an agency in Singapore. In 1861 the Singapore agency was upgraded to a branch which in turn financed the rapidly developing rubber and tin industries in Malaysia. In 1862 the Chartered Bank was authorized to issue bank notes in Hong Kong. Subsequently it was also authorized to issue bank notes in Singapore, a privilege it continued to exercise up until the end of the 19th Century.
On the other hand, the "Standard Bank" was founded by Scot, John Paterson in 1862. He immigrated to the Cape Province in South Africa and very soon he became a successful merchant there. He also visualized the great trading possibilities between Europe and his adopted country.3
From the very beginning both the banks were keen to capitalize on the huge expansion of trade between Europe, Asia and Africa and to reap the handsome profits to be made from financing that trade and for that they expanded and prospered with time and decided to merge in 1969. After the merger the new shares of the Standard and Chartered Banking Group Limited were listed in the London Stock Exchange on January 30th, 1970. Although the two banks merged in 1969, but their operations were being executed from two different headquarters, until on June 1980, the original building of the Chartered Bank was demolished and a new headquarter of the Standard Chartered Bank PLC was opened on March 20th, 1986. Right after the merger the bank experienced continuous growth and expansion in United States and Europe, which led the bank to be one of the top 100 listed banks in the world. Moreover, it was also judged the best bank in the Asia-Pacific region in 1993 and 1994 for its excellent service and growth rate as well.
EXPANSION OF SCB
Acquisition has long been popular vehicle for expanding the scope of the organization into new business areas. Companies typically acquire a company when they lack important competencies (resource or capabilities) and very often they end up purchasing an incumbent company that has those competencies and they do so at a reasonable price.
The acquisition of Grindlays Bank from the ANZ Banking Group by the Standard Chartered Group on 1st October 2000 was opportunity driven. It has given Standard Chartered an opportunity to expand into new areas where it was not operating at all. Moreover, buying Grindlays from ANZ now propels it from number five to number one among international banks in India, with some extra footholds in the Middle East. In addition to that, at 1.3 bn U.S dollars, it is hard to complain that Standard Chartered has overpaid. The financial ease is less compelling for ANZ shareholders, as there are advantages to getting out of a strategically peripheral business.
This acquisition of Grindlays Bank has added 6000 employees and 4 countries to Standard Chartered's existing network of 27,000 employees and 570 offices in 50 countries. The end result is that Standard Chartered, which went into the 1997 Asian Crisis with strong business in Hong Kong, Singapore and Malaysia, emerges with additional core markets in India and Thailand. Moreover, the deal has made Standard Chartered the largest foreign bank by assets in India, Pakistan and Bangladesh and the second largest in Sri Lanka and the United Arab Emirates. The bank had been seeking to expand in the region since the end of the Asian economic crisis, and has finally become successful in its expansion.
PRESENT SITUATION OF SCB
Globally, the key resources of SCB include:
 A network of over 600 offices in 50 countries.
 A staff of about 33000 people managing assets of around 47 billion pounds.
 Standard Chartered Bank's international business in Personal Banking, Corporate Banking and Standard Chartered Markets are its special strengths.
 Standard Chartered Bank also maintains correspondents relationship with over 600 banks in 157 countries around the world.
The global strategies of Standard Chartered Bank are:
 To build and grow strong businesses in East and South East Asia- the Asia Pacific Region.
 To enhance historical position in the Middle East and South Asia region.
 To concentrate operations in those activities that support Standard Chartered Bank's remarkable franchise in newly industrialized and emerging markets.
BUSINESS ACTIVITIES OF GLOBAL SCB
Standard Chartered Bank operates in every Asia Pacific market with the exception of North Korea and some 60 percent of the Group's profits come from the Asia Pacific region.
Hong Kong continues to be major importance to the group and contributes 30 percent of the total profit with around 80 branches in Hong Kong and strong representation in China, Standard Chartered- a note issuing bank in Hong Kong – is well placed to continue playing an important part in Greater China's development. A resident Group Executive Director manages the Group's business there.
Consumer banking, Corporate and Institutional Banking are managed out of Singapore each by a Group Executive Director resident in the island state. Other East Asian countries of note for the Group Malaysia, Taiwan and Thailand where, in 1999, the acquired 75 percent interest and management control in Nakornthon.
Standard Chartered is the leading international bank in Sub-Saharan Africa, operating several countries, the most prominent being Kenya, Zambia, Zimbabwe and Ghana. The Group's operations in the Gulf and south Asia are managed from Dubai.
Standard Chartered Bank provides a full range of products and services to its customers all around the world, some of which are mentioned below:
 Consumer Banking
 Personal Banking
 Global Corporate Banking and Institutional Banking
 Global Custodial Service
 International Trade Management
 Global Cash Management
 Global Institutional Banking
 Global Treasury
 Global Electronic Banking
THE ORGANIZATION STRUCTURE
The SCB in Bangladesh has its headquarters and sixteen branches in Dhaka, five in Chittagong and one branch in Sylhet, Khulna, Narayanganj and Bogra. While the full range of services is available at the headquarters, other branches offer specific services appropriate for the location. At the headquarter, the bank mainly consists of two divisions:
► Business
► Support
The business division has the following departments:
■ Corporate Banking Group (CBG)
■ Treasury (TSY)
■ Institutional Banking Group (IBG)
■ Consumer Banking (CB)
■ Custodial Services (CUS)
SCB is primarily corporate driven. More than the corporate banking generates 40% of its revenue group while Treasury contributes more than 20% to the overall revenue. The rest is generated from Personal Banking, Custodial Services and Institutional Banking.
The Support division provides assistance to the above business activities and consists of the following departments:
■ Operations
■ Finance, Administration and Risk Management
■ Information Technology Center
■ Human Resource Department
■ Legal and Compliance
■ External Affairs
■ Credit
BANKING SERVICES OF THE SCB IN BANGLADESH
There are two types of services provided by the SCB
1) Business or Corporate Financial Services
2) Retail or Consumer Financial Services
But these two services can be classified further by the following ways: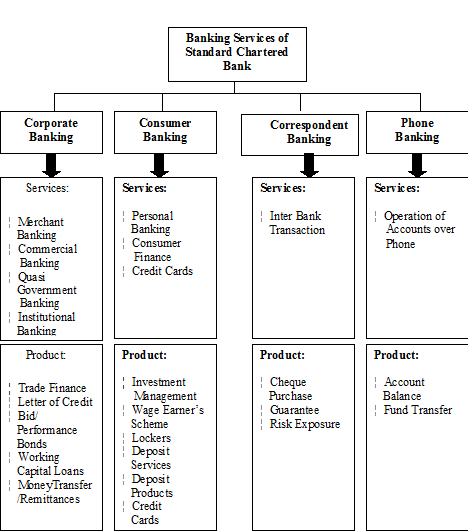 BUSINESS/ CORPORATE BANKING OF SCB
Standard Chartered Bank's corporate clients mainly comprise the top local and multinational companies operating in Bangladesh. The main objective of this department is to build and maintain positive relationships with their clients. As a result, each and every company is assigned a Relationship Manager, who maintains regular contacts with clients. Moreover, this department offers the following facilities to its clients:
Project Finance.
Syndicated Loans.
Bonds and Guarantees, etc.
As figure 4.1 shows SCB offers corporate banking facilities to both local corporate and multinationals. Besides, it also provides commercial, institutional, quasi government or correspondence and treasury banking facilities.
Figure 3: Business/ Corporate Banking of SCB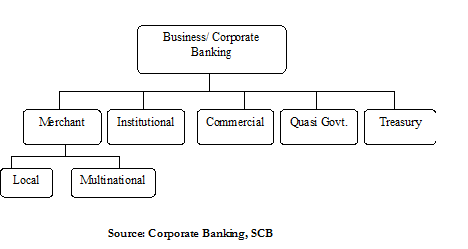 MERCHANT BANKING
SCB is recognized as the leading financial institution in corporate finance services in Bangladesh. A professional management team caters to the needs of its clients and provides them with a wide range of financial services some of which are project financing and investment consultancy, syndicate debt and equity, bond and guaranties, local and international treasury products.
INSTITUTIONAL BANKING
The IBG of Standard Chartered Bank offers a wide variety of products and services to the different fund based organizations like donor agencies, NGOs, voluntary organizations, foreign missions, airlines, shipping lines and their personnel. It has global links with leading banking institutions, local banks, financial institutions and agency arrangements through its network of offices in 40 countries. The bank offers a full range of clearing, payment, collection and import-export handling services. The bank offers foreign missions, voluntary organizations, consultants, airlines, shipping lines, and their personnel the following financial services:
► Current accounts in both Taka and other major foreign currencies.
►Convertible Taka accounts (these funds are freely convertible to major international   currencies.
► Local and foreign currency, remittance, etc.
The verities of financial products offered by this department are:
Vostro Accounts – IBG, Bangladesh maintains Vostro Accounts of banking and financial institutions worldwide. Customers maintaining such accounts can remit funds throughout the country through the Standard Chartered Group's branch network as well as through – the Group's local correspondent relationships.
Nostro Accounts – In order to increase and promote the correspondent banking business worldwide, IBG uses Nostro accounts to Bangladeshi banks and financial institutions in almost all Es panning the Standard Chartered Group's global network.  Group branches and subsidies provide full clearing and payment services in the UK, USA, Hong Kong, Malaysia, Singapore and many African countries.  Worldwide payments services are facilitated by a network of branches supported by electronic cash management (available in select locations), fund transfer system and membership of SWIFT.
HANDLING OF TRADE FINANCE BUSINESS
International Banking offers the full range of services available under Trade Finance to its customers.  The Standard Chartered Group's network in China, the Far East, the Middle East, the Indian sub-continent, Africa, UK and USA makes SCB the natural choice of correspondents for advising, confirming, and negotiating their letters of credit in these territories.
COMMERCIAL BANKING
SCB offers different commercial banking facilities to all commercial concern specially those with particular involvement with import and export finance. It provides the finance facilities like trade finance facilities including counseling, confirming export L/Cs, and issue import L/Cs backed by its international branch and correspondent network. It also provides bonds and guarantees, investment advice, leasing facilities, project finance opportunities.
QUASI GOVERNMENT BANKING
The quasi government service of SCB helps the government by providing different financial service like efficient and knowledgeable management of trade business (import & export), skills in barter, swaps and counter trade deals. In addition, the opportunity of debenture finance for new projects, possibilities of hard currency loans and lease deals, the opportunity of syndicated hard currency, financing of loans and import L/Cs, highly efficient account management and remittance handling within country or abroad.
TREASURY BANKING
The foreign exchange and money market operation of the Standard Chartered Bank in the world is extensive.  Exotic currencies happen to be one of its specials areas of strength. A 24 hour-service is provided to customers in Bangladesh through the rd Bank's network of dealing centers placed in the principal of the world.  The Bank's treasury specializes in offering solutions to who wish to manage interest rate and currency exposures that result from trade, investment and financing activities of other dynamic economies of the region. Treasury operations are developed in line with changing market conditions to Y'-! the best services to its customers.  According to BAFEDA (Bangladesh Exchange Dealers Association), Standard Chartered Bank presently controls 42% of the local foreign exchange market's traded volume.
CONSUMER BANKING
The bank is divided into several divisions and business units, which are also further sub-divided. The divisions are mainly based on some service lines designed for and provided to targeted customers, other divisions and units are there to support the business activities of the major two divisions namely the corporate banking division and the consumer banking division. The organogram of Standard Chartered Bank in Bangladesh is given below
The organization structure of Standard Chartered Bank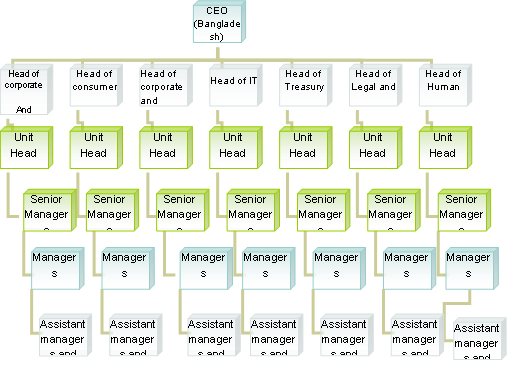 Superior retail banking services comprising a wide range of deposits and loan products are offered by Standard Chartered Bank to its individual customers through consumer banking. This division constantly faces challenges and meets them by developing new products and services to fulfill the specific requirements of local and foreign customers. The consumer banking division provides the following services through the numerous branches spread throughout the country.
Personal Banking
Private Banking
Customer Finance
Investment Management
Wage Earners Services
Locker Facility
Each of the branch of Standard Chartered Bank work independently towards a common goal set by the management of the bank. Each of these branches is arranged according to the customer base of the branch and their banking needs. The Banani branch where the internship took place is no exception in this regard. The organogram is as follows: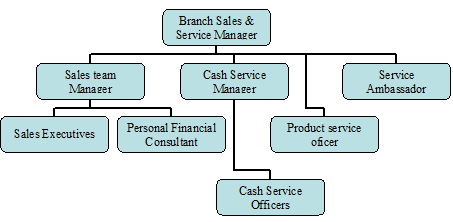 The Branch Sales and Service Manager (BSSM) is responsible for the performance of the whole branch. The BSSM has to report to the head of Shared Distribution: Consumer Banking for the customer service quality and achievement of the sales target set.
The Cash Service Manager is the second most important person of the consumer banking division. The CSM is in charge of the cash officers.
The Sales Team Manager reports to the Branch Sales and Service Manager. He or she is responsible for providing the customers with their non-cash banking services. His or her responsibilities include, account opening, loan selling, enquiry meet up, customer problem solving regarding their accounts. He or she has the Personal Financial Consultants and the direct and branch sales executives to help in this aspect.
The Service Ambassadors also provide enquiry services to the consumers. They also are in charge of the locker facility. Locker opening, closing, providing locker services are part of their job in addition to the services required by the BSSM.
The product service oficer deals with the credit cards. All the credit card related queries are handled by the Credit Service Ambassador. They are responsible for issuing new cards, increasing credit limit for the cards, issuing card Cheque books, resolve other credit card related problems of the consumers. He or she has to directly report to the BSSM and the head office at the cards division.
By working in coordination and proper administration, the branch or the consumer banking division is run. Through the employee's concerted effort the specific division of the bank is properly run.
CORRESPONDENT BANKING
The International Network Service (INS) department offers its correspondent customers:
Current account services where Taka settlement is necessary.
The ability to issue bonds and guarantees in support of their customers business.
Advising of L/C and negotiation of documents
Market intelligence and status reports.
Inter branch transactions facilities
Risk exposures
PHONE BANKING
This department gives the following services:
ü    Operations of accounts over the phone
ü    Transfer of money between accounts
ü    Order Cheque books, account statement
ü    Any kind of query related to banking transactions
OTHER SUPPORT SERVICES
For providing all these services to customers efficiently, the bank undertakes some other necessary support services, which are described below:
CUSTODIAL SERVICES: THE EQUITOR
Headquartered in Singapore, SCB equitor fulfils the group's strategic commitment to the provision of custodial service in Asia. Equator's customers are primarily foreign global custodians and broker/dealer requiring cross border information as well as sub-custodian services. SCB, Bangladesh is responsible for the planning in Bangladesh, but the overall management of the custody business is based on Equitor's international business strategy. Clients are offered a customized and comprehensive range of products and services, which include:
ü    Custodial services
ü    Brokerage, clearing and settlement services
ü    Securities lending
ü    Foreign exchange
ü    Transfer agent for institutional debt and equity offerings
ü    Delivery, receipt, settlement, registration and physical safe custody of securities
OPERATIONS DEPARTMENT
   This department helps to run the businesses of the bank in a smooth and controlled manner. They deal with the closing and opening of different types of accounts and other payments and accounts related processing of the Personal Banking division. Moreover, they also deal the processing works of the treasury division. Following are the main functions of the operations department:
Central operations deals with the closing and opening of accounts and other payments and account related processing of the Personal Banking Division.
Treasury operations help to deal with the processing works of the treasury division.
Loan Administration Unit (LAU) deals with the processing of the Corporate Banking division.
FINANCE, ADMINISTRATION AND RISK MANAGEMENT
This department performs the following activities:
Administration, audit and back office operation.
Taking care of taxation and financial control of the Bank.
Keeping track of overall credit operation.
Quality Control and Inspection
It is an important function of the Group's management to provide quality services to customers and maintaining a good image.  Recently, the custodial and clearing division of the Group, the Standard Chartered Equitor, was the first financial institution in Bangladesh to be awarded the ISO 9002 accreditation. It received the recognition for Equitor's quality system, excellence in the provision of custodial services and safekeeping, registration, settlement and corporate actions.
INFORMATIONAL TECHNOLOGY (IT) DEPARTMENT
This department helps to maintain communication with the different branches operating in Bangladesh as well as those that are operating outside Bangladesh. They are also responsible for maintaining the overall computerized system, such as Commercial Banking System (CBS), of the bank. They have a technical support team who solve all types of technical or system failures.
 HUMAN RESOURCE DEPARTMENT
This department manages recruitment, training and career progression plan.  Standard Chartered Bank highlights the importance of developing its people to create a culture of customer service, innovation, teamwork and professional excellence. Details of the activities and policies of the department are discussed in a later section.
Personnel Policies
The number of staff members employed by Standard Chartered Group is nearly 600.  The number of officers exceeds the number of clerks, which is in stark contrast to local banks specially the NCBS.  The Standard Chartered Group pays great attention to recruiting high quality staff through proper evaluation and improves their skills through structured training. Reward and punishment based on strict performance evaluation and opportunities of promotion both nationally and internationally, are two important features of the personnel policy of Standard Chartered Group.
Recruitment, Training and Career Progression in Standard Chartered Group
The recruitment process is based on references, advertisements and internships.  Entry point screening is done by both a written and an oral test.  The medical record of the potential employee is very important and ones suffering from potentially life threatening and performance deterring diseases are not hired, even if they were other wise qualified.  The placement of the staff is done in two ways.  Either he/she undergoes a "management trainee" program with a probation period of nine months and is categorized as an officer leading to various managerial jobs, or he/she is recruited at a non-management level as banking assistants / support officers.  There is a structured training framework for all the employees, and a channel for moving people from national to international positions.  International graduate recruitment and personal skills development for entry-level employees are a part of the human resource development efforts at Standard Chartered Group.  Additionally there is an MBA program, courses at noted business schools, and incentives for self-development.
Controlling and Firing of Employees
Performance monitoring is continuous and strict at Standard Chartered Group. The average number of working hours in a week is between 42 to 55 hours.  The employees have daily assignments and are required to clear them by the end of the day.  The superiors monitor the subordinates, which is facilitated by the seating arrangement in the office.  Control mechanisms involve budgeting, rewarding, punishing, incentives, benchmarks, etc.  If the offence of the employees is not too strong, he/she is warned prior to the firing process.  Reasons for firing may involve: lack of efficiency, not performing to the level of satisfaction, breaking the Code of Conduct set by the organization, etc.
Advancement and Promotion
The advancement and promotion of a staff is based on performance.  An annual appraisal of staff is done at the end of the year where the assessment is based on fulfilling the SMART objectives, which is rated. The assessment process involves eight steps.  It begins with individuals rating a self-assessment form and at one point the manager obtains an overall performance from the ratings of the individual as well as consultation with his own superior.
Employee Benefits:
The employees are paid according to their rank and status in the bank.  The remuneration package is comparable to other leading foreign banks. The basic benefits that are provided to the staff members are briefly stated below:
Incentive Plans: Incentives are totally based on performance.  It is assessed by an annual appraisal of the employees.  After it is done, if an employee reaches a certain level of achievement then he/she receives a bonus.  Another incentive plan of Standard Chartered Bank is the "Spot Bonus." If an employee performs exceptionally well for the interest of the bank, the bonus is awarded on the spot for the achievement.
Finally, there is another type of incentive called the "Bonanza," although it is not considered as part of the employee benefits.  The incentive plan is activated under special circumstances.  For example, recently a deposit drive was activated in the bank and 42 staff members were awarded free air tickets as they managed to attain a certain level of deposits.
Pension Plans: The Bank does not have any pension plans for the employees.
Number of Paid Holidays: Standard Chartered Group allows 45 days paid holiday in a year for each employee.
Insurance Policies: Employees enjoys excellent medical insurance policy, but both the banks do not cover all its employees with life insurance.
Bonuses: SCB give bonuses to its employees twice a year in the two religious festivals of the country, namely the two Eids, apart from the performance-based bonuses mentioned earlier.
Recreation Facilities: The employees can play cricket in one of the major clubs of the country and the Bank pays the club fees.
Legal & Compliance Department
In the UK, Standard Chartered Bank is regulated by the Bank of England, while in Bangladesh local banking laws regulate it and rules set by the Ministry of Finance and Bangladesh Bank. It also encourages its staff to conform to an internal culture of ethical behavior and sensitivities to the culture and religion of the country.
Some of the key areas that the Legal & Compliance department has to take care of are: any kind of legal issues, to advise the CEO regarding all matters and the management on legal and regulatory issues, correspond regulatory compliance issues to MESA Regional Head of Compliance, and supervise internal control (e.g. internal audit).
External Affairs Department
This department deals with the advertising and promotions of the products and services offered to the customers. Moreover, it also maintains public relations and organizes public meetings in every quarter in a year.
Credit Department
The credit department approves the loans of Corporate Banking division.  The approval is mainly based on the risk analysis of the corporate clients done by the Corporate Banking division. This is a small division headed by Senior Credit Officer. The main function is monitoring credit facilities granted by the corporate banking unit. Its function is to make sure that credit has been provided in a right manner. This department ensures that internal controls of the corporate relationships are maintained. It is also responsible for providing MIS reporting of the corporate banking group. Moreover, for monitoring purposes there are different types of tools:
Early alert reporting
Additional review
Log sheet accounts
Excess monitoring
Transactional monitoring
Social Welfare Activities Department
Standard Chartered Bank believes in the interdependence of world communities and hence the need of investing in community welfare.  In Bangladesh, Standard Chartered Bank is a corporate sponsor of the Young Learners' Center in Dhaka and Chittagong, which were started by the British Council.  It is also involved in Fresh Water for Slum Area project with a major NGO.
PRODUCTS INFORMATION     
Standard Chartered Bank, a leading & outstanding foreign commercial bank in the arena of banking business, comes from the two original banks from which it was founded The Chartered Bank of India, Australia & China and The Standard Bank of British South Africa. To all intents and purposes, its on time delivered service to the customers as demand is considerably better than others. By means of day to day customer service, the customers are being well-informed concerned with its contemporary and up – to –the- minute invented products easily. It also thinks that Customer Care brings perfection to a bank and believes that effective Customer Care strengthens the product knowledge in to customer's mind more positively and precisely.
            My report topic is about Alternative Channels of Standard Chartered Bank. For this purpose firstly I have discussed about the services or channels (CallCenter, ATM, BillsPayCenter and iBanking) of SCB now I am going to discussed about the Branch Banking of SCB. Branch banking services provide to the customers through SCB's product. So I discuses about product information of SCB as follows:
CURRENT ACCOUNT
Individuals:
Resident Bangladeshis, Non-resident Bangladeshis, Foreign Nationals resident in Bangladesh.
Non– individuals:
Sole Proprietorships, Registered Partnerships, Unregistered Partnerships, Public Limited Companies, Private Limited Companies, Clubs, Associations, Societies, Charities, Nationalized Organizations, Autonomous Bodies, NGOs.
Resident Bangladeshis:
Anyone can open an account. It is to enclose the following things for opening account.
Copy of passport / Voter ID card / Driving License / Utility Bill (If the residence address is mentioned in AOF in pursuance of residence address mentioned in passport, then Voter ID card / / Utility Bill / Driving License will not be needed.)
Photographs of applicant and the nominee (Introducer will sign behind the photograph of the applicant and applicant will sign behind the photograph of nominee.)
RFCD Account:
Person ordinarily resident in Bangladesh may open and maintain RFCD A/C, even foreign nationals who residing in Bangladesh for more than six months.
Minimum Opening Balance:
Minimum balance required – USD. 1,000 or GBP. 500 or equivalent. No interest to be accrued if the balance falls below the minimum amount. Interest rate is based on international market rates and Bangladesh Bank guidelines – to be advised by Global Markets to all branches from time to time.
Non-resident Foreign Currency Deposit (NFCD):
A short-term foreign currency deposit account suitable for Bangladeshis living abroad, offering most competitive interest rates available in both local and international markets. Other features include:
Interest paid in Foreign currency
Can be opened for a term of 1 month, 3 months, 6 months or 12 months
Interest rates are tiered (based on amount and term)
Interest payable on maturity
Automatically renewable (with or without interest)
Can be used as security against personal/ commercial loan
Remittance in both Lcy and Fcy to any place in and out of the country
Non–Individuals:
Sole Proprietorship:
A sole proprietary concern is a business carried on by an individual owner in his own name or a trade name. While lending to a sole proprietorship, the banker should take a declaration from the owner that he is the sole proprietor and no other person has any interest in the business as partner or otherwise. He should also state that he, as the sole proprietor, will be personally liable for all dealings and obligations in the name of business. It is to enclose the following documents for the purpose of account opening.
Copy of Trade License.
Photograph of Signatory.
Photocopy of the passport of the proprietor.
Sole Proprietorship Declaration.
It is to attach Signature Card if there are more than 4 signatories.
JOINT ACCOUNT:
A joint account is a bank account conducted in the name of two or more persons, who are neither partners nor administrators nor executors nor trustees. It is necessary that before opening an account in joint names, signatures of all should be obtained with clear instructions as to who will operate the account or to whom money will be payable in case of death of any one or more of the joint account holders. In case, written authority signed by all is not taken, the money is jointly payable to the survivors and legal representatives of the deceased. In case of insanity of any one of the parties, original mandate given by them is revoked. In case all sign checks jointly and any one dies or the check is signed by a person or persons and who had been delegated the authority, the authority to operate is revoked.
CLUB, ASSOCIATION, SOCIETIES, SCHOOL, COLLEGES:
Clubs, schools, societies etc. are non-trading concerns formed for charitable, cultural, scientific, recreational, educational and similar other purposes, in the advancement of literary, scientific, cultural, educational and recreational pursuits. They do not have legal entity unless
registered under the Societies Registration Act or some other Act and as such, can not be sued for any contractual liability. Ordinarily, these instructions have no inherent powers to borrow. Bankers do not favor making advances to such instructions, because the operators of such accounts will not be personally liable for the advance made by the bankers to their accounts since the members would have entered into contracts only in their representative capacity. If at all any advance is made to such instructions, the banker should obtain personal guarantee of the operators of such accounts and the members of the Governing Body, Executive/Managing Committee etc., in addition to the usual documents necessary therefore. Legal advice should be taken before considering such a proposal in regard to execution of documents.                                                     
PARTNERSHIP
A partnership is the creation of a contact between persons and it is by virtue of this contract that they associate themselves with a business. Partnership as defined in section 4 of the Partnership Act. 1932 is
"The relation between persons who have agreed to share the profits of a business carried on by all or any of them acting for all"
The essence of a partnership is the sharing of profit; it is a compulsory element though not a conclusive evidence. The persons who have entered into partnership are individually called as 'Partner' and collectively a 'Firm' and the name under which they trade is called the 'Firm Name'.
The three essential ingredients of a partnership are as follows:
There must be an agreement (written, verbal, or implied) between the persons concerned.
The agreement must be to share the profit of a business. (Business includes every occupation, trade and profession)
The business must be carried on by all or by any of the person's concerned acting for all.
LIMITED COMPANY:
It is to enclose the following documents for the purpose of account opening.
Certified true copy of the Memorandum and Articles of Association of the Company.
Certificate of Incorporation of the Company for inspection and return (along with a duly certified photocopy for Bank's records)
Extract of the Resolution of the Board/General Meeting of the Company for opening the account and authorization for its operation duly certified by the Chairman of the Company.
Photocopy of Passport of the Chairman / Managing Director.
Photographs of Signatories.
Certified true copy of the list of Directors of the Company (Form IX).
Copy of Trade License.
NB: Current account is for any one who engages in frequent transactions.
Characteristics:
Non interest bearing account.
To withdraw how many times the accountholder wishes.
It is for daily transaction.
Over Drafts (OD) are given on the Current Account for loan facilities. Currently there is only one OD facility for individuals: Cash Line OD. For organizations, they can avail OD facility in their current account. These facilities are part of the corporate arrangement outlined in their Business Credit Application (BCA) and agreed to in their Banking Arrangement (BA) letter. Interest is applied on the utilized part of the OD facility.
To provide ATM (Automated Teller Machine) card (Only for individuals but not for corporate account. In the proprietorship ATM can be issued by the name of proprietor).
To provide Cheque Book.
Opening balance is BDT. 50,000.00
Facilities:
No ledger fee.
Free phone banking.
Transaction fee is free up to 7th transaction.
ATM card and Cheque Book are delivered instantly if the customer chooses "Welcome Account". But in this case ATM card and Cheque Book will be provided without the name of the account holder.
Inter city transaction fee up to BDT. 1, 00,000.00 is free.
No fee on opening balance.
SAVINGS ACCOUNT
Individuals:
Resident Bangladeshis, Non-resident Bangladeshis.
Organizations:
Organizations are not able to open savings account.
NB: It is for any one who has will to save money in order to get interest.
Characteristics:
Interest bearing account.
To withdraw two times in a week during banking period.
It is for savings.
To provide ATM (Automated Teller Machine) card.
To provide Cheque Book.
Opening balance is BDT. 200000.00
Facility:
No ledger fees.
Free phone banking.
No monthly fees.
ATM card and Cheque Book are delivered instantly if the customer chooses "Welcome Account". But in this case ATM card and Cheque Book will be provided without the name of the account holder.
Inter city transaction fee up to BDT. 1, 00,000.00 is free.
No fees on opening balance.
No prior notices to withdraw money.
Interest Rate:
| | |
| --- | --- |
| Balance Amount | Interest Rate |
| Balance below BDT. 1,00,000.00 | 0.00% |
| Balance between BDT. 1, 00,000.00 – BDT. 10,00,000.00 | 2.75% |
| Balance above BDT. 10,00,000.00 | 3.00% |
Fig: Interest Rate of Savings Account.
Extra Value Savings Account:
Extra Value Savings Account (EVSA) is a high-powered savings account targeted to people with a higher disposable income. It has all the features and benefits of the savings account and a few extra benefits available for EVSA.
EVSA provides the customer with big discounts on service charges of lockers, pay orders, demand drafts, and issuance of foreign currency and even entitles the customer to preferential rates on SCB's overdraft facilities. At the same time the customers earns competitive interest rates on customer's saving deposit and enjoy discounts on food and shopping at selected merchant outlets on display of the EVSA ATM card. In combination, these features easily make EVSA the most profitable savings account available.
Benefits:
Free personal accident insurance coverage for one year.
A withdrawal limit of BDT. 40,000.00 on ATM Card.
50% discounted service charges on payment orders and demand drafts.
50% discounted service charges on issuance of foreign currency and Traveler's Cheques.
50% discount on service charges of lockers.
.50% discount on offered rates of overdraft facilities.
Free personalized 25-leaf chequebook.
Free phone-banking services.
ACCESS ACCOUNT
Access account is an account in which only ATM Card is issued and using only ATM card the transaction is continued. Only the individual person can open this account
Characteristics:
 Interest bearing account only if the balance exceeds BDT. 100000.00.
It is maximum for payroll.
To provide ATM (Automated Teller Machine) card.
Opening balance is BDT. 20,000.00
Facilities:
No ledger fees.
Free phone banking.
No monthly fees.
ATM card and Cheque Book are delivered instantly if the customer chooses "Welcome Account". But in this case ATM card and Cheque Book will be provided without the name of the account holder.
Inter city transaction fee up to BDT. 100000.00 is free.
No fees on opening balance.
No prior notices to withdraw money.
FIXED DEPOSIT
When money deposited by a customer is not repayable on demand and is payable only after the expiry of a specified period from the date of deposit or after a specified period of notice, such deposit is called a Fixed Deposit.
Repayment:
Usually advances against fixed deposit receipts are automatically adjusted on maturity from the proceeds of the deposit receipts. If, however, repayment is made before due date, the deposit receipt is returned to the customer after cancellation of the discharge thereon. All notes of lien taken in the deposit register and ledger are also cancelled.
Documents:
Demand Promissory Note.
The Fixed Deposit Receipt duly discharged on revenue stamp by the depositor and pledged to the bank.
Letter of authority duly signed by the depositor in favor of the bank to adjust the advance from the proceeds of fixed deposit on maturity for liquidation of loan or overdraft account.
Letter of continuity (in case of over draft only).
Letter of lien executed by the depositor. This generally contains the clause of set-off.
MILLIONAIRE SCHEME
This is a fixed term savings scheme. Customer can buy any number of Millionaire Scheme. As a matter of fact customers mainly do this thinking their future. The customer can not be said as millionaire when he / she opens this with BDT.1 Lac.
 Just after 5 years and 9 months, he can be declared as millionaire.
Terms & Conditions:
This is a fixed term savings scheme. Customer can buy any number of Millionaire Scheme.
The scheme requires an initial deposit of BDT. 1, 00,000.00 which will be followed by monthly installment of BDT. 10,000.00 till maturity.
The scheme is for 5 years 9 months and 10 years.
It will be non-transactional account where interest will accrue on daily basis and will be credited on monthly basis.
The sign-up fee for the scheme will be BDT. 2,500.00.
If any customer desires to discontinue the scheme prior to maturity, a penal fee @ BDT. 5,000.00 will be deducted from his account and the balance proceeds (calculated on the amount incorporating the last interest credit amount, the fraction days will not be considered) will be credited.
Failure to make three consecutive installments will result in immediate closure and a penal fee @ BDT. 5,000.00 will be charged.
In case of forced closure (non – payment of three consecutive installments) before 1 year, a penal charge @ BDT. 7,500.00 will be charged.
The interest rate applied on the collection unit will be 3% higher than the rate offered on the scheme account.
If there is any income tax payable under the scheme, it will be deducted from the amount payable on the account holder.
SCHEDULE OF TENURE AND TERMINAL VALUES FOR ONE UNIT:
| | | | | | |
| --- | --- | --- | --- | --- | --- |
| Tenor | Initial Deposit | Monthly Savings | Total Payment By Customer | Profit | Value at Maturity |
| 5 years 9 months | 1,00,000.00 | 10,000.00 | 7,90,000.00 | 2,29,429.00 | 10,19,429.00 |
| 10 years | 1,00,000.00 | 10,000.00 | 13,00,000.00 | 8,96,631.00 | 2,196,631.00 |
Fig: Schedule of Tenure and Terminal values for one unit
Education Savings Scheme:
The Education Savings Scheme gives the customer the opportunity to create long term wealth for their children. Through this scheme the customer can invest part of his/her monthly income in equal monthly installments and at maturity the customer will be rewarded with a handsome amount that the customer will be able to use to defray any expenses that the customer may have to incur.
Convenient:
Unlike the other banks in Standard Chartered the customers do not require to come to the bank or send someone to deposit the installments. Installments will be deducted automatically from any transaction account that you will be required to maintain with SCB.
Features:
This is a fixed term savings scheme to be sold in units.
Customer can buy any number of units.
The scheme requires an initial deposit Tk. 10000.00, which will be followed by monthly installment of Tk. 1000.00 per unit.
The scheme is for 3 years, 10 years, or 15 years.
It will be a non transactional account where interest will accrue on daily basis and will be credited on monthly basis.
The sign – up fee for the scheme will be Tk. 250.00 per unit, with a minimum of Tk. 500.00 and maximum of Tk. 2000.00.
 If any customer desires to discontinue the scheme prior to maturity, a penal fee @ Tk. 250.00 per unit (with a minimum of Tk. 500 and maximum of Tk. 5000.00) will be deducted from the account and the balance proceeds (calculated on the amount incorporating the last interest credit amount, the fraction days will not be considered) will be credited to his transaction account.
Failure to make three consecutive installments will result in immediate closure of the scheme and a penal fee @ Tk. 500.00 per unit will be charged.
In case of forced closure (non payment of three consecutive installments) before 1 year, a penal charge @ Tk. 2000.00 per unit will be charged.
The interest rate applied on the collection account will be 3% higher than the rate offered on the scheme account.
Schedule of Tenure and Terminal values for one unit:
| | | | | | |
| --- | --- | --- | --- | --- | --- |
| Tenor | Initial Deposit | Monthly Savings | Total Payment By Customer | Profit | Value at Maturity |
| 3 Years | 10,000.00 | 1,000.00 | 46,000.00 | 51,751.00 | 51,751.00 |
| 5 Years | 10,000.00 | 1,000.00 | 70,000.00 | 67,274.00 | 83,070.00 |
| 10 Years | 10,000.00 | 1,000.00 | 1,30,000.00 | 67,274.00 | 178745.00 |
Fig: Schedule of Tenure and Terminal values for one unit
LOAN
Standard Chartered Bank has been operating in the country for a long time and they have performed really well. This can be easily inferred from the fact that right now Standard Chartered Bank is the largest foreign commercial bank operating in the country with the largest network of modern banking facility. They have been able to achieve this status with the help of their wide array of consumer credit schemes. These are as follows,
Table-2.1
Loan Products
| | |
| --- | --- |
| Personal Loan for Consumers | Flexi-loan |
| Auto loan | Business Installment loan |
| Mortgage | Cash line |
Source: Standard Chartered Bank
Loan products are a key component of the banks assets of the balance sheet. Below the several loan products of the bank have been discussed briefly except for personal loan for consumers which have been discussed in detail as it is the topic on which the undertaken study is based on.
AUTO LOAN
Auto loan from standard chartered bank is a loan facility that has been custom designed to own a car by the customer. This offers a very flexible and affordable loan with easy repayment options.
In Bangladesh varieties of people dwell with varying income level. Keeping this view in mind the loan facility is provided to different peoples.
Features
I.          The cars for which the loan is provided are the brand new car, reconditioned car and the second-hand car.
II.        The loan applicant's minimum gross monthly income should be BDT 30,000. and BDT 25,000 for corporate executive clients.
III.       Loan amount can be extended up to 75% of the car value.
IV.       Interest rate applicable is 13%.
V.        The maximum loan tenure is 60 months.
VI.       Repayments are to be made by the equated monthly installments applicable.
VII.     Loan processing fees are also applicable according to the loan amount.
VIII.    Customers maximum age should be 65 years.
MORTGAGE
The mortgage or the house loan is another product offering of the Standard Chartered Bank that helps to purchase new home, renovate it or refinance the existing home of the customers. The requirements and characteristics of the loan are as follows,
Features
I.          The applicant should have at least three years of service or professional or business track record.
II.        The minimum age for availing the loan is 30 years.
III.       The maximum age is 60 years or retirement age (whichever is earlier).
IV.       The proposed property can be any leasehold residential property including purchase of second hand property.
V.        The interest rate applicable is 13.5% per annum.
VI.       The processing and documentation fee is 1.25% of the loan amount.
FLEXI-LOAN
Flexi-loan is a product or loan facility that caters to the emergency needs of the customers. It also lets the customer enjoy a higher standard of living while providing the customer convenience of repaying the loan over a maximum period of 60 months. Its characteristics include,
Features
I.          The applicant needs to be a citizen of Bangladesh.
II.        Minimum age of the applicant should be 23 years.
III.       Minimum earnings per month to avail the loan is BDT 12,000.
IV.       The applicant must have a bank account and needs to provide the bank statement for the last one year.
V.        The security amount here ranges from 30% to 100%.
VI.       The maximum loan tenure is 60 months.
VII.     The interest rate applicable is 13% to 15% depending on the security.
VII.     The processing fee is 1% of the loan amount or BDT 2000, whichever is higher.
 CASHLINE
Cashline is a secured credit facility against fixed deposits, ICB unit certificates. The loan applicant can borrow up to 90% of his/her security value. It is a perfect solution when all the customers' liquid money is tied up in investment. Its characteristics include the following,
Features
90% of the security value can be taken as loan.
Maximum loan tenure is 60 months.
Two types of cashline facility are extended.
Interest rate varies from 9.25% to 13%.
BUSINESS INSTALLMENT LOAN
The business installment loan (BIL) which has now been renamed as SME banking is loan facility provided to the businessman to cater to their financing and other relevant business needs. However, valid trade license, TIN certificates are pre-requisites here in addition to steady revenue generation.
          PERSONAL LOAN FOR CONSUMERS
Due to its vast resources and affiliation with a strong parent company, Standard Chartered Bank is able to provide a wide range of products to its consumers. One such product offering among this range is the Personal Loan for Consumers (PLC). It is an unsecured loan offered to individuals for some given purposes and is to be repaid by equal monthly installments (EMI).
           TARGET MARKET
The target market for the loan has a wide range. They include,
Employees of reputed Local Corporate, Multinationals, NGOs, private universities, International aid agencies, UN bodies and Airlines.
Government Employees (Except for Defense Officials).
Self-employed Professionals (Doctors, Engineers, Chartered Accountants and Architects)
Businessman
However there are also some individuals who do not qualify for this loan. These include, Proprietorship Firms, Partnership Firms, Defense Officials, Mariners, Small Scale companies that are managed by family members, no management structure, unstable business and high turnover of employees. Example: Garments, Restaurants, Car Showrooms, Trading/Indenting Firms Etc. Again government Employees – Employees of BSCIC, Aged Officials close to their retirement are also not eligible for this loan.
           PURPOSE OF THE LOAN
The purposes of the loan are as follows,
House renovation·
Marriages of Primary Family Members.
Hospitalization or other emergency medical needs·
Trips abroad·
Higher Education·
Purchase of office equipment/accessories·
Purchase of miscellaneous household appliances.
Purchase of Personal Computers·
Advance Rent Payments
Purchase of flat / apartments
FEATURES OF PERSONAL LOAN
No cash security is required.
Minimum Loan amount is BDT 60,000
Maximum loan installment is 60 months.
Maximum Loan amount is BDT 1,000,000
Repayment Tenor of the loan is as follows,          
Table-2.2
Repayment Loan Amount
| | |
| --- | --- |
| Loan amount | Maximum  Tenor Allowed |
| 60000-99000 | 24 Months |
| 100000-249990 | 36 Months |
| 250000 – 499990 | 48 Months |
| 500000 > | 60 Months |
 Source: Standard Chartered Bank
CUSTOMER SATISFACTION, PROUCT & SERVICE DEVELOPMENT
Now a day, in modern banking, the main intention goes towards the customers and for the satisfaction of the customer's demands. For this reason new products as well as services have been implemented for the satisfaction of the customer. SCB launched several new products for this purpose.  SCB have some unique products in the market for which it is now the market leader in respect of providing services and implementing new products.A short description of some new arrival products of SCB are given below:
BUSINESS ACCOUNT
            Business account is the latest attraction for the customers who mainly operated current account for the business purposes.
The business account is a current account checking taka through which funds can be freely deposited and withdrawn by SMEs. Transactional requirements of SMEs, that is, collections and payments in the form of cash, cheque, pay order, demand draft and remittances can be performed through this account.
KEY FEATURES:
Higher Debit card withdrawal limit of BDT 50000 (Sole Proprietor only)
Full wavers on online intercity transactions.
Full wavers on over the counter transaction charge
Free issuances of cheque books
Account maintenance fee is applicable for only one account
Fast track services-

24hr ATM network
Online banking
Evening banking
Call Centre (Sole proprietor only)
iBanking(Sole proprietor only)
DOCUMENTATION:
Documentation required in opening the account includes:
Account opening form
Specimen Signture card
Standard terms and conditions
Mandate including board resolution for incorporated entities
Transaction profile
DOCUMENTATION FOR EXISTING CUSTOMERS:
Account opening form
Sign-up form (Business Account  Agreement Form)
Board Resolution for incorporated entites
REQUIRED OPENING BALANCE:
The required opening balance for the Business account is BDT 500000
CAN INTEREST BE EARNED IN THIS ACCOUNT?
Interest can be earned from the business account. The current account is linked to a STD account from which customers can earn interest on any idle funds on their daily balance.
The business account pays tired interest with higher interest being paid for higher balances in the STD account. Interest is accrued daily and credited to customers' account at half year intervals. Minimum interest earning balance is BDT 250000.
 RATE OF INTEREST FOR BUSINESS ACCOUNT:
Balance BDT 250000- BDT 999999 @ 2.5%
Balance BDT 1000000 & above @ 3.75%
 FEES AND CHARGES:
All product & services related charges other than those mentioned in (2) would be applicable according to prevailing Schedule of charges.
RESTRICTIONS ON THE MINIMUM AND MAXIMUM AMOUNT PER TRANSACTION:
There are no restrictions in the minimum and maximum amounts. Withdraws will be made from the current account. Any shortfalls in this account will be made up from the STD account. Thus as long as there is adequate balance I the STD account, any amount of withdrawal is possible.
CALL CENTRE
A CallCenter is a central place where customer and non-customer calls are handled by an organization, usually with some amount of computer automation. Typically, a call center has the ability to handle a considerable volume of calls at the same time, to screen calls and forward them to someone qualified to handle them.
OBJECTIVES
To provide cost effective alternate delivery channels to customers in order to attain service excellence in terms of:
24 / 7 one window service.
Convenience and easy accessibility.
Quality and Responsiveness.
Technology based solutions
Free of Charge
Standard Chartered Bank's 24-Hour Call Center is the easy answer to our customers' banking needs. No more queuing at branches and it's absolutely free.
                           NECESSITY-CALL CENTRE
Increasing Customer expectations-convenience, easy accessibility, responsiveness, 24 /7 one window service, and technology based solutions.
Alternate channel-divert calls from branch; reduce queues, resulting in enhanced branch service quality.
Feedback center of the bank-one point complaint center, effectiveness of marketing campaigns, response to new product and services.
Competitive edge-pioneer in introducing State-of-the-art call center with IVR service allowing financial transactions.
Introducing the latest addition to Standard Chartered Bank's wide range of services-our State-of-the-art call center, the first of its kind in the country. Whether you are an accountholder or a credit card holder, if you wish to pay your utility bills at the touch of a button, settle your credit card dues or simply enquire about your account, contract our call center 24 hours a day, 7 days a week. It isn't just basic functionalities (enquiries, duplicate statement request etc) anymore, in addition to all those services; the following financial transactions are now at your fingertips:
Credit card bill payments
Utility bill payments
Fund transfers within the same master
All above the transactions are made over Phone. All just a simple phone call away. No more standing in long queues or worrying about late payments. With the new StandardCharteredBankCallCenter, banking has never been easier.
To enjoy one stop banking solution just dial 8961151/0173041400-19.
HOW TO APPLY FOR PHONE BANKING:
     To avail SCB's call center services, a bank account holder (liability or asset) has to complete the "Call Center Form" available at all branches. The application is forwarded to Account Services for generating TIN (Telephone identification Number). The customer can collect his/her desired branch after two working days from the day of submission of the application.
    For Credit Card customers, the TIN is generated over phone. The cardholder contracts the CallCenter after the necessary security checks have been conducted, generates the TIN himself/herself. Process is stated below
Call 8961151/0173041400-19
Press 1 for Bangla or 2 for English
Press 2 for Card Services
Press 3 to generate a new or forgotten TIN
Call will be forwarded to CSR (Customer Service Representative). After verification, Customer call will be sent back to IVR to generate the 4 digit TIN.
The over all function is to generate Credit Card TIN, which is generated just press 123 or 223 over Phone.
A TIN will remain valid even if it is not used for any period of time
In case of replacement TINs, the previous TIN is deactivated automatically when the new TIN is generated.
  SERVICES OFFERED:
The Call Centre has two components. The automated system IVR (Interactive Voice Response) and the human interface CSRs (Customer Service Representatives). The CSRs are divided into two units: Branch Banking and Credit Cards. The services are provided through both IVR and CSRs as detailed below:
SERVICES OFFERED THROUGH IVR:
IVR services are divided into Financial and Non-financial transactions.
       IVR NON-FINANCIAL TRANSACTIONS:
Balance inquiry
Transaction details
Duplicate statement request
Cheque book request (only for liability accounts)
Online TIN generation (only credit cards)
Existing TIN change
Currency and Deposit rates (USD, GBP, Euro, Yen, AUD and CAD)
Product information (Banking accounts, Personal loans, Auto loans, Credit cards, Flexi loans, Priority accounts and small & medium enterprises)
Forms by fax
INTERNET BANKING
iBanking or Internet Banking is a simple, hassle-free and secure internet banking service  available to all Standard Chartered Bank customers in Bangladesh.
Standard Chartered Bank's Internet Banking service is the fast and easy answer to the financial management needs of its customers, allowing them to bank from wherever they are, whenever they desire, in total security and confidentiality. No more queuing and it's absolutely free.
SCB's Internet Banking offers instant access to a wide range of online banking services and the latest promotions. Because it has been designed for speed and easy of use, it takes only a few minutes to complete a banking transaction or get up to date account details. iBanking is a convenient, user friendly way of staying informed and in control of one's account from anywhere in the world.
OBJECTIVE:
To provide simple, hassle-free and secure Internet banking service available to all Standard Chartered Bank customers in Bangladesh.
Attain service excellence in terms of:
Easy 24 hour accessibility
Security
Convenience
Quality
Technology based structured solutions
  WHO IS ELIGIBLE FOR IBANKING ACCESS:
All consumer-banking customers (including Credit Card only customers) with the exception of the following are eligible for iBanking:
Customer with a company account
Where the mandate to operate is "Jointly or Both"/ "Jointly or all" and the customer doesn't have any other relationship with the bank.
Customers having convertible accounts
PRIORITY TREATMENT
At Standard Chartered, we recognize your need to maximize your financial growth and security without compromising those things which are important to you. From family to business to one's own personal growth, we make everything you value our priority. Which is why we would like to introduce you to Priority Banking. A highly personalized banking service that accords the highest level of attention, benefits and privileges to you, your family and your business.

HIGHLIGHTS
| | | |
| --- | --- | --- |
| | | A dedicated Customer Relationship Manager to help you plan, build and protect your wealth |
| | | A wide range of solutions for your different financial needs |
| | | We will help you take advantage of opportunities beyond your shores with International Banking |
| | | Global usage of Priority Banking Centres and its amenities |
At Standard Chartered, we believe that you should be accorded priority status wherever you go. As our Priority Banking customer, you enjoy the expertise of a dedicated Customer Relationship Manager and the support of a highly specialized team of financial experts to plan, build and protect your wealth. In addition, you'll also enjoy a wide range of personalized and exclusive services reserved for those with your distinctive status. This includes complimentary limousine service and invitations to exclusive networking events plus international services across our international network of 500 offices across 50 countries.
          You want the very best for your family. As our Priority Banking customer, your loved ones will benefit from your privileged status:
| | | |
| --- | --- | --- |
| | | Priority Banking Scholarship for your children |
| | | Honorary Priority Banking status for your family members |
| | | Invitation to many leisure events/workshops |
As someone with exacting business standards, you rightly expect the best from your bank. That's why you can rely on Standard Chartered to being your reliable and professional business partner. So, we've made it our priority to treat you and your business as one by extending Priority Banking benefits to you. From dedicated financial services and lifestyle privileges befitting your status to exclusive invitations to networking events like investment talks, forums and seminars. The perfect networking opportunity to extend your circle of influence where it matters.
                As our Priority Banking customer, you will have a dedicated Customer Relationship Manager to help you grow your wealth, manage your credit, and protect all that you value for now and the future. So how do we do it?
A wide range of solutions for your financial needs
We have a comprehensive range of services and products to fulfill all your financial needs.
Standard Chartered Premium Currency Deposit gives you substantially higher interest rates than a regular time deposit. Our Treasury specialists can assist you with customized strategies to enhance your returns. Select from the wide range of currency pairs available, for example Australian Dollars vs. US Dollars, Euro vs. US Dollars, Australian Dollars vs. Singapore Dollars and more.  Principal Protected Currency Deposit
With our Principal Protected Currency Deposit, you can earn potentially higher interest based on strategies customized to your views of the currencies, with your principal protected.  Bonds
You can select from our range of bonds issued by well-established and reputable organizations worldwide to enhance your returns. Tenures typically run from 1 to 10 years.  Unit Trusts
Standard Chartered is a recognized leader and the largest third party distributor of funds. Tapping on the expertise of reputable fund houses, we bring you a wide range of investment .
OUR EXTENSIVE NETWORK

Standard Chartered Priority Banking is available across an extensive network. So, whether you are on the move or at home, you can be sure of constant access to the most privileged levels of personalized banking in our branches around the world.
| | | |
| --- | --- | --- |
| | | Global usage of Priority Banking Centers and its amenities, e.g. free use of Priority Banking lounge, access to Internet, wide range of magazines, etc. |
| | | Discounted banking service privileges for foreign currency exchange, traveler cheques and telegraphic transfer etc issuance. You can enjoy the benefits like a local Priority Banking customers. Privileges may differ across countries. |
| | | Emergency cash of USD1,000. This service is now available in China, Hong Kong, Singapore, Malaysia, India, Indonesia and Brunei. It allows you, our customers traveling to these countries to have peace of mind knowing that should you lose your personal belongings when traveling to these countries, you can visit any of our selected Priority Banking Centers to withdraw cash of up to USD1,000 |
GLOBALOFFERINGS

leveraging on the global presence of Standard Chartered, you can now enjoy the comfort and convenience of our Priority Banking Centers within our network. In addition as our privileged customers, you can enjoy preferential rates on foreign currency exchange, traveler's cheque encashment and telegraphic transfer.
SME BANKING
ONE-STOP FINANCIAL SOLUTION FOR YOUR GROWING BUSINESS
With years of banking experience, Standard Chartered is undoubtedly in a strong position to help growing businesses sail through the complexities they may face. As an international bank with offices in more than 50 countries, we provide the global reach and international recognition that your company deserves.
SME Banking offer one of the widest ranges of banking products and services in the market today. Managing a growing business demands most of your time and energy. That is why working with the right bank can help your business sail more smoothly.
Your business can avail of our Cash Management products for timely information and easy access to your funds, Credit Facilities with flexible repayment options, Trade Services for domestic/international trade and many other products and services tailored to your specific requirements.
CASH MANAGEMENT
| | |
| --- | --- |
| |  FullRange of Financial Tools to Make Your Money Work Harder |
Having accurate, up-to-date financial information at the right time and place is crucial to business decision-making. We offer you financial tools to manage your business cash flow more efficiently and effectively.
Our cash management offers include Internet Banking, FAX Banking, Phone Banking, ATM Services and Courier Service.
Enterprises which have a high number of payment and collection transactions will find our PC-based Electronic Banking Services, National Payment Services and International Collection Services invaluable — saving you both time and money.
CREDIT FACILITIES
Help Where It's Needed Most
Whether you are expanding your business, buying premises for office use or looking for short term loans to fund working capital, we are happy to discuss your requirement and put together the loans and other credit facilities you need.
We offer tailored loan packages to meet your specific needs and to assist you in your working capital and cash flow management.
LET OUR EXPERTISE WORK FOR YOU
     The complexities of international trade can thwart even the most capable business. So, having an experienced bank can help your business sail its way expertly and safely through unfamiliar waters.
Our long history means that we have the experience and knowledge of local business practices – enabling us to handle your transactions efficiently and confidently.
What's more some of the trade services offered include Letter of Credit, Documentary Collections and Guarantees. What's more, with our global reach and on-the-ground Treasury professionals, we are committed to meeting the Asian treasury needs of our customers by providing tailored Asian treasury solutions.
EXCEL BANKING:
Excel banking is an exclusive wealth management services from standard chartered bank, designed to meet the evolving banking needs, and give the customers achievements the recognition they deserve.
Excel banking can help the customers, the high achievers, to manage their money more effectively while growing and protecting their wealth. Personal attention, preferential pricing fast track services are just a few of the distinctive features that will ensure them get the best out of their  time and money.
EXCLUSIVE FEATURES OF EXCEL BANKING:
Free excel banking membership.
Free personalized excel cheque book
Free cashier's orders up to BDT 50000
Commission –free foreign currency endorsement and issuance of travelers cheques
50% waiver on debit card annual fee for the first year
100% waiver on online (intercity) transactions
50% waiver on processing fee for OD limit
33% waiver on locker service charge
Debit card withdrawal limit up to BDT 40000 per day.
ATM
ATM stands for Automated Teller Machine. This machine is capable of dispensing cash, taking deposits and providing other services to customers. The ATM is a fast, easy and convenient way for customers to withdraw and deposit cash and also avail other services offered by ATM, without having to step into a Branch. Moreover, it's absolutely free of cost.
SERVICE TIMINGS:
Services are available through the ATMs 24 hours a day, 365 days a year.
HOW TO USE THE ATM:
A Debit card is produced against each customer's account.
The operational mandate for the account must be 'singly' or 'either or'. ATM / Debit cards are not issued for company accounts but the service is available for sole proprietorship accounts.
A computer generated Personal Identification Numbers (PIN) is issued for the card.
The customer has to collect both the card and PIN from branch personally
The customer inserts the card into the machine and types his or her PIN number.
The machine verifies the PIN against the card and if they match, allows the customer to avail his or her desired service.
                 LOST OR FORGOTTEN PIN:
The PIN is not recorded in any form, anywhere by the bank. Also a PIN cannot be generated by itself without a corresponding ATM / Debit card.
So, if a customer looses or forgets the PIN he or she will have to apply for a replacement card.
 LOST OR STOLEN CARD
If a customer has lost his or her ATM / Debit card or it has been stolen, he or she should contract the Call Center/Branch (with in the transaction hours) immediately to block the card.
The replacement request can also be made at the Call Centre through a fax. The customer can collect the replacement card from his or her selected branch after 3 working days.
              CHANGE OF PIN:
PIN can be changed at any time using the ATM. You get the option to change your PIN under 'others' in the ATM screen.
[Customers are encouraged to change the PIN after they receive it from the branch, so he or she can choose a pin that can be remembered easily]
FACILITIES AVAILABLE THROUGH ATM:
Cash withdrawal
Cash Deposit
Mixed Deposit
Instruction Deposit
Balance enquiry
Fund transfer
Instant mini statement printout
Cheque book request
Statement request
SCB credit card bill payment
Utility bill payment (Vanik, Aktel, Citycell, Grameenphone, Banglalink and BTTB)
Credit card holders can avail the facility of cash advance and utility bill payment through the ATMs.
CASH WITHDRAWAL
               Customers can withdraw a maximum of BDT 20,000/= daily. Priority customers are able to withdraw a BDT 50,000/= daily and Extra Value Savings Account customers can withdraw a maximum of BDT 40,000/= daily.
CASH DEPOSIT
              When the customer chooses 'cash deposit' on the ATM screen, the ATM ejects an envelope in which the money is to be enclosed. The customer has to type the amount of deposit that is printed on 2 receipts. One receipt has to be inserted into the envelope and other is for the customer's own record. Now the envelope is closed and inserted into the 'deposit slot'. Two Bank officers are jointly responsible to collect the envelops and deposit the fund into customer account. If the amount of money inside the envelope doesn't match the amount printed on the receipts, the officers will deposit whatever the amount found inside the envelop and inform the customer of the discrepancy.
                  Deposit through the ATMs that are located within the branch premises is posted to the account within the next working day. Deposits through all offsite location ATMs need two working days for the fund to be credited.
CHEQUE DEPOSIT
                  Cheque can be deposited in the same way as cash.
MIXED DEPOSIT
              ATM allows cash and cheque to be deposited at the same time.
INSTRUCTION DEPOSIT
                  Customer can also deposit written instructions inside the envelope.
BALANCE ENQUIRY
                  One can check his or her account balance from the ATM at any time.
INSTANT MINI STATEMENT
                  Printout of an account's last ten transactions may be taken at any time.
FUND TRANSFER
              The customer is allowed to transfer funds between accounts under the same master.
CHEQUE BOOK REQUEST
              Customer can request a chequebook at the ATM. (Now the request is not acceptable) After receiving the request, confirmation of the instruction is taken from the customer, by Branch personnel, over phone. Once confirmed, the chequebook is issued and sent to the home branch unless otherwise instructed by the customer.
STATEMENT REQUEST
                   Customer has the option to request for a statement of his or her account though the ATM. Courier to the corresponding address recorded in the account sends the statement.
UTILITY BILL PAYMENT
              The customer must first register to pay for the particular utility. He has to complete the "Debit Card Form" and submit it at the branch with the latest bill of the said utility. He or she can pay his utility bills through the ATM from the next billing cycle.
CASH ADVANCE
 A cardholder can withdraw cash from his card account through the ATM.
CONVERSION OF ATM CARD TO DEBIT CARD:
      SCB now convert the ATM card to Debit card which have VISA logo. The customers now not only withdraw the money through the ATM machine but also can purchase by showing this Debit card. The previous facilities of the ATM card also involved with this card where extra facility in equipped here.
                   CHARGES & FEES OF ATM/DEBIT CARD
| | |
| --- | --- |
| Annual fees | BDT600 per Debit card |
| Damaged/Lost card replacement fees | BDT600 per card |
| Phone banking | Free |
 Annual fees for ATM card BDT 600 per card
15% Vat are include with the charge of both ATM and Debit card
FREQUENTLY ASKED QUESTIONS:
Why the ATM/Debit cards get captured while undergoing transactions?
The reasons are:
If the user takes more than 15 seconds to transact any option.
If the magnetic field at the back of the card is faulty.
If the wrong PIN given three times consecutively.
How can the customer get back his or her if it is captured?
He or she collect the captured card the following day from the branch if the ATM is located with in the branch premises. For offsite ATMs, the customer needs to go to the following corresponding branches:
Captured at                                                    Collect from
Johnson Road                                                  HadiMansion
Shyamoli, Plaza A R & Pallabi                                    Dhanmondi#5
Shankar                                                           Dhanmondi#2
MascotPlaza                                                   Uttara Branch
Tejgong & BAT                                               Banani Branch
Gulshan#1                                                      Gulshan Branch
MotalebPlaza                                                  Sheraton Branch
What should the customer so when his or her ATM/Debit card is lost/stolen?
The customer should contract the Call Centre (8961151 or 0173041400-19) immediately and instruct them to stop the card. He or she can also go to a branch to report the loss. The branch or call center staff will block (which we term 'making a card HOT') the card in the system that will ensure it cannot be used.
How can one get the replacement card?
If the customer has blocked the card through the call center, he or she can fax an instruction to them (Fax no-8963236) to issue a replacement card. Otherwise, he or she should go to the nearest branch to request a replacement.
How many days does it take to get a replacement card?
It takes three working days for the replacement card to be ready.
Will the replacement card have to be collected from a branch or will be sent to the customer's corresponding address? Can the customer request to block the card from one branch and collect it from another?
The replacement card has to be collected from the branch. The customer can specify any branch that he wishes to collect the card from. He or she should mention the branch from which the card is to be collected, on the request from.
Can the bank issue a dummy card while the replacement is under process?
No, that cannot be done.
Can the customer send an authorized parson to collect the replaced ATM/Debit card and PIN?
No, delegation of authority is allowed in this regard.
What is the life span of ATM/Debit card?
ATM card is valid for five years from the month of issuance.
What are the charges of ATM/Debit card?
BDT 600/= plus 15% VAT is charged for the card annually.
BDT 600/= plus 15% VAT is charged as replacement fee.
When is the annual fee charged?
The annual fee is charged on the last date of the year, that is 31 December of the year.
Is there a charge for blocking a card when it is lost or stolen?
No, there is no charge involve in such situations.
EVENING BANKING:
For the welfare of the customers evening banking is implemented in Bangladesh for first time by STANDARD CHARTERED bank. After the regular transaction period from 9am to 3pm.The activities of evening banking start from 6pm to till 8pm. Great response received by implementing this type services from the customer. Now a days evening banking served from the following 5 branches in Dhaka and 1 in chittagong. These are:
Dhanmondi-2
Dhanmondi-5
Gulshan
Uttara
Chock Bazar     and
Nasirabad in Chittagong.