STORE OR INVENTORY SYSTEM
Inventory:
Inventory is the stock of any item or resources used in an Organization.
Fabric storage:
Supplied Grey fabrics are first subjected to the 4 point inspection system and fabric allowance point is 28 per 100 yards. only those goods are stored here which are passed from the quality control department. And defected fabric are back to the supplier.
The types of fabric defect are check in 4 point inspection system.
–          Oil spot
–          Missing yarn
–          Dye defect
–          Hole
–          Color yarn
–          Drop pick
–          Net
–          Knot
–          Broken yarn
–          Slub yarn
–          Color shading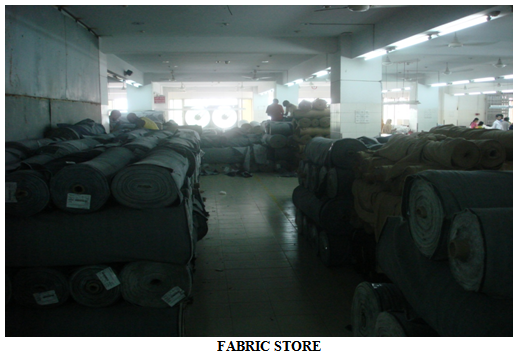 4- Point inspection system:
  Defects (length wise):                       Penalty point:
0-3 inch……………………………1

3-6 inch……………………………2
6-9 inch……………………………3
9 inch & above…………………….4
Any hole& miss pick………………4
Example: Suppose inspected fabric length=100 yds, fabric width=50 inch, and following faults are found.
                        Faults length                           No of faults
                             0-3 inch                                            3
                             3-6 inch                                            5
                             6-9 inch                                            3
                             9 inch & above                                 2
We know,
Points/100 yds=   Total penalty points*100*36    
                                      Fabric length*Fabric width
                                     13                 36
    Points /100 yds = ────×100×────
                        100                50
  = 09.36  Per 100 sq/yds
Fabric inventory:
Various types of fabric and accessories such as sewing tread, button, interlining, zippers, label etc are stored in central room. Here also machine sparse parts and stationary are stored in store room.
The flow sequence of fabric inventory is given below:
Received the fabric
Pre-inspection
Physical inventory
Make the swatch card
 Prepare blanket shade
Shade segregation
Issue fabric to cutting room.
Fabric is separated and stored according to lot number.
Accessories inventory:
Flow sequence of accessories inventory is given below
Import receive
 Physical inventory
Swatch making
 Swatch approval from buyer
Register/Record the entry
Supply to sub store according to demand
 Issue to bulk production
Accessories inventory item:
Hanger sizer:  Identify the size of the garment by hanger
Label:  Labels are the most important trimmings by which customer easily, know about the product. Here two types of label are available:
1. Main label: It contains the name of buyer and country. Ex. Wal-Mart, USA etc
2. Sub label:
                                i.            Size label: It contains the size of the garment

                              ii.            Care label: It contains care construction. Different types of care label are given below.

Washing code
Bleaching code
Ironing code
Dry cleaning code
Drying code

                            iii.            Cost label:  It contains the cost of garments.
                            iv.            Composition: It contains fiber composition of the fabric. Ex 65% cotton, 35%polyester.
 Sewing thread:
Different types of sewing treads are available in store room. Such as
60/3 (100% polyester)
50/3 (core spun yarn)
40/3 (100% polyester)
20/3 (100% cotton) etc
Button:
Many types of button are available in store room. Some examples of button are given below.
Horn button
Purl button
Shank button
Snap button
Coconut button
Chalk button
Amount determination of button:
There are two systems of determination the amount of amount. These are given below.
1G.G =12GRS
Each cartoon  contain 750 gross
1 gross   =144 pcs
750 gross =144×750=108000 pcs
Toggle:
Special type of accessories used in jacket, bags etc. To reduce and increase the length and also for better fitting, it is used.
Interlining:
Types of interlining are available in store room are given below.
Dot fuse.
Paper fuse.
T.C interlining.
Woven fabric fuse.
Non fuse etc.
Packing section:
Various types of packing accessories are available in store room such as polybag, packing board, tissue paper, hanger, scotch tape, gum tape, carton etc.
Flow sequence of packing section is given below:
    Make shipping mark according to P/O, PDM sheet
Approve from buyer
 Carton measurement confirm from Q.C dept
Sample make (carton)
Re-approved from buyer
Ensure net and gross weight
Go to bulk production
Complete the carton with garment
Cartons are made according to buyer instruction and length wise it contains the buyer name, widthwise it contain the measurement, net & gross weight. Carton contain the information are printed by screen print style.
Quality for Inventory/Storage:
Fabrics or other Raw Materials and Accessories should be safe from the following:
1. Soiling,
2. Mechanical damage,
3. Environmental damage due to temp. & R.H% which may cause dimensional changes,
4. Fungal Attack,
5. Fadding due to light exposure,
6. Damage during Handling.