Cost of Quality
The cost of quality is the accumulated cost of not creating a quality product. These costs can include reworking a product, testing it, field service to make corrections after a product has been installed, and replacing a faulty product. This aggregate cost is reported to management to give them a basis for ensuring that processes always produce to customer expectations.
There is a prevailing and persistent attitude in the business world that quality costs money: some claim too much. What they miss but are the cost of poor quality that is shown earlier. Still there is something you have to pay to improve your quality. To find this let us see what the total production cost of a product is. It is made up of three components.
Total production cost = Basic Production cost + Loss due to defects + Cost for reducing defect.
Basic Production Cost = labor costs, material cost, equipment cost, energy etc.
Cost for reducing defects = Preventive cost and Appraisal Cost. These are generally known as cost of quality.
Cost of quality is a methodology that allows an organization to determine the extent to which its resources are used for activities that prevent poor quality, that appraise the quality of the organization's products or services, and that result from internal and external failures. Having such information allows an organization to determine the potential savings to be gained by implementing process improvements.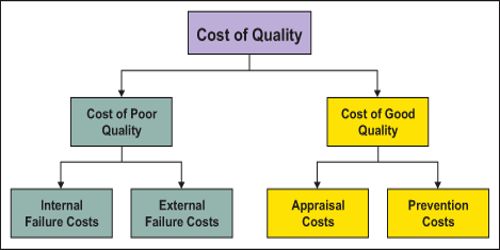 Preventive Cost:
The cost of setting up, planning, and maintaining a documented quality system
Quality planning establishing production process conformance to Design specification procedures and designing of test procedures and test equipment.
Quality and process engineering (including preventive maintenance).
Calibration of quality related production equipment
Supplier quality assurance.
Supplier assessment.
All Training.
Defect data analysis for corrective action.
Time spent on quality audits.
Appraisal Cost:
Laboratory acceptance testing.
Inspection and tests by inspectors.
Setup of inspection and test
Inspection and test material.
Product quality audits.
Review of test and inspection data.
On-site performance test.
Internal test and release.
Evaluation of materials and spares.
Supplier monitoring.
ISO 9000: 2000 qualification activities.
Quality award assessment.
Lost due to defects is the failure cost of the product. This cost includes following components.
Failure Cost.
Cost of troubleshooting
Re inspection of stocks after defect detection
Disruption of production schedules
Complaint handling a replacements plus extra time with customer
Warranty
Cost of holding higher levels of stock as a buffer against quality failure
Cost of corrective maintenance of plant
Cost of corrective action to product ( redesign, repair)
Lost of production because of manpower availability problems (this results in higher over time)
Lost of production caused by system problems (materials or instructions not available, idle time cost)
Concessions
Process waste
Cost of product scrap ( including holding cost)
There are two types of quality that a company should be concerned about, one of which originates in the engineering department, while the other is the responsibility of the entire organization. They are:
Quality of design. This is the ability of a company to design a product that conforms to the quality expectations of a customer. In other words, the quality that customers expect is designed into the product. This type of quality requires a considerable amount of interpretation of what engineers think customers want, and how these wishes are integrated into the final product design. If quality is not designed into the basic structure of a product, there is no way to improve the quality situation later, short of replacing the product with a new version.
Quality of conformance. This is the ability of a company to produce a product that conforms to the original product design. This type of quality is not just the responsibility of the production department; the purchasing staff has to acquire the correct materials, the shipping department must deliver it without damage, and the marketing department must communicate the attributes of the product that matter most to customers.
Conclusion:
For most organizations, quality costs are hidden costs. Unless specific quality cost identification efforts have been undertaken, few accounting systems include provision for identifying quality costs. Because of this, unmeasured quality costs tend to increase. Poor quality impacts companies in two ways: higher cost and lower customer satisfaction. The lower satisfaction creates price pressure and lost sales, which results in lower revenues.
Information Source: