Customer Satisfaction of M-banking Service Users of
Banglalink Digital Communications Limited
Banglalink Digital Communications Limited is the second largest telecom brand in Bangladesh. The company started their journey with a vision to spread the mobile phone to all aspects of people.
The report covers a broad dimension of topics. At the beginning of the report the author finds out the history of the company in Bangladesh. Under this topic it reveals how they acquire 'Sheba' telecom in the starting, the customer base, employees, the management system etc.
The second part of the report covers the author's job responsibilities at Banglalink in the period of Internship program. The functions are discussed elaborately so that anyone interested to go through the report could understand it easily.
The final part of the project aims to develop a SWOT analysis on the company. So that people could track down the real picture of the company. In other means it will also help the company to make strategies depending on the internal and external factors of influence.
Moreover, the project covers the customers' satisfaction of Banglalink MFS users. Hereby, the author used extensive tele-survey research to find out the factors influencing customer satisfaction. The analysis and data interpretation is based on excel functions; where pie chart, bar chart etc. are used for better and ease understand.
Introduction
The telecommunication sector during the last decade has gone through dramatic change. The way of communication, its device has been also changed. It was a time when we used land telephone lines which were costly though but this was the only way of communication.
Internet connection was also then based on the TNT connection. During the era of 2000 with the advancement of technology GSM technology was introduced to the people for communications without the need of wire connection. And now there is 3G (third generation) connection available to customers for high speed internet access even in phones.
Also, a drastic change can be seen on the financial sector. A lot of Banks has been introduced to the sector in Bangladesh whereas before mostly government banks were there. Also the financial service got so much importance. The value proposition, quality service and customer oriented products were introduced for the sake of business. Latest services include internet banking, ATM, debit card, credit card etc..
The collaboration between the telecommunication sector and the financial sector brought a completely new dimension of financial services. In the year 2011 Bangladesh faced a new version of financial service which is mobile banking. The easiest way of money transfer and lot more. In this service facility customers could use their mobile phone numbers to hold or open an account and with the account they can transfer money to one another without physically going to the bank. The basic purpose of this service is to reach the unbanked population with appropriate financial services.
However the popularity of the service is remarkable. Within just three years it became $83 million dollar market based on only the fees collected by the transaction and still growing. On the other hand with discovery a scope of employment is been created to lot of people.
Objective of the Report
The purpose of this project was to get a better understanding about the mobile financial services of Banglalink and finding out the customer satisfaction of its users. The more specific objectives of this report are as follows:
To know what mobile financial service is.
To know how mobile financial service operate.
To learn who the service can be provided to
To learn the features M-banking.
To learn strengths, weaknesses, opportunities and threats of the company.
To learn the factors influencing customer satisfaction.
To learn complains about M-banking service and find solution.
Methodology
There are pros and cons of every approach to a report. However, as the report covered two broad topics according to the needs and appropriate justifications the author decided to use both qualitative and quantitative research approach.
To find out the SWOT analysis of the company the author did qualitative research to find out the external and internal factors. This is mostly done by the reports available online and also published by the company and its competitors.
Whereas the second part of the report is based on quantitative data analysis. This helped interpretations and findings of the data to be accurate to represent the current conditions and factors of customer satisfaction. The quantitative data was collected by a questionnaire designed by the author. The interpretations and analysis was done with the help of MS Excel functions. The author used, VLOOKUP formula, COUNTIF, FILTER, TABLE array, PIVOT table etc. for the analysis.
Sources of Data
In order to prepare a comprehensive and authentic report the author used both primary and secondary sources of data.
Primary Sources of Data
Although the project is primarily based on primary sources of information, the only such source of information for this report are the responses gathered from the filled out questionnaires. This is because the report is on a topic that is not pertaining to theoretical concepts or practical applications, but more on the side of knowing about the results it is obtaining.
Secondary Sources of Data
The secondary sources of information include the materials given to the author to understand its customers. During the internship program materials needed for the service also includes in here. Also the author used some internal information collected from the company with a promise to keep it confidential.
History of Banglalink
In 1989, Sheba Telecom (Pvt.) Ltd. a joint venture of Bangladesh-Malaysia was granted license to operate in the rural areas of 199 upazilas. Upon obtaining GSM (Global System for Mobile) license in 1996 it expands its business to cellular mobile and radio telephone services. Suddenly in July, 2004 it was reported that Egypt based Orascom Telecom is set to purchase the TRI's (Technology Resources Industry, Malaysian partner) shares in Sheba for US$25 million as Sheba had failed to keep the business potentials in Bangladesh due to disagreements between two partners. This purchase agreement was undercover as the joint venture agreement between ISL (Integrated Services Ltd., Bangladeshi partner) and TRI dictates that if any party sells its Sheba shares, the other party will enjoy the first right to buy that. Later on, Orascom could not finish the deal rather ISL pays the US$25 million and bought the 100% ownership of Sheba.
However, in September, 2004 Orascom Telecom Holdings bought 100% ownership of Sheba Telecom with 59,000 user base for US$60 million. Afterwards in February, 2005 it was rebranded and launched its services under the "Banglalink" brand with nationwide 15 years GSM license.
About Banglalink
Since Banglalink's launch in February 2005, its impact was felt immediately. Overnight mobile telephony became an affordable option for customers across a wide range of market segments.
Banglalink's success was based on a simple mission:
"bringing mobile telephony to the masses"
This was the cornerstone of its strategy. With this mission on hand Banglalink changed the mobile phone status from luxury to a necessity and brought mobile telephone to the general people of Bangladesh thus making a place in their hearts. The mobile phone has become the symbol for the positive change in Bangladesh.
The mission that is quite correctly attributed to Banglalink, has become the corporate positioning of Banglalink and is translated in their slogan "making a difference" or "din bodol". This slogan is not only applicable in the telecom industry, but also every other  aspects through its products and services, to the lives of its customers. This corporate stance of "making a difference" has been reflected in everything Banglalink does.
Banglalink's Business
Subscriber overview
Banglalink attained one million subscribers within ten months of its operation and three million subscribers in October 2006. In less than two years which is by December 2007, Banglalink overtook aktel (now named as Robi) to become the second largest operator in Bangladesh with more than 7.1 million customers. Banglalink currently has 27.07 million subscribers as of June 2013, representing a market share of 25.7%.
Banglalink's growth over the preceding years have been fuelled with innovative products and services targeting different market segments, aggressive improvement of network quality and dedicated customer care, creating an extensive distribution network across the country, and establishing a strong brand that emotionally connected customers with Banglalink.
Market Share based on Subscribers
The telecom industry of Bangladesh is saturated over four key players. Grameen Phone, Banglink, Robi and Airtel. The rest two Citycell and Tele Talk both have minimum market shares. In terms of sustaining in the market along with the position hold companies need to follow both aggressive and defensive marketing mechanism. The chart below will give a brief idea about the market share of the companies present.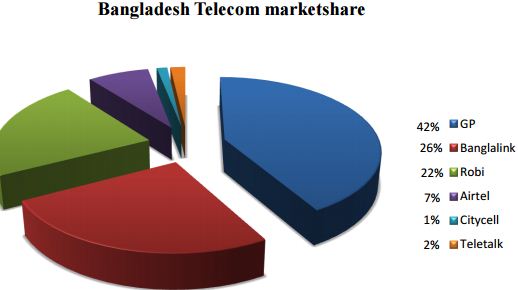 Products and Packages of Banglalink
Banglalink currently offers one plan for all packages. Connections are provided through GPRS and all connections are standardize (T&T incoming and outgoing with NWD and ISD).
Pre-paid package
(1) Banglalink Play: The package is especially designed for the young generation. To keep connected the package offers 16 fnf to all operators, the best rate 4.17 paisa/10 sec to a special banglalink number.
(2) Banglalink Desh: It is one of the oldest packages still offered by banglalink and is available in the market. The package was launched with a slogan "Ek Desh Ek Rate". It has 3 fnf facility to any operator.
(3) Banglalink Desh Hello: The name confers that it was redesigned from the desh package according to the market demand. It gives the lowest tariff with 4.17 paisa/10 secin one banglalink number and 10 paisa/10 sec in other operators.
(4) Banglalink Desh Ek Rate: "Ek Rate" means constant rate. The package comes with 18.5 paisa/10 sec to any operator including banlglalink.
(5) Banglalink Desh Ek Rate Darun: Only the call rate was changed in this package. Instead of 18.5 paisa in 'desh ek rate' it is 14 paisa/10 sec in this package.
(6) Banglalink Desh 7 fnf: It has 7 fnf facility, with lowest call rate 10 paisa/10 sec. But the call rate change with different time slot.
(7) Banglalink Desh 10 fnf: To accommodate large friend list banglalink presents this 10 fnf pack. Customers can enjoy 4.5 paisa/10 sec to a especial banglalink number and as low as 9 paisa/10 sec to other operator
(8) 1 second pulse: The package charge only 2 paisa/ sec. This is introduced with the concept of customers will only pay as much as they talk.
(9) Manik Jor: It is a peer sim pack. Which means customers need to buy two sims together to activate this service. Within those two numbers customers can talk at a very low tariff. The numbers are sequential of this pack. For example if one number has 23 in its last digit the other number will have 21 or 24 in its last digit.
Post-paid Package
Banglalink segmented their post-paid package into three criteria- i) for personal use ii) for business use iii) for corporate clients
(1) Banglalink Inspire: Banglalink inspire brings special new features for post-paid subscribers with remarkably low call rates, along with the lots of fnf numbers and many other services and facilities. One can also reduce mobile expenses through loyalty discount program. The monthly loyalty discount amount is calculated based on customer's length of stay with banglalink and usage per month.
(2) Banglalink SME: Banglalink sme package offers attractive tariffs and a complete package customized to suit the needs of small and medium enterprises. The package is designed such a way to flourish customers business by minimizing cost.
(3) Banglalink Call & Control: This package comes with the benefits of post-paid packages but the usage patterns are most likely of pre-paid. Unlike other post-paid packages in this package customers need to recharge certain amount to actively use the sim.
ICON Package
ICON is a premium telecom brand in Bangladesh. The package is designed only for those customers who are very high users. Generally the minimum criteria to own the package is to expend 3500tk. Per month. This package have carry forward facility of all monthly freebies such as Minutes, SMS, Data and ISD talk time for 1 month or bill cycle. For example, if a customer uses 2000 minutes out of 3000 in February, for March, s/he will have free minutes of 4000 (3000 regular + 1000 carried forward). The ICON users get extra facilities in different aspects. Such as there are discount offers in hotels, airways, resorts, restaurents, mobile phones etc.
THE PROJECT
SWOT Analysis & Customer Satisfaction of M-banking Service Users
The project assigned for the internship program is divided into two broad topics. First part will be focusing on the SWOT analysis of Banglalink. On the second part it will reveal customer satisfaction of Banglalink M-banking service users.
Reasons of the Project Topics
SWOT analysis helps us to know the company strengths and weaknesses. As well as it also gives the opportunity to find out new fields of investment. The analysis also discloses threats from the competitors. Through this analysis we could actually figure out the position of the company in market amongst its competitors.
M-banking Service is a recent service that has been introduced just three years back. As a result it is still a growing sector. With each day banks are coming with new financial services and mobile operators are engaged to provide mobile financial services. As a consequence the research report on the customer satisfaction will help the organization to put its prime focus on relevant fields for improvement and make the sector more profitable. Apart from these reasoning the author was assigned to the particular department which is MFS, so it clearly defines the reason of topic choice.
Purpose of the Project
The purpose of the project is to give a clear idea about the organization with reference to the SWOT analysis. The first part will answer about the company image, reasons behind popularity, the areas of improvement, competitors' strength etc.
Along with this, the second part finds out the customer satisfaction of m-banking service users of Banglalink through reluctant tele-survey research. It will help the organization to find out key factors of customer satisfaction, reasons of dissatisfaction, customer needs and demand, areas of improvement etc. So that, the company can understands the true market conditions from customers' point of view.
SWOT Analysis
SWOT analysis is a tool that identifies the strengths, weaknesses, opportunities and threats of an organization. Specifically, SWOT is a basic, straightforward model that assesses what an organization can and cannot do as well as its potential opportunities and threats. The method of SWOT analysis is to take the information from an environmental analysis and separate it into internal and external issues. Among the four strengths (S) and weaknesses (W) are internal issues where as opportunities (O) and threats (T) are external factors. Once this is completed, SWOT analysis determines what may assist the firm in accomplishing its objectives, and what obstacles must be overcome or minimized to achieve desired results.
Below in a sequence SWOT analysis of Banglalink is described
Strengths (S):
The foremost strength of Banglalink is the current market share it owns. Approximately it has now a market share of 27%.
Secondly when the company started their business here, had an existing positive image of the largest Egyptian telecom giant Orascom. It helped them to achieve a higher market share at the invade time. Moreover, recently the sixth largest telecom venture Vimpelcom took over 51% of Banglalink share which results as an added advantage.
Innovations in service and customer focus business policies are also considered as its prime potency.
Asia pacific region is a price sensitive market. Banglalink without making any changes to the trend serves its customers with New and attractive Pre-paid alongside Post-paid packages in a cheap rate.
Banglalink's office environment is considered as the most effective place to work for; has added power to its strength.
Effective decision making abilities are also another significant factor that enables them to survive the cut-throat competition of the industry.
Vast opportunities of financial support enable to extend its operations.
Low call rate provider regarding its competitor could be another strength of its.
Banglalink's aggressive marketing policy with systematic strategic approach makes it a strong body.
The large network coverage and good media partners helps Banglalink to reach its customers more fluently than any other.
Weaknesses (W):
The most troublesome weakness of Banglalink is its network. Though it has a higher range of network coverage all around Bangladesh yet it lacks of the signal strength.
However, compare to villages and rural areas in towns it is better. The reception is clear when people are out of doors but it becomes worse when inside of doors. Bureaucracy has entered into the management system of Banglalink. The new management is trying to create a system where each individual is responsible and accountable for his duties. While it is a good idea, it has also created a bottleneck at the administrative & financial level, where work gets stuck and stays stuck until all papers are properly signed and taken care of.
Banglalink do not hunt for young talents. Though its human resource department is one of the best but they have a policy of hiring experienced people. In a way it can be seen as a positive move but if compared with its competitors they are pulling young talents out of market so that they can get the new ideas of young professionals and according to that make proper packages to grab the youthful generation market. Alongside with young blood they are getting energetic, enthusiastic and self driven employees.
Banglalink entered into the market with the acquisition of 'Sheba' telecom. Before 'Sheba' telecom had a bad market reputation due to some conspiracies as a result it ended up selling all its market shares to Banglalink. However, some people may still hold off the sights and for this Banglalink might still suffer if not lot but a little.
Banglaink failed to identify the difference between developed market and developing market. For example, back in 2007 when GP already captured the market within the age group of 30 to 50 years Banglalink neglecting the concept of targeting youth generation started their marketing campaign for the same age group as GP. Though they were able to capture some of the market shares but instead of doing that targeting young's would be more profitable.
Opportunities (O):
Improvements of network in the rural areas could help Banglalink to sustain their existing customers as well as to grab new ones.
The Mobile Network Operators has saturated the telecom market. Still there are emerging markets evolving every year. Banglalink need to develop new market strategies to grab those markets especially focusing on the youth generation as it's the most profitable sector of income.
Recently Vimpelcom has bought 51% shares of Banglalink thus becoming its mother company. Banglalink could fund financial facilities from this mother company for reinvestments into different sectors.
There is always chance for new product development to capture new market. Especially MFS is booming and growing sector in Bangladesh which can be taken as path to earn profit.
Also, with the new acquisition of Mother Company Banglalink can go for rebranding themselves. It will work as an intensifier among the customers' mind and also would be helpful to settle a strong brand image into people's brain about Banglalink.
Threats (T):
The first potential threat to Banglalink is from another MNO, Robi. Robi is a joint venture company between Axiata Group Berhad of Malaysia and NTT DoCoMo Inc. of Japan. It commenced operation in 1997 as TeleCom Malaysia International (Bangladesh) with the brand name 'Aktel'. In 2010 the company was rebranded to 'Robi' and the company changed its name to Robi Axiata Limited. Recently Robi with its rebranding started aggressive marketing and captured a notable amount of market share. Banglalink need to put some thought immediately otherwise could fall apart.
Though Banglalink started the low call rates in the telecom market and put an end to Grameen Phone's eight years of high call charges yet it has fired back to them with more competitors into the market.
Banglalink is already facing competitions from Airtel with low call rates. Moreover, there is still chance of new investment in this sector. As a result it should develop new strategies from now on for the coming future.
Another mild threat could be from the land phone operators. Bangladesh Government has given prior concern to BTRC (Bangladesh Telecommunication Regulatory Commission) to look over the sector and bring it back to business.
Customer Satisfaction of M-banking service users of Banglalink
The research conducted will reveal the satisfactory level of M-banking service users of Banglalink. Before approaching to the main research and its findings it is important to know some factors that will be used in research.
Customer Satisfaction Definition
"Satisfaction is the customer's fulfillment response. It is a judgement that a product or service feature, or the product or service itself, provides a pleasurable level of consumptionrelated fulfillment"
Customer satisfaction totally depends upon the perceived value of a service or product. The perceived value depend on the service experience and the quality of the service. So, it can easily be determined that perceived service quality is a component of customer satisfaction.
Customers are satisfied when their perceived value of service fulfills their needs and expectations.
From the above paragraph a conclusion can be drawn that the determinants of service quality is the driven force for customer satisfaction. This indicates if a service fulfills the dimensions of service quality it can achieve satisfaction from customers.
Service Quality Dimensions
Customers perceive quality in a dimensional way and researchers have found five dimensions that consumers focus on for quality assurance, they are
Reliability: is the ability to perform the promised service dependably and accurately. In its broadest sense, reliability means that the company delivers on its promisepromises about delivery, service provision, problem resolution and pricing.
Responsiveness: is the willingness to help customers and provide prompt service. Responsiveness is communicated to customers by the length of time they have to wait for assistance, answers to questions, complaints and problems. To truly distinguish on responsiveness, companies need well-staffed customer service departments as well as responsive front-line people in all contact positions.
Assurance: is defined as employees' knowledge and courtesy and the ability of the firm and its employees to inspire trust and confidence.
Empathy: is defined as the caring, individualized attention the firm provides its customers. The essence of empathy is conveying, through personalized or customized service, that customers are unique and special. It is mostly preferable for small companies with limited customer base.
Tangibles: are defined as the appearance of physical facilities, equipment, communication materials, advertisements and billboard stuff etc. All of these provide physical representations or image of service that customers will use to evaluate quality.
Among the five dimensions 'Empathy' is not used for the research as because it is not appropriate for the company. The definition clears the reasons. Empathy is more applicable to the companies which have a small customer base or have the facility of customization.
Hereby, firstly Banglalink has a huge customer base of MFS and secondly there is no customization option available for the customers. Even there is no option for customization for Banglalink, as it does not own the service; Banglalink only provides the network to banks for their M-banking services.
Sample Selection
The author decides to conduct a quantitative research for the project. In order to get the most unbiased investigation under way, the author decides to approach respondents with a random sampling method. This will give each member of the population an equal chance of being selected for the survey. In order to do so the author collected 100 active Banglalink numbers from the MFS team who have valid registration for the M-banking service. This is to because the purpose of the report is to find out the satisfaction of customers who are using M-banking services of Banglalink.
Survey Method
The author chooses to do tele-survey. As finding the customers and interview them personally was a very hard task and time consuming. During the tele-survey there were 16 questions to be asked to the respondents. At the starting of the interview the purpose of the questions was properly cleared to the respondents and also asked for their permission to proceed. However, before going to the survey the questions were pre-tested with 5 random customers who fit the requirements to fill it out. In order to make it more easy for the customers to understand and answer it, the zone of tolerance illustration was included in the questionnaire.
Research Approach
The research is completely based on quantitative data. The findings of the questionnaire are allotted with the help of MS Excel where different functions like VLOOKUP, PIVOT table, COUNTIF, IF, Pie Chart, Bar Chart etc. are used to interpret data. On the report only the final values are put to interpret.
Recommendations
Banglalink can introduce different campaigns in collaboration with the M-banking service providers in different university areas, corporate houses etc. It will help them to capture customers from different class and background. This in case will develop a more diversified portfolio of customers. Collaboration with the service providers will help Banglalink to cut cost for the campaign.
Especial offers can be designed for the corporate houses. For example salary disbursement of employees through M-banking can be an innovative way to capture new market.
TV commercials only focusing the Bangalink M-banking services. Advertisements could also include other financial services of MFS.
Encourage both own and third party agents to inform customers about new services and features. Make quarterly training arrangement for the agents so that they become for informative.
17% of the customers who have their own mobile wallets even though among these 12% prefer using their own wallet. (63+25) = 88% of the customers still depend on the agents for m-banking service. As a result customers are not actually receiving the whole benefit of the service. Agents do not encourage customers to use their own wallet because with every transaction they receive certain commission. The temptation of making more profit is causing loss to the customers as a consequence the actual purpose of the service is not served. Banglalink should introduce monitoring technique to solve the problem.
To make the customers more knowledgeable Banglalink can also give free SMS to its MFS customers informing about the procedure to use own mobile wallets and its benefits.
It is better for a company to avoid problems rather than giving faster problem solutions. So, Banglalink should work on their network to improve it their services. It will be profitable in both ways by attracting new m-banking service providers also grabbing customer satisfaction.
Conclusion
The report has covered the history of Banglalink from the journey it begins till now. Through this journey Banglalink has succeeded in many ways as well as failed in much ways. Still they are the second largest telecom brand in Bangladesh. During the start of mobile financial services in year 2011 banglalink is coping up with the speed quite well. The research have found out the customer demographics where it is seen that most of its M-banking customers are less educated as a result from now on if Banglalink take necessary steps as suggested it will have a strong grip to its customers than present. Moreover, the research also figures out the network signal problem issue as one of the prime disadvantage of the service, making progress to this would open the doors of success to Banglalink. The MFS department of Banglalink wishes to provide M-banking services to all aspects of the society to do so they first need to know its customers and make them knowledgeable about their service and its usage. Furthermore it will help them to keep their promise and lead towards greater customer base. There are plenty of banks coming with new M-banking products Banglalink should acquire them to expand their business. Even though so many problems the research has shown that still 88% of the customers are moderately happy with their service, hereby Banglalink should take necessary steps to gain the trust and make those 88% customers fully satisfied with their service.
As a pioneer in the mobile financial sector among the telecom brands Banglalink need to improve their service to hold off the position. Still there is lot of scopes of improvement and if they overcome the mistakes made already there is a higher chance that they not only become successful in this particular mobile financial sector but also in its real telecommunication business.