Industry Overview and Working Experience at Premier Cement
Premier cement is a leading manufacturer of cement in Bangladesh. The products are all around us, providing strength and durability to buildings of soaring dimensions, in infrastructure that speeds the lines of commerce, and for housing that provides comfort and security to families across Bangladesh. The brand name Premier Cement means best quality, dependability and technical excellence. Their associated companies adhere to the same demanding standards as they cater to Government, Real Estate, Developers, Industrialists, and Manufactures of construction materials such as Ready Mixed Concrete, Block, Pipe, and other pre-stressed concrete units. They have a large, dedicated and qualified customer support and sales team and the technical support team are always ready to provide the quality service to its customer.
Premier cement enjoys a long history and sustaining reputation in Bangladesh. It is their experience that excels on top of the game in the market where supply capacity is double the demand of the country. The company also exports their products to India and Srilanka every year. The company has recently acquired a factory of a cement company in Chittagong which will help them to expand and increase their production in the coming years.
A Group of highly experienced and leading businessmen in the country set together and decided to establish Premier Cement factory with the sanctioned capacity of cement manufacturing plant.
The team consists of three leading group of companies in Bangladesh T.K Group of Industries, Seacom Group and Jahangir & Others.
The Board of Directors consisted of members from each of the above three groups. The Company, Premier Cement Mills Limited was incorporated on 14th October 2001 and commercially started production on 12th March 2004. Today, with an annual production capacity of 1.6 million tons, 450 employees in operation nationwide, Premier Cement Mills Limited is one of the leading cement producers in Bangladesh. The corporate office and the commercial building of Premier Cement Mills Ltd is located in TK Bhaban, Karwan Bazar, Dhaka. The other office of PCML is located in Chittagong.
The Company purchased most sophisticated plant and machineries entirely from its own funds, without any project borrowing. The Company also purchased most ideal piece of Factory Land, measuring 15 acres, at West Muktarpur, Munshiganj; on the front side of the Land is DhakaMunshiganj Road and on the near side is the river Shitalakhya, which meets the river Dhaleshwari about two kilometers down stream and both together falls at the mighty river Meghna. Thus there is wonderful accessibility both by land and river from factory site.
Key Features
PCML has the capacity of 4000 ton per day and projected will be 9200 MTD at 2012. It has its own backward and forward linkage.
It has own sea going vessel as backward linkage which consume cost.
PCML has well-equipped modern laboratory facilities. So, it assures the best quality.
Premier cement has more clinker than the most other brands and it always gives the maximum early strength.
PCML is one of the largest exporters of cement in South Asia, mostly in India.
It is available all over Bangladesh.
It has an experienced and well-trained engineering team to provide technical assistance in the construction sites.
Product offerings
Premier Cement consistently delivers quality cement to the customers. The company uses the European Standard Method (ESTM) to manufacture their products. They are also one of the few companies in Bangladesh who use European machineries and technologies to produce their products. Their Automated manufacturing facilities and fully equipped laboratory with dedicated team ensure quality in each batch of production. They have been consistently ensuring:
Exceptional Strength: At Premier Cement the chemical composition and grinding fineness are closely monitored to ensure the Bangladeshi BDSEN, American ASTM, European EN, and Indian BIS standards are surpassed and the customers get cement of exceptional strength. Ideal setting time: In order to allow sufficient time for application, cement must have a quick initial settings time. However once in place, the final settings should not take too long; at Premier Cement, ideal initial and final setting times are maintained. Currently they are manufacturing following types of cement:
Ordinary Portland Cement (OPC): Ordinary Portland cement Type-I is the most common
type of cement in general use around the world. It is a basic ingredient of concrete, mortar, stucco and most non-specialty grout cement. It is a fine powder produced by grinding clinker (95%), a limited amount of Gypsum which controls the setting time.
Portland Composite Cement (PCC): It is the most common type of cement used in Bangladesh which consists of Clinker, Slag, PFA (Pulverized Fly Ash), Gypsum, and Limestone.
Factory Information
Area: 15 Acres (aprox)
Power facility: 6KV individual feeder & 4 MW+1.3 MW gas generator
Ball mill :
– 2 chamber ball mill
– Capacity:90 T/Hr
– Origin: German
Separator:
– Type: Sepax
– Capacity:150 T/Hr
– Origin: German
Packing System:
– 50 kg bag
– Packer type: Rotary packer
– Capacity:150 T/Hr
– Origin: German
Crane:
– Electric crane
– Crane qty: 02
– Capacity: 250 T/Hr
PFA unloaded:
– Vacuum Unloader
– Capacity:90 T/Hr
Raw Material:
– Clinker
– Gypsum
– Fly ash/ PFA
– Lime stone
– Slag
Raw material source:
– Clinker: Thailand, China
– Gypsum: Thailand, Oman
– PFA & Slag: India, Japan
Test Method
The factory is equipped with world-class European technology built in Denmark and Germany. Within the span of first 5 months, the company has achieved the ISO 9000-2001 certification from TUV. With highly skilled employees the company is persistently striving to reach highest standard with technology superiority. PCML publishes its BUET test results in the newspaper, thus to be accountable to the customers, engineers and consultants.
The ASTM standards – C-150, C-595 and C- 1157
The European standard – EN 197
Bangladesh standards- BDS EN 197/1-2003
Indian standard-IS-1489:1991
Visions for the Future
Premier Cement has very basic, well specified goals and objectives outlined for the company which is mentioned below:
To improve comprehensively in the current success areas.
Expand the current market share by increasing production capacity to generate more sales and revenue.
To become in the top 3 cement company of Bangladesh.
To improve the brand image and sales services through right marketing program.
Providing customer satisfaction constantly through the best quality cement.
SWOT Analysis of Premier Cement
The strength, weakness, opportunity and threat analysis of Premier cement in company's internal and external environment are given below:
Strengths:
Well established management
Effective quality control policy and quality cement
High R & D resources and cost efficient production management
Strong logistic support with own mother vessel and inner vessel
Perfect factory location; large riverfront and own jetty
Own power supply plant
Effective sales team and channel support
Weaknesses:
Market share is low in compare to the company target
Distribution set up is not covers the whole country
Level of marketing program is very low
Poor brand image and customer relations
Management practice is very traditional
Opportunities:
Opportunity for export in the developing countries
People are becoming conscious in purchasing local brand cement
Infrastructural work are increasing day by day
As the cities going towards urbanization so great potential for growth and profitability in this industry
Threats:
Multinational competitors and intense competition between the local producers
Political instability in the country
Transportation cost and other cost are increasing rapidly cause of high inflation in the market.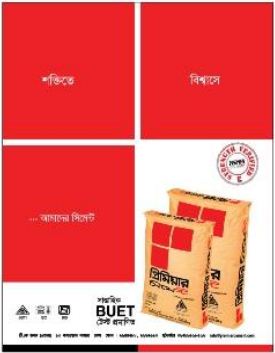 JOB AS AN INTERN
Job Description
I worked with Brand & Creative Department during my 3 months internship period at Premier Cement. The company takes intern in this department to assist them in their marketing campaign of Cash++ offer during a period. As soon as I joined the company for my internship, my responsibilities of the position were given to me which consisted of the schedule working with the respective department, supervise daily brand activities, maintain record of the campaign actions, develop data sheets for documentation, maintain communication with different ad agencies' personnel, distributing offer related materials and preparing meeting agendas etc.
Specific Responsibilities
Although a significant amount of time was spent for learning by observing how each of the works of brand department works, I however had a number of job responsibilities assigned which I had to perform during the period of my internship. These were:
Receiving and distributing brand tools. Communicate with the respective channels
Checking brand requisition, record them in a data and distribute them
Managing and tracking the offer related task and assist with the team
Follow-up the brand marketing programs
Evaluating brand performance through market research and reporting
Preparing meeting agendas and sharing creative idea about market offerings etc.
Different aspects of Job Performance
In the Brand & Creative department, I was given the opportunity to learn new things by observing and interacting with the Brand team of the company. I was involved with the launching, preparation and the management of the Cash++ offer. Receiving the company's brand tools (poster, banner, festoon, sticker, leaflet, brochure etc.) for the offer, checking them and sent the receiving invoice to the respective agent was my initial responsibility. After that the brand tools have to send to the different area managers across the country through courier. This was all done for the promotion purpose of Cash++ offer. Later on, a huge number of gold cards (for cash++ offer) was received by the department for distribution and I had to count and check those carefully whether there were any damage card remained. After receiving and recording the sales order my task was to give the area managers the gold cards which were given proportionately on the basis of their ordered sales. I was assigned for recording the sales order in a data sheet and distributing gold card on the basis of that. Beside this, my job was to check and record the information of the brand tools which were distributing across the country. I was also involved in the meetings on decision making and the planning of activities to increase the sales and brand image of the company. I also responsible for doing a market research to evaluate the effectiveness of the brand tools that the company using by visiting cement outlet and prepared a report on that. With the kind instruction of my on site supervisor I completed my entire task successfully.
Conclusion
The cement industry came into picture in Bangladesh during the middle of 1980's as some infrastructural development projects took place. However, the starting point of the cement industry took place began from the year 1995. Within the time span of a decade, the smaller companies shut down while the bigger ones expanded more and more, making a more dominant place for themselves in the market of cement today. The industry which was mainly import based till the year of 1999 to 2000, now not only makes their own cement but also exports their products to countries abroad as well.
Marketing communication involves disseminating information about a product or product line, brand or company as it is one of the four key aspects of the marketing mix. As such the cement market is becoming more and more complicated, creative and attractive promotional strategies are considered as the key to stay in the competition and for a sustainable growth in this industry. Keep that in mind Premier Cement is trying to establish a strong network with their customers and associates all over the country to stay in the long run in the cement industry. Doing so, the company should have to think about their integrated marketing communications program not in a conventional way but in a contemporary way to stand out in competition.
On the other hand building powerful brands has its rewards. Marketing professionals can look for an increased ROI, new efficiencies, channel cooperation and reduced competition because of an established powerful brand. As Premier Cement is still new in the industry and they are gaining the momentum day by day, so there is a good opportunity ahead for the company to establish their brand and become the ultimate choice for the customers.