Internship Experience at Square Toiletries Limited
Square Toiletries Limited started (STL) its journey in 1988 as a separate division of Square Pharmaceuticals Limited. Being a concern of Square Group, Square Toiletries Limited enjoys the prestige of Square Group and exploits the consumer confidence by their passion and hard work.
In 1994 STL became a private limited company.
At present, STL is the country's leading manufacturer of international cosmetics and toiletries with 20 brands and more than 55 products covering a wide range of categories like skin care, hair care, oral care, baby care, fabric care, male grooming and OTC.
Along with the business, STL takes part in different philanthropic activities and programs like creating mass awareness on health and hygiene issues, tree plantation, and employment generation program for vulnerable community, financial aid to disadvantaged and flood affected people, supporting education and various local community program.
Vision
STL attempt to understand the unique needs of the consumer and translate the needs into products which satisfy them in the form of quality products, high level of service and affordable price range in a unique way.
Mission
To treasure consumer understanding as one of our most valued assets and thereby exerting every effort to understand consumer's dynamic requirements to enable us in offering maximum satisfaction.
To offer consumer products at affordable price by strictly maintaining uncompromising stance with quality. With continuous R&D and innovation we strive to make our products complying with international quality standards.
To maintain a congenial working environment to build and develop the core asset of STL-its people. As well as to pursue for high level of employee motivation and satisfaction.
To sincerely uphold the responsibility towards the government and society with utmost ethical standards as well as make every effort for a social order devoid of malpractices, anti environmental behaviors, unethical and corruptive dealings.
Objectives
To strive hard to optimize profit through conduction of transparent business operations within the legal and social framework with malice to none and justice for all.
To create more jobs with minimum investments.
To be competitive in the internal as well as external markets.
To maximize export earning with minimum imported inputs.
To reduce the income gap between top and bottom categories of employees.
Values and Principals
Well-being of consumer, employee and society are the three foundation pillars of the values and principles of Square Toiletries Limited (STL). It believes that it is their obligation to work for the welfare of society. In spite of being a commercial organization, SPL does not always opt for profit, rather tries to be even more focused towards the fulfillment of its commitment to the society and hence has an intense sense of responsibilities to its customer, its people and its society as a whole.
From the day to day business operation to quality policy, in every single activities of STL, these core values and principles are reflected.
Quality Policy
Dedicated to make every effort to understand consumer needs to provide maximum satisfaction and to achieve market leadership.
Strive to continuously upgrade manufacturing technology and to maintain optimum level of quality measures in conformity with the international standard- ISO 9001:2008.
Committed to achieve quality objective through continuous employee training and maintaining congenial working environment.
Employees
STL has been built around one core asset, and it is its people. This is what makes working in STL so special. STL believes that work is more than a place you go every day. It should be place of exploration, professional growth and creativity. It is about being inspired and motivated to achieve extraordinary things. STL wants its people to take pride in their work. After all, it is the combined talents, skills, knowledge, experience and passion of its people that makes it what it is today.
Currently, STL is employing over 2,000 employees ensuring its consistent welfare and security. Due to its sociable working environment and highly motivated employees, STL is enjoying one of the lowest employee turnover rates. STL emphasizes on equal employment opportunity to physically challenges persons.
Management Committee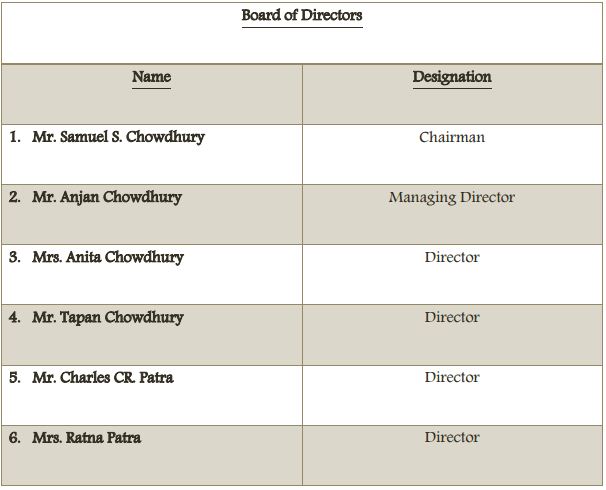 Departments of Square Toiletries Limited
Production
Quality Control
Product Development
Technical Services
Marketing
Sales & Distribution
Accounts & Finance
Commercial
Human Resources
Engineering
Production Planning & Inventory Control
Accounts and Finance Department of Square Toiletries Ltd.
The Accounts and Finance Department of Square Toiletries Ltd. is divided into five sections.
These are:
Financial Accounting
Cost Accounting
Managerial Accounting
Financial Management
Auditing
Out of these five sections of Accounts and Finance Department, I was assigned to the Auditing section as an Internal Audit Intern.
Job Description of an Internal Audit Intern
Assist in evaluating existing internal control documentation, testing current processes and providing recommendations.
In addition, the Internal Audit Intern will assist the Internal Audit Executive in administrative duties, observations, and inquiries.
Assess compliance with financial accounting and auditing standards, and company policies to ensure company assets are safeguarded
Examine and evaluate the adequacy and effectiveness of information systems and business controls.
Provide advisory and consulting services to improve efficiency, effectiveness, and utilization of company assets.
Assist in assuring audit practices conform to department and professional standards
The Internal Audit Intern is expected to constructively work with departments to improve internal controls across the organization.
Follow up to ensure that approved recommendations are implemented.
All other duties as assigned.
Internship Activities Undertaken and Job Responsibilities
As an intern of Square Toiletries Ltd. (STL), I had to do a number of activities within a period of three (3) months. But mostly I did the Audit based works as I was assigned under the audit team of the Accounts and Finance Department. There are approximately eighteen (18) sister concerns of Square Group and two (02) audit teams in Square Center. One is under Square Pharmaceuticals Ltd. where eleven (11) of the concerns are audited and another one is under Square Toiletries Ltd. where the rest seven (07) sister concerns are audited. But here in the Accounts and Finance Department of Square, everyone has to do tasks for different concerns of Square Group whenever they are assigned to. For example, I was appointed as an audit intern of Square Toiletries Ltd., but I had to audit bills, vouchers, disbursements of different concerns of Square Group like Square Food and Beverage Ltd, Square Air Ltd., Maasranga Television Ltd., Aegis Services Limited, Mediacom Limited, etc. In this process I was able to understand how the other concerns of Square Group work.
The tasks that I have performed throughout my internship period in Square are,
Barcode Bill Entry – I learned how to do barcode bill entry for par product. And also learned how to solve a packaging problem where barcode cannot be read by minimizing the cost.
Audited the Display Program of Ruchi Pickle, Sauce and Jam all over the country. Financial Condition and Audit Procedure
– The display program was about giving a gift package to the retailers who displayed Ruchi pickle, sauce and jam on their shelves more within a certain period of time. And how much it sales it has increased.
Audited the Mobile Allowances of the employees of Square Toiletries Ltd. and Square Food and Beverages Ltd.
– The goal was to analyze the actual bill amount and the given amount of mobile allowance to the employees. If any employee's bill is more than his allocated mobile allowance, then the rest of the amount is cut from his salary account.
Audited an Incentive Program of Ruchi Jhal Chanachur & Daal Vaja all over the country.
– The motive of this is to get a clear vision of the accuracy of the amount the Sales Department is asking for. Retailers takes product at a Trade Price (TP) which is less than the Maximum Retail Price (MRP). The difference between the TP and MRP is the profit of a retailer. But distributor cannot make a profit in this circle because they take products to sell to the retailers at TP. So here, they get a commission for par package they sell to the retailers. We calculated how much we have to give to the sales department for the incentive program and how much accurate their calculation is. If our calculation does not match with theirs, then we will not give them the money rather we will ask them to revise the Program details and give it back for further verification.
Audited the Toiletries Program of Square Toiletries Ltd all over the country.
– The motive here was to find out whether the commission given for per slab is correct or not. And as this program was operated in order to increase the sales, so my task was to identify whether the goal has been achieved or not.
 Audited the documents of telecasted daily soaps in Maasranga Television Ltd. – I verified whether the producers followed the contract and paid the full payment for the telecasted episodes or not.
Audited Overtime Allowances of the employees of Square Food and Beverages Ltd., Square Toiletries Ltd., Square Air Ltd. and Aegis Services Ltd.
– My goal was to verify their start and end time of the day and how much extra hours they spent on the job. Then allocated the overtime allowances to the employees according to their respective positions.
Audited the Tour Programs of Area Manager (AM), Zonal Manager (ZM), Regional Sales Supervisor (RSS) and Area Sales Supervisor (ASS) of Square Food and Beverages Ltd.
– The goal was to analyze whether all of them followed their tour plan which was approved by the General Manager (GM) or not. If they did follow the plan accordingly, they will get the Travel Allowance (TA) and Daily Allowance (DA); but if they somehow did not follow the plan, they will have to give proper justification for that or else the TA and DA will be deducted.
Audited the Display Program of Radhuni Mustard Oil over Dhaka Region.
– The goal was to identify how much the sales of Radhuni Mustard Oil increased and accurately how many gift packages the retailers will get for that program.
Audited the Winter Program of Ruchi, Radhuni and Chashi products all over the country.
– It was a seasonal program of Square Food and Beverages Ltd. The goal was to analyze the accurate amount of commission that the sales department has to provide to the distributors according to their performance.
Performed a tasting survey and an upcoming advertisement review of Ruchi Jhal Chanachur and Ruchi BBQ Chanachur.
– We have invited 20 students from BRAC University in Square Centre to perform the taste test of Ruchi Jhal Chanachur and the review of an upcoming advertisement of Ruchi BBQ Chanachur. The goal was to take opinion of the teenage people in Dhaka about those two products for further improvement.
Financial Analysis Of Square Toiletries Ltd.
The real value of financial statements lies in the fact that they can be used to help predict a company's financial position in the future and to determine expected earnings and dividends. An analysis of the company's ratios is generally the first step in a financial analysis. The ratios are designed to show relationships between financial statement accounts within firms and between firms.
Sources for these ratios are the company's financial statements within the industry that contains figures on assets, liabilities, profits and losses. Industry ratios are only meaningful when compared with other information. Since individual companies are most often compared with industry data, ratios help an individual to understand a company's performance relative to that of competitors and are often used to trace performance over time.
There are 5 major categories when ratio analysis is considered. These categories are:
Liquidity Ratio: This gives a picture of a company's short term financial situation or solvency.
Debt Management Ratio: It shows the extent that debt is used in a company's capital structure.
Profitability Ratio: It uses margin analysis and show return on sales and capital employed.
Critical Observations
Accrual-basis accounting:
Square Toiletries Limited follows the accrual-basis accounting which only considers an event of expense or an event when sales has occurred. It does not consider whether cash payment is done or not. STL make sales and sometimes make purchases on credit. For this reason, they have the terms such as accounts payable and accounts receivable on their balance sheet.
However, getting the accuracy of the pending issues (Accounts Payable and Accounts Receivables) for a particular period can be really difficult. If STL does not get all the bills at the end of a specific period, they will have to close their accounts for that particular period.
For example, if STL made a sales on credit on November 30, 2014 and does not get paid until January 10, 2015, the income would be recorded in their books in November 2014. They then have to close their account for the year 2014. This amount will give an estimate measure of their sales and purchases for that particular period.
STL could have gone for cash-basis accounting where the terms such as accounts payable and accounts receivables would not have existed on their balance sheet. This means that an expense would have been recorded only after an expense has occurred. Also, collection of money would have been recorded only after money has been received from the suppliers.
However this method is no longer used in any of the organizations and this method is getting obsolete.
Tax Deducted at Source:
STL makes sure that each and every of their suppliers give tax because tax is an income for the government. When suppliers are making sales to STL, STL purchases it by giving payment to the suppliers which is an income for the suppliers. Government said STL to cut tax on the income level of their suppliers and the percentage of tax to be deducted is decided by the government. Thus, on behalf of their suppliers, STL deducts tax on suppliers' income and deposit it to the government treasury (Sonali Bank, Bangladesh Bank) on the suppliers' name and will deliver the chalan copy to their suppliers.
Here, STL acts as the collecting authority. At the end of the year, when the supplier will calculate his annual income, a tax liability will be created on his income. He will pay tax only the amount that will be remaining after the tax liability on his income have been deducted from the tax that has been deducted by STL from the suppliers income.
However, STL can only deduct tax on the suppliers' income only if they supply a minimum of TK. 200001 raw materials.
Recommendation
Flexible management is a problem:
Since STL is a huge organization, total management is extremely flexible. This causes indiscipline and inefficiency which may eventually have a detrimental impact on the organization. During my internship period, I was not directly assigned to the floor of Accounts and Finance rather I was doing my job with the Audit Team on the floor of Sales and Marketing of Square Food and Beverages Ltd. There was so much chaos and noise on that floor that sometimes I found it difficult to concentrate on my work. I complained it to the authority but there was no immediate response. They tried their best to fix it earlier but probably it got tied up in bureaucracy. Therefore, the management should be stricter for the betterment of the company.
Purchase of more distribution vehicles:
STL should buy some transporting vehicles to minimize their distribution expenses. Although Square Toiletries Company has transporting vehicles but they are not enough. Most often they rely on hire vehicles. That is really very expensive for the company. So if this company can increase their vehicles, they can reduce expense in the long run.
Problems with Auditing:
Retailers are so much eager to fulfill the slabs of the different program campaigns that sometimes they do a lot of overwriting in their sales invoice to be enlisted for the attractive gifts of the promotional programs. Sometimes the auditors fail to identify these culprits and therefore have to give them expensive gifts. This is a huge expense for the company which needs to be addressed by carefully monitoring the audit process, in other words, invoice which has a lot of overwriting on it should be rejected.
Since Square Toiletries Limited (STL) always strive to bring out new products in an attempt to keep their customers happy, they can bring out "face wash" as a new item in their product list. This is because nowadays people are becoming highly beauty-conscious. Also, STL is a renowned company which makes people to have extreme trust on their products, so bringing out their own "face wash" might increase their sales revenue.
Conclusion
Upon analyzing the general financial management of Square Toiletries Limited, it was seen that Square Toiletries Limited is the country's leading manufacturer of international quality brand with huge number of diversified products. For effective sales management, STL follows the accrual basis accounting and records it in their vouchers. Also analyzing their financial performance, we found out whether STL will stay solvent and remain in business. This was done by comparing ratios over time for same company and over time for the company compared with its peer group, KCCL. In most of the cases, their efficiency, solvency and activity ratios showed an increasing trend over the last five years while their liquidity ratios showed a fluctuating trend over the last five years. However, from the ratios it was seen that Liquidity and Debt-Management ratios need to be improved if the company wants to reduce their level of obligations. Finally, I can say that general financial management practice of Square Toiletries Limited is otherwise very efficient and the weaknesses are to be addressed with effective solution. This way Square Toiletries Limited can uphold its position as a business icon.