Application of scientific and indigenous knowledge for
flood management in Northwest Bangladesh
The present study tries to identify the Indigenous practices of the rural communities. It also focuses to assess their economic condition in relation to livelihood practices. Local people Participation in the research process has ensured by Focus Group Discussion, Informal Interview. Most of the peoples don't have any scientific knowledge to coping with flood. The people of Kurigram district passing their life to cultivated land, Domestic animal, grazing land and wet land are the major natural resources. The peoples of the rural area face flood & river bank erosion almost every year. They have some traditional knowledge by which they are able to cope up with this situation.
In my study I tried to find out the existing indigenous knowledge that has been practice by the people for anticipating flood and coping mechanism during flood situation. The project looks at how communities can bring together their own indigenous knowledge and experiences, which might include birds, insects or plants, in order to support local adaptation to during flood. I also tried to find out the practices regarding house, agriculture, health. Most of the rural people they have no academic knowledge but they are living with flood by using their own mechanism for many years in this area. As a result they have a very good capacity which we called indigenous knowledge. With this they are able to reduce vulnerabilities. The thesis then identifies why the region is known for its seasonal food insecurity (Monga) and reason behind the high incidence of poverty.
This thesis discussed about that both scientific and their own local knowledge is used properly to inform policy and decision-making at all levels. This thesis emphasizes the integration of scientific and indigenous knowledge for flood management. Finally I recommended some of my findings of Kurigram district for further study.
Introduction
Bangladesh is one of the most flood prone countries in the world which is situated in south Asian sub-continent. The country has about 130 million populations with an area of approximately 147,000 sq km. It is one of the highly dense populated countries and every year different flood types and magnitudes occurs because of its unique topography and geographical location. At least eight extreme flood events occurred affecting about 50- 70% of land area during last fifty years. Due to the floods economic loss was huge, e.g. in two consecutive floods of 1987 and 1988 flood damage was estimated at US$ 2.2 billion and in 1998 flood damage was estimated at US$ 2.8 billion. Flood management in Bangladesh is, therefore, perceived as an indispensable component of poverty reduction initiatives.
Background of the Study
Bangladesh is one of the most vulnerable countries to natural disasters in the world. Bangladesh is crisscrossed by a strong river network of three major rivers – the Padma, the Brahmaputra, and the Meghna – and their tributaries, numbering about 230 (Hossain, 2013). Climatically it is situated in humid tropical zone. This unique location makes it prone to flood vulnerable (Disaster Management Bureau, 2008). Disaster reduction is both possible and feasible if the sciences and technologies related to natural hazards are properly applied (UNISDR, 2002). Science and technology help us to understand the mechanism of natural hazards of atmospherically, geological, hydrological, and biological origins and to analyze the transformation of these hazards into disasters. Scientific knowledge of the violent forces of nature is made up of an orderly system of facts that have been learned from study, experiments, and observations of floods and other disasters. Major progress has been made in the development of global meteorological models and their application to large scale weather prediction (Shaw et.al, 2014).
In this digital world, although disaster related news is disseminated very fast but in most of the cases, disaster affected people did not receive humanitarian assistance immediately. Many people in the disaster prone areas of Bangladesh depend on indigenous knowledge to cope with the extreme climate event such as flood, cyclone and drought. Until government or non government assistances reach to a disaster affected area, disaster affected people find out their own ways in doing things, survive on their own mechanisms. The United Nations already considers indigenous knowledge within Priority 3 of the Hyogo Framework for Action, which focuses on education and knowledge (ISDR, 2008).Historical records tell that the people of Bangladesh have faced disastrous situations through extending their mutual cooperation with their indigenous knowledge from time immemorial. So there are ample scopes to identify indigenous coping mechanism against disaster from rural Bangladesh societies. Flood is a common hazard that happens almost every year in different magnitude. The scientific intervention may reduce their vulnerability to flood. It is important to undertake such research integrating scientific and local knowledge for flood management.
This research is the about the people living in two of the most vulnerable flood prone areas of Bangladesh – Lalmonirhat and Kuriggram district. The Districts are located in the Tista and Brahmaputra river basin. Beside their chronic poverty and hunger, frequent natural disasters particularly flood and river erosion further add to the uncertainties in their life. Yet, the people have developed their local knowledge to predict flood and mechanisms to cope with exceptional circumstances caused by the floods (Alam. Khurshid. 2006). the way people deal with such flooding may change over time. Then the vital question for Bangladesh remains unanswered: whether any public and private policy contributes to enhance integration of scientific and local knowledge to coping with flood? This research also goes into a deeper analysis of such questions.
Profile of the Study Area
The Kurigram district is located in the north-west part of Bangladesh in the reach of the Teesta Meandering Floodplain and is criss-crossed by a number of major rivers, namely the mighty Brahmaputra, Teesta and Dharala (see Figure 2). Typical for this country, Kurigram exhibits a flat topography with little gradient from north to south. The Kurigram district belongs to the recently constituted Rangpur division, and is bordered northward by the Indian states of West Bengal and Assam. It has an area of about 276.45 km2, which is divided between nine Upazilas (sub-districts), two municipalities, 73 Union Parishads (local govern-ment institutions at the lowest tier), 647 Mouzas, and 1,907 villages. Kurigram Sadar Upazile, the sub-district chosen for the fieldwork for this case study, has 11 Union Parishads, one municipality, and 256 villages.
The total population of the Upazila, ac-cording to the census in 2001, was about 0.26 million, of which 51 per cent were male and 49 per cent female. The population density in 2001 was 935 people per km2, and has increased to about 1,000 people per km2. The current literacy rate is believed to be about 40 per cent. Around 30 per cent of the farmers are landless (TAS, 2006)
Geography the Study Area
Kurigram District is located in the northern region of Bangladesh along the border of India. The population is 2,069,273 (2011 national population census). This district is surrounded by Cooch Behar district of India in the north, Gaibandha district of Bangladesh in the south, Assam state of India in the east and, Lalmonirhat and Rangpur districts of Bangladesh in the west. Weather of the Kurigram district is bit different from the middle or southern part of Bangladesh. During summer, temperature is higher and during winter is lower than middle or southern part of Bangladesh. The average maximum temperature is about 32-33 degree Celsius when average minimum temperature is about 10-11 degrees. Heavy rainfall is usually observed during the rainy season like other parts of Bangladesh and the average annual rainfall is about 3000 mm. Several rivers are flowing through the heart of this district. The major rivers are Brahmaputra, Dharla, and Tista with minors are Dudhkumar, Phulkumar, Gangadhar, Jinjiram etc. Three northern subdistricts (namely thana or upazila)of this district (Nageshwari, Bhurungamari, and Phulbari) are recently connected by a beautiful bridge over the Dharla river with the main land of the district.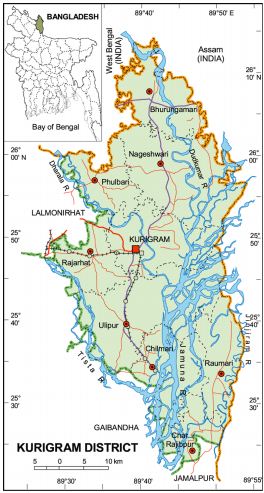 Figure: Administration Area Map
General Objective
The general objective of the study is combining the indigenous knowledge of flood disaster risk management with scientific techniques in the selected rural coastal communities with the view to developing adaptive response strategies to flood disaster.
Specific Objective
The specific objectives include the following:
To examine and document current existing adaptation strategies and practices at various levels of community to flood management.
Identify contribution of indigenous knowledge to local population to management of northwest Bangladesh.
Research Questions
What are the potential scientific and indigenous knowledge used for flood management in Bangladesh?
REVIEW OF LITERATURE
Bangladesh is heavily influenced by the annual monsoon, and therefore also experiences very high rainfall variability. While the northeast receives over 5,000 mm rainfall annually, the central-western region hardly receives 25 percent of that annually (FAO/UNDP 1988). June to September is the monsoon season when about 80 per cent of the rainfall occurs (Ahmad, 2000).
However, local run-off is overwhelmed by the huge run-off generated in the greater Ganges Brahmaputra-Meghna basins, to form the second largest outfall into the ocean through the Lower Meghna River.
Since the 1990s, local and indigenous knowledge has received increasing attention in the fields of natural resource management, disaster risk reduction, and climate change adaptation. In the disaster risk reduction field, the 2004 Indian Ocean earthquake and tsunami has been recognized as a turning point, when specialists and scientists began to show interest in such knowledge.
However, local and indigenous knowledge is yet to be included in policies on disaster risk reduction or climate change adaptation, and the wealth of documented knowledge and practices have not led to increased efforts to make use of this knowledge to enable communities to increase their resilience.
What is a disaster?
We use the term disaster often in our everyday lives. It seems that anything from missing the bus to a lost football game can be a disaster. At the same time we constantly see and hear events such as earthquakes, nuclear accidents or environmental degradation being described as disasters.
What then is a disaster? A disaster can be defined as an event that occurs when a disaster affects a vulnerable Population or area.
Disasters are often portrayed using the following equation:
Disaster = disaster * vulnerability
As this equation shows, the two key elements to a disaster: disaster and vulnerability.
Form of disaster
Disasters come in a number o f forms:
Natural disasters. These include hydro meteorological (Cyclones, floods), geological (Earthquakes, volcanoes) and biological (Epidemics, locust swarms).
Technological disasters (Gas leaks, industrial accidents, bridge or building collapses).
Environmental disasters (Sea level rise, desertification, and climate change).
A disaster alone will not cause a disaster. Disasters have to impact on a population or area before they can have disastrous effects. For example, a tsunami traveling over open-ocean is not a disaster, but when it strikes a population located on a coastline, the results can be disastrous (Rashid, 1995).
A diversity of disasters
Disasters come in all shapes and sizes. This briefing focuses on natural disasters – those that are weather related or geophysical in origin. Yet some natural disasters are partly human-induced, such as storms or droughts influenced by global warming or landslides caused by deforestation.
The disasters associated with them reflect a complex interplay between these disasters and factors leading to human vulnerability and are anything but natural. Moreover natural disasters cannot be considered in isolation from other disaster types. Their interactions with epidemics human impacts on the environment, including technological disasters, and conflict is also of critical importance (Hutton et. al 2005).
Knowledge & Disaster Management
In order to improve disaster management one must first understand the components of a disaster and how they interact with knowledge systems (both expert and local). Disasters arise out of the interaction between a natural hazard and human vulnerability. In other words; natural disasters cannot arise simply out of natural forces but must interact with social organizations to result in disaster a normative concept.
What is Indigenous Knowledge?
Indigenous knowledge, accumulated though generations of living in a particular environment, belongs to and is sustained by communities. According to Van der Bleik and Van Veldhuizen (1993), indigenous knowledge consists of ideas, experiences, practices and information that have been generated locally or generated elsewhere, but have been transformed by local people and incorporated into the local way of life.
Indigenous Knowledge & Disaster Preparedness
We document local knowledge on disaster preparedness. Case studies on local knowledge exist in several fields of study, but usually the links between local knowledge and disaster preparedness are not explicitly made. An assessment of the available literature reveals the absence of a framework through which they may be linked. So there is no better way than to hear from the mouth o f local people about their knowledge on natural disaster preparedness.
Why Indigenous Knowledge?
The interaction between western conventional science and local knowledge is not new and the history o f the sciences demonstrates that those two knowledge systems have often been more intertwined than separated. What is new is that local knowledge including indigenous knowledge and practices and knowledge systems are now more widely acknowledged. Much of the literature on local and indigenous knowledge is dispersed in various fields including anthropology, geography, natural resources management, rural sociology, urban planning, and engineering.
However, local knowledge and practices have been barely explored in disaster literature in general and even less in literature on disaster preparedness. Until recently much focus was directed towards relief aid, but this is now slowly changing.
An example comes from the impact of the 2004 tsunami in South Asia. Following the disaster, the media especially reported how some communities managed to save their lives and property using local knowledge through the ability to identify early warning signals of the tsunami from local songs and observed changes in animal behavior patterns. The failure o f relief aid following 13 the 2004's tsunami is now largely attributed to a general misunderstanding o f people's needs and practices. However, even if implementing organizations acknowledge the existence and importance of local knowledge and practices related to disaster preparedness, there is little documented evidence of their inclusion in disaster preparedness planning (Hutton and Haque 2005).
Indigenous Knowledge versus Scientific Knowledge
One manner in which we may improve our ability to explore the social context of natural disasters is to incorporate greater local knowledge. People's own experiences and understandings of previous disasters will influence their uptake of scientific knowledge and may lead to issues of trust with the scientific and policy communities. Integrating technical information with realworld perceptions will surely add to the useful capacity of knowledge in disaster management for all of society.
But Indigenous knowledge can also play a leading role in the contribution of knowledge to disaster management. A fragmented approach dominates the established paradigm of expert scientific knowledge. Although science does attempt a systematic view of disaster through a reductionist exploration of prevention, preparedness, response, and recovery, science tends to focus on human vulnerability (Rodriguez et al. 2004). Indigenous knowledge influences range from personal experience, knowledge, personality, culture, and access to resources, social status, and future expectations.
The challenge of incorporating indigenous knowledge
Scientific knowledge is global in nature whereas indigenous knowledge is considered local. However, as with scientific knowledge, indigenous knowledge is dynamic in nature, continually influenced both by internal creativity and experimentation, and by has a contact with external systems (Flavier et al., 1995). Knowledge's both scientific and indigenous, are intertwined with power and human relationships including social, political, technical and economic elements.
Indigenous knowledge is oppressed in a number of ways as a result of the marginalization, exploitation, powerlessness, cultural imperialism, violence and denial of existing knowledge placed upon its bearers. All of these forms of oppression can occur simultaneously or independently of each other, but all contribute to the suppression of indigenous knowledge in a society where the scientific culture is dominant.
Indigenous knowledge is based on diachronic observations accumulated over generations of detailed observation and interactions with local ecosystems (Dekens, 2007a). Their knowledge is more qualitative and geographically specific in contrast to scientific knowledge, which is normally based on synchronic observations, tending towards the quantitative and more general in nature (Dekens, 2007a). However, too often indigenous knowledge is hidden and dismissed by the tendency of scientific knowledge to deny the importance of the other.
However, the ability of indigenous populations, such as those in Kurigram, northwest Bangladesh, to survive environmental hazards is evidence of the applicability of indigenous knowledge. In order to engage indigenous knowledge productively in development, Agrawal (1995) argues that there is a need to move beyond the dichotomy of indigenous versus scientific and work towards building bridges across the indigenous and scientific divide. The distinctions between indigenous and scientific knowledge is potentially ridiculous and that it makes more sense to discuss multiple domains and types of knowledge with differing logics and epistemologies (Agrawal, 1995). This is observed among indigenous communities in villages, who have constantly adapted and developed their knowledge over centuries, intertwining this with outside knowledge where necessary, thus creating multiple forms of knowledge.
The local communication system (indigenous method) then took over with local runners taking the message out to other community members in the local language. Hence, there is a need for a participatory process in which indigenous knowledge is shown to have value and is kept within the community. In an attempt to meet these challenges the framework presented below has focused on the use of participatory techniques within a given community to integrate both indigenous and scientific knowledge within disaster risk reduction.
Identification of indigenous and scientific strategies
Identifying both indigenous and scientific strategies used both in the past and in the present to cope with intrinsic factors affecting vulnerability. It is essential that strategies and/or knowledge used in the past are identified alongside present day strategies because an earlier strategy may emerge as relevant and beneficial. For example, the villagers in Kurigram districts identified that their indigenous land management strategies used in the past had helped reduce their vulnerability, whereas the strategies implemented today have contributed to their vulnerability.
This is especially true with regards to landslides, as implementation of the 'western scientific' way has contributed to destabilizing the ground and the soil, resulting in further landslides.
Identification of indigenous strategies
Community to establish groups consisting of a balanced representation of elders, youths, women, minorities (e.g. ethnic minorities) and disabled to look at indigenous strategies used to deal with the hazard in both the past and present. Groups to consider different knowledge areas such as land use planning, building methods, environmental strategies, food strategies, social linkages, and other areas identified in collaboration with the community.
Triangulate data with whole community and with associated stakeholders to establish/identify strategies that may be used, of which the community may have been unaware
Framework integrating indigenous and scientific knowledge
The framework is a process by which indigenous and scientific knowledge may be integrated to reduce the vulnerability of indigenous communities to environmental hazards. The framework is not identifying new knowledge but rather identifying how existing knowledge can be integrated to enhance the ability of indigenous communities to reduce vulnerability levels to environmental hazards. The framework provides is to circumvent such a situation, enabling indigenous people to reach a consensus regarding ways to approach their vulnerability to environmental hazards.
The desired outcomes of this process consist of: a) Reduced vulnerability to environmental hazards, b) Increased collaboration among stakeholders, and c) Organized disaster risk reduction planning. The framework is a process by which a researcher and community collaboration using participatory techniques to reach a desired result. Participatory techniques in the context of disaster risk reduction have often been utilized in the form of capacities and vulnerabilities analyses—that is, determining the strengths and weaknesses of a community. While in itself a useful analysis, the process does not seek solutions but rather identifies which strengths need to be built upon.
Hence, for the purposes of this research, community has been defined as a group of people sharing common ideals, resources, environment and aspirations while living in the same geographical location. For this study, the process framework represents the main processes or steps that are taken in order to reach a point at which the indigenous community concerned can identify an integrated strategy incorporating indigenous and scientific knowledge that would best reduce their vulnerability to environmental hazards. As a process framework, guidance to completion is on a step-by-step basis in a linear fashion. Local and indigenous knowledge is the key to increasing the resilience flood risk communities to hydro-meteorological hazards and the impacts of climate change. However, it has yet to be fully harnessed by scientists, practitioners, and policy-makers. Such knowledge needs to be integrated with science and technology before it can be used in policies, education, and actions related to disaster risk reduction and climate change adaptation.
Data collection Instruments
My primary data collection method was in-depth, open-ended interviews, for which I used an interview guide that I had prepared. Key informants provided supplementary data. The use of the interview guide indicated that there was some structure to the interviews, even though they were treated as conversations during which the interviewer drew out detailed information and comments from the respondents. One way to provide more structure than in the completely unstructured, informal conversational interview, while maintaining a relatively high degree of flexibility, is to use the interview guide strategy (Rubin & Babbie, 2001, pp. 407). More structure eases the researcher's task of organizing and analyzing interview data. It also helps readers of the research report judge the quality of the interviewing methods and instruments used. Additional data collection methods were non-participant observation of organization/community conditions and processes and reviews of documents related to the communities, organizations, and projects included in the study. Archival research included both electronic (i.e., Internet-based) and hardcopy issues of newspapers in addition to minutes and reports of meetings, letters, and similar documents.
Data Analysis
The analysis of interview transcripts and field notes was based on an inductive approach geared to identifying patterns in the data by means of thematic codes. Inductive analysis means that the patterns, themes, and categories of analysis come from the data they emerge out of the data rather than being imposed on them prior to data collection and analysis (Patton, 1980, p. 306).
The grounded theory method was employed in my study. A grounded theory is one that is inductively derived from the study of the phenomenon it represents. That is it is discovered, developed, and provisionally verified through systematic data collection and analysis of data pertaining to that phenomenon (Strauss & Corbin, 1990, p. 23). Further a constructivist interpretive paradigm (Denzin & Lincoln, 1994) underpinned my study. In line with this approach the investigator's interpretation of events and situations involving local community actors provided the building blocks for theory construction. A constructivist-interpretive paradigm produces substantive-formal theory grounded in the research (Denzin & Lincoln, 1994; Glaser & Strauss, 1967). Substantive theory is developed for a substantive or an empirical area of inquiry; formal theory is developed for a formal or a conceptual area of inquiry. Data were analyzed using the constant comparative method (Glaser & Strauss, 1967; Strauss & Corbin, 1990) whereby line sentence and paragraph segments of the transcribed interviews and field notes were reviewed to decide what codes fit the concepts suggested by the data. The interview data were given more weight in the analysis than were the non-participant observation and the document reviews. Each code was constantly compared to all other codes to identify similarities differences and general patterns. My dissertation contained a detailed description of the coding process. In sum, data were reduced and analyzed by means of thematic codes and concepts in a three-level process. Themes gradually emerged as a result of the combined process of becoming intimate with the data, making logical associations with the interview questions, and considering what was learned during the initial review of the literature. At successive stages themes moved from a low level of abstraction to become major, overarching themes rooted in the concrete evidence provided by the data. These emerging themes together with a substantive-formal theory of development-focused collaboration became the major findings of my study.
Sampling
Qualitative research such as mine, which stressed in-depth investigation in a small number of communities, uses purposive sampling as opposed to random sampling. Because the emphasis is on quality rather than quantity, the objective was not to maximize numbers but to become saturated with information on the topic (Padgett, 1998, p. 52). I specified the criteria used to select sites for the study which included manageability in terms of the number of sites accessibility of the community and the residents (i.e., prospective respondents), and the willingness of respondents to speak freely with the interviewer.
This paper presents a process for integration scientific and indigenous knowledge. Therefore, indigenous knowledge is discussed first then the scientific knowledge shares with integration process. Most of the scientific information has been taking from secondary data with scientific in practitioner's aspects. In spite of documentation, and validation of local and indigenous knowledge, then selected information used for integration with scientific knowledge. It is imperative that using local and indigenous knowledge for disaster risk reduction.
FLOOD MANAGEMENT OPTION USING INDIGENOUS AND SCIENTIFIC KNOWLEDGE
Indigenous knowledge
Indigenous knowledge is the knowledge held collectively by a defined community. Through this study the researcher has sought to bring out the wisdom of community in combating flood in their local context. The wisdom of the community is very much relevant and useful to reduce sufferings from flood. Due to its geographic characteristics, Bangladesh is a flood prone country and every year the country has-been experiencing flood of different magnitudes. So community people practice their traditional wisdom to reduce severity of flood as well as their suffering.
Through this study it has been tried to identify these sort of knowledge in the two flood prone districts Kurigram. The ICSU Study Group considered instead traditional knowledge, which is a cumulative body of knowledge know-how practices and representations maintained and developed by peoples with extended histories of interaction with the natural environment. However, Awori (1991) differentiated between indigenous and traditional knowledge, where the former is an original form of knowledge that cultures have developed organically out of need.
As noted, there are numerous definitions of indigenous knowledge, with some scholars emphasizing the generation of the knowledge by original inhabitants of the place while others consider it knowledge transformed and incorporated by locals into their way of life, irrespective of origin. What is common to all definitions is that this knowledge mostly remains undocumented, embedded among people in various forms cultural practices, customs, traditions, religious and spiritual beliefs, rituals, ceremonies, folk stories, folk songs, legends and proverbs.
Table: Indigenous Knowledge Differs From Modern Scientific Thought in Several Ways

The Nature of Indigenous Knowledge
Despite the aforementioned problems, the consensus and debate in relation to Indigenous Knowledge (IK) has moved on greatly during the past two decades. Since Paul Richards first groundbreaking works, the interactions of actors and the institutional setting within which such information is placed has been analyzed, scrutinized and debated from every possible angle. For reasons outlined above, the original focus of the populists was with attention concentrating on local people's knowledge and abilities in agricultural production (Richards 1985). In recent years, this perspective has been expanded to consider indigenous knowledge as cultural knowledge producing and reproducing mutual understanding and identity among the members of the farming community, where local technical knowledge (ITK), skills and capacities are inextricably linked to nontechnical ones (i.e. cultural, ecological and sociological factors (Moock and Rhoades, 1992). As a consequence ITK has become part of rural people's knowledge (RPK).
This shift has involved the development and/or modification of methodologies for examining and supporting local knowledge, with parallel changes occurring in professional attitudes and behavior towards local people's capacities, practices and values (Scoones and Thompson, 1994).
The resultant stream of research has led to the development of a multitude of terms such as local knowledge, traditional knowledge, indigenous knowledge, community knowledge, resource users' knowledge, rural people's knowledge and farmer's knowledge which are frequently used interchangeably. The correctness of such interchanges is beyond the scope of this report and one which many view as unnecessary. Common to all terms is that they denote knowledge developed and held at grass roots level or by rural people.
The days when the debate whether IK is misguided, unscientific and wrong are gone: rather the discourse and over the last half a decade or so the debate has centered on the ability and means by which information from different epistemologies can contribute together to produce sustainable management strategies. Chambers (1992) stated that there was much overlap between popular and scientific knowledge. Fairlead (1993) also felt that farmers' knowledge is more empirical and dynamic than he imagined. Others however, (Scoones and Thompson, 1994) are less convinced by the similarities. In what represents an excellent critique of the debate surrounding IK, they point out that attempts to bend or integrate local knowledge into existing scientific behavior incorrectly assumes that IK represents an easily definable stock of knowledge which can be easily extracted and incorporated into proposed management plans and procedures.
Attempts to remove IK from the web of meaning and influence in which it arose and attempt to fit it into the constrictive framework of western scientific rationality are likely to lead to significant errors in interpretation, assimilation and application. They go on to make the point that IK, like scientific knowledge, is always manifold, discontinuous and dispersed, not singular, cohesive and systemized. It is never fully unified or integrated in terms of a logical system of classification or categorization. Whilst there are plenty of examples which suggest the latter half of the statement is something of a generalization, what is clear is that the interplay between the knowledge of different individuals and institutions means a multidimensional analysis of rural livelihoods is essential if we are to maximize livelihood resource strategies.
Indigenous knowledge based practices
As this study is primarily concerned with disaster coping practices, a distinction was made between knowledge as understanding of subject or situation, and practice as application or performing an activity. The study looked exclusively at the application of local knowledge and did not explore knowledge without any resulting action. For example, events like frogs croaking or ants shifting their eggs to a new place, perceived as forecasting heavy rains or flood, where there was no indication that these had triggered any action relating to saving life or asset, were not considered for replication. Furthermore, in order to determine the indigenousness of a practice, four criteria or distinguishing features, developed through consultation with key stakeholders (e.g., community representatives and disaster management practitioners associated with the communities)were applied. These include the following. Traditional practice –It is an established or inherent way of acting in the community; widely accepted and integrates with broader cultural traditions. Additionally, the practice may have recently evolved, but has already been. Indigenous Knowledge Integrated into the local culture in ways that ensure its continuity and reproduction.
Experience based -It is empirical rather than theoretical and has evolved as a consequence of practical engagement in everyday life, irrespective of the origin of the knowledge, local or otherwise. It has been developed by the community through experimentation and experiences and is transmitted through demonstration and replication.
Communally trusted -It is a community developed practice informally applying intimate understanding of the environment. Its efficacy and dependability are not validated by scientific methods; nevertheless, the community continues to rely on these beliefs to get desired results from their application.
Reliant on locally available resources– Materials and tools as well as skills required are readily available within the community. Often, necessary resources come from recycling and by products of household materials.
Indigenous knowledge about anticipating rain & floods and coping strategies
As flood is an annual phenomenon among the villager, they have rich amount of knowledge regarding prediction of rain and flood. Some of the indicators are the behavior of the animals and change in the environmental condition. Thus by observing and interpreting environmental warning signals, they manage to prepare themselves for the impending flood. People already find a safe place for themselves and the cattle and also preserving foods and firewood. With this skill of identifying the signs, people have been coping with flood.
Environmental signals
When there is heavy rain for ten to fifteen days continuously, flood is expected. Many a times the water level of the river rises even when there is no rain in the village and the nearby areas but when it rain in the higher mountainous region. So, when we see black cloud and its roaring sounds of clouds, flood is expected.
When the soil become very moist and wet, it is expected that flood will be coming soon, when the nearby gutters and drains are filled with water, the water is sure to enter the houses. When the level of water increases and it starts entering the courtyard of the house, people start taking their livestock to the higher and safer places.
The direction of the wind also indicates the coming of rain, when the wind is blown from east to west, sweeping the cloud towards western direction, people predicts that the level of the river water will increase.
The weather becomes very hot and humid before it rains, at this time body becomes hot and sticky
Animal behavior
The villagers are keen observer of the animal behavior. Certain behavior of the animals like reptiles, birds and insects are used for the prediction of rain and flood. Some of the indicators are
When snakes starts to roam around the homestead areas, people start to expect flood.
The croaking of frog in a certain unusual manner. Frogs start to croak continuously for about a month before the flood and croaking stops only when the level of water rises.
When ants start moving to higher places like trees carrying their eggs, flood is expected very soon.
When the pelican birds start flying south to north, rain is expected in the coming days. When the bird fly from north to south, rain stops falling in the next day or so even if it has been raining for quite some days.
Other than the pelican birds, when other species of birds which are not usually seen the village and the neighboring areas are seen in the village, people knows that it is raining in the higher mountainous places. Thus, people expect flood due to rise in the level of the water in the river. When these birds start moving away from the village, people predicts the coming of rain. Usually the bird Koyal (cuckoo) is easily sighted in the village and its sound can be heard every morning and night. When these birds move away from the village, people come to know that rain is coming.
Community response to floods
As the villagers have been experiencing flood every year, people have developed their system of anticipation, preparation, coping and recovery. In all these overlapping systems of response, people have heavily depended on their indigenous knowledge. Consequently, every flood experiences have enriched their knowledge which could be applicable in mitigating the flood risk.
Preparing for the flood
The villagers have been experiencing flood every year so preparation starts as soon or before the rainy season starts. Families try to store as much food as they can. Women of the house prepare to store foods and firewood.
The capacity to store food depends entirely on the economic condition of the family. However, those who could not afford by themselves borrow from the moneylender to buy food items.
Recovery after the Flood
Relief and recovery work start as soon as the water recedes. According to the villagers, they have not been getting enough relief material from the external agencies. Sometimes, government use to distribute rice and sugar but the amount is not sufficient. Few years back, an NGO distributed six hundred rupees and a big plastic sheet for each and every household. This was the only remarkable relief material, the villagers has ever received. Now the NGO has stopped working in the village. As, the villagers are not getting enough help for recovery, they had to bring themselves back into the normal condition. Soon the whole routine of daily life continues with men folks starting to look out for job opportunity to earn money and women on the other hand resume to their duty of looking after the domestic chores and the children and if there is an opportunity to earn money, they never miss to grasp it. All the wears and tears and destruction caused by the flood water are gradually attended.
Local Practices for Protecting Life and Assets
Selecting Crops for Cultivation Considering Rainfall Patterns and Temperature The Local farmers in the village of Jhunkar char select crops for cultivation considering temperatures, types of clouds and speed and direction of winds. If they notice any significant changes in weather patterns, they select crops that they believe to be more suitable for the changing conditions rather than following the traditional crop cycle.
For example, if local farmers notice a delayed winter or relatively warmer weather during early winter, they opt for crops that cope better with such conditions, choosing masur and kheshari pulses over wheat. Similarly, if there is no rain or fewer rains at the beginning of the traditional rainy season, farmers.Cultivate local varieties of aush and aman rice that has greater tolerance to drought conditions, instead of the usual high yielding varieties of rice this practice is widely popular among the farmers in the Tetulia village of the Jhunkar char Union.
Collecting Rain water Using Plastic Sheets
The People of Jhunkar char use rainwater for drinking. During the monsoonal months, they construct a structure made of bamboo poles and plastic sheets to catch rainwater.
To do this, they secure together four bamboo poles, forming a rectangular shape, with one side about afoot higher than the other. Rectangular plastic sheets then tied to the four corners of the poles. When it rains, containers are placed to collect water caught by the plastic sheet. The people Jhunkar char have been using this process as a means of harvesting rainwater for a long time.
To keep stored rainwater free of insects Because of high salinity in ground and surface water, the people of Jhunkar char under Kuriggram Districts use rainwater for drinking, collecting it in the rainy season and storing it for use during the dry season. However, within a short period, insects begin to breed in the water. To prevent this from happening, some keep two or three Kai fish in the container to eat insects and keep the water clean. This practice, learned from elders, is practiced in the villages of Jhunkar char.
Perception among the of the community people
God is angry with us, most of us follow the norm of the society and nobody tries to break it. We pray to the every possible god, but the situation is worsening day by day.
We should thank to the god that, even though we are suffering a lot, there has not been much casualty due to flood in the past decades.
We still strictly follow all the rituals associated with the festivals, every adult man and women keep fast during the Navratri for 9 days which is held twice a year, even the young children keep fast if they want to. We try to maintain the rituals in all the festivals as far as possible. Not only in the festivals but also every Sunday, every adult female of the family do Prayer and keep fast on this day. Nowadays this is not more in practice among the younger generations.
The village was a business centre at one time because it was suitable for the goods to be transported by boat. It was an advantage to be near the river. It Indigenous Knowledge for Disaster Risk Reduction in South Asia has provided a lot of wealth to our ancestors but now the river has taken it back again
We pray to the Allah, a day has never gone by without praying to the goddess. Everyday whenever we go out to collect fodder for the animals from the riverbank, we pray to her for our safety.
Now we relaying on our skill and knowledge because neither the god nor the government is helping us
Most of us cannot afford to give education to our children and those who have read up to secondary level with great support from their parents are roaming around the village unemployed. So, it is better to teach them to learn labor work.
As for the indigenous agricultural practices, we have good knowledge about variety of crops. At one time, there was moisture in the soil and everything whatever was planted produced good yield but now once the flood water recedes, the soil become very dry.
At the present condition, we can grow watermelon at the sand deposits at the river bank but nobody grows because, nobody wants to take risk and one has to keep vigil throughout day and night. It may tempt people to pluck unnoticed and there is always a possibility of conflict.
We can also plant bamboo trees as it is a very important raw material for building houses and other material objects. But we cannot plant it in large scale because the homestead area is very small and if planted near the houses, it is very dangerous as it attracts lots of snakes. We also cannot plant at agricultural land because there is not much land left for planting crops.
Now we grow those crops which can resist the flood water or those which grow during the dry seasons and plantation is only for subsistence because there is not much land left for surplus production to gain profit.
Most of us relay on chemical fertilizer as soil fertility has decreased but those who cannot afford still relay on indigenously made manures from cow dung.
Before planting any crop, we pray to god and after the harvest of crops, we offer to the god. In fact, before venturing to any new project we always take the name of the Allah.
Even though we pray to Allah, he is neither helping us nor the government official, we have come to know that government has provided enough support material but it does not reach to the villagers. Not only the relief materials are reached here, but also exact amount of ration and kerosene is never given. These are given less than the exact amount that also in the higher price
At one time there use to lots of trees at the bank of the river but flood has taken all of that. Even the biggest trees are washed away by the flood water. Now there are still some mangroves near the river.
Before the situation of the flood was not this worse. It has worsened due to the opening of dam from Nepal.
The flood water is very intense and wavy so the raft made up of banana trees and bamboo does not work. So, people manage with two boats in the village, one is owned by the Rafiq and another one is owned by Raja.
We have this knowledge that the situation can be improved if cemented embankments of the river is made or we could keep heaps of stone near the river bank. But we do not have enough resource of our own to do that. That is why we are saying only the god and government can help us.
We rely on our beliefs about prediction of rain and flood because this the only way for us. The government people do not inform about the opening of dam.
Perceptions among the women of the community
No matter how much prayer we do or how much fast we keep, flood never stops to come but we are still carrying on with the hope that it will be better someday but every year the situation has worsen.
The river has become our enemy; it has taken away our land, house, peace of mind and everything.
Now everything is in the hand of the God whether he relief us or not. The other one is the government, if they provide enough support, we will able to improve our livelihood.
Now we pray to give enough strength to us and our family members to face the problems.
Today women have started working in agricultural field. At one time women usually do not work outside the house. Women are paid Rs 30 -35 per day as wage for the labor.
At one time women did not learn to swim. We are also less privileged in learning to swim because we do not go to play at the river. Now most of us have learnt to swim and we also encourage other women to learn swimming. Indigenous Knowledge for Disaster Risk Reduction in South Asia
We also try to know about home remedies for the minor illness like cold, fever, pain in the throat etc because there is no proper treatment centre in the village. And whatever we know we try to share with others.
We actually do not have much to save but whatever we could, we try to buy jewelleries which we can always sell at the time of need.
Now the younger generation is moving out of the village to earn money, it is very risky to go out and earn but we cannot stop them because there is limited opportunity in the village. Some of them have migrated for good but it is hard to live in cities because we don't have no one to relay on. But in the village when we don't have anything to eat, we can always ask the neighbors. So, here no one gets to sleep with empty stomach. But in the city, the day you don't earn, you have nothing to eat.
During the flood we face lots of problem, there is no proper place to relief oneself of the natural calls. Sometimes we do not eat for two three days for the fear of defecating in the public and it is not safe to go far and isolated place when it has been inundated by water.
Even though we face lot of problems and sorrow due to flood, we console ourselves that it not alone us who is suffering but there are also many other more villagers and people of neighboring village who are also suffering.
When the flood water was surrounding us from all the side, we sat saliently praying to the god to let the water recede as soon as possible so that we could move back to our normal life and earn more.
Perception among the educated people
We cannot wholly discard our indigenous beliefs and practices. Most of the time when our elders says it is going to rain, it always rain.
We also cannot belief blindly on any superstitious things. Once, a saint came to our village, he was called 'Akhete Baba'. One of his hand was lifted up and he show that he has divine power. He used to remove ghee (purified butter) from his Lotta (a brass jug with handle to carry water). He promised that he can stop the coming of flood and remove all the sorrows of the villagers. All the villagers prayed to him and lots of money was offered to him. But it was of no use, the flood came the next year itself.
No matter how scientifically developed we are, the villagers always follow the agricultural calendar used by our ancestors.
The education system in the village is very poor, so it is difficult to compete with other in matters of searching job.
Support from the NGOs and government agencies are very poor. So, the intervention of the external agencies is very much required in order to improve the economic condition of the people
When the people are struggling to earn two time meal, there is no way people can think of building an embankment
There are food crops like sugarcane which can resist the flood water and which also give enough profit. Such kind of crop can be grown more but, people fear that there won't be enough land for cultivating food grains for consumption.
The education level of the villagers is very low and on top of the political organization of the village is powerless. So far, the villagers have not been receiving any pension scheme neither for the old age nor the handicap people.
News about the opening of barrage is usually given the district level officials but it never reaches the village. We only come to know when the water level rises.
FLOOD MANAGEMENT USING SCIENTIFIC KNOWLEDGE OPTION
Bangladesh tries to deal with flood and disaster with structural and non-structural measures. Systematic structural measures began by implementing flood control projects in sixties after the colossal flood of 1963. Non-structural measures have introduced in seventies. Flooding is a natural phenomenon, which cannot be prevented. Complete flood control is not in the interests of most Bangladeshi farmers. The flood control measures and policies should be directed to mitigation of flood damage, rather than flood prevention. Resources should be allocated to help people adopt a life style that is conformable to their natural environment.
Flood Management by Structural Measures
Structural option provided some benefits specially increase in agricultural production at earlier period but some adverse effects were observed later on. Notably, the construction of high embankment along the both banks of the rivers in some cases resulted in rise in bed levels due to siltation causing obstruction to drainage. In the coastal areas, although the construction of polders prevented salinity intrusion, but resulted in restriction of the movement of the tidal prism, sedimentation of tidal rivers and obstruction to the gravity drainage. Another important impact on agriculture was found that the farmers in most cases opted for production of cereal crops, especially HYV rice enjoying a flood free situation rather than going for crop diversification. Structural measure caused many adverse effects on the aquatic lives especially on open water fisheries Structural flood control measures reduce flood hazards by controlling the flow of water in rivers and streams. National and regional highways and railways, to the extent feasible, have been raised above flood level. Raising feeder and rural roads will be determined in the context of disaster management plans.
River maintenance and erosion control
River maintenance through dredging is also going on in a limited case due to the high cost.
Efforts are continued for erosion control on medium and small rivers.

Flood control and drainage project
Flood control and drainage structures have also been provided in major cities to make the cities flood free. Flood Management by Non-Structural Measures Introduction of non-structural option i.e. Flood Forecasting and Warning System I Bangladesh started from early '70sand contributed to the improvement of the capacity for flood preparedness and mitigation/minimization of flood losses. Other non-structural measures are discussed in the following.
Floods cum Cyclone Shelter:
School buildings are so constructed that they can be used as flood-cum cyclone shelter especially in the coastal zone with highest risk of flood and storm surge. These structures are not intended to change the flood regime, and therefore, considered as no-structural measures of flood management.
Function and Form of Flood Embankments
In order to manage flood management systems to achieve optimum performance, it is important to understand the nature and potential variability of typical flood embankments. This section introduces the generic components of a flood embankment and reviews how these may vary from site to site. The embankment structure providing the mass obstruction against flood water. The bottom of either the outward or inward embankment faces. The embankment face exposed directly to water to varying degrees.
Surface protection
Surface protection sometimes termed 'revetment'. A protective layer covering part or all of any embankment face. The protective layer may be natural (e.g. grass), manmade (e.g. concrete) or a combination of different materials.
Drainage ditch
Also known as soke ditch or delph ditch, they are typically found close to the outward toe of the embankment to drain any seepage and control water levels through the embankment. Larger delph ditches may exist as a result of borrow areas used for embankment construction ( embankment material taken directly from the ground behind the bank).
Fluvial flood defense
The purpose of flood embankments is to constrain and direct the passage of floodwater along a river valley or water course.
River channel
Where the in-bank carrying capacity of a river channel has been enhanced through the construction of flood embankments along both banks.
Two-stage channel
Where the flood capacity of a river channel has been enhanced through the construction of flood embankments along both banks, but at least one of the embankments has been set back from the river channel to incorporate part of the floodplain. During flood conditions water will flow along both the river channel and the contained section of floodplain. This offers the advantage of increased flood carrying capacity whilst allowing secondary use of the floodplain (e.g. farming, recreation etc) and maintaining normal flow within the defined channel.
Perched channel where the flood capacity of a river channel has been enhanced through the construction of flood embankments along both banks but the river channel and / or water level typically remains higher than local ground level. This occurs where river channels and flood embankments have been progressively raised over long periods and / or ground levels have dropped – as is typical in the Fens in East Anglia through consolidation of peat.
Setback or secondary (retired) defenses
Flood embankments may be located a significant distance away from the river channel. This can occur intentionally, when the floodplain is very large and primary defenses close to the channel are known to overtop, or unintentionally where the river may have meandered significantly over the years and earlier defenses are left remote from the current position of the river. In addition, flood embankments may also have been constructed to control and regulate flood water on the floodplain. Where additional embankments have been constructed, it can become difficult to determine the true flood defense line since it may not be immediately obvious which embankments is the current robust line and which are not.
Reservoirs
Reservoirs may be constructed for a number, or combination, of reasons including flood attenuation, water supply, recreation and power generation. Reservoirs are created by retaining water behind an impermeable barrier of some type. This function is no different to that performed by a flood embankment and the transition from fluvial flood embankment to embankment dam can be gradual. Between the two extremes (i.e. 0.5m flood embankment to a 30m high embankment) are storage ponds holding water for farmland, ponds, ornamental lakes, boating lakes etc. Also, some reservoirs only operate during extreme flood conditions, since they are designed to retain floodwater during an extreme event in order to prevent worse flood conditions further downstream. During dry or normal conditions these reservoirs may store no water at all, and are often referred to as wash land reservoirs.
Flood detention reservoirs
A method for controlling (attenuating) floodwater passing along a river valley is to restrict the passage of the floodwater and store the excess water. The storage area is often created through the use of flood embankments. Such storage areas may be a meter or several meters deep, but only used during flood events. Flood detention reservoirs are therefore normally empty for long periods. There are two normal locations for a detention reservoir to contain river flooding: (1)on the line of the river with a dam across the river, or (2) off-line with a bonded basin adjacent to the river. Some of the latter types of reservoir have the outlet controlled by manually operated penstocks to release floodwater. Flood detention reservoirs have a low-level culvert, which is permanently open and through which low river flows discharge. In the event of a large storm the reservoir fills, as the inflow exceeds the outflow. Water eventually may discharge over a spillway near the crest of the reservoir. These structures are designed to retain water temporarily, and their failure could result in uncontrolled escapes of water. Thus they are considered to be within the ambit of the Reservoirs Act 1975. It has been argued that, since Statutory Instrument (SI) 1985 No 177 (ICE, 2000) indicates that the reservoir capacity excludes any provision for flood storage; a flood retention reservoir should not be included in the Act. However, the SI makes the exclusion in the context of reservoir overflows, not of reservoir purpose. This argument is, therefore, considered unlikely to be sustainable if put to legal test, although there is no known case on the matter. Since flood retention reservoirs, just as any other large raised reservoirs, can prove a hazard to public safety, they should be as falling within the ambit of the Act.
Non-Structural Mitigation
Non-structural mitigation practices pursued by the GoB focus on (1) preparedness and possibilities for action to reduce risks and losses, and (2) better coordination mechanisms between all actors involved (GoB, NGO and community people at the grass-roots level) during all phases of disaster. Such practical measures under the recently completed project: "Support for Disaster Management" involve the following.
i) Legislation, Policy and Planning the Disaster Management Legislation (Act) and the Clear and Comprehensive National Policy on Disaster Management and National Disaster Management Plan have already been drafted and are now under consideration of the GoB.
ii) Training and Public Awareness the Disaster Management Bureau (DMB) has conducted 447 training courses, workshops and seminars attended by government and semi-government officials of different levels, as well as various stakeholders. In addition, the DMB has developed Disaster Management training modules and has supported the arrangement of disaster management training workshops
iii) Institutional Arrangements The GoB has taken a number of significant steps for building up institutional arrangements from national to union levels for effective and systematic disaster management.
Naming of the Ministry of Relief and Rehabilitation as the Ministry of Disaster Management & Relief (MDMR)
Establishment of Disaster Management Bureau (DMB) in 1993
Establishment of Council and Committees at the national, district, upazilla and union levels
Establishment of Emergency Operations Centre (EOC) Warning Systems In Bangladesh there are two warning systems: flood warning and cyclone warning.
Flood Warning Systems
Flood warning has been in a state of continuous development since 1972. There was a significant improvement in the Flood Forecasting and Warning system (FFWS) with the introduction of the hydrodynamic super model MIKE 11 and an increase in the number of real-time monitoring stations to 30. With such modernization, FFWS yielded a successful result during the devastating flood of 1998.
Cyclone Warning System
The existing cyclone warning has two signal numbers inherited from British India. In line with growing need, the warning signals were simplified and made specific and easily understandable in June 2002. The modified system is now under consideration by the GoB. Non-structural techniques for preventing flood damage are based on acceptance of flooding as a natural process that cannot be completely controlled. Because flooding is only a problem when floodwaters interfere with human activities, non-structural approaches focus on altering human behavior.
Non-structural techniques include floodplain management, stream corridor protection, flood proofing of existing structures, removing flood-prone development, storm water management, watershed management, flood warning, and flood response.
The limitations of structural flood control measures include the following:
No area is completely protected. Flood control structures are designed to protect known flood hazard areas up to a certain limit.
Structural projects alter the dynamics of hydrologic systems and can have adverse impacts beyond the areas they were designed to protect.
Once development has occurred within protected areas, additional development may be attracted to adjoining unprotected lands, with a net result of increased flood risks.
The sense of security provided by structural flood control projects can lead to complacency about non-structural methods of flood damage reduction.
Dikes, dams, storm sewers, and channel modifications require ongoing maintenance. Failure to provide such maintenance may result in catastrophic flood losses. (Read a newsletter article entitled, Who Takes Care of Flood Control Levees?)
Some flooding problems are not conducive to structural solutions.
Land acquisition and construction costs for structural projects can be prohibitively high. One of the best ways to prevent flood damage is to keep flood-prone areas free from development. Undeveloped buffers along rivers, streams, and lakes allow for fluctuations in these dynamic hydrologic systems with minimal damage to human activities. In addition to reducing the potential for flood damages, preserving floodplain lands as open space greatly enhances the naturally beneficial functions that floodplains provide.
CONCLUSION
Indigenous knowledge is the knowledge held collectively by a defined community. Through this study the researcher has sought to bring out the wisdom of community in combating flood in their local context. The geographic location of Bangladesh at the convergence of three vast river systems, as well as a cyclone prone coastline, renders it one of the most vulnerable countries in the world to the threats of climate change. Local communities are heavily reliant on rain-fed agriculture as a source of food and income, and crop yields are particularly vulnerable to the variability in weather associated with climate change. In order for them to adapt to future climate change, it is imperative that both climate science and their own local knowledge is used properly to inform policy and decision-making at all levels. To tackle this problem this project will focus on two main areas. The researcher looks at how communities can bring together their own indigenous knowledge and experiences, which might include birds, insects or plants, in order to support local adaptation to flood management in northwest Bangladesh.
The wisdom of the community is very much relevant and useful to reduce sufferings from flood. Due to its geographic characteristics, Bangladesh is a flood prone country and every year the country has-been experiencing flood of different magnitudes. So community people practice their traditional wisdom to reduce severity of flood as well as their suffering. Through this study it has been tried to identify these sort of knowledge in the flood prone districts kurigrame.
Despite the high population density and nagging poverty, Bangladesh has made noticeable strides in economic development over the past two decades (since early 1990s). Surely many poor Bangladeshis have been rehabilitated and mainstreamed in the formal economic sectors, as the economy of about 150 million people has been growing at a rate of about 6 per cent per annum (PC, 2010). The growth, coupled with advancements in social development and governance, will continue to create economic opportunities for poor and extremely poor people to take advantage of migration to improve their livelihoods and their food security. However, the government must create avenues so that people's exposure and sensitivity to climate-related risks are reduced through adequate disaster risk reduction programmes and poverty alleviation strategies. To this end, the adaptive capacities of the poor and extremely poor, not only in the Kurigram district but also across the nation, need to be enhanced through targeted interventions – predominantly by the government and complemented by NGOs and other non-state actors.
Taking note of the evidence presented in this study of the implications of rainfall variability for people's food security and subsequent migration, the development strategy of Bangladesh needs to strengthen people's adaptive capacities and provide more economic opportunities within and outside of agricultural activities. Improved food security and increased welfare for the rural poor can be achieved through structural and policy changes that enhance agricultural productivity, of farm employment and investment productive assets.
A questionnaire for semi structured interview and checklist for focus group discussion were developed as part of study tools. Considering the objectives of the study appropriate methodologies were applied for field survey. Based on the need felt and request from the researcher some local NGO officials extended their support voluntarily for data collection and validity checking of data. Reliability and validity of data has been ensured through funnel analysis process of participatory rapid appraisal techniques. Data were compiled, analyzed and made interpretation by the researcher through repeated discussion with the supervisor of the study.
It was shown that the rural poor are already directly affected by the local manifestations of climate change. If the variability of rainfall further increases in the future, local people's lives are likely to be even less secure and they might face times of food shortage and hardship more frequently. In this context, seasonal or temporal labor migration within Bangladesh seems to be an adequate practice that helps affected families to cope with the immediate effects of rainfall variability, such as a reduced harvest and lack of food. Moreover, migration can be seen as an appropriate strategy to adapt to the vagaries of nature by diversifying one's livelihood and thereby reducing one's own dependency on rain-fed agriculture. Nevertheless, the Bangladeshi people should not be left alone in their struggle to sustain their livelihoods and secure their food security under changing circumstances. Early and necessary adaptation steps need to be taken at the national and regional levels in order to reduce people's vulnerability to rainfall variability and other climate change-related risks. These local and regional efforts, however, need to be complemented in the global political arena by long-due adequate steps towards reducing CO2emissions. The farmers and day laborers, the men and women, the elderly and young in the Kurigram district can work towards reducing their own vulnerability. Most of the responsibility, however, lies in the hands of Bangladeshi policymakers and the global leadership. There is sufficient scope to take on this sort of study on flood hazard in other part of the country. It is essential and the demand of the time to enrich storage of knowledge in this field. Many local indigenous knowledge on different hazards stay behind stretch among our community people.