The Company
Berger Paints is one of the oldest names in the paint industry, yet, it is one of the most technologically advanced companies in the country. It is constantly striving for innovating superior quality products and services. With more than 250 years of rich heritage, Berger manufactures world class paints for all kinds of substrates and also provides unparallel services. Berger's inception was laid out.
In 1760 by a German national named Louis Berger, who started dye and pigment making business in England. Louis involved his family into the business and eventually changed the status of the company to Louis Berger & Sons Limited. Louis successfully refined the process of manufacturing Prussian blue, a deep blue dye. This dye was widely used for the uniforms of many European armies of that time. Production of dyes and pigments evolved into production of paints and coatings, which till today, remains the core business of Berger. The company grew rapidly, by establishing branches all over the world and through mergers and acquisitions with other leading paint and coating manufacturing companies.
Berger Paints started 'painting' Bangladesh since independence. Over the past few decades, Berger has evolved and transformed itself in becoming the leading paint solution provider in the country with a diversified product range that caters to all your painting needs. Berger has heavily invested in technology and Research & Development (R&D) than any other manufacturer in this market. Investment in technology and plant capacity is even more evident from the establishment of Powder Coating and Emulsion plants at the Dhaka factory.
The state-of-the-art Dhaka factory is an addition to Berger's capacity, making it the paint giant in Bangladesh. It sources raw materials from some of the best known names in the world. The superior quality of Berger's products has been possible because of its advanced plants and strict quality controls that match international standards. With its strong distribution network; Berger has reached almost every corner of Bangladesh.
Nationwide Dealer Network, supported by 8 Sales Depots strategically located at Dhaka, Chittagong, Rajshahi, Khulna, Bogra, Sylhet, Comilla and Mymensingh has an unmatched capability to answer to paint needs at almost anywhere in Bangladesh. Berger's one of the prime objectives is to provide best customer support-connecting consumers to technology through specialized services like free technical advice on surface preparation, color consultancy, special color schemes etc.
Customer satisfaction, Berger offers Home Decor Service from where one can get an array of services pertaining to painting. The product range includes specialized outdoor paints to protect against adverse weather conditions, Color Bank, Superior Marine Paints, Textured Coatings, Heat Resistant Paints, Roofing Compounds, Epoxies and Powder Coatings.
Vision
Berger Company shall remain as the benchmark in the paint industry by:
Being an innovative and technology driven Company consistently delivering world-class products ensuring best consumer satisfaction through continuous value added service provided by highly professional and committed tem.
 Mission
We shall increase our turn over by  100% in the next five years.
We shall remain socially committed ethical Company.
 Our sprit
Our customers are our partners our people are strength. Our shareholders are our foundations.We proudly bring inspiration, strength and color to communities through affiliation with our customer.
Corporate objective
our objective add value to life, to outperform the peers in erms of longevity, customer service, revenue grow the earnings and cash generation.
Our strategy is to build long-term partnership with the customers/consumer. With their support, we aim to maximize the potential of our business – through a combination of enhanced quality of product, service creative marketing, competitive pricing and cost efficiency.
Ratio Analysis Explanation
Liqudity Ratio

Current Ratio
Quick Ratio
Inventory Turnover
Receivable Turnover Ratio
Average Collection Period

2005

1.83

1.16

3.94

13.02

27.65

2006

1.91

0.91

4.51

15.78

22.82

2007

1.53

0.65

3.91

15.83

22.74

2008

1.45

0.53

4.56

21.00

17.14

2009

1.62

1.00

5.60

18.16

19.82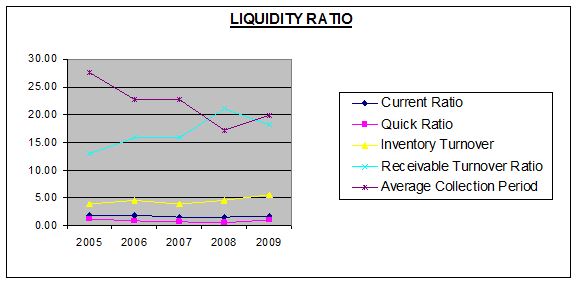 Comments:
Here  the current ratio, quick ratio a little bit of up and down  perform but the company receivable turn over and average collection  consistently same. So her the liquidity ratio is better.
Operating Efficiency Ratios

 

Fixed Asset Turnover

Total Asset Turnover

2005

5.97

1.60

2006

6.07

2.21

2007

6.15

2.15

2008

7.09

2.59

2009

6.76

2.21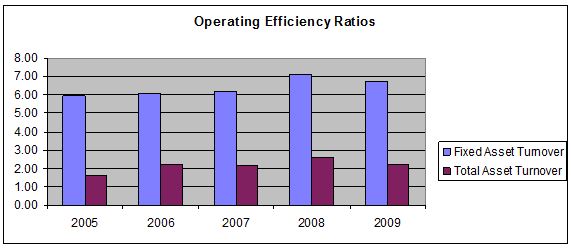 Comments:
This above this graph the fixed asset turnover is increased in 2008 .turn over is also good in the same year, so 2008 the company efficiency ratio is good.
Leverage Ratios

 

 

 

 

 

 

 

Debt Ratio

Debt-to-Equity

Total Debt to Total Capitalization

Long-Term Debt to Total Capitalization

 

 

 

 

 

 

 

 

2005

0.46

0.00

0.00

0.00

 

 

 

2006

0.39

0.00

0.05

0.00

 

 

 

2007

0.46

0.00

0.15

0.00

 

 

 

2008

0.48

0.00

0.00

0.00

 

 

 

2009

0.45

0.00

0.00

0.00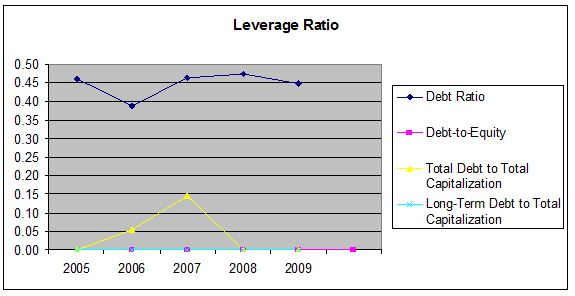 Comments:
Here we see the graph the leverage ratio is shows 2005  to 2008 are  quite same  but 2008 to 2009 debt capitalization and long term debt step line are almost perform same .
Coverage Ratios

 

Times Interest Earned

2005

17.86

2006

38.92

2007

28.39

2008

32.21

2009

211.96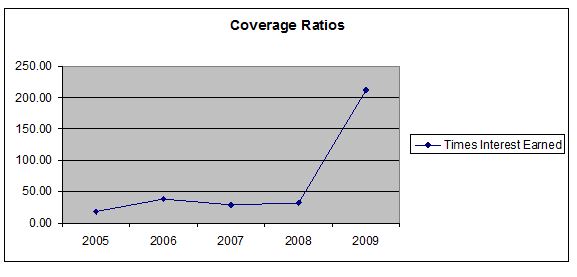 Comments:
Here we see in the graph the Berger company in 2009 interest earn is more then the other fellows years. Over the
Operating Profitability Ratios

 

 

Gross Profit Margin

Operating Profit Margin

Net Profit Margin

2005

0.34

0.14

0.15

2006

0.33

0.14

0.15

2007

0.32

0.13

0.13

2008

0.30

0.12

0.12

2009

0.35

0.14

0.15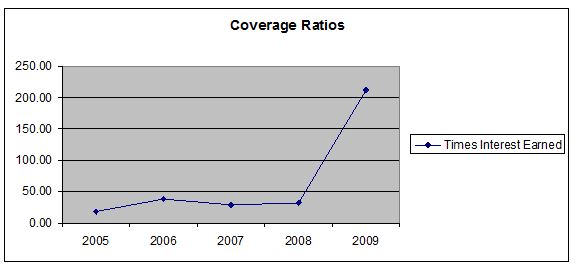 Comments:
Here we see in the graph the Berger company in 2009 interest earn is more then the other fellows years. Over the
Operating Profitability Ratios

 

 

Gross Profit Margin

Operating Profit Margin

Net Profit Margin

2005

0.34

0.14

0.15

2006

0.33

0.14

0.15

2007

0.32

0.13

0.13

2008

0.30

0.12

0.12

2009

0.35

0.14

0.15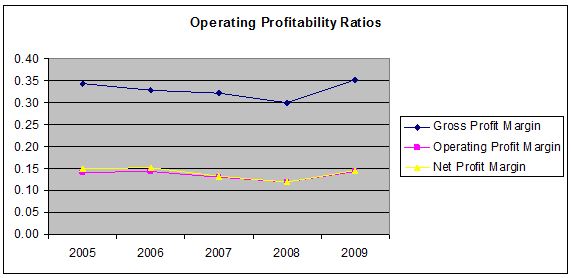 Comments:
Here gross profit margin operating profit and net profit margin are perform consistently same so the company operating profitability ratios  is good and stable.
Growth Rates

 

 

 

 

 

EPS Growth Rate

Dividend Growth Rate

Sales Growth Rate

EBIT Growth Rate

Net Income Growth Rate

2005

 

 

 

 

 

2006

-30.08%

25.72%

35.42%

37.76%

37.43%

2007

10.04%

8.12%

22.81%

10.52%

7.43%

2008

5.26%

18.07%

27.54%

16.60%

15.93%

2009

-1.32%

44.68%

18.53%

40.29%

44.17%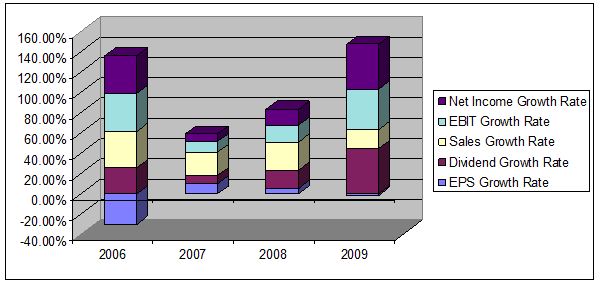 Comments:
Company's growth rates are up and down far above 2006 the EPS rate increases at the 2009 its decrease gradually and the net income in 2009 rats is high.
Conclusions & Recommendation:
This term paper based on real financial statements BERGER. Through this term paper the changes in BERGER Company's financial position and performance are summarized and made clearly visible in 2005, 2006, 2007, 2008 & 2009.In conclusion, BERGER Company can firmly say that the continuous achievement of market share and earning the reputation from around the globe are the benchmarks of the success of the company. This success has been earns besides others, obviously by ensuring the highest level of human resources management and conforming to various compliance issues at a level of international standard.
Through this term paper our effort was to understand the company retained earnings, probability ration growth rates performed well last five years.