Working experience at Dhaka Bank Limited
Dhaka Bank Limited (DBL) is the leading Private Sector Bank in Bangladesh offering full range of Personal, Corporate, International Trade, Foreign Exchange, Lease Finance and Capital Market Services. Dhaka Bank Limited is the preferred choice in Banking for Friendly and Personalized Services, cutting edge Technology, tailored solutions for Business needs, Global reach in Trade and Commerce and high yield on Investments, assuring Excellence in Banking Services.
DBL is a Scheduled Bank that was incorporated as a public limited company on April 06, 1995 under the Companies Act, 1994. The Bank started its commercial operation as a Private Sector Bank on July 05, 1995 with a target to play the vital role in the socioeconomic development of the country. Aiming at offering Commercial Banking Service to the Customers' door around the country, the DBL established 71 branches up-to this year. This organization achieved Customers' confidence immediately after its establishment.
Within this short time the bank has been successful in positioning itself as progressive and dynamic financial institution in the country. This is now widely acclaimed by the business community, from small entrepreneur to big merchant and conglomerates, including top rated corporate and foreign investors, for modern and innovative ideas and financial solution.
The Authorized Capital of the DBL was Tk.1, 000 Million and Paid up Capital of Tk.100 million. The Paid up Capital of the Bank stood at Tk.4, 667 million as on June 30, 2012. The Total Equity (Capital and Reserves) of the Bank as on June 30, 2012 stood at Tk.9, 683 million.
Goals of the Bank
Long-term Goal:
To be the Market Leader both in terms of Deposits and good advances among Private Commercial Banks in Bangladesh by the year 2015.
Short-term Goal:
To increase Current Market Shares at least 0.35% by 2012.
Financial Goal:
To reduce the existing Cost of Fund by 1%, this currently stands at 11.06%
Other Goals:
To be one of the best Banks of Bangladesh.
To achieve Excellence in Customer Service next to none and superior to all competitors.
To cater to all differentiated segments of Retail and Wholesale Customers.
To be a High Quality Distributor of Product and Services.
To use state of the Art Technology in all spheres of Banking.
Values
Customer Focus
Integrity
Team Work
Respect for Individual
Quality
Responsible Citizenship
Objectives of the Bank:
DBL has the objectives to conduct transparent and high quality business operation based on market mechanism within the legal and social framework spelt in their mission and reflected in their vision.
Their greatest concerns are their customers to provide them continually efficient, innovative and high quality products with excellent delivery system. 3. Their motto is to generate profit with qualitative business as a sustainable ever-growing organization and enhance air returns to their shareholders.
They are committed to the community as a corporate citizen and contributing towards the progress of the nation as their corporate social responsibility.
Their employees are their backbone. DBL promote their well being through attractive compensation package, promoting staff morale through training, development and career planning.
They strive for fulfillment of their responsibility to the government through paying entire range of taxes and duties and abiding the other rules.
DBL is cautious about environment & climatic change and dutiful to make their homeland a green and clean soil.
Management System
Since its journey as Commercial Bank in 1995 DBL has been laying great emphasis on the use of improved Technology. It has gone to Online Operation System since 2003. And the new Banking Software FLEXCUBE is newly installed. As a result the Bank will able to give the services of international standards.
Correspondent Relationship
The Bank established correspondent relationships with a number of Foreign Banks, namely American Express Bank, Bank of Tokyo, Standard Chartered Bank, Mashreq Bank, Hong Kong Shanghai Banking Corporation, CITI Bank NA-New York, AB Bank Ltd etc. The Bank is maintaining Foreign Exchange Accounts in New York, Tokyo, Calcutta, London, Germany etc..
The Bank has set up Letter of Credit on behalf of its valued Customers using its Correspondents as advising and reimbursing Banks. The Bank maintains a need based Correspondent Relationship Policy, which is gradually expanding. The number of Foreign Correspondents is now 406.
Departments of DBL
If the jobs are not organized considering their interrelationship and are not allocated in a particular Department it would be very difficult to control the system effectively. If the departments are not fitted for the particular works there would be haphazard situation and the performance of a particular department would not be measured. DBL has does this work very well. Different Departments of DBL are as follows:
Human Resources Division
Personal Banking Division
Treasury Division
Operations Division
Computer and Information Technology Division
Credit Division
Finance & Accounts Division
Financial Institution Division
Audit & Risk Management Division
Foreign Trade Division
Current Performance
DBL is committed to deliver better service to our valuable customers. Customers are their first priority and driving force. Superior quality customer service through the integration of the latest state-of- the-art technology is our motto. Customers come from all walks of life. They are professional, businessmen, public servants, entrepreneurs, homemakers, men & women, residents and non-residents maintaining local & foreign currency accounts. Introducing new products and developing the quality of the existing products is the strategies adopted by the Bank to serve the customers. They are always committed to sustain the commitment "Excellence in Banking".
We are aware of the natural consequences of globalization, liberalization, privatization, reforms, foreign investment, economic policy and infrastructure development. They assure a long-term sustainable relationship with strong bondage of caring and sharing with our customers.
Policies and Strategies of the bank
DBL seeks to build long-term, sustainable beneficial relationships with all its customers based on the service- commitments and on the underlying values of mutual respect.
The primary concern of DBL is to understand and satisfy customers' needs and expectations. DBL promises to use all means open to them to establish and understand these needs, which are both mutually beneficial and respectful to their values and principles.
DBL promises to deal quickly, courteously and accurately with all correspondences.
Should disagreements arise between DBL and its clients, DBL undertakes speedy and equitable solutions, which takes into account rights and obligations, of both parties and is framed in the context of a long- term and enduring relationship.
DBL believes in openness, integrity, transparency and accountability and provides high standard of services to its valued customers.
Environment of Dhaka bank
Quality of working life is easy, fast, durable, safe, furnished, updated. Environment of the workplace is fully air condition, computerised equipment, on lining each branch, mobile network facilities etc. Politics & practice are unseen in working environment. A proper hygiene is maintained.
Sustainable economic, ecological and social developments of the surroundings are the key elements of business decisions of DBL. Our environmental management policy stipulates adherence with environmental health and safety regulations and guidelines, refraining from businesses that impairs the ability of our future generations to meet their own needs. The policies with regard to safety, health and environment management are being observed in our lending decisions; several steps have also been taken within the Bank such as declaring all Dhaka Bank Branches and offices smoking free zones.
Internal Control System are processes designed by the management and effected by the board of directors on all tiers of management to provide reasonable assurance regarding the reliability of financial reporting, operation and risk management and the preparation of financial statements.
Foreign Trade
Foreign Trade is termed as the means and methods by which rights to wealth expressed in terms of the currency of one country are converted into rights to wealth in terms of the currency of another country.
Foreign Trade means trade of foreign products, services and currency between two countries. If we consider "Foreign Trade" as a subject then it means all kind of transactions related to foreign currency. In other words foreign trade deals with foreign financial transaction.
Foreign Trade department is an international department of the bank. It deals with globally and facilitates international trade through its various modes of services. It bridges between importers and exporters. Bangladesh bank issues license to scheduled banks to deal with foreign exchange.
These banks are known as authorized dealers (AD). If the branch is authorized dealer in foreign exchange market, it can remit foreign exchange from local country to foreign country. This department mainly deals with foreign currency. This is why this department is called foreign exchange department. Some national and international laws regulate functions of this department. Among these Foreign Exchange Act, 1947 is for dealing in foreign exchange business, Import and Export control Act, 1950 is for documentary Credits. Government's Import and Export policy are another important factor for import and export operation of banks.
Corporate Banking
Dhaka Bank offers a full range of tailored advisory, financing and operational services to its corporate client groups combining trade, treasury, investment and transactional banking activities in one package.
Whether it is Project finance, Term Loan, Import or Export Deal, Working Capital Requirement or Forward Cover for a Foreign Currency Transaction, our Corporate Banking Managers will offer you the right solution. You will find top-class skills and in-depth knowledge of market trends in our Corporate Banking Specialists, speedy approvals and efficient processing fully satisfying your requirements – altogether a gratifying experience.
At the moment Dhaka Bank's exposure (as of December 31, 2012) under the Corporate Banking Business is distributed in the following sectors: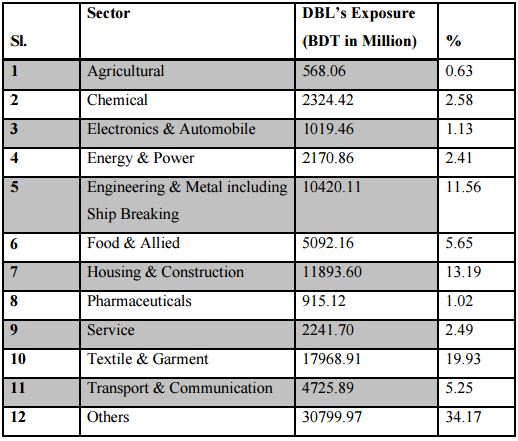 Working experience at Dhaka Bank Limited
Working Experience at the Dhaka Bank Limited
During the three months of my internship I was placed Banani branch under Mr. Khan Mohammad Mosiur Rahman, First Vice President and Operations Manager, Dhaka Bank Limited. I heavily enjoyed the working environment of this office. The working experience gave me a good idea of the overall banking system and taught me the professionalism of the working place.
During the internship period in Dhaka Bank Limited, I was placed in different departments. At first, I was in General banking section for two weeks, then in retail banking units for another two weeks and rest of the time I was in foreign trade department.
General Banking
Helping clients to fill up account form and pay order form
Writing pay order instrument
Provide customers' product related information
Provide assistance support according to the need of the customers
Helping officers to prepare for the Bangladesh bank reports.
Retail Banking Unit
Fill up CIB (Credit Information Bureau) form for clients and sent to Bangladesh Bank to check whether the client has any other any other bank or not.
Preparing to head office forwarding for loan approval
Making customer sanction advice about disbursing amount, after head office approval
Preparing purchase orders for car loan, personal loan, doctors loan on the basis of clients quotation
Foreign Trade
One of the most important parts in the DBL (Dhaka Bank Limited) Banani Branch is a Foreign Trade department that deals with Export, Import and Foreign Remittance. In my internship period, I worked in Export department and Import department. My lists of works or responsibilities are given below:
Export Department
Issuing and Updating EXP on Online Export Monitoring System: When one company takes the EXP form from the bank, officer from the bank has to put some information to the Bangladesh bank online system. This information is divided into two parts. One is Related LC/ Contract info. These information are– giving LC / Contract number, date, terms of sale type like LC or Contract, currency, country, Exporters registration number, Importers name and address. Other is Issue EXP. Issue EXP are- giving EXP serial, EXP year, HS code, destination port, unit(ISO), invoice amount, incoterm used ( FOB, CIF, CFR, FCA), name of carrier/vessel, transport document type(airway bill, bill of lading, HAWB, truck receipt), issuing officer name, correcting officer name then create.
When LC opened, and changes of invoice amounts occurred then clients has to inform bank that amendments has been occurred and particular LC needed to be updated. To update the EXP, first have to put the ADS code which is the branch code. For Dhaka bank it is 1407. Then have to put EXP serial, year, destination port, quantity, invoice, unit, B/L no or Airway bill no, date of shipment.
Giving clients vouchers or advices like Debit advice or credit advice. The advices can be for LC opening, LC amendments, LC SWIFT uses, charges, accounts, loans etc.
When LC request come to the bank, first I had to make a forwarding letter like giving the beneficiary name, product description, HS code, PSI requirement, LC amount, VAT, stamp charge, SWIFT etc.
Preparing the documents by putting stamps, sealing them and preparing files for the documents.
Making certificates when clients needed. Like CFR certificate, Fob certificate.
Updating the register book by putting realized amount of goods, shipment date, documents sent to Bangladesh bank etc.
SWOT Analysis of my working experience
Strength
When I started working in the Foreign Trade Department, I was assigned to fill up more than 200 forms of imports IPO on behalf of the account holders and prepare necessary documents required for application. I completed the job within the short period of time and my accuracy was making pleased the SAVP of Dhaka Bank Limited Mr A.K.M. Monirul Islam, and achieved his trustworthiness.
I was assigned to prepare Bangladesh Bank reporting for import payment which is called E2P2 for the month of March and April. For completing each month's E2P2 I only got one week. I had to fill up more than 50 IMP forms for each month and prepare different excel sheet for different currencies. I successfully achieved my given target for these two months.
Weakness:
My work could be done quickly, if there were sufficient amount of software in computers. The technology which is used by Dhaka bank is not sufficient.
Software is too slow to use. The employee could not use any computers when the server was down.
Opportunity:
I was the first who was given a work which is to report to the Bangladesh bank. So, I think in the coming days many interns will be given these types of works and they can understand the procedures of exports and Imports.
Threats:
Some employees think that interns have no work to do but only to scan and photocopy the documents. These types of work create demoralizing to employees. Interns are taken to experience the real corporate or official practices so; officers should be cooperating to their work.
Recommendation:
As a finance student, I always prefer to do a job in a financial organization. So, obviously banks get the first priority to me. An internship in a bank, like Dhaka bank is a great way to demonstrate interest in the sector and for me to learn more about the actual job, I would be doing on a routine basis.
During the internship period, employees of DBL were very supportive & always helped me to learn. But it was not possible for me to know about all the departments within 3 months.
In the follow, I found out some problem over in the Dhaka bank as a critical observation, and some recommendation regarding the observation:
During my internship I observed that work load in General banking department, foreign exchange and retail department at Banani branch was more than compared to the number of working employees. As their work pressure was being doubled, so motivational levels of those employees were getting down. So, the authority is required to be a little careful about their employees. May be their current policy is not to recruit any new employee, but they can solve this situation by transferring employees from other departments. Otherwise, the motivation level will be low.
In Dhaka bank Banani Branch, the management is not strict about punctuality. As a result, the tendency of being not on time is growing among employees. To change this practice management may need to be a little harsh about their rules and regulation.
Conclusion
Banks and financial institutions play an important role in the process of economic growth of a country. Bank s and financial institutions have a prospective impact on the development and welfare process of the surrounding societies.
In a developing country like Bangladesh, banking business is very much competitive. Almost fifty banks are operating at this moment and competing to hold maximum market share. Banks are the core of the Economy. It is financial intermediary, whose principle operation is concerned with the accumulation of the temporarily idle money of the general public. The banking sector plays an important role in modern society and private banks made more competitive, diversified and dynamic compare to traditional banking system. Every day new competitors appear into the industry with better innovative ideas, products and services. In banking sector Dhaka Bank Limited is a name of trust.
During the practical in Dhaka Bank Ltd, Banani branch ,it has been appear to me that the branch comprises with various positive and negative corners in the banking arena including management pattern, banking operation and performance. After collecting and analyzing the required data information, the report has come to some conclusions and recommendations, which are completely personal views while conducting the Study.
Banking operations, online services and customer dealings of Dhaka bank, Banani branch till now is very good. They have some prominent clients. Their lending interest rate and Customer dealing is really competitive and nice also by which they earned for their quality services. So it has a vivid future. Finally, I wish continuous success of this bank and healthy business portfolio of the branch and I also wish overall success of Dhaka Batik Limited.