Executive Summary
The report has been prepared as a mandatory requirement of our course MM(Marketing Management).   It is the summarized outcome of what we have learned till now in the sectors Principle of Marketing.
Executive summary presents a clear vision of the report with different titles. After we identify an existing company, which is Nestle, Bangladesh.  In our report we mainly deal with the new product line and deigned the packaging and leveling of the fruit juice.   This report will help us to determine the in-depth information and stand out position in the market.
We sum this philosophy up in four simple words – Good Food, Good Life – reflecting in everything we do and extending beyond what we make. On our path to being the leading food, nutrition, health and wellness company, we will continue to ensure that we do everything we can to build, nurture and develop family and community wherever we are.
Today Nestle is the world's largest food and Beverage Company with more than 250,000 employees and over 500 factories in 86 countries around the world. Our products have been available in Bangladesh.
The Nestle Company has not introduced any fruit juice. So it has decided to introduce new product line of fruit juice, which will be healthy, nutritious andelicious compare to other fruit juices in our country.
LIMITATION
As far as report writing is concerned, we are bound to make mistakes, as well as face various other problems. Thus, few of the problems faced while preparing this report and some of the weaknesses of this report are given below-
Nestle is a multinational company that's why we were unable to have any physical survey.  .
Getting relevant papers, documents and information were strictly prohibited.
In web sites there are lacks of information.
It was a very short time that's why we could not go through our report.
OBJECTIVES:
Broad Objective:
"Making our customers winners by constantly exceeding their expectations."
Marketing objectives are compatible with the overall corporate objectives of nestle. Company's objective is to be the world's largest and best branded food manufacturer while insuring that nestle name is synonymous with the products of the highest quality.
Its chief objectives are:
• To achieve compatibility with international voluntary standards on environmental management systems.
• To build mutual trust with consumers, governmental authorities and business partners.
• To ensure continuous improvement of nestles environmental performance.
• Conservation of natural resources and minimization of waste.
• Total compliance with the laws.
• To establish the benchmark for good business practice.
• Employing new technologies and processing.
• By committing to resources, both human and financial.
• Measuring the cost and benefits to business of its activities
Specific objectives:
To know the marketing strategy of Nestle Bangladesh
To find the List of  Nestle products.
To find the Segmentation Strategy of NESTLE bangladesh
To know the Product mix table of this company
Target marketing strategies of this company
Line streaching Strategies
Company Overview
In 1867 Henry Nestle, a chemist from Frankfurt who had settled in Vevey, became interested in infant feeding. To satisfy a clear need , he developed and produced a milk-based food for babies whose mothers could not nurse them. The new product soon became well-known worldwide under the name of "Farine Lactee Nestle ( Nestle Milk Food )".In order to expand into a broader category and meet more people's needs, the Nestle Company's first diversification occurred in 1905 when it merged with the Anglo- Swiss Condenced Milk Company (1866). Today, processing milk food is still the company's chief activity together with the other products of Nestle family such as chocolates, instant milk-based drinks culinary products, frozen foods, ice cream, dairy products and infant foods. Nestle is still primarily concerned with the field of nutrition, but it has also acquired interest in pharmaceuticals and cosmetics industries. As a result of the company's initiative and bold activity, it has grown into a huge organization, employing almost 230,000 people in nearly 500 factories worldwide. Nestle products are now widely distributed on all continents and sold in more than 100 countries.
 Nestle in Bangladesh
Popular Nestle brands entered this part of the sub continent during British rule and the trend continued during pre-independence days of Bangladesh. After independence in 1971, Nestle World Trade Corporation, the trading wing of Nestle, sent regular dispatches of Nestle brands to Bangladesh. By that time  some of the brands such as Nespray, Cerelac, Lactogen, Blue Cross etc. became household names. In the early eighties Transcom Ltd. was appointment the sole agent of Nestle products in Bangladesh. In 1992 Nestle and Transcom Ltd. acquired the entire share capital of Vita Rich Foods Ltd. Nestle took 60 percent while Transcom Ltd. acquired 40 percent. The name of the company was also changed at this time to Nestle Bangladesh Limited. In 1998 Nestle took over the remaining 40 percent share from Transcom Limited. Today Nestle Bangladesh Ltd. is a solid based enterprise.
 Nestle General Principles
Nestle is more people and product oriented than systems oriented. Systems are necessary and useful but should never be an end in themselve. Nestle is committed to create value for its shareholders. However, Nestle  does not favour short-term profit and shareholder value maximization at the expense of long-term successful business development. But Nestle remains conscious of the need to generate a reasonable profit each year.
Nestle is as decentralized as possible within the limits imposed by basic policy and strategy decisions, as well as the group-wide need for co-ordination and management development.
Nestle is committed to the concept of continuous improvement of its activities, thus avoiding more dramatic one-time changes as much as possible.
Nestle organizational principles
Nestle is in favour of  :
Flat organizations with few levels of management and broad spans of control, including project teams and task forces. Networking  and horizontal communication are encouraged without blurring the authority of the managers in the decision-making process. These principles aim to make the organizational structure and working methods more flexible and efficient, without undermining the basic hierarchy.
Clear levels of responsibility in the management structure. It is to avoid too many hierarchical levels and limit staff work to those tasks necessary for the support of line management.
Well defined ling and function responsibilities and their inter-linked character. Nestle gives line responsibility the edge over functions in order to assure operational speed and responsibility. However, if functional departments are overruled and feel strongly about a line decision, both parties should discuss the question or refer it to the next higher level for resolution.
Having at every level of the organization a team with a leader and not a team as a leader (teamwork with responsible leadership).
NESTLE PRODUCTS.
 List of Market Offerings (List of Product & Services of the organization with Sizes and Prices)
Nestle produces a wide variety of food products. A list of products is attached to this report as appendix 2. The major products are described below:
1.Baby foods
2.Sports Nutrition
3.Chocolates
4.waters
5. Beverages
6.Coffee
7.frozen meals
8.Ice cream and frozen treats
9.imported foods
10. Healthcare Nutrition
11.Pet foods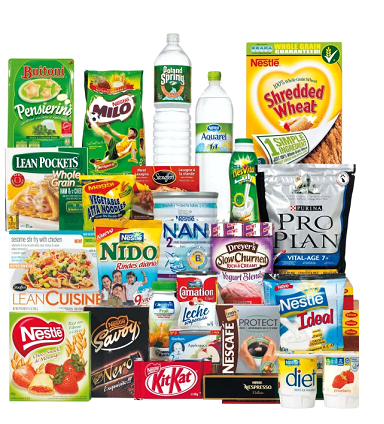 Infant Food 
The production of infant food goes right back to the origins of the Nestlé Company. Henri Nestlé's 'Farine Lactée' was the first product to bear the Nestlé name; it was the first industrially-produced infant food, based on 'wholesome cow's milk' mixed with cereals. In the middle of the nineteenth century, one in five children born in Switzerland in the working class died before the end of their first year. Increasing numbers of mothers were going out to work, and had no time to breast feed.
The First Cereal for Infants It was against this background that Nestlé had developed his infant food for young children. In 1867 for the first time Nestle's new infant food was tested on a 15-day old boy who was very ill. The boy was born prematurely and was refusing his mother's milk and all other types of nourishment. Nestlé's new food worked, and the boy survived. From the very beginning, Nestlé's product was never intended as a competitor for mother's milk. Nestle believes that during the first months, the mother's milk will always be the most natural nutrient, and every mother able to do so should herself suckle her children." By the end of nineteenth century the demand for infant food was so great that it was soon being sold throughout Europe, Russia, USA and Australia. The factors that made it a success then — quality and nutritional value — are still as valid today for the wide range of infant formula, cereals and baby food  manufactured by Nestlé. The World Health Organization (WHO) recognizes that there is a legitimate market for infant formula, when a mother cannot or chooses not to breast feed her child. Nestlé conforms its infant food formula to the principles and aim of the WHO. Nestlé's expertise as the world's leading  infant food manufacturer, gained over more than 125 years, is put at the disposal of health authorities, the medical profession and mothers and children everywhere.
Nestle Breakfast Cereal
Cereals have been a crucial part of mankind's morning meal since time immemorial. It wasn't until the 19th century that scientific research and technological innovation, and the influence of a group of American health reformers, gave rise to the crunchy foodstuff  known as breakfast cereal. Cereals and milk are still a firm base for good nutrition.
Snacks And Ice-Cream And Chocolate
The story of chocolate began in the New World with the Mayans, who drank a dark brew called cacahuaquchtl. Later, the Aztecs consumed chacahoua and used the cocoa bean for currency. In 1523, they offered cocoa beans to Cortez and introduced chocolate to the Old World, where it swiftly became a favorite food among the rich and noble of Europe.
Cooking Items
 The need for easy to prepare food was felt back more than a century. With industrial revolution women got more involved in jobs and found they have less time to prepare meals. So an alternative was needed. Julius Maggi, an inventive and capable businessman created a vegetables food product that was quick to prepare and easy to digest. That product is widely known as 'Maggi' which proved to be the best- known brand in the history of the food industry. Maggi merged with Nestle in1947. Now Nestle is producing not only powdered soups but also "Bouillon Cubes", Sauces, flavorings and a wide variety of condiments
Mineral Water
One of the recent additions to the Nestle Company is mineral water named "Perrier Vittel S.A."  In fact, Perrier is not the first water associated with the Nestle name. The products manufactured by the factory  in 1843 were carbonated mineral water and carbonated lemonade. For the production of this mineral water a spring at vergeze had been utilized for more than two thousand years.
The proprietorship of this products passed from owner to owner and became a part of the nestle company
in 1992.
Milk and Dairy Products
There is plenty of evidence that milk has always been one of mankind's essential food. But because milk is highly perishable, the storage and shipping of dairy products was always a problem. An American, Gail Borden changed this concept inventing sweetened condensed milk. Soon after,Henry Nestle launched his company into condensed milk business. Nestle's rival Anglo- Swiss company merged with Nestle in 1905.
Pet Care
Nestle entered the pet care business with the purchase of "Carnation" in 1985 and consolidated its position in Europe with the acquisition of the "Spillers" brand in 1998. "Friskies" a product by Carnation developed in USA since 1930 and in Europe and Asia since 1960's. Nestle's international network in technology, distribution and investment has helped expand the Friskies brand in the international market widely. Today Nestle's global market for cat and dog food exceeds $25 billions.
Hot And Cold Beverage
In 1937, after eight years of research, scientists at Nestlé's research laboratory formulated a powdered coffee product. It was introduced in 1938 under the brand name Nescafé. It became so popular during World War II that for one full year the entire output of the Nescafé plant in the USA (more than 1 million cases) was reserved for military use only. Since then, Nescafé has become one of the world's best-known brands. With more than 3,000 cups consumed every second, Nescafé  has become the world's leading coffee brand. In addition,
Nestlé is a major producer of chocolate-based and malted drinks. Its leading brands, Nestlé Nesquik, Nestlé Milo and Nescau are very popular with a growing number of young people in both developed and emerging markets. The Company's other beverage products include roasted coffees — for example Dallmayr, Zoegas and Loumidis in Europe — as well as fruit juices. Nestlé's ready-to-drink beverages Nestea and Nescafé are sold in various forms (cans, bottles) frequently associated with the Coca-Cola company.
                                            Product Price
Product name
Product size
Product price(tk)
Cerelac  :
Wheat & milk
Wheat&honey
Wheat& mixed fruit
400gm
400 gm
400gm
270
280
285Lactogen900gm700Keylogs cornflex300gm350Nedo400gm280Milo1.1kg765Kitkat65gm
30 gm100
50Maggie:
1 pice
4pice(pakage)
65 gm
14
50
L'OrealMaggiNestlé RowntreeMaxibonNestlé Purina / FriskiesGaldermaNesteaBuitoniCereal PartnersHertaDreyer's Ice CreamGerberNestlé WatersNespressoBaerenmarkeAlcon LaboratoriesNesquikJenny CraigBaciNestlé Professional
Practice of Marketing Concepts
Nestle Bangladesh ltd most of the time uses Production concept. Cause their product is not so expensive. Products are affordable even to the middle class family. And also they are highly available. We can easily find the Nestle product in any grocery or retailer shops.We can take examples of MAGGIE ,Nescafe, NEDO, kitkat etc.
Sometimes the also Use product concept. Their those products are highly affordable and not reachable to all the sections of peoples. Such as keylogs chocos. Nestle Cerelac.So we can say that Nestle uses both PRODUCT concept.
Evaluation of SBUs by BCG Matrix
(Category of their Products, Businesses)
( nestle beverage)Questions mark
( breakfast cereals)
 Cash cow
( baby food items)Dogs
(Pharmaceutical )
STARS The stars are the high relative market share and high market
growth. Nestle beverages i.e. are somewhat the stars in their business, because with the high quality and new designs which comes every now and then makes them more popular among the customers, because customer with upper class wants the quality and nestle offers the best quality food items.
CASH COWS
The cash cows are their baby food items i.e. nestle cerelace and other baby food products.
Company has to take measures to make these products as stars
DOGS
The pharmaceutical products are nestle Dog, because it has low-share business with low growth market especially when we talk about Pakistani market. The company has to think on what it can do by improving the low share and growth market.
QUESTION MARKS
The question marks are the breakfast cereals. They have high market growth but low market share. The company has to decide about which question mark they should try to build into the stars and which one of these should be phased out.
Product mix
Width and length
| | | | | |
| --- | --- | --- | --- | --- |
| Infant foods                 |         beverages      | chocolates | pet care | other food items    |
| Carelac | Milo | kitkat | Purina | Maggie |
| Lactogen | Pure life | shreddies | pedigree | Herta chilled meat |
| Nestle boost | Nescafe | crunch | | Keyloges cornflakes |
| (kids essential | | buitoni | | Other confectionary |
| Nestle good start | | Milky bar | | Cookies and cakes |
| | | | | Carnation cream |
 Depth:
We are showing some produts range size and flavours as depth:
Cerelac:
Cerelac Banana & Wheat with milk   available in a 400g tin.
Cerelac Apple & Wheat with milk     available in a 400g tin.
Cerelac Mixed Vegetables & Rice with mi k   available in a 400g tin.
 Cerelac Mixed Fruits & Wheat with milk     available in a 400g and 1kg tin.
Cerelac 3 Cereals with milks                           available in a 400g tin.
 Cerelac Honey & Wheat with milk                      400g and a 1kg tin
 NESCAFE:
Nescafe body partner                                           available in doy pack
Nescafe decafe jar 100 gm
Nescafe 3 in 1                                                      availabe in soft pack-mild 30 stics,regular 10 sticks,regular 30 sticks,rich 25 sticks
Nescafe classic jar-                                               50 gm,100 gm,200gm
Nescafe gold                                      jar-50 gm,100gm,200gm
Nescafe  RTD-                                    100 gm jar
 The Kit Kat range
 Within the Kit Kat range you can find the following:
Kit Kat 2 finger – Milk, Orange, Mint, Caramel and Dark
Kit Kat 4 Finger – Milk and Dark
Kit Kat Senses
Kit Kat Chunky – Milk and Caramel
Kit Kat Mini
The Milkybar range
 The Milkybar range consists of:
Milkybar bars – Small, Standard and Chunky

Milkybar Buttons – Small and Sharing bags
 Maggie noddles range:
Original Flavour
Chicken
Curry (a healthier alternative is also sold in supermarkets)
Kari Letup ("Explosive" Curry) in Malaysia
Laksa Lemak (discontinued)
Tom yam
Chicken & Corn
Beef
Oriental
Masala
Prawn
Dal Sambar (whole wheat noodles)
Dal Atta noodles
Asam Laksa
Cheese
Pizza (only in Saudi Arabia and South Africa, was available for a period of time in Australia)
Sup Tulang (bone soup) (in Malaysia)
Chatpata
Tomato
Keyloggs kornflakes:
Keyloggs kornflex cereal 43.0 total ounce two bag value box
Keyloggs kornflex cereal7 ounce pakage
Keyloggs kornflex single serve cereal
Different line stretching strategies:
Nestle has Different Line strecting Strategies.They are using upword, downward and as well as the combination of both.
¢ Upward line stretching: is used by companies located at the lower end of the market but to add prestige to their current products and services they introduce some high profile products. Nestle has added new product those are having high values.They have added kitkat and crunch ice creams in their ice cream section.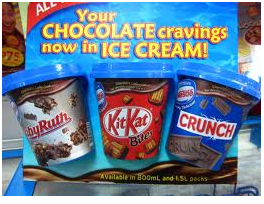 ¢ Downward line stretching: is used by companies located at the upper end of the market but to fulfill a market gap or to respond to a competitor's attack they introduce some low profile products.For downward nestle has their own product MAGGIE.Now a days they are also planning to introduce low cost baby foods
¢ Combination of Both: is used by companies located in the upper or middle range of the market but to achieve both goals of upward and downward they offer both high and low profile products simultaneously .NEstle have Cerelac,they have coffiemate.their product Nescafe is also a good example of both line stretching.
Bases of Segmentation:
Nestle bangladesh ltd. uses Demographic as well as behaverial segmentation too.
As we know that Demographic segmantation divides the market into different groups based on some demographical variables.Nestle are launched their product for some variables such as:
v  Age:Nestle has launched various types of product for various age's people.Such as they have launched Nestle Cerelac  and Lactogen for the babys for 1 month to 4 years.Then they have launched Nescafe for the young people.They have theire product Keylogges Kornflakes vor different age's people.They have also Milo, Boost for Different age's people.
v  Family Size:Nestle also launched theier product on the basis of  Family sizes.They have their mini products for small families also they has their famili size for the big family.Such as Maggie family pack noodles.Kornflakes Small and large size.
v  Occupation:They have also various products for various occupated peoples.Such as they have Nescafe for the people who has to work a lot.They have also MILO.Its one type of enargy drink.They have also KEYLOGGS CORNFLAKES.
v  Loyality Stutus:By many products nestle has segmented their market by consumer loyality.Consumers are loyal to brands maggie,nescaffe,kitkat etc.
  Target Marketing Strategies:
Nestle uses Differentiated marketing for target market. It targets different market segments and designs separate offers for each. It has launched various types of products to achieve higher sales and stronger position in the markets within the segments. It has targeted the markets by ages, family sizes, income, occupation and thus they are launching their products.they are also targeting the market by loyality stutus.thus consumer can be loyal to their Brands.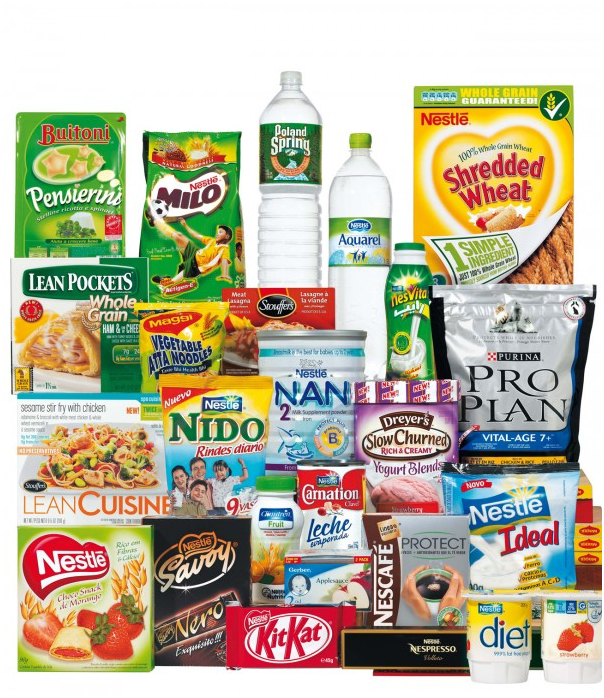 Pricing Strategies followed by the company. — Use your concern company only.
Competitors
Nestle is the world's largest food and beverage company, with 2009 sales of over 107 billion CHF .Nestle owns several major consumer brands such as Stouffers, Nescafe, Kit-Kat, Carnation, Nestle Water, and many others All in all, 30 of Nestle's products earned 1 billion CHF or more during 2008, making Nestle a major force in the global food and beverage industry. Nestle competes with companies such as Unilever NV (UN), Hershey Foods (HSY), Kraft Foods (KFT), Cadbury Schweppes (CSG), and GROUPE DANONE (DA) in the packaged food market. With only 42% of its food and beverage sales coming from North America, Nestle is one of the most geographically diverse of the major food and beverage companies.
Beverages
Beverages comprised 26% of Nestle's 2009 revenuesmaking it the second-biggest segment after Milk Products, Nutritional and Ice Cream. Nestle owns several international beverage brands including Nescafe, Nesquick, Nestea, and Nestle Waters, each of which generated more than 1 billion CHF in 2007. With more than 400 factories around the world, Nestle is able to formulate each product to local tastes; "Nescafe" in Switzerland has a different recipe to the same product sold in the USA.  Nestle's strong brand recognition helps them compete with other brands such as Maxwell House, Lipton, and Evian as well as various store brands. In 2009, Powdered & Liquid Beverages had sales of 19.3 billion CHF. This segment grew 9.5% from 2008.[28]
In 2009, Nestle Waters saw sales decrease 1.4% to 9.1 billion CHF. Nestle Pure Life, the largest water brand in the world, achieved growth of 14%, while both Perrier and Pellegrino also saw positive growth. However the segment's overall decrease reflects a weakening bottled water market, at least in the United States. The combination of the recession and upper class consumers' increased environmental consciousness[29] has lead many customers to cut back on bottled water in favor of tap water and reusable containers. In 2008, bottled water was the third most popular beverage (behind soda and milk) in the US, but compared to 2007, Americans consumption declined for the first time, down to 8.7 billion gallons from 8.8 billion gallons.[30] Although this is a seemingly small decrease, industry experts don't expect bottled water to bounce back anytime soon, and the trend may expand beyond the US.
Milk Products, Nutritional, and Ice Cream
Milk Products, Nutritional, and Ice Cream was Nestle's largest segment in 2009 with 27% of the companies total sales.[31] This division's brands include Carnation, Coffee Mate, Dreyer's, and Edy's, each of which totaled more than 1 billion CHF in 2007 sales. Nestle's milk and ice cream brands compete with products such as Breyer Ice cream and store brands. Their nutritional products include Gerber Brand baby food and Nestle brand yogurts. Nestle's nutritional products compete against brands such as Dannon Yogurt and store brands. In 2009, Nutrition had sales of 10 billion CHF, reflecting organic growth of 2.8%. In particular, Infant Nutrition saw double-digit growth in most emerging markets, including 30% growth in Russia.[32] In 2009, the Milk Products segment had revenues of 19.6 billion CHF with organic growth of 2%.[33] The company's Nutrition segment became part of Nestle HealthCare Nutrition in early 2011 and will report under this wholly owned subsidiary in the future.
Prepared Dishes and Cooking Aides
Nestle's Prepared Dishes and Cooking Aides segment, which contributed 16% of the company's 2009 sales, consists mostly of products, like microwave lasagna, that are designed to be ready to eat very quickly.[34] Nestle owns brands such as Stouffer's, Lean Cuisine, Hot Pockets, and Maggi, which each totaled more than 1 billion CHF in 2007 sales. Nestle has increased the nutritional value of its prepared dishes in order to compete with products such as DiGiorno, Bertoli, and Kraft Macaroni and Cheese.[35] On January 5, Neslte bought Kraft's frozen pizza business for $3.7 billion, approximately 2.3 times its total sales in 2009.[36] The purchase adds the DiGiorno, Tombstone, Jack's and Delissio brands to Nestle's stable of products, as well as the license to sell California Pizza Kitchen frozen pizza. In 2009, these brands generated revenues of $1.6 billion for Kraft. With this acquisition added to Nestle's existing product line, the company controls 33% of the market share for North American frozen foods.[37] In 2009, the segment had sales of 17.2 billion CHF with organic growth of 0.8%. Consumers in the US bought more family-sized frozen products such as Stouffers and Hot Pockets than single-serving dishes such as Lean Cuisine; Pizza was the most dynamic category for Europe throughout the year.[38]
Confectionery
Nestle's Confectionery segment comprised 11% of their total 2009 sales.[39] Nestle's confectionery brands include Kit-Kat and Nestle Chocolate, each of which generated more than 1 billion CHF in 2007 sales. The Nestle Chocolate brand produces famous products such as Baby Ruth and Nestle Crunch.[40] Nestle's confectionery products compete with chocolates and candies from Hershey Foods (HSY) and Cadbury Schweppes (CSG) (recently purchased by Kraft Foods (KFT) and snacks from manufacturers such as Kraft Foods (KFT), as well as various store brands.
With Kraft Foods (KFT)' purchase of Cadbury in January 2010, Nestle dropped to the third largest chocolatier. In response to the merger, many industry analysts are speculating that Nestle may set their sights on H.J. Heinz Company (HNZ), General Mills (GIS), or Hershey Foods (HSY) as potential takeover targets.[41] Officials from the first two companies have not responded to these rumors, however Heinz's stock rose more than 5% on possible takeover speculation. An spokesman for the Hershey Trust, the controlling shareholder in Hershey Foods (HSY) categorically denied any possibility of a merger.[42]
In 2009, Confectionery had sales of 11.8 billion CHF, reflecting organic growth of 4.3% from the previous year. KitKat in particular grew by 7% with large increases in Great Britain, France, and Switzerland. Also, Chocolate grew quickly in the Americas, Asia, Oceania, and Africa.[43]
Other Food & Beverages
In 2009, this group, consisting of "Nespresso", "Nestlé Professional", and "Cereal Partners Worldwide", generated revenues of 10.2 billion CHF. The segment grew 6.8% from 2008, spurred largely by Nespresso's 25% growth; the brand had sales of 3 billion CHF in 2009.[44] Nestlé Professional, previously Nestlé Food Services, saw business remain essentially flat in 2009 as a result of overall declines in the food service industry. Cereal Partners Worldwide had sales of more than 2 billion CHF as a result of mid-single digits growth in 2009. They have ongoing operations in more than 130 countries and account for nearly 25% of all cereal sales outside of the United States and Canada.[45]
Pet Care
Nestle's Pet Care group contributed 12% of the company's total 2009 Sales.[46] Nestle owns several pet care brands that produced more than 1 billion CHF in 2007 such as Purina, Dog Chow, and Friskies. Nestle's pet care products compete against brands such as Iam's and store brands. In 2009, Pet Care generated revenues of 12.9 billion CHF with organic growth of 7.9% from 2008. In particular, Purina outperformed the other brands in its market with mid-to-high single digit growth around the globe.[47]
Pharmaceutical Products
Nestle's Pharmaceutical Products division was responsible for 7% of the company's 2009 sales, however continued pharmaceutical operations (after the sale of Alcon) contributed less than 1% of total revenue.[48] This segment consists of pharmaceutical and cosmetics brands. Nestle owns 30% of L'oreal (LRLCY) and recently sold its controlling stake in Alcon Inc. (ACL) for $39.3 billion.[49] Nestle also participates in two joint ventures with L'oreal (LRLCY): Galderma and Laboratoires innéov. Galderma produces the topical acne medication Differin and Laboratoires innéov produces several cosmetics-related nutritional supplements.[50]
On January 4, 2010, Nestle agreed to sell its its 52% stake in Alcon Inc. (ACL) to Novartis AG (NVS) for $39.3 billion. Bought in 1977 for $280 million, the investment's value has since multiplied more than 140 times.[51] This influx of cash has fueled rumors of a possible acquisition by Nestle following Kraft's recent takeover of Cadbury.
Although there was speculation in early March 2010 of Nestle possibly buying out Lillian Bettencourt's share in L'oreal (LRLCY), there have been also been rumors saying the exact opposite, that Nestle is planning to sell its stake in L'oreal (LRLCY) to market investors.[52] In the meantime, certain analysts expect L'oreal to try and expand its market share in order to make a Nestle takeover more difficult.[53]
Healthcare Nutrition
Using funds from its sale of eye-care company Alcon to Novartis AG (NVS) for $28.3 billion (USD), Nestle created the Nestle Health Science company.[54] This wholly-owned subsidiary will create food-based products meant to help prevent and treat various medical conditions such as heart disease and diabetes. The company will also oversee the Nestle Institute of Health Sciences which will undertake research aimed at bridging the gap between pharmaceuticals and food and unraveling the web of connections between food, drugs, and disease. Nestle's existing Healthcare Nutrition segment will now become part of the new subsidiary.[55] The majority of the company's brands were acquired from Novartis AG (NVS) in 2007.[56]
In February 2011, Nestle purchased UK-based CM&D Pharma; the company developed a chewing-gum that helps people with kidney disease that is currently in testing. The purchase is the first for Nestle Health Science as they expand their portfolio of food-based products that help prevent and treat various medical maladies.[57]
.   So by these analysis we can say that the:
Direct competitors are:
v  UNILIVER
v  Craft Food
v  Hershey Food
v  Dano
v  Diploma
The substitute competitors are:
v  Cadbury Foods
v  Hein'z Group
RECOMMENDATON
Nestle should expand its business.
Nestle should more conscious on its product-life cycle.
Nestle should more attentive on its advertising activities.
 Nestle should improve its product day by day.
Nestle should minimize its product price.
 CONCLUSION
Nestle has seen a strong start to 2008, partly thanks to its strategy of increasing product prices quickly in line with commodity price increases. Through internal research and development at Nestlé there have also been significant advances in the environmental impact of refrigerants and packaging. Without compromising product quality there was a reduction of 392 000 tonnes of packaging material between 1991 and 2008. Evidence shows that Nestlé advertised and still advertises its formula as a risk-free substitute (or even a preferable alternative) to its products, resulting in increased use.