Bangladesh can secure a foothold in the Chinese footwear market as shoe use in the world's fastest-growing economy will double over the next five years, a top footwear entrepreneur has said.
"It's a fantastic opportunity. Footwear consumption in China will double in the coming years, meaning the world's second largest economy will need an additional two million pairs of shoes a year," said Syed Nasim Manzur, managing director of Apex Adelchi Footwear Ltd, in an interview with the FE.
BD can harness Chinese footwear  Market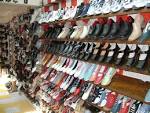 On studying the latest market trends and segments, we observed that the e-commerce has emerged as a new powerful tool for the Chinese footwear market companies to BD.
He also said the Chinese footwear industry's expansion has stalled by now, with existing factories are facing problems due to wage hike and workers' shortage.
"We can tap that capacity and the market through proper planning. There are chances that we can expand our shoe market to non-traditional Asian countries like China, India, Thailand and Singapore while also meeting growing demand in North America," Mr Manzur added.
Companies doing business in East Asia are now seeking to fold their operations due to labour troubles in China, Vietnam and Indonesia. And North America is not willing to import shoe from China.
"We may not get as much share as India can due to its already well-developed shoe industry and export policy. But some companies are showing interests because of our cheap labour and other sweeteners," said Mr. Manzur, adding the pace of relocation could be faster if this country did not have infrastructural and political problem.
Apex Adelchi has just received the 'HSBC Export Excellence Awards 2010'. Apex Footwear has been in the business since 1990, which was renamed Apex Adelchi Footwear Ltd in December, 2006. At present, the company has 241 outlets countrywide, which will become 260 by the year end.
The company exports leather footwear to 45 countries in Eastern and Western Europe, North America and Japan. Last year, the company shipped products worth Tk. 5.0 billion and has targeted a shipment of Tk. 7.0 billion this year.
Mr Manzur, also president of Leather Goods and Footwear Manufacturers and Exporters Association (LGFMEA), said one major issue the customers look for while searching for relocation destinations is land.
He posed a series of questions: "How much does an industrial plot costs? How lengthy is the process? Will the leased land be undisputed?"
"The government is the biggest land owner of the country. It should redistribute its vast land for making industrial zones avoiding residential areas. It also should cancel allotments to those who do not make factory in the given time and redistribute those among the real entrepreneurs, especially foreign investors," he said.
He noted that road condition should be better, traffic congestion should be improved, guarantee of power supply and gas connection also mattered in attracting foreign investment.
"If you say the government has done a lot to improve power situation I will not agree. If you say about quick rental, in that case if we could knew specifically when and in which industrial zone will get electricity on a priority basis then it would have been better for us to make investment," the Wharton-educated entrepreneur said.
He also stressed keeping the Chittagong port operation open round-the-clock for uninterrupted exports as he is fearful about potentially frequent strikes by the opposition.