This report analyses the marketing strategies of the Aarong. Aarong is one of the most renowned fashion enterprises in our country. This report has covered almost all the strategies of Aarong for marketing its product. It also includes a brief profile of the enterprise. To know the strategy of the enterprise it also includes the product categories and the distribution channel of the enterprise. The objective of this report is to identify and analyze marketing strategies of Aarong and sub brand of Taaga. I have used both the Primary sources of data and Secondary sources of data. The data has been collected through oral conversation. The limitations to get the proper information were Time barriers, Intension to not disclose the information, Rules and regulation etc. The vision of the company is to remain as the benchmark in the fashion industry.
Introduction
Aarong is an enterprise of BRAC (Building Resources Across Community) and it's a CSR based handicraft company established in 1978. Aarong means "village fair" Today; Aarong reach has spread beyond Manikganj to the rest of the country. At present Aarong is operating through 9 domestic outlets and one franchised outlet in London. Aarong has more than 488 products in their outlets. They have grown into a thriving international enterprise showcasing ethnic
wear to beautiful crafts from silks, handloom cotton, Endi to terracotta, bamboo, jute and much more. From a single shop, Aarong has grown into one of Bangladesh's biggest retail chains, with Twelve outlets spread across the major metropolitan areas of the country – in Dhaka, Chittagong, Khulna, Sylhet and Comilla, Narayangonj and one in London, UK. Aarong embraces and nurtures a diverse representation of 65,000 artisans, 85% of whom are women. Aarong also plays the role of protector and promoter of traditional Bangladeshi products and designs. It houses an
extensive design library where remnants of our rich craft heritage, such as Nakshikatha art and Jamdani patterns, have been widely researched and archived for present as well as future use. Aarong was born out of a need to ensure that the penniless silk farmers of Manikganj were paid for their goods upon delivery, so that they could feed their families. The women Aarong employs are among the countries most disadvantaged. Through Aarong they have been offered a way out of destitution and degradation where before they had none.
Naming:
The name of the organization "Aarong" is a Bengali word. It means Village Fair. The village fair provides craftsman of all trades a marketplace to display and sell their traditional handicrafts. The naming of Aarong as such upholds the organizations commitment to promote the indigenous goods of our country, which are a part of our rich culture and artistic heritage. "AARONG" means:
A: Active: we will execute our plans in an active manner.
A: Appealing: we will make ourselves and our workplace appealing.
R: Reliable: we will carry out our duties in a reliable manner.
O: Outstanding: w will perform in an outstanding manner.
N: Novel: we will always look for novel creative ways of improving everything we do
G: Genuine: we will be genuine in our thoughts and actions.
Organizational Structure: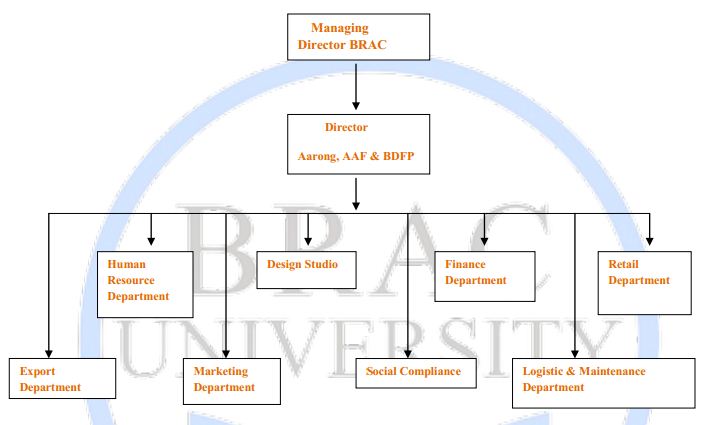 Organogram of marketing department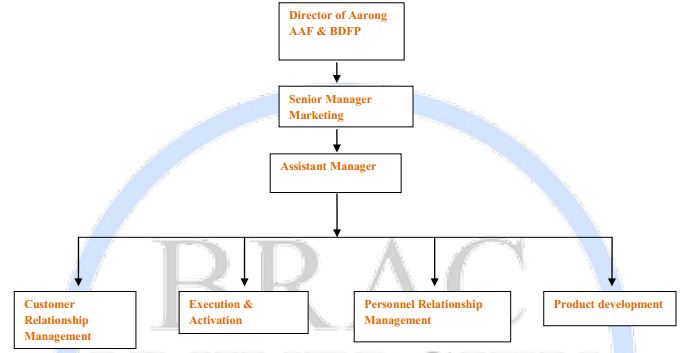 Product: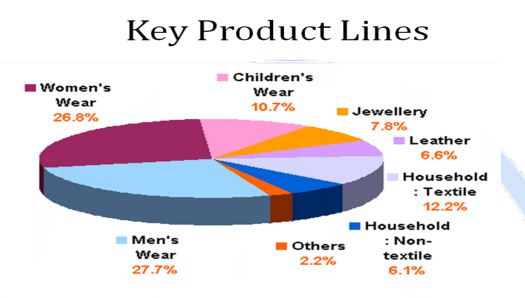 Products of Aarong:
At present, Aarong is offering a huge range of products from traditional and western attire to household goods to shoes and bags, jewellery and leather accessories. For this range of products, Aarong is known as the Mecca of all things 'deshi.'
The clothing lines Shalwar Kameez, Sarees, Taaga, Men's Punjabi, Executive Shirts, and Children wears at Aarong are predominantly made from fabrics such as silk, muslin, endi, handloom and cotton produced by more than 3,000 weavers across the country. Each clothing line is exclusive with a variety of hues, textures, designs and embellishments. More recently Aarong launched a new collection in the name of 'Bibi for Aarong', designed by celebrated designer Bibi Russell, alongside its flagship "Aarong" label, and "Taaga", an indo western fusion wear for young women. Aarong is on the way to introduce "Taaga man" for male youth in the upcoming year.
Aarong's jewellery line consists of both traditional silver and gold ornaments as well modern ensemble of earrings, necklaces, bracelets and bangles. Fresh water pearls are also available in elegant designs. Aarong also introduce brass metal and jute in jewellery collection with a name of fashion jewellery.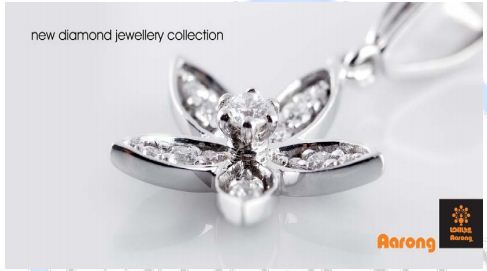 The leather accessories range from handsome leather wallets, belts to chic ladies bags and purses. In this year Aarong also comes up with leather laptop bags and executive bags to attract corporate customers in style. The leather sandals come in sleek and vivid assortments with ethnic ornamentations which has a fusion of "deshi" cultural design with western texture.

Aarong's home accessories collection consists of a variety of products ranging from different forms of basketry in jute, bamboo, cane, and water hyacinth; traditional and contemporary designed dinnerware in terracotta, ceramics and wood; brass and copper decorative pieces, frames and candle stands with candles in brilliant hues and shapes. The woven bedcovers, table linens and cushions come in striking colors and innovative designs. An exciting range amongst home accessories are the beautiful Nakshi Kantha wall hangings, bedcovers, cushions and table accessories. Nakshi Kantha is a traditional form of hand embroidery depicting rural stories of Bangladesh in colorful stitches.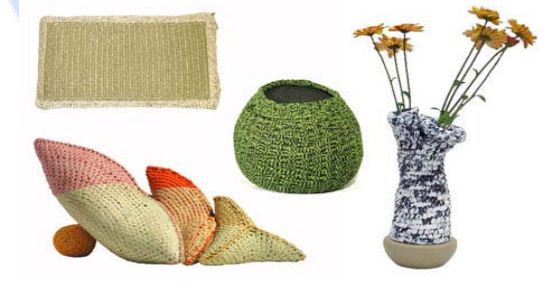 Herbal Product Line: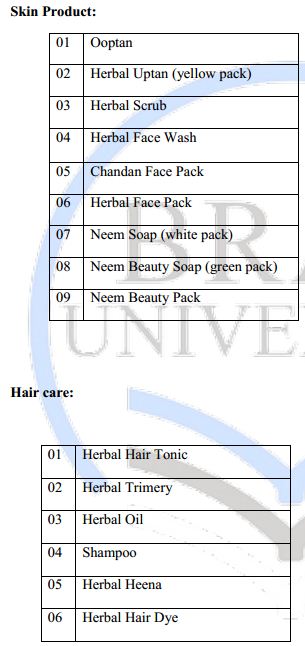 Service offerings:
My Aarong Rewards Card (MARC) My Aarong Reward card (MARC) is a scheme to acknowledge regular and loyal customers of Aarong. The mission is to strengthen the relation with the existing and potential customer by enhancing brand loyalty. This program will allow our MARC customers to earn and redeem points on their purchase. This loyalty program can also provide insight on customers spending behavior and offer them the product that they are more likely to purchase.
Types of Cards: There are three available types of My Aarong Rewards Cards:

Registration Criteria:
• Managers (or other appointed persons) from outlets should inform the CRM of any staff(s) (also submitting their cellular phone number) who are suitable in handling issues related to MARC. Said staffs will be designated as MARC Representatives. In the event that a MARC Representative takes a leave or quits his/her job, the Manager should
inform the Aarong Central Service as soon as possible, submitting the name and cellular phone number of any replacement that may have been appointed.
• New MARC Subscription Forms may be offered unofficially. Outlets should offer Aarong regular but "MARC" customers (customers who don't have MARC) the Subscription Form as a special honor to their loyalty. Sales Associates should fill up the form if the customer does not want to fill it up himself/herself. Forms should be filled up with the objective to collect maximum possible information about the customer without causing his/her displeasure.
• All customers' requests, complaints, queries etc. must be sent to the CRM within 2 days by the outlets. Sylhet, Chittagong and Khulna outlets can do so through a courier service if Aarong transportation is not available within 3 days. For accidental delay, MARC Representatives must utilize the "Late Acceptance Request" form. Additional transportation time will be considered for each outlet according to their locations.
• CRM regularly publishes updates of the Customer Service Status and Card Distribution Status, which is accessible at http://203.100.100.6/crm or http://crmserver/crm It is recommended for outlets to bookmark this page on their web browser. If necessary, outlets may contact CRM or IT for help or more information on this link. Outlets should cross-check with the updates and maintain an Excel file locally. In case of any discrepancy, the MARC Representatives must inform the Marketing Department. After two days, the liability of the cards, which are enlisted in the published list, will be made available to the outlets.
• Customers should be asked to sign in a registry book as their cards are collected. After the customer signs the book, the MARC Representatives should to record/verify the Name, Mobile Number and Email Address (if available) of the customer and then sign the document to close the entry.
Benefits:
Permanent Benefits:
• Points earning on every purchase of any amount at any Aarong outlet. For every Tk. 100 of purchase value
• A life style customer will earn 1 point.
• A gold customer will earn 2 points.
• A platinum customer will earn 3 points.
• Redeeming points on every purchase at any Aarong outlet.
• It will be confirmed within the same date of purchasing on the customer`s account.
• In case of any purchase return, points earned will be deducted during return.
• However, points can be earned during product exchange or by using Aarong Credit Voucher.
Category wise benefits:
• Special service for platinum card member at any Aarong outlet
• Bonus pts on Birthday and wishes for platinum customers.
• Special gift at festivals e.g. new year gift, Pohela Boishakh gift.
Optional Benefits:
• Point acceleration campaigns: Aarong will issue double/triple or more points to the card holder in various occasion or events according to the management decision. Below follows few examples of such events:
• Event-wise (e.g. Double points on Valentine's Day)
• Periodical (e.g. Day and time wise) Triple points from Day/Month/Year – Day/Month/Year from XX am – XX pm.
• Product-wise (e.g. Double/triple or more points on product line wise, individual product wise)
• Product Price wise (e.g. Double/triple points on product price range)
• Customer location wise (e.g. All Dhanmondi customer will earn double/triple points )
• Outlet location wise (e.g. double/triple points from Comilla outlet)
• Age wiseTaaga and its brand challenge a perspective of Consumer view Page 18
• Aarong's loyal customers Of the Year- a yearly honor giving program for MARC customers.
Aarong will identify the loyal customers through the CRM. The following program will organize based on below criteria:
• Category wise
• Point record
• Purchase record
Then customers will be short listed based on purchase record. Selected MARC customer will be eligible to have rewards of complementary benefits from Aarong e.g. Dinner at Westin/ Nandos / Travel package and many more possible benefits according to the management decision.
Red Ocean Strategy:
Aarong is following Red Ocean Strategy as they are competing for the existing market. Their unique product line is beating the competitor's product and makes Aarong a local exotic top brand for all type of people. Aarong Product is always considering local made handicrafts with blended local and western taste. Aarong always look after the issue of local artisan and want to provide product at a low cost but put consideration of local artisan well being. People like
Aarong not for their product but also for their contribution to local culture and represent true Bangladesh to all over the world. Now a day's Aarong has lots of competitors in the Bangladeshi market such as Cats Eye, Deshi Dos, and Yellow etc. The competitor also tries to grave the market at a low cost and they introduce a new product in the market. As we know that Aarong is the Market leader and now the market is more competitive so that Aarong following the competitive price with a good quality of Product.
Being first is differentiation Idea:
Aarong is being the first in lot as area. It started its operation long before any company starts its operations. Their product is not only unique in feature but also in different look and taste. Aarong product line includes Taaga, life style and all kind of home décor product is always brought out by first in Bangladesh. Aarong is the pioneer of fashion industry in Bangladesh. When comes fashion it is always Aarong people consider Aarong first then for others as they introduce Bangladesh for the first time with lot of things. Why first stay first:
First is always staying first for their contribution to the specific sector. Aarong is always staying first rather than its competitor for its contribution to the fashion industry in Bangladesh. When we consider local brand we always feel it is Aarong who always can exhibit and transfer the local culture with new concept and taste. So Aarong is staying first for its concept of holding local culture and adopting outside culture with new idea and taste. Now all the other fashion houses are following Aarong but Aarong is always different than its competitors. For example Aarong Taaga which was first introduced by Aarong now used by other also but people always consider that it is Aarong who actually can represent this product.
Leadership is a way to differentiate:
Aarong is known for its leadership in fashion industry of Bangladesh. All the fashion haves here follow Aarong strategy and the way they communicate with the people. Aarong is considering the fashion benchmark in Bangladesh. Is anybody considering they want buy a gift which resemble local culture that is Aarong always first.
Aarong leadership includes the followingSales
leadership:
Aarong first introduce leadership by opening new outlet with large space and by that Aarong generate huge revenue every year than any other fashion house does.
Technology leadership:
Aarong is using technology in different way from producing a good to final product. Aarong introduce new way to sell products to consumer like E-Marketing or E- store. They also use technology in every store provide best support to consumer.
Performance leadership:
Performance leadership is always measure by financial data as well as consumer satisfaction. In both scale Aarong is ahead than its competitor for ahead and doing more and more. All the performance measure indicates Aarong a best performer of fashion industry in Bangladesh.
Heritages are a differentiating Idea:
It is always truth that Aarong is known for the heritage holder of Bangladesh. Aarong is representing all kind of heritage product of Bangladesh like Kalka, Nakshi Katha, Paposh, motive, and Musri, all kind of design and terracotta design. We always believe that Aarong is a true heritage holder of our country.
Market specialty is a differentiating Idea:
Aarong make specialty be its artwork, design and the way they communicate with people Aarong can differentiate from others by providing unique local culture and taste. All ages as people can use the Aarong product is the big specialty along with the idea of local products of Bangladesh. Aarong basically produce the product by local people and Aarong use handloom, Power loom, Machine Embroidery, Deshi Noksha in their product. So that the product is very unique to the customer.
How a Product is made can be a differentiation idea:
How a product is make important to consumers in some extent. Aarong product is always made by local artisans who are deprived as lot of things. But can be benefitted through Aarong which they provide in return. Every products in connected with the well being of artisans and their dream to a good life which can provide by buying a product. This is the history of product making of Aarong than others.
Being the latest can be a differentiating Idea:
Aarong is considering the pioneer in bringing lot of new things and idea. An organization can consistently grow when people get to know that they are incorporation new idea always with unique feature. In Bangladesh it is Aarong who always bring new style, look and kind of products rather than its competition. Like Aarong Taaga which was introduce first in Bangladesh by Aarong then lucrative bag, crafts all are consistently developed by Aarong every day. Every EID season Aarong come with a new product with a very unique design. Aarong use product innovation strategy in their product line. That's the way Aarong can differentiate with their product.
Established Taaga brand:
Since its inception in May 2003, Taaga has received much popularity and has become the must have brand amongst the fashionable women in Bangladesh. Recently Aarong celebrating the 10th years of Anniversary of Taaga. Taaga's recent campaign is Break free which means women are free at moment they wishes to be. Women are respectable in face as girl, daughter, sister, mother, daughter-in-law, and wife. A woman has every right to enjoy womanhood. Bouncing or in swing means they can celebrate or express their freedom the way they wants.
Brand Name of Taaga:
In Bengali "Taaga" means a certain style of Nakshi stitch and Thread. Taaga design concept is Fusion. The Taaga pattern is western cuts and fittings and Aarong they use deshi design, motifs, and stitches to Taaga Product.
Product line of Taaga:
At Aarong, Taaga refers to an exciting line of tops, kurtis, skirts, pants and accessories designed exclusively for the urban young women. . The fine distinction of Taaga products is that it blends western style with Bangladeshi motifs, patterns and textures. Every piece is styled using hand embroidery, nakshi kantha, appliqué, bead and metal works or tie dye and batik. From handloom, crushed cottons, denim, fine linen, silks to sheer muslins, Taaga exhibits a huge range of fun and exciting day and evening wears. Recently, Taaga has launched its own line of accessories which includes leather bags, sandals, wedges and beaded woven belts.
Accessories:
For the Women on the Go Taaga by Aarong brings you an exciting line of Taaga Knit collection presenting the all new fusion of high-end western trends with the traditional sentiments of the 'Deshi' culture. This season, Taaga Knit presents you with a whole range of embroidered knit wear for the women on the go. The upshots of varied cuts and patterns are mostly embroidered to the theme and embellished with the fervors of various motifs that implicate the cultural vibe. And the color pallet for this new line of Taaga comes in themes of Tribal and Nude, corresponding to a range of bold to subtle colors to harmonize with every style approach, be it casual or formal. Also Taaga accessories alongside Aarong's Fashion Jewelries brings an assortment of exciting leather clutches, chained bags, gladiator sandals and jute and beaded jewelries to make fashionable women in Bangladesh.
SWOT Analysis of Aarong:
Strength: Internal strength of an organization is the capability to compete on having advantages over other competitors.
Weakness: Weakness is the company's disabilities in the market places.
Opportunity: A chance of capturing market place with the help of internal strength.
Threats: Any kind of discomfort and intuition may feel in market place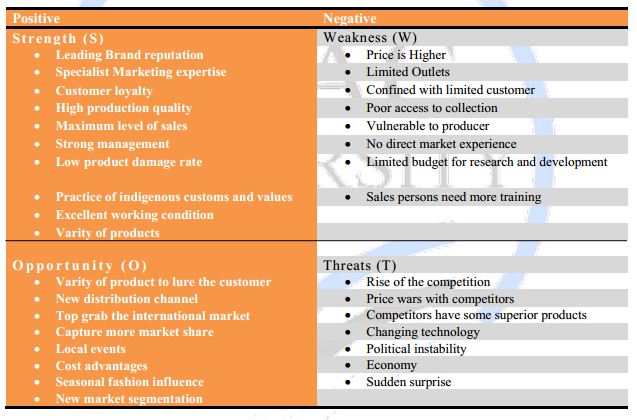 Strength
Aarong is a very reputed organization. They are now capturing 68% of total handicraft market share in Bangladesh. It's a local brand and now exporting their products outside of the country. Aarong has good reputation for fine quality products. It has a strong management team who are continuously giving their great effort to make it a successful one. Another important fact is that, Aarong has almost "Zero" production damage rate which reduces their cost. They are innovative and always bring some new product in the market which meets customer requirement and
expectations. The organization is a respected employer that values its workforce.
Weakness
Aarong has a reputation for new product development and creativity. However, they remain vulnerable to the possibility that their producer may not be able to produce product timely due to their inability. The collection channel of the organization is not that much structured so that they can get the products from the producer on time and it may create problem for them in future. If any producer is not able to make the product on time due to some personnel problem then the company will also not be able to deliver their product on time. This is a big problem and it happens most of the time on delivery. Aarong charges higher price relatively than their other competitors as a result sometimes customers lose their interest to byproduct from them. Its sales force or sales girls within the outlet are not properly trained up. Sometimes they make customers disappointed by their attitude and customer doesn't feel good to buy from there. Sometimes they suffer for financial problem, although it's a rare situation.
Opportunities
Aarong is very good at capturing the advantage of opportunities. It can go for new distribution channel like it can make some joint venture with some other small Boutique and sales its products in more places. Through that it can capture more market share in the handicraft industry in Bangladesh. Aarong can expand its business globally. New market for handicraft such as Europe and America are beginning to emerge. People are now trendier about local events & functions like Pahela Falgun, Pahela Baisakh, Victory day, Independence Day etc and they buy new and special products for these events. Aarong can make new products to sell in those special occasions. According to the season change, people are also changing their preference in buying products and considering this scenario Aarong can produce production the basis of seasonal variations.
Threats
Aarong doesn't have any big competitors right now. But they have some small competitors like KayKraft, Anjans, Deshal, Jattra, Khubsurti, Rina Latif, OZ, Rang and some other Boutiques established at Banani11, who are taking their 32% customer and increasing in a slow rate. Aarong always face price wars with their competitors. Its competitors have some superior products like OG's Panjabi shape, Khubsurti's design of Salwar kamiz Rang's Shari's color, which is decreasing Aarong' s market share as well as sales. But now they are repositioning their Brand to compete with them.
Recommendation
In line with the expectations of the customers, it is recommended that Aarong should consider creating more presence in the local and international arena and plan to become a global entity. Evaluating the economic conditions and the shopping culture of different urban areas Aarong can think of setting up new outlets to grab more share of the local market. This will certainly add values to the brand image of Aarong.
To expand in the international ground, a wise way of testing the market demand would be opening franchised outlets in some important cities of the world as pilot projects, where there is the presence of Bangladeshi people. But, as mentioned before, total brand revitalization is required to drive for that level.
Product Expansion and communication of the Brand Promise
Aarong is quite well known for its variety of products. Nevertheless, to take off for the next level of this brand it is important that the products must be even more diversified and at the same time, attractive to a varied social and cultural market composition. Aarong can increase more focus on products which are globally used, both in its textile and non-textile product lines. Also, some of the deshi products which are befitting to the cultures of other parts of the world can be highlighted and communicated to the customers through properly designed marketing communication. However, all the products should meet the respective brand promise to sustain the trust of the customers.
There are some products that create longer emotional attachments with the mental mapping of consumer. Customers are likely to connect with the brand as they remember or encounter a trigger of that emotional state. For Aarong, introducing a wedding collection can yield such result.
Customer Expansion and Brand Extension
At present, Aarong's target market is the upper class and upper middle class of 4 metropolitan areas. Considering this phenomena, Aarong can think of increasing its local market more towards the lower tier of its customer pyramid. To retain the value of this prestigious brand, one idea can be to run a double operation business. For example, Aarong products can be classified into two categories displayed in two separate areas such as in two different floors. Products that offer more values can be treated as Aarong Premium Collection and those which are low in this consideration can be treated as Aarong Regular Collection. In doing so, Aarong can increase its market towards the lower end of its customers base as well as retaining and increasing its Brand Image.
Automation through Technology
Business world is becoming ever more automated in every second by means of new technologies. For Aarong this is now the time to become a fully automated business. The good news is that, Aarong already has an integrated system of its Point Of Sales and gradually integrating it with the rest of the operation. Compared to the local market scenario Aarong's position is quite superior. However, in the changing scenario of the business world, Aarong has to become way more automated in no time to maintain the superior image of the brand. Improving the benefits of My Aarong Rewards card Although Aarong has started a loyalty program in the banner of Aarong's My Aarong Rewards Card, the program doesn't seem to be employed up to its full potential. The customers don't find interest in the 1% discount offer of the card. The program can be improvised by transforming it into a relationship card instead of discount card. To do so, Aarong needs to provide other benefits to the card holders which are valuable to their point of view and communicate it properly to the loyalty card holders. Conversation with some of the card holders reveal that they will highly appreciate if Aarong treats them specially for being a card holder. The special treatment may include, scope of customization as mentioned earlier, home delivery, special cash counter, shopping counselor, special discount on customer's birthday, anniversary day and children's birthday etc. Also, it is necessary now to link up the program with the website of Aarong so that customers can update and monitor their account information.
This will save a considerable amount of overhead for Aarong as well as uplifting the brand image. Marketing team already start work on it. My Aarong rewards counter is already seated up on Moghbazar Outlet and other outlets should be covered soon. We also have a plan to launch a new campaign where we will comes up with co-branding with several organization, like- GMG airlines, Podma Resort
Improving customer services to world class level
To keep up the image of the brand, it is now very crucial for Aarong to improve their customer Service up to a global standard. In doing so, Aarong can consider the following recommendations.
• More permanent Sales Assistants should be recruited, who will thereby, show more responsibility and liability towards the organization.
• The Sales Assistants should be trained up properly with a streamlined training program.
• The performance evaluation of the Sales Assistants should be tied up with their customer service. Both positive and negative reward system can be introduced to uplift the quality of their service. However, since customer service is a qualitative job, positive reward system is theoretically more likely to yield quick result.
More colorful and youthful:
There was consistent demand for Aarong being more colourful and youthful in the researches of 2005 and 2007. However, the group discussion conducted among the BRAC University students that Aarong is now considered by a few participants as becoming colorful and youthful. This is, in fact, an improvement of the past image that Aarong has successfully developed in a very short period, through its products and marketing communication. The Advertisement campaigns of 2008 are predominantly interactive, playful and colorful. Likewise the products of Aarong are reflecting brighter hues at present. It is recommended that Aarong should sustain this improving
trend of its image paying continuous efforts in this respect.
Changing Fast: Ready, Fire, Aim!
Change is an integral phenomenon of business. Businesses are now required doing the fire act even before setting a target, which is only possible by means of updated technological support and a proven gut feeling of the management. Aarong also needs to speed up their design, production and distribution system. It can be expected that the current reengineering of the value chain will result in faster ways of doing things for them. Also, through special sales program, Aarong should consider of getting rid of products that lies in the display beyond a certain time.
Keeping the Emphasis on its Core Competence
The present success of Aarong is largely due to the uniqueness of its products. In its early days, customers appreciated the hand care reflected by the quality of the design and handicraft of Aarong products. Keeping this in mind, the following two steps are recommended for the upcoming future of Aarong
Keeping the Traditional and Cultural Elements in Products
The traditional and cultural elements are the core elements of Aarong products. Aarongs customers spontaneously relates to these feature of Aarong. Therefore, even when Aarong goes global, maintaining this would be crucial for Aarong for each market. Aarong can consider of picking the traditional and cultural elements of each new market and adapt those elements to its products targeted towards each of the market.
Protecting Brand Integrity
Aarong's brand related activities are not perceptibly planned and focussed towards any brand vision. To protect the integrity of the brand, routinely monitoring the marketplace, carrying out product testing, keeping the product specifications up to date, and providing for enhanced quality control etc. are very crucial in today's world.
Integrated marketing communication:
Aarong's marketing communications need to be properly targeted and integrated with predefined objectives. The desired channels of communications should be listed and assigned weights of value on the basis of their effect on Aarong's customers in terms of the brand objectives. The allocation of the marketing budget should, then, follow this guide line to ensure relatively optimum and proper spending of the resources in Brand communication.
Others:
1. Need to be technologically more developed
2. Create new marketing web page
3. Need more expertise
4. More employee and coordinator in marketing department is necessary.
5. Focus and conscious about the billboard because sometimes people does not like billboard that are not suitable in our culture.
6. Open new outlet as needs are growing day by day.
7. Focus on new promotional tools, because sometimes billboard fails to convey exact message.
8. Need more personnel in case of documentation work.
Conclusion
Aarong has been celebrating its 32th anniversary this year with much vigor. The past 32 years of Aarong is marked with successes and achievements of different scale. The bottom line goes that, Aarong has been able to establish itself in the local market as a high end fashion brand although it is a social business. The glorious past of Aarong implies the future is even more prospective. However, it is now necessary for them to reposition and refurbish the brand across its products, markets and customers so that they can compete with the global players when it is necessary.
Lastly, and most importantly, since branding is becoming more and more technology centre, an on time adaptation of the business process and work culture to technology is the most vital part Aarong should put its focus on.
After accomplishing my internship successfully on the marketing department of Aarong, while I was writing this report, I found myself very much close with this Aarong. The above projects help me to learn the core things of marketing, especially the four Ps. For example: How to improve the product value so that both the customers and organization could be benefited, place and promote the product in the appropriate position so that you can grab the maximum attention of your target customers. So working with Aarong, in a one sentence was an exclusive scope for
me to impleme.