Critical Evaluation of Sales & Distribution Department of
Airtel Bangladesh Limited
This paper has been prepared in order to present an evaluation of the Sales and Distribution Department of Airtel Bangladesh Limited. The assessment will critically evaluate the whole organization by considering some important variables such as its history which contains detailed analyses of Airtel Bangladesh Limited, Bangladesh Telecommunications Industry and short note on Bharti Group. Moreover, the report contains organization's product and service offerings, operational network, organization chart and goals, objectives, mission statement and visions for the future. In addition, the report also contains a brief introduction of the Sales and Distribution Department of Airtel Bangladesh Limited and how it operates and the report also includes about my specific tasks, responsibilities and duties of the job in the organization and also my critical observation and recommendation about the organization.
Lastly, the most important part of the report contains a detailed analysis of the present distribution mapping system and efficiency of Airtel Bangladesh limited. The completion of this paper will provide a comprehensive report of the organization to the reader. Information was collected from both primary and secondary sources to compile this paper. The sources include personal interview from Airtel incumbents who works in sales and distribution department, data from websites, and theoretical knowledge from various text books. In conclusion, the paper sums up on the distribution process of the organization and offers some feasible recommendations.
Airtel Bangladesh Limited
Airtel Bangladesh Limited is a GSM-based cellular operator in Bangladesh which is a subsidiary of Bharti Airtel Limited. Airtel is the sixth mobile phone carrier to enter the Bangladeshi market after Bharti Airtel bought Warid Telecom's (a subsidiary of Abu Dhabi group) 70% percent shares in January 2010 for US$300 million. The entire management control was taken over by Bharti Airtel Limited on January 2010 after the approval was given by Bangladesh Telecommunication Regulatory Commission (BTRC). However, the official activities under the brand name 'Airtel' started on 20th December, 2011. Since then, Airtel has been one of the top telecom operators in Bangladesh who has mainly focused on the youth population of Bangladesh.
History of the Mobile Telecom Industry of Bangladesh
Till 1989, the telecommunication sector of Bangladesh was run by the state run monopoly provider Bangladesh Telegraph and Telephone board (BTTB). However, in 1989, the Government of Bangladesh gave license to two operators named BRTA (Bangladesh Rural Telecom Authority) and BTL (Bangladesh Telecom Limited). BRTA was given the license to operate their business in the rural area of Bangladesh whereas BTL was given the authority to operate cellular as well as pager service. Later, in 1992 the cellular license of BTL was bought by Pacific Bangladesh Telecom Limited (PBTL) also known as Citycell. Later on, in 1996 three more licenses were issued which were taken by Grameenphone Limited (GP), Aktel (at present Robi) and Sheba Telecom (at present Banglalink). The first operator to operate to offer cellular, pager and other forms of wireless service are Citycell (PBTA) who started their journey from the year 1993. Also, it is important to note that Bangladesh Telecommunication Regulatory Commission along with the Telecommunication Act was formed in 2001 with the view to eliminate any form of discrepancy in the Telecom Sector of Bangladesh and a year later, ICT (Information and Communications Technology) policy was formed in 2002. Teletalk launched in 2004 as the first state owned cellular operator in 2004.
In 2005, Orascom (Egyptian firm) acquired Sheba Telecom while NTT DoCoMO (Japanese firm) acquired 30 percent stake of Aktel in 2008. Grameenphone went public in the later part of the year 2009 and in January 2010, Bharti Airtel acquired 70 percent stake of Warid Telecom which started their Journey in Bangladesh in the year December 2005 via obtaining a 15 year license. Last but not the least, in 2012; Teletalk was the first operator to be provided with a 3G license and later in 2013 four other operators obtained the license to offer 3G (Grameenphone Limited, Robi Axiata Limited, Banglalink and Airtel Bangladesh Limited).
Growth of the Bangladesh Telecommunication Industry in the Past Twelve Months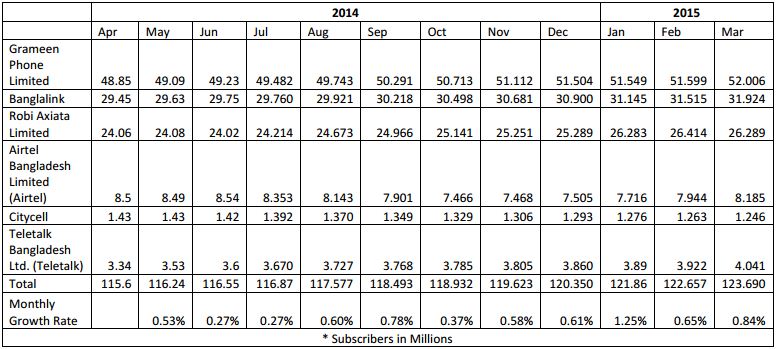 Operational Network Organogram
The organogram of Airtel Bangladesh Limited mainly consists of three Bands (levels) which help to determine the compensation package and benefits to be provided to the employees.
Along with these Bands, there are two more Bands at Airtel Bangladesh Limited. They are:
– Band F: Consists of Senior Executive as well as Executive.
– Band S: Consists of Senior Officer, Officer & Young Leaders (YL).
However, Airtel Bangladesh Limited is considering merging these two bands due to which they are not showing these two Bands anymore.
Functions of Airtel Bangladesh
Total 13 functions combine Airtel Bangladesh Limited workforce.
These are:
Sales and Distribution
Customer Care
Supply Chain Management
Network
Operational Excellence
Human Resources & Administration
Information Technology
Corporate Affairs
Finance
Marketing
Legal & Secretarial
CEO Office
Corporate Assurance Group
SWOT Analysis of Airtel Bangladesh Limited
A SWOT analysis is a structured planning method used to evaluate the strengths, weaknesses, opportunities and threats involved in a project or in a business venture. A SWOT analysis can be carried out for a product, place, industry or person. It involves specifying the objective of the business venture or project and identifying the internal and external factors that are favorable and unfavorable to achieve that objective. SWOT analysis groups key pieces of information into two main categories:
Internal factors – the strengths and weaknesses internal to the organization
External factors – the opportunities and threats presented by the environment external to the organization Identification of SWOTs is important because they can inform later steps in planning to achieve the objective.
Strengths: Characteristics of the business or project that give it an advantage over others.
Weaknesses: Characteristics that place the business or project at a disadvantage relative to others.
Opportunities: Elements that the project could exploit to its advantage.
Threats: Elements in the environment that could cause trouble for the business or project.
Strengths:
Charges a low call/data rate.
Fourth largest operator in Bangladesh within three years of operation. This shows that they have a very decent growth rate.
Nationwide network coverage is provided by them.
Subsidiary of Bharti Airtel which is the 4th largest telecom service provider globally. This means that they have good financial as well as technological support.
Quality of Management.
Their brand name symbolizes youth which in turn is helping them to build a good brand name.
Weaknesses:
Dissatisfaction among the customers regarding the quality of network.
Poor internet service in certain areas in comparison to their competitor.
Other competitors have unique offers for their heavy usage customers whereas Airtel does not. For instance, GP Star and Banglalink Icon.
Opportunities:
One of the main opportunities for Airtel in Bangladesh in my view is the Population growth of this country which means that more subscribers are becoming available.
Increasing the number of corporate customers, that is making deals with different organizations for using Airtel.
Offering better packages at a lower price in comparison to their competitors.
Giving more focus on mobile banking facility.
Threats:
Competitors pricing and variety of services.
Political instability prevailing in the Bangladesh economy.
Customer switching to other operators.
Price war among the industry.
Threat of new entrants.
All other internet service providers in the country. For instance, Qubee, Banglalion, Link3 etc.
Project Summary
In Bangladesh telecom operator industry started its journey in 1997. After 18 years of journey, there are now 6 players in this industry with 123.691 million customers.
Telecommunication has changed the socio economic scenario of the country positively with a rapid growth. Telecommunication companies design their business plan in a way that is adopted quickly by the mass of the country. A distinct and intensive distribution system has been developed across the country to make the products or services widely available. As Bangladesh is a developing country with a moderately developed infrastructure, distribution system or process here is very complex for any industry which deals with a huge number of customers across the country. Companies frequently reviewing their distribution operations to improve it to deliver the product and services smoothly to customer in a cost efficient way.
Because of competition, government regulation, developing infrastructure, changing customer attitude telecommunication industry is going through rapid changes. As a result, companies in this industry looking for ways to distribute their products and services in a minimum time with maximum efficiency, so that people can easily found their desired product or service.
Distribution system in telecommunication industry here in Bangladesh is a combination of local and international system. Socio economic scenario constructs a different distribution system from other industry. The report is prepared in a situation where competitors are in battle to gain better customer satisfaction in least price through a smooth channel where all the channel members will work for a broadly and specifically defined goal. As a newest member of the industry, Airtel Bangladesh Limited is gradually improving their operation across the country. More than 80 percent area of the country is now under the Airtel Coverage. As a result, there should be much focus on the distribution system now to offer customer their products and services in an innovative way. So, a distinctive study is needed to examine the distribution system of the company and to provide solutions or ways of innovative reengineering of the system that suits the company's present condition as well as future planning for availability of the products and services across the country.
Objective of the Project
The objective of the project is to evaluate the distribution process of Airtel Bangladesh Limited. As a matter of intensive competition in the market, Airtel frequently modifying or changing their operations as well as expanding the network coverage. This report will evaluate whether the present distribution mapping system is efficient or not efficient and would also provide possible ways of improvement of the distribution mechanism.
Airtel's Sales and Distribution department is a dynamic department taking responsible for various kinds of functional activities to boost up the sales and increase its company revenue.
The functional activities are –
Distribution Mapping and Efficiency Evaluation
Process Improvement
Sales Efficiency
Trouble Shooting
Zonal Empowerment Efficiency Enhancement
Sales IT Way Foreword
Supports Ongoing Projects
As all the activities are related with the Distribution department, I have chosen the distribution mapping and efficiency section of the department.
Problem Statements
Main Problem: Analyze the present distribution mapping system and efficiency of Airtel Bangladesh Limited.
Sub Problem 1: The first sub problem is to examine the entire distribution process of Airtel Bangladesh Limited where focus will be given on the efficiency level of the system, major drawbacks and factors affect the system etc.
Sub Problem 2: Second sub problem is to compare the distribution system or strategies with its competitors and with other industry for analyzing the possibility of redesigning the distribution.
Sub Problem 3: Third sub problem is to frame out the ways of further innovative and efficient distribution strategies that have competitive advantages.
Methodology
This section summarizes the overall study design and reflects the logical flow from the preliminary activities that initiated the study and the development of the preliminary conceptual model through the data collection and analysis, the refinement of the conceptual model, and the articulation of a set of working hypotheses. The data needed to prepare this report has been collected from both primary and secondary sources.
Primary Data Source: Primary data has been collected through the structured interviews from the executives of Sales and Distribution Department of Airtel Bangladesh Limited. Moreover, phone interviews were taken from the Territory Managers, Sales Manager and FSE (Field Sales Executives). In addition, information was gathered through my personal observation and practical deskwork.
Secondary Data Source: Secondary data has been collected from the internet and some theoretical knowledge from various text books, different journals and annual reports that were available in the internet.
Analysis of the Project
In the problem statement it is mentioned about the analysis of Airtel Bangladesh Limited's distribution mapping system and efficiency. So in the first part of the analysis there will be some brief discussion about distribution and the topics or issues under it. After that I will discuss about the factors affecting the efficiency in distribution, its drawbacks and importance of channel relations and so on. In the last part, discussion will be made about the improvement of the existing distribution system, factors to emphasis more, models that is new in industries.
All the discussion will be made for measuring the existing distribution system and the ways for the further improvement of Airtel Bangladesh Limited.
Introduction
A product is not important to customer, if it is not available when it is needed. A product reaches to customer through a channel of distribution. Distribution can be effective when there is a goal and strategy between the company and its channel members.
Now days in distribution or supply chain, a system is playing an important role which is known as distribution mapping system. It is helping the companies to design their distribution channels more effectively and efficiently.
Distribution mapping system defines where and when product or service is needed and how to supply them in an efficient manner. In telecom industries, distribution mapping system plays an important role as competition is there and customer wants products or service available everywhere. But it is not efficient for companies to make product available everywhere because it is a matter of cost and efficiency. Through distribution mapping system, companies can better evaluate the entire market and make decision where to make product or service available which in return gives company more profit.
There are some factors that have significance in distribution mapping system and have also some drawbacks. Recent trends have influenced in distribution mechanism that can be important for companies.
Background Discussion
For discussing the topic sales and distribution, a sale is the first issue that comes in mind. Rumbauskas (2006) said that, "Sale is the act of selling a product or service in return for money or other compensation. It is an act of completion of a commercial activity." Experts defined distribution as the paths that goods and title to them follow from producer to consumer.
Modern definition of distribution is given by Kotler, Keller & Burton (2009) as "Distribution (or place) is one of the four elements of the marketing mix. Distribution is the process of making a product or service available for use or consumption by a consumer or business user, using direct means, or using indirect means with intermediaries. The other three parts of the marketing mix are product, pricing and promotion."
Distribution channels are composed of marketing intermediaries, the persons or firms that operate between the producer and the consumer or industrial user. The two main categories of marketing intermediaries are wholesalers and retailers. In some instances, the efficiency of the distribution channel is disrupted because of conflicts among channel members. Conflict can occur between manufacturers and wholesaling intermediaries. Conflicts also develop between producers and retailers.
Efforts to reduce conflict and improve the efficiency of the distribution channels resulted in the development of vertical marketing systems. "A vertical marketing system (VMS) is when two or more stages of a distribution channel are combined and managed by one firm. Vertical marketing systems have become a popular method of organizing a distribution channel," said by Baldwin, Hoffman and Miller (2003). The intention of vertical marketing is to give all those involved (and particularly the supplier at one end, and the retailer at the other) 'control' over the distribution chain. This removes one set of variables from the marketing equations.
According to Roth (2009) "A distribution map shows the pattern for a city, a county, a continent and even the whole world. The subject of distribution maps can be languages, region, economic data, certain natural features or others." Through mapping it is very much effective for companies to deal with commercial goods and services to allocate them in the right place.
Efficiency in Distribution System
Companies around the world have built lasting competitive advantage through their choice of sales and distribution channels coupled with their ability to integrate that choice into a coherent, well executed business model. On its own, no approach to sales or product distribution is sufficient for competitive success. (Gorchels, Marien & West, 2004) Rather, a complete business model includes sales and distribution as one of the Core Business Processes in concert with
Product/Service Offering,
Differentiation Approach,
Method of Capturing Economies of scale.
These choices are linked; once a company picks a sales and distribution channel, it limits its options on how it can achieve differentiation and where it can capitalize on profit opportunities. For example, if a company sells through distribution, it may have ceded any potential service business to the distributor.
Cespedes, (2006) said that "Efficient distribution management is concerned with managing the flow of goods or services and associated information from initial sourcing to consumption in a ways that gives more profit to companies then their competitors." One benchmarking study showed companies that practice best distribution management enjoyed a 45 percent total distribution cost advantage over their median competitors. Bottom-line benefits included:
Reduced costs relating to inventory management, transportation, and warehousing;
Improved service using techniques such as time-based delivery; and
Enhancing revenues through greater product availability and more customized products.
Distribution operations should be on a daily basis. Companies will go through a planned way with some flexibility. Competitive pressures, mergers, acquisitions, new product lines and greater customer expectations are just the tip of the change iceberg for the modern distribution leader. On the surface, this continuum of change is just a cost of doing business in the latest "new economy." However, for those intimately involved in a distribution process, how these changes are accommodated can mean the difference between survival, burnout and/or even extinction in today's rapidly changing distribution. Tompkins & Harmelink (2004) said that "There are some important areas for an effective, flexible and proactively responsive distribution operation." Some of them are:
Centralization vs. Regionalization: In distribution network planning, Centralization or decentralization is important issues as this determines the relation between number of distribution points, transportation cost and customer service targets.
Flexibility: When designing a distribution facility, specifying versatile equipment is a critical requirement. The latest technology may look nice at start up, but if it can't serve well, it is simply a waste of money.
Information System: Timely and accurate information is a requirement in today's eenabled world. The days of keypunching in daily distribution activity and nightly updates to host financial systems are becoming a distant memory for successful distribution operations.
Pace: The pace of distribution must increase significantly to account for the reduced lead times, shorter product lives, increased inventory turnover and greater customer expectations that is considered standard in the modern business-to-consumer marketplace.
According to Rolnicki (2007), "There are several steps companies should take to make the most of these keys to distribution network planning."
Assessment: An honest assessment is critical in this step.
Prioritization: If you lose focus on your strengths, you could lose the momentum that made you successful in the first place. Improving strengths should always coincide with fixing weaknesses.
Look Outside: Sometimes, it will not be practical or possible to make improvements from the inside. Do not be afraid to seek help from outside entities like consultancies, vocational or university programs, professional societies etc.
Enjoyment: Make sure there is a defined goal. When achieve it, take the time to enjoy the success and maintain the energy and momentum for the next level of change.
Some operations may experience only a few of these factors every year, while others face them daily. However, following the above methodology can configure distribution network to be efficient today and flexible tomorrow to handle ever-changing requirements.
Present Trends in Distribution System and Way of Improvement
Companies can easily improve their distribution system by doing some activities which is easy to conduct and also cost effective like-
Mapping the products to the end-user
Determining customers' channel preferences and comparing these preferences with actual availability
Recommending new channels and why
Examining competitors' strategies and comparing them and their effectiveness with your own
Confidential interviews with distribution partners to identify areas for improvement, as well as existing strengths to be encouraged. (Pelton, Strutton, Lumpkin, 2009)
For improving distribution channel, location intelligence provides the ability to organize and understand information through a geographical perspective to facilitate informed decision making. This helps organizations align better with the realities of their market territories, and thus improves performance and results.
Airtel's Distribution System
In this chapter, it focuses the distribution process of Airtel and how distributors are measured through their performance in order to disburse commission to their account.
Airtel Bangladesh Limited follows a simple but wide distribution process for distributing their products and services mainly connection (SIM Card), Recharge card and load. Airtel divides the country into eight zones for doing the sales operation in a smooth way.
These zones are:
Dhaka South
Dhaka North
Bogra
Chittagong
Khulna
Comilla
Mymensingh
Sylhet
Zonal Business Managers are responsible for each zone. There are Sales Managers and Territory Managers in Zonal Office to run the sales. There are 111 territories across the country. Each territory is usually assigned by one territory manager and one individual distributor for distributing the products of Airtel. Distributors should be experienced in distribution system. One person or company can get distributorship in more than one territory. Airtel Relationship Centre (ARC) and required Field Sales Executives (FSE) should be under respective distribution house and all the cost regarding ARCs and FSEs should be bear by the respective distribution house. Territory manager looks after the functioning of distribution channel. The territory manager at the end reports to sales manager. The Territory Manager's duties are to increase activation, increase outlet, and territory expansion and generate revenue in accordance with the targets.
Distributor's FSEs conduct with retailers or non-retailers to take Airtel's product at their outlets. There are two types of outlets in retailer level. They are:
SIM Selling Outlet
Load Selling Outlet
SIM selling outlet sell both SIM card and load but load selling outlet sell only load and recharge cards. Some retailers are called Airtel Service Centre (ASC) where customers can get limited customer services. Some selected retailers will provide some benefits like in shop painting, flange, wall clock, shelf branding, signboard etc.
Commission Structure of Airtel for Distributors and Retailers
Airtel Bangladesh Limited has a commission structure which is similar to other competitors. For the sales & distribution of Airtel connection (SIM card) and recharge card or load, following structure of commission are applied to the channel: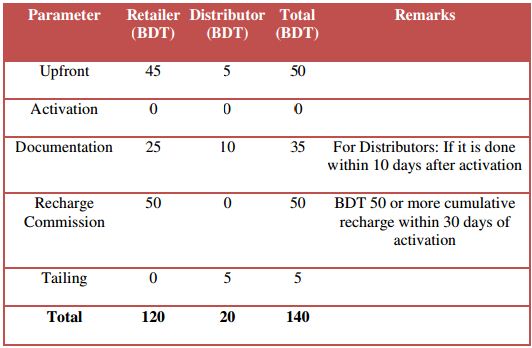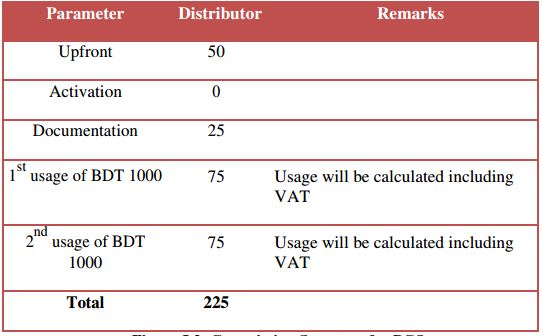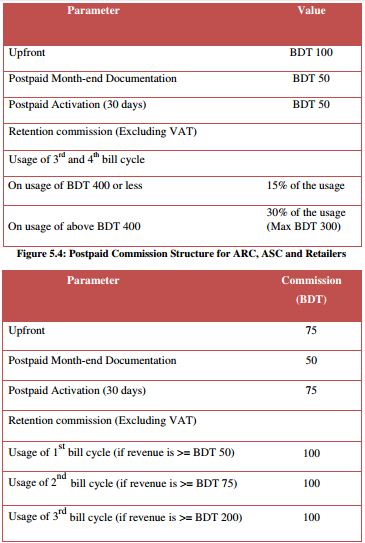 In the above part, it mainly illustrates the commission system and its tools. These are being used to encourage distributors to boost up their sales and evaluate their performance for commission.
Analyzing Distribution System of Airtel Bangladesh Limited with SWOT Analysis
Strengths:
Experienced Sales-team: Manpower in the distribution system of Airtel is very much experienced in this arena. People in the distribution system know what to do in what situation.
Well Set of Distributors: Distributors of Airtel has experienced and have reputation of good service ability in the market. Airtel has a structured procedure and criteria for selecting best distributors for each territory.
Quick Decision Making Procedures: There are some flexibility in decision making about distribution and sales operation at each level of management. This types of flexibility helps in making the decisions quickly if there are some occurrences. 
Systematic Procedure: Airtel follows a systematic procedure for their distribution. This procedure is a mixture of International and local systems that are best suited for the market.
Gradual and Planned Improvement: Airtel operating in Bangladesh from 2010 after Warid's operation. Growth and improvement in the distribution system for the last two years is significant. Airtel's product is now available across the country and day by day it is improving in a planned way.
Business Assurance to Channel Members: Increasing business and rapid customer engagement assures channel members (distributors & retailers) that their relationship with Airtel will be profitable for future.
Weaknesses:
Multiple Point of Contact: There is no unified way of contacting with distributors. Distributors are sometimes confused getting different messages or orders from different department or people from Airtel.
Limited Business and Growth Opportunity for Distributors: As usually one distributor operates at one territory, there are limited business opportunities and at a time there will be no growth for the distributors.
FSEs are Not Well Motivated and Trained: Field Sales Executives are the people who go to the retailer and motivate them to sell Airtel's products and when a retailer agrees to sell they go time to time for taking order. But these people are not well trained up. They don't know how to motivate a shop owner to become their retailer and sell their product. As they are not well paid they are not motivated to do the job properly and efficiently.
Less People, More Work: People at Airtel distribution operation are less in terms of work. As business is expanding, people are not recruited with that pace. So efficiency levels of sales force are decreasing.
Inefficient Retail Mapping: Retail mapping system of Airtel is not satisfactory at all. People want mobile products near their hand. Airtel are not following an effective retail mapping system to select retailer where there are demand of Airtel. As a result, some areas are over utilized, some are underutilized and others are unutilized.
Unavailability of Every Type of Products: Customer wants products as they needed them. But Recharge Card or load are not available in retail shop. For example: A customer goes to a retailer of Airtel to recharge his or her number with BDT 30. Recharge card is available but recharge load is not available in that shop. In another case, a customer goes to the shop get buy a recharge card of BDT 20. But the there are no recharge card available but load is available. These create customer dissatisfaction.
Lack of Retailer Feedback: Retailing attitudes are not same in all the area. Retailers can have some suggestions for making the system more effective for both retailer and company. But there are no such ways for continues communication with management level except a Retailer Engagement Program once in a year.
Opportunities:
Alternative Ways of Selling Products: Things are changes day by day. Customers are getting busy as time goes on. Alternative ways can be online selling of products; direct selling to customer etc. can be an opportunity for Airtel to distribute their products.
Increase of Non-store Retailing: Different types of non-store retailing are increasing. Airtel can take opportunity from them to make their product widely available with efficiency.
Use of Mobile Banking in a Large Scale: Mobile banking is expanding day by bay. Airtel also has agreement with some mobile banking companies. Airtel already launched Dutch Bangla Mobile Banking service to their customers from where customers can recharge their mobile balance from the mobile banking. Airtel can use this mobile banking and connect with other mobile bank organization, so that customer can buy product through mobile banking.
Threats:
Continuous Pressure from Retailer to Increase Commission: There is pressure from retailers to increase their sales commission. This can be a threat for Airtel as well as for the industry.
Experienced FSEs are Being Recruited by Competitor's Distributors: It is an alarming situation for Airtel that their field operation are in threat as good, competitive and experienced FSEs are recruited by competitor's distributor.
Political Unrest: Recent political unrest shows that sales operations are not working well. Alternative ways are needed to adapt this situation as this unrest might stand for a long time.
Findings of the Analysis
After analyzing the SWOT of Airtel's distribution and interview with the respondents of the study the findings part is divided into three levels. The discussing levels are-
Management Levels
Distributor Levels
Retail Levels
Management Levels
Responses of the interviewee are showing that they are satisfied with management level operations of the distribution system. But some inefficiency is also identified in this study.
Respondents said that, Airtel has a unified sales distribution system and strategy that is a major strength of the company. Company's sales distribution force is capable of making impossible things to possible. Company culture helps the sales distribution team to generate and work for a goal that is competitive for both the company and for sales team. Supporting functions are also coordinating in a unified way. One respondent said that, sometimes communication gap occurs among different functions of the company. Reason behind this is the different functional offices are situated in different place.
Another expert said that, Airtel Bangladesh Limited is doing business from 2010 and a significant growth has achieved indeed within a short period overcoming many limitations of the company. As business is expanding, more growth oriented planning is taken by the company. One of the respondents said that, Airtel will achieve their desired goal; there is no doubt about that. Some changes in the organization with the pace of growth of the company are needed.
Airtel is expanding their business day by day as target market is responding in a positive way. As business is growing, it is now time to work with the numbers of distributors. As there are 111 distributors in the channel, business growth and increasing business can hamper in the near future with lots of distributors. It is tough to control these numbers of distributors when  a business grows rapidly. Maintaining good and effective relationship with distributors is important and it is not possible all the time to maintain a good relation with big number of distributors and it creates a noise in the distribution system. Distributors are also not motivating as there is a limited business opportunity within their own territory but they are not able to expand it to another territory.
The work pressures are more in sales & distribution activities of Airtel than the other competitors. As a result, a mental and physical stresses arises. Sometimes it affects in decision making and in overall operation. It is true that information technology has improved the work capability but there is an efficiency level. If it is above the level then there is less efficiency. Giving more work to a comparative less people is just like pressing a rubber ball with hands shown in the picture. It is affecting the overall operation of the Airtel as well as loosing experienced and efficient people.
There is a good communication system exists between management and distributors. Distributors under a zone are communicated by the SMs and TMs. TM is responsible to monitor the activities of each distributor of their territory. But problem occurs when multiple points of contact happens. It happens when distributors get call from different functional department like sales operation, trade marketing, zonal office etc and become confused. This can affect the distribution activities seriously, as distributors are in dilemma to make decisions in that type of situation.
As business is growing fast, maintaining a large number of distributors may be difficult for company. Competitors are reducing their numbers of distributors such as Grameenphone, Banglalink and Robi. Some of the respondents oppose that, having these huge numbers of distributors is a matter of cost and operational efficiency.
Findings from Management Levels are:
Multiple points of contact are an alarming issue.
Different locations of functional office are creating problems in decision-making or other relevant activities of sales and distribution.
Maintain good relations with 111 distributors are not efficient as business is growing.
Job pressure or shortage of labor in sales distribution should be given importance.
Distributor Levels
Distributor works in a channel where they collect big amount of products from manufacturers or producers and sell them in a small lot to different retailers. There are 111 distributors in 111 territories of Airtel. The distributors are well reputed in the market. After a lot of analysis, a company gets the distributorship of Airtel. They are financially solvent as well as have a good market experience and reputation. From the interviews, it shows many important issues are there that have impacts on the distribution efficiency.
Distributor's small business opportunity is an issue in Airtel distribution. One of the distributors of Airtel said that, there are a very limited business opportunity for the distributors of Airtel as it is difficult to operate more than one territory. We know that in a territory there is a very limited business growth opportunity. In independent distribution system, distributors can expand their territory or can take distributorship of another territory.
This helps distributors to work with lots of enthusiasm. But lack of growth opportunity in this business is a depressing situation for Airtel's distributors. Some respondents said that, some good distributors are switching to other competitors and closing their distributorship with Airtel.
Distributors need Field Sales Executives to run the field sales operation within their territory. FSEs are the people who make contact directly with the retailers and motivate them to sell their company's product, increase the sales volume of the retailers and provide those ways of more business. These FSEs are very important in distribution system as they are core promoter of the company's business in the field level. It is tough for FSEs to motivate a retailer to sell their products or services, realizing existing retailers to sell more of their products.
Now days, these field sales forces are getting so many importance in every industry. Companies are looking for ways to motivate these forces in many different ways. Some companies are changing designation of field sales executive to Brand Promoter or Brand Ambassador to motivate them that they are very important to the company. In Airtel, FSEs are not well trained. Proper and continuous training of the field sales forces are affecting the business as business environment is changing rapidly. So FSEs are not doing well in some instance because of lack of training. As a result of lack of motivation and training, field sales forces are looking for ways to get out from the existing company.
This can be very alarming for Airtel that their experienced FSEs are going out from the company and joining in competitor's sales force. As a result, Airtel is losing experienced and effective sales team as well as competitors can know the field sales strategies of Airtel. This should be tackle efficiently, so that it remains in minimum level.
So, the Basic Findings from Distributor Levels are:
Lack of business growth opportunity for the distributors.
FSEs are not well motivated and trained up.
Recruitment of Airtel's field sales force by the competitor's distributors.
Retail Levels
A number of findings are located in this level of the discussion. Respondents provide lots of views and important points about retail activities of Airtel's distribution system. Retailing or retailer situated in a position where they collect the products and services from distributors or wholesaler and then sell them to final customer. So retailers have direct interaction with the final customer. They know about the customer or target market more than manufacturer or service provider and distributors. So a retailer plays a very important role in distribution channel.
In this study, the most important thing that point out is the inefficiency in retail mapping system of Airtel. Retail mapping means collecting information about the retailers of a specific area and evaluate it for selecting the best retailers that matches the company's objectives or target market for distributing products.
One of the executives in the interview said that, selective distribution can be applied in SIM card selling but intensive distribution system is required for selling recharge card and load. Airtel Bangladesh Limited has more than 25000 SSO and near 75000 LSO across the country. In terms of numbers it is huge and with this it is possible to run the sales operation in an efficient manner. But problem lies in the mapping of the retailing in Airtel distribution.
Customer wants product and service near to where they live or work. Companies have to ensure hassle free buying experience. Some interviewees states that there are lacking in the retail mapping system of Airtel Bangladesh Limited.
An Example of the Inefficiency of the Retail Mapping of Airtel is discussed here with picture presentation.
Panthapath signal in Dhaka is a very busy area and filled with target market of Airtel users. It is the intersection of Green road, Farmgate, Bashundhara City and Square Hospital's road.
Lots of universities, colleges, schools and others educational institutions are located here. But here, distribution systems of Airtel retail outlets are not done in a planned way. Red star marked outlet behind the Astish Dipankar University campus is an outlet which is over utilized. There should be one more outlet beside that outlet for smooth distribution as there are lots of educational institutions who are Airtel users.
Recommendations
There are total ten (10) findings in the three (03) level of discussion. Recommendations are made based on the findings of the study. By following these proposed recommendations, Airtel Bangladesh Limited can improve their distribution system or strategies in a way that might ensure maximum customer satisfaction with a competitive position in the market.
Inefficiency in the retail mapping is one of the major findings of this study. By using the location intelligence as discussed in the findings, Airtel can ensure fair retail distribution of products and service near to customers.
Distributors of a region should be given a target based on their previous performance and efficiency in a given period of time. Distributors who underperformed in the given period and if management things that the distributors cannot perform well in future then that distributors will be replaced by the best performer (distributor) of that region. This will help the distribution system of Airtel in many way like:
This will put the distributors of a region in competition to better perform than others and will ultimately increase the sales of the company.
Distributors will be motivate to run their business or operations more efficiently to perform better for getting the opportunity of serving more than one territory as this will endure the growth of the business of distributors.
Motivational activities and effective sales training of FSEs should be given a major importance. It is not possible for the company to give monetary motivation in a large scale as this increases the company's cost. But company can give lots of nonmonetary motivation to FSEs in a cost effective way and can get more output. Some of the activities can be-
Change the designation of the FSE. While interviewing with some FSEs, they said that Field Sales Executive means that they are at the bottom level. This designation introduces them to the society as "not in a good profession" attitude. If the designation "Field Sales Executives" can be replaced by something like "Brand Ambassador" or "Brand Promoter" or something that sounds different and good to the society, then FSEs will be motivated a lot to work truly like an ambassador of the company to the retailer.
Give FSEs proper training time to time about present sales strategies and give them a platform to share their suggestions, opinions with others. Introduce some contest that is already done in the TM and distributor level named "Boss no. 01", "Sales Icon".
Multiple points of contacts should be reduced by one point. There should be one person or one department that is responsible to contact with distributors. Contact from any department should be done via this designated point.
Unavailability of all kinds of products can be minimized through better forecasting or analyzing past demand of the products. Retailer should be motivated to sell every type of products if possible and with a mixture of combination.
Retailer's suggestions are important to know the customers update. There are also some conflicts with the FSEs or distributors that needed to be solved. A dedicated hotline only for retailer can be introduced. This will create a way for the retailer to give suggestions, complaint and feedback of any campaign directly to the management.
Non-store retailing should be given importance with store retailing. Online presence of the products should be ensured. Innovative thinking in alternative retailing should be given with priority. Balance recharge through mobile banking should be done in a wide range and try to connect with every players of mobile banking industry.
Work pressure should be reduced by recruiting required people if possible with a long planning.
Conclusion
Airtel Bangladesh Limited is the last entrant in the telecom operator industry of Bangladesh. It is now in fourth place among the six players in the industry. Current market share is approximately 7% with a customer base of 8.185 million. Day by day its business activities are expanding as offerings of the company are best suited to their target customers and also for quick network expansion. Airtel's sales distribution activity is similar to the industry with some unique techniques. Here, sales force is efficient enough and also experienced to run the system with great success. Airtel has a well set of distributors who are gradually performing well and competitive in the market. Airtel has a huge number of retailers across the country.
Overall, Airtel has a well planned distribution procedure. There are some basic and operational difficulties in the distribution system. Recommendations are made based on to solve those difficulties that arise as changing business environment. Customers changing need and wants are also affects the distribution activities. Hopefully, by implementing or reviewing the recommendations of this project, in the near future Airtel will be one the best competitors in this telecom industry.