This report  MARKET STUDY ON EDIBLE OIL: Prospects of Shabnam Vegetable Oil industries Ltd & Super Oil Refinery Ltd.  is prepared to fulfill the requirement of BBA Program of Marketing Department, Southeast University.
Objective
Broad Objective:
The broad objective of this report is to prepare a detail market study on Bangladesh Edible Oil Limited and understand the industry and its consumer.
Specific Objective:
The specific objectives of the study are listed below
To briefly discuss about the organization Bangladesh Edible Oil Ltd.
To sketch a picture of Edible Oil industry of Bangladesh
To identify the position or market share hold by SVOIL in domestic market
To identify the consumption pattern of edible oil
To explore resources that can promote the industry
To know the factor that has significant impact on this industry regarding market price, product quality
To identify the house hold penetration
To know international edible oil market
Know the key success factor of Bangladesh edible oil industry
To evaluate the company in terms of its financial performance
To know customer expectation from edible oil
Scope of the study
This study includes Introduction part, Organization Part and Technical Part and Project Part. Organization Part mainly concentrates profiling the company Bangladesh Edible Oil Limited. This includes an attempt to formulate a picture of SVOIL starting from its formation history, products and organizational structure. On its technical part includes the details process for neutralize and refining crude soybean and palm oil. On its Project Part the study puts major emphasizes beneath the title of the report and tries to draw a complete picture of the market analysis and consumption pattern from different point of view. This part further analyzes SVOIL strategy and financial performance comparing with the competitors'.
Methodology
Study Design
The study is descriptive in nature and so was conducted using assessment of different historical information, depth interview and survey result which has been done by different research organization and analysis have been adopted with careful interpretation of the market and measure performance to get some clear and comparative picture of company's position.
Source of Data
Primary:
Qualitative: For the sources of information, there was a detail analysis of type and sources of information, and the analysis, categories of marketing professionals were selected as targeted sources of information. In-depth interviews were conducted with the key management personnel of Bangladesh Edible Oil Ltd.
Secondary:
Annual Reports
Newspaper Articles
Journals
Websites
Analysis Techniques:
Descriptive statistical measures have been taken to analyze data where mean, percentage, growth rate etc. were used.
Limitation
Confidentiality of information has limited the extent of presentation in the report. Respondents declined to furnish categories of information treated as "confidential", for obvious reasons. As industry participants are not listed in capital market, financial data are not publicly available and it's a drawback for analyzing financial performance of the whole industry.
Oraganization Part
T. K. Group of industries
T. K. Group of industries began its journey in 1972 in commodity trading. The entrepreneurial spirit of the founder's helped the business grow and new ventures were launched in manufacturing and marketing of consumer and industrial products.
Shabnam Vegetable Oil Industries Ltd.
In our vast 3,30,246 sq ft facility, SVOIL is producing popular consumer products like Family Palm Oline, Hilsa Palm Oil, Pusti Vanaspathi, Hilsa Vanaspathi (Hard & Soft), Pusti Atta, Pusti Maida, Pusti Bran, Pusti Suji, Pusti Mustard Oil, Panja Mustard Oil,Pusti Refined Dal & Pusti Premium. As a result of our strict production control we have been graded as 100% successful supplier by Nestle Bangladesh Limited. Furthermore, implementation is underway for the ISO-22000-2005 (Food safety Management System) accreditation besides progressive production facility and capacity upgrades previously implemented.
SVOIL Products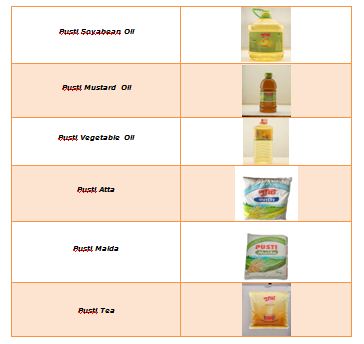 Strategic Overview of SVOIL
Most preferred supplier of edible oil by developing and building brands and setting new standards in availability and visibility
Corporate Foces
SVOIL is committed to providing the highest quality products and customer services to ensure customer satisfaction in order to achieve business growth.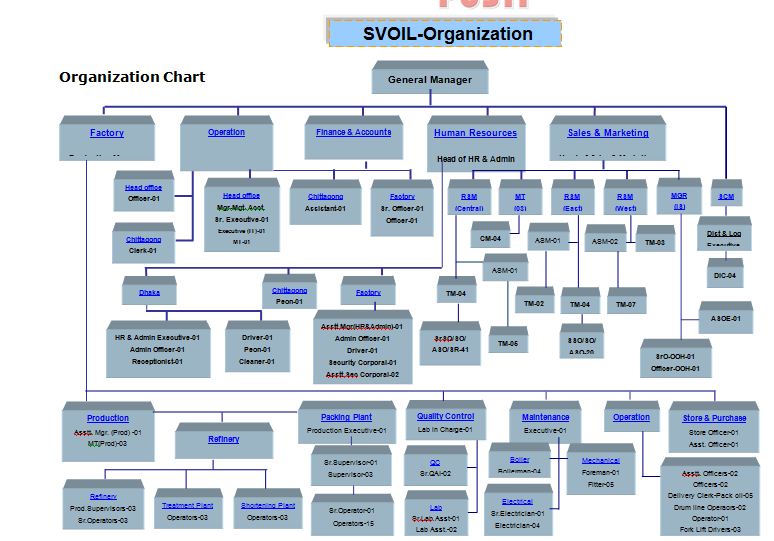 Technical Part
Production process
The production process includes three major steps
Neutralization is the section to make the crude to neutral by acid & caustic dosing.
Neutralization is known as chemical refining.
Description of Neutralization process is given below-
A CDSO feed pump is used to carry the crude oil to the N-Plant. The specifications of the feed pump is shown below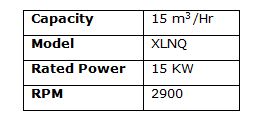 The parameters of CDSO are given below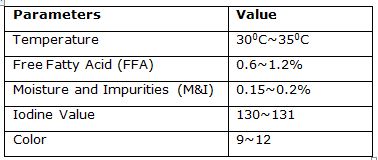 At pump deliver there is a Metallic Strainer (Mesh 2 mm) to remove foreign particles.
Process block diagram of Neutralization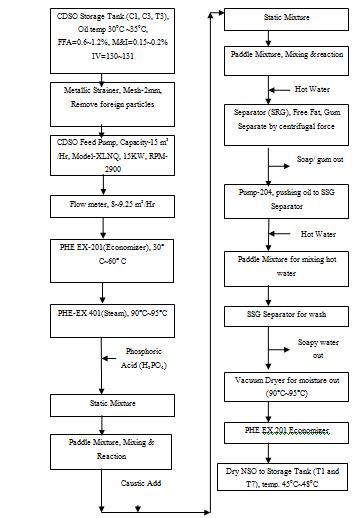 A flow meter is used to observe the flow rate of crude oil. range of flow rate is 8~9.25 m3/Hr.
The crude oil goes through a Plate Heat Exchanger [PHE EX-201] (Economizer). The heat is exchanged between crude oil (300C-350C) and Neutralized Soybean Oil (900C-950C). The crude oil temperature rise up to 600C. The specifications of the PHE is shown below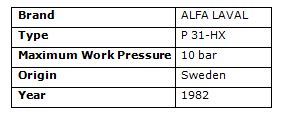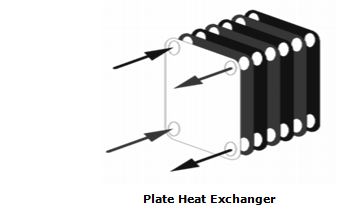 As the process temperature is 900C-950C, the temperature is further raised up using second PHE-EX 401 by steam.
Though CDSO is de-gummed, still it contains some gum particle. Gum is generally Phosphatides. It contains mostly
a) Lecithin (The molecule phosphatidylcholine lecithin – C40H80NO8P)
b) Shapalin  
The typical gum content is
CDSBO – 200 ppm
NSBO – 06 to 08 ppm
NBSBO – < 5 ppm
RBDSBO – 02 ppm
CPO – 15~50 ppm
Concentration of phosphoric acid is 0.075 ~0.08% H3PO4 for CDSBO & 0.07% H3PO4 for CPO. 85% H3PO4 is diluted with water to make the desired concentration. The formula for phosphoric acid dosing rate is given below
CM×100
Flow
CM (Centimeter) = (%×Flow)/100
For example CM= (0.07×8500)/100
                           = 5.95 kg/hr
                           = 5.95/3.5   (H3PO4 tank is calibrated as 3.5 kg/cm)
                           = 1.7 cm/hr
Acid dosing pump is calibrated as cm/hr. According to gum content pump dosing is fixed. The acid containers are imported from Malaysia. Each container can contain 40 Kg.
The acid is mixed with CDSO by paddle mixture and static mixture (for turbulent flow).

The homogeneity requirement differs according to the particular mixing task and should specify by the final user in terms coefficient of variation CoV. Usually a CoV between 0.01 and 0.05 is a reasonable target for most applications. The lower the value of CoV the better the mixture quality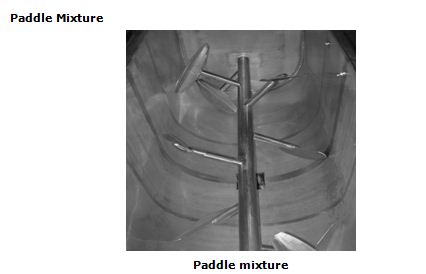 The CONTROL AUTOMATION Paddle mixer is a high efficiency mixer which provides fast, thorough, uniform mixing for a wide variety of products. The scooping and lifting action of the blades and the cross mixing configuration provides an accurate and homogenous mix, even where bulk densities of ingredients vary greatly. The paddle design ensures thorough clean-out and positive discharge. Heavy duty construction ensures long life and reliable performance
After mixing phosphoric acid, reaction occurs and CDSO gets de-gummed.
FFA in CDSO is 0.6~1.2%. To decrease FFA, other than FFA there is Phospholipid, Carbohydrate, Proteins. Caustic Soda (NaOH) is used to make FFA to water soluble soap. Hydration is done to convert Phospholipid, Carbohydrates & Proteins to water soluble substance.
Solid NaOH is mixed with water and heated up to make a dilute NaOH solution. It is stored in the Solution tank on ground floor.
Solution goes from solution tank to Reserve tank. Then from reserve tank the solution goes to an Intermediate Storage Tank
 NaOH is dosed from intermediate tank to the crude oil using a pump. Dosing ratio is 0.18%~0.45% (Dosing depends on the amount of free fatty acid in oil.)
NaOH solution is mixed with CDSO (and H3PO4) by paddle mixture and static mixture.
After mixing caustic soda, reaction occurs and CDSO gets separated from FFA. In SVOIL, FFA reduces to 0.085 %.
Thus we get a mixture of neutralized oil, gum and free fatty acid. Gum and FFA together is called soap.
To separate this soapy part from the oil, at first hot water (Temp. 90°C) is mixed with the 'Oil and Soap mixture'. Then the mixture is passed through SRG Separators.
10. SRG separators separate the soapy part from oil.  By using centrifugal force it separates the free fat and gum. In the center of SRG Separator, oil is separated and in the outer side fat and gum is separated.
11. There are two SRG machines. One SRG separator is used at a time and the other is Standby. Separator Origin-ALFA LAVAL, Made in Sweden, Model 214. There are 108 disks in a SRG Separator. RPM is 1800-2000. Three output lines from SRG Separator separate the soapy part (soap and gum), oil & carbon seal cooling water. Pump-204 pushes the oil to SSG Separator. SRG Separators are cleaned every 24 hours (bowl disc, top/bottom seal if required) by soap/phosphoric acid.
12. The oil still contains some soapy particles. So to wash all soapy parts out, before entering the SSG Separator, the oil is mixed with hot water (1200 Liter/Hr). The hot water is mixed with oil by paddle mixture. Then the mixture goes through SSG Separator. The SSG separator separates the remaining soapy parts from oil. Thus Neutralized Oil (NSO) and Soapy water gets separated and comes out from two output lines. This soapy water is transferred to 'Acidulation Plant' for next process. We get a byproduct from soap named 'Acid oil'.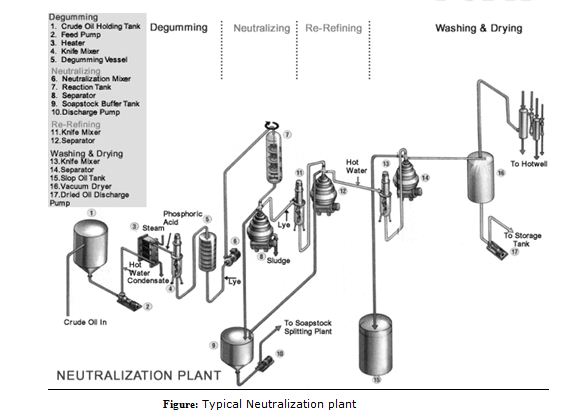 To remove the moisture from neutralized oil, it is passed through a Vacuum Dryer (650 mm Hg).
The temperature of NSO is (900C-950C). This NSO is passed through PHE EX-201 (Economizer). The heat is exchanged between crude oil (300C-350C) and NSO (900C-950C). NSO temperature decreases to 450C-500C. This dry NSO is stored to the tank T1 and T7. Neutralization capacity is 7.5 M Tons/Hr.
The parameters of NSO are given below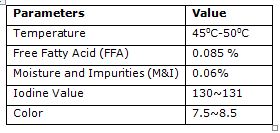 Refinery
Description of process flow of refinery section (Physical Refining)
To remove foreign particles from NSO and CPO (Crude Palm Olein), Metallic Strainer is used before pump.
The flow rate of oil is 8.5 M Tons/Hr. The oil temperature is 450C~500C and amount of Free Fatty Acid is 0.085% (NSO) / 6.0% (CPO).
To increase the temperature of oil, it is passed through an Economizer (E001A). Heat is exchanged between 'De-odorized Soyabean Oil (Or DESO Oil)' [Temp. 1800C] and NSO/CPO. As a result NSO/CPO temperature increases to 1100C~1200C and DESO Oil temperature reduces to 800C.
 Initially starting up the operation, another heat exchanger (E001) is used as there is no DESO Oil initially. This heat exchanger uses steam and increases oil temperature to 1000C~1200C.
To remove the moisture from NSO/CPO, it is passed through a Vacuum Dryer.
Still the oil may contain some gum particle. To remove this gum, food graded Phosphoric Acid (85% H3PO4) is used again. Now the dosing ratio is 2.5 kgs/hr/Ton.
The acid is mixed with the oil by Knife Mixture and Static Mixture.
After mixing phosphoric acid, reaction occurs and the oil gets de-gummed.
Then the oil is passed to 'Bleacher Vessel'. Bleacher vessel is under vacuum.  Here oil is dosed with 'Fuller's Earth' (Calcium Montmorillonite) and 'Activated Carbon'. Fuller's Earth is used de-colorize the oil and Activated carbon is used to increase shining. This is done to decolorize the oil. Oil contains coloring material such as Chlorophyll & Carotenes.
Dosing rate of Fuller's Earth is 10~12 Kgs/Hr/Ton and Activated carbon is 600 Gms/Hr/Ton.
Casual Worker prepares the mix of Fuller's earth & Activated carbon with the ratio of 25 kg Fuller's earth + 2 kg Activated Carbon.
De-colorization and shining depends on reaction time. The more reaction time, the better performance it gives. That is why there are two bleacher vessels
After processing 10,000 M Tons of Oil, Bleacher Vessel is cleaned. For this work all oil is drained from Bleacher. Then open Vessel Top and Side manhole is opened. Then air blowing is started into the vessel to cool down until normal work environment. After proper cooling, operator enters the vessel and opens all striping coil/nozzle and takes out for cleaning than casual worker enters the vessel to clean all used earth from bottom chamber and shell plate. On other side operator opens all the accessories of the earth dosing line and clean them and fix them back.
The whole cleaning and fitting operation of Bleacher Vessel needs 48 Hrs. All cleaning operation is manual/mechanical.
The bleached oil is passed to Ama filter (601 A/B/C) with the help of Bleacher Pump (P-602 A/B, Pressure- 4.5~5 bar).
There are 3 Ama filters [Capacity 1.5MT (2) and 2.75 MT (1)]. Two of them are used simultaneously. The filters separate bleached oil and 'Used Earth' (spent earth). Bleached oil goes to the 'Bleached Oil Tank' and used earth goes to ground floor. The 1.5MT capacity filter is cleaned after running 60days and the 2.75MT capacity filter is cleaned after running 90days (Depending on oil quality). 12°Be Caustic solution is prepared in a cocking Tank. Cocking starts by steam 90°C to 95°C up to 36 Hrs. At cocking running time, cocking performance is checked. If performance is poor then cocking time is increased. After that washing is started by normal fresh water with a high pressurized water shooter pump. Filter sets are washed by water shooter for 16 Hrs (For big sets at least 24 Hrs to 30 Hrs). If foreign particle (gum) is not removed after normal wash, acidic (phosphoric) washing is done. In this case 10% acid solution is cocked for 12 Hrs. After acid cocking we filter sets are washed by fresh normal water and dry in air than until it becomes ready for operation.
For better refining, oil is passed from bleached oil tank to a polish filter.
To increase Oil temperature to 130°~140°C, a Shell & Tube heat exchanger is used.
Then the oil is passed through a 'Deaerator' to remove moisture. The Deaerator is under vacuum.
To heat up bleached oil, a 'Spiral Heat Exchanger' (Economizer) is used. Heat is exchanged between NBDSBO and bleached oil. NBDSBO temperature decreases from 2600C to 1800C where bleached oil temperature rises to 1900C.
To clean the Shell and Tube heat exchanger, at first all oil is drained from inside. Then Top cover is opened and caustic solution is poured into it. After 24hrs the tube is cleaned inside by round steel brush and water. The cleaning operation needs approximately 36 Hrs. Spiral heat exchanger is cleaned every six months. First all oil is drained from inside channel by air flashing. Then all inlet-outlet line is closed. Then 12°Be caustic solution is pushed into Bleacher oil side of the spiral. Than circulating starts and heat is raised up to 80°C. After 24 Hours, caustic action solution is drained out and the top cover is opened. Then final cleaning starts by water shooter until it is cleaned fully. In the same way deodorize oil channel is cleaned. After cleaning top and bottom cover gasket is cut and then fixed back with all necessary fittings. The full cleaning operation needed 72 Hrs.
The oil is then passed to the Deodorizer for 100% quality. Deodorizer has 5 stages. There are barometric condensers and ejectors connected with the deodorizer. High Pressure Super Heated steam coil is used to heat up Oil up to 260~2650C. Steam temperature is 3300C and Pressure is 57 bar. Deodorization is a vacuum steam distillation process for the purpose of removing undesirable flavors and odors, mostly arising from oxidation (Aldehydes & Ketons), in fats and oils. Deodorizer normal cleaning schedule is one time in a year. For this work, the vessel is cooled down under vacuum 60°C to 65°C. Then all oil is drained out to the storage tank and the vessel is kept under full vacuum for 24 Hrs. When temperature decreases to 45°C, five chamber manholes are opened. The vacuum is continued further for 4 Hrs so that all toxic gases are released to atmosphere. Then security light is arranged inside the vessel in five chambers. At least three fans are used for blowing fresh air into the vessel. Then the operator, casual worker enters to clean the chamber mechanically. After mechanical cleaning, 12°Be caustic is pushed into five chambers and manhole is closed. Then heating up is done by open steam striping and caustic circulation for three days. Then all caustic is drained out and five chambers are washed by normal water jet. After water cleaning, water is drained out and Citric acid/Phosphoric acid solution (10%) is pushed. Circulation goes for 24 Hrs. Then the solution is drained out and the Deodorizer becomes ready for operation. This cleaning operation needs 12 days.
We get NBDSBO (Neutralized Bleached Deodorized Soyabean Oil) or RBDPO (Refined Bleached Deodorized Palm Oil) from deodorizer (Temp. 2600C). Temperature is decreased to 1800C after passing it through Spiral Heat Exchanger.
Then the oil passes through the economizer E001A and temperature decreases to 80°C.
The oil is further cooled down to 40°C.  Two coolers (E-704) are used for this purpose.
The oil is passed through polish filter for further refining.
Then the oil is stored in the tank. NBDSBO is stored in T13, T14, T15 and RBDPO is stored in T2.
PFAD(Palm Free Acid Distillate) contains
Palmitic Acid (CH3 (CH2)5CH=CH (CH2)7COOH)
Stearic Acid (CH3 (CH2)16 COOH)
SFAD (Soybean Free Acid Distillate) contains
Olic Acid (CH3 (CH2)7CH=CH (CH2)7COOH)
Linolic Acid (CH3 (CH2)4CH=CHCH2CH=CH (CH2)7COOH) FFA (Free Fatty Acid) contains
Caproic acid (CH3 (CH2)4COOH)
Caprilic acid (CH3 (CH2)6COOH)
Capric acid (CH3 (CH2)8 COOH)
Lauric acid (CH3 (CH2)10COOH)
Myrstic acid (CH3 (CH2)12COOH)
PFAD &
SFAD
SFAD contains Tocopherol & Vitamin E which are used for Skin & Eye. Natural TOCOPHEROL exists as a mixture of 4 homologues, Alpha, Beta, Gamma, Delta – available as a mixed product known as MIXED TOCOPHEROL – which is also known as vitamin E. Alpha-Toc has strong vitamin E activity, while Beta, Gamma, and Delta-Toc have strong antioxidant activity outside the body (in foodstuffs etc.). Therefore, Toc preparations which have a high Alpha-Toc content are suitable for health foods and vitamin E enrichment.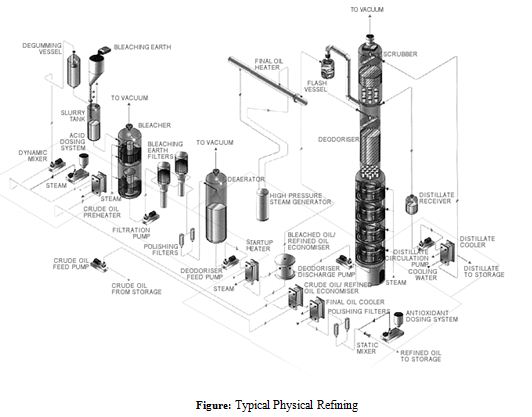 Dry- Fractionation
Dry fractionation is by cooling the feedstock under carefully controlled conditions in crystallizers to create slurry of high melting stearin crystals in low melting olein liquid. Description of process flow of fractionation section
Dry fractionation is a batch process. RBDPO from T2 is pump to T401, T402 & T403 each about 35 MT per batch.
T401, T402 & T403 are crystallizers with spiral coil of both cooling water & chilled water.
Automatic heating of the feed oil while filling the crystallizers melts any pre-existing crystals that would interfere with later process steps.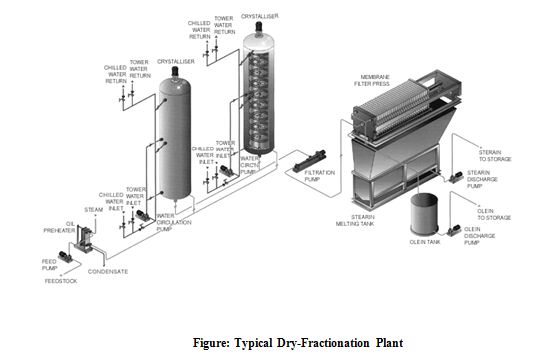 Computer programmed cooling creates a saturated stearin solution and nucleates stearin crystals.
 Extended holding at the crystallization temperature allows crystals to grow into the desired composition and form and creates slurry that is efficiently separated.
 Filtration by membrane filter press separates the olein from the stearin and allows recovering a higher olein yield, with the extra olein being of the same quality as the original yield.
Fractionation is a physical modification process – so there is no chemical change to the products. And of course in the dry fractionation process, there is no use of costly of hazardous chemical additives, no yield loss and no contamination of the oils. Because it produces no effluent, the dry fractionation process is also environmentally friendly.
RBDOL is stored in Tank T10. SRPL is stored in Tank T4 and T6. HOL is stored in Tank T5 and T11.
Double Hard Olein (DHOL) can be produced after fractioning HOL.
Effluent treatment Plant
Description of process flow of Effluent Treatment Plant
Soapy water (PH = 9 ~ 11) goes to Acid Treatment Plant where Sulphuric Acid (98% H2SO4) is mixed in 3 tanks and settled for 1.5~2 Hrs. In settling tank ST1, ST2, ST3 5 ton soapy water plus 100 kg 98% sulphuric acid added & then 5 to 6 hrs agitation is going on.
Then 0.5 hrs circulation of that mixture & then settle for 2 to 3 hrs.
Then Acid Oil from upper portion pumped to T8 & T9.
First Lime, Coagulant (Alum) and Magnafloc Anionic (Flocculant) solution is prepared in separate three Tanks. Every Tank has individual stirrers (Lime stirrer, Coagulant stirrer, Flocculant stirrer) and dosing Pump.
Raw water goes from Reservoir Tank to ETP Chemical Mixing Tank.
Mixing tank consists of three chambers.
Lime solution is dosed (for increasing PH) into raw water and then passed into Chemical Mixture Tank- Chamber-1.
Then coagulant is dosed and mixed by coagulant stirrer. Then it passes into Chamber-2.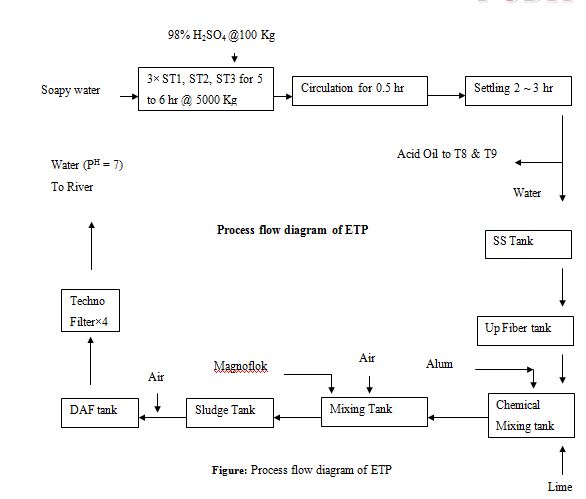 In chemical mixing tank Chamber-2, here Magnafloc-1011 Anionic Flocculant is dosed by dosing pump for forming sludge. In this chamber air and Flocculant is stirred, then it passes into the last chamber where continuous agitation goes on by Dissolved Air Flotation Pump (DAF Pump).
Then the Sludge mixed water is passed to Skimmer Tank.
Skimmer Tank is a specially designed tank with three chambers inside.
In the first big chamber there is a skimmer motor with chain-conveyor and special type weeper.Sludge mixed water circulates in the big chamber last end to first end by DAF Pressure Pump with 30 to 35 m3/Hr(measured by DAF flow meter). High air agitation through 'DAF Pressure Pump Delivery Header' is maintained.
Due to air agitation action, all Sludge comes to the top surface of the water.
Rotating skimmer weeper pushes the sludge to the second chamber.
Fresh water (PH 7.0) from bottom side of the last end of the big chamber comes to third storage chamber by over flow line.
After some interval fresh water is drained out to river by drain Pump.
Sludge from the second chamber of the Skimmer tank goes to the Techno filter for further filtering.
Sludge is collected from Techno filter and kept under earth.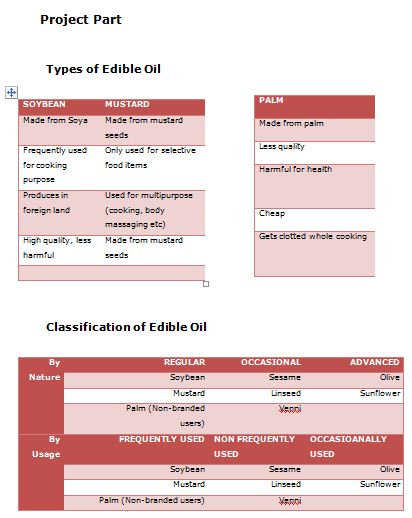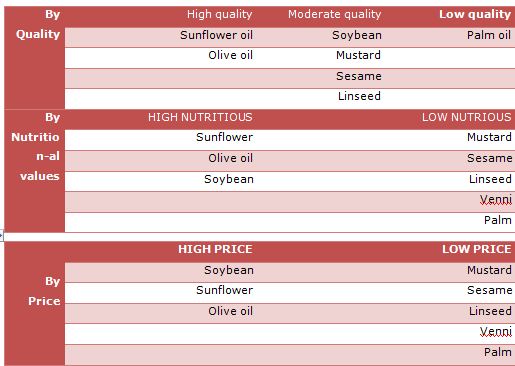 Expectations from Edible Oil
Consumers are already satisfied with the existing values (pure & refined, fat/cholesterol free) provided by the edible oil brands. However, brands need to focus on product improvement areas to create a benchmark with innovation, and to fulfill consumers' upcoming demands.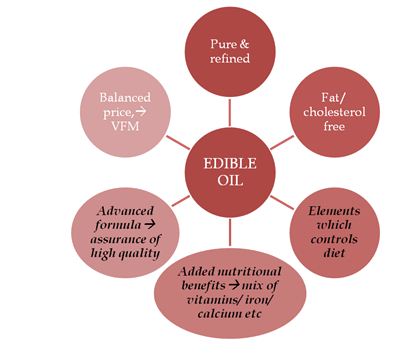 Edible oil as a basic commodity product has a greater role in consumers lifeà consumers are constantly looking for innovation and advanced formulation from edible oil.
Products of SVOIL
Pusti Soyabean Oil: PUSTI Soyabean Oil' is a flagship premium brand in soyabean oil market of Bangladesh. Due to excellence in sourcing and state-of-the-art German refining technology, 'PUSTI Soyabean Oil' preserves the inherent goodness and properties of soyabean to give consumers light, tasty and healthy edible oil. The great taste enhancer along with their quality has won the consumer loyalty across Bangladesh. As these oils are rich in Polyunsaturated Fatty Acids, they help in keeping cholesterol level under check and are preferred by health-conscious home makers for their families.
Available SKUs:
Pusti Mustard Oil:
 'PUSTI Mustard Oil' was introduced by T.K. Group of Industries as a part of its continuous endeavor to provide healthy cooking oil choices to Bangladeshi consumers. 'PUSTI Mustard Oil' is rapidly becoming popular among mustard oil consumers, who have the conventional affection to the rawness and pungency of mustard and believe in having healthy and diet conscious food. Along with the high standard, it is enriched with Vitamin E, high amount of mono-unsaturated fatty acids, good ratio of polyunsaturated fatty acids. With the medicinal and preservative qualities of mustard kept intact, 'PUSTI' is ideal for massage and pickling purposes.
Family Vegitable Oil: The Family Palm olein is the pure range of vegetable oils introduced for delivering high value, taste and to keep healthy life. This offers the benefits of imported palm oil to its consumers by extracting it from natural palm sources in Indonesia and Malaysia. The modern refining process keeps the source benefit 'Beta-Carotene' intact and makes our Oil an ideal choice for cooking.
Soybean and Palm Cultivation in Bangladesh
History of Soybean and Palm Oil:
Soy was first introduced to Europe in the early 1700s and what is now the United States in 1765, where it was first grown for hay. Benjamin Franklin wrote a letter in 1770 mentioning sending soybeans home from England. Soybeans did not become an important crop outside of Asia until about 1910. In America, soy was considered an industrial product only and not used as a food prior to the 1920s. Soy was introduced to Africa from China in the late 19th Century and is now widespread across the continent.
Palm oil is edible plant oil derived from the fruit and kernels (seeds) of the oil palm Elaeis guineensis. Palm oil is naturally reddish because it contains a high amount of beta-carotene (though boiling it destroys the carotenoids and renders the oil colorless). Palm oil is one of the few vegetable oils relatively high in saturated fats (like coconut oil) and thus semi-solid at room temperature.
Palm oil has excellent health attributes.  It is rich in vitamins A and E and is cholesterol free. Palm oil can be used in formulation of margarine and cooking fat such as vanaspathi.  It can be used in manufacture of biscuits, ice creams, soaps, detergents, and shampoos and also as frying fat.  Palm kernel oil has variety of industrial uses.
The original home of palm oil is West Africa. But it is now grown in several countries of South East Asia and America. Palm oil is the world's most widely consumed edible oil. Historical records show that palm oil was traded as a food commodity as early as 5000 years ago. Shipment of palm oil to Europe was first mentioned in 1588, about 300 years before palm oil in the form of ornamental plants was brought to Malaysia through the botanical gardens in Indonesia.
Cultivation of Soybean and Palm
Soybean Cultivation:
Soybeans are an important global crop, providing oil and protein. In the United States, the bulk of the crop is solvent-extracted with hexane for vegetable oil and then the "toasted" defatted soy meal (50% protein) makes possible raising of farm animals (eg. chicken, hog, turkey), on an industrial scale never before seen in human history and harking back to the 1930s American promise of a "Chicken in every pot." A very small proportion of the crop is consumed directly by humans. Soybean products do appear in a large variety of processed foods.
Cultivation is successful in climates with hot summers, with optimum growing conditions in mean temperatures of 20 °C to 30 °C (68°F to 86°F); temperatures of below 20 °C and over 40 °C (68 °F, 104 °F) retard growth significantly. They can grow in a wide range of soils, with optimum growth in moist alluvial soils with a good organic content. However, for best results an inoculum of the correct strain of bacteria should be mixed with the Soy bean (or any legume) seed before planting. Modern crop cultivars generally reach a height of around 1 m (3 ft), and take 80–120 days from sowing to harvesting.
Soybeans are native to East Asia but only 45 percent of soybean production is located there. The other 55 percent of production is in the Americas. U.S.A. produced 75 million tons of soybeans in 2000, of which more than one-third was exported. Other leading producers are Brazil, Argentina, Paraguay, China, and India.
Palm Cultivation:
Broadly, there are three varieties viz., Dura, Piscifera and Tenera.  Tenera, a hybrid of Dura and Piscifera is characterized by a thin shell and medium to high mesocarp (65-90%) and high oil content (16-20%).   It is a commercially cultivated variety. Deep well-drained medium loam soil, rich in humus is the most suitable for oil palm cultivation.  Oil palm requires a well distributed rainfall of 2500 to 4000 mm per annum and a temperature range of 19-33° C.  It is a water-loving crop and it requires adequate irrigation.  The crop responds well to drip irrigation and yields are reported to increase by at least 20%. Oil palm is planted in triangular system at spacing of 9 X 9 X 9 m accommodating 143 plants in a hectare.  Planting can be done in any season. However, the best period is June to December.  Seedlings of 10-14 months age are best suited for planting. Oil palm requires adequate irrigation, as it is a fast growing crop with high productivity and biomass production.  For yielding palms of above three years age, a minimum of 150 liters per day is required.  In older plantations the requirement goes up to 20 liters per day.
Inter crop and Yield: During the initial stages of plantation in oil palm i.e., upto 3rd year, some of the light feeder inter crops such as pulses, cereals, vegetables, grasses etc., can be grown.   Inter crop should be grown 1 m. away from the basin in 1st year of oil palm plantation. In two-year-old plantations, it should be grown 2 m away, followed by 3 m in the third year plantations. Oil palm starts bearing from 4th year onwards and its economic life varies from 30 to 35 years. The yield of oil palm varies according to age and management. Under average management conditions in a mature plantation (8 to 9 years old), yield of 15-18 tonnes of fresh fruit bunches (FFBs) per hectare is expected.   Under good maintenance and management, yield up to 25-30 tones of FFBs per hectare is possible.
Soybean Production, Growth and Its Prospect in Bangladesh
Soybean production in Bangladesh
Local soybean production is on the rise, as the industries, mainly poultry feed makers and edible oil refiners, are strongly in need of the item, according to industry insiders.
Of the local companies, City Group of Industries and S. Alam Group have been procuring the crop from the local market for its soybean crushing factories, while poultry feed makers such as Kazi Farms and Aftab are also buying it to make feed.
They, however, pointed to the fact that the output is far from the quantity edible oil processors and poultry farm owners demand. The major portion of such demand is met by imports. Bangladesh could meet much of its local demand through bringing about 7 lakh hectares of coastal and char lands under soybean production, which in turn will also help reduce the country's dependence on importing over one million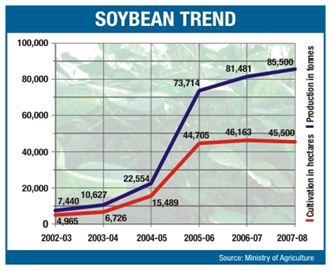 tonnes of edible oil a year. It's a prospective area. The more we produce the more will be our benefit, as it will help us save foreign currencies. The quality of local soybean is fine, but local production is very nominal considering our requirement."
Growth and Prospect:
Soybean production that stood at 7,440 tonnes in FY 2003 rose to 85,500 tonnes in FY 2008. According to Abdul Awal Mollah, project director of the ISCP under the Ministry of Agriculture, Bangladesh has set a target of ensuring production of about 1.10 lakh tonnes of soybean this year because of the rising demand in the local market, which is very optimistic matter for us.
Entry of big companies encourages producing soybean by ensuring proper market and fair price for their produced soybean which is improving situation. And some small companies plan manufacturing soybean-based food products such as soymilk. Adding Laxmipur, Noakhali, Chandpur, Barisal and Mymensingh for soybean producing zone makes 16 soybean producing districts in the country which is indicating greater prospect and growth waiting for Bangladesh. Government efforts to enhance soybean cultivation and help local industries buy more from the local market lessening import dependence.
Import of Vegetable Oil
Bar chart on import trend of major 3 edible oils in the country during 2001 to 2008, furnished here under establishes that import of palm oil being increased steadily since 2001 compared to other two major edible oils consumed in the country. Although import of palm oil decreased in 2007 compared to 2006, but it picked up again in 2008 when the import of palm oil increased by about 15% compared to 2007.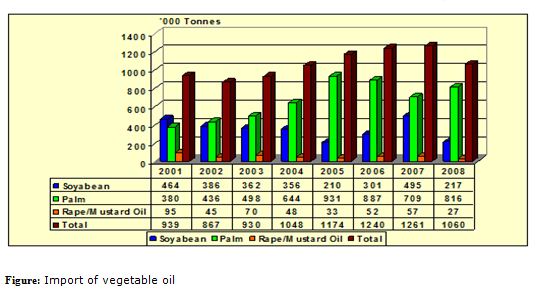 Due to economic condition of major segment of 150 million populations of the country, almost 75% of the total oils and fats consumed annually are sold in loose form, where palm olein is dominant and the rest 25% market share is under consumer packs, where soyabean oil is in leading position and palm oil's position is second.
Market Analysis Summary
Bangladesh Edible Oil Industry
Presently 15 refineries are actively refining soya and palm oil. These refineries have their own coordinating organization – the Bangladesh Vegetable Refineries Association – but refineries act individually when it comes to importing.  In the 1980s, the Government of Bangladesh had control over the import of CDSO but, since the early 1990s, any refinery can import CDSO by opening an L/C.  There is no Duty on the import of crude or refined edible oils.
Among the 15 working refineries, the seven largest, in terms of capacity and market share, are:  City Vegetable Oil Mills Ltd, MM Vegetable Oil Mills Ltd., Meghna Vegetable Oils ltd, Multi Oil Refinery, T. K. Oil, Tripty Industries Ltd, and Shah Amanat Edible Oil. Bangladesh Edible Oil Mills Ltd is a hundred percent foreign owned company, and they are producing soy oil under technical collaboration with a Singapore-based company.
City Oil Mills Ltd is one of the largest importers and refiners of CDSO, and Teer™ is one of the most popular brands in the country.  City Oil Mills operates under the City Group, which owns the recently established solvent extraction plant.
Growth Trend
Although edible oil has always been the most important ingredient for any Bangladeshi cuisine, indigenous production is only around 15% of the total edible oil consumption. The rest is met by imported crude palm oil and soybean oil. As the country's per capita consumption of total oils and fats was in increasing trend in pace with economic growth and rapid urbanization, import of oils and fats also being increasing steadily in pace with the upward trend of consumption.
Major segment of 150 million populations of the country, almost 75% of the total oils and fats consumed annually are sold in loose form. Branded oil penetration across the country is 19% where as loose oil penetration is 84%. In rural the scenario is worse – only 13% household penetration for edible oil brands. So there is a huge loose oil market still untapped by the branded oil.
Sales performance of Bangladesh Edible Oil Limited is somewhat interesting that is its sales volume is gradually decreasing from 2005 but sales amount is increasing since 2003. The reason is nothing but price change of raw materials in international market and its impact on local market.
The key success factor of making profit in this industry is purchase of raw material at favorable price and terms, increasing productivity and improving operational efficiency so that cost of goods sold become lower and eventually increasing sales volume.
SVOIL brands: Urban Vs Rural
Two flagship brands of Bangladesh Edible Oil ltd. Pusti and Meizan since their inception have been the symbol of the healthiest and most preferred edible oil brand. AC Nielsen retail audit data and Sirius Household panel data shows both Pusti and Meizan have poor distribution coverage hence poor sales and worst household penetration.
In Urban SVOIL has a Market share (volume) of 30.8%. It also has a Numeric distribution of 39.9% and weighted distribution of 84.7%. where as in rural the scenario is little different, market share (Volume) for all SVOIL brands in the total Rural consumer pack sales is mere 16%, Numeric distribution 17.4% and weighted distribution of 47.3%. This implies that our traditional distribution coverage cannot reach the potential outlets.

More over the price premium of both Pusti and Meizan was responsible for this poor market share and outlet coverage. To address this huge rural market Bangaldesh Edible Oil ltd. launched the price competitive sachet packs for both Pusti soybean oil and Meizan vegetable oil. The poly packs SKUs are 100 ml, 200 ml, 500 ml and 1 ltr. Pusti poly packs were launched to grab the consumers of the competitor consumer pack users by offering the best quality Pusti soybean oil in competitive price. And where as Meizan polypacks were launched to convert the huge rural and semi urban consumers of loose oil to the Meizan branded polypacks user. To create a demand and awareness for Pusti and Meizan polypacks and make the product available to the the consumers Bangaldesh Edible Oil Ltd. launched a project "Winning in Rural".
"Winning in Rural":
Winning in Rural is an ambitious project for Bangaldesh Edible Oil Ltd. this project is thought to be one of the main aide in achieving SVOILs vision plan for 2011 of achieving a sale volume of 100,000 Tons. The project has two focus- one is to generate demand and another is to make product available.
For demand generation SVOIL under took a nationwide activation project called "Project purity" and for making the product available we have another project called "Project Runner" which runs simultaneously with project triumph. Project Runner is
Market Share Pusti has gained market share while Teer lost some share in Urban across the country. Market SharePusti gained rural market share over the last five months which caused overall market gain of SVOIL in rural
Family Vagetable Oil Performance – All Bangladesh
Market Share Family Vagetable Oil has a steady trand where Natural and Pure showed some drastic change
Market ShareFamily Vagetable Oil  had a fluctuating trend and lost share in the last two months where natural gathered a huge share. Pure has a drastic market share loss while Family Vagetable Oil , Natural and Jibon had a growth
Price Trend
Soybean and Palm Oil Price Trend:
Price of edible oil in our country is highly depends on the imported price of CDSO and CPO as 90% of our demand for oil is meet from imports. If you see the graph below, the wholesale price of 'edible oil' has sky-rocketed in the last half of the Year 2008 due to price hike in the international market. The price hike in 'palm oil' may be also explained by the abnormal rise in petroleum price. It is evident that when per barrel petroleum price cross USD $ 100, a demand arise for 'palm oil' for converting it to fuel. However, in the recent days the price of petroleum is well below US $ 60 that gives a market signal that there is no demand for 'palm oil' for use as fuel.
Moreover, in our local market, sometimes companies are stocking huge volume of oil and try to act as a monopoly power to control the domestic market. It is evident from the past experience that they formed an informal "Syndicate" to control the domestic market. Therefore, it is expected that those soybean importers will release the stock when the international market (specially the Malaysia and Indonesia from where Bangladesh import edible oil most) gets momentum which has already been set on.
Government Role:
We already know that 90% of our total demand for vegetable oil has been meeting through import. That's why the domestic market depends on international market price movement. Despite government has no significant control over the market regarding price fluctuation, they can play role in different way to keep the market stable through taking different steps and measures which can be either proactive or reactive. Like, import a certain percent of the total demand for edible oil through the state-run marketing outfit, TCB, or under government-to-government deal so that the price can be kept stable like the Bangladesh government has a good relation with Malaysia, it can import palm oil through government (Malaysia) directly. Sometimes government fix prices or price range at which trade between parties will occurred and the government will take necessary steps against the traders, if price of edible oil increases more than the fixed price. This is kind of government intervention to the market.
Consumption Pattern
Palm oil occupies around 65% share of the country's edible oil market where Soybean holds around 30% market share. Rural consumption is around 70% of the total edible oil category. Branded oil occupies only around 4% in rural consumption of edible oil.
Due to economic condition of major segment of 150 million populations of the country, almost 75% of the total oils and fats consumed annually are sold in loose form, where palm olein is dominant and the rest 25% market share is under consumer packs, where soybean oil is in leading position and palm oil's position is second. The graph below shows the consumption trend of soybean and palm for six years from 2003 to 2008 says that the use of palm oil has been increasing over the year on the other hand soybean consumption has on significant change. It increased in 2007 from 2005 and again decreases in 2008.
The graph below soybean and palm consumption trend over six year says palm uses increases and soybean has no significant change. The line graph below indicates the penetration remains stable through the months of a moving year. Loose oil penetration is much higher than branded oil. There is an increase in Branded oil during "Qurbani" Eid.
The graph above says amount of liter consumed by each house hold per month where on an average only branded oil user use more oil than loose oil user. The figure circled during September 2008 is Korbani Eid time and was the highest consumption. The curve indicates during winter season edible oil consumption decreases.
House hold penetration:
From Sirius Household panel we can find the household penetration rate of the branded consumer pack in the households. 75% of edible oil consumption is in loose oil so house hold penetration is very low for all the brands. But for Pusti soybean oil the penetration rate is improving over the last couple of quarters data.
Brands

(Soybean)

Jan-Mar 2009

Apr -Jun 2009

Jul-Sep 2009

Oct-Dec 2009

Jan-Mar 2010

Apr-Jun 2010

Jul-Sep 2010

Oct-Dec 2010

Jan-Mar 2011

FRESH

5.72

3.89

3.48

5.17

4.19

3.81

3.32

3.37

3.70

MUSKAN

1.69

1.84

2.64

3.43

3.60

2.45

3.27

3.77

3.04

RUPCHADA

3.35

3.55

3.96

4.52

3.83

2.68

2.44

3.64

3.11

PUSTI

5.41

5.94

7.94

7.60

5.18

6.56

6.99

7.68

8.81

TEER

4.87

5.09

7.69

10.07

8.88

7.23

7.30

7.80

6.90
Pusti Mustard oil:
Pusti Mustard as a brand could not live up to its umbrella brand. Due to lack of proper communication and brand development activities it could not take the leverage of the name Pusti. It holds a mere 5% market share in the Mustard oil consumer packs.
| | |
| --- | --- |
| Radhuni | 25.7% |
| Teer | 14% |
| Suresh | 9.1% |
| Pusti | 5.1% |
| Fresh | 4% |
Far and way the most powerful and widely used tool for systematically diagnosing the principal competitive pressures in a market and assessing the strength and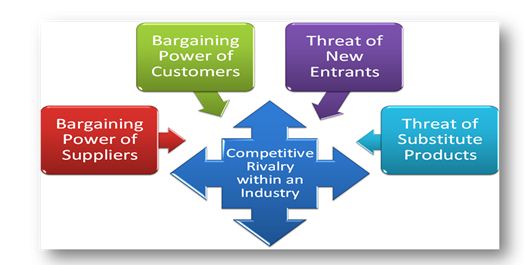 importance of each is the Five-forces model of competition.
Threats of New Entry
There always prevails the threat of new entry in the industry as market possesses enough growth potential. Anyone entering in the industry with superior technology and better quality has a high chance of success.
Threat of Substitute Products
There is little threat from substitute products. However, one little exception can be mentioned. As health consciousness increasing among people in our country, during
summer people uses less vegetable oil while cooking. A group of customer takes fruits and else rather foods prepare by oil, in that sense, any kind of food that people prefer based on season can be substitute for oil but it can not play significant role and less impact are there on demand for oil market.
Bargaining Power of the Buyers
As edible oil is a commodity and the buyers' size and number is all the family living in our country, no way to make alliance and no alternatives to cook food unless they take those foods in which oil is not necessary. There appears no bargaining power of the buyers.
Bargaining Power of the Suppliers
Suppliers of this industry enjoy bargaining power. As most of the raw materials are of imported and very few countries are supplying CDSO and CPO, all of them enjoying huge bargaining power. The product quality the suppliers provide are not differentiated that much from one another. If there were differentiation, they would have charged a premium which in turn gives them opportunity to gain power in the market.
Competitive Rivalry within an Industry:
As a number of firms are operating in the industry, rivalry among competing sellers is high. Growing demand for branded oil increases competition among sellers to grasp loose oil market in our country. The existing competition among brands is primarily based on both the price and quality.
Strategic Implication Point
Analysis of Five Forces of Competition shows that competitive environment is ideal in this industry of Bangladesh from a profit-making standpoint because
Rivalry is moderate
Substitutes do not exist
Customers do not possess bargaining power
SWOT Analysis
Strengths:
Brand is the most renowned one. Its quality is best in the market and has been in the market for quite a long time. People make immediate connection with oil when they hear about Pusti. It brings some traits to the brand automatically. Company is eager to develop its human resource strength which can be a competitive edge for SVOIL in the industry implies management awareness of employee development.
Weaknesses:
The company is operating with a single brand which is risky. And currently SVOIL has low geographical coverage due to weak distribution channel.
Opportunities:
In spite of the weaknesses the brand has immense potential. Presence in the scenario for quite a long time has brought trust into the brand. It is the name of a trusted brand. It just needs the proper association with the consumers. Today, demand for product is very high in the market. Market share can be increased by increasing production capacity, which is very possible.
Threats:
Emergence of new competitors and their distribution policy of giving higher margins to the traders are the threats now. In terms branding they are no threats. So we believe this problem can easily be handled by creating brand pull.
International Market
The world of oilseeds, meals, and oils has been evolving. New issues have emerged for researchers and policymakers. The United States is the largest player, mainly due to its dominant the world of oilseeds mainly due to its dominant position in soybeans and soybean meals. Nevertheless, the position of the United States has been challenged by several countries. The growth by Brazil and Argentina in the production of soybeans and soybean meal has especially eroded the market share of the United States in recent years. Malaysia and Indonesia have been aggressively marketing their palm oil, intensifying the competition for U.S. soybean oil exports. Other issues include changing trade policies and demand in major importing countries, trade liberalization, and genetically modified crops.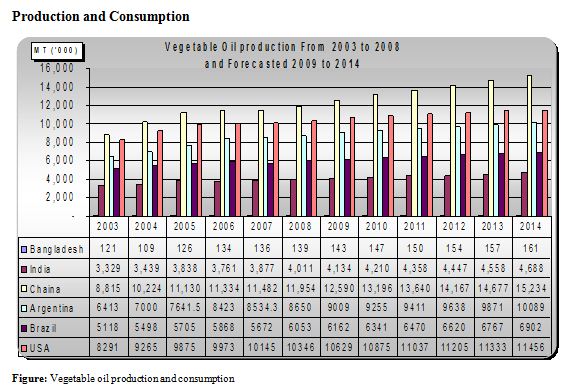 Although no evidence are there but it seems price trend of soybean, palm and crude oil are in similar pattern and palm and soybean follow the trend of crude for petroleum.
Financial Analysis
Bangladesh Edible Oil Limited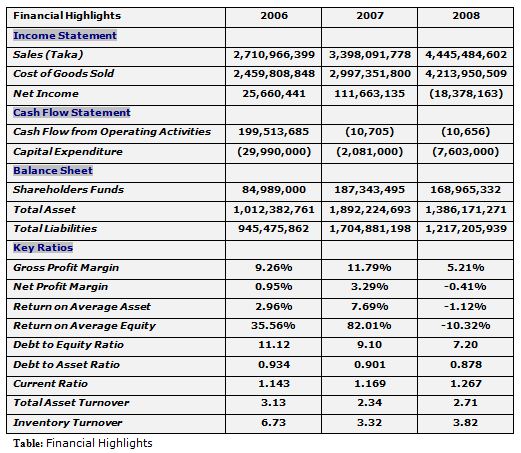 Liquidity Position of Bangladesh Edible Oil Limited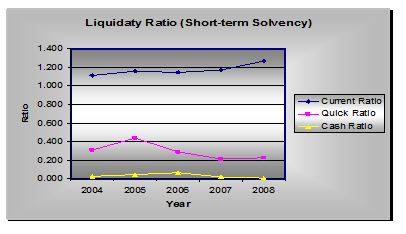 The current ratio of SVOIL is in increasing trends from 2004 to 2008 which is quite satisfactory and it indicates that the firm is greater solvent to meet its short term obligation and it has available safety of funds for short term creditors. On the other hand quick ratio is gradually decreasing from 2005 which is not satisfactory and if we compare it with current ratio, the interpretation is that a large part of the current assets of the firm is tied up in slow moving inventories. The most liquid short-term asset cash has decreased in 2008 compare to 2006 and 2007 and current liabilities also increased in 2008 compare to 2004, 2005 and 2006. It indicates ability to pay off current obligation has decreased and resulted in company may fall in liquidity crisis.
Net working capital has increased substantially in 2007 and 2008 compare to 2004, 2005 and 2006 which implies that SVOIL employed more liquid asset in its business to improve and strengthen its operation and to ensure necessary growth and expansion of the business. The most important point that SVOIL should consider here is using available funds successfully and efficiently and takes the growth opportunity. 
Return on average common equity (ROE) of SVOIL is –10.32 % in 2008 reflecting firm's inefficiency at generating profits from every dollar of net assets, and shows they are not properly uses investment dollars to generate earning growth in 2008.
Inventory turnover ratio has decreased from 2005 to 2007 implies poor sales and, therefore, excess inventory. But in 2008 the turnover ratio is higher than 2007 while sales volume decreased by 8.17 % and sales in taka increased by 30.82 % and cost of goods sold increased by 41 % indicates the efficiency of the firm in producing and selling its products is become poor .The asset turnover ratio has increased by 15.89 % in 2008 seems the ratio improved in 2008 over 2007. Here the ratio going up in value but the underlying changes might not so good. That is, SVOIL current asset and fixed asset both has decreased by respectively 30.62 % and 6.56 %. Generally shorter the no of days inventory on hand better for the firm and in 2008 DSI has decreased from 2007 which is a positive sign for SVOIL. On the other hand SVOIL performing very good in maintaining length of time for outstanding accounts receivables.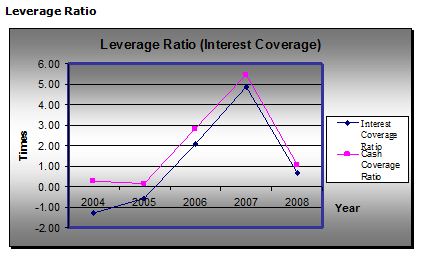 The financial leverage (debt or debt to equity) ratio in 2008 is 6.45 times that is debt is 6.45 times higher than equity indicates the extent to which the business relies on debt financing. Such a high financial leverage ratio implies possible difficulty in paying interest and principal while obtaining more funding. Although this ratio acts as a double-edged sword like gearing profit when sales growth positive but the potential for loss is also greater because if the investment becomes worthless, the loan principal and all accrued interest on the loan still need to be repaid when sales decrease. For SVOIL, continuing operation with such an extensive debt financing is highly risky because production is fully import dependent and eventually import price changes frequently in international market.
Findings
Palm oil occupies around 65% share of the country's edible oil market where Soybean holds around 30% market share. Rural consumption is around 70% of the total edible oil category. Branded oil occupies only around 4% in rural consumption of edible oil. Almost 75% of the total oils and fats consumed annually are sold in loose form, where palm olein is dominant and the rest 25% market share is under consumer packs, where soybean oil is in leading position and palm oil's position is second. The use of palm oil has been increasing over the year on the other hand soybean consumption has on significant change.
In Bangladesh, our edible oil industry is highly dependent on international market.
Soybean has growth potential in our country because government, industry and farmer all have willingness and efforts to enhance soybean cultivation and demand for soybean oil is also increasing.
Teer and Pusti are leading brand and both of them have around 30% market share in branded oil category.
Industry is competitive for branded oil category and here rivalry is moderate, customers do not possess bargaining power where as supplier possesses.
Recommendation
As edible oil is a commodity and the industry is highly dependent on import, government should emphasis on increasing local production and should promote this industry by expanding soybean producing zone nationwide and motivate farmers to grow soybean by providing them necessary fund and subsidize them when necessary. Moreover, develop proper market and channel for farmer to reach producer is essential and fair price as well.
SVOIL should expand geographical coverage by increasing distribution network to grasp loose oil market in rural area.
SVOIL should extent its existing product line to create a brand portfolio to reduce dependency on single brand.
Conclusion
Bangladesh edible oil market size is around 1.4 million Tons where around 1 million tons are consumed by the rural people and 15 refineries are actively refining soy and palm oil. These refineries have their own coordinating organization – the Bangladesh Vegetable Refineries Association – but refineries act individually when it comes to importing. Branded oil penetration across the country is 19% where as loose oil penetration is 84%. However the market of rural for branded edible oil is still in a nascent stage. In rural the scenario is worse – only 13% household penetration for edible oil brands[1]. So there is a huge loose oil market still untapped by the branded oil. Now to penetrate this huge rural loose oil market Bangladesh Edible oil Ltd. launched a cost competitive poly packs of its two flagship brands – Pusti Soyabean Oil, Pusti Mustard oil, Family Vegetable  Oil .
In international market the United States is the largest player, mainly due to its dominant the world of oilseeds soybeans and soybean meals. Nevertheless, the position of the United States has been challenged by several countries. The growth by Brazil and Argentina in the production of soybeans and soybean meal has especially eroded the market share of the United States in recent years. Malaysia and Indonesia have been aggressively marketing their palm oil, intensifying the competition for U.S. soybean oil exports. And Bangladesh, our edible oil industry is highly dependent on these exporting countries. This industry is competitive for branded oil category and here rivalry is moderate, customers do not enjoy bargaining power whereas supplier possesses. Teer and Pusti are leading brand and both of them have around 30% market share each in branded oil category.
 Soybean has growth potential in our country because government, industry and farmer all have willingness and efforts to enhance soybean cultivation and demand for soybean oil is increasing as well.