Marketing Management trainee Department of printing and packaging industry
A.R. Printing & Packaging Industry is a versatile manufacturer in quality paper products of Bangladesh. It plays a vital role to contribute to the demand of several largest companies in Bangladesh such as, ACI Pharmaceuticals Ltd., Square Bangladesh Ltd., Aromatic Cosmetics Ltd., Bata Shoes Ltd., and so on. It is a great chance for me to do my internship in A.R. Printing & Packaging Industry. This is a large factory with all the facilities of printing and packaging. A.R. Printing & Packaging Industry is capable of supplying all kinds of printing and packaging products of distinguished design and outstanding quality as per buyer requirements. So, it is a matter of concern that why this industry is well renounced in this packaging world. In the whole procedure of delivering goods to the retailer, maintain relationship and to communicate with them, have a great influence and responsibilities. When, the order is taken from buyer the duty comes to the floor of managers and before going production they do almost everything to make the business smoothly. So, the work starts with the order taking and making business relationship. Then sample making, planning, booking of every single material for samples and getting approval are all the key responsibilities of marketing managers. In production, sample goes in bulk so, the responsibilities become huge and it comes to the relation with operation also.
Introduction:
A.R. Printing & Packaging Industry is a versatile manufacturer in quality paper products. Combing human creativity with advanced technology, A.R. Printing & Packaging Industry is capable of supplying all kinds of printing and packaging products of distinguished design and outstanding quality. With determination and hardwork, A.R. Printing & Packaging Industry has grown into one of the leading packaging company in the country. Now, A.R. Printing & Packaging Industry is a company with a reputation for producing excellent quality printed products at competitive prices and delivering the goods on time.
Company History:
A.R. Printing & Packaging Industry was founded in 1994 and is one of the most well-known printing and packaging providers based in Dhaka with a factory in the Mirpur Region. It offers a wide of paper products catering for different sectors i.e. paper printing, paper gift bags, rigid boxes, cartoons and board-books.
Corporate Philosophy:
Introducing services and solutions that assist the human capacity of thought and intellectual creativity. Providing productivity-enhancing services and solutions.
Quality Policy:
To consistently meet our customers' highest and most demanding standards of quality and service, within agreed parameters. With our innovative techniques and in-depth process knowledge we have established ourselves as one of the reputed suppliers of high quality specialized products.
Mission:
To provide major corporations and organizations with value-added commercial printing, folding packaging and related services.
Specialization Capacity:
In the beginning, the company had only press machine. Now, Global is modernized with many multicolored machines and finishing equipment to produce top quality packaging products to Bangladesh's top brand companies and many other multinational companies.
List of products:
Folding Cartons
Cartons
B-flute / C-flute Cartons
Posters
Paper Carry Bags
Clients at a glance:
ACI Pharmaceuticals Ltd.
Square Bangladesh Ltd.
Aromatic Cosmetics Ltd.
Bata Shoes Ltd.
SMC
Pegasus Shoes Ltd.
Jamuna Fans Ltd.
Crown Beverages Ltd.
Jamuna Welding Ltd.
Good Knight Coils Ltd.
Apex Hussain Group.
Sailor Moon Clothing Ltd.
Fashion Step Garments Ltd.
My Activities
I was appointed in Marketing Management trainee. Hence, I simultaneously was working with both Marketing and Management departments. Here is a brief description of the various activities; I performed during my internship at A.R. Packaging and printing industry.
Prepared sample of cartoons and B-flute / C-flute Cartons for Jamuna welding ltd.
Market Visits
Competition Analysis.
Order booking and supplying.
Worked with Art and Design Department.
At the very beginning of my internship, I was assigned to help Assistant Manager & Marketing officer. I was directed to prepare following issues:
Awareness about the product
Different competitors and their offerings
Price differences among other competitors
Market leader in-terms of sales
Different variants and package size (Pecs.) of other factories brands
Competitor's offerings (compensation) for different companies.
Customer views and their suggestions
Secondly I was assigned for the project of Jamuna welding ltd. In this project I worked with the Brand manager.
Among many other jobs which were allocated to me, one was to be effectively involved in product's new packing design and for this particular task I was working with both the art department and pre-press department.
During my internship, I had, a number of times, visited the market to ensure the orders. These visits resulted in marketing visit reports, which were submitted to manager.
RULES AND REGULATION OF MARKTING MANAGEMENT TRAINEE DEPARTMENT ON PRINTING AND PACKING INDUSTRY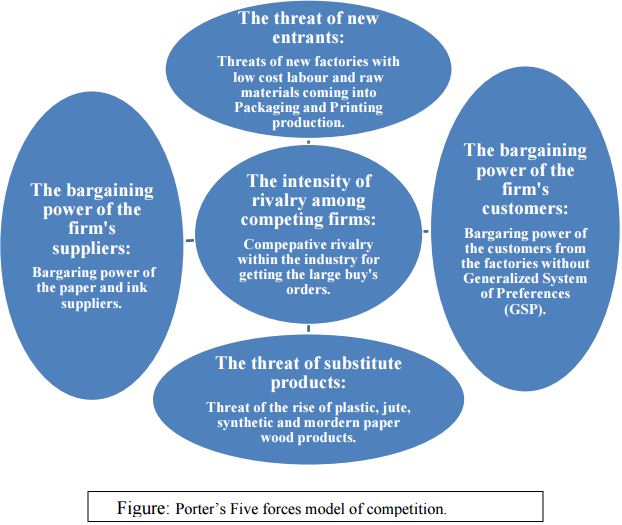 The Five Forces Model of Competition
Porter's Five forces model of competition So, The Five Forces model of competition describes the competitive environment of A.R. Printing & Packaging Industries of five basic competitive forces;
The threat of new entrants:
As the packaging and printing industry in our country is in the stream of growth the industry provides a good feed to new entrants. So in this industry A.R. Printing & Packaging Industries needs high strategic stakes to survive.
The bargaining power of the firm's suppliers:
A.R. Printing & Packaging Industries enjoy little bargaining tendency of buyers.
The bargaining power of the firm's customers:
In our country packaging and printing industry faces a little bargain over the negotiation as an advantage of quota system in EU countries. As a result the bargaining power of A.R. Printing & Packaging Industries is very little.
The threat of substitute products:
In this industry this aspect is not considered because there is no perfect substitute for their provided service like synthetic products, jute or banana fiber clothes etc.
The intensity of rivalry among competing firms:
In this industry there prevails heavy competition among the existing packaging and printing factories and they compete strongly with each other for the orders from their buyers. So this aspect is a great constraint for A.R. Printing & Packaging Industries.
SWOT Analysis
Strengths:
Their strong relationship based on trust and mutual understanding with their customers makes it easy for them to penetrate in the market.
Modern kinds of technology and its maintenance have given a strong competitive advantage to packages and play a paramount part in the success of the firm particularly in the industrial sector.
Deal effectively multiple segments which ultimately enhance their skills and give them wisdom for doing better and better.
Conducive working environment encourages employees to work efficiently in an organization which is known for its professional excellence.
Professional approaches for problem solving and decision making.
Weaknesses:
Lack of coordination in consumer product department
Lack of creativity as far as product design and packing is concerned.
Lack of technological innovation.
Consumer product department is working less than its potential.
Credit nature of the business which makes it difficult for them to recover their money.
Lack of usage for promotional tools and techniques.
Lack of sales and marketing efforts.
Improper communication mix.
Less aggressive strategic marketing.
Opportunities:
Huge potential in packaging and printing sector is yet to be capitalized.
Capitalizing foreign customers.
Technological competitiveness.
Technological up-gradation can result in capturing those customers who are till date are purchasing products from other customers, can become packages customers.
Threats:
Other multinationals can further capture market share.
Customer product department is not mature
Less concern for aggressive marketing.
Suggestions for the Organization
Consumer product department should be given more attention so that it can develop its internal core competency to capitalize the segment.
Sound budget should be allocated for promotional and sales campaign.
Effective advertising and promotional campaigns should be managed to provide a strong base for sales and marketing teams.
Research and development efforts are required for product performance.
Improvement in quality control system.
Technological up-gradation and innovation.
Training of brand managers.
Proper performance control and evaluation.
Regular sales staff training programs.
Modern infrastructure.
Working environment should be improved and modernized.
Seminars and workshops should be managed.
If I would have been the manager
One of the foremost initiatives that I would have introduced is de-centralization of decision making process.
Effective integration and coordination among members of sales and branding department.
Encouraging creative and innovative ideas for a better tomorrow.
Providing a working environment that is conducive for professional excellence and competitive learning.
Continuous improvement in both technology and knowledge.
Availability of modern means for strategic marketing and aggressive advertising.
Continuous training programs for marketing and sales staff.
Highly sophisticated performance evaluation system.
Exploring new markets and segments.
As soon as possible getting the bond lines to envelop strong relationships with international customers.
Relation Between the internship and future career
Internship offer learning experiences outside of the classroom. Internship enhances a student's academic and career goals. An internship can help a student to choose a possible career path. An internship is the perfect way to connect your academic experience with the professional work hard. The internship which I completed helps me so much to choose my future careers. It allows me to gain valuable exposure to the workplace. It provides me the opportunity for skill development, and gives me a competitive edge in the job search. After this internship, I can see myself as a businessman in future. It gives me courage to open my own business and get a better life in future. In my own business I can use all my skills and the ideas I got after this internship.
This internship makes me confident about my future and now I know where I stand and what I have to do to become successful in life.
Conclusion
A.R. Printing & Packaging Industries already established a brand name in packaging and printing industry. Now they have lots of customers and demand for their product is increasing day by day. A.R. Printing & Packaging Industries is providing packaging and printing facilities and Modern equipment of A.R. Printing & Packaging Industries which makes production much easier. So if it can maintain its quality and standard it can have a huge business potential. No doubt, in printing & packaging Industry, marketing is very important to establish and spread this industry. For the convenience buyers and suppliers of raw materials, printing & packaging industry today has developed massively with a vision to perform marketing and distribution task. Also government, printing & packaging factories should remove major error and digitalized this department.