Executive summary
Our new marketing focus, made open in this plan, restore our mission, vision and strategic focus on adding value to our target market segment. Our marketing challenge is to position our product as the high quality, high value-add attractive to the customers. The company has been striving to achieve its desired goals steering through the continually adverse situation.
Renaissance Beverage & Soft Drinks Ltd was incorporated in Bangladesh in 1995 as a public limited company under the company act, 1994. The company owns and operates an industrial plant and is engaged on the business of making food products and is marketed through its own show room and agents all over Bangladesh. The product produced in this company is of international standard. To serve its customer with highest level of satisfaction the company always give emphasis on meeting latent demand of the customers by introducing new and innovative products in the market.  Renaissance Beverage & Soft Drinks Ltd is getting ready to introduce a drink for the first time in the market named Cocos®  .With featuring that Renaissance Beverage & Soft Drinks Ltd drinks will meet customer's latent thirst quenching demand. Which is not satisfied enough by other competitive brands. In this regard we must take into account that Renaissance Beverage & Soft Drinks Ltd 'an s new product is entering the market place that is crowed with offering from Danish, Sezan, Pran and other manufacturers.
In this report we will analyze the current position of other competitive brands in the marketplace. the strength of Renaissance Beverage & Soft Drinks Ltd is newly developed product the opportunity it have and issues to be considered to be successful in the existing market. The objectives it carries about our marketing strategy including positioning, product management, pricing, distribution coverage, marketing communications and preachers: the actions programs to be taken about their financial projections, implementations and control procedures.
Business description:
General description of the venture: for making a profit, we are some friend launching cow boy's milk store shop so this is the general partnership business. Our business can be based on written contact and legal oral agreement. Where included name of the partner, Purpose of the partner duration of the business, how profit and loss will be distributed, salaries, absence contribution of each partner to the business etc.
Industry background: we are launching a shop, we have no industry and our business is collecting of verities milk product so we can collect product from DANO, NIDO, AARONG etc Company. For industry background we can use DANO, NIDO AARONG industry.
Goal:
Earn maximum profit
build up our cow boys brand image
every division we launching new outlet in 2018
In 2025 we set up our own industry
Uniqueness of the service: we have no uniqueness of the product because we don't produce product, we collect, but we have uniqueness of the service. We are providing the entire product of milk which is not available in every supper shop.
Marketing research:
Target market: Our main target is to provide verities product of milk to the people who are willing to get milk product all in one shop. The target market of cow boysmilk store is not limited to age, area or gender, it is present globally and is serving people at offices, homes, parties, restaurants, bars and every place where one can be present. It usually represents itself as a market for all people but products are also being offered specifically for older people.
The areas in which we will launch new outlet
D= Dhaka, R- Rajshahi,  K- Khulan, B- Barisal, C- Chittagong,  S- Sylhet,  (v) = corporate areas (o) residential area .
Target customer analysis based on each product
Doi
Class: Party center, community center, restaurant &others people of society.
Age:  the people of all age like doi but particularly those people who are in 15-40 age like it most. So they are our target customer
Income: we have offering our product with different size & amount.  The price of these products will be different so that all class of people can buy our products.
Liquid milk:
Income level: Those people whose income level is upper class and middle class are used to drink milk before sleep. So our target is to sell liquid milk to them. We want to make them our regular customer of liquid milk
Age:
The people of all age take milk but particularly kids and old people take milk regularly. So we want to make them our regular customer.
Sex
Cheese:
Income
Those people whose income level is upper class and middle class are used to take cheese. So they will be our target customer.
Age
The people of all age take cheese but particularly young and middle age people take cheese regularly. So we want to make them our regular customer.
Chocolate milk
Age
The people generally teenage and young people like to take chocolate milk.
Occupation
Those who are busy with their professional life, it could be student or corporate person particularly lead in bachelor life like chocolate milk.
Ghee
Class: Party center, community center, restaurant &others people of society.
Income level
Those people whose income level is upper class and middle class particularly they buy Ghee to make their food.
Age
Those who are conscious about their health don't like to take Ghee
But 15-40 people are like to take Ghee .
Butter
Demand analysis:
Market size and trends:
Competition: at present we
Estimate market share:
Control:
Marketing plan:
Current market situation:
Market situation:
Product situation:
Competition situation:
Distribution situation:
Macroeconomic situation:
SWOT analysis:
Objective:
Marketing strategy:
Action program:
Control:
Research design and development
Development and design plan:
Technical research result:
Research assistance needs:
Cost structure:
Manufacturing segment
Location analysis: in our Bangladesh most of the high class people live in gulshan area where living standard is high and they choose quality full product as a result we choice gulshan area.
Reason of choosing gulshan area:
Gulshan area people choose neat and clean
Don't choose bargaining
Demand quality full product
Choose branding product
Suppliers: as we launching milk product so our main raw materials is milk  as a result we buy milk from gazipur dairy firm and making new product in our own industry.
Source of raw materials:
Labor supply:we collect employer and employees for top, mid and entry level from reputed university and market.
Manufacturing cost data:
MANAGAMENT SEGMENT
Organization chart: a chart that shows the structure of the organization including the tittles of each manager position and by means of connecting lines, who is accountable to whom and who has authority for each area.
Critical risk segment
Potential problem:
New competitors can entry in this market.
Parking facilities
Electricity
Traffic jam ( home delivery)
Obstacles and risk: in this city life people are so busy they have less time for buying their necessary good. They want specific super market from where they can buy their all kinds of demanded goods. In facts they don't want to go to buy a single product which is available in front of buyer. sometime customer are not wishes to go super shop to buy a single product because of less time.
Alternative course of action:
If we don't get space in location we will establish shop in uttra sector.
If machinery cost or production cost is so much high than we collect varieties types of product from  dano, nido, aarong, aftab etc.
Timing an objective:
When we establish new outlet (50%revenuecollect of total investment)
When we provide home delivery ()
Online service (when our outlet is available in Dhaka city)
Membership card (when 25%customer are permanent)
Master limited partnership (when all division have one outlet)
Offer franchising (when our marketing share is high)
Relationship event: when our target customer is involved in any event that time we go for sponsorship as a event partner such as children competition.
Packaging
Packaging includes all activities of designing and producing the container for a product. Cocos is available in two types of pakages1.      Pet bottle of 250ml
The pakage is well designed in order to create convenience and promotional value. The package is the buyer's first encounter with the product and capable of turning the product on.
COCOS is 100% pure coconut water with natural flavor essences. With five essential electrolytes, more potassium than a banana, low acidity, no fat, no sugar added, and no cholesterol, COCOS is the natural, refreshing way to hydrate and replenish. Read on to discover the amazing properties of coconut water.
For more than 4,000 years, coconut water has been revered as a natural source of nutrition, wellness, beauty and hydration. In times of famine and war, coconut water has been used as an intravenous fluid and saved many lives. It's the only natural substance that can be safely injected into the human blood stream. Now modern science has validated its effectiveness, especially as a natural sports drink.
COCOS contains the five essential electrolytes your body needs to keep nerves firing, muscles moving and to help manage stress. One COCOS has more potassium than a banana – 15 times more than most sports drinks – to prevent cramping and promote recovery. Drink COCOS before or during a workout for the natural energy you need for optimal performance. After a workout, COCOS replenishes and re-hydrates you to speed recovery.
· Muscle performance
· All-natural energy
· Weight-loss aid
· Heart health
· Stress reduction
· Skin, hair & nail health
· Alkaline balance
· Mental acuity
· Kidney cleansing
· Natural hang-over cure
Nutritional Facts                        
Serving Size: 11 Fl. Oz.
(330mL) – Servings per
Container 1
Amount Per Serving
Calories 60 Calories from fat 0
%Daily Value*
Total Fat 0g 0%
Cholesterol 0g 0%
Sodium 60mg 2%
Potassium 670mg 19%
Total Carbohydrates15g 5%
Dietary Fiber 0g 0%
Sugars 14g
Protein 1g
Calcium 40 mg 4%
Phosphorous 17mg 2%
Magnesium 25mg 6%
* Percent Daily Values are based on
a 2,000 calorie diet.
Nutrition Facts
Size: 1 LITER (33.8 FL OZ)
Servings per Container: 3
Amount Per Serving
Dietary Fiber 0g
Sugars 14g
Calories 60 Calories from fat 0
% Daily Value*
Total Fat 0%
Cholesterol 0g 0%
Sodium 60mg 2%
Potassium 670mg
Total Carbohydrate 15g
0%
5%
19%
Protein 1g
Calcium 40mg 4%
Phosphorus 17mg 2%
Magnesium 25mg 6%
Market And Competitor Analysis
Market Potential
There is a prospective market for these products locally specially in the summer season. The reasons behind the good prospective market of this juice is increasing awareness among people about health safety. People of our country always love to quench their thurst by taking green coconut. But to lack of availability and portability of green coconut people avaoid to take it. So, if these difficulty is solved people must welcome this product. The potential market for the Cocos® will be approximately 8 lakh affluent higher middle class city dwellers of Dhaka, Chittagong, Rajshahi and Khulna and other. It is also learnt that there is a good export market potential for these type of product in foreign countries especially in Middle East countries.
Current Market Situation
After conducting a descriptive market research it can be concluded that the people living in the villages or sub-urban areas are not yet that much trend conscious. They are less adoptive to a new arrival. Rather the change in the trend is much more evident in the metropolitan cities among the young consumers. So our current market will be six metropolitan cities of Bangladesh.
Dhaka
Chittagong
Rajshahi
Khulna
Sylhet
Barisal
Competitor Analysis
The other companies presently operating in the market are as follows:
1.      ACME
2.      PRAN
3.      SEZAN
4.      DANISH
5.      STARSHIP
Our extensive Market survey revealed the following facts:
| | | | |
| --- | --- | --- | --- |
| Brand | Major competing products | Market share ( in 2005-2008) | Current market positions |
| ACME | Mango juice, Orange juice | 17% | Market follower |
| PRAN | Mango juice, Food cocktail | 22% | Market leader |
| SEZAN | Mango juice | 13% | Market follower |
| DANISH | Mango juice | 10% | Market follower |
| STAR SHIP | Mango juice, Orange juice | 13% | Market challenger |
It is evident from the above given facts that the juice industry is faced with acute competition due to the reason that this industries getting saturated day by day.
Though our product does not face direct competition with those above given brands, but the relationship is somewhat complementary. So we are going to enter into this industry by undertaking by following these considerations:
Situation Analysis
SWOT Analysis
Strengths
Renaissance Beverage & Soft Drinks Ltd. has many strength such as –
Renaissance Beverage & Soft Drinks Ltd. has great company reputation.
  High quality and competitive price of the products.
 Good work force within the whole organization
 Employee loyalty.
 Sufficient resources
  Use of latest technology in food processing.
  Collection of raw materials from own farm house.
Weakness
Renaissance Beverage & Soft Drinks Ltd. has some weaknesses such as –
 Lack of brand awareness and image as it is launched recently in the market.
 Lack of awareness of ingredient
  The channel of distribution is not strong like competitors.
 Insufficiency in information system for efficient supply chain management.
 Insufficient promotional programs.
  At the introduction stage it is not possible to provide the total geographical coverage.
Opportunities
Renaissance Beverage & Soft Drinks Ltd. has many opportunities such as –
  Increasing demand of natural food item.
  Mature retail market in Bangladesh.
  Expanding awareness among people towards foods with natural quality.
  Availability of raw materials.
  Growing export potential of traditional product
Threats
Renaissance Beverage & Soft Drinks Ltd. has some threats such as-
  Too many beverage manufacturers in the country.
  Imposition of higher tax rate on small business enterprise.
  Political unstablity
 Possibility of economic depression.
Marketing Strategy
Our strategy is to build long-term partnerships with the customer/consumers. With their support, aim to maximize the potential of our business- through combination of enhanced quality, service, creative marketing, competitive pricing and cost efficiency.
Our marketing strategies primarily aimed at increasing market share and establish the brand more dynamically. To implement the strategy we have considered a unique product strategy and an extensive promotional strategy. Proper packaging, positioning, pricing and distribution strategy will also assist us to execute our strategy.
Mission
We shall increase our turnover by 100% in the next five years. We shall remain socially committed ethical company.
Vision 
We shall remain as the bench mark in the food industry by:
Being an innovative and technological driven company and consistently delivering world-class products ensuring consumer satisfaction through continuous value added services provided by highly professional and committed team.
Our spirit
We undertake our quest with the enthusiasm of entrepreneurs, excited by the constant search for innovation. We value performance achieved with integrity. We will attain discusses and world class leader each and every one of our people contributing with passion and an unmatched sense of urgency.
Our Corporate Objective
Our mission is to add value to life, to outperform the peers to in terms of longevity, customer service, revenue growth, earnings and cash generation.
We will be employer of choice fort all existing and future employees.
Goals
Financial goal
a)      To achieve break even quantity within two years.
b)     To achieve Gross Margin of Tk. 7.51 million (19.48% of NSI) in second year.
c)      To achieve EBIT of Tk. 1.1 million (2.85% of NSI) in second year.
Non- Financial goal
a)      To create the highest quality, positive and permanent brand image.
b)     To establish a brand personality as smart, friendly, reliable and trustworthy.
c)      To create far-reaching awareness among the consumers on natural food item.
d)     To get the maximum demand from the consumers.
e)      Our campaign will also focus on the quality and natural purity of the product.
Market Segments And The Target Customers
Target Market
Geographic
Country
Bangladesh.
Density
Urban, Suburban, Rural.
Demographic
Age
Above 5 years
Income
 Above Tk. 3000.
Psychographic
Social Class
Upper-Middle income group
Life Style
They used it for refreshment.
Behavioral
Occasion
Regular, Special Occasion
Benefits
Refreshment, Energetic
User Status
Potential
Customer Analysis
After a careful focus group analysis among a number of panels of customers, we revealed that the underlying motives to choose a juice are their behavioral pattern and lifestyle.
Characteristics of the primary customers
The characteristics of consumers expected to buy "Cocos®"
                                                 I.      Young
                                                 II.      Trend concern
                                                 III.      Spirited
                                                 IV.      Energetic
                                                  V.      Smart.
knowledge of the customers
Health ,nutrition and purity has become a major issue. Because of the awarness program, education and easy acess in information consumers are now more conscious on product quality regarding its ingredients. As Cocos® is manufactured by using natural ingrediant green coconut which is good for health, so it's a complete solution for those conscious customers.
Positioning
Our positioning strategy basically emphasized on the trends of young people. We are providing them a completely natural thirst quencher in a "can and pet" because it is a matter of status for them to enjoy the natural flavor of coconut buying it from a roadside hawker.
Point of Differences (POD)
Completely natural thirst quencher
No deviation from its origin
Easy portable
Availability
Marketing Mix
Product Strategy
Product name: Cocos®
Product criteria:  juice
Quality: 100% natural, health conscious and ensure the highest quality
Packaging: can & pet
product  objectives
The objective is to deliver superior quality natural juice which can fully satisfy thurst of consumer.
Core competency
1.      Completely natural thirst quencher
2.      No deviation from its origin
3.      Easy portable
4.      Availability
Completely natural thirst quencher
we are the only producer of completely natural beverage Cocos®.  Raw materials are collected from our own farm house; that's why we are ensuring supreme quality. We are committed to ensure that the beverage is as natural as it has been collected from the coconut tree.
No deviation from its origin
This is our great achievement to serve you the green coconut water in beverage form. Our R & D department worked day and night to keep its purity and natural taste.
Easily portable
The most attracting feature of our product is its mobility. Before it was hard and embarrassing to carry green coconut. But now you can have it any where you like, whether you are in office or in a cafe in your can and pet.
Sustainable competitive advantage
We want to provide a natural beverage of the highest quality with in affordable price to the youth.
Creating Brand Awareness
In creating Brand awareness among the consumer two aspects has to be considered. They are:
Brand depth
Brand breadth
 Brand Depth
 This includes the recall and recognition criteria in the purchase situation. By using both in store and outside promotional tools the recall and recognition capabilities can be developed.
Packaging
Cocos is available in 250ml and two types of pakages

Pet bottle of 250ml
Aluminium Can of 250ml
Packaging will be portable and easy griped.
Its design include
 Company name
  Sign
 Logo
Price
 Expired date
 Manufacturing date
It is attractive.
More convenient to use
It combines visual and verbal appeals
Pricing strategy
Competitive pricing strategy will be followed to make a long lasting impact in consumer's mind. Perceived value pricing mathod has been used to set the price.
Price structure
| | | | | | |
| --- | --- | --- | --- | --- | --- |
| Product | Product size | Distributors price  ( tk ) | Trading price + VAT (TK) | VAT (TK) | MRP ( TK) |
| Cocos® (pet bottle) | 250ml | 12.00 | 13.00 | 0.55 | 15.00 |
| Cocos® (can) | 250ml | 15.75 | 16.25 | 0.55 | 18.00 |
Competitive price strategy structure:
| | | | | | | |
| --- | --- | --- | --- | --- | --- | --- |
| Variables | ACME | STARSHIP | PRAN | SEZAN | DANISH | Cocos® |
| MRP (TK) | 15 | 16 | 15 | 15 | 15 | 15 |
| TP (TK) | 14.25 | 14.50 | 14 | 14.25 | 14 | 13 |
| Retailers margin (TK) | 0.75 | 1.50 | 1 | 0.75 | 1 | 2 |
Promotion
Promotion mix is used. It is the combination of advertising, personal selling; direct marketing, public relations, sales promotion. But we will mainly focus on advertising  in different types of media and sales promotion.
Sales Promotion
Our sales promotional is basically divided into two parts,
Trade Promotion
Consumer Promotion
Trade Promotion
Cocos® is new entrant in the market. So, our trading partners should be given enough incentives and inducements so that they will provide shelf spaces for our product. The promotional tools for the trading partners are as follows:
Outlet Motivation Program It has targeted many outlets across the country, But they should be motivated and provided with enough product information, so that they can make the consumers motivated to buy the product. This has been termed as "Partners Campaign" and will be operated across all the territories. The Brand representatives, Customer representatives, Distribution representatives will be carrying out the campaign in all targeted outlets. The Territory officers in all outlets will be responsible for the supervision and implementation.
Customized Shelves of Jacko Bango Trading Partners will be given shelves from the Renaissance Beverage & Soft Drinks Ltd. which will be decorated by the promotions of Cocos® It will be given free of cost and the territory sales force will make sure that traders are displaying only Cocos® on that shelf.
Customized Refrigerators These refrigerators will be given only to the MRO and SMO partners with a minimal monthly charge. These refrigerators will also be decorated by the Renaissance Beverage & Soft Drinks Ltd.
Consumer Promotion
The consumer promotions will be centered on making brand awareness and recognition as among the consumer. Coupon, seasonal discount, prize have been selected as consumer promotion tools for Cocos®.
Distribution
"Cocos®" is distributed in the market through three level channels. In the distribution channel the company use some special agent's side by side wholesaler and retailer for delivering the products to the customers. These special agents buy the product, warehouse it, and then resell and deliver it to the wholesalers and retailers.
Company mainly follows selective distribution strategy. We are going to use our own distribution channel, which is already been reputed for our other products.
Our distribution channel
Comparative distribution structure
Brand/task
Starship
Danish
Acme
sezan
pran
Cocos®
Order taking
Sales representative
Sales representative
Sales representative
Sales representative
Sales representative
Sales representative
Order supply
Distributor
Distributor
Distributor
Distributor
Distributor
Selective

Distributor

Retailers margin (tk)
1.5
1.00
00.75
0.75
1.00
2.00
Financial Data Projection
Five years potential projection
Figure in '000
Particulars
2009
2010
2011
2012
2013
Unit sales
42307.16(pet)

24231.1(can)

48842.2(pet)

25532.2(can)

50110.5(pet)

30041.6(can)

52370.5(pet)

32231.6(can)

55000.0(pet)

35000(can)

Turn over
1307679
1465266
1737637
2121116
2231150
Value added tax
179317
202336
216730
274084
280071
Turn over ( net of VAT)
1128362
1262920
1520907
1847032
190051
Gross profit
534424
607966
693710
728092
730070
Profit Before Tax
288487
333603
360251
316202
320033
Profit After Tax
243987
256831
216448
227120
230130
The facts and figures provided here are based upon some theoretical assumptions. These facts may change due to shift in consumers' demand and market conditions.
Our target is to achieve unit sales on pet bottle of 55000 and can of 35000 by the year 2011.
Implementation
The marketing and sales department will be responsible for the implementation of the proposed marketing plan for the Cocos® But that certainly will require some cross functional coordination as some inputs from various departments like finance, human resource will be essential for the effective implementation of the.
Organogram of The Marketing Department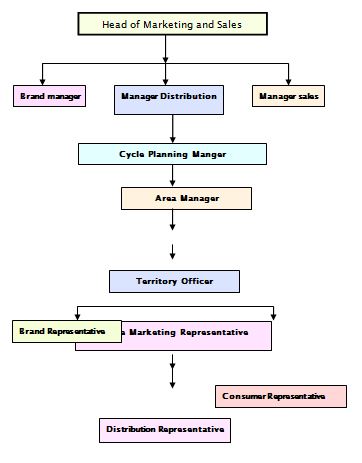 The proposed plan will be implemented in following seven steps:
Step 1, to inform the customer about our product and extensive television commercials will be broadcasted in all Bengali TV channels.
Step 2, some creative, colorful and youth oriented billboards and posters will be launched in all metropolitan cities.
Step 3, simultaneously efficient distributors will be employed in all territories
Step 4. Our TO's and managers make sure un-interrupted logistical support and distribution
Step 5. Our efficient selling team will make sure that the product is available in all retail shop within our territory.
Step 6.  They will also make sure that sufficient margin is provided to the retailers.
Step 7. We are going to undertake various motivational activities for the distributors in different territories.
Evaluation:
This is a proposed marketing plan. On the other hand the implementation will take two months time as per our hypothetical assumption. So after a successful operation of at least one year, we will be able to determine how much market share we would capture.