2.1 INTRODUCTION
The Meghna Cement Mills Limited (MCML) was the first undertaking Bashundhara Group in the manufacturing sector. This enterprise produces world-class cement and, as a testimony to this, stands the fact that the concern has been awarded the ISO-9001 certification for sustained quality control effort. The Company markets its cement under the registered trademark of "King Brand Cement. The factory of this Company is located in the southwestern part of Bangladesh at Mongla Port Industrial Area, in Mongla, Bagerhat under the Khulna Division.
2.2 ORGANIZATION
Bashundhara is a premier industrial group in Bangladesh business area. Bashundhara started its journey in 1987 as a real estate concern "East West Property Development (Pvt.) Ltd popularly known as BASHUNDHARA. This project turned out to be very successful and had helped foster the growth of trust and confidence of the urban people in 'Bashundhara'.
Now a day Bashundara operates fifteen vital enterprises of highly esteemed commercial and technological caliber. They include city development, cement, steel, LP gas, tissue, sanitary napkin, trading, import-export, paper, newsprint, technology, communication and network, sack, paper etc.Current value of the total assets of the enterprises of Bashundhara Group would be Tk. 15000 million (approx.). Total turnover of the businesses amounts Tk. 16000 million (approx.). Now about 8100 people are employed in various enterprises of the group. The Group's publicly traded company, the Meghna Cement Mills limited, is currently listed on the two stock Exchanges of Bangladesh.
2.3 ORGANIZATION STRUCTURE
The span of control of MCML is almost tall. In office high officials control the subordinates and subordinates are liable for their work to their authorized superior boss. In this organization all the people works in relaxation. As per job character job threatening is very low here. Very naturally job satisfaction is very high for all working people. On the other hand job-switching tendency for the mid level, high-level officers and expert peoples is very low here. Working environment is all over satisfactory here. Here the chairmen and directors take crucial decision.
2.4 MISSION STATEMENT
Bashundhara Group (BG) is a leading private-sector industrial conglomerate in Bangladesh. It currently has 14 on-going concerns, ranging from real estate development and management to manufacturing and services. The BG strives to work in partnership with the Government for promoting sustainable development, environment preservation, and employment-generation and poverty reduction. Bashundhara Group has no any specific vision. But BG has a particular focus on urban housing, recreation center and commercial ventures. Thus the motto of the Group is "For the People, for the Country". At the crux of all industrial processes deployed at the Group's enterprises stands the need to ensure environmental stability. As a result, conscious efforts are made to use re-cycled material as industrial input.
The Group's Efforts Seeks to:
  Create affordable housing (developed land & homes) for people.
  Foster better living environments and pleasant surroundings.
  Ensure environmental balance and sustainability.
  Use re-cycled raw material in industrial production.
   Treat industrial effluents.
  Establish recreational and shopping facilities for people.
  Develop a meaningful partnership with others for development.
  Provide better working conditions for its staff members.
2.5 COMPANY REFLECTION
In the year 1987, Bashundhara was lunched, initially as a real estate developer, moving in the later years into other areas, including manufacturing. Over the past two decades, the challenges in the fields of urban housing civic amenity provision have been unprecedented. In keeping with rapid population growth in metropolitan Dhaka, Bashundhara stretched itself to cover new boundaries and respond effectively to long-term needs of the mammoth city populace.
With the passing of time Bashundhara Group expanded its business activities and undertook various projects in different fields. At present the group owns following companies:
► East West Property Development (PVT) Ltd.
► Bashudhara City Development Ltd.
► Meghna Cement Mills Ltd.
► Bashundhara Paper Mills Ltd.
► Bashundhara Tissue Ltd.
► Bashundhara Newsprint & Duplex Board Industries Ltd.
► Bashundhara LP Gas Ltd.
► Bashundhara Steel Complex Ltd.
► Paver Manufacturing Plant.
► Bashundhara Communication & Network Ltd.
► Bashundhara Trading Company.
► Bashundhara Shipping Ltd.
► Bashundhara Logistics Ltd.
► Bashundhara Cement Sack Plant.
The East West Property Development (Pvt.) Limited (EWPD) was the first venture of the Bashundhara Group. Initially it was launched as a land development undertaking for housing in the year 1987, but was later transformed to cover the entire gamut of housing. Currently, the EWPD is engaged in the development of apartment blocks, recreational facilities, schools, hospitals and parks, commercial and in-complex shopping centers. It is now the largest real estate concern in the country. In the backdrop of the mammoth success of the first land project, new projects were subsequently launched in quick succession.
The EWPD has so far been involved in three large projects. Two of these, the Baridhara Land Project and the Riverview Land Project, are now ready for allotment of developed individual land plots, while another, the Savar Land Project, has already been completed and handed over to its owners for home construction. The Baridhara Land Project also has an apartment complex within the Project site wherein over 900 apartments shall be completed by the year 2007.
The BLPG is the first liquefied gas (LPG) producing facility in the private sector in Bangladesh. The enterprise was initially known as "Union LP Gas Ltd" after it was set up by the Bashundhara Group in 1997. The name was changed in 2002 in order to bring an element of uniformity in the Group's nomenclature. It has an annual production capacity of 1, 36,000 metric tons per annum. The product is comprised of propane (30%) and butane (70%). There are six major reservoirs in the factory premise that are used to store the LP gas. The company has its own distribution mechanism through appointed dealers and distributors. There are more than a thousand dealerships for Bashundhara's LP Gas, many located in remote areas of Bangladesh. The entire distribution operation is carefully monitored by the company's regional sales representatives for ensuring timeliness of delivery. The LP Gas produced at this plant has become a popular brand among many rural households and its market share continues to grow
The name was changed in 2002 in order to bring an element of uniformity in the Group's nomenclature. It has an annual production capacity of 1, 36,000 metric tons per annum. The product is comprised of propane (30%) and butane (70%). There are six major reservoirs in the factory premise that are used to store the LP gas. The company has its own distribution mechanism through appointed dealers and distributors. There are more than a thousand dealerships for Bashundhara's LP Gas, many located in remote areas of Bangladesh. The entire distribution operation is carefully monitored by the company's regional sales representatives for ensuring timeliness of delivery. The LP Gas produced at this plant has become a popular brand among many rural households and its market share continues to grow.
The Bashundhara Newsprint & Duplex Board Manufacturing Industries Ltd (BNDBIL) is a massive complex situated on the banks of the MeghnaRiver in Naryangonj District. Built in 1994, it has three plants – one producing duplex boards – used commonly by the packaging industry, the second produces simplex boards and newsprint paper. The print media of the country uses the newsprint manufactured at this unit. The third plant manufactures sturdy cement sacks which are used for packaging industrial grade cement. The product is used by Bashundhara's own cement plant as well as other cement producers in the country.
The BNDBIL is an environmentally friendly enterprise that uses de-inked pulp instead of forestry ingredients as raw material. In this manner, waste paper is recycled to provide feed stocks to the end-product-manufacturing unit. As a consequence, the company makes little use of felled timber and helps preserve environmental balance. The BNDBIL mainly produces newsprint for the nation's newspaper industry. It also produces duplex boards. The principal raw material for these products is old newsprint paper and other waste paper. Due to the fact that old and used paper are utilized, the technical production process saves forest resources of the country and minimizes tree-felling. As a result, the general environmental balance is preserved.
The steel re-rolling unit was established in the year 2000 with a capacity of producing 25,000 tons of deformed bars per annum. In order to meet increased domestic demand, a second plant was commissioned. As a consequence, the production capacity rose to 50,000 tons per annum and the range of products was enlarged to include angles, channels, and flat bars, in addition to deformed bars. The enterprise uses imported steel scrap that is mixed with segregated scraps obtained from ship-breaking yards. This selected proper charge mix is then melted in high-frequency induction melting furnaces to obtain a homogenous molten metal at proper temperature. Appropriate quantities Ferro-alloys are then added to the molten metal. Through a series of other technical processes and after careful chemical control, the product of these induction-melting furnaces is rolled in a 16-inch roughing mill to obtain billets of desired size and specifications. These billets are then fed into a 10-inch finishing mill that is equipped with repeaters in order to ensure a continuous production line of deformed bars. The BSCL also manufactures MS and GI pipes that are mainly used for modern water supply systems and irrigation. The pipe mill has a precision-engineered welding plant, imported from the UK. The unit has a galvanizing section with a zinc kettle imported from Japan. The plant uses imported zinc slabs of near-perfect purity level.
The pipes are made as per British Standard Specification of BS-1387/1998. The pipes are marketed under four brand titles and they come in varying bore sizes and wall thickness. The LP gas cylinder-manufacturing unit was set up in 1999 with an installed capacity of producing 500,000 cylinders per annum. The principal raw material, hot rolled coil of 3.2 mm thickness is imported from Japan and is cut to specified sheet sizes in a shearing machine. After cutting the sheets into a circular shape, they are pressed in a hydraulic power press of 500 metric ton capacity to form a half-capsule. Two halves of capsules thus made are then welded in a submerged welding unit under controlled pressure and temperature. The valve guards and foot rings are also manufactured at the BSCL. The finished cylinders are tested for stress-taking capability through hydraulic tests (burst test) and gas pressure tests. The finished cylinders are normally used to hold natural gas, butane and propane.
The Bashundhara Tissue industries Ltd (BTIL) was launched in collaboration with a German firm in 1995. Initially, it was named as Frey Schmidt Tissue Limited. In the year 2002, the name was changed to reflect the Group's corporate identity as was named as the Bashundhara Tissue Industries Limited. The company maintains excellent quality standards and has aimed the coveted quality management certification, the ISO 9002.
The BTIL is currently the largest retailler if tissue paper products in Bangladesh. The products manufactured at the BTIL are listed in the "Products" link. This company was established at a time when the tissue and allied products was not so common people. The BTIL plays a vital role as an import-substitution industry and has recently begun limited exports.
Bashundhara Paper Mills Ltd.
The Bashundhara Paper Mills Ltd. (BPML) was established in 1993 at a time most of the demand for paper and allied products was met through imports. This company produces a wide range of industrial grade paper for home and office use. It manufactures writing and printing paper, colored printing paper, blue match paper and brown wrapping paper. These items come in varying thicknesses and specifications. The plant has a modern waste treatment unit and effluent control systems to minimize environment population.
The BPML has acquired the ISO 9002 certification in view of its sustained quantity control effort. This company, like others, also makes use of recycled waste paper. It has emerged as a leading import Substitution industry of the country.
Bashundhara Cement Sack Plant
In the 1970s, Bangladeshi cement producers had been using simple multi-wall paper sacks for packaging cement. Scarcity of basic raw material for manufacturing cement such as lime stone and gypsum and inadequate industrial infrastructure had forced the country to import almost 90% of its requirement of cement till the late nineties, most of Meghna Cement Mills Ltd. a concern of the Bashundhara Group- the largest domestic cement plant in the country in January 1996, the nation's cement industry leaped into a new era of self-sufficiency. An accelerated economy, supported by a booming construction and housing industry, had made Bangladesh one of the most popular destinations for cement producers. Coupled with it, the demand for cement packaging bags went up by mammoth proportions. At the peak of this demand cycle, Bashundhara's paper sack manufacturing unit went into production in June 2000. At the beginning, this plant received orders from about 50 different cement producers, local and international.
Bashundhara Communication & Networks Ltd
Bashundhara communication and Networks ltd (BCNL) was founded in 2001 to provide telecommunication and information communication services at affordable cost to the people of the country. BCNL proposes to build high band width networks to provide the various telecom services that are now in short fall. BCNL seeks to provide a wide array of telecom services across the country that include Fixed Wireless Access (basic services), GSM and data over optical backbone in the medium term, and build its own International Gateway over the long term. BCNL would also endeavor to create a high bandwidth optical fiber network across all major traffic generating nodes in Bangladesh.
Bashundhara City Development Ltd
Bashundhara City Development Ltd (BCDL) was founded in 1998 to provide integrated service facilities to the city dwellers of the country. The company has developed an international standard integrated commercial complex on a major avenue in Panthapath, Dhaka. It is South Asia's largest shopping-cum-recreation complex in DhakaCity. In this complex there are shopping mall, food court, theme Park, multiplex Cinema Theater, Fitness centre, swimming pool as well as office accommodations of many national and international companies and organizations.
BCDL will continue to expand and explore new business opportunities in the service sector in line with the latest technological advancement and sophistication and will make it a world class service providing company in the country.
Paver manufacturing plant
The Bashundhara paver manufacturing plant produces the following items:
Interlocking concrete paving blocks
Rectangular blocks
Super pave special blocks
Tulip-design paver blocks
Colored blocks
Hollow blocks
These products are much stronger than common bricks (which are commonly made from clay and a primitive kiln-burning process). Since they are manufactured with concrete as the basic ingredient, and a modern technology that was heavy compressive pressure. Thus, the blocks are ideal for heavy traffic areas such as main streets, airport runway strips and drive ways. The design laden blocks are useful for landscaping.
Bashundhara Industries Complex Ltd
Bashundhara Industrial Complex Ltd (BICL) was founded in 2000 as part of expansion program of cement manufacturing activities to cater to the need of basic contraction materials in the country. BICL is the second independent cement manufacturing unit of Bashundhara Group. It began production in 2002 and now it is a profitable and viable enterprise of the Bashundhara family. It has immediate plans to also deal in trading, clearing and forwarding, and shipping related business.
The BICL is now engaged in carrying out studies on a proposed project that will enable the company to set up its own dockyards and shipyards in Chittagong, Bangladesh. At a later stage, the BICL has plans to get more intricately involved in inland water transport for movement of passengers and cargo within the country.
Bashundhara Technologies Ltd
Bashundhara Technologies Ltd (BTL) was founded in 2001 to provide civil engineering services and products to the construction industry in the country. Bashundhara played a pioneering role in bringing new technologies to the construction industry of the country.
The Bashundhara Group has on going housing and land development projects, and a number of backward linkage industries that provide support and raw material for the building and landscaping industries. It supplies, on contract terms, construction- support equipment and well trained expertise. Additionally, BTL in collaboration with government, city corporations and other government authorities is exploring business opportunities for construction of footpath, highways, car parking terminal, taxi way, port and bus terminal.
Bashundhara Trading Company Ltd
The Bashundhara Trading Company Ltd (BTCL) serves as the general trading arm of the Group. It supports the import, export, marketing & sales endeavors of the Group's many enterprises. It helps develop marketing channels and methods. This unit also operates as a private trading company engaged in the acquisition of basic raw material and finished products for private buyers-outside the domain of the Bashundhara Group. It was launched in the year 1993, initially to support backward linkages and marketing strategies for the Group.
Bashundhara Logistics Ltd
Shipping and logistics have emerged as one of the most important service industries in the present world. Over 80% of world's international trade is transported by sea. The scope of sourcing, securing, transportation, timely delivery and distribution of all sorts of commodities and raw materials has become an important factor in the global economic activities. Bashundhara Logistics Ltd. was founded in December 2004. A logistic infrastructure contributes to develop territorial competitiveness, inter modality, logistic network and supply chain including freight, transport services, communications and transport pattern. BLL seeks to serve the above requirement for its client. Globalization and its effect have brought and are brining major changes in the way companies are handling logistics and related operations.
2.6 HISTORY OF CEMENT
In the 18th century a big effort started in Europe to understand why some limes process hydraulic properties.John smeaton often referred to as "father of civil engineering in England" concentrated his work in this field. In 1822, the production of "British Cement" had been started by James Frost at Swanscombe based on a patent for "a new cement or artificial stone".
The invention of Portland cement is generally credited to Joseph Aspedin, an English Bricklayer in 1824. It involves a double kilning such as was described by Vicat. In 1838 a young chemical engineer, Isaac Johnson, burned the cement raw material at high temperature until the mass was nearly vitrified producing the modern Portland cement.
The earliest bottle or dome kilns were open kilns with tapered chimney to increase the draft. They were burned in a batch rather than in a continuous fashion and were charged with alternating layers of raw feed and solid fuel. The chamber kiln was an improved design developed and patented by Mr. Johnson. The combustion gases from the kiln dried the raw material so that when the kiln was burned out a new charge of dried material is immediately ready for use.
In 1898 Atlas Portland cement company according to Lewis improved the design by using what is called a rotary kiln, this improvement was a big revolution in the cement industry because the new kiln could produce 200 cement barrels per day compared to a shaft kiln which produced only 40 to max 80 barrels per day; in addition to quick improvement in this new design regarding the mixing, grinding equipments for raw material, grinding equipments for coal, belt conveyor using mix kind of fuel such as natural gas (1904, Iola Portland cement, Iola Kansas).
In 1899 Atlas Cement Company improved the technology of the rotary kiln and fuel economy by replacing fuel oil with powdered coal dust. Furthermore, modifications to the kiln were made by addition of two auxiliary clinker coolers, in which the first hot discharged clinker was received as it fell from the kiln and air flowing over it was heated and helped to ignite the coal dust in the rotary kiln.
After 1900 there was rapid growth in both rotary kiln and auxiliary equipment technology in the United States. Coal grinding mills were developed and coal burning in cement kilns became the predominant combustion process in the industry. All the equipments related to cement production crusher, raw mill, belt conveyors, bucked elevators were improved.
2.7 EARLY HISTORY OF PORTLAND CEMENT
Ever since civilizations first started to build, we've sought a material that would bind stones into a solid, formed mass. The Assyrians and Babylonians used clay for this purpose, and the Egyptians advanced to the discovery of lime and gypsum mortar as a binding agent for building such structures as the Pyramids.
The Greeks made further improvements and finally the Romans developed cement that produced structures of remarkable durability.
Most of the building foundations in the Roman Forum were constructed of a form of concrete, placed in some locations to a depth of 12 feet. The great Roman baths built about 27 B.C., the Coliseum, and the huge Basilica of Constantine are examples of early Roman architecture in which cement mortar was used.
2.8 CEMENT INDUSTRY IN BANGLADESH
Cement Industry a relatively fast growing industry, is developing in pace with increasing building and construction activities. Cement has long been used as a bonding agent to unite particles or to cause one surface to adhere to another. The most common form of cement, Portland cement, is a powder obtained from burning together a mixture of lime and clay, which when mixed with water and sand or gravel, turns into mortar or concrete. The amount of cement now annually consumed in the country is about 5 million metric tons. The production however, falls short by about 3 million tons per year. This shortage is met through imports. Per capita consumption of cement in the country (38 kg) is fairly low compared to India (89 kg), Indonesia (127kg), Malaysia (582 kg) and Thailand (642 kg).
Private enterprises dominate production and import of cement to cater to the local market. The manufacturing of cement is based on both locally available raw materials and imported clinker. The two cement plants of the first type, one at chhatak and the other at Ayeenpur, have a total installed capacity of 260,000 tons a year. They produce cement from local limestone and use natural gas as fuel. The mills that produce cement from imported clinker are located mostly around dhaka, chittagong and mongla. There were 62 registered cement factories in the country in 1999, but only 13 of them were in production. The total installed production capacity of these factories is about 3.8 million tons a year. Their actual production, however, is much lower. A 50-kg bag of cement produced locally sells at Tk 250-260, while a bag of imported cement is priced at Tk 230-250. Local raw material based cement production depends on limestone deposits that lie in st martin's island, joypurhat and sylhet areas. The deposits in Sylhet support the production of Chhatak and Ayeenpur cement factories.
2.9 BACKGROUND OF MEGHNA CEMENT MILLS LTD
Meghna Cement Mills Ltd. is an enterprise of Bashundhara Group. King Brand cement of MCML is well-known throughout Bangladesh. MCML is the largest cement production industry in Bangladesh which started its commercial activities from 15th January, 1996. The factory is situated beside the river of Pashur at Mongla, Bagerhat. The production capacity is 15 Lac MT per year. The weight of each marketed bag is always perfect of 50 kg due to the adoption of an automated packaging system. There is a laboratory, equipped with modern equipment within the mill premises to conduct tests at each hour for every shift covering every stage of the production process. It has its own cement bag factory in Meghna Ghat. It can meet the most demand of cement bag in Bangladesh which uses the modern technologies and imported paper from Sweden.
The Company has been awarded the coveted ISO-9001-2000 Certification in the year 2000 by the National Quality Assurance (NQA), registered by the National Accreditation of Certificate Boards, UK. The factory's environmental standards are high.
At a glance of Meghna Cement Mills Limited:
2.10 PRODUCTS OF MCML
| | |
| --- | --- |
| Name of the Company | : Meghna Cement Mills Limited |
| Year of Incorporation | :     March 1992 |
| Year of Commercial Production | :     January 1996 |
| Form of Business | :     Public Limited Company |
| Business Lines | :     Cement Manufacturing |
| Market | :    Whole Bangladesh |
| Customer pattern | :    All classes |
| Year of Listing | :    Dhaka Stock Exchange                       1995:    Chittagong Stock Exchange                1996 |
| Authorized Capital | :     Tk. 400,000,000.00 |
| Paid-up Capital | :     Tk. 225,004,000,00 |
| Location of the Group (Head office) | :    BashundharaCity13/Ka/1, Panthapath, Dhaka.Web: www.bashundharagroup.com |

At present MCML is producing three types of cement. One is Ordinary Portland Cement (OPC) and another two types are Portland Composite Cement (PCC). Their detail information are noted down for your king information.
Ordinary Portland Cement (OPC):
Table 2: Ingredients of OPC
Type of Cement

Strength

Class

Type

Ingredients

Standard Strengths

2 days (MPa)
28 days (MPa)

Ordinary Portland Cement (OPC):

52.5 N

CEM-I

Clinker = 95% – 100%Gypsum = 0% – 5%

> 20.00

> 52.50
Portland Composite Cement (PCC):
Table 3: Ingredients of PCC
Type of Cement

Strength

Class

Type

Ingredients

Standard Strengths (PSi)

2 days (MPa)

28 days (MPa)
Portland Composite Cement (OPC):
42.5 N
CEM-II/
B-M(S-V-L)
Clinker = 65% – 79%
Fly Ash + Slag + Lime Stone = 21% – 35%
Gypsum = 0% – 5%
> 10.00
> 42.50
CEM-II/
A-M(S-V-L)
Clinker = 80% – 94%
Fly Ash + Slag + Lime Stone = 6% – 20%
Gypsum = 0% – 5%
Source: Annual Report
 2.11 ESTABLISHMENT BY KING BRAND CEMENT
In Bangladesh many high-rise building, road, bridge, culvert, hospital, shopping mall etc. have made by King Brand Cement. For example-
BashundharaCity
Suvastu Nagar valley
ShahidZiaurRahmanMedicalcollegeHospital
RupshaBridge
Mobile Company's NetworkTowers
Baropukuria Coal Mine
TestaBridge is going on etc.
2.12 MARKETING MIX OF MEGHNA CEMENT MILLS LTD
Marketing mix is defined as "the set of marketing tools that the firm uses to pursue its marketing objectives in the target market". MCML also using the concept of marketing mix to pursue their marketing objectives.
2.12.1 Product
All the local and foreign cement companies in Bangladesh are offering different quality of cement. As regards to the brand name, few renowned cement companies could position itself among the target customers. King Brand Cement may be described in following ways:
Product Variety: Meghna Cement presents their product in different ways. They  have both     Ordinary Portland Cement (OPC) type CEM I/ 52.5 N and Portland Composite Cement (PCC) which type CEM II/ B-M (S-V-L) 42.5 N and CEM II/ A-M (S-V-L) 42.5 N in the market.
Quality: Product quality consists of the ability to satisfy customer's needs and wants as well as the ability of a product to perform its function; it includes the product's overall durability, reliability, precision, ease of operation and repair and other valued attributes. King Brand Cement quality has two dimension that are level and consistency. The quality of King Brand Cement is comparatively good; it can compare it with any multinational cement. It is proved by BUET and certified by ISO-9001-2000 and BSTI.
Design: The style of King Brand Cement is simply that describes the appearance of a product. Design is a larger concept than style. They use modified design in packaging also modified in product quality.
Feature: The company offered with varying features. They create higher level models by adding more features. They have two types of cement OPC (ingredients; Clinker = 95% – 100%, Gypsum = 0% – 5%) and PCC (ingredients; Clinker = 65% – 79%, Fly Ash + Slag + Lime Stone = 21% – 35%, Gypsum = 0% – 5%).
Brand name: A good name can add greatly to a product's success. Bashundhara Group itself a strong brand. Meghna Cement Mills Ltd. is an enterprise of Bashundhara Group. King Brand cement of MCML is well-known throughout Bangladesh. It is very easy to pronounce, recognize and remember.
Packaging: Bashundhara Group has its own cement bag factory that meets demand of the country. This bag is well furnished, environment friendly and pilfer proof.
Sizes: King Brand cement is contains 50 kg in each bag. It is available in all over the country.
Services: They try to give the customer best service. They deliver the product to the customer's address in their own responsibility.
2.12.2 Pricing
The cost of cement is very high at present. However, depending upon the quality and brand name of company, the aggregate financial involvement also varies quite significantly.
List price: The price is called which is written on the product. The King Brand Cement do not write any price on the packet because this price is very much unstable. Their ex-factory is 347/- and sale in 362/- in Dhaka city at present. It varied on distance.
Discount: Meghna Cement Authority offer different type of discount system that is depends on the party. The buyer can deduct 2%, if the bill is paid within 10 days.
2.12.3 Promotion
Meghna Cement Mills Ltd. operates its advertising and other promotional programs by a separate advertising department. The department works for continuous innovative advertising campaigns for the consumer and business products of Bashundhara. The promotional activities for Meghna Cement are carried out by this department. This company has wide range of promotional activities to attract the target customers. The advertising department has some creative and energetic personnel who launch frequent promotional programs. The existing promotional tools used them are:
Advertising
Personal selling
Sales promotion
Public Relations
Direct Marketing
Advertising: The Advertising department of Meghna Cement Mills Limited they show their products both are print and electronic media. Television ads are the most important part of advertisement. Now it shows their advertisements on different channels.
In print media Bashundhara publishes advertisements in all the leading newspapers the 'Prothom Alo', 'Ittefaq', 'Daily Star', 'Inquilab', 'Jugantar' etc. Other than this it also publishes advertisements in weekly, monthly, by-weekly, periodicals etc.The advertisement department also publishes posters, leaflets for advertisements in out door media.
Sales Promotion: Meghna Cement Mills Limited has three types of sales promotion tools.
  Consumer promotion tools:
Samples: Meghna Cement Mills Limited gives their sample in many institutions. This company uses free sampling technique for increasing display of their products.
Specialty advertising items: These promotional activities some times company gives their distributors or traders company's Calendar, Diary etc.
Scheme: Bashundhara Industries Limited sometimes gives consumer scheme, and sometimes trader's scheme. The marketing and sales division of Meghna Cement Mills Limited has its own unique trade scheme i.e.a sales promotion tool for the traders. The general manager developed the scheme and the first scheme was very much effective to boost the sales of Cement.
  Business promotion tools:
Trade shows: Sometimes Bashundhara participates in different national and international trade fairs. It sells Cement in discount price there.
Public relations:
Bashundhara aims at getting closer to the public. So it has some public relation programs that have made it unique. They take part in increase beauty of capital city Dhaka.
Direct marketing:
For their new customer they try to follow direct marketing strategy. They have strong marketing department to interact dealings with customers.
2.12.4 Place / Distribution
Meghna Cement Mills Limited covers the local market by allocating the distributors their specific area of sales. The target of the company is to cover the market all over Bangladesh. The factory is situated beside the river of Pashur at Mongla, Bagerhat. The company has to bear lots of transportation cost for the distance, which it has to, at the end add in the price of the cement bag. This will end up in losing the customer despite of the claim of good quality. More over, due to long distance and time, the packaging of the cement is affected which in results in increased number of waste product.
Meghna Cement Mills Limited follows some rules to distribute their products.
They follow: – 1. Channels
2. Coverage
3. Assortments
4. Locations
5. Inventory
6. Transportation
7. Logistics
Channel structure:
Meghna has its own selected distribution covers the market of the whole country. Every possible point the country is being reached. It overcomes the major times, place and possession gaps that separate goods and services from those who would use them. King Brand Cement's distribution channel is given below: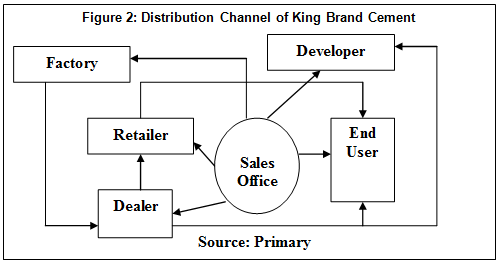 Coverage:
King Brand Cement already covered the whole country now they are trying to enter international market.
Assortment:
For making easy in marketing work King Brand Cement divided whole country into two part East zone and West zone. East zone consist of Dhaka, Gazipur, Maymansing, Bhairob, Jamalpur, Chandpur etc. and Faridpur, Rajshahi, Kustia, Khulna, Barishal etc. are in West zone.
Location:
The factory of King Brand Cement is situated beside the river of Pashur in Mongla, Bagerhat, Khulna. Dealers point are Pagla, Narayangonj for East zone and other locations for West zone. The Corporate office in BashundharaCity, 13/ka/1 Panthapath, Dhaka-1215.
Inventory:
King Brand Cement maintain inventory of raw materials as well as produced goods. Produced goods are inventoried in dealers point but not in factory. Always they follow FIFO method for inventory.
Transportation:
The choice of transportation carries affects the pricing of products, delivery performance and condition of the goods when they arrive. All of which will affect customer satisfaction. They have its own and hired ships and other types of transportations to carry raw materials to factory and produced goods to dealer's points. But it has no any own transport to carry cement to customers. Then they use dealer's transport.
Supply Chain Management:
Meghna is situated at a strategic location which is rich with raw materials such as lime stone clay, gypsum, and iron ore. The mines of these raw materials are owned by the factory. These raw materials are transported to the manufacturing plant through trucks. The raw materials such as coal and furnace oil are imported. Although Bangladesh land is rich in coal mines, but the quality of the coal produced is not good. It produces greater amount of fumes and ashes and even catches fire if exposed to sunlight. Hence good quality of coal is imported from countries such as Indonesia and china.
2.13 MARKET SEGMENTS
King Brand Cement divided their whole market into two zones, one is East Zone another is West Zone. East zone consist of Dhaka, Gazipur, Maymansing, Bhairob, Jamalpur, Chandpur etc. and Faridpur, Rajshahi, Kustia, Khulna, Barishal etc. are in West zone.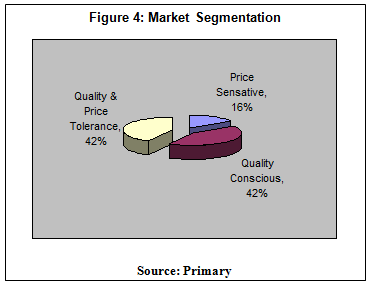 Cement market can be segmented based on customer's characteristics. Such as price sensitive customers, quality conscious customers and quality and price tolerance customers.
2.14 MARKETING ENVIRONMENT OF MCML
Marketing environment of MCML is the actors and forces outside marketing that affect marketing manager's ability to build and maintain successful relationships with target customers. Marketing environment is divided into two parts microenvironment and macro environment of the company.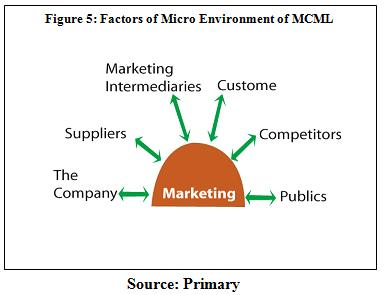 Micro Environment:
Marketing microenvironment contains suppliers, marketing intermediaries, customers' competitors and public. In the case of MCML the component company itself almost works well with all departments. Suppliers of raw materials are mainly from China, India, Indonesia, Malaysia and Korea.
So any types of change in government policy, international policy, and cost of raw materials or inflation directly affect the microenvironment of MCML. Customers of King Brand Cement are mostly affected that time.
On the other hand quality ensuring is a big concern here. In the case of marketing intermediaries, company fame, managers strong liaison! Network with business buyers are the main strategy of MCML to sell products. Government policies (favorable) is the another publics here. Competitors of King Brand Cement are local producers of Bangladesh and strongly multinational companies.
Macro Environment:
Macro environments major forces are discussed bellow:
(a)    Demographic factor:
South Asian region is suitable for cement industry. Big working population and easy to transport through the river but raw materials are not sufficient.
(b)    Economic factor:
Reasonable production cost, energy availability, workers availability and suitable
government policy is the economic factor for King Brand Cement.
(c)    Technological factor:
Foreign machineries are available but cost is very high.
(d)   Political factors:
Unstable political situation and various types of strikes plays negative roll on
King Brand Cement.
2.15 PRODUCT LIFE CYCLE OF MCML
At present Meghna Cement Mills Limited is at the decline stage. For few cases the PLC goes down at present slowly. Generally high price, high competition, lack of promotional activities, suddenly decrease of demand etc. make down the PLC of King Brand Cement.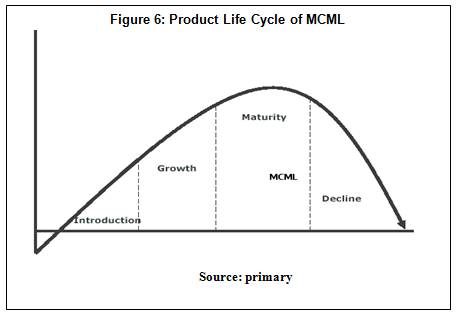 2.16 COMPETITOR ANALYSIS
Cement sector is the largest increasing sector in Bangladesh. There are more than 70 cement factories in our country. Its daily production capacity is 16.687 Million MT. It is growth daily. Some competitor's information is given below:
Unique Cement Industries Ltd:  Unique cement industries ltd established in the year 2002. The factory is built with modern machinery imported from Germany and China with production capacity of 1800 MT per day. Unique cement industries ltd. has ISO 9001:2000 Certificate. They have two brands of cement in the local market namely "FRESH" and "MEGHNACEM".
Holcim (Bangladesh) Ltd:  Holcim (Bangladesh) Ltd started its operation in this country with of the acquisition of the-then Hyundai cement. Subsequently it acquired United Cement and Saiham Cement. Holcim (Bangladesh) Ltd is affiliated with the Holcim Group worldwide and is one the largest multinational cement producers in the world with manufacturing in over 70 countries. The group has a production capacity of more than 120 million tones of cement per year.
Lafarge Surma Cement Ltd: Lafarge/cement mills is setting up the only modern, integrated cement manufacturing plan known as Lafarge Surma Cement Ltd. in Bangladesh at Chattak under Sunamgonj district. The majority of Lafarge Surma Cement Ltd. Shareholding (60%) is held by a 50/50 joint venture company between Lafarge and cementos molins. Founded in 1833, Lafarge operates in 75 countries, employing 77,000 people. In 2002, the group generated annual sales of Euro 14.6 billion and globally hold stop ranking positions in Cement, Aggregates & Concrete, Roofing and Gypsum. Cementos Molins is a renowned Spanish cement company with an annual revenue of Euro 485 million and net profit of Euro 70 million. Operating in Spain, Argentina, Uruguay and Mexico, it produces Portland and Calcium-Aluminates cement, Concrete and Precast concrete, Aggregates and Special purpose mortars.
Lafarge Surma Cement Ltd. will extract and process the basic raw materials like limestone and shale from it's from its own quarry in Meghalaya, India. A 17 km cross border belt conveyor will be installed to link the quarry with the cement plant for transportation of raw materials.
A massive land filling and site development has been completed on the 90 acre plant site. The construction and erection is also. The plant will initially produce 1.2 millions tons of cement per year.
2.17 MARKET SHARE OF VARIOUS BRAND OF CEMENT
Shah Cement (13%) and Heidelberg Cement (10%) are in strong position in the market. Some brands are very weak in the market. Few brands are suitable position. King Brand Cement and Holcim both are 3rd position in the market.
Market share of various brand of cement are shown in the figure below: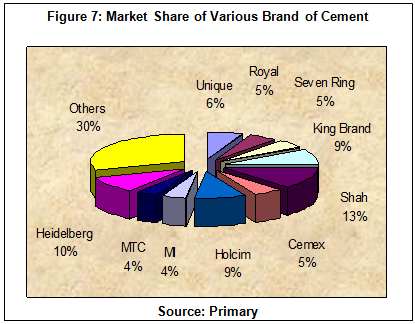 2.18 PORTER'S FIVE FORCES ANALYSIS
Porter's five forces framework has been chosen for conducting the analysis, because it provides a structured approach for examining a particular sector. From the Porter's five forces we can easily identify the new competitors, substitute product, bargaining power of customers, suppliers, and its competing organization of King Brand Cement. There are:
1.  The potential entry of new competitors:
There is several numbers of new cement brand enter every year. Some are local and others are foreign. There are few legal barriers at all in Bangladesh for establishing a cement factory. So it is a threat to the King Brand Cement.
2.  The market attempts of organizations in other areas to win your end users over to their own substitute products and services:
Substitutes are cement and cement products include a variety of materials such as wood, glass, steel, aluminum, fiberglass, stone, clay brick and asphalt. The substitute chosen depends on the item being constructed and physical properties it needs to have
3.  And the bargaining power and leverage by the end users or buyers of the product.
There are several numbers of Cement Company in our country. So customers bargaining power is the ability to influence the setting the prices of cement industry.
4.  The bargaining power and leverage of suppliers of the organization
The cement making industry faces the almost monopolistic power of raw material suppliers that takes advantage of the supply concentration to achieve dominant market share.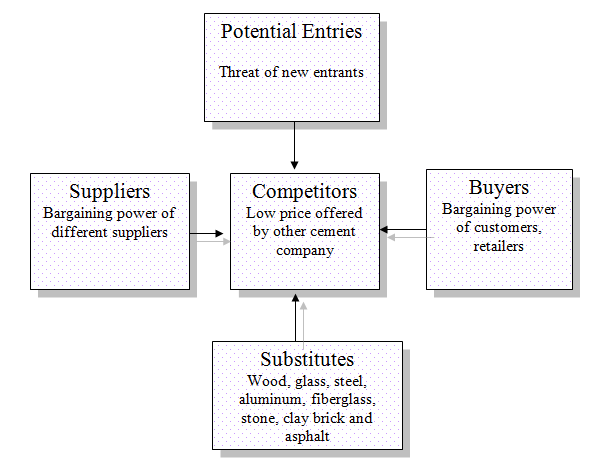 5.  The rivalry of competing organizations:
There is a great competition among the cement company. Now most of the customers are willing to get the cement with low price. So, the numbers of cement company offer low price for their customers. They are trying to attract the customers through some excellent offers, improving their quality of cement and providing many other facilities.
2.19 BCG MARTIX ANALYSIS
From the BCG Matrix we can find out the organizational market position by analyzing the market share and market growth. It will help to determine what objective, strategy and budget to assign to each stage. Here the market growth rate on the vertical axis indicates the annual growth of the market in which the business operates. In the figure, it ranges from 0 percent to 20 percent. Relative market share, which is measured on the horizontal axis, refers to the market share relative to that of its largest competitive in the segment. At present Meghna Cement have captured 9% market share, on the other hand market leader have captured 13% market share. So relative market share of Meghna Cement is comparatively low than the competitors. Now political crisis and world economy down turn causes low market growth of cement industry.
From the above discussion, we can say, Meghna cement is in the dogs stage which means they have week market shares in low growth markets. They should hold the business, because they have a chance to capture the market leadership.
2.20 SWOT ANALYSIS
Meghna Cement Mills limited is a prominent cement brand in Bangladesh. Though King Brand Cement already covered the whole country, the management feels the necessity of SWOT analysis in perspective of the present market condition.
SWOT Analysis Of Meghna Cement Mills Limited
STRENGTHS

WEAKNESSES

     Large production capacity to meet the customers need.
The quality of King Brand Cement is better than other brands.
It uses environment friendly paper cement bag.
It measures its quality by using modern instrument in the laboratory.
Skilled management & financial soundness
Corporate image
The production of the cement in Meghna is completely automated.
The company has obtained the ISO 9001- 2000 making it a reliable producer for production of quality products in the international market.
Meghna has reached every possible
nooks and corners of Bangladesh.
Well-developed distribution channel is one of the strengths of Meghna Cement Mills Limited.
Meghna Cement has an effective and efficient Marketing & Sales department.
High price than national competitors.
The location where the cement plant of Meghna Cement Mills Limited is located is far from DhakaCity.
Promotional activities are not strong in electronic media, printing media or out door activities.
Replacement of wastage or damaged products is not quick.
No warehouse.
Transportation for the company is main problem at present for the company.
OPPORTUNITIES

THREATS

        Industrial product had very good image. So image can help to introduce new consumer.
Advertising can help to increase the market share.
The demand of cement outside Bangladesh has been increasing rapidly, providing Meghna cement a good chance to explore these markets.
Possible to improve the distribution system.
Meghna Cement Mills may be the chance to makes the position of market leader.        The existing competitors who are market challengers and followers may pose threat by aggressive price cut policy.
Promotional activities are strong of the other competitors.
Increase the price of raw materials & depend on international market for raw materials.
Customer's intention to buy foreign products.
Supplier dependency.
The company is highly vulnerable to price competition since it faces higher cost of production per bag.
The day after day terrorist attacks and the suicidal bombing have caused the unrest in the world.
Some more part: