1.1 Introduction:
Now a day in the competitive world particular experience is must. It is possible to gather theoretical knowledge by passing through book but it is insufficient to acquire practical experience. In order to complete the BBA program we have to complete a course called Brand Management. In completing the course our course Instructor gives us as assignment on Strategic Development on Angelina Face Wash. By preparing the report we will able to gather knowledge about the different types of Product.
1.2 Origin of the Report:
This report has been made as the course requirement of Brand Management. The topic for this report has been chosen by my course teacher Wahida Shahan, Senior Lecturer, Faculty of Business Administration. This report contains the "Strategic Development on Angelina Face Wash".
1.2.1 Broad objective:
To gather practical knowledge about new product.
To analyzing how to start new product.
To the same time gathering the practical experiences.
To present situation about the market.
To know the product strategies that the organization allows to apply.
To analysis quality of the product
To identify the problem of new product
1.3 Methodology:
Methodology is the process or purpose of collecting data and information, which are required in connecting with findings tools for best possible outcome. There are various approaches to collect data for the report. But we should carefully select the way according to nature of the report. We have designed the study carefully planned to yield result that are objective as possible. The main lookout the report is to discover consumer behavior toward face wash brand. In this section, we would like to emphasis on survey process that we have conduct while we were preparing the report. We are mainly collecting the data from secondary source. This process consists of the following steps:
1.4 Limitation of the report:
In carrying out the study we faced many limitations which are listed below:
The work of collecting the information requires much experience. But we had no adequate idea, knowledge, and previous experience about the report. Therefore it is very normal that error come into existence in the report.
The time limitation is one of the limitations of this report. We have to complete this report within very short time.
Lack  of  facilities provided by the management:
At the time of data collection we have faced several problems due to lack of facilities by the management.
At the time of data collection it has been observed that most of the participants of the interview did not pay attention in answering the question.
The Company is world renowned company. But our report was only in Dhaka based. So, the report lacks information.
Literature review
Brand according to the American Marketing Association (AMA) ,a brand is a "name ,term, sign ,symbol, or design ,or a combination of them ,intended to identify the goods and services of a one seller or group of sellers and to differentiate them from those of competition ". (Books: Kevin Lane Keller, Strategic Brand Management, 3th Edition)
A mental map is a visual depiction of the different type of association linked to the brand in the minds of consumers. (Books: Kevin Lane Keller, Strategic Brand Management, 3th Edition)
Core brand associations are that subset of associations (attributes and benefits) that based characterize a brand. (Books: Kevin Lane Keller, Strategic Brand Management, 3th Edition)
A brand mantra is a short three to five word expression of the most important aspects of a brand and its core brand associations. (Books: Kevin Lane Keller, Strategic Brand Management, 3th Edition)
Customer- based brand equity as the differential effect that brand knowledge has on consumer response to the marketing of that brand. (Books: Kevin Lane Keller, Strategic Brand Management, 3th Edition)
Brand awareness is related to the strength of the brand node or trace in memory which we can measure as the consumer ability to identify the brand under different conditions. (Books: Kevin Lane Keller, Strategic Brand Management, 3th Edition)
Brand image is consumer perceptions about a brand as reflected by the brand associations held in consumer's memory. (Books: Kevin Lane Keller, Strategic Brand Management, 3th Edition)
Brand performance describe how well the product or service meets customers more functional needs. (Books: Kevin Lane Keller, Strategic Brand Management, 3th Edition)
Brand resonance describes the nature of this relationship and the extent to which customers feel that there "in sync" with the brand. (Books: Kevin Lane Keller, Strategic Brand Management, 3th Edition)
Brand feelings are customer's emotional responses and reaction to the brand. (Books: Kevin Lane Keller, Strategic Brand Management, 3th Edition)
Brand quality as brand attitudes are consumers over all evaluation of a brand and often form the basis for brand choice. (Books: Kevin Lane Keller, Strategic Brand Management, 3th Edition)
Brand credibility customers may also form judgments about the company or organization behind the brand. (Books: Kevin Lane Keller, Strategic Brand Management, 3th Edition)
Brand consideration depends in part on how personally relevant customers find the brand and is a crucial filter in terms of building brand equity. (Books: Kevin Lane Keller, Strategic Brand Management, 3th Edition)
Face Wash industry in Bangladesh
Competitive review:
The purpose of a competitive review is to identify key competitors, describe their market positions, and briefly discuss their strategies.
Ponds:
Pond's Cream is a brand of beauty and health care products that is produced by the Ponds Institute which is owned by the multinational company Unilever. Pond's Cream was invented in the United States as a medicine by scientist Theron T. Pond (1800–1852) in 1846.
In 1886 it was began to advertise nationally. They would, however, advertise under the name of Pond's Healing until 1910and in 1914 Pond's Cold Cream and Vanishing Cream marked the brand's evolution to a beauty icon. By the mid-1920s it was reflecting this positioning with endorsements by society beauties. Its stylish image was underpinned by guarantees of product delivery and an understanding of women's beauty routines and needs.
In 1955 Pond's Extract Company merged with Chesebrough Manufacturing and in 1987 Unilever purchased Chesebrough-Pond's. By this time the Pond's brand had built up a powerful international presence.
Pond's started out with a cold cream and was merged with Chesebrough Manufacturing Company in 1955. The Pond's cold cream then became available in supermarkets throughout the US. Their bottle design is still followed today. Soon many more products were launched under the Pond's brand name and it rose to new heights with its skincare products.
Ponds Daily Face Wash is soap free, which means it doesn't contain any harsh chemicals that could harm your skin. Instead, it contains organic surface active agents that benefit all skin types. Its creamy lather is effective for removing all your makeup and dirt that you gather throughout the day, leaving behind clean, smooth and revitalized skin.
Olay:
Olay is a product truly born from love, as it was created by a man as a gift for his wife. In the 1950s, chemist Graham Wulff saw his wife Dinah's frustration with the thick, waxy beauty creams that came in shoe-polish tins. They left her skin looking greasy, and they certainly didn't fit with her feminine sensibility. Graham wanted to create a new beauty product for her—one that could not only moisturize her skin, but also leave her feeling beautiful and feminine.
Olay was enjoying phenomenal success in South Africa, and in 1959 expanded into England, the United States, the Netherlands, Canada and Germany. Needless to say, the Olay business flourished. Eventually, Olay was sold to Richardson Merrill, which later became Richardson-Vicks. In 1985, Procter & Gamble bought Richardson-Vicks and gained the Olay brand. In 2000, Procter & Gamble decided to shorten the brand name to Olay. The formula had evolved over the years, and the original name no longer fit with what women have come to expect from Olay—a light, greaseless formula that absorbs quickly into the skin.
Dove:
Dove first launched in the US during the 1950s; Dove cleansing bar with its moisturizing properties was originally developed to treat burn victims during the war. In 1957 the basic Dove bar formula was refined and developed into the "Original Dove Beauty bar". It was launched as a beauty soap that was clinically proven to be milder on dry and sensitive skins. Then gradually it launches many new products like: Men's care product, Pro-age skin care, Young girl skin care Hair therapy, body care etc. In 2011, Dove introduces the new line of Dove Hair Therapy Nourishing Oil Care line formulated with weightless Nutria-Oils to nourish your hair.2011 also launches Dove Hair Therapy patented Fabre Actives technology to reconstruct hair from the inside. New products to look out for include Dove Intensive Overnight Crème and Dove Intensive Repair Mask.
Key facts
Dove has evolved and grown in many ways over the year and no longer just caters to skin care. The Dove brand comprises of skin care for men and women, lip care, deodorants, as well as hair care.
Dove is the UK's top Bar Soap brand and 45% of the population bought a Dove product in 2010. In fact, 10.1 million women use Dove every week in the UK.
Now some of the products of Dove
Nivea:
Nivea is a global skin- and body-care brand that is owned by the German company Beiersdorf. The company was founded on March 28, 1882 by pharmacist Carl Paul Beiersdorf. In 1900, the new owner Oskar Troplowitz developed a water-in-oil emulsion as a skin cream with Eucerit, the first stable emulsion of its kind. This was the basis for Eucerin and later, Nivea. Nivea comes from the Latin word niveus/nivea/niveum, meaning 'snow-white'.
During the 1930s, Beiersdorf began producing products such as tanning oils, shaving creams, shampoo and facial toners. The trademark "Nivea" was expropriated in many countries .Beiersdorf completed buying back the confiscated trademark rights in 1997. During the 1980s, the Nivea brand expanded into a wider global market.
4.1 Meaning of Angelina
Angel is a GREEK word and the meaning of angel is messenger of God. Angel is usually a girl's name. Angelina is derived from angel. Our product is mainly based on women's skin problem. So, we named our product Angelina. We don't claim that our product will makes you look like an angel, but we guarantee that it will create a gentle effect on consumer's skin.
4.2 Logo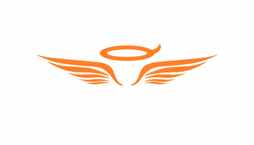 4.3 Slogan
Angelina for lovely skin, For a great day.
4.4 Strategy of brand name
Individual brand
4.5 Mental Map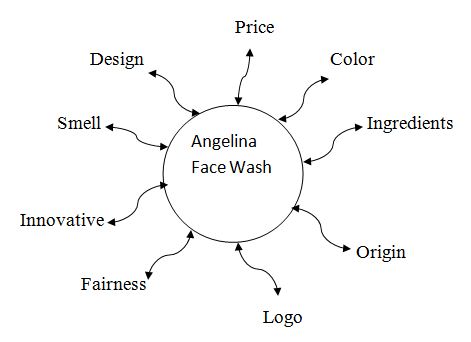 4.6 Current marketing situation:
Now a day's people are more concern about their beauty care. They search suitable product for them among a huge company product. Now it is winter season, so they want to keep them refresh and cool. So, for this time we launched a new product named Angelina Face wash. This Face wash help them to keep cool 12 hours after using it. It is also helps to remove black spot, oil, and pore and give brightness from deep of skin. We use in this product Aloevera, Mint, and Lemon etc.
4.7 Market description:
Angelina Face Wash for all of women who are conscious about their skin, go outside regularly, want to keep them fresh and cool, and clearness. This face wash helps to remove oil, pore, black spots, dull & dark, exposure to sun, pollution & harsh environmental conditions. In future, our company launch new innovative product match with the season like summer, winter, monsoon etc.
4.8 Benefits and product features:
Targeted Segment
Customer Needs
Corresponding Features/Benefits
Female:

(a)15 to 20

Clear, smooth, beauty skin.
Focus on Herbal Ingredients not acid or chemicals.
(b)21 to 40
Clean, fairness skin.
Focus on remove black spot, boil.
(c) 40 up
Wrinkleless & spotless skin.
Focus on remove the wrinkle on the face, spot & pore from the deeper.
4.9 Product review:
Angelina Face Wash:
This face wash has different characteristic, such as
We use Lemon & Honey to remove oil from the skin & remove the unexpected black spot.
We use Aloevera & Mint for cool and freshness.
We use Neem to remove boil & black spot.
We launch different face wash for different age's people.
We also launch different product for different season.
By this product we enter into the market. In the first year sales revenue are projected to be Tk.1, 00, 00,000 based on sales 1, 00,000 units at Wholesale price of TK.100 each. During the second year we plan to introduce the new innovative product to satisfy the customer.
4.10 Channels and logistics review:
We want to spread our product all over the country. For this reason, we distribute our product by superstore,dealer,online,divisional agent etc. They help to provide the product in the remote village in the country.
4.10.1 Superstore:
 We supply our products to the main superstore in this country. Such as New Market, Prince Bazar, Agora superstore etc.
4.10.2 Dealer:
We supply our products to the dealer to reach it in the remote town & village overall the country.
4.10.3 Online:
We sell our products on popular online market such as cell bazar, eBay, Amazon.com etc.
4.10.4 Divisional Agent:
We appoint some expert agent in every division they go to the retail store and tell them the quality, using method and benefit of use the product and then supply them the product. And collect the customer feedback.
4.11 SWOT Analysis:
The Strength, Weakness, Opportunity and Threat (SWOT) analysis provides a snapshot of Angelina's internal strength and weakness and external opportunities and threats.
Strengths
1. Company reputation is recognized through all over the Bangladesh
2. Customers satisfactions (toll free number, online services, and advisory services)
3. Customer's retention ratio is high due to supreme product qualities
4. Stability in Pricing
5. Larger Distribution network and Products promotion in a large scale
6. Geographical coverage across all over the Bangladesh
7. Strong market research (Door to door sampling – once in a year – Rural and Urban area.)
8. Many variants (mint, aloe Vera, neem, honey, lemon)
Weakness
1. Limited penetration or product choice for the rural market
2. Tough competition means limited market share growth and high brand switching despite constant branding and advertising
3. Mainly positioned as beauty wash targeted towards women
4. Some variation like the sunscreen, international variant did not do well in the market
5. Not much popular in rural areas
Opportunities
1. Angelina face wash has a strong market potential in the market & can look forward to gaining more shares in the skin care segment.
2. Products and packaging to suit different needs and demographics can help boost sales
3. Large market share – Strong hold over the market
Threats
1. The switching potential can be high if the customers are not satisfied with our product
2. If our product gets successful, there is a major threat of new entrants to follow up on company's trend.
3. Existing producers of face wash can decrease their prices as well as new entrants to attract customers.
4. Competitors: Local and international competitors have well established businesses
5. Large proportion of women who are currently unaware and place low priority on skin care
6. Threats are current or emerging external elements that could potentially challenge a company's performance.
4.12 Positioning:
We differentiate our product by product differentiation. The different product is made for different age of women like; Teenage, Matured and Old. Customer chooses it only for herself. Every individual can use which is suit her skin based on age. They get it as their like actually which is need for them. It is totally different from other company products. This is the first different face wash for different ages women in the market.
4.13 Marketing tools:
There are four types of marketing tools. Such as,
4.13.1 Product Strategy:
If the consumers are not satisfied by using our product then we return back our product and back the amount to the customer that they pay in buying time. Our product validity date 2 year to 3 year.
4.13.2 Pricing Strategy:
Pricing – We produce our product in 3 categories.
100ml .Price-120 taka
150ml .Price-180taka
200ml .Price-240taka
4.13.3 Distribution Strategy:
We use selective Distribution to sell our product, such as store, dealer, online retailers, and whole seller. We add a channel partner and media partner in first year, channel and media partner display our product.
4.13.4 Marketing Communications Strategy:
By integrating all massage in all media, we will reinforce the brand name and the main point of product differentiation. It helps as to introduce our product in the market.
4.14 Marketing research:
We are identifying the specific features and benefits that our target market segments value. Feedback from market tests, surveys, and focus groups will help us develop the Face Wash product. We are also measuring and analyzing customers' attitudes toward competing brands and products. Brand awareness research will help us determine the effectiveness and efficiency of our messages and media. Finally, we will use customer satisfaction studies to judge market reaction.
4.15 Marketing organization:
4.16 Action programs
We collect the customer and employee feedback about product and service. If need any action or solve the problem, we take steps to solve the problem and improve the quality of product and service as customers and employee demand.
Like:
Set new channel of sales.
Use new technology to provide service.
Launch customer demand product.
Arrange meeting with employee to solve their problem.
Give complaint box or comment or suggestions box to get customer demand, want and need and fulfill their demand, need and want.
4.17 Budgets
Budget is an important part of the company. Every year we make a budget to profitability and disciplinary complete our work. We mainly focus on improve of product quality and the demandable product of customer. And employee satisfaction, create new sales channel, customer service center etc. We keep some budget for wide the company area and space.
4.18 Control:
 We will measure our performance by controlling following areas:-
Annual revenue
Annual sales expense
Customer satisfaction
Customer feedback etc.
Conclusion
As "Angelina" Face Wash is a new product in our country, so it has some lacking such as:
It is not a popular brand product.
People are not accustomed with this product.
They afraid about quality.
They have no information or knowledge about this product.
But we hope we can easily overcome these lacking in our nearest future by providing better quality and creating strong brand loyalty among the customer. We believe that the people will prefer this Face wash than other face wash after comparing the product benefits. We must be available the information to the people about the products. We advertise our products in the popular media such as-TV, Radio, Newspaper, Billboard etc. to supply the information of the product.