Main purpose of this report is to analysis Sales Commission Policy of Grameenphone Limited. Report especially focus within Finance Division of the company. Here discuss mostly with Sales Commission Policy related to the International settlement and Insurance department of Grameenphone Limited. Companies most important strengths are its innovative products and wide coverage. Because of better service than competitors make them different.
Report Objective:
To analyze Sales Commission Policy of Grameenphone.
Scope
The scope of the study is limited within telecommunication business in Bangladesh. It is also limited within the organization of Grameenphone Ltd. and especially within Finance Division of the company. Here I discuss mostly with the topics related to the International settlement & Insurance department of Grameenphone Ltd.
Organization of the Report
This report is broadly organized into three parts. The first is the introductory part. Second part contains the overview of the organization itself. The last part concentrates on the project part. This part also contains the recommendations and conclusion.
Methodology
Classification of Data
The data collected can be classified as primary versus secondary data. Primary data is gathered and assembled specifically for the project part at hand. Secondary data has already been collected for purposes other than the problem at hand.
In this study, both primary and secondary data is used. The secondary data about Sales Commission policy has been collected from external sources, such as web sites and Books.
Data Collection Method
The following methods were used to collect the required information for the research:
Documentation: Documentary information for the study includes written reports from events and administrative documents (annual reports, proposals, progress reports, and internal documents).
Interviews: The primary data was collected through informal interviews. The interviews were performed in a conversational manner and the respondent can answer in his/her own words.
Organization overview
Grameenphone at a Glance
The full name:     Grameenphone Ltd.
Head Office:         Clebration Point
Plot # 3&5
Rode # 113/A
Gulshan -2
Dhaka -1212
Bangladesh
 Date of incorporation: November 28, 1996
Service Launched:        March 26, 1997
Product & Services:      More than 50 products, services, promotions and features, 9
Customer centers in 6 Divisional cities, 600 Grameenphone
Service Desk all over the country
Employees:            The Company presently has 5000 employees. Another 70000 people
                                    are directly dependent on Grameenphone for the livelihood, working
for the GP dealers, retailers, scratch card retail outlets, suppliers,
Vendors, contractors and others.
No of divisions:             11
No of Subscribers:        10 millions
Shareholders:               Telenor (62%), Grameeen telecom (38%)
Vision:                        We're here to help (This vision crystallizes customer focus as the
Cornerstone of everything they do: helping customers get the full
benefit of communications in their daily life.
Values:                         Make it Easy; Keep Promises, Be Inspiring, Be Respectful
History
November 28, 1996: Grameenphone Ltd. was offered a cellular license in Bangladesh by the Ministry of Posts and Telecommunications.
March 26, 1997: GP launched its service on the Independence Day of Bangladesh.
June 1998: GP started its services in the port city of Chittagong, the second largest city in the country. Cell to cell coverage in the Dhaka-Chittagong corridor also enabled GP to introduce its service in a number of other districts along the way.
1999: GP started its service in the industrial city of Khulna. Once again, a number of other districts came under coverage of GP because of the cell to cell coverage between Dhaka and Khulna.
2000: Grameenphone started its services in Sylhet, Barisal and Rajshahi, bringing all six divisional headquarters under the coverage of its network.
2003: After six years of operation, Grameenphone has more than one million subscribers.
2005: Grameenphone continues to being the largest telecommunication operator of Bangladesh with more than 5 million subscribers.
2006: Grameenphone reached 10years of its operations and 10 millions of subscribers.
Vision & Values
The vision of Grameenphone Ltd. is
"To be the leading provider of telecommunication services all over Bangladesh with satisfied customers, shareholders and enthusiastic employees". In short:
"We're here to Help"
The key to achieving this is that they work together and draw on their Values and build them into guiding light behaviors in their workplace, wherever that may be:
Make It Easy.                Keep Promises.
Be Inspiring.               Be Respectful.
Objective
Grameenphone Ltd. has a dual objective to receive an economic return on its investments and to contribute to the economic development of Bangladesh through telecommunication. This is why Grameenphone, in collaboration with Grameen Bank and Grameen Telecom, is aiming to place one phone in each village (Village Phone) to contribute significantly to the economic benefit of the poor. It is on the way to bring a total revolution in the telecommunication field. By attaining the success factors, Grameenphone would like to be recognized as a reliable, honest and committed company to its valued subscribers and stakeholders.
Strategy
The basic strategy of Grameenphone Ltd. is for the overall coverage of both urban and rural areas. It builds continues coverage, cell after cell, with an intention to bring the whole country under its network. Though the priority of the intensity of coverage varies from area to area, the basic strategy of cell-to-cell coverage is applied through the whole country. Presently, it has network coverage in 61 districts around the country including all six divisional headquarters, with 1388 base stations in operation.
Working Conditions
The company offers a wonderful and friendly working environment in the office. Grameenphone has conducive and safe working environment. The Company's intent is to establish a good working relationship through a mutual understanding of expectations. With its present status GP aims to expand and grow at a faster pace by utilizing the best possible opportunities and expansion of Network throughout the whole country.
Achievements
The growth trend of the number of subscribers of Grameenphone Ltd. is a unique example in the telecommunication field in Bangladesh. The total number of GP subscribers at November -2006 reached 10 million. This is really a fabulous achievement in such a short period of business history.
By bringing electronic connectivity to rural Bangladesh, Grameenphone is brining the digital revolution to the doorsteps of the poor and unconnected. Grameen bank borrowers are engaged in a business by providing valuable phone service to their fellow villagers. For them, mobile phone is a weapon against poverty.
Shareholders of GrameenPhone Ltd.:
The Shareholders of Grameenphone Ltd. contribute their unique, in-depth experience in both telecommunications and development the concerns of the globe. International shareholders bring technological and business expertise while the local shareholder provides a presence throughout Bangladesh and a deep understanding of Bangladeshi economy. All the four (at present two shareholders) shareholders are dedicated to Bangladesh and its struggle for economic progress. They have a deep commitment to Grameenphone Ltd. and its mission to provide affordable telephony to the entire population of Bangladesh.
Now Grameenphone has only two shareholders: Telenor (62%) and Grameen telecom (38%).
Telenor Mobile Communication AS:
Telenor AS owns 62% share of Grameenphone Ltd. It is the largest Telecommunication Company in Norway, a country with one of the highest mobile phone densities in the world. It is almost the oldest and diversified telecom companies in the world operating since 1885. It has played an important role in development of cellular communications, particularly, but not exclusively, GSM technology. Telenor operates its business in 12 countries of the world. It also starts a mobile phone operation in Pakistan.
Telenor is using the expertise and competence, both technological and business, gained from its home and international markets to venture Grameenphone and flourish an emerging market like Bangladesh.]
Grameen Telecom:
Grameen Telecom is the second largest shareholder of Grameenphone Ltd. owing 38% share. It is a not-for-profit organization and a sister concern of Grameen Bank, the internationally recognized financial institution dedicated to poverty alleviation through collateral-free small loans for the poor in the rural areas of Bangladesh.
Grameen Bank has an extensive rural network and understanding of the economic needs of the rural population. Grameen telecom, with the help of Grameen Bank, administers the village phone services to the villagers and trains them regarding all service-related issues. Its objectives are to provide easy access to telephones in rural Bangladesh as well as introduce a new income-generating source for the poor villagers.
Products and Services of GrameenPhone. Ltd.:
Telecommunication sector is a service-oriented sector. Grameenphone offers various types of new and innovative telephone services to both the urban and rural people of Bangladesh during the last ten years. Different types of post-paid services, the EASY and EASY Gold pre-paid service, and the village phone program are among its largest innovations. Besides these largest ones, Grameenphone also introduced a number of value added services like the news update service, international roaming facility, Voice Mail Service, Text Mail Service, fax and data transmission services, Wireless Application Protocol (WAP) service etc.
The company is the pioneer in most of its services. Handsets or the phone-set and the SIM Cards, Scratch Cards are the only physical products provided by the company. By spreading nationwide cellular phone coverage and making it affordable to the low-income people of remote rural areas, Grameenphone has eventually connected these remote areas to the furthest corner of the globe.
The prime services provided by Grameenphone are broadly categorized in the four types- the post-paid service, the pre-paid service and the village phone program.
Product Type
Product Name
Products Main Features
Post-paid

Services

GP-GP National
A totally new concept in the country, the mobile-to-mobile service.
GP Regular
This phone can connect all mobiles within the home zone and all GP mobiles throughout GP's coverage area as well as all BTTB fixed line telephone connections. It has National Roaming facility.
Any time 300
Anytime 300 offers a monthly 300 minutes (billed duration) of talk-time free of charge
Any time 500
500 offers a monthly 500 minutes (billed duration) of talk-time free of charge.
Explore
Economy call rate, ISD & International roaming facilities
Pre-paid Services
Easy
No monthly bills & security deposits, EASY scratch cards of four different colors with four different values
Djuice
Djuice One of the fastest growing pre-paid service offered for the young. It also provides a discount card "extra Khatir" which one is very popular among the young people.
Smile
This product will bring substantial benefits to its customers with free talk-time, ringtones & Voice SMS at start-up, Group-talk feature, low tariff and start-up price, reduced Friends and Family tariff and much more.
Village Phone
 
The VP works as an owner-operated pay phone. It allows the rural poor who cannot afford to become a regular subscriber, to avail of the service with loans from Grameen Bank.
Value Added Services
SMS (Short Message Service)
With this service, one can receive and send Text Messages (a maximum of 160 characters per message) to any other local mobiles and to foreign operators' (international) mobiles as well.
SMS Push-Pull Services
With Push-Pull service, one can enjoy more than 160 contents (Ex: Usage Info, Payment Status of last bill, Sports news, Emergency numbers, Restaurants, Airline and Railway timing, travel info etc.).
Voice Mail Service (VMS)
VMS works like an answering machine. When one is not available or outside the coverage area or simply busy, the caller can leave a message in voice mailbox, which can listen or retrieve.
Fax and Data
This service enables a Grameenphone subscriber to send/receive fax and data through their handsets by connecting to a PC/Laptop. Currently, this service is offered to corporate clients only.
Wireless Application Protocol (WAP)
This is a tool to access WAP-enabled information from the Internet through GP mobile phones. One can also access yahoo e-mail account through GP WAP service.
News Service
This is a news broadcasting service jointly provided by Prothom Alo and The Daily Star. A subscriber can call 222 from his/her GP mobile phone and listen to the latest news highlights in English or Bengali.
Channel-I program schedule
2525 is a Channel -I Program schedule service. A subscriber can call this number from his/her GP mobile phone and listen to Channel I program (daily) highlights. 2626 is a Channel –GP information service and I whereby a subscriber can avail information on news, events of the day transport schedule and horoscope.
Financial Condition
There has been much fold growth in all respects. Subscriber base has grown over double than last years. Total operating revenue goes BDT 29,627 million in 2005 from 19,700 in 2004. Total Assets in the Balance Sheet has reached BDT 49,536 million compared to BDT 27,023 at the end of 2005.
Total Revenue for the year was BDT 29,627 million in comparison with BDT 19700 million of last year. Investment in the network continues with the growth of the subscriber base, thus total assets goes to BDT 49536 million in 2005.
| | | | |
| --- | --- | --- | --- |
|  Year Basis | 2003 | 2004 | 2005 |
| Revenue | 12577 | 19700 | 29627 |
| EBIT | 6882 | 10125 | 11761 |
| Net Earnings | 3865 | 6181 | 6404 |
| Total Assets | 17263 | 27023 | 49536 |
 Table: Yearly growth in revenue, EBIT, net earnings and total assets
Growth Analysis:
Subscribers Growth
Grameenphone has a revolutionary growth of subscriber of its 10 years of operations. This got a great change in year 2005-2006.
The following table illustrates the growth in number of GP subscribers over the period from the year 2000 to 2006.
Year
2000
2001
2002
2003
2004
2005
2006
No. of Subscribers

(in million)

0.19
0.47
0.77
1.1
2.4
5.5
10
Table: No. of subscriber from 2000 to 2006
Revenue Growth:
The following table illustrates the growth in revenue of GP over the period from the year 2001 to 2005.
| | | | | | |
| --- | --- | --- | --- | --- | --- |
| Year | 2001 | 2002 | 2003 | 2004 | 2005 |
| Revenue in M BDT | 5,296.00 | 8,779.00 | 12,693.00 | 19,700.00 | 29628.00 |
Table: Growth in GP's revenue
Base Station Growth:
The following table illustrates the growth in number of Base Station of GP over the period from the year 2000 to 2005.
| | | | | | | |
| --- | --- | --- | --- | --- | --- | --- |
| Year | 2000 | 2001 | 2002 | 2003 | 2004 | 2005 |
| No. | 299 | 412 | 500 | 680 | 1,400 | 3500 |
Table: Growth in Base station
SWOT Analysis
Strengths and weaknesses are the micro environmental factors influencing a business that are within the organization. Opportunities and threats are the micro environmental factors that influence all the firms in the industry. They are present in the whole industry.
The following figure shows the strengths and opportunities that Grameenphone Ltd. enjoys as well as weaknesses and threats that the company faces.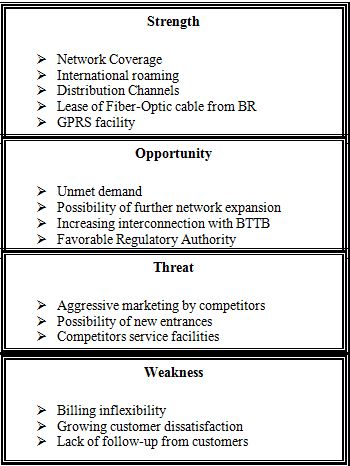 Contribution to society
Grameenphone believes that "good business leads to good development", since high level of productivity is development. The activities of GP contribute to the socio-economic development of Bangladesh in many different ways.In addition to employing nearly 1500 people, more than 100,000 people are directly dependent on GP for their livelihood, including the people working for the dealers, agents, contractors, suppliers, and a major portion of that figure includes the Village Phone operators.
The Village Phone Program of Grameenphone is a unique initiative, which provides access to telecommunications facilities in remote rural areas, where no such service was available before. Grameenphone also actively participates in promoting different socio-cultural activities and sports events in the country. It sponsored many activities over the years including the Zainul-Kamrul International Children's Art Competition, the 11th Asian Art Biennale, publication and launching of an anthology of contemporary Bangladeshi paintings, the Independence Day 2004 Photography & Painting Exhibition and many other activities.
Moreover, GP has also restored the exterior of the historic Old Railway Station Building in Chittagong as per its original architectural design. It has sponsored a scholarship fund for the poor and meritorious students of the Finance and Banking Department of Dhaka University in cooperation with the Finance and Banking Alumni Association. GP has also donated 16 computers to two schools for underprivileged children.In the sports arena, GP is currently sponsoring the Bangladesh National Cricket Team for a period of two years through 2005-2007, and sponsored the National Under-19 and Under-17 cricket teams. It was also one of the main sponsors of the live telecast of "ICC World Cup Cricket 2003. GP also sponsored the President Cup Golf Tournament, and sponsors the visits of newspaper reporters abroad to cover major sports events.
GPDC: Finance Activities (Commission Calculation)
Bank arrangement (Citi NA, City & UCBL) to collect cash/ instruments.
Arrangement of Insurance coverage for stock and cash.
Commission calculation, payment, distribution of cheque to POS and accounting & reporting.
Salary payment coordination with Fund management and Payroll for GPDC employees.
Arrange and maintain petty cash at GPDC level
Arrangement of support office equipments like money counting machines, cash volt, mobile phone for employees.
Problem Identification
 By analyzing the Sales Commission process identify some problems:
Data accumulation: Every day how much sale of the GP products they have to collect by phone from GPDC's. This is a manual process meaning opportunity for errors.
Outlet: Level of Education: Those who have small shop they sell SIM Card, Scratch Card, Flexi Load there education level is very low so they can't properly registered when they sell SIM. And this is why Grameenphone can't get proper feedback from outlet. Though GP maintains the best database and is compliant with BTRC rules.  
Payment 
About 8500 outlet so data keeping is a vast task and full automation seems only viable option.
Government System clue (TDS: 5% – 7.5%): Now Government has increased TDS to 7.5% for every products. Before that they paid 5% TDS for products. This cause problem in calculation and proper implementation of Government rule.
Recommendation
By analyzing, the Sales commission problems identified, can be turn into major problem if it is not undertake properly. Problems are softly tackled and some problem can be avoided by proper guidance of concern peoples. That can be done by taken the following steps:
GPDC is online & data accumulation is also online (STS: ORACLE Database/Invoice).
More co-ordination between far flung areas to ensure better communication flow.
Better banking facilities (Online Banks) as the commission payments are made in far flung areas of the country.
Outlet level of education have to be high.
Conclusion
Grameenphone Ltd. is the market leader in the telecommunication industry as well as Mobile Phone industry in Bangladesh.  Its most important strengths are its innovative products and wide coverage. As a service providing company, better service than competitors can make them different. Though telecommunication sector is based on technology and most of the technical equipment has to be imported so Sales Commission unit of GP finance play a vital role their smooth operation.
Grameenphone has invested a huge amount for building its networks. So, in every steps and segment of Sales Commission process should have to properly checked and guided. Sales are bread earner for any company and GP is no exception. Commission payments clearly selfless sales of the company.
In GP, growth and new development is everyday matter so the processes mentioned here are under constant review and refinement. Change is so accepted in GP that today's well-established practices can change very quickly bringing in something new.