Rationale for Selecting the Report
As I have been assigned to this project called 'Airtel Rising Star' as an intern that is why I have chosen to establish a comprehensive study on this campaign.
The story behind such an immense campaign like "Airtel Rising Star' and what are the benefits of the organization through this campaign. The study will discuss the role of the agencies and Role of PR. The Partnership marketing (association with Manchester United FC) will be covered in my study and what is the Role of pre-com before the main activation. So basically I will discuss everything relevant to this topic. This study will help me to understand how to manage such a big campaign, what are the steps and how do they do it.  This campaign is going on not only in Bangladesh but also in India and Srilanka.
Background (Description of the Organization/Company)
Bharti Airtel Limited commonly known as Airtel, is an Indian telecommunications company that operates in 20 countries across South Asia, Africa and the Channel Islands. It operates a GSM network in all countries, providing 2G or 3G services depending upon the country of operation.Airtel is the third largest telecom operator in the world with over 243.336 million customers across 20 countries as of March 2012. It is the largest cellular service provider in India, with over 178.78 million subscribers at the end of February 2012. Airtel is the third largest in-country mobile operator by subscriber base, behind China Mobile and China Unicom. Airtel is the largest provider of mobile telephony and second largest provider of fixed telephony in India, and is also a provider of broadband and subscription television services. It offers its telecom services under the Airtel brand, and is headed by Sunil Bharti Mittal. Bharti Airtel is the first Indian telecom service provider to achieve Cisco Gold Certification. It is known for being the first mobile phone company in the world to outsource all of its business operations except marketing, sales and finance. Its network—base stations, microwave links, etc.—is maintained by Ericsson, Nokia Siemens Network and huwaei and business support is provided by IBM.
Airtel Bangladesh Ltd. is a GSM-based cellular operator in Bangladesh. airtel is the sixth mobile phone carrier to enter the Bangladesh market(formerly known as Warid telecom) and launched commercial operations on May 10, 2007. Warid Telecom International LLC, an Abu Dhabi based consortium, sold a majority 70% stake in the company to India's Bharti Airtel Limited for US$300 million. Bharti Airtel Limited took management control of the company and its board and rebranded the company's services under its own airtel brand from December 20, 2010. The Bangladesh Telecommunication Regulatory Commission approved the deal on Jan 4, 2010.
Bharti Airtel made a fresh investment of USD 300 million to rapidly expand the operations of Warid Telecom and have management and board control of the company. This is the largest investment in Bangladesh by an Indian company. Dhabi Group continues as a strategic partner retaining 30% shareholding and has its nominees on the Board of the Company.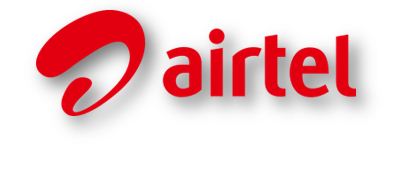 Products Offered
Airtel provides both post-paid and pre-paid connection plans. The post-paid plan is branded and marketed across the country under the name airtel Postpaid, which means leader or royalty. The pre-paid segment is branded and marketed as airtel Prepaid.
The Airtel Prepaid category is divided into five segments:
       Adda
       Golpo
       Kotha
       Foorti
       Dolbol
The Airtel Postpaid category is divided into three segments:
       Airtel Exclusive
       Airtel Classic
       Airtel Advantage
Headquarter:  House 34, Road 19/A, Banani, Dhaka 1213, Bangladesh
Key people: Chris Tobit (CEO), Abhay Seth (CSMO), SK Muphopadhyay (CFO), Rubaba Dowla (CSO), Sugato Halder (acting CHRO)
Products: Telephony, mobile telephony
Revenue: (US$2.34 billion) (2010)
Parent: Bharti Airtel 70% and Warid Telecom 30%
Industry Overview
Bangladesh, one of the major telecom markets in the Asia Pacific region, has achieved about 86.55 million mobile subscribers at the end of 2011, representing a net addition of 4.728 million from the previous quarter. Research and Markets said Grameenphone's subscriber base increased to 35.24 million from 33.82 million in June 2011.The Bangladeshi mobile industry is on track to reach 90.51 million users in 2011.Research and Markets expects 158.94 million subscribers in the country at the end of 2016, with a penetration rate of 99.2 percent. In the quarter ended September 2011, the Bangladeshi government has planned to auction 3G licenses in September 2012 and state-owned Teletalk has been granted permission to trial the technology. The dust surrounding the 2G license renewal fees for Bangladesh's four mobile operators was seemingly settled in September 2011 after a year of negotiations with the regulator. Recently, marketresearch.com said the total number of mobile phone active subscribers in Bangladesh has reached 85.45 million at the end of December 2011.
Grameen Phone is leading the mobile market with 36.49 million mobile users, while the second largest player is Banglalink with 23.75 million users. Robi Axiata has 16.13 million users. Airtel Bangladesh has 6.02 million users. Citycell and Teletalk have 1.82 million and 1.21 million users, respectively.
The market share represents the telecommunication industry of Bangladesh.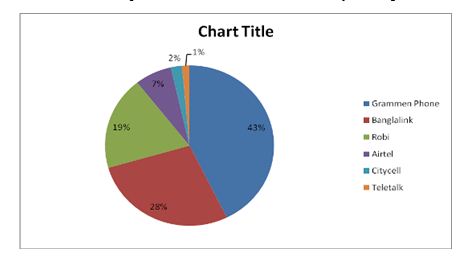 Objectives
Broad Objective
The broad objective of this report is to analyze 'Airtel Rising Star', a young (under 16) footballer hunt campaign all over Bangladesh an initiative to rejuvenate the almost dying enthusiasm for football in the country.
Specific Objectives
The Specific Objectives of this study are as follows:
To analyze how step by step such a huge campaign gets done.
To identify the Role of agency.
To understand the benefits of Associating with Manchester united.
Role of Manchester United in the campaign.
To understand the Role of pre-com.
To analyze Role of PR
To figure out what are the benefits of the youngsters of Bangladesh.
ACTIVITIES UNDERTAKEN
Activities Undertaken: (Work Related and Organization Wide)
I am doing my internship program in Airtel's MARCOM (Marketing Communication) division which in one of the divisions under marketing department. In the MARCOM division I am working mainly in the events sector. That is why I was assigned to do so many activities for Airtel Rising Stars. I witnessed and help in Airtel rising star's day to day activity. I coordinated from the very beginning of this campaign. I did activities like coordinating the photo shoot with some under 16 children for the Airtel Rising Star's billboard and press ads. I was on the team who welcomed Manchester United legend Quinton Fortune. I visited the schools all around Bangladesh to communicate about the ARS campaign with the children. I kept visiting and fixing meeting with the agencies (ASIATIC and INTERSPEED) for making things happen for ARS.
About Airtel Rising Star Campaign
Airtel Rising Star (ARS) is one of the important elements of the partnership between Manchester United FC and Airtel. ARS already has been a success story in Africa. Airtel Bangladesh is launching ARS project for the first time in Bangladesh from June 2012- September 2012. This campaign will find out the best 12 youngsters from Bangladesh and take them to Manchester England. Those players will stay there for seven days and train at Manchester United Youth Club receive all kinds of world class facilities during the visit and also they will get the chance to showcase their talents in front of players like Rooney, Nani, Giggs . So this campaign is a lifetime opportunity for the youngsters of Bangladesh, India and Srilanka.
 What is Airtel Rising Star
Airtel Rising stars is an ambitious soccer talent program that will focus on identifying and nurturing budding soccer talent from the grassroots onto a national stage.
The program will provide a platform for upcoming soccer talent to showcase their skills to leading scouts, coaches and have an opportunity to further their football skills.
Goal of ARS
The Airtel Rising Stars program is designed to provide a structured platform for scouts, coaches, football authorities and other partners to tap into a vast pool of upcoming talent, courtesy of the program and build strong soccer talent feeder systems for our league and national teams.
How ARS benefits both Airtel and the TG
| | |
| --- | --- |
| Airtel | TG (Target group) |
| Since our Primary TG is the youth, ARS will help us to connect with them and create a long-term relationship. | Will provide an unique opportunity to get trained at Old Trafford. |
| Good opportunity to create brand awareness among the TG. | Also facilitate quality training to thousands of youngsters. |
| We get the legal authority use Manchester United players to promote Airtel products in print media | Will create an environment ,where the importance of sports will be highlighted for betterment of the society |
How will Airtel carried out ARS?
Airtel will seek the partnership from associated stakeholders in the country because we understand that Soccer is a mass sport that requires support across technical, logistical and other aspects related to mobilizing aspiring talent.
Selected talents will be sent to Old Trafford for training
Once the youngsters return from Old Trafford, Airtel will give them admission in BKSP for further development of their skills.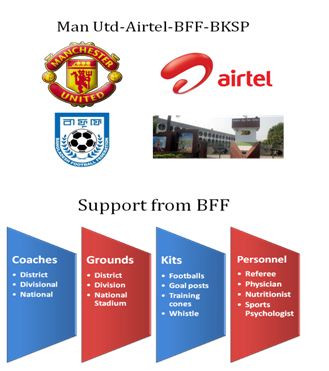 ARS Modality
Under 16 years old boys
SMS based registration
They will scout the best 16 players from each of the 64 districts of the country
All the district teams from each division will play a knockout round to find the division Champion. From this tournament the best 25 players of that division will be selected.
We will find 8 division teams, Dhaka North, Dhaka South, Barishal, Rajshahi, Khulna, Sylhet, Chittagong, Rangpur. These 8 teams will consist of 200 youngsters.
Division winning team will play robin-league tournament.200 boys will be divided in 8 teams (respective divisions) of 25 each and then matches will be played.
campaign will have one winning team and one runners up team
At the end of the intercity program, Manchester United coaches will identify 12 boys (from the entire 200 bouts- no matter who wins)  who will travel to Manchester United Academy)
Top 12 boys will spend 7 days at Manchester Academy and at the end of the Program.
Final 12 will get enrollment opportunity at BKSP or BFF Academy to excel their skill and take football further
2 Man Utd coach & 2 central coaches will select the best 11 football talents from the kids collected from the 7 divisions.
BKSP Admission Once the 11 young stars come back from Old Trafford , we will enroll them in BKSP, where they will be studying and further improve their football skills
Communication through:
Press: Media partners
Social Media: 9 AV will be spread across social media FB, Youtube and Airtel fan page "airtel buzz" which has around 100000 Airtel fans.
TV: Commercials
on Ground
Billboards
Commencement of ARS and a Glance of My Activities
My department was MARCOM. The whole MARCOM department was doing their respective works regarding ARS. All the new press ads and TVC regarding ARS were managed by the marcom department. And also there were new billboards been launched for ARS all over Bangladesh. And the events team where I had been working was responsible for holding different kinds of activities. From photo shooting of the models to bring and introduce a legend from Manchester united to Bangladesh or just let the people know about all the stuffs regarding ARS by the facebook. Airtel buzz page, the event team did it all. And the media team launched a telefilm during this campaign to increase the hype of football even more throughout the country. And the VAS9Value added service) team was responsible to communicate with the youngsters who registered to participate for the ARS campaign. And also the VAS team was responsible for various Manchester united services for the customers to know more about Manchester united and to stay connected with their favorite team with all the latest score and news updates.  A glance of the activities my department and other departments did during the ARS campaign.
Arrival of the legend Quinton fortune:
Quinton fortune came to Bangladesh on 21st June 2012. He came to Bangladesh as a part of Manchester united and Airtel's partnership program. Airtel brought him at the time when ARS was just starting. The idea was to increase the hype and engage more people which will enhance the glamour of the total ARS campaign. Quinton fortune stayed at the hotel 'Ruposhi Bangla' and our event team held a press conference there and also we took him at 'THE BENCH' which is a café in Gulshan 1 for crowd engagement , where Quinton shared his thoughts and the fans shared their.
Start of pre-communication
We the event team coordinated the pre-com before the main activation program. What we mean by pre-com is that in pre-com we went to handful schools all over Bangladesh and told the students that Airtel has launched a campaign called Airtel rising stars and mentioned to them how to register and participate in the campaign. Once the pre-com began, youths started to register and day by day the total registration was increasing. I was a part of the pre-com team. Basically the agency (Interspeed) did all the pre-com activities and we the event team went to every districts along with them to monitor all the activities.
Pre-communication
Pre-communication has been carried at all 64 districts of the country.
8 schools have been visited at every district.
There are 12 teams from the agency ( interspeed)  to carry out the pre-com.
Activities by the pre-com team:
Briefing the students about ARS, explaining the registration process, encouraging them to participate.
Carrying out games and handing out ARS gifts to 15 winners per school
Handing over ARS leaflets
Pasting posters inside the districts.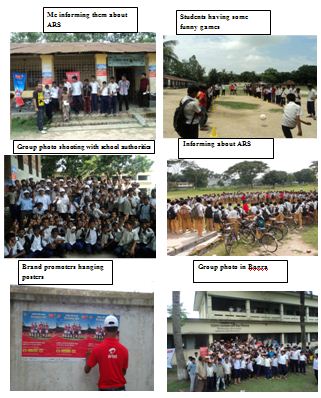 Start of the District Round
Airtel Rising star district round, where 16 best young players will be selected to create the district teams, creating 64 district teams across the country. From 27th July- 12th Aug, 4 teams consisting two DFA coaches each will select the 16 stars from each district. Airtel will collect overall 1,024 rising stars throughout the district round.
And after the district rounds the divisional rounds will start. All the district teams from each division will play a knockout round to find the division Champion. From this tournament the best 25 players of that division will be selected.
Airtel will find 8 division teams, Dhaka North, Dhaka South, Barishal, Rajshahi, Khulna, Sylhet, Chittagong, Rangpur. These 8 teams will consist of 200 youngsters.
Division winning team will play robin-league tournament.200 boys will be divided in 8 teams (respective divisions) of 25 each and then matches will be played.
At the end of the intercity program, Manchester United coaches will identify 12 boys (from the entire 200 bouts- no matter who wins)  who will travel to Manchester United Academy)
BKSP Admission
And the district rounds are going on right now most of the districts have been done. But the divisional round will start after EID. Since I will have to submit this report I cannot cover the divisional rounds in my report, since the submission time is before the Eid.
But I would like to talk more about ARS and the association with Manchester United and the role of our VAS department and our Marcom department regarding the ARS campaign.
Partnership marketing (associating with Manchester United)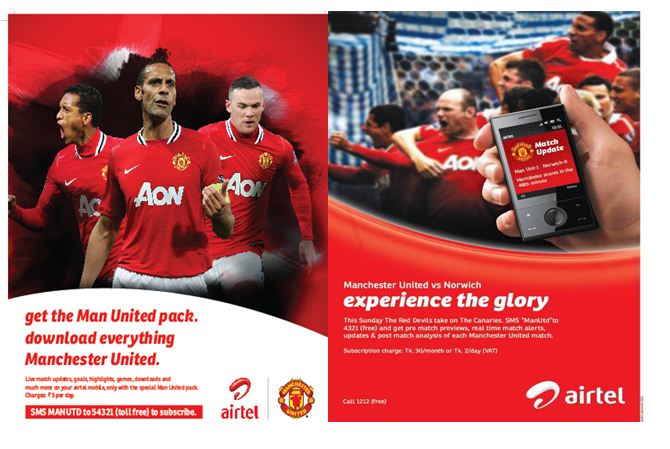 What is Partnership Marketing?
A smart collaboration of two or more organizations with the intent to develop a mid-term or long-term marketing program designed to meet each of their respective business goals.
The need for a Partnership Marketing program exists when one organization can accomplish their goals more effectively by leveraging the complementary strengths of another organization pursuing a like customer base.
Partnership Marketing can contribute to increase brand awareness, product distribution, customer acquisition and program funding.
You can't do it all on your own
If you look at some of the companies that have transformed the way we live, you will see that they've all had significant help from their marketing partners to get to where they are today.
eBay needs their auctioneers (the public) to provide products and services for auction to users or visitors to their site. They also need distribution (partners) to get people to visit their site and they need licensing opportunities with cause-related marketing programs to power their online auctions and allow them to leverage their platform in return.
Why the partnership was formed and how it benefits both brands?
Manchester United FC has become a powerful brand name in the sports arena and probably is the most prominent name from the sports world. Their jersey, travel or other sponsorship will show how much they are able earn from these other brands. Their excellent form in the last two decades has given them a platform where all the other brands fancy joining or associating with them. With already 330 million fans worldwide the football club is interested in getting more fans all over the world to increase the brand value further. Partnering with airtel will help them to increase their fan base in all areas where there is airtel network. The areas with airtel network like India, Srilanka and Bangladesh are yet to have a large Manchester United fan base compared many other countries. So as airtel promotes the football club with their local resources and marketing techniques it will surely help Manchester United to make newer fans thus increasing the brand value.
On the other hand airtel being a youth oriented brand has a large target group which are urban youth following football. So by teaming up with Manchester united airtel can increase the acceptability among these youth group. Also airtel gets the opportunity use Manchester United's footballs stars to promote their services. The legal right gives airtel an edge globally everywhere they have networks including all the 17 African countries. Here both brands have a similar audience which is the main reason this partnership was signed. Together both brands can share the audience and increase the fan base and customers more easily with each other's aid, making it a win-win situation for both.
Airtel Bangladesh launching the partnership in Bangladesh
After the launching in India and 17 countries in Africa it was time for officially launching the partnership in Bangladesh. The Marketing Communication department known as MarCom of Airtel Bangladesh was responsible for making the launch a success.
The partnership was more essentially linked with Airtel Bangladesh since the main "TG" of Airtel Bangladesh is the youth. With Airtel being highly popular among the youth of the nation. Since English Premier League is the most watched football league all over including Bangladesh and Manchester United being the one of the most popular club, Airtel knew the association with Manchester United FC will help them to win over more subscribers from the youth groups.
The core thought of Aritel Bangladesh before the launch was:
Manchester united is one of the biggest football clubs in the world, with high appeal among our TG
Airtel Bangladesh is planning to utilize the global association with man united through a year-long program to:
driving brand awareness through activities & PR associated with Man United
build brand saliency, among high-end youths through engagement
drive new acquisition & revenue through exclusive starter packs and Man United VAS packs
The Overall Plan for Manchester United launch
January 2012
The partnership will kick off with a 3 day visit to Dhaka of a Man United Legend and the EPL trophy- agenda includes press meet, parties, consumer engagement and trophy display
Feb onwards
Special VAS acquisition packs and VAS services will be launched periodically to drive business and churn customers from competition
Feb to July,
Every month, airtel will arrange game nights in campus halls, lounges and after parties to celebrate important Man United game
May to August
A school level activation targeting 64 districts to select top young football talents for a training program in Old Trafford (so this was the plan for Airtel rising star ).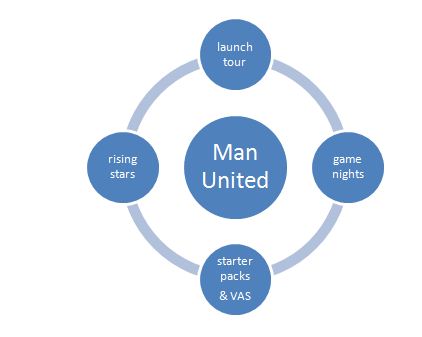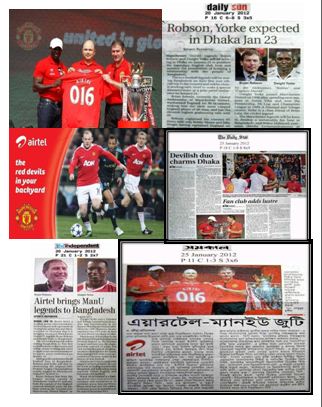 What's this Manu WAP Portal?
Manchester United WAP portal is a one-stop destination for all Manchester United fans. All the fans can get the latest Man utd news and updates just from their phone. This is a  fantastic feature for the airtel subscribers as they won't have to search is the internet or even wait for the news in tv for the latest scoring updates or latest transfer news as they will get all the alerts through this Man utd portal.
Activetion channels
SMS MANUTD to 4321
USSD dial *321*476#
What do I get with this pack?
Exclusive contents coming straight from the Manchester United Club
Daily fresh dose of
trivia
latest videos
live matches (when on air)
fixtures
latest news
last match update
rankings
Download exclusive contents of Manchester United
wallpapers
animations
ringtones
apps/themes
games and videos
Talk & Listen Manu
now let your callers listen to Manchester United "glory-glory…" anthem and be a stand out in your group
for caller tunes
call 78812 or SMS CT 94183 to
for my tunes
call 78813 or SMS MT 94183 to 3123
get nostalgic with the Manchester United full track "glory-glory…" anthem
dial 4040 and select channel 44 for your fav ManU anthem
History of Airtel Rising Stars
Airtel Rising Stars was launched in 2011 in 15 countries in Africa. These are 15 out of the 17 African countries that Airtel has operations in. Airtel Rising Stars runs in Nigeria, Ghana, Kenya, Uganda, Tanzania, Zambia, Malawi, Sierra Leone, Burkina Faso, Chad, Congo-Brazzaville, DRC, Niger, Madagascar and Gabon.
In 2011 each of the countries produced top boys winning team and a top girls winning team (except in Niger and Madagascar which had boys teams only.) In addition to this, each country selected, throughout the tournament, top 3 – 6 players who proceeded to attend a 1 week football clinic by professional football coaching staff.
So Airtel rising star is a part of the partnership between Airtel and Manchester united. And as a result this ARS campaign is launched in Bangladesh, Srilanka and India also.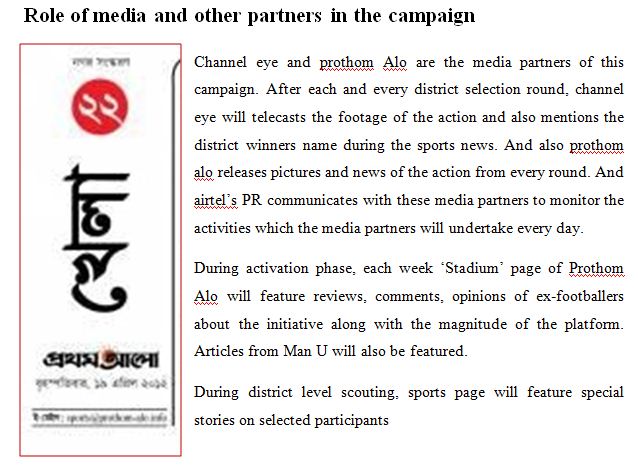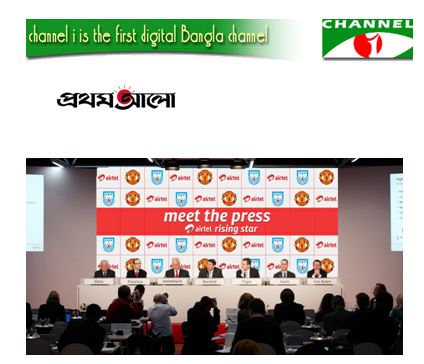 So this is basically what ARS is and I have tried my best to give a brief idea about this campaign. How step by step this campaign will come to an end and select the final 12 youngsters from Bangladesh and also from India and Srilanka and send them to Manchester United. I had been working behind this campaign from day 1 and hopefully me and my team is going to finish it successfully by the due schedule.
Contributions of the Marcom Department and other Departments for ARS The VAS (Value Added Service) Department
The VAS (Value added service) department along with the product team launched a special Manchester United SIM pack for the fans. The reason is to create hype among the fans during the ARS campaign and they thought it should be a good time to sell more and more connections towards the youth of the country.
All these SIM connections will be directed towards all the fans. This gives Airtel to win customers from other operators who probably will switch due to their emotional bonding with Manchester United FC. From Manchester United's perspective their fans get the opportunities in these 20 Asian and African countries which no other club can enjoy. This will create more fans for them and the existing fans will become more devoted towards the club due all these extra opportunities and facilities that are being provided by Airtel.
'50,000 Specialize Manchester United pre-paid connection for the fans during Airtel Rising Star Campaign'
The VAS team also worked behind the SMS registration during the campaign. The participants had to register through SMS by mentioning their district code. And the vas team kept a record of the total registration all over Bangladesh. And time to time they sent SMS to the participants with any update or info regarding the campaign. And before the district rounds, the Vas team called each and every registered people to inform when and where the audition will take place and what are the things they should bring along at the audition.
Marcom Department
Billboards and Press Advertisements
MARCOM team was responsible for launching the billboard ads and press ads during this campaign. All the billboards we see around the city streets have been designed by our MARCOM department.
Eid Special Telefilm Regarding Football
There will be a telefilm broadcasted during the eid. This has been coordinated by Marcom's media team. Finding the directors and actors for the telefilm has been done by our media team. The name of the telefilm is Kick-off. This is a story about young football lovers.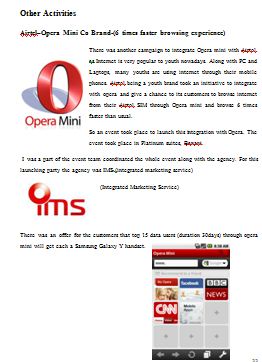 Key Communication Highlights

Airtel internet now six times faster with Opera mini & get a chance to win a Samsung Galaxy Y handset

Target Group

Non Data User
Existing Data User

Campaign Date: 6 July to 31 July'12
Campaign Modality

visit http://micropage.opera.com/airtelbd
fill up reg. form & download opera-mini
top 15 data user of 30 days will win Samsung Galaxy-Y handset
Conditions:
Only data usages using opera-mini browser will be considered as usages.
data user of any package will be eligible
user will have to register by visiting http://airtelbd.opera.com (TBD)
Opera Mini Launch Party
So this opera mini launch party and various other parties and campaign or activities like photo-shoot for the ARS young models , arranging ECF 2012 ( employee communication forum) have been coordinated by me and my Marcom's event team. And these activities gave me a lot of experience and practical exposures how big an organization like airtel does its activities. This will be very helpful for my upcoming future.
CONSTRAINTS/CHALLENGES AND PROPOSED COURSE OF ACTION FOR IMPROVEMENT
Constraints/Challenges faced in during the study
Time management: I got the internship in Airtel after 3 weeks of the commencement of Summer Semester. So I was behind schedule from the very beginning of doing this report. I had to visit so many districts randomly in my internship program as a result I was really struggling to find some time to work on my affiliation report, so the time frame was really short.
Intensive travelling: I was working in the events team under Marcom, and I got the internship in such a moment when Airtel Rising Star Campaign just started. To monitor and coordinate the activities, I had to travel a lot. I was randomly visiting here and there outside Dhaka and it was sometimes hectic.
Dealing with agencies and so many new people: During the ARS campaign :
I worked with Interspeed as they were the agency assigned for this. The other agency Asiatic was doing their part of ATL activities regarding ARS. So I had to work with so many new people from these agencies. Being their client Airtel, I had to deal with them in a professional and elegant way. It was tough for the first few days because it took some times for me to get to know the agency people and figure out their distinctive roles in different matters.
Coping up with other interns: When I started my internship, there were some other interns available there who joined 2 or 3 months prior to me. So they knew the corporate culture better than me and they had the tendency to dominate me and prove their superiority over me.
Coping up with the corporate culture: Airtel is a very good multinational organization with having so many top class employees. Good point is most of them really come forward to help the interns with any confusion. But most of the times they are very busy and very often I had no one to ask for help if I faced any problems. So I had to figure it out all by myself. Coping up with so many new corporate terms were difficult too.
Proposed Course of Action for Improvement
My suggestion or proposed course of action towards the organization would be to hire interns at a specific time and as a group or batch. Because then the interns can feel safe and not deserted. They will know we have many interns and we entered together, so no one is superior. We started together so we have the same amount of knowledge and skills.
Supervisor In the organization along with other employees should help the interns in every matter if there's any confusion. Not totally depend on the interns' own decision making.
Corporate terms should be described by the org supervisor to the interns gradually.
Sometimes some authorities from AIUB can go and visit the organizations and talk to the interns to see if they are doing well or need any help.
Academic Preparation
I am marketing major student in AIUB. All the courses I did in AIUB were really helpful during my internship. When I was working and getting the practical exposures I was able to understand those theories even better which I learnt in my university.
Though I worked in the Marcom's events team, most of the terms and activities I learnt after being fully exposed in the situation.  Bookish knowledge or theories was not actually enough.
What I have learnt from my university and from doing this internship program will always help me in the future.
LESSONS LEARNED FROM THE INTERNSHIP PROGRAM

Lessons Learned from the Organization
I have learnt so much from this internship program. I went to so many districts outside Dhaka. That I barely did before. And this gave me practical knowledge about many things. And also I worked with ASIATIC, INTERSPEED, IMS, and CREATO round the clock and went to their offices and to other places together for different purposes. That also helped me to see how the agencies work. How they maintain the relationships with their clients and as a part of my job I visited many other offices and places and met many people, which will enhance my confidence and smartness. These connections have helped me to learn how to talk, behave and negotiate with the customers or other business people. And these experiences would have never been gained without this internship program.
But after this internship I can say that all my laziness, clumsiness is gone and there is leadership instincts growing in me. I am more and more becoming a leader and started to manage people effectively.
Lessons Learned from the Internship Program of the University
I am thankful to this internship program of BBA, for this I was able to join an organization and learnt so many things. Before this program I had no idea what actually Affiliation Report was. Making this report also helped me to understand how to write a formal report which I am going to submit to my internship supervisor. I have also learnt about time management that is how to utilize time and work in an office and make a formal affiliation report at the same time under huge pressure.
CONCLUDING STATEMENTS
Summary of the Findings
To summarize the whole report I can say that I have achieved so many things doing this internship program that I didn't know before my internship.
There are some points I would like to talk about airtel's rising star campaign which I have found during my internship.
Airtel is doing this huge campaign 'Airtel Rising Star', which is absolutely a massive campaign. Hunting down the talents from all over Bangladesh is never easy. But the opportunity they are giving to the youths of the country is immense. 12 boys will go and stay, train for 7 days at Old Trafford Manchester. But after returning from Manchester the duty of Airtel is not over. They should try to put those boys under proper care and make sure that those boys are getting good chances in the domestic football teams. Obviously it is a very good initiative to uplift the enthusiasm of football in Bangladesh as the youngsters of today are going to be stars of tomorrow.
I have found during my visit to many districts that youths were complaining that they couldn't register to this huge campaign because they had no Airtel network in their local village or area. So those people really missed the opportunity to participate. Though Airtel had an on spot registration system during the audition. But still many didn't know about this on spot registration system and didn't dome to the audition. And there was another condition that you can only register through Airtel connection. This also hampered participation of many youths of the country.
Since this campaign was meant for the youths under 16, so many good players above 16 couldn't participate. And to prove that the participants are under 16, they had to bring their school certificates ir birth certificate. Otherwise no one was allowed to enter the competition.
Recommendations for Future Strategic Actions
My recommendation towards Airtel regarding ARS would be :
To make sure that those 12 boys who will return from old Trafford Manchester are getting the spot light and getting maximum support from the Bangladesh football federation. Airtel should maintain their relationship with these boys to provide any kind of help regarding their education, training and finance. There should be no obstacle for those 12 boys to become a real star and participate in the development of Bangladesh football which is the ultimate goal for airtel. If those boys can't do anything and just get unnoticed after returning from Manchester united, the total talent hunt campaign will have no meaning.
 There are many good players all over Bangladesh who have no Airtel connection or no Airtel network in their region. Airtel should make sure that those boys are also getting the chance somehow to participate in the campaign. They can make the registration open from any operator and it doesn't necessarily have to be an Airtel connection.
Those boys who are not educated at all and do not have any birth certificate or J.S.C or S.S.C certificate but play good football, Airtel should try to make them participate in the campaign by any other alternative way without having to prove them they are under 16. Some medical team can be there to judge if they are under 16 or not if they don't have any birth certificate.
Sometimes I saw in one or two districts that some volunteers from the agency are behaving harshly with the participants which can ultimately cause negative word of mouth for Airtel and ARS campaign. Because at the end of the day agency's volunteers wearing airtel's t-shirt are representing airtel to the mass people who come to participate.
Conclusion
The campaign Airtel Rising Star was a huge campaign and it was an absolute opportunity for me to work for this campaign. I have learned a great deal of new matters working for the campaign and also I would like to thank my university for the internship program. Otherwise I wouldn't have joined Airtel in the first place. But making this report was never easy with the span of time available and after everyday's office work and after every visit to many districts every week. But I am thankful to Allah that I have been able to finish it off by the due time. And doing this report I got a thorough idea how a big organization like Airtel does its activities. And as I worked with the Airtel Rising star project, I have learnt how to conduct and maintain such a huge campaign which took place all over Bangladesh, India and Srilanka. And I have worked with so many agencies which helped me to learn how talented they are and how hard they work. And as I was working on the events team, I also had to work under severe pressure. As a result my work rate has increased and sense of responsibility also gone high. To end my report I can say that this is absolutely an immense campaign. Bangladesh football will be really helped by this kind of campaign. Airtel is successful with this project I have to say because all over Bangladesh positive words of mouth have spread. And being a youth oriented brand, Airtel has been able to draw attention of so many youths who yet do not use Airtel Sim. The existing customers will become more loyal to see their brand launching such a huge campaign. So overall I can say this internship program changed my life. I am really thankful to my university for giving me such an opportunity to conduct a report for my internship program. And also I am grateful to almighty Allah for giving me all these opportunities and it can surely be my stepping stone towards a successful career.