The banking system at independence consisted of two branch offices of the former State Bank of Pakistan and seventeen large commercial banks, two of which were controlled by Bangladeshi interests and three by foreigners other than West Pakistanis. There were fourteen smaller commercial banks. Virtually all banking services were concentrated in urban areas. The newly independent government immediately designated the Dhaka branch of the State Bank of Pakistan as the central bank and renamed it the Bangladesh Bank. The bank was responsible for regulating currency, controlling credit and monetary policy, and administering exchange control and the official foreign exchange reserves. The Bangladesh government initially nationalized the entire domestic banking system and proceeded to reorganize and rename the various banks. Foreign-owned banks were permitted to continue doing business in Bangladesh. The insurance business was also nationalized and became a source of potential investment funds. Cooperative credit systems and postal savings offices handled service to small individual and rural accounts. The new banking system succeeded in establishing reasonably efficient procedures for managing credit and foreign exchange. The primary function of the credit system throughout the 1970s was to finance trade and the public sector, which together absorbed 75 percent of total advances.
The government's encouragement during the late 1970s and early 1980s of agricultural development and private industry brought changes in lending strategies. Managed by the Bangladesh Krishi Bank, a specialized agricultural banking institution, lending to farmers and fishermen dramatically expanded. The number of rural bank branches doubled between 1977 and 1985, to more than 3,330. Denationalization and private industrial growth led the Bangladesh Bank and the World Bank to focus their lending on the emerging private manufacturing sector. Scheduled bank advances to private agriculture, as a percentage of sectoral GDP, rose from 2 percent in FY 1979 to 11 percent in FY 1987, while advances to private manufacturing rose from 13 percent to 53 percent.
Social Invest Bank Ltd was established on November 22, 1995 with an authorized capital of taka.1000 million and Paid up Capital of Taka 260 Million by a group of rignly successful entrepreneurs from various fields of economic activities. It is a Fully licensed scheduled entrepreneurs from various field of economic activities. It is a fully licensed scheduled commercial Bank set up in the private sector in line With the Government to liberalize Banking& Financial services.
The founder Chairman of the Bank was Prof. Dr. M.A Mannan. He is a world wide renowned Islamic Economist. The first managing director was Mr. M.  azizul Haq. .Highly professional people having wide experience in domestic and international Banking are managing the Bank.
The present Chairman is Mr. Kamal Uddin Ahmed who is the renowned Industrialist of the country. The present managing Director is                 K.M. Ashaduzzaman has long experience in domestic international Banking. The Bank has made significant process with in a very short time due to its very competent Board of Directors, dynamic management and introduction of various customers' friendly deposit and loan productize. SIBL is operating three-sector Banking such as Formal, Non-formal and Voluntary Sector. SIBL is beginning a new era of Islamic banking having social, ethical and moral dimension in each of its activities ranging from credit to construction, trading  transport, forming to fusing, manufacturing to mining and so on. Some renowned personalities and institutions are sponsors and directors of this bank.
Beginning in late 1985, the government pursued a tight monetary policy aimed at limiting the growth of domestic private credit and government borrowing from the banking system. The policy was largely successful in reducing the growth of the money supply and total domestic credit. Net credit to the government actually declined in FY 1986. The problem of credit recovery remained a threat to monetary stability, responsible for serious resource misallocation and harsh inequities. Although the government had begun effective measures to improve financial discipline, the draconian contraction of credit availability contained the risk of inadvertently discouraging new economic activity.
Foreign exchange reserves at the end of FY 1986 were US$476 million, equivalent to slightly more than 2 months worth of imports. This represented a 20-percent increase of reserves over the previous year, largely the result of higher remittances by Bangladeshi workers abroad. The country also reduced imports by about 10 percent to US$2.4 billion. Because of Bangladesh's status as a least developed country receiving concessional loans, private creditors accounted for only about 6 percent of outstanding public debt. The external public debt was US$6.4 billion, and annual debt service payments were US$467 million at the end of FY 1986.
 OVERVIEW OF SOCIAL ISLAMI BANK LIMITED
Islamic ideology encourages us to succeed in life here& hereafter. To achieve this success we must follow the way dictated by the HOLY QURAN and the path shown by Rasul (SM). With this goal in view Social Islami Bank Ltd was established (registered) as a public limited company on 18 June 1995. The inaugural ceremony took place on 27 September 1995. The authorized capital of the Bank is TK.2500.00 million and the paid up capital TK.1153 million. Some very renowned Islamic personalities and pious businessmen of the country are the sponsors of the bank. The total paid up capital was invested locally.
The Bank is committed to contribute significantly in the national economy. It has made a positive contribution towards the towards the socio economic development of the country by opening 46 branches on which 16 authorized dealer (AD) throughout the country.
The equity of the bank stood at TK.2037 million Crore as on 31 December 2007, the manpower are 1033 and number of shareholders are 12013.
The Bank conducts its business on the principles of Musaraka, Bai-muazzal, and hire purchase transactions approved by Bangladesh Bank. Naturally, its modes and operations are substantially different from those of other conventional commercial Bank. There is a Shariah council in the Banks who maintains constant vigilance to ensure that the activates of the bank are being conducted on the precepts of Islam. The Shariah council consists of prominent Ulema, reputed, Bankers, renowned lawyers and eminent Economist.
Aspire to be the most admire financial institution in the country, recognized as a dynamic, innovative and client focused company that offers an array of products and services in the search for excellence and to create an impressive economic value. Social Islami Bank Limited stared its journey with the concept of 21st Century Islamic participatory three sector banking model: 1) Formal Sector Commercial banking with lasted techonology.2) Non formal sector family empowerment Micro Credit and Micro enterprise program and 3) Voluntary sector Social capital mobilization through CASH WAQF and other finally.
To be the bank of 1st choice by creating exceptional value for their clients, investors and employee alike.
High quality financial services with the lasted technology
Achieving the satisfaction of Almighty Allah both here and hereafter
 Fast, accurate and satisfactory customer service
Balance and sustainable growth strategy
Optimum return on shareholder quality
Introducing innovative Islamic banking products
Attract and retain high quality human sources
Proliferation of Shariah Based Banking practices.
Quality financial services adopting the latest technology
Balanced growth.
Steady and competitive return on shareholders' equity.
Attract and retain quality human resources.
Extending competitive compensation packages to the employees.
Firm commitment to the growth of national economy.
Involving more in Micro and SME financing.
MARKETING STRATEGIES OF SIBL
To attain the above vision and mission SIBL follow the following Marketing Strategies:
1        The main strategy of the bank is using Islami Banking System to attract its market.
2        Providing efficient customer service
3        Maintaining corporate and business ethics
4        Being trusted repository of customers' and their financial advices
5        Making its products superior and rewarding to the customers
6        Display team spirit and professionalism
7        Sound capital base
8        Enhancement of shareholders wealth
9        Fulfilling its social commitments by expanding its charitable and humanitarian activities
10    Providing high quality financial services in export and import trade.
11    Building tight personal relationship with customers and clients
SPECIAL FEATURES OF SIBL
1.      All activities of the bank are conducted according to Islamic Shariah where profit is the legal alternative to interest.
2.      The banks investment policy follows different modes approved by Islamic Shariah based on Quran & Sunnah.
3.      The bank is committed towards establishing welfare oriented banking system, economic upliftment of the low-income group of people, create employment opportunities.
4.      The bank is contributing to economic and philanthropic activities side by side. SIBL English Medium Madrasah and SIBL library are among mention worthy.
INFORMATION TECHNOLOGY OF SIBL
SIBL has already started providing on-line general banking services to the clients from 23 May 2008 through a network of all branches in the country using satellite based Communication links. This bank is a member of the Society for Worldwide Interbank Financial Telecommunications (SWIFT).All of the Authorized Dealer Branches has SWIFT connectivity. The bank will introduce a few more products for the client, such as, SMS banking, Tele-banking, Internet Banking etc in near future. To present the overall picture of the bank to the Depositors, Shareholders, and Investment Clients and Well wishers in home and abroad transparently bank has designed a web site as www.socialislamicbd.com.
Social Islami Bank Foundation
The Bank has a Foundation launching philanthropic activities Social English Medium Madrasah and Social Islami Bank Library are major two wings for launching philanthropic activities.
Social English Medium Madrasah has been established by the Social Bank Foundation with a view to building next generation according to the ideals of peace and equality of Islam and to establishing banking and other aspects of life in the way of Islam. The prime aim of this madrasah is to contribute towards building human resource and in the broader sense to ensure human welfare. With this in view Social Islami Bank Foundation has established an English Medium Madrasah at Dhanmondi in 1999. Such institution up to O level of its kind is for the first time in Bangladesh.
Social Islami Bank Library
Library is the carrier and reservoir of knowledge. Social Islami Bank has shown that other than generating profit, it can also contribute significantly in the field of providing good source of knowledge by establishing a public library at 32, Topkhana Road, Chittagong Bhaban (1st floor), Dhaka, thus strengthening social development. It is placed in sound, healthy surroundings. It harbours 23,000 books of reference for the researchers, students, professionals, bankers, physicians, engineers, politicians, writers or journalists, even for the kids. It is open to all from the year 2000 and well located & accessible to everybody. It procured some exceptional collection of books on Religion, Economics, Banking, Computer Science, Business Administration, Sociology, English & Arabic language and juvenile literature in Bangla, English, and Urdu & Arabic which are very rare.
Varieties of good books were procured in the library, but those were predominantly to enrich Islamic knowledge and culture. To fulfill that goal Social Islami Bank distributed a total of 1084 copies of Arabic-BangIa 'Torjomatul Quran' to all the upazillas of the country.
Education is the harmonious development of body, mind & soul. If religion is not attached to it the real attitude towards life and values will fail to develop. It is mandatory to learn Elm-e-Din to govern our life in the right way of Islam. To fulfill this noble intention Social Islami Bank Library started Dars-ul-Quran (Teachings of Quran) program. This program will cover translation with detail explanation of Quran starting from Sura Fatiha upto Sura Nas gradually. Dars-ul-Quran program takes place every Monday after Magrib prayer.
Other than this Social Islami Bank Library arranges shows of feature films or Documentary films on Islamic life & Culture.
 Manpower of SIBL Agargaon Branch:
| | |
| --- | --- |
| Designation | Total Number |
| VP | 1 |
| Second Officer | 1 |
| Senior Officer | 4 |
| Officer | 3 |
| Junior Officer | 5 |
| Assistant Officer | 7 |
| M.C.G | 1 |
| Total | 22 |
HUMAN RESOURCE
Social Islami Bank employees are a large number of employees for performing various jobs. Some of them are newcomers. They need more knowledge and skill for better performance of jobs. They are, therefore, in need of proper training to contribute to the achievement of the organization goals. There are some jobs that require little or no training but many of them need to be performed by adequately training. The use of modern technology has created new jobs in the organization, which required training.
Training involves the change of skills, knowledge, attitudes or behavior of employees. Although training is similar to development in the methods used to attract learning, they differ in time frames. Training is more present day oriented; its focus is on individuals' current jobs, enhancing those specific skills and abilities to immediately perform their jobs. Employee development, on the other hand, generally focuses on future jobs in the organization.
Training differs from education. Training is concerned with increase in knowledge, skills and abilities of the employees in doing a particular job. It has a narrow aim limited to increase in knowledge and skill related to a job. Education, on the other hand, broadens the mental facilities and horizon of knowledge. It is concern with enhancing general knowledge and motivating one to understand the total environment.
Training is often understood as a learning experience. So, if employees are to understand what training can do to improve an employee's job performance, employee should begin by explaining how learn.
Training widens job related knowledge of the employee. Employees become more skilled and update their knowledge through training. Training provides necessary instructions for performing the current job efficiently. Training differs from education and development.
Imparting of training to the employees has become very much important in modern times for better performance of the job. Here it can be said that the question of training does not arise but making choice of the method of training arise.
 BALANCE SHEET OF SIBL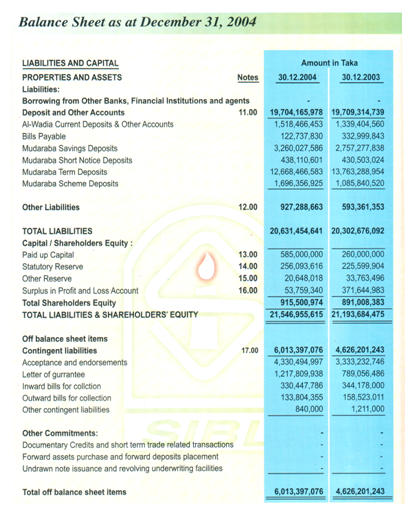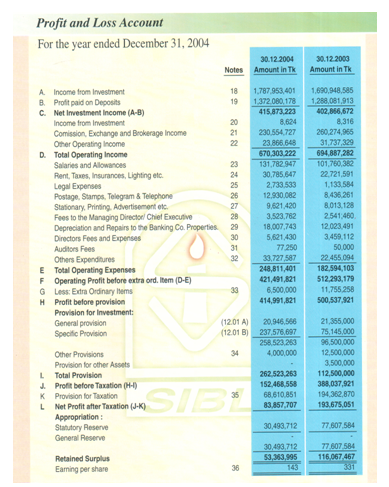 FINDINGS AND ANALYSIS
1        SIBL profit earning capacity is not satisfactory.
2        Its marketing strategy is not well designed.
3        Existing Human Resources are not sufficient for SIBL. They have to recruit more skilled employees.
4        Number of Branches are not satisfactory, SIBL have to give more emphasize on increasing number of Branches.
5        Recruitment and selection process is a time consuming and lengthy process and irregular.
6        The whole activities of SIBL is not computerized, still there exist manual record keeping system.
7        Sometimes Islami Shariah are not properly followed.
8        Job security is lower in SIBL.
9        Insufficient training program for the employees.
10    Slower in modernization comparing with its competitors.
11    The working environment in any branch is not congenial & appropriate. The working desk provides sound pollution. It looks like a hall room.
12    The modern technology is not used in the recruitment and selection process. The backdated methods are using for selection till today.
13    Salary structure of SIBL is satisfactory comparing with other Islamic Banks, the pension policy and the payment of pension to the employees are very fair and transparent.
14    The transfer and promotion process is fair but the promotion is not faster.
15    Loan facilities are very attractive to the employees of SIBL.
16    Most of the policies are backdated. Only the authority amends the policy but preserve the old policy.
17    There is no policy to build up harmonious relationship among the employees. The employees cannot protest the injustice of the authority because the pure trade union is absent there.
18    The record keeping system is also backdated, not followed computerized system properly
19    Security system of many branches is not sufficient.
 RECOMMENDATION 
SIBL should concentrate in increasing its profit earning capacity.
It should develop effective marketing strategy to attract new customers.
Raising the capital, statutory reserve and increase the investment.
The number of branches should be increased
Expand and diversify customer base.
Upgrade Online Banking.
Recruit more skilled employees regularly.
Bank should introduce independent 'Marketing Department'
Personal relationship should be build with the customers.
Customers are the heart of the organization. They should provide more space in the office and if possible they should have some entertainment facility.
The employee of the branch should be trained continuously.
Few branches are not under online banking system, so all the branches should confirm on line banking system.
More meetings, seminars, symposiums and get-together should be organized by the Branches to develop the awareness among the clients of the Bank about Islamic Banking and its advantages.
Ensure stable dividend.
Ensure high level customer service.
The Bank should follow Islami Sharia strictly in every of its operation.
Bank should introduce ATM system.
Should introduce one-stop service centre.
Bank should keep their annual report, brochure, bulletin etc. available to provide their customer.
Bank should introduce consumer credit scheme.
Bank should increase their office space and take more care in interior decoration.
Bank should introduce independent 'Marketing Department'.
Some new investment schemes are to be introduced for socio-economic development and welfare of the distressed humanity.
Finally the Bank should has the vision to automate its all operations and functionalities and should be committed to achieve the goal to be a lead Bank in the country both in service and in technical aspect and to fulfill the requirements of mass people.
Today the banking service is very competitive. From the practical materialization of customer dealing procedure during the whole period of my practical orientation in Social Islami Bank limited I have reached a firm and concrete conclusion in a very confident way. I believe that my realization will be in harmony with most of the banking thinkers. It is quite evident that to build up an effective and efficient banking system to the highest desire level, computerized transaction is must.
Social Islami Bank Ltd. is a new generation Bank. It is committed to provide high quality financial services/products to contribute to the growth of G.D.P of the country through stimulating trade and commerce, accelerating the pace of industrialization, boosting up export, creating employment opportunity for the educated youth, poverty alleviation, raising standard of living of limited income group and overall sustainable socio-economic development of the country. The is not so far when it will be in a position to overcome the existing constraints and it may be expected that by establishing a network over the country and by increasing resources this bank will be able to play a considerable role in the portfolio of development of financing.
Success in the banking business largely depends on effective lending. Less the amount of loan losses, the more the income will be from credit operations. The more the income from credit operations the more will be the profit of the Social Islami Bank Ltd. and here lays the success of credit financing.
It can be argued that though the results achieved so far are not satisfactory, credit financing is a modern scientific technique for enhancing Social Islami Bank's strength and there lies the opportunities to make it more effective in the future for our own benefit.
From the learning and experience point of view I can say that I really enjoyed my internship at Social IslamiBank Ltd. from the very first day. I am confident that this 03 (Three) months internship program at Social Islami Bank Ltd. will definitely help me to realize my further carrier in the job market.
BIBLIOGRAPHY 
1.      Annual Report of Social Islami Bank Limited (2010)
2.      Several Booklets from Social Islami Bank Ltd.
3.      Several Newsletter s from Social Islami Bank Ltd.
4.      Social \ Islami Bank web site, www.al-arafahbank.com
5.      Credit Operational Manual of Social Islami Bank Limited.
6.      'SHARIAH MANUEL' published by Social Islami Bank Limited.
 7.    www.siblbd.com, www.islamibankbd.com
8. www.bangladeshbank.org
9. www.wikipedia.org