Rational for selecting the Report:
Internship Program of Evening MBA Program of Dhaka University is a graduation requirement for the MBA students. The main purpose of internship is to get the student exposed and experience to the job world. Being an intern the main challenge will be translate the theoretical concepts into real life experience.
The internship program and the study have following purposes:
  To get and organize detail knowledge on the job responsibility.
  To experience the real business world.
  To compare the real scenario with the lessons learned in MBA
  To fulfill the requirement of MBA Program
Grameenphone Ltd. (GP) is the market leader in the mobile telecommunication industry of Bangladesh. The address of its Head Office is: GP HOUSE, Bashundhara, Baridhara Dhaka, 1229, Bangladesh. The basic function of telecommunication is to connect people through voice transfer and via Internet. Apart from this basic function, telecommunication has already started introducing some diversified areas with the help of its mobile network. Mobile technology is presently providing various cheap solutions in people's daily life. Today, "The Globe is a village" and telecommunication has become a day-to-day necessity of the people. For the internship report, the topic was assigned by the institutional supervisor to know about Value Added Service provided by the Grameenphone.
 Background of GrameenPhone Limited:
Grameenphone widely known as GP is the leading telecommunications service provider in Bangladesh. With more than 37.7 million subscribers (as of April 2012), Grameenphone is the largest cellular operator in the country. It is a joint venture enterprise between Telenor and Grameen Telecom Corporation, a non-profit sister concern of the internationally acclaimed microfinance organization and community development bank Grameen Bank. When Grameenphone started its journey cell phone was a luxury product for everyone. Before the advent of Grameenphone cell phone was mostly used by some urban people. Grameenphone started its journey with Village phone program. This initiative was taken to empower rural women of Bangladesh. Grameenphone started their journey on 26th March 1997.Since then Grameenphone has come a long way. It became the first and only operator to cover 98% of the country's people with network. Grameenphone has built the largest cellular network in the country with over 13,000 base stations in more than 7000 locations. It is the first company to introduce GSM technology. Grameenphone's the first operator to start the pre-paid service in September 1999.It also established 24 hour call center, started offering value added services like VMS, SMS, fax and data transmission services, international roaming service, WAP,SMS-based push pull services, EDGE, personal ring back tone and many other products and services.
The technology used by GP can only be described as state of the art. GP's Global System for Mobile or GSM technology is the most widely accepted digital system in the world, currently used by over 300 million people in 150 countries. GSM brings the most advanced developments in cellular technology at a reasonable cost by spurring severe competition among manufacturers and driving down the cost of equipment. Thus consumers get the best for the least.
GP is best known for its service rather than its low tariff and value added services. GP believes in service, a service that leads to good business and good development. Telephony helps people work together, raising their productivity. This gain in productivity is development, which in turn enables them to afford a telephone service, generating a good business. Thus development and business go together.
 As a result GP is delivering the digital revolution to the doorsteps of the poor and unconnected. By being able to connect to urban areas or even to foreign countries, a whole new world of opportunity is opening up for the villagers in Bangladesh. Grameen Bank borrowers who provide the services are uplifting themselves economically through a new means of income generation while at the same time providing valuable phone service to their fellow villagers. The telephone is a weapon against poverty.
Employment:
Grameenphone has also generated direct and indirect employment for a large number of people over the years. The company presently has over 4,800 employees with another 150,000 people are directly dependent on Grameenphone for their livelihood, working  for  the Grameenphone  dealers, retailers, scratch card retail outlets, suppliers, vendors, contractors and other  business partners.
Grameenphone The Brand:
Our brand promise is "Stay Close". This comes from the realization that a connection exists between every person regardless of the distance that separates. And each person is designed to seek out those connections, to stay in touch. Grameenphone serves as that correlating string that connects thousands of people across the country, across the world. It makes the daunting physicality of distance and time trivial. And thus it bring people together, holding their dreams and hopes, joys and sorrows, helping them stay close.This power to connect all, eliminating all differences, is the power of Grameenphone – the power to create magic for every common man, the magic of love, the magic of closeness
COMPANY VISION:
We exist to help our customers get the full benefit of communications services in their daily lives – "We are here to help"
COMPANY MISSION:
Grameenphone is the only reliable means of communication that brings the people of Bangladesh close to their loved ones and important things in their lives through unparalleled network, relevant innovations & services.
COMPANY VALUES:
     MAKE IT EASY
Everything we produce should be easy to understand and use. We should always                      remember that we try to make customers' lives easier.
 KEEP PROMISES:
Everything we do should work perfectly. If it doesn't, we're there to put things right.
We're about delivery, not over-promising. We're about actions, not words.  
   BE INSPIRING:
We're creative. We bring energy and imagination to our work. Everything we produce should look fresh and modern.
    BE RESPECTFUL:
We acknowledge and respect local cultures. We want to be a part of local communities wherever we operate. We want to help customers with their specific needs in a way that suits way of their life best.
Objectives:
To get a basic concept about VAS (Value Added Service).
To get an Idea about product & Service offered by Grameenphone.
To get an idea on types of VAS Provided by Grameenphone.
To get an idea about factors driving the growth of VAS.
To get an Idea about VAS future in Bangladesh.
To get an Idea about VAS Value Chain of Grameenphone.
To present an overview about VAS promotional activity of Grameenphone.
       Part 2: ACTIVITIES UNDERTAKEN
Activities Undertaken:
 Work Related:
During my period in the Content and Applications Product, Commercial Division I have been assigned to various roles and responsibilities. I had to work with numerous colleagues within or outside my department. I had to carry out a lot of tasks which is probably not the duty of our department, but those were given to me so that I could be exposed to different conditions and learn a lot of new things. And all these things worked wonders for me as I not only learned the working process of my unit and department, but I also learned how our contact points (other departments who support our activities) work and what are their responsibilities. I also learned how some of the other significantly important departments fulfill their duties because that made me understand the way this industry works and how Grameenphone align its business with 3rd parties and the Government. My assigned supervisor was, Mr. Tonmoy Bashar, DGM, Head of Content Portfolio Management under Product Team of Commercial Division. My responsibilities includes give inputs in Strategy level of VAS as an general customer/user, UAT (User Acceptance Test), data input, attaining meetings, attaining research, Idea generation(GP toolkit) related to the strategies of  new product and development of product Commercial Division. Also maintain the stakeholder relationship includes Technical, IT, Customer Service, Distribution & Retail Sales, Voice of the Customer, Customer Experience, Finance team, considering the total value chain.
 Commercial Division:
The Commercial division is responsible for all the marketing activities of the organization. This division, headed by one of the directors Allan Bonke, is divided in to 9 further departments.
                                             Commercial Division Chart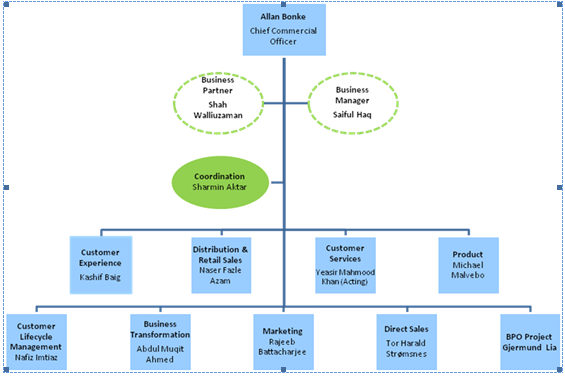 *Business Manager will report directly to Business Finance, Finance.
*Business Partner will report directly to Business Partner, P&O
 Figure 1: Commercial Division Chart (Source: Grameenphone website)
What is VAS:
Initially mobile telephony only provided voice based service, although even this caused a
Revolution in the field of telecommunications. After a period of time, service providers began
To transmit data on the same channel as voice, hence better exploiting the available channel resources. As a result any additional non-voice service is called a Value Added Service
(VAS). More formally value added services refers to non-core services which are offered to
The customers apart from the core or basic services. Mobile value-added services (M-VAS) are the ability for cellular operators and service providers to charge a premium price for the services (beyond voice conversation) they offer to their subscribers (mobile users). Some of the services include: SMS (text messages), MMS (multimedia messages), USSD (interactive menu based services), CRBT (caller ring back tone), video streaming, mobile advertisements, participation in polls and contests, location based services, mCommerce (financial transactions), Instant messaging, Infotainment services (news, weather reports, songs, recipes), content downloads (wallpapers, screen savers, games, ring tones), down loadable mobile applications. These are just a few of them which one can imagine at immediate contemplation. List is inexhaustible based on handset compatibilities and customer demands.
 Few of my general responsibilities as an Intern are enlisted below:
Reporting writing & presenting for different unit purpose related to portfolio (content, service & products).
New Product Quality testing for Pre & Post live for campaign & permanent offer.
Involve and assist team members in different phases of project work.
Participate in customer journey mapping of as part of the CEX (Customer Experience) index.
Coordination in different cross functional issues & technical development follow-up for Product/campaign launching or any tools development.
Generate new ideas.
Document Competitor's Product Portfolio (VAS).
Explore existing ideas and suggest appropriate and feasible improvements.
Perform UAT (User Acceptance Test) for many products and services.
Contact internal/external stakeholders for technical support.
Study, document and report competitor activities regarding Value Added Service.
Recommend mitigation plans.
Planning research activities.
Study different Value Added Service by foreign telecom companies and suggest packages feasible in Bangladesh.
Documentation of contract paper.
Stated above are the responsibilities that I had to meet every day as part of my routine tasks. Apart from these responsibilities I also had to get involve in different projects and work as per needed. My colleagues were very helpful and they believed in me a lot to assign me different kind of activities in order to ensure that I gather valuable experience and knowledge about how Value Added Services are developed and maintained throughout their lifetime.
Factors driving the growth of VAS in Bangladesh:
The Bangladesh VAS industry is growing at a rapid rate for various reasons. One factor is economic growth and another factor is availability of mobile phones and data plans at much cheaper rates. In Bangladesh, VAS services are mostly provided in weekly & monthly plans. Two or more VAS services are often packaged together in a single set, which appeals to a lot of subscribers. Moreover, Bangladeshi love to participate in SMS contests of reality bites SMS contests and other digital services. At present, VAS revenues are mostly from SMS services, but when 3G services finally get out of their red tape, an increase in the general usage of VAS is anticipated.
VAS's future in Bangladesh:
The Bangladeshi telecom industry is growing at an unprecedented rate. The fastest growing market is also improving its services in addition to providing standard calling services. BTRC predicted a bright future for VAS services in Bangladesh, paving the way for a revolution in the telecom industry. The Bangladeshi urban landscape of potential mobile subscribers has pretty much reached saturation, but in rural still relatively untouched in terms of using VAS, constituting only 15% of the country's entire VAS consumption. Cellular operators have already made efforts to enhance their mobile subscriptions in rural area but there are a lot of factors to consider such as the availability of content in affordability of handsets, and availability of economically viable prepaid/postpaid plans. Faster Internet connectivity may become the most desirable VAS in coming years. Bangladesh still lacks the infrastructure for the development of a faster mobile Internet network. The intervention of private players in providing the 2G/3G network will definitely boost the usage of the Internet and related VAS services, which are currently limited to browsing. A reliable service will largely determine the acceptance of 3G services in Bangladesh. There are numerous VAS players, mostly smaller content providers, who provide their services to cellular operators. The future is expected to see an amalgamation of content providers in the VAS industry and the emergence of a few strong large players. This coordination will provide a fertile ground for the growth of VAS and allow content providers and developers to turn a better profit, in addition to providing a greater revenue share for telecom operators. Manufacturers will bring in a new range of feature rich, yet reasonably priced cell phone models. They will be embedded with Java, GPS, GPRS and 3G technologies to support high-end VAS services. These low priced phones will also feature tiny software packages for supporting music and video related VAS.
Mobile commerce is also one of the fastest emerging VAS in Bangladesh. Mobile commerce has the most potential to become a popular VAS in Bangladesh. However, it's also the most problematic, with security concerns that need to be overcome.
Value Added Services Value chain:
Grameenphone VAS operating modes can be divided into three different types based on the degree to which operators are independently providing (Branded Value Added Service), cooperatively operating (Non Branded), and fully outsourcing common value chain.
The VAS value chain consists of a number of different stake holders, the main stake holders are content copyright owners, customized content creators, content portals/aggregators, mobile operators, technology enablers, and handset manufacturers. These are discussed in detail below.
Content copyright owners: Content copyright owners are the first link in the value chain of MVAS as they develop the original contents. Examples of content copyright owners include Laser Vision, Spondon, Sangeeta, Hungama, CDChoice.
Customized content creators: Customized content creators generate customized content for users through their own portals. Examples include TTBC, INFOREV, Gaak, GTech,B2M, Hungama Mobile etc.
Content Portals/Aggregators: Content portals or aggregators gather web contents and in some cases distribute content to suit their customers' needs. Examples include Bin-Bit, Hungama mobiles.
Mobile Operators: The transport and support mechanisms for the delivery of mobile contents are provided by the mobile operators (Grameenphone).
 Technology Enablers: The technology enablers provide the underlying platforms that enable access to MVASs. Examples of technology enablers in Bangladesh On Mobile.
 Handset Manufacturers: Mobile handset manufacturers play a very important role across the value chain. The handset manufacturers have different activities in various fields, such as embedding software links in their handsets, allowing direct access to content portals, creating services customized to the need of certain regions, etc. The main players in the Bangladeshi handset market include Nokia, ZTE, Symphony, Micromax etc.
Software developers: Software developers also play a major role in the value chain of the MVAS industry which develops most of the VAS applications used in the modern handsets. It represents all the major players in the value chain described above (specifically the Content owner / provider, content aggregator, Technology enablers, Mobile operators, Handset Manufacturers and the software developers)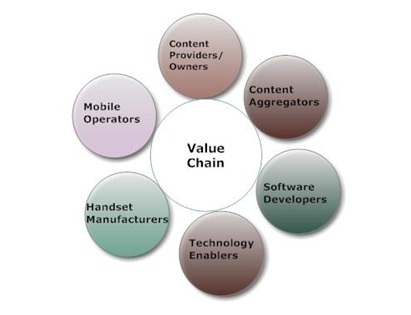 VAS promotional activity of Grameenphone:
Grameenphone uses different types of media to promote their Value Added Service. To select media depend on the target audience, product feature and cost, some promotional activities are given below:
    Newspapers:
Newspaper covers all sorts of information about Grameenphone VAS.VAS advertise published in sports page, in Magazine.
 Television:
Television is an effective media for good mass-market coverage. Television telecasts messages about new VAS product and it is mostly used for persuasive advertisement.
 Radio:
Within a lower cost, Grameenphone broadcast their VAS massage through radio. It is a better way for persuasive advertisement.
Magazines:
 An effective media that Grameenphone uses as a promotional tool to achieve the customer's awareness about Grameenphone VAS. It is an effective media for informative and persuasive advertisement.
  Internet:
Internet performs effective promotional tools Grameenphone VAS advertising. It gathers all sort of information about Grameenphone.
   Push SMS:
Grameenphone Send SMS to their customer directly.
   USSD Service (Unstructured Supplementary Service Data):
When a customer check their balance they watch VAS advertise after balance remaining.
Organization wide:
Organogram  and Management: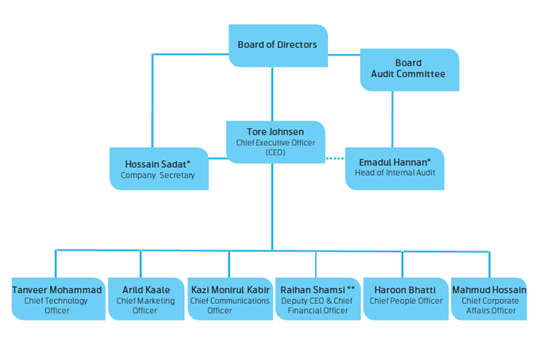 Figure 1.3: Organogram and Management (Source: Grameenphone Annual report 2011, page no 17)
Division at Grameenphone Ltd:
Grameenphone Ltd. has approximately 6000 employees working at different levels of organizational hierarchy. There are 9 functional departments engaged in managing these employees‐ with the aim to meet organizational objectives. Grameenphone follows a mix of centralized and decentralized decision making process‐where the top management mainly takes all the strategic decisions while the functional managers have flexibility to take decisions by themselves on a day to day basis. At Grameenphone the Managing Director is assisted by 9 Senior Executives who are heading different departments in the strategic decision making process. The departmental names of Grameenphone are given below:
  Corporate Affairs Division
  Customer Service Division
  Finance Division
  Human Resource Division
  Information Technology Division
  Internal Audit Division
  Internal Control Office Division
  Marketing Division
  Network Division Public Relation Division
  Sales Division
Grameenphone follows a 3‐layer management philosophy in Bangladesh. These are Directors, Managers and Officers. The CEO is the top most authority of all the levels. Directors are the departmental heads that are responsible for the activities of their departments. Managers have the authority next to directors. These two layers represent the management level of Grameenphone. Officers are the next persons to stand in the hierarchy list. They are the typical mid‐level employees of Grameenphone's organizational hierarchy. These officers are responsible for managing the operational activities and operating level employees
Product & Service:
Grameenphone products and services includes Sim packages, handsets, internet, International roaming and mobile services(value added services).Besides these Grameenphone also include offers for the benefit of their customers .Each product and service is elaborated below: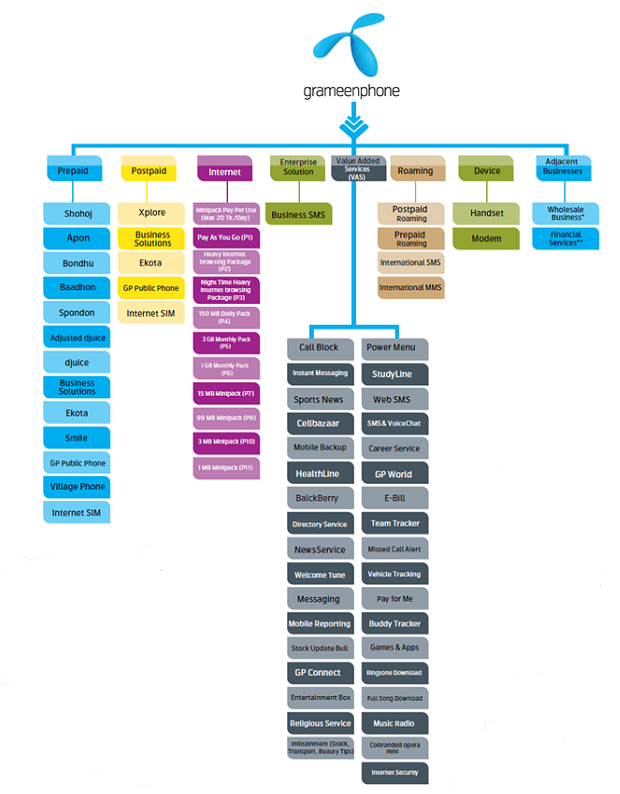 MOBILE SIM PACKAGES:
 Shohoj:
Shohoj is a prepaid connection where you will be able to talk to any operator number at a flat rate.
Aapon:
You can talk to over 37 million Grameenphone numbers at a very low rate of 13 Paisa per 10 second.
Bondhu:
This package with the highest number of F&Fs allows you to talk to your near and dear ones at the lowest rate.
Spondon:
"Spondon" is the new attractive price plan from Grameenphone which gives you the opportunity to "Pay only as much as you will talk".
Djuice:
New djuice price plan from Grameenphone Ltd. is designed with the Youth in mind.
Xplore:
Xplore is a postpaid connection and is available with Mobile to Mobile with BTCL connectivity. BTCL incoming is absolutely free in Xplore.
Smile:
The Grameenphone Smile prepaid connection now gives you more freedom, more opportunities and more reasons to smile.
My Zone:
Activate MY ZONE and enjoy up to 86% discount in their call rate.
Amontron:
"Amontron" is the new attractive price plan from Grameenphone which gives you the opportunity to talk to any other operator at a call rate of 11 paisa per 10 second (24 hours).
Nishchinto:
Flat rate of 15 paisa per 10 second for 24 hours and 20% Instant money back facility on local voice call usage.
Internet:
Internet is the most convenient medium of information, through which people can enhance their knowledge, spread the same from one corner of the globe to whichever place they wish with a single click. Grameenphone provides various internet packages and devices for information, entertainment, social networking on mobile phones, personal computers and laptops. Grameenphone provides internet to the people in the following ways:
Desktop and Laptop browsing: by using the mobile as modem or by internet modem
Mobile screen browsing: WAP/internet browsing on the mobile
Some of the packages are-
 Mini pack Pay Per Use is for only prepaid subscribers where Internet usage where Internet usage is chargeable at BDT 0.02/KB up to a maximum of BDT 20/Day, between 12am-11.59pm daily.
 Pay as you go (P1) is a pay-as-you-go offer which is applicable for Post Paid subscribers onlyFor every kilobyte (KB) of data browsed, subscribers are charged BDT 0.02(excluding VAT).
 Minipack 3MB is an Internet Combo pack 3MB Data and 3MMS at BDT 9 (+15% VAT) with 3 days validity.
 Minipack 15MB  is an internet offer, Browsing/downloading capacity up to 15MB @ BDT 29 (+VAT).
 Minipack 99MB   is an internet offer, Browsing/downloading capacity up to 99MB @ BDT 99 (+VAT).
 1GB Package P6 is an internet offer of 1 GB per month @ BDT 300+VAT.
 Heavy Internet browsing Package P2 (FUP enforced after 5GB : Large screen internet package designed for heavy browsing by advanced users with 30 day validity, monthly charge is BDT 850 (excluding VAT).
 Night Time Heavy Internet browsing Package P3 (FUP enforced after 5GB): P3 is heavy browsing by advanced users during night time, with 30 day validity, monthly charge is BDT 250+VAT.
 Daily 150MB Package P4 is 150MB data usage limit in a day and daily charge is BDT 60+VAT.
 3GB Package P5 is an internet offer of 3 GB per month @ BDT 700+VAT. The package has a validity of 30 days (from the date of activation).
 1GB Package P6 is an internet offer of 1 GB per month @ BDT 300+VAT. The package has a validity period of 30 days
Value Added Service (VAS):
Value-added service (VAS) is a popular telecommunication term referring to services beyond standard voice calls, offered by mobile network providers or by third-party VAS providers.
 Call Block:
Call Block Service enables subscribers to easily block unwanted calls to their mobile phones anytime, anywhere through its Blacklist feature. Recently, Grameenphone has also introduced the White list feature to allow only certain numbers to be able to call the subscriber, keeping all other callers blocked.
   MobiCash:
Grameenphone brings another technological marvel- MobiCash Ticketing, With MobiCash Ticketing service, one can buy Intercity Train tickets in advance from his/her own mobile phone. One can sit at the comfort of his/her own home and stop worrying about collecting train ticket for you upcoming journey.
  Missed Call Alert:
Missed Call alert service notifies customers about missed due to keeping the phone switched off or being out of network. The subscriber will be notified by SMS about the details of missed call.
  Infotainment Service:
Infotainment service includes Fashion related tips, Recipe, Beauty Tips, Transport Tour package guideline by dialing the IVR port 2666.
  Mobile Backup Service:
Mobile backup service gives the facilities to store mobile data. One can store data including Contacts, SMS, Photos, and Music etc. These data are stored in Grameenphone secure server also enables to restore the saved data back to existing mobile or new mobile when necessary.
For high end Handset (EDGE/GPRS enabled) this service charge is BDT 20/month +15% VAT. For Low End Handset (Non-EDGE/GPRS enabled) this service charge is BDT 10/month+15% VAT.
 MMS:
Multimedia Messaging Service (MMS) is an exciting way to share moments.MMS of pictures, animations, music, video clip (up to 100 KB).Pictures and video clips can also be send to e-mail address. Local GP TO GP mms BDT 3.00.GP to Airtel, GP to Robi cost BDT 3.00 +15% VAT included.
 Voice SMS:
If someone is unable or unreachable to answer calls within 20 seconds, this service will automatically divert the call to user's voice mail. The subscriber is notified by a message and can hear it when convenient.
 Pay For ME:
A GP subscriber can call another GP subscriber through Pay for me service even if the caller does not have any balance. Grameenphone is also offering new feature for Pay for me subscriber. One can select and de-select phone numbers for using this service known as white list and blacklist concept. Subscribers can make the list of phone numbers they want to receive the pay for me request and add to white list. Similarly the list of unwanted phone numbers can be blocked for activating the pay for me request through blacklist.
 BillPay:
Grameenphone's Bill Pay service brings a hassle free and secure electronic solution to pay  utility bills. Now one can easily pay utility bills from his/her  nearest Bill Pay authorized shop or through  own GP mobile seven days a week anytime and from anywhere.
 Cell Bazaar:
Cell bazaar is a service from Grameenphone that allows buying or selling over mobile phone. If anyone wants to sell something, post the information on Cell Bazaar through Grameenphone, and buyers will want to contact. If someone looking for something to buy, or a service (e.g., tutor), one can look for it on Cell Bazaar and contact the seller directly. When buyers sees an item they like, they can call the seller, get additional information, and meet the seller to complete the transaction. Cell Bazaar is a platform for buyers and sellers to find each other.
 GP SMS Chat:
GP SMS Chat is a SMS Based Chatting Service where one can meet new friends & chat with them. One can also chat with multiple friends simultaneously at crowded chat rooms.
  Vehicle Tracking System:
Vehicle tracking service is a GPS based vehicle tracking system which helps to give information to the vehicle owner about the vehicle location and other related statues of vehicle. The authorized person can get the information about the vehicle through SMS and web. If the vehicle has been configured with a maximum speed limit and when the vehicle speed exceeds the limit the system will send an over speed alert SMS to the car owner. Any time the car owner can know about your vehicles engine status. Multiple vehicles can be managed in one interface. Maximum Speed limit can be customized from the web interface don't need call operator for assistance. Viewing car location through mobile is also possible. Three years of product replacement warranty is provided for this service. Mobile phone version available for J2me supported phones. 24/7 call center support for after sales service. The start up fee for the service including the device price is BDT 12,200 (Including VAT) and the monthly service fee is BDT 750 + VAT. There will be up-to 20% discount for corporate organizations on both the fees based on volume. The individual subscribers will be able to enjoy up-to 20% discount on monthly service fee based on advance payments.
  Voice SMS:
A service which enables a GP subscriber to record a message or greeting and send it instantly via SMS. To send a voice SMS one has to put *(star) before and after the cell number. After the beep tone the message has to be recorded and the line has to be disconnected to send the SMS. Receiver will receive an SMS notification asking to dial *0*, to retrieve the received message. To retrieve previous VSMS *1*has to be dialed. Tariff of GP to GP and others is BDT 2.00(excluding VAT). To listen an old voice SMS, tariff is BDT 1.00 (excluding VAT).
  International SMS:
Grameenphone allows exchanging SMS with dear ones in foreign countries. Grameenphone covers 188 countries, 542 operators around the world. This service is activated for all the Grameenphone pre-paid and post-paid customers.15% VAT is applicable for sending SMS to foreign countries.
  International MMS:
International MMS is a very useful service that allows customers to exchange MMS with friends, family members in foreign countries. Currently, Grameenphone covers 41 countries, 73 operators around the world.15 % VAT is charged for sending MMS outside Bangladesh.
 E-Bill:
Grameenphone came with the E bill concept to send the bills of post-paid customers through e-mail. E-bill service facilitates customers by providing diversified benefits like fast & accurate delivery, ensuring information security & contributing on green environment as well. This is the fastest and easiest way of getting bills. E bill is free of cost. SMS charge (Tk. 2 + 15% VAT/SMS) will be deducted for subscribe or cancel or change email address.
  Facebook SMS:
Without internet connectivity one can use facebook. Through SMS one can use basic functions of facebook like status update, send friend request, search friends etc. Users have to SMS writing fb and send to 32665 and a confirmation code will be sent to user via SMS which needs to be entered in users facebook account for initiate facebook SMS. Or follow this link from mobile: http://m.facebook.com/. Each SMS is charged only BDT 1 (excluding vat) and any incoming SMS is free.
  Smart Load:
Recharge to other GP prepaid numbers from A GP number is now much easier with "Smart Load". Through this service any GP prepaid subscriber will be able to recharge any amount through scratch card to any GP other prepaid number from his/her prepaid number. Recharge validity will be as per modality of search card. No premium will be charged for this service. Only Prepaid subscribers can avail this service.
  Quick Search:
Quick Search enables Grameenphone subscribers to execute Internet based searches even if they do not have Internet access in their mobile. Subscribers with Internet access can also use the service through a mobile based Java application. Tariff is excluding VAT of 15%.Data charges is added to the tariff.
  Buddy Tracker:
One can track anyone after activating buddy tracker service. One can also add friends to the tracking list. The person who will be track has to accept the request. If necessary, user can also deregister from buddy tracker service. Charges BDT 2.30 (including VAT) per SMS with no monthly fee.
 Entertainment Box:
Entertainment Box is a package of IVR services where you can listen to Bangla stories, TV schedule and Movie information through a single short code 1234 by Grameenphone mobile. Enjoy monthly, weekly and daily IVR based subscription on 1234.
  International Roaming:
International Roaming (IR) is a service that allows subscribers of one mobile network to use his/her own phone (number & handset) in foreign operators' networks while traveling outside home country. As of November 2010, Grameenphone has more than 380 GSM partner operators in over 120 countries in 6 continents and 176 EDGE/GPRS partner operators in 60 countries.
  POST-PAID Standard Roaming:
Through this service, any GP post-paid subscriber is eligible to enjoy voice SMS service even while s/he is travelling abroad. Our unique "One Country, One Rate" roaming tariff allows all valued postpaid roaming subscribers to enjoy same roaming tariff in specific countries – irrespective of different roaming partners' different charges, tax etc.
  SMS Roaming:
International roaming service without the VOICE facility is called 'SMS Roaming'. With this service, the subscriber can send/receive SMS while traveling abroad; however, VOICE call facilities will be barred while roaming.
  EDGE/GPRS Roaming:
EDGE/ GPRS is an advanced mobile technology and enables you to use high speed mobile internet and data services. This service can be enjoyed by the post paid subscribers only.
  PRE-PAID Standard Roaming:
Through this service, any GP pre-paid subscriber is eligible to enjoy voice SMS service even while s/he is travelling abroad. Subscribers can avail both Standard and SMS Roaming. No subscription fee for availing Roaming.
 In Flight Roaming:
Grameenphone is the 1st operator in Bangladesh to launch GSM roaming with Aerob Mobile. Aerob Mobile AS provides roaming facility onboard aircrafts, providing global coverage. It is a safe, cost effective solution allowing passengers to use their mobile phones and PDA's whilst in flight. Grameenphone subscribers with international roaming facility can avail roaming facility on board the aircraft. No additional subscription is needed. Subscriber can enjoy the service by switching the mobile phone on in-flight to access GSM services.
 International Roaming:
Grameenphone international roaming service is now available in sea and enables ship passengers and crew members to do business and stay close with near ones. Subscriber's phone need to be international roaming enabled to use Maritime Roaming. In maritime roaming subscribers can make call receive it from anywhere from the world just the subscriber have to have a GSM dual band (900/1800 MHz) or GSM single band (1800 MHz) mobile. Roamer can avail Voice SMS service.
Handsets:
 BlackBerry® Bold™ 9900:
The BlackBerry® Bold™ 9900 smart phone is the thinnest BlackBerry smart phone and the first to offer the perfect union of a high-performance keyboard and touch display integrated within the iconic BlackBerry Bold design. With its industry-leading keyboard, responsive high-resolution touch screen and high-speed browser capabilities, the BlackBerry® Bold™ 9900 continues the tradition of delivering the world's best mobile communications experience with a highly refined and integrated suite of phone, email, messaging and social apps to keep customers connected and productive throughout the day.
  Symphony:
Enjoy exploring the fascinating world of endless possibilities. Grameenphone, together with Symphony, brings an exciting new offer that will set you free. Any existing & new Grameenphone prepaid & postpaid customer can enjoy 300MB free internet every month for 6 months in a row, upon purchasing any of the two Symphony Smartphone's – Xplorer W5 and Xplorer W10.
Modem:
Grameenphone has introduced a new generation high-speed Internet modem. The price of the modem is BDT 2,565 only. The price of prepaid Internet SIM is BDT 150 and post-paid is BDT 200.One year replacement warranty is provided as well as after sale service at Grameenphone centers and touches points.
 Opera Mini:
One of the world's most popular browsers is opera mini. Opera has its own data optimization solution and hence this browser reduces web pages up to 90 percent of their size, making web surfing from mobile cheaper and faster. Grameenphone has launched a co-branded version of Opera Mini to associate larger Internet experience.
Data Optimization:
Grameenphone has introduced data optimization platform to cater the needs of its valued internet subscriber. The purpose of this platform is to provide enhanced network performance so that subscribers can enjoy faster web page loading & access to data service.
Other Relevant activities:
Corporate Social Responsibility of Grameenphone:
"EVEN a journey of a thousand miles begins with a single step…" – Chinese proverb
Grameenphone, live by the statement "Development is a journey, not a destination. "Grameenphone's work is not just about ensuring connectivity; it is about connecting with people and building relationships, based on trust, with  subscribers, business partners, employees, shareholders, as well as the wider community. Grameenphone always believed that good development is good business. Corporate social responsibility, 'complementary' combination of ethical and responsible corporate behavior, as well as a commitment towards generating greater good for the society by addressing the development needs of the country.
CR vision of Grameenphone:
To be recognized as the most socially responsible mobile operator in Bangladesh and in the corporate sector.
CR goals of Grameenphone:
Create shared value for Grameenphone and society through our mobile technology Integrate responsible business practices in all operations
Integrate responsible business practices in all operations
Maximize the enabling effect of mobile telecommunications
Promote safer products and services
Minimize our carbon footprint
Health
Education
Environment
Safe Motherhood & Infant Care Project
– More than 1.7 million free primary healthcare services to underprivileged pregnant mothers & their infants.
Free eye care support for around 28,780 people
– 3,458 eye sights restored so far.
Awareness building on varied national issues- AIDS, National Immunization Day.
Information boats with digitized livelihood contents and internal access for remote riverside communities.
Economic freedom for more than 400,000 Village Phone Operators.
More than 500 Community Information Centers- connecting life and learning.
Proud sponsor of Bangladesh Special Olympics team.
Employment opportunity to acid survivors.
Scholarship for underprivileged meritorious students.
Blood donation camps for underprivileged Thalassaemia patients.
Establishment of Blood Bank at Bogra for underprivileged patients.
Emergency relief effort in natural calamities.
Grameenphone's corporate responsibility initiatives focus on creating shared value through:
Grameenphone's CR initiatives are based on 3 main focus areas:
Some Key CR initiatives taken by Grameenphone:
Part 3: CONSTRAINTS/CHALLENGES AND PROPOSED COURSE OF ACTION
 Identified/ Observed in the Organization:
Lack of logistic support : This is one of the problem that I faced in Grameenphone as an Intern .IT department did not able to hand over my laptop in right time .It was hamper my work activities .
Restriction in access of information: Grameenphone strictly follow this, Interns are not allowed to access of information .Only official regular employee get this opportunity.
Restriction in Access of Wi-Fi: Internees are not allowed to access of Wi-Fi GP house .This in one kind of barrier.
Due to  Complaint  there  is  lots of  procedure  and it is time consuming: In GP  I faced this thing frequently .If any problem occur ,then I have to complain  in  specific department and then they taken initiative to solve it by appropriate person ,it is very time consuming and lengthy  process.
No allowance for internee: This is another problem that I faced in Grameenphone. They do not give any kind of allowance to their internee, but it is very essential for an internee because it is one of the motivational factors for an interne.
No drop facility: Grameenphone has no drop (transportation) facility for their interne.
Academic Preparation:
The main objective of an internship program is to make the bridge between the theoretical knowledge and implication of it in the practical professional life. There are number of courses have been undertaken during my MBA program and I have chosen Marketing, Business & Operational Strategy because of great importance of this field in the current and future professional life. My working department was Commercial department so it is quite related with Marketing and Business Strategy. I found some courses those were really useful as I needed the theoretical knowledge of those course while I was doing the internship program on Grameenphone. From all the courses few could be mentioned and they are:
Consumer Behavior: This course was highlighted the importance of consumer behavior for business manager. It was focused on different behavioral theories and their impact on the consumers in the market. The sociological and psychological foundations of market place choice are analyzed including lifestyle, social status, age, income, taste, habit, custom, fashion, culture, self-concept and opinion influences. It is very important for telecommunication sector.
Strategic Marketing: By this course I got an idea of how different service organizations can plan and accomplish their long term objectives to survive in the market. Survival in the long run, long-term recognition, and rapid change in the market environment has pushed enterprises far the deeper need of strategic marketing plans.
Advertising and Sales Promotion: By this course I learned the terminology of promotion, and in particular, an understanding of the role of advertising bath in the firm and in society, and on ability to integrate the different aspects of advertising into a comprehensive promotional plan.
Business to Business Marketing: This particular subject helps to me to understand the major differences between organizational and non-organizational buying processes, and the differences between their particular marketing strategies; business buyer behavior and an understanding of how to communicate effectively with business clients. In Grameenphone different CP (Content Provider ) deal with Grameenphone  for providing Value Added Service.
Brand and Product Management: Grameenphone is a brand. By this course I got an overview for the need for introducing new products; the importance of an innovation policy; new product strategy, a productive new product development process; market appraisal for opportunity identification; the design process, a focus on importance of the consumer, product positioning, testing and improving new products to meet competition, product introduction and profit management; implementing the new product development process: the imperative need for customer and after-sale service as a competitive edge strategy.
 Missing knowledge and skill that need to be learned:
In many cases, I have experienced missing skill with my academic courses while I was doing internship program. This is because the university does not always provide the practical knowledge
Sales Internship: A sales internship where the basics of direct selling theory is applied in a field setting.
Workshop on Presentation skill
Sales Management Internship: A sales management internship where students apply sales management theory including, planning and forecasting quotas, territory performance evaluation, and analysis and control of distribution costs, in a field setting. Students develop and apply selling skills, organizational and planning skills as well as motivation, goal setting and cost analysis and control techniques.
Sales Training and Leadership Internship: A sales training and organization building internship where students learn and apply effective ways of training sales persons and building a business.
Part 4: LESSONS LEARNED FROM THE INTERNSHIP PROGRAM
 Implications to Grameenphone:
During my whole internship program I have learned the following things from Grameenphone.
While working, I had to take lot of decisions that were completely new to me. Firstly, I was groomed and then slowly responsibilities were given to me, plan and carry out different UATs, coming up with mitigation plans, generating new ideas, strategic workshops and many more. Throughout this incredible journey of 3 months, I learned a lot of things from this organization:
The importance of team-work: Everything in GP depends on team-work; you can not do anything on your own here. You have to rely on other and make yourself reliable to others. I also learned that you need to have very clear communication with your working group in order to attain your desired goal. Every employee of GP goes beyond their line to help the other; this shows the mutual respect and affection they have towards each other. The whole GP is like a giant family.
The art of presentation: This is a learning which will help me in every aspects of my life. In Grameenphone, I learned what people really expect from you in your presentations and the importance of it. I was given hand-in-hand training on this matter because it is a very important part in corporate culture to present your idea and plan clearly to others.
The value of integrity: In Grameenphone, integrity is a major factor for its success. Each and every department does their duty rightfully and honestly. This brings out the best result for the company.
The freedom of decision making: Here in Grameenphone, all the employees have the liberty to take free decisions up to a certain extent. I got this opportunity many times as I planned and leaded a lot of major UATs.
Building trust: Every employee is entrusted with lots of major responsibilities. I, being, an intern was not an exception either. The trust on me shown by all the employees I work with was very overwhelming. And I am glad I succeeded in repaying their faith on me. This really motivated me to learn more work and give extra effort in everything I did
Implications to University's Internship Program:
This internship is a part of our MBA program. Definitely this internship program will help us a lot in job sectors. Internship helps us to learn lots of things which will be very effective for the near future.
From university's internship program I have learned:
How to give a company's portfolio in the report
How to present work experience in the report
Cooperative education experience
Concern for integrating experiences and external experiences
Way of communication.
Always try to create and look for opportunity.
Think positive and find out opportunity in negativity.
Help others to get their support.
Try to enjoy the work, because if it was easy every one could do that.
Inspiration and motivation is important.
Be professional.
Be punctual and have dedication.
Work in a team rather working alone.
Take risk and be responsible.
Find out the scope and apply theoretical knowledge in your work place.
Be obedient to your supervisor/superior.
Cope up with organizational culture.
Balance between your personal and professional life.
Develop your strategy to keep both your supervisor and the client happy.
Develop the power to read customers' mind to some extent.
Be proactive.
Pay attention and give importance to all the customers equally.
Others:
While doing this internship I have learned lots of new things, which was totally unknown for me. Besides learning from the organization and the university I have also learned some other things which are very essential for me.
Increased trust, confidence and professionalism.
Improved subject area and discipline knowledge.
Increasing sophistication.
Developing skills and competencies.
Symbolic capital and meaning, conceptual familiarity.
Part 5: CONCLUDING STATEMENTS
Recapitulation/Summary:
The experience and learning I have gathered from my whole internship program with the Grameenphone was really important for me and I enjoyed the whole thing from the first day of my internship program. This internship program assisted me a lot to realize my further career for the coming future. Rather than drawing a conclusion, I would like to say that this study was utterly indicative for me for my future career Grameenphone Ltd, the largest telecommunications service provider in Bangladesh, received its operating license in November 1996 and started its service from March 26, 1997. Now, after 14 years of successful operations, Grameenphone is the largest mobile phone service provider in Bangladesh, With more than 37.7 million subscribers as of April 2012.GrameenPhone  has  been  successful  to  build  a  superior  image  in  comparison  to  the  other  operators.  In  other  words,  GP  has  a  clear  advantage  over  the  competitors.  Grameenphone has some additional features in comparison to its competitors. It  is  playing  a  vital  role  to  increase  the  subscribers  of  Grameenphone. This report is the outcome of my three months internship program at Grameenphone Ltd. at the division of Product, Commercial. This report covers an overview of VAS Provided by Grameenphone, get knowledge on the management Idea about VAS sources of Grameenphone, Product& service offered by Grameenphone. Telecommunication services have been playing an enormous role in the development of people's life of Bangladesh. Particularly over last few years, the availability of mobile phones and its use in general mass have contributed significantly in the economic livelihood of common people. However, still the mobile phones are mainly used for voice communication purposes, though the technology and the existing infrastructure can be utilized beyond voice services or different non-voice value added and data related services. Though in recent years few initiatives have been taken for providing Value Added Service (VAS), the achievement is far from its potential.
 Recommendations for future strategic actions:
There are several recommendations have been realized from the whole internship program. Some of them mentioned below.
  The communication between the intern and the supervisor should be quite clear and on the regular basis so that the intern has the total understanding and control over the entire internship program.
  The university sometimes could take initiative for the students who often fail to get offer form the companies for internship. The university could make some reference lists with big companies and make them offer its students for internship.
  A fresh intern is not always that keen to achieve full control on the program. He/she might not need some extra knowledge about corporate culture and some other things about a work place and companies. In this regard the supervisor could be a big helping hand for the intern. The supervisor can give initial view about corporate environment for a smooth start of the program.
  The interns could get highly motivated by the supervisors while they will be performing the internship program in some particular companies. This motivation will drive the interns to get jobs from those companies. Also, the supervisors can arrange some group discussion to share the information about companies and make the interns fully understand.
  The EMBA program office should try to help the interns to manage internship in such an organization where he/she will be able to relate theoretical knowledge from the major courses with the actual work
Part 6: SUGGESTIONS FOR IMPROVEMENT
Suggestion for Improvement:
Grameenphone is a multinational telecommunication company, so that Grameenphone maintained high standard in operation and admin function .I was an internee in Grameenphone  for 3 month, but I didn't able to access in all type of information as like as Grameenphone regular employee. For my report paper work it was one kind of barrier. It could be more flexible and comfortable, if Grameenphone provided more access & independency for interne students. In Grameenphone employees always work with organizations responsibilities so, they can't give extra concentrate to their internee student to solve any problem rapidly another thing is GP doesn't provide any kind of incentive for internee students, but it will be good for internee if Grameenphone provide some incentive to their internee because it is one kind of motivation for students moreover an internee work same as Grameenphone regular employee.
References:
Grameenphone Annual Report 2011
http://www.grameenphone.com
http://www.grameenphone.com/about-us
http://www.grameenphone.com/products-and-services
http://www.telecomsmarketresearch.com
http://www.ats.ucla.edu/stat/stata/output/ttest_output.htm
http://www.thedailystar.net/newDesign/news-details.php?nid=154985