Introduction:
Cities especially DhakaCity are undergoing terrific growth phase throughout the last two decades. Population has been increasing in this citiy but the accommodation facilities are not improving. The demand of price of land in Dhaka city is too high now very few people can effort a piece of land in city. It is also very true to build a house is too expensive and a facet of lots of problems. To find a suitable place and to develop a building is not an easy matter. So, different real estate companies have come forward to support these people. Customers can get lots of facilities that can not affordable individually.
Rangs Properties Ltd is one of the 6 (six) Strategic Business Units (SBUs) of Rangs Group. Rangs Properties limited with the slogan of Creating Lifestyle is one of the largest real estate companies in Bangladesh. It started its operation in 1997. It has started of its operation in with a view to create aesthetically and functionally modern buildings in Bangladesh. A group of experienced professionals under the leadership of its Managing Director Mr. Romo Rouf Chowdhury who graduated from Durham University, UK in Civil Engineering tremendously gives utmost labor to plan, design, construct and complete a project in a distinctive way that is rare in our urban areas. The company stared with the vision to create differences and remarkable dwelling space for family and business as well. The name RPL stands as a giant, playing the novel role of solving the accommodation problem of Bangladesh as well as creating the better lifestyles. Rangs has always introduced the latest technologies and inventions of developed countries to Bangladesh.
Mission:
The mission of the company is to be the first priority to the consumer of real estate market. A lot of aspiration and appreciation have been earned in quest of developing residential and commercial projects. The brand is now conveying some prestigious image with the name. RPL has earned the reputation through its vast expertise and technical know-how. Over seven Lac square feet of residential and commercial apartments have been over to the valued clients and more than nine lac square feet luxurious apartments are ready to be handed over.
Vision:
The vision statement of RPL is:
"To create different and remarkable dwelling space for family and business as well."
This vision statement states that RANGS Properties Ltd will clearly play a novel role in solving the accommodation problem in Bangladesh but in a different way. RANGS Properties, being a sister concern of RANGS Group, one of the giant groups in Bangladesh, has started its business in mid nineties to built luxury apartments and commercial spaces. But as the time passes by it has now concentrated to build apartments for all class people. The difference between RANGS Properties Ltd and other Real Estate Business Houses are the taste of the apartments, functionality, design and look.
Activities of RPL:
For every development, before entering in designing the project, many groups of experts plan and design the project taking into considerations its location, environment, surroundings, urban facilities and some other important factors that ensure maximum comfort and convenience for the target dwellers.
Rangs architects and consultants relentlessly give maximum time and effort to respond to modern days need and changes concerning modern design, function, aesthetics and technology. Their every development embraces the importance of all latest facilities and amenities with maximum air, light, and ventilation.
Rangs has a strong project management team. Each and every phase of construction is planned, determined, supervised and engineered by a strong group of expert who has a large experience in some major local and foreign constructions. Only for this Project Management Team, Rangs can hand over its projects before the stipulated time guaranteeing a quality construction with superb finishing. It has 85 different categories of well-experienced engineers and architects. Every construction material is checked by 6 individual quality control engineers subsequently. Workmanship of every building is strictly adhering to.
Each and every suggestion of RPL's valued customers is greatly emphasized at every phase of project construction. Since the customer satisfaction is the main motto, its customer service department always stands beside a customer to give the best possible friendly service. Customer service executives are always ready to welcome customers whenever he or she needs them.
Above all, Rangs is not only to meet the international standard, but to exceed it by setting new standard in design, construction and service.
After starting its operation Rangs Properties Limited is working hard to hand over the project on its due time and RPL has been keeping its word. So far RPL has handed over 47 projects. 39 projects are in progress and there are 49 upcoming projects.
RPL has its operation all over DhakaCity. It has its operation in Dhanmondi, Gulshan, Banani, Uttara, Wari, Niketon, Lalmatia, Paltan, Siddssawary, Tejgaon, Eskaton and some other locations in Dhaka city and Khulshi & Nasirabad in Chittagong. For booking an apartment RPL takes 20% to 70% of the total apartment value as booking money.
The revenue collection is so satisfactory. Here collection means the amount of money RPL gets from the clients. The collection has increased about four times in last three years; it shows the demand and reliability of RPL in this industry. Total industry is now growing at a rate of 20%. In this 20% growth rate RPL has a large contribution.
This SBU of Rangs Group is now one of the major revenue earning sectors of the group. In last three years revenue has increased about three times. It is expected in near future that the profit will increase at a higher growth rate. The main reasons behind this increase of profit are the quality, location, design and competitive price.  Now RPL has a brand value in market. RPL always try to get a strategic location and always do a unique design. To provide the vest project sometimes RPL does outsourcing from local or abroad. They made high quality and differentiated service. Moreover the demand in this sector is increasing at a great rate. So RPL, like other real estate companies take a good margin. So the profit is increasing. Reliability and trust has been increasing on RPL day by day. About all RPL projects are in strategic locations of Dhaka city. Because customers can get from Rangs all they need. Shield provides security, Rancon service provides all household services including wearing, cleaning, sanitary services and all other household services. So, people are more reliable on Rangs Properties Ltd.
 ORGANOGRAM OF RANGS PROPERTIES LIMITED: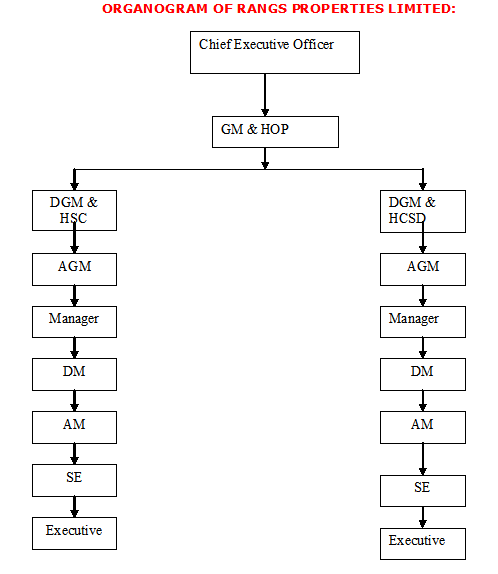 CORE VALUES OF RANGS PROPERTIES LIMITED:
There are many reasons for RANGS Properties Ltd to be different from the other real estate business players. Some of the unique reasons are discussed below:
1. Design
RANGS Properties Ltd is very much conscious about the design of the building complex. According to RPL, the building must be aesthetically nice to look and inside the building the functionality should be of best quality. For that reason RPL engages the most reputed architects in Bangladesh and some of the design is done from Malaysia, Singapore or Thailand. It has engaged Senior Professor from Bangladesh University of Engineering and Technology as its structural design consultant.
RPL has its own in house expert architects. RPL is now poised for further growth amidst a bundle of opportunities and threats. Banking on its in-house strengths and capabilities, experience, market reputation and a host of dependable buyers- the management of the company is optimist to set a vision to meet the future challenges and position itself as a highly growth oriented organization. With this view RPL has set its objective to reach a platform where RPL will be positioned as a business leader in the field of Property Development & Construction Industry with an efficient and effective management system.   
2. Quality
RANGS has started its construction division since 1990. From then to onward it has completed some finest structural projects. It has 30 well-experienced engineers and architects. 3 individual quality control engineers check every construction materials subsequently. Workmanship of every building is strictly maintained. Similarly advanced modern technology and the best materials are used in all the projects to give the buyers best satisfaction. RPL believes to the quality. Its product quality is unique. All its building construction materials are well tested and reputed brands. The well designed building can easily resist the earthquake (up to 7.5 Richter scale) and other environmental hindrances. Since, RPL is taking care of all the sites properly to build a project, does not compromise with the construction works – RPL becomes a superior company in real estate area among the other companies. For these reasons the clients of RPL are comfortable with the services and its products.
3. Timely Completion:
Most of the developers do not maintain the time schedule. Some time these developers hand over their projects to the allottees after 2-3 years of schedule date. But RANGS Properties Ltd is committed to hand over the apartments/ office space within the schedule time.
4. Team Management:
RPL has a special management team to monitor and supervise all the projects. The management team compares the achievement with pre-determined standard. If the achievement does not satisfy the standard, that team finds out the reasons behind it and takes remedial measures and corrective actions. The construction work is monitored and supervised by a skilled and proficient team of experienced engineers and marketing professionals.
5. Reliability:
Every person wants to invest his or her hard earned money is such a way that the investment becomes very worthy and meaningful to him or her. And RPL being a member of RANGS Group gives that confidence to the buyers. RPL assures the investors a secured and safe investment and each & every individual can expect a good return.
6. Customer Dealing:
The Real Estate business is all about how someone deals with his or her clients and how he or she values the customer. In a nut shell it can be said that the whole business is standing on the relationship with the customers. This relationship adds value to the business. Before the implementation of Supply Chain concept the customer dealing of RPL was going on in a very orthodox manner.  
Reservation:
Application for reservation of Apartment/shopping or commercial space shall be done on the prescribed form duly signed by the applicant with earnest money. Allotment is made on "first come first serve basis". The Company reserve the right to accept or reject any application without assigning any reason there to.
Allotment:
After receipt of the application and booking money, RANGS Properties Ltd. issues an allotment letter and payment schedule. The applicant/allottee then starts making payment as per the Schedule of payment.
Payments:
All payments of earnest money, installment, additional works and other charges are made by cross cheques, Bank drafts or pay orders in favor of RANGS Properties Ltd. against which proper receipts are issued. Foreigners and Bangladeshi living abroad may make payment in foreign exchange by TT or DD as per exchange rate issued by Bangladesh Bank as on the date of application and subsequently on the dates of installments paid.
Schedule of Payment:
The allottee must strictly adhere to the schedule of payments indicated in the allotment letter. Delay in payment beyond the schedule date will make the allottee liable to a delay charge of 4% per month on the amount of payment delayed. If the payment is delayed beyond 3 months, the company shall have right to cancel the allotment. In such an event the amount paid by the allottee will be refunded after deducting earnest money only after resale of the Apartment.
Bank Loans:
If the allottee desires a bank loan, the company does all that is possible to help secure the loan.
Documentation, VAT & other charges:
The allottee pays stamp duties, registration fee documentation charges and other miscellaneous expenses likely to be incurred in connection with the Deed of Agreement, Allotment, Registration, Transfer etc. In case of land procurement all these casts are borne by the RPL.
Incidental costs:
Connection fees, security deposits and expenses / charges relating to gas, water, sewerage, power connection are not included in the price of the Apartment/shopping or commercial space. All the expenses incurred by the company on these accounts shall be reimbursed by the buyers to the company proportionate their shares. During construction period RPL is responsible for these costs.
Hand over:
The possession of each Apartment/shopping or commercial space and parking space is handed over to the allottee on full payment of installment and other charges and dues. Prior to this the possession, Apartment/shopping or commercial space will rest with the company.
Design change:
After taking over Apartment/ shopping or commercial space of the project, the allottee must consult with RANGS Properties Ltd. prior to undertaking any structural or layout change within the building complex. Failure to do so will be at the sole risk of the allottee. This same condition is applied for the landowner.
Allotment Transfer:
Until full payment of all installments and other charges, the buyers shall not have the right to transfer the allotment to a third party.
Owners' Co-operative Society:
The buyer must become a member of the owner's co-operative society. All common facilities will be managed by that society and the members will abide by the rules formed by the society in the common interest.
GENERAL TERMS AND CONDITIONS OF ALLOTEMENT:
1. Application for allotment of apartments should be made on the prescribed application form duly signed by the applicant along with the earnest money. The company has the right to accept or reject any application without assigning any reason thereto.
2. On acceptance of an application, the company will issue allotment letter to the applicant on which the applicant/allottee shall start making payment as per the schedule of the project. Allotment of apartments is made on first come first serve basis.
3. Payments of earnest money, installments, car park costs, additional works and other charges shall be made by bank draft or pay order directly in the name of the respective company against which the receipts will be issued. Bangladeshis residing abroad may remit payments in foreign exchange by TT or DD in the name of the company.
4. Payments of installments and all other charges are to be made on due dates according to the schedule. The company may issue reminders to the allottee, but notwithstanding the issue of reminders, the allottee must adhere to the schedule to ensure timely completion of construction.
5. The company may arrange HBFC/Bank loan (if available) for allottees according to the existing rules and regulations of the authority concerned.
6. Delay in payments beyond the schedule date will make the allottee liable to pay delay charge (amount varies from company to company) for every 30 days on the amount of the payment delayed. If the payment is delayed beyond 60 days the company shall have the right to cancel the allotment. In such an event, the amount paid by the allottee will be refunded after deducting the earnest money and after allotment of the canceled apartment.
7. Connection fees/charges, security deposits and other incidental expenses relating to gas, water, sewerage and electric connections are included in the price of apartments. The company will make those payments directly to the authorities concerned on the allottee's account.
8. Limited changes in the specifications, design and/or layout of the apartments and other facilities may be made by the company in larger overall interest or due to unavoidable reasons.
9. The company may cancel an allotment for non-payment of installments in disregard of reminders and after final intimation to the allottee by registered post at the address given in the application form.
10. The allottee shall be required to execute an agreement with the respective company for safeguarding the interests.
11. The possession of the apartment shall be duly handed over to the allottee on completion and full payment of installments and other charges and dues. Till then the possession will rest with the company. If the project is completed before the stipulated time, the allottee shall have to make full payment before taking possession.
12. The allottees will become equally divisible undivided and under marketed shareholders of total acres of the scheduled land of the project in respective apartment. After all the dues and installments are paid by the purchaser according to the requirements and schedule for payment and after the completion of the construction, the vendors shall execute a registered sale deed in favor of the purchaser transferring share of land of the project in the demised apartment.
13. After taking over of apartment of the project, the allottee (s) must consult the company prior to undertaking any structural or layout changes within the apartment complex. Failure to do so will be at the sole risk of the allottee.
14. Company shall not be liable if the completion period of the construction of the projects is affected by unavoidable circumstances beyond the control of the company, like natural calamities, political disturbances, strikes and changes in the fiscal policy of the state etc.
15. For the purpose of effective management and maintenance of the building the purchaser of the apartment shall form and constitute a mutual benefit cooperative society under the Co-operative Society's Act 1940. The society shall be entrusted with the management and maintenance of the building. The rules, regulations and by laws of the co-operative society relating to management and maintenance of the building shall be binding upon all the purchasers/owners of the apartments.
COMPANY PERFORMANCE:
MANAGEMENT ASPECT:
Rangs Properties Ltd. started its business in 1997 with only 12 employees, but now 375 (appx.) employee's are engaged with its operation.
Management of RANGS Properties Ltd has 3 categories:
Top Management:
In this level the Chairman, Directors and Managing Director make new rules, regulations and new policies.
Middle Management:
In this level Executive Committees are gathered in a week to discuss about the particular issues of each and every business. All Heads of Sister concerns are attained there.
Operational Management:
This management is in the operational level. All heads of departments of RPL sit together once in a week to chalk out the activities in the next week and take operational decision. The main objective of this meeting is to take the operational decision according to the top management policies. Head of Operation chairs the meeting.
There are another 2 Operational Committee:
Operational Committee by A/C's and Finance, Tax, VAT, Audit etc.
Operational Committee by Corporate Department. By this committee any type of appointment, resignation, and termination are maintain.
ECONOMIC ASPECT:
Rangs Properties Ltd. Contribute a large amount of revenue to the Government exchequer in terms of Registration Cost, VAT & Taxes and Utility service charges.
Above this Rangs Properties Ltd. already arranged employment 375 (appx.) nos. people in different area like- Sales & Marketing, Design Development, Land Development, Logistic & Co-ordination, supply chain, Construction, HR & Admin, Finance & Accounts , they are contribute to Rangs as well as to the economy.
Real Estate industry is fulfilling one of the basic demand (e,g housing) for 7500(appx.) people per year without hassle. Its contribution to GDP is 7.47%.  That is a great contribution to the economy by this sector.
The demand for housing is one of the major factors that lead to the development of housing co-operatives. Socio-economic characteristics of people influence the demand for permanent housing. There are four major socio-economic characteristics of population that influence the demands for houses i) Population growth ii) Mobility of people iii) Income level of people and iv) the degree of migration towards cities.
Balance sheet:
Particulars

Amount(Tk.)

 

Amount(Tk.)

 

Amount(Tk.)

 

Amount(Tk.)

2005

 

2006

 

2007

 

2008

ASSETS:

 

 

 

 

 

 

 

Current Assets:
Cash and cash equivalent
 3,498,470
 7,369,505
 14,086,280
 4,627,490
Accounts Recivable
 186,140,636
 377,392,441
 393,677,006
 213,064,711
Inventory
 429,862,660
 728,819,155
 932,609,736
 1,302,172,042
Others Current Assets
 30,715,996
 28,967,095
 30,517,244
 31,164,057

Total Current Assets

 
 650,217,762
 
 1,142,548,196
 
 1,370,890,266
 
 1,551,028,300
Fixed Assets:
Land
 –
 255,933,483
 397,732,379
 361,572,295
Buildings
 6,465,886
 35,038,861
 47,223,873
 43,743,215
Equipments
 –
 –
 –
 –

Total Fixed Assets

 
 6,465,886
 
 290,972,344
 
 444,956,252
 
 405,315,510
Intangible Assets:
Cost
 82,671,432
 85,929,182
 48,083,077
 67,479,913
Less: Accumulated amortization
 –
 –
 –
 –

Total intangible Assets

 82,671,432
 
 85,929,182
 
 48,083,077
 
 67,479,913

Total Assets

 
 739,355,080
 
 1,519,449,722
 
 1,863,929,595
 
 2,023,823,723
LIABILITIES AND STOCKHOLDER'S EQUITY:
Current Liabilities:
Accounts Payable
 143,477,543
 495,808,270
 461,353,558
 194,366,820
Notes Payable
 195,039,925
 188,170,882
 333,552,963
 591,503,433
Accrued expenses
 –
 96,185,654
 206,645,654
 395,645,654
Others Current Liabilities
 47,121,362
 23,805,875
 59,842,151
 70,788,696
Total Current Liabilities
 
 385,638,830
 
 803,970,681
 
 1,061,394,326
 
 1,252,304,603
Non Current Liabilities
Long Term Debt
 213,551,002
 335,778,826
 339,828,765
 327,592,266
Deffered Income
 –
 –
 –
 –
Other long term Liabilities
 5,000,000
 146,761,082
 91,433,803
 85,057,807

Sub Total

 218,551,002
 
 482,539,908
 
 431,262,568
 
 412,650,073

 

 
 
 
 
 
 
 

Total Liabilities

 
 604,189,832
 
 1,286,510,589
 
 1,492,656,894
 
 1,664,954,676
Stockholder's Equity
Capital Stock issued
 100,000,000
 130,000,000
 130,000,000
 130,000,000
Additional paid up Capital
 20,000,000
 40,000,000
 40,000,000
 40,000,000
Retained  earnings
 15,165,248
 62,939,133
 201,272,701
 188,869,047

Stockholder's Equity

 
 135,165,248
 
 232,939,133
 
 371,272,701
 
 358,869,047
Total Liabilities and Equity
 
 739,355,080
 
 1,519,449,722
 
 1,863,929,595
 
 2,023,823,723
Ratio:
Particulars

Amount(Tk.)

Amount(Tk.)

Amount(Tk.)

Amount(Tk.)

2005

2006

2007

2008

 

 

 

 

 

Liquidity Ratio:

 

 

 

 

Current Ratio

 1.69

 1.42

 1.29

 1.24

Quick Ratio

 0.57

 0.51

 0.41

 0.21

Activity Ratio:
Days Sales in Accounts receivable

 34.81

 64.58

 74.83

 33.80

Inventory Turnover

 1.09

 0.63

 0.44

 0.39

Days Inventory

 111.15

 189.96

 270.50

 311.25

Net Sales to Inventory

 1.49

 0.96

 0.68

 0.58

Days Purchase in Accounts Payable

 36.76

 129.23

 133.81

 46.46

 Working Capital

 264,578,932

 338,577,515

 309,495,940

 298,723,697

Net Sales to Working Capital

 2.43

 2.07

 2.04

 2.53

Total Assets to Net Sales

 1.15

 2.17

 2.95

 2.68

Net Sales to Accounts Receivable

 3.45

 1.86

 1.60

 3.55

Net Sales to Net Fixed Assets

 99.24

 2.41

 1.42

 1.87

Net Sales to Total Assets

 0.87

 0.46

 0.34

 0.37

Net Sales to Net Worth

 4.75

 3.01

 1.70

 2.11

Amortization & Depreciation to Net Sales

 0.06

 0.04

 0.05

 0.03

 Profitability Ratio:
Gross Profit percentage

 0.27

 0.34

 0.34

 0.34

Operating expenses as % of net Sales

 0.17

 0.17

 0.13

 0.07

Return on Total Assets

 0.06

 0.07

 0.07

 0.07

Return on Net Wrth

 0.35

 0.49

 0.37

 0.42

Return on Net Sales

 0.07

 0.16

 0.22

 0.20

Income before tax to net worth

 0.51

 0.61

 0.45

 0.58

Income before tax to Total Assets

 0.09

 0.09

 0.09

 0.10

Retained earnings to Net Income

 0.32

 0.56

 1.45

 1.25

Coverage Ratio:
Times interest earned

 2.04

 5.26

 5.74

 11.11

Interest expenses to Net Sales

 0.05

 0.04

 0.05

 0.02

Current liabilities to net worth

 2.85

 3.45

 2.86

 3.49

Current liabilities to Inventory

 0.90

 1.10

 1.14

 0.96

Accounts payable to Net Sales

 0.22

 0.71

 0.73

 0.26

Total Liabilities to Net Worth

 4.47

 5.52

 4.02

 4.46

Net worth to Total Liabilities

 0.22

 0.18

 0.25

 0.22
PL:
Particulars

Amount(Tk.)

 

Amount(Tk.)

 

Amount(Tk.)

 

Amount(Tk.)

2005

 

2006

 

2007

 

2008

Revenue

 

 

 

 

 

 

 

 
Sales
 641,700,000
 701,240,121
 631,297,567
 756,402,537
Cost of Sales
 468,309,140
 460,398,236
 413,734,176
 502,048,719

Gross Profit

 
 173,390,860
 
 240,841,885
 
 217,563,391
 
 254,353,818
Expenses:
Operating Expenses
 74,082,826
 92,293,970
 52,909,411
 33,710,847
Interest
 33,564,973
 26,923,063
 29,210,655
 18,612,068
Depreciation
 2,615,500
 2,825,700
 2,871,694
 1,840,294
Amortization
 –
 2,825,700
 –
 –

Subtotal (IDA)

 36,180,473
 32,574,463

#

 32,082,349
 20,452,362

Total Expenses

 
 110,263,299
 
 124,868,433
 
 84,991,760
 
 54,163,209

Operating Income

 
 63,127,561
 
 115,973,452
 
 132,571,631
 
 200,190,609

 

 
 
 
 
 
 
 
 
Other income and Expenses:
Gain/(loss) on sale of Assets
 –
 –
 –
 –
Others(net)
 5,387,754
 22,747,085
 35,077,692
 6,599,505

Subtotal

 5,387,754
 
 22,747,085
 
 35,077,692
 
 6,599,505

Income before Tax

 
 68,515,315
 
 138,720,537
 
 167,649,323
 
 206,790,114
Income taxes
 20,554,595
 28,309,247
 28,500,385
 55,833,331
 
 
 
 
 
 
 
 
 

Net Income

 
 47,960,720
 
 110,411,290
 
 139,148,938
 
 150,956,783
 
Retained earning -beginning
 51,649,933
 15,165,248
 62,939,133
 201,272,701
Dividend Paid
 84,445,406
 65,463,105
 815,370
 163,360,437
Retained earning-ending
 15,165,247
 60,113,433
 201,272,701
 188,869,047
Population Growth:
Population growth is the major factors that require increased number of residential houses. Bangladesh experienced high growth of population over the decades, which led to high demand for residential houses. However, the rate of population growth reduced significantly, the backing in creation of residential houses has still been significant.
Mobility of People:
Mobility of people always affects for permanent housing in a highly mobile society, people will be reluctant to purchase land and to build permanent residential house, and there will be fewer ventures
 In a relatively immobile society, the demand for permanent residential houses will be higher and as a result housing cooperatives are likely to develop more. The people of Bangladesh are believed to be less mobile and therefore, they are likely to build their permanent residential houses in cities
Level of Income:
Apart from these factors income level of population is a major determinant of the development of housing cooperatives. An individual income or wealth must be sufficient enough to effort a piece of land and a house through housing cooperatives. In fact, the backlog of houses in DhakaCity has been substantially caused by people's inability to purchase land and build house in the city. The development of slums and substandard houses in the DhakaCity mark the dark side of people's poverty.
Rate of Migration towards Cities:
The growth of population in cities is affected not only by birth rate but also by the rate of migration form the rural and sub-urban areas and other income. Migration towards Dhaka city has been taking place due to its importance as the capital city as well as the most important center. People migrate to the business city for job opportunities.
Once migrated to a large city like Dhaka, most of the people do not like to move to other cities, rather they try to settle in Dhaka, because, culturally people in this country are less mobile.
STRATEGIC ASPECT:
Like any other business RPL has some strategic objectives. These strategic objectives are there to lead RPL to become the market leader. The objectives are as follows:
Higher product quality than rivals.
Broader or more attractive product line than rivals.
Stronger marketing and sales activities.
Recognition as a leader in product innovation.
Wider geographic coverage than rivals.
TECHNOLOGICAL ASPECT:
It is labor based industry though use of technology is developing in recent times. For big constructions at present we see the use of cranes, ready-mix concrete or even pre-stressed concrete. But these are specially used in industrial structure construction, bridge construction and construction of large volume like BasundharaCity, JamunaFuturePark, FantasyKingdometc.
Concord has a plant of ready-mix concrete. Recently some foreign cement companies also introduced the technology. They supply ready-mix concrete to different sites on demand with large truck.
Some firms have started industrial construction of pre-stressed concrete very recently. But the use of pre-stressed concrete in household is not economical and financially viable. For these causes labor based technology is used in residential purpose.
Some technological changes even been introduced in residential construction. Recently cutting of steel bars is performed by machines. Mixture machines also reduced the use of labor force and ensure better quality of service. For compaction use of vibrator is found highly in recent times.
MARKETING ASPECT:
Marketing is one of the most important parts of any business has a massive role to play when the top management of an organization wants to change the existing operational activities. The present marketing performance of RPL is quite satisfactory. But to cope up with the future market and become the market leader in Real estate sector there is a huge task to do. So the present status of the marketing performance should be assessed and from that assessment the flaws can be identified.
Just few days back a strong Marketing Communication effort of Rangs properties Limited was not seen in the real estate market. But now they are using lots of communication tools to promote the brand. Now RPL uses print media, billboards and also uses some other medias. RPL tries to make a Worlds of Mouth (WOM) because WOM can be a strong tool to gain trust and build a position and ultimately to capture the market. But the location of a project brings almost all customers in this sector.
Last year RPL participated in UK & USA REHAB fair and locally REHAB Fair Dhaka, Chittagong and also some fairs in Bangladesh to approach to people. But the design, location and brand name now work as a great tool to promote people. RPL has collaboration with IDLC, DBH, most largest leasing and financing organization in Bangladesh, and other foreign and local commercial bank like Standard Chartered Bank,HSBC Bank,Prime Bank etc.to provide financing facility to the customers.
Product:
From the inception of RPL, it has always put the quality parameter on the top most priority position. RPL always wants to offer unique products to the market. All the materials used for construction purpose are of reputed branded and tested before use. To resist earthquake (up to 7.5 Richter Scale) and other environmental hindrances the buildings are designed by the help of most modern design methods. Highly qualified consultants and engineers are engaged in the design purpose. For aesthetic point of view, to make the building attractive local reputed and foreign architects are engaged. All these things are done for the best satisfaction of the buyers. So the products become exceptionally rich in quality.
Price:
Price is one of the most powerful parameters that help any person in making buying decision. On an average the price of the apartments and commercial spaces of RPL are more or less close to the market rate. Sometimes it is in the higher end. " Rangs Water Front" is a unique project in Dhaka city, which costs more than two crore per apartment. Depending on the location RPL charges premium price of its apartments.
The average price charges by the top players in the market depend on the location. Some of the location wise prices are given in the table below: (Price in Tk per sft in 2008).
Table 1: Maximum and minimum price (in Tk) charged by various Companies.
Sl
Company Name
Gulshan
Dhanmondi
Lalmatia
Eskaton
Uttara
1
Asset Development & Holdings
Min 7,500

Max 11,500

Min 8,000

Max 10,500

Min 5500

Max 7500

Min 3500

Max 4500

Min 3500

Max 6500

2
Advanced Development Technology
Min 6,500

Max 10,500

Min 7000

Max 9500

Min 4500

Max 5500

Min 2800

Max 3500

Min 2850

Max 5200

3
Urban Design & Development Ltd.
Min 6,500

Max 11,000

Min 6500

Max 10000

Min 4000

Max 5800

Min 2600

Max 3500

–
4
Amin Mohammad Foundation Ltd.
Min 7,000

Max 9,500

Min 6500

Max 10000

–
Min 3000

Max 3500-

–
5
Concord
Min 7,000

Max 11,000

Min 6500

Max 10000

–
–
Min 3000

Max 4800

6
BTI
Min 7,500

Max 10,000

Min 6800

Max 9500

–
–
Min 2800

Max 5000

7
Rangs Properties Limited
Min 8,000

Max 12,000

Min 7500

Max 11000

Min 5500

Max 7000

Min 3500

Max 4500

Min 3500

Max 6500
Source: Office Document:
From a survey done by RPL depicts that 24.7% of the people wants to purchase apartment within 30 Lac. Among these people 36.6% wants to purchase apartment if financial help is available to them. 23.8% wants to purchase apartment between 40 Lac to 60 Lac and among them 35% wants financial assistance. 12.3% wants to purchase apartment within 60 Lac to 90 Lac and 18.30% wants bank loan. And only 8.5% wants to purchase apartment within 90 Lac to 150 Lac and above. And 12.6% of those buyers want some sort of financial assistance.
Place:
RPL wants to provide premium products in the premium locations to charge premium price. RPL is spreading its product through out Dhaka city. Day by day it is becoming difficult for RPL to obtain lucrative spaces for both residential and commercial complex. But with the help of efficient land procurement department and good reputation in market it is successfully performing its business throughout the capital city.
It has expanded its operation in Gulshan, Baridhara, Banani, Lalmatia, Dhanmondi, Green Road, Sat Masjid Road, Uttara, Eskaton, Magh Bazar, Malibag, Shiddeswari, Wari and Mohakhali area in Dhaka city. RPL already start expanding its business in Chittagong and Sylhet. RPL is successful to some extent in its apartment projects as well as commercial projects. The most successful apartment complex of RPL is "Water Front" in Gulshan and Commercial & Shopping complexes are "RANGS Anam Plaza" in Dhanmondi, "Rangs Arcade" in Gulshan.
Promotion:
RPL promoted its products as the living place offered in the market. Its aim is to redesign and redefine Bangladesh skyline. Their slogan is "Creating Life Style". It has very few promotional activities compared to the other Real Estate Business organization. RPL believes that it is the quality and design, which will bring the customers through best satisfaction.
The number of Sales Promotional activities provided by the competitors in comparison to RPL is given below in the table:
Company Name

No. of Projects

Newspaper

Ad

Hoardings/ Neon

TV Ad

Greeting Items

Asset Development  & Holdings

32

88 – 95

16

–

Coat Pin, Calendar, Coffee Mug
Advanced Dev. & Technology

16

52 – 60

12

–

Mug, Key Ring, Diary
Urban Design & Development

10

16 – 25

–

–

Mug, Calender, Key Ring
Amin Mohammad Foundation

12

40 – 48

8

√

Table Clock, Calendar, Diary
Suvastu    Development Ltd.

9

8 – 10

4

√

Table Clock Calendar
Concord Ltd.

12

22 –28

–

√

Calendar,Dairy
BTI

6

4 – 5

6

–

Calender, Dairy
Rangs Properties Limited

18

45 – 52

–

–

Mug, Calendar,

YearPlanner, Key Ring, Dairy
Table 2: Number of promotional activities of different companies.
 POSITION IN THE MARKET:
To find out the position of RPL in the Real Estate market I have taken the help of BCG Matrix. Position in the market can be determined in terms of number of projects and in terms of annual revenue. In terms of number of projects RPL has fewer building complex than some other companies. But RPL deals in the higher segment of the market means RPL offers high class apartments and it charges high price. So in terms of revenue RPL's position in the market is high.
Source: Internal Document of RPL.
RPL is involved in the most luxury apartment business. Luxury apartments are defined as more the 2800 sft in area and costs more than 3000 Tk per sft. Most of its buildings are far ahead of its competitors in terms of design, quality and luxury. So to find the position of RPL in the market it is very essential to measure the share of RPL in the exclusive projects. RPL owns about 18% share in terms of exclusive projects. At present it is enjoying the third position in this sector. This is also in terms of revenue. Here the number of projects of RPL is less than Asset Development or Advanced Development.
FINANCIAL ASPECT:
Beside the strategic objective there are some financial objectives of RPL also. Because at the end of the day it is the financial numbers which value most. The financial objectives are as follows:
Growth in revenue.
Growth in earning.
Higher earning on invested capital.
Sale:At 1999 total sale revenue of RPL was 18.45 core, at 2008 which is 83.61 core. The sale amount is increasing with an growth rate 18%.
Gross profit:
Annual gross profit of RPL is growing with a rate 22% per year, though at 2008 the G.R is only 22%. Again the gross profit was 27% of sales at 2005 but it has reached at 38% at 2008 and it has always increased over the four years.
Operating expenses:
RPL is very success in reducing the operating expenses. In 2006 it was 13% but as a result of dynamic action for reducing administrative over head at 2008 it was 4%.
Net income:
At 2005 Net income was 7% of sales but at 2008 it was 24%. This was for reducing COGS and operating expenses.
Major factor affecting profitability:
Average gross profit for the previous four years is 34%. But it is highly effected by two factors.
–          Location of project
–          Nature of project.
Location of Project:
| | | |
| --- | --- | --- |
| Location | % of Project | % of Profit |
| Uttara | 28% | 18% |
| Gulshan- Dhanmondhi | 42% | 46% |
| Mid town- Mohammadpur | 18% | 38% |
| Old town | 12% | 24% |
Nature of
Nature of Project:
Commercial project is more profitable than residential project. At the last four years RPL makes a gross profit of 52% from commercial project but from residential project it makes a profit of 28%.
HR SCENARIO OF RANGS PROPERTIES LIMITED:
HR Systems is an important aspect of an organization. Rangs Group has many sisters concerns and it has a well recognized and renowned company in Bangladesh. In modern concept HR & Admin. Department place a vital role for function smooth operation and activities in the company. By applying modern concept and actual labor laws HR & Admin. Department are doing the following function:
HR Planning:
Demand & Supply
HR Inventory
Job Analysis
Job Description
Job Specification
Jon evaluation
HRD Budget
HR Accounting
Recruitment & Selection:
Internal Sources
External Sources
Training & Development
Training for HR
Management Development Program
Performance Appraisal
Career Planning
Organizational Development
Organizational Structure
Supervision
Authority
Relationship
OD Program
Compensation & Benefits
Salary & Wages
Incentives
Fringe benefit
Non financial rewards
Employee Relations:
Settle conflicts & grievances
Counseling
Develop Employee management relations
Disciplinary action
Industrial relation
Safety & Health:
Accident prevention measure
First-aid facilities
Group Insurance
Hygienic work environment
Fire Extinguisher
Administration & Logistics:
Leave Management
Transport
Stationeries
Office equipment & Maintenance
Event Management & Public relation :
Protocol & liaison
Cultural function
Social functions
Corporate affairs
SUPPLY CHAIN CONCEPT:
By analyzing the external environment we have found that, the Real Estate industry is in its maturity stage in Dhaka city. And most of the rivals within the industry have strong position in terms of manufacturing efficiency and supply chain management. Since both the entry and exit barrier is quit low, so any small competitor can easily enter into the market and take away share from the major players but to become the dominant within the industry and gain economies of scale requires huge investment as fixed cost. Apparently for major dominance, this is quite risky to pull back from its core business. Product innovation rate is average and few major players set industry direction. But small players can copy the direction easily so product innovation is not working properly in this saturated industry. The other techniques left are market innovation and all the major players are concentrating to attract new market and become a global player. So to be there in the market any company should first rectify the flaws in its operational procedure.
There are various descriptions of supply chain management.  The supply chain starts from the origin of the raw material and ends once the product has been discarded or recycled.
It is very difficult to get the right product, at the right place, at the right time, in the right quantity, with the right quality, at the right cost. But supply chain can make sure that it is possible. The primary decisions made within the supply chain include:
Sourcing:
Quality of product
Choosing suppliers
Location of suppliers
How much product to order
Transportation channels
Here in case of RPL the sourcing is done only for land. Quality of the land should be good means that the land should be in a lucrative position and in good condition in all respect. The amount of land should match with the policy of RPL.
Production:
Location of production (domestic, international)
Make vs. Buy
Capacity of plants
Quality of the product (low cost leader, differentiation strategy)
RPL does not have to worry with the production. All the construction work is carried out by REL. the only thing it has to take care is the quality. The quality of the construction work of REL must meet with the RPL standard. Otherwise the sales persons of RPL will not be able to sell those apartments.
Inventory:
How much inventory to hold (safety stock)
Should the company do JIT
How much to order
When to order
RPL should take decision that how many apartments and commercial spaces or shops they are going to sell in a particular time period. And for sells, it should decide how many lands should be procured in which places and when.
Logistics:
Transportation – best way to get the product to the customer
Location of distribution centers in order to keep customer service high and costs low.
RPL should decide the mode of communication with the clients. And it should decide how it is going to handle the customers.
The Head of Supply Chain has to increase communication along all nodes of the supply chain to create an uninterrupted flow of information, decrease the number of finished products and unfinished lands in such a way that the customers remains highly satisfied, reduce the supplier base and develop supplier relationship, means reduce depending on brokers and maintain good relationship with the landowners and buyers in order to reduce overall costs and standardize parts of supply chain as much as possible in order to reduce confusions.
From the very beginning of RANGS Properties Ltd it has always been headed by a head of operations. Under the jurisdiction of the head of operation there were initially four departments. Namely, Design Development, Logistics, Marketing & Customer Services and Sales & Credit Realization. For support function there was a corporate division, operates the functions of Human Resources and Admin, Finance & Accounts, Strategic Planning and Business Development. Corporate Procurement and Corporate Audit was under the authority of the Executive Vice chairperson.
Before the adaptation of Supply Chain concept, RPL procured land and then gave contracts to REL for the construction purpose. The main duty of RPL was prepare designs, provide logistics support, marketing, sales, customer services and credit realization. And a single person, who was titled as Head of Operations (HOP), monitored all these works.
It was very tough for the HOP to concentrate in all the sectors. As a result the inefficiency in all departments was growing. The clients were becoming annoyed with the customer services department, the quality of the design was declining day by day, sales were going in a good pace but credit realization was low. In short, due to the defect in the organization flow chart all the operating activities were conflicting with one another. As a result the business of RPL was going down and most importantly if that situation continued then the reputation of the group could be hampered.
To continue the business with good market reputation, profitability and growth the concept of supply chain has been brought to rectify the flaws in the operational procedure of RPL.
According to the new organogram under the authority of HOP there are five departments. They are Customer management, Supply Chain, Legal, Human Resources & Admin and Finance. Inside the supply chain there are three sub divisions. They are land procurement & Project Development, Planning & Design and Construction & Other Procurement. This is the core supply chain. And the Customer management, Legal, Human Resources & Admin and Finance has made the supply chain to a extended supply chain.
In RPL a complete building complex is considered as a product and the land is considered as the raw material. Here again the construction work is done by REL. So to cope up with the market, to be the market leader and to raise the revenue of RPL from 40 crore to 200 crore in the next three years, it is the product that has to be prepared for the market. The lucrative land should be procured, the design should be unique and the construction should be of best quality, then RPL can reach to its goal. Now the Head of Supply Chain has nothing to worry about the legal procedure, Human Resources, Finance or customer management. He can engage his full concentration to make the unique product ready on time with best possible quality. Customer Management department can handle the sales and marketing & customer service in the most efficient way because they have nothing to do with the design or supply chain. Human Resources will not hamper the activities of supply chain and the corporate office will control the activities of Human Resources. Corporate Finance & Audit Division and Strategic Control Division will control finance of RPL.
SWOT ANALYSIS:
A scan of the internal and external environment is an important part of the strategic planning process. Environmental factors internal to the firm usually can be classified as strengths (S) or weaknesses (W), and those external to the firm can be classified as opportunities (O) or threats (T). Such an analysis of the strategic environment is referred to as a SWOT analysis.
The SWOT analysis provides information that is helpful in matching the firm's resources and capabilities to the competitive environment in which it operates. As such, it is instrumental in strategy formulation and selection. The following diagram shows how a SWOT analysis fits into an environmental scan:
SWOT Analysis Framework
 Environmental Scan
 /
 \
 Internal Analysis
 External Analysis
 / \
 / \
Strengths   Weaknesses
 Opportunities   Threats
 SWOT Matrix
So to find out the available resources and capabilities of RANGS Properties Ltd the strengths and weaknesses of the company have been found out. Again to explore the future market opportunities have been detected. That has brought some threats with itself. The strengths, weaknesses, threats and opportunities of RANGS PROPERTIES are discussed below in details.
Strengths:
The strengths of RANGS Properties Ltd are its resources and capabilities that can be used as a basis for developing a competitive advantage. Examples of such strengths include:
Long Existence in Bangladesh:
RANGS has started its operation in Bangladesh 25 years ago. And it has been delivering the some very prestigious products in this country. Within these 25 years many ups and downs has come in the business sectors of Bangladesh but RANGS has never deviated from its vision to deliver the best products. This long existence in the market has given RANGS a tremendous goodwill and believes in the mind of the people.
Strong brand names:
RANGS by name has a very Strong Brand Recognition in peoples' mind. When ever some one sees a Mitsubishi car or Mercedes Benz or Toshiba electronics then and the name RANGS come in the mind of that person. Although Sony does not belong to RANGS Group but is has also helped a lot to create the brand image of RANGS in Bangladesh.
Good reputation among customers:
Using the brand name of RANGS, RANGS Properties Ltd is taking the advantage of good reputation. RANGS stands as a name of belief, trust, class, taste, elegance and superiority in the mind of the people of Bangladesh.
Cost advantages from proprietary know-how:
As RANGS had very successfully captured the majority market share of the brand new vehicles, deep sea fishing in Bangladesh, it has enjoyed solid profitability, which enabled it to be financially strong company. Although the other associates of RANGS Group are not the market leaders in their respective fields but those companies are also earning a huge amount of money. As a result the whole group as well as RANGS Properties Ltd is enjoying tremendous financial backup. 
Exclusive access to high grade resources:
RANGS Properties Ltd has a very exclusive access to high grade and very sound resources. Most of the perspectives of its construction are done by the reputed firms of Singapore, Malaysia and Thailand. It has engaged the most reputed architects of the country for architectural design. And for the safest structural design experienced Professors from Bangladesh University of Engineering and Technology are engaged. Te total construction work of its projects are carried out and supervised by its own experienced team of engineers and technicians.
Wide range product lines:
RANGS Properties Ltd carries one of the widest product lines of classic homes in Bangladesh. "Water Front" is one of land marks in the real estate sectors in Bangladesh. It is the most luxurious apartment complex in Bangladesh. Beside that it is also building other apartments of different size for the other classes of people in the society. It has also constructed some exclusive commercial projects in the prime locations of Dhaka city. Recently it is extending its business in other prime cities in the country like Chittagong and Sylhet. It has taken a project to built duplex cottage in the sub-urban areas out side Dhaka main city.
The sales team:
A very efficient and energetic team of sales is working to enhance the sales of RANGS Properties Ltd. This team is always in search of new potential
Customers. The capable sales team of RANGS Properties Ltd can be an asset for any company to redirect a company to its profitability.
Prestigious Apartments from RANGS:
The building constructed by RANGS Properties Ltd carries a very high image. If a person does not have a Pajero in his portico he is not considered as a rich person regardless of how much wealth he possesses. Similarly recently every rich person is in-search of an apartment in "Water Front", which costs more than one crore taka. This is a great strength for RANGS Properties Ltd since using this image RANGS can position their other brand as a premium brand in the market.
Product's Uniqueness:
any Due to the engagement of so many reputed engineers and architects in the construction of any projects of RANGS Properties Ltd, each of the projects becomes unique and master piece of its class. From aesthetic, civil engineering and functionality point of view the projects of RANGS Properties Ltd are far better then other real estate company in Bangladesh.
The new management concept of RANGS Properties Ltd:
Supply Chain Concept has been introduced in RANGS Properties Ltd recently. This new management concept has predominance of managing the core product, which will benefit RANGS Properties Ltd to get support from a very professional management team and up grade the product and make it fit for tomorrow.
High Resale value and rental value:
The resale value of RPL apartments and commercial spaces are found higher than that of the competitors. This is because of design and functionality. Again the rental value of RPL apartments and commercial spaces are higher then others because of the same reason.
Favorable access to distribution networks:
As the group is running its business for the last 25 years in Bangladesh, it has already created a very efficient distribution network inside Bangladesh. Through the brand new motors and electronics business, RANGS has reached to a class of customer in Bangladesh, especially in Dhaka city. By using the same network RANGS Properties Ltd is enjoying enormous advantage to reach to its customers in Dhaka city.
Weaknesses:
The absence of certain strengths in RANGS Properties Ltd (RPL) has become its weakness. In the case of RPL, weaknesses are the flip side of strengths. Take the case in which a firm has a large amount of manufacturing capacity. While this capacity may be considered a strength that competitors do not share, it also may be a considered a weakness if the large investment in manufacturing capacity prevents the firm from reacting quickly to changes in the strategic environment. The same thing is true for RPL. Being a very large company overhead is also huge, which is one of the weaknesses.
Each of the following may be considered weaknesses of RANGS Properties Ltd.:
Poor resale value:
Presently not only RANGS Properties Ltd but also the whole real estate market is suffering from a very poor resale value. The buildings / apartments of RPL are selling in a very cheap rate when they are resold. The present market is quite good for this business because of some Government policies. But this will not last long.
Poor supply of raw materials:
RPL has a poor image for not having smooth supply of raw materials for construction work. This particular company does not maintain any sort of contact will any large cement factory or steel industry. Though these core materials are needed as a daily basis but yet RPL has not gone under any agreement with those industries. The other construction materials like sand, brick, bamboo and others are bought from the local market. So there is a great opportunity for RANGS to save a huge amount of money and increase the quality of the work and of course reduce time. RPL goes for the best finishing materials for its products like imported tiles, bathroom fittings etc., but it does not buy them in bulk volume, which delays the construction work and increases the cost. Of course there is chance of inventory build up, but this can be handled by efficient management.
Expensive design and consultancy fees:
RPL has a very high overhead. RPL has to feed of some of its other sister concern. RPL engages the most reputed Architects and Civil Engineers in the country with very high consultancy fees. Most of the perspectives of RPL's buildings are done in abroad like Singapore, Thailand or Malaysia, which costs huge. RPL imports expensive finishing materials from abroad. All these things incur money.
Products are expensive:
Cost of RANGS products are higher than almost all major competitors in the real estate sector in Dhaka. Same amount of space is around ten to twelve percent higher in sales value than the other competitors.
Unprofessional management team:
The unavailability of professional management team who understands all aspects of business activities and knows modern management style is a very critical weakness of RPL. Present management gives full attentions to increase sale only to increase profit. But they do not understand that many other ways a company can make profit like by reducing cost of good sold, by reducing overhead etc. The practised policy is direct hitting the image of the total organization.
Unavailability of effective and professional marketing team:
The present marketing team is only concentrating in the broachers of the projects. They don't have even a marketing plan to promote their products. The absence of an effective and professional marketing team with a marketing plan to position RANGS Properties ltd in people's mind with distinct characteristics is hindering the company backward.
No formal on going training program:
No formal on going training program for sales team is available to increase their sales skills. Here the engineers never attend the seminars where thoughts of modern design are discussed. Neither the accountants nor the quality control officer have ever been trained up. Overall here in RPL there is no ongoing training program.
Internal management conflicts:
There is a presence of high level of internal management conflicts, which is causing serious negative impact on each of the teams and other wings of business operation.
Poor reputation of after sales:
RPL presently carries very poor reputation of after sales. It is commonly complained either by existing owners (heard during sales calls) or who even does not own a RPL product (heard from their friends, relative and colleagues) that the customer service or after sales does a lousy job. Staring from poor reception to long schedule, unavailability of spare parts, long lead time to bring solution, long time to work on a very silly problem, lack of human resources, lack of skilled technicians to fix up the problems, lack of support from other departments and above all not able to fix the problem after all these. Some times it is taken many times to work on a simple job and still in some cases failing to fix. This cost precious clients valuable time, gives frustration and cause to develop negative attitude to the next visiting sales person or team.
Lack of financial support at the right time:
The present system is whatever the cost is it must be go under proper audit procedure. But the inefficiency of the audit section some times costs a lot. Such as, in case of emergency the customers service department or the land procurement department has nothing to do but waiting for the audit department of sanction for the required money.
Poor performance of Rancon Engineering Ltd (REL):
Rancon Engineering Ltd (REL) being a separate profit centre emphasis more on the profitability than after sales supports for RANGS Properties Ltd (RPL). REL was initially a part of RPL and was set up for construction and after sales support to its customers who bought RANGS apartments. But as the volume of work increased and with a vision to work on some Government tenders, REL was detached form RPL. Usually it is not expected by any business concern or any person in the world that after sales support centre or construction unit will make huge amount of profit. But presently it is happening in RANGS Group. Being another sister concern, REL has started to earn profit. But as this organization is presently doing no Government works so the only place to earn is the RPL's projects. By ruining the quality and reputation of the group, REL is earning a huge amount of profit. There is an unwritten agreement between RPL and REL that all the projects of RPL will be constructed by REL. And RPL has to provide some profit to REL. As a result REL has nothing to worry about projects and profit. More over it is not able to handle too many projects with its present resources. Because of time constraint, lack of efficient human resources, lack of proper supervision and finally due to no worry about profit, the quality of REL work is declining. And this declination is directly hampering the business of RPL. The sale is declining, the profit margin is going down, the pressure is coming to the customer service department and most importantly the reputation of the whole group is ruining. With naked eyes it can be seen that REL is a profitable organization, but in real case, the reverse is true. RPL has created a bunch of raged customers who probably will never buy any apartments or provide a piece of land to RPL again in their life.
Poor advertising, sales promotion and public relation:
No marketing efforts in a form of advertising, sales promotion and public relation are in place which can help the sales to boost up let alone in a good situation but not during poor sales period.
Poor buyer seller relationship:
No proper system to maintain liaison with existing customer to build rapport and ensure RANGS is always there to take care of their all kind of problem regarding the product offered by RANGS.
No attempt to sale in Government sector:
The real estate sector is very big. The unexplored sector today is the government sector. There is a huge demand for housing in the government sector. But RANGS has not yet taken any step to deal with the government sector.
No sales MIS:
No effort to have a Sales MIS to help managers to make decision like sales break-up month wise to plan inventory. This has totally handicapped management of not knowing regularly that how the company is performing, how an individual is doing. And when they are aware of it, it is too late and damage can not be repaired.
Lack of data:
No efforts to use sales data of previous years. As these data are not either available or kept professionally it is not possible to compare the performance of this to last year and other relevant comparison.
Difficulties in cost reduction:
The competitors are more or less small companies, with little overhead. They can reduce their cost to some certain limit which RANGS cannot do. As a result RANGS cannot compete in the market through price. It has bounded to go through product differentiate, which is again costly.
Improper product mix:
RANGS does not have a proper product mix to satisfy all types of customers. Recently it is trying to penetrate to each and every sector of classified customer. But when it started its real estate business then it was only concentrating in the upper class of the society. Most of its apartments are of excess size for the middle and lower middle class people of the society. RANGS is reputed for its luxurious apartments and for some class commercial spaces. This is not an ideal product mix for a company which is operating in real estate sector, one of the basic needs of human life in a poor country.
Shortage of land mark projects:
Because of some reasons, the numbers of projects of RANGS are less than the other competitors. So it becomes difficult for the landowner to go in a joint venture with RPL, because the landowner does not see many building constructed by RANGS around him or her. The same thing happens with a customer. A customer puts the reservation money only after a look of some papers and some virtual building. That particular customer does not get enough confidence because of fewer projects.
Failure to position the brand:
RPL failed to position its product as a niche in the market. RPL is unable to make a statement to the customer that its products are better than its competitors.
The late maturity phase of the product life cycle:
The Real Estate sector in Dhaka city is experiencing late maturity phase of the product life cycle. Normally a product has its life like a human being. After experiencing its youth in terms of introduction stage in 80's and growth stage 90's and onward the real estate market is experiencing some late maturity stage. This year's budget will definitely give a shake to this business.
Lack of access to key distribution channels:
The present real estate market is captured by two or three real estate companies. The sales of those companies are very efficient and really effective. So it has become very difficult for the sales team of RANGS to get an access to the key distribution channels.
Opportunities:
The external environmental analysis may reveal certain new opportunities for profit and growth. Some examples of such opportunities for RANGS Properties Ltd include:
Rectification in the Building Code:
The revision and rectification of the building Code is a potential opportunity for RANGS. This has again limited the competitors to some unethical deeds. Now the competitors have to build the buildings according to the code. This will raise their costs up to RPL standard. As a result there will be no cost advantage to the competitors and they will have to compete with RPL from the same cost platform.
Possibilities of introducing Row-Row housing:
RPL has a plan to acquire a large piece of land and the;n construct individual duplex buildings on one plot of five katha (more or less) and sell the duplex buildings with some surrounding land of three katha (more or less). Though this concept complies with small units and far away from the city but RPL is hoping to charge premium price. There is a latent demand for this sort of housing in Bangladesh. There is a possibility that RPL will introduce this sort of house concept in collaboration with some foreign companies to attract the potential market.
Introducing some new design apartments:
There is a possibility of introducing some new design apartments. Recently a world reputed Malaysian construction management firm has been contacted to manage the construction of RPL in the most efficient manner. Here there is a possibility of change in the design as well as the orientation of the features of the apartment complex. This will help RPL to give some additional choice to the customers of private sector who usually likes multiple choices.
Possibilities to capture market share of Government Housing:
The present Government is inviting tenders from the builders for the construction of houses for Bangladesh Army, Navy, Air Force, Police, RAB and others. So there is a huge opportunity for RPL to use the reputation and asset of RANGS Group to explore this unexplored area of business.
Introduction of RPL to the World Market:
Recently RPL took part in the REHAB Fair, which was arranged this year in London. This event gave RPL the exposure as a leading real estate company Bangladesh. RPL got some reservation order in the fair, which indicates a positive sign of the growth of this company.
Improvement of customer service department:
Under the new extended supply chain concept the customer service department has become a core individual department to support the core supply chain. Form the sales of an under construction apartment and handing over of the finished project the duty of the customer service department starts. In very recent future there is a possibility of reorganising the after sales division, which will ensure smooth delivery of service to customers. Presently what sales is promising can not be ensured by after sales division because they are too busy serving very little client in an unorganised manner.
Introduction of RANGS web site:
The web site for the whole group is under construction. But RPL has introduced its own web site, which is very user friendly and informative. By this way RPL will be able to build a system to communicate with its customers, listen to them, respond to their requirement and learn about the defective side of its operations. Then it can make some improvement, create brand loyalty etc, which should help to capture and retain substantial amount of market share.
Sanction of Bank Loan:
Recently RPL has got a sanction of handsome amount of bank loan. This will certainly enhance the growth of the company.
Threats:
Changes in the external environmental also may present threats to the firm. If the present business condition of RANGS Properties Ltd prevails then it will face some massive threats in the near future. Some examples of such threats include:
The budget for fiscal year 2006-2007
Recent budget for fiscal year 2006-2007 has increased the duties on apartment registration at the rate of one hundred and seventy five taka per square meter and two point zero five percent on land value. This will discourage a massive segment of population to invest their money in the real estate sector.
Increase in the bank interest rate:
The Bangladesh Bank has increased the rate of interest in the fixed deposit accounts. This will encourage a good number of people to deposit their money in the banks. And this act will definitely reduce the sale of apartments.
Political situation on the country in the next two years:
The present Government is at the end of its term of ruling the country. So the political situation is expected to turn to bad for the next two years. A good number of hartal and other mishaps are expected. This should also affect the business of RPL.
Increasing number of markets like Basundhara City:
A single commercial complex like BashundharaCity can bring a huge down fall in the price level of that concern area. It is a threat for all other surrounding offices and commercial spaces because of being so big. It can accommodate many offices and shops. As a result a time is required to build another small shopping mall or commercial office space in that area. Again this sort of commercial building will also reduce the floor prices.
Decreasing growth rate of Private Banks and Private University:
The rate of growth of private universities and banks will definitely decrease in the very near future or may be with in two or three years. These private universities and banks are one of the most valuable customers of real estate sectors.
Quality of the products:
The finishing quality of the products of RPL is decreasing day by day. As the number of project will increase in the next few years it can be assumed that the quality will decrease. So there is always a chance that the customer will shift from RANGS to some other company.
Relationship with the landowners:
After the acquisition of a land, RPL treats the landowners in a very unsatisfactory manner. Most of the time RPL fails to deliver the finished product on the agreed time. This brings sufferings to the landowners. RPL is very unwilling to pay any sort of compensation to the landowners. As a result the relationship between the landowner and RPL becomes unhealthy. These unsatisfied landowners never recommend RPL for developing their neighbors or relatives known person's land. It is a threat for the future business of this company.
The dissatisfaction of the buyers:
The buyer becomes very happy when he or she buys an apartment form RANGS, because of its good look and beautiful design. But the sufferings start right from the payment of the apartment. The clumsy registration process, entangled audit system puts the buyer nowhere. And after these hassles when the turn for some after sales service comes then the buyer finds no after sales department. This annoyed group of customers can become a massive threat to the reputation of the whole company.
 or's relation with the clients:
Asset, Advance Development, Urban Development and others whose are the competitors of RANGS Properties Ltd. There is a gulf of difference between RPL and its competitors in terms of client dealing. The competitors are always trying to satisfy their customers in the best possible way. But RPL does a very little to satisfy the customers.
Potential entrances:
More and more small companies are coming in the market. Market segment, that usually wants compact size and mid size apartments with little luxury is growing very fast. And to satisfy this segment small companies are booming. These companies have very little overhead cost, the top managements can devote their whole time behind a particular project, these companies expects very little margin or even no margin just to survive. They are the potential threats. Again some small companies are coming up with their steel structures. These steel structures are eating up the opportunities of the giant companies to built massive factory buildings.
New competitors:
Recently it has been heard that a Malaysian company is coming to invest in the Real Estate sector in Bangladesh. They are looking for another local company to become their partner to develop a satellite city in Purbachal. More and more new companies are coming to invest in the market and some more reputed company may come with a lower priced and good quality products. As people like to try out new taste in living, they may try out these new products thus some market share may be lost. These big foreign giants are really threat to company like RPL.
Employees job switching:
Very recently a group of 2nd generation management had left the company. There is a potential threat that some or even one of them can join major competitors company and leak out some or most of the sensitive information of RANGS, which can help competition to have advantages over us and also get head way in some of the loyal customer's place.
Row-Row Houses:
RPL is going to introduce a new type of housing concept to the higher-class people in the form of Ro-Ro Housing for a very attractive price. This may motivate customers to buy those instead of present luxury apartments, which may cause to loose the market share. This may also contradict in people's mind about RPL's position whether being as luxury apartment seller or a general apartment builder. There is another problem in this concept of Row-Row housing. There may be a massive security problem. This can ruin the image of RANGS Group.
High price:
Due to some internal policy the price of the apartments of RPL is higher than the price of similar apartments of the competitors. And day by day this price is increasing. If management does not reduce the price by cutting costs then the company will surely loss market shares.
Failure to create Niche:
If RANGS marketing team fails to position its products as superior, competitively priced mechanically troubled free with style and comfort RANGS may loose substantial amount of business this year.
The SWOT Matrix:
A firm should not necessarily pursue the more lucrative opportunities. Rather, it may have a better chance at developing a competitive advantage by identifying a fit between the firm's strengths and upcoming opportunities. In some cases, the firm can overcome a weakness in order to prepare itself to pursue a compelling opportunity.
RANGS Properties Ltd is more or less a real estate company that provides housing facilities to the people of higher economic class. There the market is not so big today. But as the days are going the market will expand. If RPL things some profit in the short run then it can expand its real estate business in many sectors like luxury apartments, economy class apartments, Ro-Ro housing, studio apartments etc. Or if RPL wants to deal only with the upper class of the society then it can become the only player of that kind in the market.
To develop strategies that take into account the SWOT profile, a matrix of these factors is constructed. The SWOT matrix (also known as a TOWS Matrix) is shown below:
SWOT / TOWS Matrix
| | | |
| --- | --- | --- |
| | Strengths | Weaknesses |
| Opportunities | S-O strategies | W-O strategies |
| Threats | S-T strategies | W-T strategies |
S-O strategies pursue opportunities that are good fit to the company's strengths. RANGS Group as a whole is well-of, so it can take some chances in another relevant sector such as Row-Row housing concept.
W-O strategies overcome weaknesses to pursue opportunities. RPL can detect its weaknesses. Its weaknesses are mainly in the customer dealing section and sometimes it come in the question of quality. As it has got some opportunity so it can rectify those weaknesses by the opportunities.
S-T strategies identify ways that the firm can use its strengths to reduce its vulnerability to external threats. There are many external threats for the business of RPL. RPL can take some initiatives to reduce those threats by using its strengths.
W-T strategies establish a defensive plan to prevent the firm's weaknesses from making it highly susceptible to external threats. This particular case is not applicable for RPL. Because of course there are some external threats but RANGS Group as well as RPL is not that much weak to take a defense.
PERCEPTION OF USERS:
At the time of interview of Apartment user's I found that most of them are happy for purchase their product from Rangs Properties Ltd. They agreed that the Product quality, Design, fitting & fixture are very nice. For getting their Bank finance they got assistance from Rangs properties Officials. They seemed that Sales, Revenue collection, Construction Management and Account's Department people are very much professional, but they are not fully satisfied for the service of Customer care Dept. they have suggested us customer care dept. should  improve their services.
Corporate social responsibility of Rangs Properties Limited :
1.Responsibilities to investor : Every person wants to invest his or her hard earned money is such a way that the investment becomes very worthy and meaningful to him or her. And RPL being a member of RANGS Group gives that confidence to the buyers. RPL assures the investors a secured and safe investment and each & every individual can expect a good return.
2. Responsibilities to customer : its customer service department always stands beside a customer to give the best possible friendly service. Customer service executives are always ready to welcome customers whenever he or she needs them.
 Due to the engagement of so many reputed engineers and architects in the construction of any projects of RANGS Properties Ltd, each of the projects becomes unique and master piece of its class. From aesthetic, civil engineering and functionality point of view the projects of RANGS Properties Ltd are far better then other real estate company in Bangladesh.
3.Responsibilities to employees: The internal environment of RPL is so much co-operative. The remuneration of the employees is satisfactory. The employees also have various attractive facilities. Here the employees can show their creativity specially in design section.
4.Resposibilities to government: Rangs Properties Ltd. Contribute a large amount of revenue to the Government exchequer in terms of Registration Cost, VAT & Taxes and Utility service charges.
5.Responsibilities to community: Population growth is the major factors that require increased number of residential houses. Bangladesh experienced high growth of population over the decades, which led to high demand for residential houses. However, the rate of population growth reduced significantly, the backing in creation of residential houses has still been significant.
6.Responsibilities to nation: RPL has contributed a lot to increase our national income. The name RPL stands as a giant, playing the novel role of solving the accommodation problem of Bangladesh as well as creating the better lifestyles. Rangs has always introduced the latest technologies and inventions of developed countries to Bangladesh..
FINDINGS & ANALYSIS
Problems with customers
1. The customer service and after sales department is lagging far behind the rivals.
2. The design department has a lack of qualified Civil Engineers. All the structural designs are done by the consultants, which costs a lot. This cost increases the price of the product. Repeatedly same architects are used for the design of the building complex. So the designs become more or less similar. The coordination among the departments is not so well. For that reason the sales team gets into trouble when a minor change is needed for sale, they hardly get any help from the design department.
3. The condition of customer service department is very alarming. The team is not able to provide satisfactory service to the customers. The clients are getting annoyed day by day. They maintain very little liaison with all clients. The response to the clients' letter is late. They coordinate with REL through a long channel, which delays the work and the client annoys. They arrange the apartment handover ceremony in a very shabby manner.
Problems with employees:
1. The management team has lack of professionals. Lack of "on the job" and "off the job" training facility.
Some another problems:
1. The design and consultancy fees are very high with respect to the rivals.
2. Proper relationship with buyers and landowners are not maintained. The company is not thinking about the small Real Estate companies. These small companies can anytime be a threat to RPL
.3. The projects should be done in prime locations. The registration process should be made little bit easier for the clients. The installment facility should be updated.
CONCLUSION:
ed for apartments among the people representing the middle and upper middle-income groups in Bangladesh. Because of severe resource constraints, the government is not able to take the role as a provider of housing for those groups. There is also an increasing demand among the affluent class of the society to buy luxury apartments especially in Dhaka city. Most of these apartments have most modern imported fittings, latest architectural design, parking facility, emergency generator and almost all modern amenities, which give rich people a sense of new social life. Therefore, unlike many of the developing countries, apartments in Bangladesh are becoming costly rather than being affordable for most people. Purchasing apartments, however, can help to avoid many hassles such as those related to purchase of land, approval of design, connecting electricity, gas and water, purchase of raw materials etc. There is a growing need for apartments among the people representing the middle and upper middle-income groups in Bangladesh. Because of severe resource constraints, the government is not able to take the role as a provider of housing for those groups.he project.
Sales incentives should be given timely to the sales person's.
The telecommunication and transportation facilities for the department should improve.
The senior sales persons should have separate computer facility.
Internet facility should be provided for overseas selling to the foreign residences of Bangladeshi's and for mass mailing.
Training for negotiation skill should be provided.
All these activities will definitely enhance the sales.
HR dept. should complete the performance appraisal timely, so that employees can be motivated.
They should also arrange different types of training program for employee's skill development.