Customer Service:
In the world of globalization, customers are the first priority to achieve the goal of a company. To achieve competitive advantage in the market better customer service is inevitable which direct Paxar Bangladesh Ltd. to establish Customer Service (CS) department who plays essential and important role in the progress of a product and the company's growth. . To achieve competitive advantage in the market better customer service is inevitable which direct Paxar Bangladesh Ltd. to establish Customer Service (CS) department who plays essential and important role in the progress of a product and the company's growth.
Customer Service Officer (CSO) and
Order Entry Department
Function and Responsibilities of CSO:
Receive orders and Process through the order entry operators.
Request Finance Officers to raise the PI E-mail.
Send PI with the L/C terms and conditions of Paxar Bangladesh Ltd to customers.
Follow up the orders with KEA system.
Handle customer's query and forward to the development team.
Maintain and update the customer file.
Record the complaints and inform the concerned person about it.
Coordinate with Dispatch Department to delivery orders in time.
Inform of every amendment, confirmation, or order to the Team Leader.
The main tasks of the CSO for which they are responsible are discuss below:
Order processing:
Customer Services Officer can receive order from a customer through email, telephone, and fax or can be handed in person too. After receiving the order s/he has to fill up the Order Clarification Request Form with reference to the CMS sheet / LOF / CD, UPC Details (size, code UPC number etc.) and transfer it to the Order Entry Operator. And the order entry operator would make a new factory sheet using KEA system. Then he/she keeps record in the order logbook for this specific order, and sending back the documents to the customer service officer. The factory sheet and other documents are also sent to the MAC room for processing of the production.
Sending Proforma Invoice to the customer:
After processing the order customer service officer has to request proforma invoice with reference to the factory sheet and asked the Finance Officer to raise the PI through e-mail. Then finance officer prepare it based on factory sheet and send it to customer service officer and CSO forward it to the customer.
Follow up the orders in the production floor:
Customers may ask for a layout to see the sample of their orders. Then after being asked, the Mac Designer submits the paper to the CSO. CSO asks the Order Entry Operator for putting a seal on it and send it to quality control for proofreading. Then the layout is transfer to the Customer Care people. The customer care people send that layout or sample of order to the customer by mail, or fax, DHL anyhow, for customer's approval. If customers approve the layout they will send the mail of approval and the signature of the customer must be attached to the factory sheet. Then the CSO forward the papers to the Order Entry Operator so that the order process flow can follow its normal path. Then they are responsible:
  To handle the customer query.
  To know about the product status
  To record any changes with regard to the product
  To maintain and update the customer file.
  To record the complaints and make known to the concerned person about it.
  To inform the Account Executive in case of any discrepancy from the guideline is found.
  To dispatch the order in time.
  To send the cc of every amendment, confirmation, order to the Team Leader.
 Follow up documentation:
Customer service Officer asked customer to open a letter of credit. They also inform the customers about the L/C terms and conditions. Then Customer open letter of credit on the basis of proforma invoice and send a copy of credit letter to commercial department of Paxar. Commercial department arise commercial invoice and send it to dispatch. And other documents that are needed to dispatch goods are:
  Bank permission
  BEPZA permission
  Shipping Document etc.
Order Entry:
Receiving Purchase orders from the Customer with CMS sheets and Size chart breakdown through the Customer Service Department and input the order into the system and raises a Factory Sheet.
The systems used in Paxar Lanka are: Texas system, Phoenix Net System, Global Order Entry system (GOES). In Bangladesh we are using now Texas system. Later we will work on Phoenix system and GOES system.
Texas Systems Another name is KEA 420!
KEA! , one of Attachmate's family of emulation products, lets you use your personal computer to emulate a VT terminal and communicate with your VAX or UNIX host. While maintaining your connection to your host, you can also work with other Windows applications.
Each active connection between KEA! and a host system is called a display session. A variety of communication methods is supported, and you can run multiple sessions simultaneously. You can also copy and paste information between sessions and between KEA! and other applications.
 Other KEA! features include:
The multiple page and cursor coupling features of the VT terminal, variable page lengths, and 80 or 132 columns.
Six different protocols for transferring files between your personal computer and a host.
A History feature that lets you scroll back through previously received data without recalling it from the host.
A comprehensive macro language that you can use to automate many processes. For example, a macro could be written to automatically log in to your host on startup.
An on-screen VT keyboard that gives you access to keys that might not be easily accessible on your actual keyboard.
All the VT character sets including the National Replacement sets, and the IBM graphics character set.
Variable font sizes and true representation of all character and line attributes: bold, blink, underline, inverse, and double-high/double-wide.
User-defined menus, dialog boxes, keys, and buttons.
A personal dialing directory that you can use with your modem.
All the VT printing functions, and some additional printing features.
The graphics version of KEA! emulates the ReGIS, Tektronix, and sixel graphics features of the VT340 terminal.
Visual view of KEA
We can divide the Order Processing into several steps:
Preliminary Check: The person responsible for order entry has to check for the clarity of details, and other basic requirements needed to raise a Factory sheet (F/S). In this stage s/he should:
First look what is the label reference no.
Check the PO Number of PO, Stroke Number, Series Number, Department number of CMS sheet.
 Process: Process part is the most critical part. Here input data into the system order wise.  Here we will use SALES ORDER ENTRY program to enter data.
Verify: After input the data, processor will submit PO, CMS sheet, Size Chart Breakdown and Size Details to the verifier to verify. To start verification verifier will use the menu option.
Print: To print the factory sheet s/he will use the menu option – O11 (PRINT TO ORDER) or FSHPRD.
 Report :In order processing, the important part is getting the report like-
                                                                                            i.      List of checked orders with Factory Sheet Not Printed
                                                                                          ii.      List of orders Not Yet Verified
                                                                                        iii.      Individual Order View
                                                                                        iv.      Customer order information
                                                                                          v.      Customer order details with the stage
                                                                                        vi.      List of Orders By Design Card Ref.
Customer and customer order information and individual orders details can be only viewed can't take any print.
Global Order Entry System (GOES):
GOES System is used only for GAP – Reference: SF233 orders. This system has an order entry and verification process. It is an Internet based application that downloads information from Paxar sites Globally. The reference that the verification clerk gets from the GOES System is called an "Order entry number". This number will be placed on a green color sticker on the F/S, in order that the Mac Room staff would have access for the same. Once the color stickers are pasted on the F/S's they will be given to the database section for entering.
Virtual Internet Printing System (VIPS):
Now-a-days the operation of GOES operation is lessen to 10 % and the operation of VIPS becomes 90%.
In artwork specific information is mentioned. For example the particular information in the label represents this particular thing. But in VIPS, the field information (which field is for what type of information) is linked in a automated way.
If the label consists of variable information then MAC room requests to EMEA or Hong Kong to set up the VIPS for the artwork so that they can make film & plate.They request EMEA when the products are of Europe division or UK division and they request Hong Kong when the products are of USA division. If the product is under Europe division then VIPS setup is designed by Romania. But in case of products of UK division, UK itself designs the VIPS setup.
If the product consists of fixed information then the MAC room doesn't have the need to request for VIPS setup.
However, only in case of variable information MAC room requests to get the VIPS setup. Sometimes MAC input manually the variable information to get the VIPS setup if the product consists of less variable information.
Order entry for different product:
When Order Entry Officer entry data in KEA system for generate a factory sheet then he strictly maintain two type information,
General information, which is essential for all products
Special information, which is needed only for a specific product.
But for a promotional ticket only quantity and label reference are required.
Marketing department plays vital role in product development and coordination. Marketing executive in PAXAR Bangladesh ltd. is known as Account Executive. They are responsible for find out the potential for a new label.
Marketing department is consist of Two part-
Global product development (GPD).
Retailers & Brand Owners (RBO)
Global Product Development (GPD)- The main work of GPD is to developed the product Globally, Fix the pricing, Raw material Ordering.
Retailers & Brand Owners (RBO)- The main work of RBO is to communicate with retailer and collect information about new product or new order to GPD and Sales
Product Approval and Order Placement Process:
 Retailer designs the garments and places the orders to-
Manufacturer through Agent
Manufacturer through Local Office
Accessories Supplier through VIPS (direct Online Order Processing)
 Manufacturer through Agent:
There are different manufacturers in different countries. Like manufacturer of UK, Germany, Turkey etc. Retailer places the orders to the manufacturer through the agents by either offering them commission or percentage of profit. Agents compare the cost offered by different manufacturers of different countries. Then they place the order to the manufacturer who provides the product at a lowest price.
 Manufacturer through Local Office:
Otherwise the manufacturers get the order from the local office of the retailer. The retailer needs to submit the name and contact address of the approved accessories provider to the manufacturer, so that the manufacturer can generate the costing by negotiating with the accessories provider. PAXAR is one of the accessories providers. Therefore, the retailer needs to give approval to the accessories provider at first. The retailer contacts with the accessories supplier of the country of the retailer. Then the suppliers of that particular country develop the products. Then the retailer negotiate then price with the suppliers and give approval to one of the suppliers among the others. This approval can be done in various ways. For example, the retailer can approve PAXAR, UK and give allowance to manufacture it from any hub of PAXAR. Then PAXAR, UK may contact with PAXAR, BD if the location of PAXAR, BD is nearer to the location of the local manufacturer. After that PAXAR, BD needs to take the approval of PAXAR, UK by providing them counter sample. Otherwise, if PAXAR, UK has the confidence on PAXAR, BD that BD can manufacture then they may only ask for the production sample after giving the order of production.
 Moreover, the retailer may ask samples from all hubs of PAXAR. And thereby can give order to any hub of PAXAR after comparing all the samples.
 It is the job of the manufacturer to place the order to the accessories provider on the basis of the given contact address by the retailer. Then Paxar, BD(for example) generates the PI either to manufacturer or retailer.
 On the other hand, if the variable information of the product is huge then the retailer wants to place the order directly to the accessories supplier rather than to the manufacturer. The retailers can enterorder through VIPS directly. But in this case the retailer needs to approve the sample at first and then negotiate the pricing. After that they place orders via VIPS.
 Functions and Responsibilities of the Marketing Department:
Product developing
Sampling
Raw material ordering
Costing
Pricing
System set up
Quality standard
The functions of the Marketing Department are basically product development and coordination and follow up, sampling, raw material ordering, costing, pricing etc.
SALES DEPARTMENT
 Sales department works as an intermediary between the customer and PAXAR Bangladesh limited. Sales persons visit the customers or manufacturers sight and conduct physically with customer. The sales team brings the necessary samples for the marketing department. It also helps the Customer Care Department in solving a dispute with a customer if necessary.
 Functions and Responsibilities of Sales Department:
Increasing sales from existing customers.
Adding new customers to the base.
Leasing with Customer Service, Marketing, & Production departments, to ensure that the customer gets the orders & samples timely & accurately.
Visiting the existing and prospective new clients and promoting products and services of Paxar.
Communicating customers and solve their all kinds of sales related problems.
Update customers order status by providing updated Customer Order Analysis Report.
Getting customer feedback regarding order related issues, as quality or any other problems.
Getting future projections and details of new developments from customers and take action about.
Collecting competitor information, industry trends, or any Marketing Intelligence information from the customer.
Any type of feedback or information collected should be reported back to the company at the weekly Sales Meeting, through a Sales Brief.
Takes initial action about new customer.
Sales Areas Segmentation:
Business Performance: The Business performance on the basis of Last four year Sales.
Growth rate (Y-O-Y)

Year

2005

2006

2007

2008

2009

Bangladesh

70%

87%

51%

54%

27%
 Finance Department:
In finance there are 3 divisions.
1. Documentation
2. Credit Control
3. Core Finance Team- Their main job is to work related to account.
Credit Control:
They create Proforma Invoice and Commercial Invoice.
Paxar never receives any cash amount rather collect payment through either LC or sales contact. Moreover, we can only do business in foreign currency (US $).
When customer queries to the CS then the marketing people set up the price after analyzing the costing and inform it to both the credit control team and CS. Then CS informs customer and goes to order entry team to input order into KEA for generating the F/S or Order sheet or Job Card No. Then CS gives F/S no. to credit control department for raising PI and informs customer about the price. CS communicates with customer over mail but main negotiation takes place between marketing people and customer.
One PI can be generated for several references (item codes) but only for one order of one particular customer. If PI value as negotiation takes place or any other thing like (reference no. or quantity)needs to be changed, then previous PI will be changed. However, after completing documentation (like CS goes to credit control with PI and LC/ sales contact and asks for making the documentation complete) PI never can be changed.
Letter Of Credit  (L/C):
LC is bank's guarantee. We usually deals with deferred C or irrevocable LC where the maximum credit limit is 90 days.
 Credit Guideline:
On behalf of Paxar Bangladesh Ltd. I thank you for giving us the opportunity for supplying
labels to your prestigious organization. We look forward to provide you quality service and
products for which Paxar is reputed for and wish the business relationship will be successful
at all times.
In order to have a smooth and trouble free transaction, I would like to present you the terms
of payments as stated below. We would appreciate if you could go through this in details and
let us know if you have any query before you confirm a order.
Please note, this Credit Guideline is subject to change as per decision of Paxar management.
1. General Payment Terms: Advance payment is preferred. However, Credit can be
extended up to 45 Days subject to certain condition.
2. Credit limit (in US$ amount): Negotiable.
3. Mode of payment:
Advance payment: By Foreign Demand Draft (Drawn on Bangladesh Bank)
or By Telegraphic Transfer while customer will pay all local and overseas
bank charges.
b. Letter of Credit (L/C): Only by Foreign Demand Draft (Drawn on
Bangladesh Bank).
4. L/C value should be minimum US$ 1000.00, otherwise Sales Contract with advance
payment term will be considered.
5. L/C may be considered, even when PI value is less then $1000 only with below
conditions:
L/C to be opened at Sight
b. Paxar will provide a revised PI including US$ 250.00 as other bank charges
6. On hold transactions: Under the following cases Paxar Bangladesh will stop to accept
further order or deliver any shipment of existing order:
If customer fails to clear payments of 2 (two) consignments within a month
after expiry of the credit term, or;
If customer fails to clear payments of 2(two) consecutive outstanding after
expiry of the credit term, or;
If the maximum credit limit exceeds.
note that, in case of hand-to-hand shipping documents delivery, the Bill of exchange and Delivery Challans are need to be accepted before delivery.
 7. Standard L/C terms: Customers have to incorporate the following terms and condition incase of L/C:
Irrevocable Letter of Credit complying UCPDC-600
Draft ''at sight'' or ''deferred for 30/45 days from the date of Delivery''
Value payable in US Dollars only, by FDD drawn on Bangladesh Bank
Delivery/Inco term is Ex-Factory/Ex-works
Partial Shipment is allowed
Presentation Period is 15 days from the date of delivery
Documents:

Ø Commercial Invoice in duplicate

Packing list in duplicate
Delivery Challan (as Freight Collect) in duplicate
All other certificates (if any) acceptable by Beneficiary
Other Conditions:

All bank charges (local & overseas) from Customer's A/C.
Maturity will be counted from the date of Delivery.
Customer will pay interest at LIBOR, if it crosses our maximum credit period.
Please advise/pay us through:
                                    HSBC, Dhaka Main Office
Anchor Tower, 1/1-B Sonargaon Road, Dhaka 1205
A/C: 050-000306-005
SWIFT: HSBCBDDH
Sales contact:
CS sends sales contact form to customer over mail and gets it signed back.
Commercial invoice (generated through excel file) is related to PI. The core finance team provides commercial invoice and delivery chalan to documentation team.
But customer have to close the documentation (accept the document and send it to their bank (for ex. Premier BL send it to HSBC BL and HSBC send it to Paxar) before delivery of the goods. 1 CI (Commercial Invoice) is for 1 LC/sales contact and 1 LC or sales contact can be consisted of any amount of PI (for ex. 10 Pis).
 DD and TT: TT is only for foreign customers. DD and TT are both for local and foreign customer. DD and TT takes place in sales contact. DD should always be drawn on Bangladesh Bank.
 Sales without Documentation:
If the documentation isn't closed by the customer but we delivered the goods to the customer then this is called sales without document.
 Relationship of MKT. & Finance:
We need to inform the credit control department about the price.
Commission to retailer- If there is any issue related to commission to the retailer then we need to inform it to the credit control team.
Activities of Credit Control Team's –
Nock the customer for giving the payment timely.
If we need any information regarding to total sale of a particular retailer then credit control team can provide this information.
Credit control team also works on account receivable.
Supply Chain Department
Under supply chain There are three Division
Export and Import
Procurement
Store
 Export and Import:
Export team They are operate the export procedure from City office they prepare Commercial Invoice(CI) to follow the Performa invoice(PI) send it to Customer for received goods.
Local Export Procedure:
Receive L/C or S/C.
Check & Amendment (If need) L/C or S/C.
Prepare delivery challan (DC) by dispatch.
Put Price information in CI by credit control department
Prepare Shipping Documents.
Send bill of exchange, DC/TR for Attested by buyer.
Prepare EP document and certify Exp form by bank.
Collect EP from BEPZA.
Delivery EP to buyer selected C&F agents.
Receive bill of exchange, Delivery Challan/Truck receipt, which Attested by buyer.
Receive payment by DD or TT, if export by sales contract.
Prepare consumption & deliver to C&F agents.
Custom assessment & deduct material from bond register as per consumption by C&F agents.
Receive DC with bank endorsement and Custom assessment seal & signature, Consumption with Custom assessment seal & signature, Copy of Bill of Entry, IC (If Needed).
Give goods clearance certificate to C&F agent.
Deliver goods to C&F agents by dispatch as per clearance certificate.
Prepare bank negotiation documents.
Submit documents to bank for payment.
Hand over file to credit control department.
Collect payment as per payment method.
Foreign Export Procedure:
Provide PI to buyer by CSR.
Receive L/C from buyer.
Prepare delivery challan by dispatch.
Put Price information in CI by credit control department.
Prepare Shipping Documents.
Prepare EP document and certify Exp by bank.
Collect EP from BEPZA.
Confirm booking with the forwarder.
Deliver all shipping Documents and consumption to C&F agent for custom procedure.
Custom assessment & deduct material from bond register as per consumption by C&F agents.
Confirm booking cover van/truck or mover with C&F agent or cargo services.
If need ask forwarder to provide container in factory area
Deliver goods to C&F agents and they deliver the goods to forwarder warehouse.
Collect B/L or AWB from Forwarder.
Collect CO from Export Promotion Burro (EPB) or Dhaka Metropolitan Chamber of Commerce & Industries (DMCCI).
Prepare bank negotiation documents.
Submit documents to bank for payment collection.
Provide flight details or vessel schedule to buyer by mail.
 Import Procedure:
Receive PO and Collect PI from supplier.
Prior permission from BEPZA (only for capital machinery & construction equipment)
Open insurance for goods as per PI (if needed).
Open L/C as per PI.
Collect IP from BEPZA.
Receive Original-shipping documents, B/L or AWB, IC (if needed) from supplier.
Hand over documents to company selected C&F agent to clear the goods.
Receive goods from C&F agents and ensure entry in bond register.
Hand over goods to store or consignee department.
Documents put in a file & keep it in record room.
 Necessary documents for BEPZA Permission:
To operate business inside BEPZA, every company has to follow the below rules & regulation,
Export/import payment method must be happens in foreign currency.
Legality of the company.
Legality of the product.
Code of Business Ethics of the company.
Whether the product is under duty free or not.
Company must have a bond license under boded warehouse.
Necessary Documents to get EP from BEPZA:
Prescribed forwarding for export permission
  Undertaking for export permit
Commercial Invoice.
Packing list.
Copy of sales contract or Letter of credit (L/C)
 Copy of Exp form, which attested by the bank.
Procurement
The duration of receiving raw material by air is 7-10 days. But in case of available supply it is possible to manage the raw material by this time. However, if the supplier of the raw material doesn't have the stock of the raw material then it will take more time to manage the raw material.  Usually it takes 14 days or 2 weeks. We should always keep in mind the current status and lead-time. We can collect the raw material from Hong Kong, USA, UK and Thailand.
 Information Needed For Making A Good Purchasing Decision
Price of the product to be purchased
Quality of goods
Lead Time
Relationship with Marketing
Generally Procurement department Procure Material every month but in case of new product development marketing people inform to procure material.
Store
In Paxar Bangladesh the main responsibility of a stores personnel is, keeping records of incoming goods and issued controls. They are also responsible to monitor, stock levels and goods consumption patterns in different seasons of the year. And should advice-purchasing department to re-order. When goods arrive at the stores, the following procedures will take place –
Quantity checks – The delivered quantity will be checked against the ordered quantity of the Purchase Order (P/O).
Quality check/Physical check – The Quality Department will check for quality of the goods, whether the goods comply with specifications, shipping damages, manufacturing defects, etc.
System entry – Once the goods are checked and approved, it would be taken into stores, by raising a Goods Received Note (GRN), and also by entering in the KEA system and stock cards. Subsequently the GRN will be sent to Finance Department for payment.
Sub Standard Goods – If the goods are not up to the required standard, it will be returned to the supplier, using a Goods Return Note.
If any quality issues crop up later, the Goods will be kept in the quarantine area for inspection.
The stores hold Raw material and Semi-Finished goods.
Raw material:
Different types of raw materials are used to produce goods at four-production department are Board, Paper, Fabric, Yarn, ink, rolls, Sticker, Film, Chemicals, Plates are some of the raw material held in the stores.
Semi-Finished goods:
Some goods are produce advance by projection but not complete these as finish goods. 70% or more than that are completed and when order are placed it would be completed. Litho or Flexo Department usually produces this type of goods as T/T tickets, Half-printed Litho boards, Flexo reels that are cut, Leather patch etc.
The raw material and semi-finished goods are kept in different stores and different departments. Most of the above goods are labeled and kept according to the retailers that use the products.
This key department bears a high degree of responsibility, as they have to make sure that the goods have been delivered to the respected department in the right time.
Production Department
Production:
Production Department Consist with 11 Departments:
Planning
Quality Control
Mac Design
Flexo
Rotary
Thermal
Heat Transfer
Woven
Litho
RFID
Despatched
Planning
Production Planning:
Receive Factory Sheet
Set Schedule as per Machine, Cutter, and Cylinder etc.
Maintain Lead-time for production.
Maintain Planning Board as per schedule.
Log in the register.
Entry in KEA system.
Daily entry according production capacity.
 "T Card" for Planning Board:
 The order entry department generates the factory sheet and then the planning department prepares T-card by using the relevant information. Then it is handed over to the factory floor for production planning. The T-Card is shuffled from one holder to another depending on the transfer of one production department to another. After the product is finished and is awaiting delivery, a single Cross is given on the T-Card (/) and when the product has been dispatched, then the T-Card is crossed (X) Out.
 Normally T-cards are two types, some are titled Maximum and some urgent. The T-Cards which has urgent orders written on it must be done even before the maximum orders are dealt with. In fact the factory floor must fulfill the urgent orders first.
 Daily Production Capacities of Paxar Bangladesh Ltd:
| | |
| --- | --- |
| Product | Daily Capacity |
| Printed Fabric Labels (Rotary) | 2mil pcs / day |
| Graphic Tag & Bar coded Tickets | 1mil pcs / day |
| Self-adhesive Labels (Flexo) | 6 lac pcs / day |
| Thermal | 2 mil pcs / day |
| Woven labels | 5lac pcs / day |
| Cut & Fold | 3mil pcs. /day |
Lead-Time:
 Lead-time for submission of layout is 2 working days and following two types of lead-time are maintained for production planning in Paxar Bangladesh ltd.
General lead-time
Special lead-time.
 General lead-time:
General lead-time will be applicable from receiving the factory sheet or after approve the layout. General lead-time for production is
Woven Labels : 12 Working Days.
Fabric Labels               : 07 Working Days.
Litho               : 07 Working Days and (10 Working Days only for 4 color job.)
Flexo                           : 05 Working Days.
Thermal                       : 05 Working Days.
Heat Transfer              : 12 working Days
Special lead-time:
Special lead-time will be applicable for some special store groups that are
 Marks & Spencer
Woven Labels             : 07 Working Days.
Fabric Labels               : 05 Working Days.
Litho                           : 07 Working Days.
George / MacKay's
Woven Labels             : 07 Working Days.
Fabric Labels               : 07 Working Days.
Litho                           : 07 Working Days and 10 Working Days only for 4 color job.
Gap / Old Navy
Woven Labels             : 12 Working Days.
Fabric Labels               : 07 Working Days.
Litho                           : 05 Working Days.
H&M
For Any Label H&M take
.Thermal                      :1-5 days
Litho                           :12days
Flexo                           : 5 days
Relationship with planning:
Without production Department, Planning directly linked with Customer service by whole production procedure. Planning has directly linked with procurement  in terms of  Material, Relationship  with Export/Import in terms of Foreign shipment and to know material import status. And relationship with despatch  in terms of urgent delivery.
 QUALITY CONTROL
The Quality Control Department is responsible for implementing the quality policy, and overall quality assurance of activities. This includes, ensuring the total requirement of the quality system are being adhered to monitoring, reviewing, auditing, analyzing and effecting amendments, as required.
 The Quality Policy:
"To establish Paxar Bangladesh limited as a globally recognized specialist in the production of garment labels, by consistently providing quality products and services surpassing the needs and expectations of our customers."
" This will be achieved by our commitment to care of our people and the environment, continuous improvement, and maintaining a quality assurance system which complies with the requirement of ISO 9000 series."
 "No way to sacrifice product quality & ensure to provide the correct product."
 As per Paxar Bangladesh Ltd quality policies, my assumption is, Paxar follow the STEPS policies:
S – Service. We provide highest service to customers.
T – Technology. We use latest technology to produce products.
E – Equipment. We use modern equipment for production.
P – Price. We provide most competitive international standard price.
S – Satisfaction. Step by step we earn customers satisfaction.
Quality Control Procedure:
Receive Factory Sheet.
Read & understand the factory sheet.
Collect information & layout.
Proof reading as per factory sheet.
Random Quality & Quantity check.
Durability check (Wash & Rub test).
Inspection of Raw material.
Proof Reading:
Proof reading is done in order to check the care instructions, spelling mistakes, codes, colors, language, logo, picture or symbol etc.  The positive and negative films used for proof reading as per factory sheet and the retailer's reference file. In Paxar Bangladesh proof reading done minimum 2 times. First when design making and second time when go for printing.
Proof Reading is also done in order to ensure that the printing quality standards are maintained and that every order is type set according to specified standards. Once the proof reading is done and the details are accurate, it will be sent to the Plate Room.
 Quality checking for Fabric Printing job will be as follow:
Information.
The fabric color and type.
The quality of the impression and colors.
The size of the label. (Length & width).
Sewing space etc.
Quality checking for Litho & Flexo products will be as follows:
Information
The quality of the board or paper used.
Quality of impression and colors.
Size & cut of the label.
If there is an error in the print quality, then a new plate will be developed and if there is difference in color, it will be checked using the light box. If it still has a significant difference, it would be checked using a Spectra Photometer, and changes to the color will be advised accordingly.
 Wash test and Rub test:
Wash Test – Once the label is printed and cured, the quality department will collect a sample of labels and send it through extreme conditions, in order to test it's withstand ability to heat and washing. Wash test is done mainly for care labels and woven labels. This test has done under 800 c for 3 hours (As per buyer requirements) to check labels durability.
Rub Test – A crock meter is used, along with a Grey scale, to measure the level of rubbing. Rub testing is done for all kind of labels excluding woven labels. This test is done in order to check if the inks get smudged or if conducting this test crushes the material.
Random Quality & Quantity Check:
Lay out & product information as per factory sheet.
Artwork as per format or design in factory sheet.
Production maintain as per spec card.
The Types Of Customer Complaints:
Shortages, between the ordered quantity and the delivered quantity.
Printing errors, ink dots, smudges, alignment errors, Material problems such as length, width, color, text etc.
Other errors like Errors from order input stage, Customer Services errors, Errors from other departments, etc.
MAC room
The labels are designed in the MAC room for Litho, flexo, and rotary section. For weaving section label are also Designed in this room. They designed physical features of the labels in the MAC room as customer requirement after getting the factory sheet & Sample from customer Service / Marketing Department. This department downloaded the design or manually draw the design with the help of the sample given I the factor sheet a modification / refining is made if required the sample layout is transfer to the RIP server computer. By giving command from this server a negative /positive sheet can be printed though image Setter Machine. The positive is the transparent sheet, based white & image is in black, where the negative has the base of black and image in white.
Designing process:
For design Litho, Flexo and fabric label or collect artwork, designer uses Post-descriptive file (PDF) format and E-mail or Link. PDF can't be changed by user and this file is opened using different software. The process of downloading & designing of artwork can make in two ways:
Automatic: PDF Format (Litho & Flexo) and Link Support (Litho & Rotary).
Manually: Design the label as per factory sheet & Sample.
Technology used in MAC Room:
PAXAR Bangladesh uses different software for designing labels. It collects design or artwork from server of Hong-Kong, UK, USA, and Sri-Lanka and retailer web side. The software that PAXAR Bangladesh use for design are:
Adobe- Photoshop
Adobe- illustrator
Quark X-press
Free hand
Barcode
File Maker
Acrobat rider
NCSA telenet (Link)
In Design
Paxar VIPS:
VIPS provide job ID and after getting job ID it needs 4 to 6 hours for Layout.
RIP Server:
All design need to send to RIP server for print negative or positive
Lead Time:
It needs minimum 48 hours to release Layout.
Limitation:
Can't accept any request without mail or paper documents.
Some times can't produce Layout with in 24 hours for over work load.
Need longtime for Layout when need Collect job ID from VIPS.
Plate room
Plate rooms is behind the MAC room. In this plateroom the positives, for the litho, are developed as positive plates. Keep the plate on negative and the process go on. About 8 minutes are required for exposure in the Ultra-violate ray, and requires one minute to make the plate. And then the plate are wash in water mixed with two chemical named, PCE3 & Botanol 1.Afterwards the plates are transferred to the production floor to the Litho section for production. For fabric and flexo labels processing, negative is necessary. It is exposed on the polymer or cyrel plate in the separate plate room at the end of the production floor. The negatives for the fabric and flexo labels stuck together to be exposed in the machine. Later the cyrels are removed and it is processed for washing and drying.
Plate making process:
The process is following:
The cyrals are cut into different shapes with negative's sizes.
Those cyral plates are placed in the pre exposure tray of the cyral plate maker machine for 60 seconds. And negatives are placed on top of the plates and vacuum is done for 7/8 seconds to make the cyrals and negatives attached air tight and even.
To makes impression of the negatives on the cyral plate main exposure require 8 minutes or sometimes more.
Then the plate are wash in water mixed with two chemical named, Percotahine (PCE3) & Botanol 1 in 3:1 ratio for 3 minutes. With tessa only the plates are fixed with the upper cover part of the washing portion of the machine. This is continued for 10 minutes or more. The unexposed part is washed off the plates in this process.
Now drying up is necessary for utilization in the machines for production of the labels. This drying process requires 3 hour at 60 degree centigrade.
After that post exposure is carried out to get a good plate.
At last step UV- C exposure, which is a must to harden the plate, takes place. And then we get a complete plate.
So the whole process, for getting a complete Cyril plate, takes 4hours in total. From the plate room, the plates are taken to the respective production sections.
Types of film and plate:
There are two types of film available in Paxar Bangladesh Ltd.
Positive film.
Negative film.
Positive film :  Positive films are made for producing litho and heat transfer.
Negative Film: Negative films are made for producing Rotary and Flexo Item.  
Also there are Two-type of plate available in Paxar Bangladesh Ltd.
PS plate  ( Plate made from Positive)
Cyril plate. ( Plate made from Negative)
Flexo:
The main products printed in this section are stickers and T/T tickets. A broad 250mm sticker paper or board is used to print on this machine.
Process Flexo graphic labels printing:
Receive factory sheet.
Start production as per planning schedule which depends on Cutter size.
Matching color & Varnish mat or gloss.
Proof reading & Color approval from QC.
Receive quality material with width or length, cyrel plate and Set it to the Flexo machine.
Die Cutting & Waste Pilling off.
Slitting.
Features of the Flexo graphic printer:
Up to five colors could be printed, front four and reverse one.
Cutting, Varnishing, Perforating and color printing could be done simultaneously.
At a time three cutters could be used on this machine.
Immediately after printing, the goods will be ready for dispatch. Since batch printing is done, the slitter and re-winder are used to separate the product
Type of Adhesive:
1. Semi Gloss: It is mostly used. White semi gloss is available.
2. Permanent-High adhesive
3. Peelable-Low adhesive
Polytex:Clear- Transparent White
XP / AFXP -extra permanent
AF –     Medium Permanent
ER / AFER – Extra Removable R-Removable
Semitex: White Permanent Peel able
Acetate:Clear-Low Adhesive White
Transco: Clear White
 Adhesive: R110-Low adhesive, S4900-High adhesive
Litho Permanent: Not gloss, White litho permanent is available which is of permanent adhesive.
PP Matt: White Poly Proplen Matt is available and it is of permanent adhesive.
There are 2 types of gum like –
Pattern Gummy-Some portion is gummy.
Permanent Gummy
Designing:
The stickers are designed in Mac room or studio Mac or Design room.
Both spot and process color can be used in case of sticker. However, maximum stickers can be printed using solid color. But process color can also be used.
Types of Sticker:
Bar Code Sticker- It consists of bar code.
Hanger sticker- It is used not for garments but for hanger.
Price Sticker- Sticker consists of price and pasted on garments or poly bag
Size Sticker- It mentions size on garments or poly bag.
Promotional Sticker- The sticker that consists of promotional statement. Like "Bye one and get 1 free" or 2 for $50 etc.
Size Stripe- It is comparatively larger. Size stripe is used for easier view.
Carton Sticker or Box Sticker- Sticker, which is pasting on box or carton.
Color:
The ink used is water based. To prepare the ink they have Pantone Color Guide for mixing colors. They use scale for mixing up colors at respective ratios specified in Pantone.
Lead-time:
Lead-time depends on order quantity. Normal lead time 5 dayes
Advantages:
Economical for long runs, or large quantities with less changes.
Quick printing could be done because of the web guide and the fact that Printing, Cutting, and Varnishing could be done simultaneously.
Disadvantages:
Less economical for smaller quantities because, to set up the machine there is a considerable wastage. (50 – 100m wastage)
Making changes takes time.
Material
F Striker
Three types
AD – Import from India
UPM – Import from Malaysia
Rtroma – Import from UK
Ink – Flexo ink Import from India.
Rotary
The process of rotary printing that is involved in producing labels is as follows: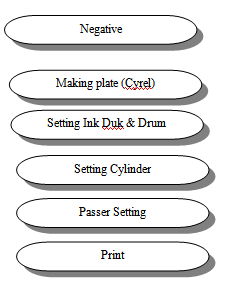 Matching:
1)   Focus – 8 Color
2)   L-6     — 6 color
3)   L-4     _4 color
4)   L-2   – 2 color
Types of label:
Different types of label are printed in rotary section but the main two types are-
            1.Care label
            2. Main label
There are some other types of label such as:
Fabric label
Size label
Age label
Two ups
Book style etc.
 Only Fabric Labels are printed in Rotary Printing Section and two main technologies used in this section, are;
Wet ink technology.
Hot stamp technology.

Some are parts:
Report on Paxar Bangladesh Ltd (Part 1)
Report on Paxar Bangladesh Ltd (Part 2)
Report on Paxar Bangladesh Ltd (Part 3)