Executive Summary
The ACME Laboratories Ltd. is committed to maintain state-of-the-art manufacturing facilities for ensuring best quality products to the customers. The ACME Laboratories Ltd, the pharmaceutical major and the flagship Company of the ACME Group, is a Manufacturer and Global exporter of Human, Herbal and Veterinary Pharmaceutical products. Our comprehensive Product List ranges from Antibiotics to Histamines to Vitamins. This company is moderate company in Bangladesh. The market share of the company is not so much. Pran is the lead copany in the market. To be successful, one must have a sound business and marketing plan with proper strategy. The core of business is to market the product that will be attracted by the consumers and also the product will satisfy the consumer's needs, not so much high. The changing environment creating new issues that must be considered for doing a business. In this dynamic business world the scenario of business aspect changes so rapidly that one false decision could cause the firm to loose its very existence.
Introduction
This survey is being conducted to know the problem of decreasing sale about a particular product in different point of view. Like   age group, gender, income etc. & also people thinking about going purchase the product.
Objective
ACME's quality slogan – "Perpetual Quest for Excellence".The ACME Laboratories Lt. is committed to maintain state-of-the-art manufacturing facilities for ensuring best quality products to the customers.
The main objective of the study is developing the knowledge in practical level and find out the reality in the practical life.
To have an overview of  the product
To define all character of demographical variable, attitude, brand image, position on market, decrease sale and performance.
To get a overview of advantage and disadvantage of marketing research.
Limitation of the report
During the study of the report we have faced following problem –
Time is not enough for such an extensive study.
Information relating to the product is very sensitive that is why secondary data have been in some extant.
Sample size was so small, which could not able to give some information appropriately.
Mythology
To do all this things I need much information therefore I have collected this information form both primary & secondary sources.
(a) Primary sources:
Data collect by questionnaires those who drink the juice from different brand in the Bangladesh.
We using Microsoft word and excel to find out the result.
 (b) Secondary sources:
Books, some research report .
Lecture sheet
Benefits
As a student I have learned the procedure of writing a report. As well as I have gathered knowledge about the contribution of Bombay sweets Potato crackers in Bangladesh.
Company Profile of ACME Laboratories Ltd.
ACME Group is one of the leading and diversified global conglomerates in Bangladesh, with offices in all major cities, employing over 3000+ employees and dedicated to bringing the highest quality products and services to our customers. We have an annual turnover of US $60 million with diversified interests in Pharmaceuticals, FMCG, Information Technology Services, Aviation Services, Printing & Packaging Services, Trading Services, C & F Services, Apparels and more.
The conglomerate has an outstanding record of all around excellence and growth in the relevant business activities. He ACME laboratories Ltd, the pharmaceutical major and the flagship Company of the ACME Group, is a Manufacturer and Global exporter of Human, Herbal and Veterinary Pharmaceutical products. Our comprehensive Product List ranges from Antibiotics to Histamines to Vitamins. Certifications include: ISO 9001:2008.
Sophisticated manufacturing facilities in a state-of-the-art factory
Committed to provide quality medicine at affordable price
Strict adherence to WHO cGMP regulations
An ISO 9001:2008 certified company
Wide range of dosage for & products
Perpetual quest for excellence in quality products & services
Developing Health Care awareness Serving the community since 1954
Opened office in Pakistan
Exporting successfully to 11 countries World-Wide Introducing the newest member of the ACME Group, The ACME Agrovet & Beverage Ltd. is a FMCG business venture to manufacture fruit juice, mineral water and many more. These are manufactured and bottled in a state-of-the art processing factory using latest machines and Tetra-Pak facilities.   he Company has launched ACME's Premium and Classic Orange & Mango Juice in the Market.
  Available in 250 ml hygienic UHT packs.
  Revitalize, rejuvenate and reactivate yourself with ACME juice
An Information Technology Services company offering Software Development, Web Development, Multimedia Presentation, IT Consulting, Software Export, Software Marketing, Network Solutions, Training & Education, Joint Venture IT Business, Data Entry and more.
Motivation as a psychological force
Motivation is the driving force within individuals that impels them to action. This driving force is produced by a state of tension, which exists as the result of an unfulfilled need. Individuals strive both consciously and subconsciously to reduce this tension through behavior that they anticipate will fulfill their needs and thus relieve them of the stress they feel. The specific goals they select and the patterns of action they undertake to achieve their goals are the results of individual thinking and learning.
Needs
Every individual has needs: some are innate, others are acquired. Innate needs are physiological (i.e., biogenic); they include the needs for food, water, air, clothing, shelter, and sex. Because they are needed to sustain biological life, the biogenic needs are considered primary needs or motives.
Acquired needs
Acquired needs are needs that we learn in response to our culture or environment. These may include needs for self-esteem, prestige, affection, power, and learning. Because acquired needs are generally psychological (i.e., psychogenic), they are considered secondary needs or motives.
MODEL OF THE MOTIVATION PROCESS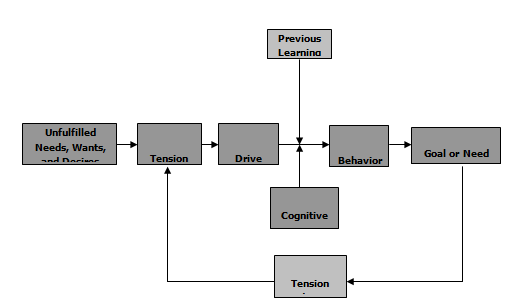 Goals:
Goals are the sought-after results of motivated behavior. As motivation Process indicated, all behavior is goal oriented. Our discussion of motivation in this chapter is in part concerned with generic goals, that is, the general classes or categories of goals that consumers see as a means to fulfill their needs. If a student tells his parents that he wants to become a medical doctor, he has stated a generic goal. If he says he wants to get an M.D. degree from UCLA, he has expressed a product-specific goal. Marketers are particularly concerned with product-specific goals, that is, the specifically branded products and services that consumers select for goal fulfillment.
POSITIVE AND NEGATIVE MOTIVATION
Motivation can be positive or negative in direction. We may feel a driving force toward some object or condition or a driving force away from some object or condition. for example, a person may be impelled toward a restaurant to fulfill a hunger need, and away from motorcycle transportation to fulfill a safety need.
Some psychologists refer to positive drives as needs, wants, or desires and to negative drives as fears or aversions. However, although positive and negative motivational forces seem to differ dramatically in terms of physical (and sometimes emotional) activity, they are basically similar in that both serve to initiate and sustain human behavior. For this reason, researchers often refer to both kinds of drives or motives as needs, wants and desires. Some theorists distinguish wants from needs by defining wants as product-specific needs. Others differentiate between desires, on the one hand, and needs and wants on the other. Thus, there is no uniformly accepted distinction among the terms needs, wants, and desires.
TYPES AND SYSTEMS OF NEEDS
Hierarchy of needs MASLOW'S HIERARCHY OF NEEDS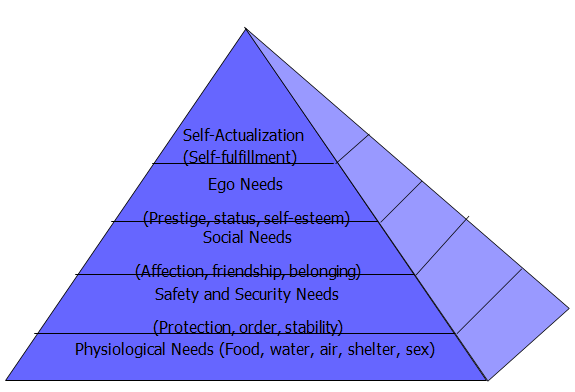 S W O T ANALYSIS
Strengths:
The      largest Solid Dosages Form facilities in Bangladesh. Total facility area is 2,19162 sft and clean class – 100000 area is 43,726 sft
Dedicated      building for non penicillin,      non-cephalosporin and non-steroid products
Strict      adherence to WHO cGMP      regulations
More      than three billion tablet      manufacturing facility per year considering single shift
Designed      the facility to meeting the requirements of WHO cGMP, UK-MHRA and US-FDA
Designed      the facility to meeting the requirements of WHO cGMP, UK-MHRA and US-FDA.
Environment controlled and monitored by integrated building      management System (IBMS)      through introducing Zoning concept      in all manufacturing areas.
Room      to room automated differential      pressure monitoring system to avoid cross contamination
In      manufacturing area every airlock, pass box and doors containing interlocking system
Fully      automated production machineries      from renowned sources incorporate with latest technology for maintaining strict cGMP compliance in every where.
Each machine meets the requirement of 21 CFR part 11 compliances
Introduce      world renowned PW(Purified Water)      generation system including loop to meet up high standard water quality in      everywhere
Independent R & D Lab for developing new products,      which containing sophisticated
lab trial equipments. Separate analytical lab also available here.
Separate QC Lab equipped with modern      machineries      like FTIR, TOC analyzer, HPLC, GC,      Atomic absorption spectroscopy etc.
Independent microbiology department to perform microbiological      tests.
Strict safety profile are maintained through out the      plant. In view of this world renowned safety devices are introduced for      fire detection and fire protection.
Environment friendly modern ETP &      Incinerator      are available for managing solid and liquid waste dispo
Weaknesses:
The test of the product is not supported to the consumers. They could not feel to drienk compare with other brand. Sometimes their owen opinion about the packaging which is poor then Pran Juice. Less Product classifications. Opportunities.  Too much competition from international organizations, for example Coca-Cola, PepsiCo, RC-Cola, Virgin Cola, Rasna (India), Shezan (Pakistan) etc
Existing competitor of the current market is not that much strong which the pran company has.
Pran can be export to other countries.
Existing distribution channel is being used.
High growth rate in this industry.
Threats
Competitor can produce the same product.
Downward pressure on pricing.
Political instability, economy etc.
Shezan gives lower price which might be Threats
Conclusion & Recommendation
According to the above explanation I can say that the ACME Laboratories Ltd. is challenging business. Although the test of the juice is not preferable to the customer but thy do not den-nay fully. It is familiar in Bangladesh and also reach in everywhere  where the company use just-in-time in Bangladesh. Just-in time provides ensure to sell the products within contract period. For that a company acquires well reputation in the market. Besides customers also get quality product with reasonable cost & their required time. But its true that some customers do like the flavor with test.  I know everything has both good sides as well as bad sides. It is the very important that which is providing better thing for what. In that case we also consider some problems if we get more opportunity. That's why based on the company situation, company should follow and overcome the weakness.