Executive Summary 
Today, Private Commercial banking is considered as a service industry. In the process of conducting its own activities to achieve its own goal, like making profit, a commercial bank gives services to all types of customers. Actually, to culled saving from the general customer is the normal function of all commercial bank. But the important activities of commercial banking are sanctioning loan of different business organization to continue their business activities. Among these activities, loan & advance and trade finance activities are the basic activities of all commercial bank.
In my study, I tried to identify all the key indicators of financial performance evaluation of the JBL. This is quiet helpful for the investors, borrowers and other affiliated parties of the bank. In this report, the general activities of JBL and its various products are also discussed.
And finally, this report points out some very important strength as well as the weaknesses of the bank. The findings on some very important issues arid recommendations for the bank are also available at the end of the report. This report will help the bank management to improve the financial position and its overall performance to compete the existing & upcoming Banks in Bangladesh.
INTRODUCTION
Bank is the lifeblood of an economy to keep the wheels moving forward and to play the pivotal role in the economic development of the country. The present economic state of Bangladesh demands immediate development of the financial institutions. Banking sector has lot of areas to improve upon. One of the measures to improve this condition is to introduce tailor made professional programs that are designed to develop the managerial efficiency.
As fulfillment of the MBA program well arranged by MBA Program, Faculty of Business, ASA UniversityBangladesh I had to undergo a three months internship program which is a practical orientation stage and will definitely guide to employ the potentials to build up a successful professional career.
After participating in the internship program conducted on Jamuna Bank Limited I am assigned to submit a report on "Performance Analysis of Jamuna Bank Limited".
The report helps significantly to build a perception about day to day affairs of the bank. This report attempts to describe the functions of a branch of commercial bank and some recommendation for improvement and efficiency of some of those functions.
The prime objective of the study is to find out empirically how the performance of a commercial bank can be measured and the brief analysis on the performance indicators.
Origin of the Report:
The report is an attempt to provide an orientation to real life scenario in which one can observe and evaluate the use and applicability of theoretical concepts that were taught in MBA program. During the internship program, I was assigned to Jamuna Bank Limited (JBL) to observe practical applications of my theoretical knowledge. Finally a report with proper analysis and possible solution of the organization needs to be submitted to Dr.Md. Mohoboal Ali of faculty of Business, MBA Program of ASA University Bangladesh.
Objectives of the Study :
The primary objective of this assignment is to achieve practical knowledge about banking to observe what the basic bank services are. The study is concentrated on policies and Practice of Credit Management Policy of Jamuna Bank Ltd. and to detect the type of service that is rendered to facilities economic growth. However the objectives of the study can briefly be stated as follows:
X       To fulfill the partial requirement of MBA program.
X       To gain practical exposures in different banking activities, this will be helpful for the courses of MBA program.
X       To familiar with the working environment in bank.
X       To apply theoretical knowledge in the practical field.
X       To observe and analyze the performance of the specific branch and the bank as a whole.
X       Evaluation of the present performance of the bank.
X       To assess the strengths and weaknesses.
X       To suggest general and specific guideline for the total improvement of services of JBL
X       To investigate empirically the overall aspects and every possible reason through multivariate methodology.
Scope of the Study :
The report is prepared with a view to provide a brief but complete idea about the services & the performance indicators analysis of JBL. In this report it is tried to include the problems and prospects of operating Banks. But this project is not for comparing among rather than the area of activities of this report is bounded in how the customers adopt the existing facilities and services of credit and advances and how the potential and new customer will take this offer and what their demand and expectation from this service.
Methodology
In order to make the report more meaningful and presentable, two sources of data and information have been used widely. The 'Primary Sources' are as follows –
X    Face-to-face conversation with the respective offices the branch.
X     Informal conversation with the clients.
X    Practical work exposures on different desks of the branch covered.
X     Relevant file study as provided by the officers concerned.
The 'Secondary Sources' of data and information's are –
X    Annual report (2005-2008) of Jamuna Bank Limited.
X     Periodicals published by Bangladesh Bank,
X     Different publications regarding banking functions, foreign exchange operation and credit policies.
X     The internet was also used as a theoretical source of information.
X     Training materials of JBL.
This assignment has been prepared on the basis of experience gathered during the period of 12 weeks pre-intemship. To make any repot or statistical survey the more data I take under consideration the more it will reflect actual situation. But due to various limitations I could not provided enough data.
Limitation of the Study:
During the course of practical training one of the major limitations I faced was communication with the department and the officers because of their business (being busy). Another crucial limitation is time constraint As I was posted in the Dhanmondi Branch, it was difficult for me to collect all the organizational structure and other necessary information to know all the related documents.
Annual reports and other raw financial statements were the main source of collecting data. I have relied on those annual reports, financial statements, and interviews of the key executive officers. And hence, there might be some unintentional mistakes as the employees or the respondents were busy with their duties.
The Banking Industry-Past & Present
The banking industry of the country started its journey soon after the Liberation war in 1971. After liberalization of the commercial banks, banking industry in Bangladesh started its journey without any participation of the private sector in very restrictive financial systems. In early eighties, few commercial banks were allowed aid private commercial banking system starts functioning. Due to lack of experience and of supervisory as well as controlling environment, first generation private banks faced various problems in the next few years. During the late eighties and early nineties, with the passage of Financial Sector Reform Program, banking regulation structure suggested by BIS and followed by the developed countries began to start incorporation into the banking regulations of Bangladesh. In the following table a few snapshots as well as brief history has been given which will he!p us in understanding the overall banking sector in Bangladesh; (Bangladesh Bank (BB) 2009).
Credit Information Bureau (CID) Report form Bangladesh Bank
It stands for Credit Information Bureau in sport. CIS is a department by Bangladesh Bank to help the all-banking and financial Institutions by providing the latest report in the customers, who enjoy credit for facilities more than 10 Lac Taka. According to Bangladesh Bank order no bank can provide only credit facilities more than Tk. 10 Lac, without having CIS report from Bangladesh Bank. If there is any adverse report on raw customer, which represent-classified loan no bank can provide any credit facilities to that customer. This is a unique facility provided by Bangladesh Bank to its entire member Bank/Financial Institutions. Even the Central Bank of India does not provide this type of facilities through is some credit rating agencies in India. This report includes various latest information's on the customer having outstanding liability of Tk. 10 lac and above and recently Bangladesh Bank is making arrangement to make it to Tk. 1 lack and above. Li addition to legal obligation this report helps a credit officer to evaluate a customer along with its all sister concerns/partners. (Bangladesh Bank (BB) 2009)
Financial System of Bangladesh
The financial system of Bangladesh consists of Bangladesh Bank (BB) as the central bank, 4 nationalized commercial banks (NCB), 5 government owned specialized banks, 30 domestic private banks, 10 foreign banks and 28 non-bank financial institutions. The financial system also embraces insurance companies, stock exchanges and co-operative banks.
•      Central Bank
•      Bank & FIs
•      Capital Market
•      Insurance
•      Microfinance
•      Institutions (MFIs)
(Bangladesh Bank (BB) 2009)
Exchange Rate
The exchange rates of Taka for inter-bank and customer transactions are set by the dealer banks themselves, based on demand-supply interaction. The Bangladesh Bank is not present in the market on a day-to-day basis and undertakes purchase or sale transactions with the dealer banks only as needed to maintain orderly market conditions
The exchange rates are used as reference rates to purchase or sale transactions for Bangladesh Bank with Government or different International Organization. But USD/BDT buying and selling rates represent previous day interbank market's highest and lowest exchange rates.
Recent Reference Exchange Rates:
5th January, 2009
Currency
Buying
Selling

A. USD/BDT Rates (based on interbank transaction)
USD
68.50
68.53
B, Cross Rate
JPY
0.65
0.65
GBP
133,88
133.97
EUR
105,75
105.81
CAD
67.38
67.44
AUD
65.59
65.65
Source: Statistics Department, Bangladesh Bank, www.bangladesh-bank.org
Interest Rates
End of Period

Bank Rate

Call Money Market's Weighted Average Interest Rates on
Schedule Banks' Weighted Average Interest Rates on

Borrowing
Lending
Deposits
Advances
2008
5.00
14.82
14.82
2007
5.00
9.31
9.31
2006
5.00
7.17
7.17
6.98
12.99
2005
5.00
8.41
8.41
5.90
11.25
2004
5.00
4.93
5.74
5.56
10.83
2003
5.00
6.88
8.17
6.25
12.36
2002
6.00
9.49
9.56
6.49
13.09
2001
7.00
8.26
8.57
6,75
13.42
2000
7.00
6.82
7.21
7.08
13.75
1999
7.00
7.15
7.61
7.26
13.98
data up to month of April of year 2008.
Source : Statistics Department, Bangladesh Bank,
Bank Deposits
(Taka in Millions)

Items
March,

2008

February, 2008
March,

2007

Percentage Changes of March, 2008 over

February,

2008

March, 2007
Demand Deposits
251592
243903
209155
3.15
20.29
Time Deposits
1776713
1755954
1536748
1.18
15.62
Total
2028305
1999857
1745903
1.42
16.18
* Excludes Inter bank and Government Deposits.
Source; Statistics Department, Bangladesh Bank, wvw.banglactesli-bank.ors
Traditional Heritage and Historical Background of Jamuna Bank Limited:
Jamuna Bank Limited (JBL) is a Banking Company registered under the Companies Act, 1994 with its Head Office at Chini Shilpa Bhaban, 3, Dilkusha C/A, Dhaka-1000. The Bank started its operation from 3rd June 2001.
Jamuna Bank Limited is a highly capitalized new generation Bank with an Authorized Capital and Paid-up Capital of Tk.1600.00 million and Tk.390.00 million respectively. The Paid-up Capital has been raised to 429,00 million and the total equity of the bank stands at 725,00 million as on June 30, 2005. Currently the Bank has 39 (Thirty Nine) branches.
The Bank undertakes all types of banking transactions to support the development of'trade and commerce of the country. JBL's services; are also available for the entrepreneurs to set up new ventures arid BMRE of industrial units.
Jamuna Bank Ltd., the only Bengali named new generation private commercial bank was established by a group of winning local entrepreneurs conceiving an idea of creating a model banking institution with different outlook to offer the valued customers, a comprehensive range of financial services and innovative products for sustainable mutual growth and prosperity. The sponsors are reputed personalities in the filed of trade, commerce and industries.
The Bank is being managed and operated by a group of highly educated and professional team with diversified experience in finance and banking. The Management of the bank constantly focuses on understanding and anticipating customers needs. The scenario of banking business is changing day by day, so the bank's responsibility is to device strategy and new products to cope with the changing environment. Jamuna Bank Ltd. has already achieved tremendous progress within only Seven years. The bank has already ranked at top of the quality service providers & is known for its reputation.
Jamuna Bank offers different types of Corporate and Personal Banking Services involving all segments of the society within the purview of rules and regulations laid down by the Central Bank and other regulatory authorities.
The operation hour of the Bank is 9:00 A.M. To 5:00 P.M. from Sunday to Thursday with transaction hour from 9:00 A.M. to 3:00 P.M. The Bank remains closed at Friday and Saturday including government holidays. (Annual Report of Jamuna Bank Ltd. 2008)
Vision & Mission
Visions
To become a leading banking institution and to play a pivotal role in the development of the country
Mission:
The Bank is committed to satisfying diverse needs of its customers through an array of products at a competitive price by using appropriate technology and providing timely service so that a sustainable growth, reasonable return and contribution to the development of the country can be ensured with a motivated and professional work-force.
(Annual Report of Jamuna Bank Ltd, 2008)
Management
JBL is managed by highly professional people. The present Managing Director of the Bank is a forward looking senior banker having decades of experience and multi discipline of knowledge to his credit both at home and abroad. He is supported by an educated and skilled professional team with diversified experience in finance and banking. The; management of the bank constantly focuses on the understanding and anticipating customers' needs and offer solution thereof. Jamuna Bank Limited has already achieved tremendous progress with in a short period of its operation. The Bank is already ranked as one of the quality service providers and known for its reputation.(Annual Report of Jamuna Bank Ltd, 2008)
Corporate Slogan of JBL
 Your partner for Growth
Objectives of JBL
X       To earn and maintain CAMELS rating strong
X       To establish relationship banking and service quality through development of Strategic Marketing Plan.
X       To remain one of the best banks in Bangladesh in terms of profitability and asset quality.
X       To ensure an adequate rate of return on in vestment.
X       To maintain adequate liquidity to meet maturity obligations and commitments.
X       To maintain a healthy growth of business with desired image.\
X       To maintain adequate control systems and transparency in procedures.
X       To develop and retain a quality work force through an effective Human Resources Management System.
X       To ensue optimum utilization of all available resources.
X       To pursue an effective system of Management by ensuring compliance to ethical norms, transparency and accountability at all levels.
Strategies  of JBL
X       To manage and operate the Bank in the most efficient manner to enhance financial performance and to control cost of fund.
X       To strive for customer satisfaction through quality control and delivery of timely services.
X       To   identify customers credit  and  other  banking  needs  and   monitor  their perception towards our performance in meeting those requirement.
X       To review and update policies, procedures and practices to enhance the ability to extend better services to customers.
X       To train and develop all employees and provide adequate resources so that customer needs car, be responsibly addressed.
X       To promote organizational effectiveness by openly communicating company plans, policies, practices and procedures to all employees in a timely fashion
X       To diversify portfolio both in the retail and wholesale market
X       To increase  direct  contract  with  customers  in  order  to  cultivate  a  closer relationship between the bank and its customers.
Hierarchy Position of JBL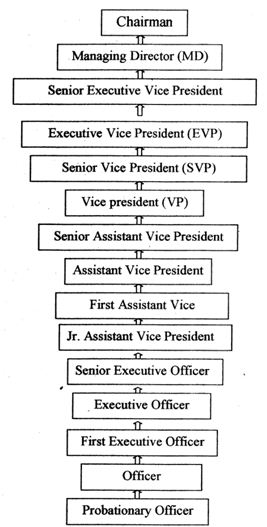 Role of the Jamuna Bank in the Economic Development of Bangladesh:  
Jamuna Bank is a leading banking institution and to play a pivotal role in the Economic development of the country. Jamuna Bank has many deposit schemes, saving deposits scheme. Some deposits scheme is only for poor people. That is rural deposit scheme, medium and small saving scheme. The people are deposit money in the Jamuna bank. And the Jamuna bank removes poverty of poor people by deposit schemes saving scheme. Jamuna Bank has vital role of the export and import in the economic development of Bangladesh. Jamuna bank keep contribution foreign remittance from Bangladeshi foreign citizen for economic develop m Bangladesh. Jamuna bank has SME banking system. This Bank pay loan for the small arid medium business lower interest rate. This interest rate is 16% of Jamuna Bank. Small and medium business owners are taken loan from Jamuna bank for develop their business. Small and medium business are develop Then the Bangladeshi economics will be developed. Overall we can see that Jamuna bank is contributing the role of economics development of Bangladesh. (Annual Report of Jamuna Bank Ltd, 2008)
Products & Services
The products and services can be classifying in two ways & those are:
X  The deposit products & services
X  The lending products  & services
Deposits products & services
Lending/Investment products & services
Corporate Banking

Personal Banking

Online Banking

Monthly Savings Scheme

Monthly Benefit Scheme

Double/Triple Benefit Scheme

Marriage Scheme

Education Scheme

Lichgate Deposit Scheme

Q-Cash ATM

Hire Purchase

Lease Finance

Persona! loan for woman

Project Finance

Loan Syndication

Consumer Credit

Import and Export. Handling Financing
Source: Jamuna Bank Ltd, Product & Service, available wwvv.jamunabankbd.com
Corporate Banking
The motto of JBL's Corporate Banking services is to provide personalized solutions to their customers. The Bank distinguishes and identifies corporate customers' need and designs tailored solutions accordingly. Jamuna Bank Ltd, Driers a complete range of advisory, financing and operational combining trade, treasury, investment and services to its corporate client groups coin transactional banking activities in one package. Whether it is project finance, term loan, import or export deal, a working capital requirement or a forward cover for a foreign currency transition, there Corporate Banking Managers will offer you the accurate solution, their corporate Banking specialists will render high class service for speedy approvals and efficient processing to satisfy customer needs.
Corporate Banking business envelops a broad range of businesses and industries.
personal Banking
Personal Banking of Jamuna Bank offers wide-ranging products and services matching the requirement of every customer. Transactional accounts, savings schemes or loan facilities from Jamuna Bank Ltd. make available to all a unique, mixture of easy and consummate service quality. They make every endeavor to ensure their clients' satisfaction. Their cooperative & friendly professionals working in the branches will make your visit and enjoyable experience.
JBL offers the following key Personal Banking Services
Current Deposit Account
Savings Deposit Account
Short Term Deposit Account
Fixed Deposit Account
Special features:
Special features:
No limit to the number of withdrawals.
No minimum balance fee.
Statement of account at your desired frequency.
Free cheque book.
Q-Cash Round the Clock Banking.
All types of general banking facilities.
Online Banking
Jamuna Bank Limited has introduced real-time any branch banking on April 05, 2005. Now, customers can withdraw and deposit money from any of its 30 branches located at Dhaka, Chittagorig, Sylhet/ Gazipur, Bogra, Naogapn, Naray.anganj and Munshigonj commila, Sherajgong Nayakhali. Their valuevd customers can also enjoy 24 hours banking service through ATM card from any of Q-cash ATMs located at Dhaka, Chittagong, Khulna, Sylhet and Bogra. All the existing customers of Jamuna Bank Limited will enjoy this service by default. (Annual Report of Jamuna Bank Ltd, 2008)
Monthly Savings Scheme (MSS)
Savings is the best friend in bad days. Small savings can build up a prosperous future. Savings can meet up any emergences. JBL has introduced Monthly Savings Scheme (MSS) that allows saving on a monthly basis and getting a handsome return upon maturity. If anyone wants to build up a significant savings to carry out you're cherished Dream, JBL MSS is the right solution.
| | | | |
| --- | --- | --- | --- |
| Monthly Deposit | 3 –Years | 5-Years | 10- Years |
| Tk. 5007- | Tk.21,1307- | Tk.39,9907- | Tk. 1,10,5007- |
| Tk. 10007- | Tk.42,2607- | Tk. 80,0007- | Tk.2,21,0007- |
Source: Jamuna Bank Ltd, Monthly Savings Schemes, Annual Report of Jarnuna Bank, 2008.
Monthly Benefit Scheme (MBS)
Jamuna Bank Limited has introduced Monthly Benefit Scheme (MBS) for the prudent persons having ready cash and desiring to have fixed income on monthly basis out of it without talking risk of loss and without enchasing the principal amount. This scheme offers highest return with zero risk. Everyone can plan your monthly expenditure with the certain monthly income under the scheme.
| | |
| --- | --- |
| Tenor | Monthly benefit/profit against deposit of Tk. 1.00 (one) lac |
| 5 –years | Tk. 10207- |
| 3 –years | Tk. 10007- |
| 1 –year | Tk.8757- |
| 6-months | Tk.8507- |
Source: Jamuna Bank Ltd, Monthly Benefit Schemes., Annual Report of Jamuna Bank, 2008.
Double/Triple Growth Scheme
For people who have cash flow at this moment and want to get it doubied7tripled quickly JBL has introduced Double/Triple Growth Deposit Scheme that offers to make double/triple money within 6(six) years and 9.5 (nine and a half) years respectively resulting a high rate of interest.
Education Savings Scheme
Today's higher education is becoming expired day by day. As such, JBI, has introduced 'Education Savings Scheme' which offers an opportunity to build up cherished fund by monthly deposit of small amount it at affordable capacity or initial lump sum deposit to yield handsome amount on a future date to meet the educational expenses. Under this Scheme there are different attractive options to avail the future benefit i.e. withdrawal of the total amount accumulated in lump sum or withdrawing monthly benefit to meet educational expense keeping die principal amount intact or to withdraw both principal and accumulated profit monthly for a certain period.
Lease Finance
Lease means a contractual relationship between the owner of the asset and it's utter- far a specified period against mutually agreed upon rent. The owner is called the Lessor and the user is called the Lessee. Lease finance is one of the most convenient sources of financing of assets e.g. machinery, equipment vehicle, etc. The user of the assets i.e. Lessee is benefited through tax advantages, conserving working capital and preserving debt capacity. Moreover, Lease is an off-balance sheet item i.e lease amount is not shown in the balance sheet of the lessee and does not affect borrowing capacity. (Annual Report of Jamuna Bank Ltd, 2008)
Project Finance
Project loan is .considered as long-term, investment of the bank. If the period is helpful to improve the economy and has a wide market then the bank thinks about giving project loan. To give this kind of loan the bank observes the willingness of the customer, his capacity and his ability to run the project. Having obtained this kind of information the bank makes a credit report about the customer's loan proposal. Interest rate on loan varies from project Ratio of investment of customer and bank varies from customer to customer and the customer's relationship with the bank.
Loan Syndication
Bank cannot invest more then 15% of its paid up capital: on one individual When the loan amount exceeds 15% of its paid up capital then the bank share the loan with other bank for giving one individual and this is call loan syndicate.
Consumer Credit
Consumer credit scheme is relatively new field of micro- credit activities. People with limited income can avail of this credit facility to buy any household effects including car, computer and other consumer durable. It is a special credit scheme and the customers allow the loan on soft terms against personal guarantee and deposit of specified percentage of equity. The loan is repayable by monthly installment within a fixed period.
Remittance Department
Remittance means transmission/transfer of money from one place to another, local remittance represents remittance that takes place within the territory of a country.
Banks have a wide network of Branches all over the country and offer various types of remittance facilities to the public/customer/client etc.
The main functions of the Exports are:
1)  Getting the L/C Documents from Foreign Importers Bank.
2)  Gives this L/C to Exporter.
3)  Advising the L/C.
4) Opening the Bank-to-Bank L/C.
5)  Collection and distribution of the payment of Bank to Bank.
When after shipment of goods the exporter submits all documents as per as L/C, this Department scrutinizes those Documents and sent to the Importers Bank(Annual Report of Jamuna Bank Ltd, 2008)
Foreign Exchange
The mam functions of Foreign Exchange Department are:
1) Deals with inward foreign Remittance.
2) Dealing of Traveler Checks.
3) Transfer money and currency through Western Orison.
4) Transfer fund through draft, Telegraphic Transfer, Mail Transfer etc.
5) Foreign Bills collection.
6) Foreign Bills purchase and discount.
Moneygrame:
10 ID (to receive money through Moneygrame).
•    Passport (not expired).
•    Driving License/
•    Ration Card.
•    Voters ID,
•    Pan Card.
•    Refugee Card.
•    Student ID (NationalizedUniversity and college).
•    Bank Passport (JBL).
•    Army Card.
•    Post office loyalty card, govt. employee ID card, local (W/C) ID card. All ID are valid only if they have a photograph and the ID verifies the person's signature.
(Annual Report of Jamuna Bank Ltd, 2008)
JAMUNA BANKPERFORSMANCE EVALUATION
Jamuna Bank Limited-2008
Jamuna Bank Ltd is one of the front-ranking new generation private sector commercial banks in Bangladesh. JBL has been carrying out business through its 39 branches spreading all over the country. It has maintained a strong market position by providing quality services to its customers and adding value to the shares. The bank made moderate progress in all areas of business in 2008.
Jmuna Bank Ltd. 'Credit Rating-2008.
Long Term
Short Term
Current Rating
BBB+
ST-3
Previous Rating
A-
ST-3
Outlook

Stable

Date of Rating

30 June, 2008
Source: Credit Rating Information and Services Limited, Credit Rating-2008, www.crislbd.org downloaded 5th January,2008
Rated by the Credit Rating Information and Services Limited (CRISL).
The above rating has been done in the consideration of visible improvement in fundamentals such as capital adequacy, liquidity position, profitability, introduction of real time online banking etc. The above rating is- moderated, to some extent by limited marked share, increase in NPL, high cost of fund, moderate corporate governance, dependency on term deposit etc. Financial institutions rated in this category are adjudged to offer adequate safety repayment of financial obligations. (Credit Rating Information and Services Ltd)
Balance with Bangladesh Bank (BB) Its Agents:
The balances maintained with Bangladesh bank and ,t£ agents are 966.67 million Taka and increased by 3.57 percent at the end of December 2007 Due to the increase in deposit the bank increased balances with Bangladesh Bank and its agents for maintaining proportionate Cash Reserve Requirement (CRR).
Balance with Other Banks/Financial Institutions:
The balances maintained with other banks and financial institutions are 1,877.14 million Taka in 2007 and decreased by 23.12 percent mainly due to transfer of funds to different banks' for covering the payments against inward foreign remittances.
Money at Call & short Notice:
Money at call and short notice was decreased by 78.38 percent in 2007 over the previous year. The fund placement was mainly made in 12 banks and financial institutions.
Investment:
The bank's investment grew by 111.15% and stdod at Tk. 539 crore in 2007-against Tk 252.27 crore in the previous year. It mostly invested in high yielding long-term government securities to cover the increased statutory liquidity ratio (SLR) requirement arising from the growth of deposit liabilities.
Deposits & Deposit Mix
The deposit vase of the bank registered a growth of 21.05% from Tk 1728.48 crore in 2006 to tk.2092.40 crore in December 2007. Expanded branch network, innovative deposit products including NMS and NDS attracted a huge number of customers, which contributed to the growth of deposit the main customers include individuals, corporations, financial institutions, government & autonomous bodies, etc.
Borrowings from other Banks, Financial Institutions and Agents
The bank registered 286.67% growth in borrowings from other banks, financial institutions and agents In 2007. This growth was mainly due to borrowing from Bangladesh Bank under Export Development Fund (EDF)
Other Liabilities
Other liabilities increased by tk. 83.40 crore due to current tax liability and for making provision for loan loss. Provision for income tax was Tk. 31.59 crore m 2007 which was Tk. 24.66 crore in the 2006,
Capital
Authorized capital of the bank is Tk 400 crore. The paid-up capital of the bank stood at Tk 1225.71 crore in 2007. The Statutory reserve enhanced by Tk 9 crore in 2007 and stood Tk. 33.06 crore. The total equity of shareholders of the bank at the end of the year 2007 stood at Tk. 165.65 crore.
Income
Interest Income registered an increase of 12.15% from Tk. 276.98 crore in 2006 to Tk 310.63 crore in 2008 due to growth of advances.
The income from investment jumped sharply by 87.02% from Tk.25,21 crore in 2006 to Tk. 47.15 crore in 2007. Capital gain from sale of shares and high yield treasury bills and bonds contributed to the robust growth of investment income. Commission and Exchange earnings decreased by 2.45% from Tk 32.88 crore in 2006 to Tk 32.07 crore in 2008.
Expenses
Overall increase of deposits pushed up the interest by 10.42% from Tk. 160.69 crore in 2006 to Tk 177.44 crore in 2007. Salary & allowances increased by Tk 4.38 crore due to yearly increment and for new appointments. Rent, taxes, insurance premium, utility charges, etc increased by Tkl .50 crore as the bank opened 06 new Branches during 2008.
Total operating expenses increased by Tk. 6.28 crore from Tk. 44.17 crore in2006 to Tk. 50.44 crore in2008.
Operating & Net Profit
Jamuna Bank Ltd generated an operating profit of Tk 82.42 crore in 2007 which was Tk.70.13 crore in 2006, registering a growth of 17.52%. Net Profit after tax decreased by 64.84% to Tk.8.91 crore in 2007 after making provision for loans loans and income tax.
Foreign Trade
Jamuna Bank Limited continued to be very active in international trade through financing export-import business and mobilizing wage-earner's remittances. In 2007 the bank handled import business of Tk. 2219.18 crore compared to Tk. 1545.77 crore in the preceding year. The bank handled export business worth Tk. 1399 crore in 2007. The bank has also expanded its external business by undertaking export bill negotiations, realization of export proceeds, foreign remittance, etc.
Imports
Import trade finance by JBL rose to Tk 2,219.18 crore in reporting year compared with Tk 1,545.77 crore in 2006. The growth increased by43.57%. Large LCs was opened mainly for importing industrial raw materials, machinery, consumer goods, fabrics, accessories etc.
Risk Management
As a regulatory body Bangladesh Bank wants all banks to take effective measures for implementation of risk management in banking operations covering the major risks in asset-liability management, credit risk management, Foreign Exchange Risk Management, Internal Control & Compliance and Money Laundering Prevention. As these risks are integral parts of banking business JBL has put highest priority on management of such risks with intense monitoring of credit portfolios. We believe these will improve our operational and financial performance along with meeting the regulatory requirements. The Bank is in constant efforts to establish superior monitoring of credit risks and returns. For bringing in harmonious matching between assets and liabilities ALCO reviews these on a regular basis for keeping risk in this area to an acceptable level. The Bank's credit policy guidelines arid procedures are continuously reviewed and upgraded by its internal committees. The Bank also pursues an effective internal control system by establishing systems and procedures for scrutinizing the transactions periodically, encompassing key back-up
supports and commissioning regular contingency plans Through establishment of proper governance structure risk and returns are evaluated with a view to producing sustainable revenues, reducing volatility in earnings arid enhancing value to shareholders. Maintenance of quality of assets is always the key issue to the JBL Management. Continuous efforts are made to maintain earning assets at the highest possible level so as to maximize profits and minimize cost of operation.
 Information Technology
Importance of application of Information & Communication Technology (ICT) in banking is needless to emphasize. Jamuna Bank is gradually adopting the most sophisticated centralized Banking Solution to keep pace with changing developments meeting Bangladesh Bank regulatory requirements on ICT.
On-Line Banking
JBL has launched a comprehensive and real time On-Line Banking solution. This Bank is just a step behind to select the Centralized Online Banking Solution. Set up of Flora Bank On-line Banking Software, switching software, servers, ATM, data storage system and other hardware to set up equipped center in Computer Division bears testimony to adoption of technology.
Delivery channel of JBL online banking
Branch banking. Tele-Banking Network
•    ATM Network
•    POS(Point of Sales)
•    SMS Banking Network
•    Internet Banking Network 3,27 Employee Benefits:
Employee Benefits:
Employees are the blood of any organization. An institution cannot run properly without an efficient and effective management learn. Jamuna Bank management team has provided its efficiency by executing decisions and running the bank for the last 08 years. In recognition to their contribution, the board has formulated a number of policies for the welfare of the employees. The board has introduced superannuation fund, gratuity, medical scheme, car loan scheme, and other benefits for executives/officere/staff of the bank. (Annual Report of Jamuna Bank Ltd, 2008)
Important Findings
While working at IBL Ashulia Branch, I have attained a newer kind of Experience. After collecting and analysis I have got some fillings and rcommendations. These findings are completely from my study. They are as follows:
1.       Bank need to increase its quality of customer's service.
2.       Training & Development officers & higher Executives are required.
3.       Need to speed up processing of loan application.
4.       JBL provides high quality financial services to strengthen the well being and success of individual industries & business communities.
5.       JBL is a national bank not multinational bank. So for the international transaction, it has to take help of others multinational banks.
6.       Inter Banking Process is so fast and clean which as one of the reasons of success,
7.       Flora On-line banking software is used by JBL and this is quite difficult to use for the employee, as the employees are not well trained.
8.       Present profit is high enough but a great scope to enhance this amount with some changes
9.       Clients are not conscious about the new product of tins bank.
SWOT analysis
This is a technique used by the credit officers to evaluate credit proposal submitted by company especially by the production concern. It is also very helpful to evaluate the present & future performance of a firm.
Here, S stands for Strength.
W stands for Weakness.
O stands for Opportunity
T stands for Threats
Strength:
X         JBL provides its customers excellent and consistent quality in eveiy service. It is of highest priority that customer is totally satisfied.
X         Stable Source of Funds
X         Strong Liquidity Position
X         Low Cost Fund
X         Satisfactory profitability
X         JBL provides the Moneygram money transfer service for these customers are easily getting the foreign money.
X         JBL also provide devid card service facility.
Weakness
•           JBL has very limited human resources compared to its financial activities. There are not many people to perform most of the tasks.
•           Lack of latest or improved technologies and skilled manpower -for operating foreign trade business.
•           Some of the specific sector in financial analysis shown that Bank management efficiency is poor then other bank.
•           Lack of Strong Initiative to Explore Investment Opportunity Through Research And Marketing
OPPORTUNITIES:
•           Government of Bangladesh has rendered its full support to the banking sector for a sound financial status of the country, as it is becoming one of the vital sources of employment in the country now Such government concern will facilitate and support the long tern vision for JBL.
•           Emergence of e-banking will open more scope for JBL
•        For getting higher market share in foreign exchange business, JBL has to be more efficient and swift in service.
•        Globalization and open market economy open the door to diversify areas and create opportunity to run in home and abroad.
•        Credit Card Business
Therats
•        The worldwide trend of mergers and acquisition in financial institutions is causing concentration the industry and competitors are increasing in power in their respective areas.
•        As previously mentioned, the world is advancing towards technology very fast. Through JBL taken effort to join the stream, it is not possible to complete the mission due to the poor technological infrastructure of our country,
•        Foreign Bank like – Standard Chartered & HSBC have extensive network worldwide which is an integral part in foreign trade. Both banks enjoy this competitive advantage. Government has recently decided to convert some govt bank to public limited company which will increase intensity of the competition in the local market.
Recommendations
•        The entire department should be well informed regarding their goals and objectives. It is essential to execute company objectives into individual target.
•        There must be a clear allocation of responsibilities authority and accountability.
•        The bank should introduce more promotional activities.
•        The bank should take the initiative to develop an effective research and development center to get innovative ideas to capture the competitive market.
•        Now a day's on-line banking is not a very uncommon service totally for private commercial bank. JBI, provide On-line banking service but they take source charge for it, if the customers do not use his/her mother branch. To encourag customers to use On-line banking facility this service charge
should not betaken charge from the customers.
•        Customer service of bank has a greater impact on its customer. To provide smarter customer service they need a call center department is very popular now a day.
•        Foreign exchange operations of other banks are more dynamic and less time consuming. JBL should take some initiative to compete with those banks.
•        Selection and training must be focused to develop and exploit leadership and entrepreneurial qualities within the work place.
•        JBL is not providing the Credit Card facilities, which is available in many other banks.
Sol think the bank should introduce this system very earlier.
Conclusion
The internship program of three month on Jamuna Bank Limited at Ashulia Branch in Dhaka is completed successfully. Jamuna Bank Limited is a popular and profitable bank in Bangladesh. It has been giving service to customer since 2001 properly. The bank has already developed good image and goodwill among its clients by offering excellent services. Today, the whole Banking sector is facing a tough competition and challenge. In this situation our Branch is in good position than any other Bank of its locality and day-by-day we are increasing our activities & goodwill.
I worked with them daily. I learned all the tasks of all departments as an officer of a bank. Now I know the system of the bank and duty of an officer of a bank. It is now easy to me to perform any task of this branch or any other bank. It will develop my experience and knowledge of banking activities. The system of this branch is and fast Present performance is good enough. Profit is remarkable. And a great scope to enhance the goodwill, performance and profit in near future.