EXECUTIVE SUMMARY
In the new competitive business era, Private banking sector is getting more competitive in Bangladesh. Besides this, as the number of salaried individuals are increasing day by day, they are also becoming more aware about the utilization of their money while fulfilling their personal needs. To consider these needs of people, United Commercial Bank Limited has recently emphasized more on "Retail credit" or "Consumer Credit". After introducing the Retail Credit Facility in April; 2009 the bank overall outcomes from retail loan is impressive. Therefore, to find out the overall profitability of different loans in terms of Retail Loans offered by the UCB, Eskaton branch, this report has conducted to find out whether the retail loans or other existing loans are more profitable for United Commercial Bank Ltd. In this report, the total credit portfolio of United Commercial Bank Ltd has shown that indicated a positive growing trend in the retail credit profitability. Again, in terms of interest income, retail credit is also accounting an increasing trend. One of the crucial parts of this report is that, the customers' behavior of Retail Credit facility of United Commercial Bank Ltd has discussed according to the customers opinion, so the customers view towards the Retail Credit facility of UCB will known form this report. The disbursement procedure of retail credit has also described. From the comparison of the profitability of the loans, some problems and prospects have found in United Commercial Bank's Retail Credit. The most important prospects of United Commercial Bank Ltd Retail credit are that, it has diversified product portfolio and affordable interest rates in different retail credit with a high volume of loan, which is the strength of United Commercial Bank Ltd to proceed further in retail credit business. Again, United Commercial Bank Ltd has few problem regarding target client segments and promotional activities that should rectified. Overall, there are huge opportunities for United Commercial Bank Ltd to develop and enter in retail credit market with a massive amount of investment, as this is one of the ways for risk diversification. In recent banking business, modern countries are focusing more and more on retail credit to shuffle their past ideas about investing in corporate credit. If United Commercial Bank desires to keep in balance of its reputation compared to other well-reputed private commercial banks, it should consider more of its credit business on Retail Credit.
Introduction of the Company
United Commercial Bank is one of the prominent Commercial Bank in the Banking industry of Bangladesh.  The address of its Head Office is: 58, Motijheel C/A, Dhaka-1000, and Bangladesh. It has operations in different districts of Bangladesh.
History
Sponsored by some dynamic and reputed entrepreneurs and eminent industrialists of the country and also participated by the Government, UCB started its operation in mid 1983 and has since been able to establish one of the largest networks of 108 branches among the first generation banks in the private sector.
With its firm commitment to the economic development of the country, the Bank has already made a distinct mark in the realm of Private Sector Banking through personalized service, innovative practices, dynamic approach and efficient Management. The Bank, aiming to play a leading role in the economic activities of the country, is firmly engaged in the development of trade, commerce and industry thorough a creative credit policy.
In its journey of more than 27 years United Commercial Bank Ltd. Has create a strong customer base of around 0.40 million clients. The customer base of UCB is going high rapidly. Peoples are influencing to work with UCB due its modern services and customer values. Within a long journey of more than 27 years UCB can able to setup it as an attractive brand in the Banking sector of Bangladesh. That is why the Bank has already established its network throughout the six Divisions in Bangladesh. Not only that, still the Bank is establishing its new branches allover between several locations in Bangladesh due to its customer demands.
The Bank has in its Management a combination of highly skilled and eminent bankers of the country of varied experience and expertise successfully led by Mr. M. Shahjahan Bhuiyan, a dynamic banker, as its Managing Director and well educated young, energetic and dedicated officers working with missionary zeal for the growth and progress of the institution.
1.   Mission and Vision of   United Commercial Bank Limited:
The effort of  United Commercial Bank Limited are focused on delivery of quality service in all areas of banking activities with the aim to add increased value to shareholders' investment and offer highest possible benefits to the customers. There must have the mission as well as vision what should back every efforts of the organization as it is said, a mission without any vision is a day dream and a vision without a mission is a nightmare.
Mission: To offer financial solutions that create manage and increase our client's wealth while improving the quality of life on the communities they serve.
Vision: To be the bank of first choice through maximizing value for their clients, shareholders and employees and contributing to the national economy with social commitment.
2.   Goals& Objectives of United Commercial Bank Limited:
To build up strong pillar of capital.
To promote trade, commerce& industry.
To discover strategies for achieving systematic growth.
To improve and broaden the range of product and service.
To develop human resource by increasing employment opportunities.
To enhance asset of shareholders.
1.  Organizational structure of United Commercial Bank Limited:
The Bank has in its Management with a combination of dedicated highly skilled and eminent bankers of the country of varied experience and expertise successfully led by Mr. M. Shahjahan There are 2508 dedicated employees (as of 31 December; 2009) are working in UCB. The bank is operating its business by divided into three main segments. These are General Operation Division, Corporate Banking Division, and International Division. There are three different Deputy Managing Directors (DMD) supervise the work of these departments. The total work flow/ the level of employees of UCB is as shown by an Organ gram of UCB is given billow.
Figure-2: Organ gram of UC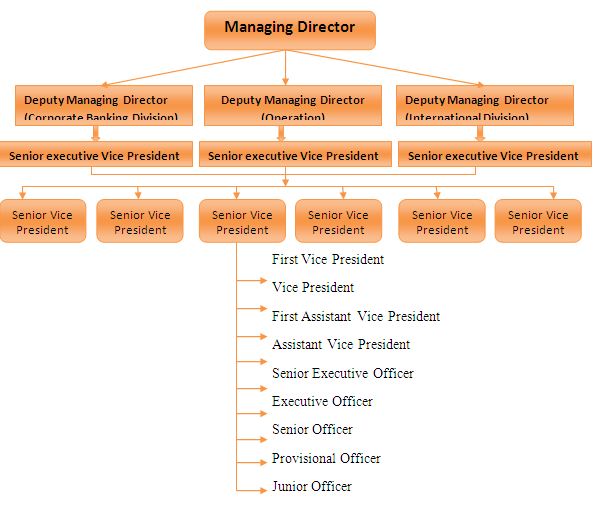 Products and Services of United Commercial Bank Limited
UCB is always attentive to give the highest value to their customers. That's why UCB is offering the modern products & Services to their customers. UCB is offering the segmented Products & Services to different level of customers along with their general Products and Services. That is very help-full for UCB to create value for their customers. The products & Services offered by UCB have given billow.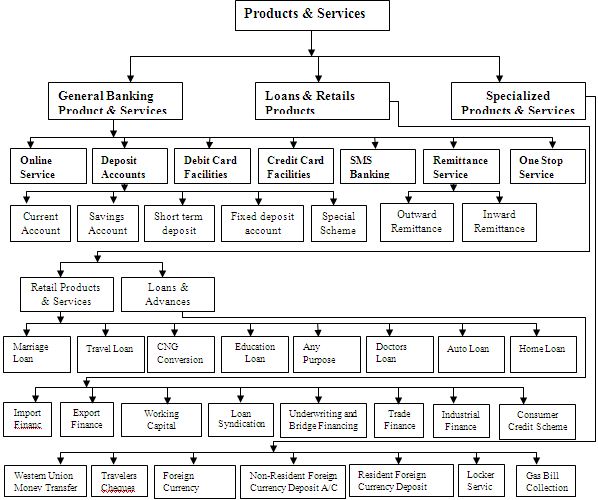 Overview of United Commercial Bank Limited-Eskaton Branch
United Commercial Bank Starts it Journey in the Eskaton Region of Gazipur District of Bangladesh in 1993 at ShahjahanMansion in Cheragali Bazar. United Commercial Bank Ltd. Eskaton was the 70thBranch of UCB. The bank was the first private commercial bank in that region. From the very beginning of the Branch, the bank is providing its superior modern services to its clients very effectively and efficiently.  As the Eskaton branch of UCB is the first Private commercial Bank in the Cheragali region of Eskaton that's why the bank already capture a large customer base. Though few other Private Commercial Banks are operating their business along with four Nationalized Banks in Eskaton region then also UCB is having some extra benefit over those banks. Local businesspersons are the main customer of the UCB Eskaton Branch. Significant amount of overall profit of the UCB Eskaton branch is coming from Loans & Advances giving to the local businesspersons. UCB, Eskaton branch has some loyal customers , so for the bank is operating activities much more efficiently comparative to other branch of UCB.   Among the loyal client of the UCB Eskaton, most of them are involved with Ceramic Business, another significant portion of customers are involve with Rice Business and Still business. Besides those others, most valuable customers of the bank are doing cloth business. Besides that, the bank has some corporate client like The Titas Gas Transmission & Distribution Company, The Peoples Ceramic Industry, Masco Garments Industry, Shahin Rice & Flower Industry and the Eskaton Municipality, Shofiuddin Sarkar Academy, etc. but the most significant amount of customers is the local general peoples like the Service Providers, and the general peoples. Here one thing is mention that though the bank is earning a significant portion of its total profit from the Businessperson but the main source of the bank's deposits are the foreign remittance.
1.   Types of Retail Credits offered by United Commercial Bank Ltd (UCB)
United Commercial Bank Limited is one of the fast growing banks in terms of satisfying individual clients' need. For the clients' convenience, UCB has offered nine types of retail credit products. Those are following:
  Home Loan
  Auto loan
  Any purpose Loans
 Doctor's Loan
  Marriage Loan
  Education Loan
  Advance against Salary
  Travel Loan
 Hospitalization Loan
  CNG conversion Loan
  House building loan
  Staff loan
  Term loan
Brief details of the above products are as follows-
Home Loan
The purpose of giving this loan is to purchase apartment/house (if old, not older than 10 years), constructing new house, taking over of house-building loans from other banks/non banking financial institutions renovation of existing house/flat(if old, not older than 10 years) and construction of semi pacca/Tin shed building.
Table 1: Features of Home Loan
Features

Description

Loan Amount(Min)
Depends.
Loan Amount(Max)
Tk. 7500000.
Loan to price ratio
70% of total cost for construction of home

80% of purchase price of new apartment

50% of purchase price of old apartments/home.

50% of construction cost or force sale value of land which is lower in case of semi pacca construction.

Rate of Interest
13.5% p.a. with quarterly rests.
Disbursement mode
For purchasing the apartment firstly, the customer shall pay the equity portion to the developer. Later on, the remaining amount will be paid by the bank through issuing pay order to the name of respective company.

For construction building payment will be made through three/four equal installment of loan amount. Before every installment the bank will ascertain that their construction work is going on then they will credited the customer's savings account.

Tenor
20 years (max).
Repayment method
Monthly equal installment
Early Settlement
At any time with no penalty charge
Other Charges
1% on loan amount
Risk fund
Nil.
Criteria for application
Any Bangladeshi citizen of up to 65 years (repayment age)
Minimum Monthly Income
The quantum of loan shall be such to ensure monthly installment size would not exceed 40% of the gross income or 80% of the residual income (after deducting all expenses except present rental expenses) whichever is lower.
Location
Within the City/Municipal area where UCB has its branch.
Guarantors
Two person
1.   Documents and additional Charges required for a Retail Loan of UCB.
For any retail loan application, no extra charge has taken as a fee. Nevertheless, customer's has to bear the cost for valuation of Property to the survey firm, cost of legal opinion, and cost of mortgage deed (If required).
To apply for any of the above retail loan of UCB, a client needs his/her photographs, copy of passport/ National ID card, last one year's bank statement, copy of TIN, trade license(for businessmen), personal net worth statement etc.
One of the special criteria of retail credit or consumer credit is that, it is an unsecured loan as there is no requirement for collateral except letter of guarantee (other than the house building loan).
Besides these, following legal documents have needed to get any retail credit from UCB.
Duly filled in loan application form with terms and condition signed
Demand Promissory Note
Letter of Set-Off
Irrevocable Letter of Authority to repossess the vehicle (for car loan)
Ownership transfer form signed by customer (for car loan)
Letter of Introduction (for salaried person) &
Letter of offer with full terms and conditions stated therein and duly accepted.
1.         Profitability in Retail Credit of United Commercial Bank Limited
Profitability of a bank is mainly depends on the loans of that bank. More specifically, how efficiently the banks are utilizing their assets in another term the loans. Banks are not only always looking for their profits but also need to careful about the risk of those loans. Their Eskaton Branch is very much successful from that perspective. The financial statement of UCB Eskaton branch indicate that their provisions for bad debts in this year is (as of 30 September; 2009) Tk. 184924.62. Therefore, this amount is satisfactory as of the consideration of the branch location and Loans volume. Now before going to the details about the profitability of the Retail credit facility of the UCB Eskaton branch; I would like to discuss about the credit portfolio of the UCB.
Interest rate of Retail Credit Facility of United Commercial Bank
Highest amount of interest will give highest amount of profit. But as the banking system of Bangladesh is not the monopoly business system so banks must have to maintain competitive interest rate with other banks. If we follow the practice of retail credit system in Bangladesh then we will see highly competitive interest rate among the banks. Every times the banks are offering various types of loans according to the needs of the customer with an aggressive interest rate. UCB has also designed their products feature such a way so they can compete with other banks. 

1.   Assessing United Commercial Bank's Current State & Future Direction
After analyzing all the data regarding the retail credit facility of United Commercial Bank Limited some factors have been identifying those are having a significant impact on the operation of the UCB. These factors are the key findings of the analysis. The key findings of this report are follows.
Retail Credits are the Most Profitable and Prospective Products of United commercial Bank.
From the above interpretation of the overall bank profitability, it is measurable that the retail products are the most profitable for UCB. If we look at the figure-16 then we see that the growth of the total profitability of reatail loans is very high (193%) on the other than that only Cash Credit (CC) loans were having a positive growth of (68%) in major loans product of UCB, Eskaton branch. Profitability of Other loans like Secured Overdraft, Overdraft and staff Loans were experienced a negative growth. Therefore, we can say that retail loans are most profitable in UCB. Now there may be one argument that as UCB introduce there Retail Loans in April so the volume of loans are increasing so the profitability of retail loans are also increasing. To find the more accurate answer about which one is the most profitable loans in UCB we can see another Figure-18 then we see that the effective annual interest rate is 16.08 on the other hand the other continuous loans effective rates were much lower than the effective rate of the retail loans.
Well Diversified Retail Product
Products of the retail credit facility of UCB are widely diversified. It has designed such a way so that they can attract the various types of customers and according to the customers' needs. Like the products are suitable for the lower income peoples as well as the higher income peoples. The interest rate of the products is also competitive. On the other hand the amount of loans are also large as well as the recovery period is also comparatively longer than the other bank so that these products can attract peoples easily. If the bank can able to attract the potential customers so the portfolio of the bank will be diversifying as a result the credit risk of the bank will decreased.
The customer base of the retail Loans of UCB is very broad. If we see the profession of their customers then we will see that many types of professionals are the customers of those loans. It can create a positive  impact of the bank credit risk. Because the most of the retail customers of UCB has related with business, so if somehow the business environment of the country will undergo within unfavorable situation then the bank will not be sufferer to recover the loans. On the other hand, if UCB trying not capture the potential customer of their retail loans.
Adequate Promotional Activities
UCB has currently direct sales agent (DSA) and TV advertisement only this two medium for frequent promotional activities in retail credit. Sometimes it arranges fair for retail credit. In the present time perspective, multimedia activities have expanded in such a way that, larger number of people read Newspaper and listen in radios rather than watch Television. People are also attracted by colorful billboards in the road.UCB has taken many steps for promotional activities up to now in display media and so on which can also be a cause for having wide market share than the competitors. In addition, their interior environment of old branches is  very attractive than other banks.
Lengthy Assessment Procedure
For the compliance of prudential guidelines of Bangladesh Bank, 2004, UCB asks for CIB report for an amount of TK. 50,000 and more. As it takes six to seven days for CIB to return to the branches, almost 15-20 working days needed by UCB to disburse retail credit.
Now days, people are too busy to spend longer time for having a smaller amount of loan for their personal need. For this longer assessment process, that is widening the time interval between a loan application reception and loan disbursement has resulted less number of clients and has affected the interest income.
 INTRODUCTION
Banking represents one of the largest and most influential activities of any developed economy due to the strong linkages virtually existing with any part of the economic system. Recent developments in retail banking such as the enlargement of services supplied have often been depicted as technologically driven phenomena. The banks play an important role in the economy of the country. The contribution of banking sector to the GDP of Bangladesh is very impressive. In the FY 2008-2009 contribution of financial sectors to the GDP was 8.00%, while the contribution of banking sector was 7.22%. However, this is not a good sign for the overall economy of Bangladesh but also compare to the whole world this is very satisfactory outcomes for the Bangladesh economy as the banking sector in rest of the world was collapsed in the mean time. Therefore, without any question we can say that the banking sector of the Bangladesh is a progressive economic sector in our country.
According to the data of Bangladesh bank, there are 48 different banks in Bangladesh. Among them, total number of State-owned bank is 04, specialized bank 05, private bank 30, foreign bank 09. The total number of bank branches including SME service centers stood at 6900 (as of 31 march 2009), which contains only 56 branches of foreign banks. Among the total no of bank branches state own bank branches operates 3383 branches (49% of total) and the ratio of total banks for urban area is 41.62% and for rural 58.38%. It is very painful to say that there are 56 branches of different foreign banks in the urban area, but not a single branch for rural area until now.
The banking systems are changing very frequently along with the change of technology. Banks are introducing new technologies, new way of providing service to their clients and innovates new products to do business in a new fashion.  Now a day's almost all over the world, retail-banking concept is a well-orchestrated name, which has indeed added a new feather to banking sector. The primary activities of any bank are to collect deposit and invest in different areas to earn profit. Beside this, the asset value maximization of the shareholders and maintaining strong clientele are another two important duties for any bank. The nature of banking services is essentially related to the dynamic adaptation of organizational and technical instances around these main functions.
2.   OBJECTIVE
This paper will examine that why UCB introduce retail banking services (in a commercial area like in New Seaton Branch). Nature of their retail products also the customer base in that specific area. After all prime objective of this paper is to make a sense about the profitability of the retail products of UCB in context to the evolution of Seaton branch. To maintain these, United Commercial Bank Limited (UCB) has reached a vast amount of Tk. 54, 485 million balances during 2008 with a 29% growth rate over the year 2007(Annual Report, 2008).This large amount has been invested in different purpose to provide industry loan, export-import finance, commercial lending, house-building finance and others. From the very beginning, the credit exposure of UCB has focused on commercial lending that is international trade Finance, domestic trade finance, contractor/supply finance etc.
There are several types of banks, from commercial to investment banks, from savings and loan associations to credit unions. These exist in a wide range of sizes and differ in the number of services they provide. Commercial banks dominate this industry offering a full range of services for individuals and businesses from safeguarding money and valuables to the provision of loans, credit, and payment services. In their role as financial intermediaries, they use the funds they receive from depositors to make loans and provide mortgages to individuals and businesses. Commercial banks are, in other words, intermediaries operating between the agents who provide the capital, the investors, and those who use it, the borrowers. Therefore, at the end of the day the main goal of a bank is to use the deposits to invest in a secure place and to earn a healthy return from it. The financial statement of the UCB shows that the major portion of their loans have been given to the housing sector and clothing sector of this country.  But the current global economic recession and the reducing growth of garments sector in our country force the management of UCB to rethink about their credit risk. So they are trying to reducing their credit risks by diversifying their credit portfolio.
Broad Objective:
Broad objective of this report is to "Understand Retail credit facilities offering by the United Commercial Bank Limited, New Eskaton Branch to their customers and to focus on the efficiency of those products."
Specific Objective:
  To collect the information about Retail credit facilities of UCB New Seaton Branch.
  To understand the nature of the customer base of these credit facilities.
  To discuss the assessment and disbursement procedure of UCB, 'Retail Credit' facilities.
  To Evaluate/Analyze the profitability of different credit facilities.
SIGNIFICANCE OF STUDY
According to Math (2005), demand and credit cycle in retail credit is less volatile than that of corporate credit. He also mentioned that, credit risk can be well diversified through retail credit as loan amounts are relatively small. Because of wide spread interest rate, revenue can be higher since clients are too fragmented to bargain effectively. The loan portfolio of UCB has increased by around Tk. 7000 million at the end of 2008 registering almost 30% growth over the previous years. But the bank management has recently felt the need to expand its credit facility on retail credit sector which is almost unattended by bank till now. Day by day, the fixed income earning population is increasing in number and therefore, the market for retail credit is expanding with large opportunities for banks.
Again, according to Clark et al. (2007), at the bank level, the principle attraction of retail credit lending seems to be the belief that, its revenues are stable and thus can offset volatility of non-retail business. As UCB management is emphasizing its focus on retail credit, this study aims to investigate the feasibility of expanding the retail credit operation in UCB. More specifically, the study wants to explore the profitability of United Commercial Bank (New Seaton branch) in context of their retail loans compare to others loans.
HYPOTHESIS
"Understand Retail credit facilities offering by the United Commercial Bank Limited, New Seaton Branch to their customers and to focus on the efficiency of those products."
H1: The overall customer is satisfied with the retail facility
H2: When customers are satisfied with the services, their evaluation regarding the organizations is positive.
H3: Customer satisfaction is associated with retail credit services of UCBL is satisfactory according to the customer perception.
METHODOLOGY OF THE STUDY
This research paper consist two different tools and techniques to analyze the research materials. One of these analytical methods is theoretical and another one is mathematical. Besides the necessary data, information would be collected from both primary and secondary sources. The data collection procedure has been discussed separately in data collection & procedure method. To analyze the mathematical part of this research paper I would use several financial formulas from different textbooks and to analyze the theoretical part a self-administered questionnaire will get a tremendous priority. The questionnaire that would be use contained four main parts according to which I interpreted the nature of the customers. These are follows:-
About the identity and profession of the customers.
Reason behind the choice of UCB rather than any other bank.
Customers source of information for retail credit facility of UCB.
About their satisfaction on interest rate and other charges of retail loans.
About their satisfaction over the repayment period and overall service of the bank.
6.   DATA COLLECTION PROCEDURE
In my study I will mainly depend on primary data that will be collected through direct survey. I developed a questionnaire that contained 15 questions. Data collection will be done on a random basis. The sample size will be 90. The results will be represented through Column charts. My research findings will come out through analyzing those data.
In the organization part, information will be provided in a descriptive manner. In the project part data will be analyzed by the software called SPSS. Here, I'll conduct correlation, regression analysis and ANOVA, T-Test to find whether the hypothesis gets proved or disproved.
I will also collect data and  necessary information by interviewing officials of United Commercial Bank Ltd. These can be treated as secondary data. After the analysis part, I will use crosstabs to analyze the relationship between the variables and regression analysis to know the impact of independent variable over dependent variables. Finally, I will come up with my recommendations and conclusions.
LIMITATIONS OF THE STUDY
Although there are many limitations faced while making the research report based on facts and complete information available, there had some limitations those were inevitable. They are following:
      This study is limited only into retail credit of United Commercial bank Limited, New Seaton Branch & as this branch is not offering all product of their retail credit facilities so this report only focused only the loans those are offering by the bank at present.
      Time was constraints as three months internship period is not enough to study on retail credit in details.
      As the retail credit department of UCB had introduced just few month ago so few types loans(Home Loan, Auto Loan) those are suppose to belong to the retail credit facilities but still these are considering as category of general loans; so this report only focus only the loans those are considered as retail loan as per bank rules.
      Because of being private limited companies, UCB, keep some information restricted like the amount of actual profit (Quarterly and total amount) form retail credit so in this report it has been assuming that the banks stated interest rate is the actual rate.
      For the preparation of this report un-audited data has used as the audited financial statement of UCB has not published yet.
Descriptive statistics
1.    Descriptive Statistics( factors to determine income and Loan category)
N

Minimum

Maximum

Mean

Std. Deviation

Income

90

1.00

3.00

2.0556

.67643

What is your profession?

90

1.00

3.00

1.7667

.68777

For which purpose you involve in a relation with UCB?

90

1.00

4.00

2.9000

.60056

Which type of loan you have taken from UCB?

76

1.00

5.00

2.6053

1.08418

What is the main reason behind giving preference to UCB over other banks where you have gone?

76

1.00

5.00

2.0921

1.16822

Valid N (listwise)

76
The data shows the various attributes that a customer accumulates while trying to take credit facilities from any commercial Institute or Bank. When this survey was conducted, we have asked the above questions to the respective respondents.  As a result, we can see that, from the table, the highest mean values are associated with the purpose of relation with UCBL bank (2.90), Credit or loan type (2.09) and Income (2.05) to get the credit facility. The standard deviation are also Higher in this 3 categories which means that the total sample answers was around that point of mean and was not a mixture of perception from them. This shows the positive impact of Income and relation with UCBL, which in turn determine the customer satisfaction for retail credit facility of UCBL. This however, is a strong point for UCBL as it main focus is to make customer happy with their services.
2.    Descriptive Statistics( factors to determine the Customer satisfaction)

N

Minimum

Maximum

Mean

Std. Deviation

Please identify your satisfaction about the interest rate.

76

3.00

5.00

3.6184

.54079

Are you satisfied on the loan amount that you got from United Commercial Bank according to your need?

76

3.00

5.00

3.5000

.52915

Please identify your satisfaction level about the time, required to complete the disbursement procedure of a United Commercial Bank retail loan.

76

3.00

4.00

3.5395

.50175

Are you satisfied with the related charges of UCB retail credit facility that you had to incur for getting a loan?

76

3.00

4.00

3.2500

.43589

How much satisfied you are about the repayment period of the 'Retail Loan' that you have taken from United Commercial Bank?

76

3.00

5.00

3.6842

.69686

Are you satisfied on the services you have been getting from the officials of United Commercial Bank?

76

3.00

5.00

3.5526

.71916

How much satisfied you are on the United Commercial Bank for its overall Retail Credit service?

76

3.00

4.00

3.5467

.50117

Valid N (listwise)

76
In order to survey the customer satisfaction level from the retail credit facility of UCBL we also use the SPSS statistical analysis. Here we have the survey data, which shows an associated mean value of (3.68), is the highest value of mean in the number of different other category of services associated with credit facility, showing its preference among other criteria's of loan. Therefore, customers are very much aware and satisfied with the repayment procedure of their loan compared with other criteria associated with loan.
The semantic deferential scale here was 01=Lowest level to 05=highest level. So the high mean value here means that people are more satisfied with that services or facilities of loan. From here, we can see that people are more satisfied with the Repayment period (3.68) and Interest Rate (3.61), the standard deviation is also around 01, which means the perception does not vary that much between the 100 sample respondents.
 

Correlations :1

Income

What is your profession?

Income
Pearson Correlation

1

.270*

Sig. (2-tailed)

.010

N

90

90

What is your profession?
Pearson Correlation

.270*

1

Sig. (2-tailed)

.010

N

90

90

*. Correlation is significant at the 0.05 level (2-tailed).
For the sake of the research, I tested the correlation of factors like Income and Profession with each other and it seems that each factor has a positive relationship with each other. The profession is positively correlated with income by value of (.270). It was also a general perception of the respondents that Income is positively correlated with the profession of the respondents because profession influences the income level of an individual.
 

Correlations:2

What is the main reason behind giving preference to UCB over other banks where you have gone?

Please identify your satisfaction level about the interest rate.

What is the main reason behind giving preference to UCB over other banks where you have went?
Pearson Correlation

1

.310**

Sig. (2-tailed)

.006

N

76

76

Please identify your satisfaction level about the interest rate.
Pearson Correlation

.310**

1

Sig. (2-tailed)

.006

N

76

76

**. Correlation is significant at the 0.01 level (2-tailed).
For the sake of the research, I tested the correlation of factors like the main reason behind giving preference to UCB over other banks and the respondent's satisfaction level for the interest rate charging by the UCB and it seems that each factor has a positive relationship with each other. Firstly the respondent's satisfaction level about the interest is (.310) which is positively correlated. It was also a general perception of the respondents that they would prefer to deal with those banks who's offering low interest rate against the loan amount. The significance level here is at 01 percent level. Overall, this is the strongest positive correlation of this research.
 

Correlations:3

 

Which type of loan you have taken from UCB?

What is the main reason behind giving preference to UCB over other banks where you have gone?

Which type of loan you have taken from UCB?
Pearson Correlation

1

.282*

Sig. (2-tailed)

.014

N

76

76

What is the main reason behind giving preference to UCB over other banks where you have gone?
Pearson Correlation

.282*

1

Sig. (2-tailed)

.014

N

76

76

*. Correlation is significant at the 0.05 level (2-tailed).
This correlation shows that a person who prefers any type of loan from UCB over other Banks. The main reason of respondents behind giving preference to UCB than other bank is positively correlated and the value is (.282). The significance level here is at 05 percent level. The respondent who gets better service and low interest rate from UCB bank why should the person switch on to other Banks.
 Recommendations & Conclusion
Results:
After analyzing the graph and charts, we have found out that existing clients of United Commercial Bank is highly satisfied the retail credit service and facilities. Our results shows the positive correlation but on a weaker side on every aspects. Our hypothesis was:
H1: The overall customer is satisfied with the retail facility
H2: When customers are satisfied with the services, their evaluation regarding the organizations is positive.
H3: Customer satisfaction is associated with retail credit services of UCBL is satisfactory according to the customer perception.
After doing the analysis, we found out Retail Credit service is positively related to evaluation of UCBL bank, so the first hypothesis can be said true. We also have seen the third correlation, which the respondents answered that their preference goes to UCBL because of their service. The regression models also prove the positive association of Retail Credit with Customer satisfaction.
The customer has evaluated the UCBL Credit sector and are quite satisfied with the service. Therefore the respondents have researched other banks over UCBL and they found that UCBL is currently providing the Best service in retail credit sector. . As a result, we can say the second hypothesis to be acceptable.
The third hypothesis is about consumers perceptions on credit facility of UCBL and it has a positive association with Customer satisfaction level. We have found out the services provided by the UCBL for Credit purpose is quite satisfactory for the majority of the respondents.
With the consideration of the above whole study especially the problems and prospects, I suggest the UCB management to think about the following points:
The defense people, lawyers, expatriate and journalists are not in the current target clients' list of UCB, who if were in target segments of UCB, could add more wings in market share and interest income. As there are already, more diversified retail credit products, UCB should rethink about its target client segment and if possible, should include defense people, lawyers and journalists that can easily fit with that products.UCB should consider especially of businesspersons.
UCB management can give more concentration to disburse their retail loans rather than the continuous loans as the outcomes of the retail loans are higher than the contentious loans. They can also think about the interest rate of their House Loans, as the other banks are offering Lower interest rate than UCB.
UCB management should take more steps to promotional activities. Television advertisement, creating billboard, recruiting more sales agents and arranging retail loan fair can add a large opportunity in achieving more market segments they can also develop their internal environment so the young clients will be attracted to UCB. Because they need to attract the young generation as their young customer base is very narrow.
UCB management can also include charge for property verification report, legal opinion and other loan related charge in their service charge, as the customers are dissatisfied whether they are paying more for these formalities of Retail Loans.
Conclusion
Retail lending has been a spectacular innovation in the private commercial banking sector in recent years. The growth of retail lending, especially, in a developing country's economy, is attributable to the rapid advances in information technology, the evolving macroeconomic environment, financial market reform, and several micro-level demand and supply side factors.
In today's Bangladesh, banks, especially, the private commercial banks consistently point to the stability of revenue and profit as the most important feature of retail lending and a key motivation for the recent interest. In particular, retail stability has seen as valuable for commercial banks seeking to offset the volatility of riskier business lines, such as trading and other capital-market activities. While retail lending offers phenomenal opportunities for growth, the challenges are equally daunting. How far the UCB retail banking will be able to exist in retail banking industry in future will depend upon the capacity building of the banks to meet the challenges and make use of the opportunities profitably.
From the above analysis and comparison, it has proved that, United Commercial Bank though has some problems, yet it has many opportunities to carry on its retail lending business. Diversified product portfolio, lower rate of charges etc is the favorable features of UCB for clients. If, United Commercial Bank follows the above recommendations, to cope up its problem, United Commercial Bank will be able to continue to chart in this traded path.