A winter morning is misty and cold. There is dense fog everywhere. Sometimes the fog is so dense that the sun rays cannot get through it. Everything looks hazy. Things at distance can hardly be seen. The sun seems to rise late. Children and old people suffer from the pinching cold of the morning. Dewdrops fall at night. When the morning sun peeps, they look like glittering pearls on grasses and plants. Farmers go to the fields with their cows and ploughs. Children and old people gather straw and make fires to warm themselves. The old people bask in the sun. Then people like to eat chira, muri, khai and various kinds of pithas. Besides, date juice is very tasteful in the winter morning. Delicious sweetmeats are also prepared with date juice. Working people get out of the doors when the fog disappears and when the sun is hot. People usually eat homemade cakes with 'date juice' and sitting outside their homes enjoy the warmth of the early sun.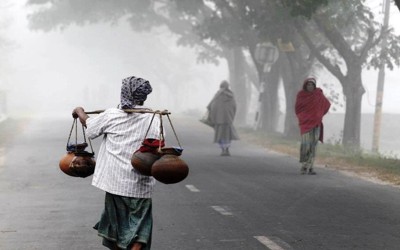 Pic: Usual picture in a winter morning
Usually, winter morning is comfortable for rich people. They often keep themselves under the quilt. They enjoy delicious foods and drinks. The poor people, on the other hand, suffer from cold for want of warm clothes. Sometimes, the dense fog hampers the movement of vehicles and accidents occur. However, morning fogs do not last so long. They disappear as the sun peeps up. Then the normal activities of people start. With the advancing sun, people shirk off the feeling of cold and set about their usual work. They go to their respective duties.
The best time to visit Bangladesh is in the winter when the weather is dry and fresh. Yet tourists arriving in Bangladesh have been swelling in numbers day by day. They are visiting places like Cox' Bazar, Teknaf, the Sundarbans, Kuakata, Paharpur, and Tetulia.
The condition of birds and animal's beggar's description. They hide in the corner of the house and try to save themselves from the biting cold outside. They feel happy to see the rays of the sun. Dewdrops make the nature charming when the rays of the morning sun fall on them the children and the 'people of the village make a fire to warm them. So, winter morning is pleasant for someone's and unpleasant for the other. A winter morning has its own variety and beauty. But the scene of the winter morning vanishes as the day advances.