The use of ICTs in Agricultural Value Chains
Information and Communication Technologies, or ICTs, have become an important tool in promoting agricultural value chain efficiency. There has been a rapid expansion in the use of mobile technologies, in particular. Agricultural value chains are heterogeneous associations of primary producers and other economic agents who aim at improving performance and economic
productivity in the market. The price of ICT services is falling and the technologies are becoming more affordable to many in developing countries. Applications can support farmers directly through SMS messages. They differentiate by their technological structure, size of the business, educational level, and means of access to information.
ICTs certainly play a key role to contribute to reduce asymmetries of information and communication between stakeholders of an agricultural value chain and to help reduce the vicious circle of rural poverty. Examples include iCow, developed in Kenya, which provides information on the gestation period, on artificial insemination of the cows, and on how to look after them. Applications such as M-Pesa can support access to mobile payment services for a large percentage of those without banks, thereby facilitating transactions in the value chain. Other applications have been developed to promote the provision of crop insurance through input dealers, for example.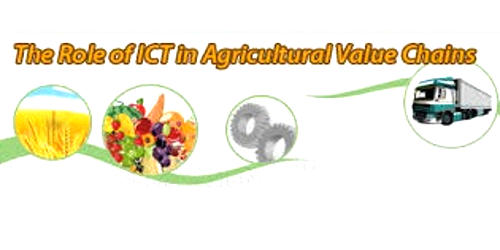 It has been acknowledged that the application of ICTs at the different links of the agricultural value chain will result in improvements to the competitiveness of the chain in general. ICTs are also being used to strengthen the capacity of agricultural extension officers and NGO field staff to reach farmers with timely and accurate information and, at the same time, help capture data from the field. The Grameen Foundation's Community Knowledge Worker (CKW) program is a small-scale example. Farmer representatives are trained to use ICT applications on a smartphone to provide agricultural information and extension support.
Other efforts include Lutheran World Relief's Mobile Farmer and diverse efforts funded by the Bill and Melinda Gates Foundation in Africa. Most market price information is now delivered to farmers via SMS. Further along the chain, technologies offer considerable possibilities to enhance traceability, which is particularly relevant as certification grows in importance. Where necessary many exporters can now trace consignments back to individual farmers and take necessary measures to address problems. Finally, systems such as eRails, promoted by the Forum for Agricultural Research in Africa, are also supporting agricultural researchers through data collection and analysis and access to up-to-date research publications.