Geosynthetics are synthetic products used to stabilize terrain. It is defined as a planar product manufactured from a polymeric material that is used with soil, rock, or other geotechnical-related material as an integral part of a civil engineering project, structure, or system. They are generally polymeric products used to solve civil engineering problems. These are manufactured synthetic materials that are used for a wide range of engineering applications. This includes eight main product categories: geotextiles, geogrids, geonets, geomembranes, geosynthetic clay liners, geofoam, geocells, and geocomposites.
Geosynthetics can be defined as planar products manufactured from a polymeric material, used together with soil, rock, or other geotechnical engineering-related material as an integral part of a man-made project, structure, or system.
The polymeric nature of the products makes them suitable for use in the ground where high levels of durability are required. Most geosynthetics are made from synthetic polymers of polypropylene, polyester, or polyethylene. They can also be used in exposed applications. Geosynthetic products available today include, but are not limited to, geowebs, geogrids, geonets, geomeshes, geocomposites, and geotextiles.
Geosynthetics are available in a wide range of forms and materials. A geocomposite consists of a combination of one or more geosynthetics, specifically a geogrid, a geotextile, a geomembrane, and/or a geonet, with another material. These products have a wide range of applications and are currently used in many civil, geotechnical, transportation, geoenvironmental, hydraulic, and private development applications including roads, airfields, railroads, embankments, retaining structures, reservoirs, canals, dams, erosion control, sediment control, landfill liners, landfill covers, mining, aquaculture and agriculture.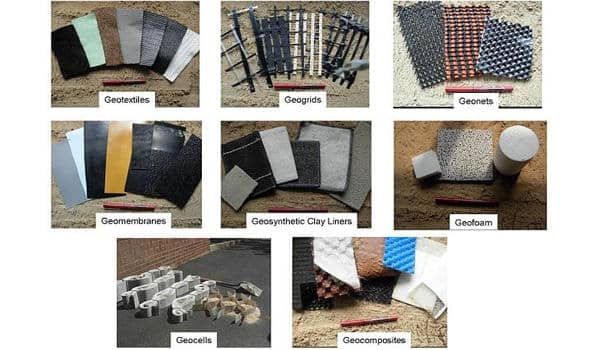 Advantages
The manufactured quality control of geosynthetics in a controlled factory environment is a great advantage over outdoor soil and rock construction.
Relatively low cost for many applications.
The low thickness of geosynthetics, as compared to their natural soil counterparts, is an advantage insofar as lightweight on the subgrade, less airspace used, and avoidance of quarried sand, gravel, and clay soil materials.
A wide variety of geosynthetic products are available to meet specific needs.
The ease of geosynthetic installation is significant in comparison to thick soil layers (sands, gravels, or clays) requiring large earthmoving equipment.
Disadvantages
Long-term performance of the particularly formulated resin being used to make the geosynthetic must be assured by using proper additives including antioxidants, ultraviolet screeners, and fillers.
Effectiveness may be reduced drastically if the geosynthetic is not properly selected, designed, or installed.
The exposed lifetime of geosynthetics, being polymeric, is less than unexposed as when they are soil backfilled.
Many geosynthetics are sensitive to light degradation and must be protected prior to installation.
Clogging or bioclogging of geotextiles, geonets, geopipe, and/or geocomposites is a challenging design for certain soil types or unusual situations.
Handling, storage, carrying, and installation must be assured by careful quality control and quality assurance.
Information Source: