Phenylboronic acid, also known as benzeneboronic acid, is a boronic acid that is derived from a boronic acid. It is written as PhB(OH)2, where Ph is the phenyl group C6H5–. It comes in the form of a white powder and is widely utilized in organic synthesis. Boronic acids are moderate Lewis acids that are stable and easy to work with, making them useful in organic synthesis. Phenylboronic Acid is a chemical substance that is utilized in the organic synthesis of a variety of pharmaceuticals.
Sugars and other diol compounds can be bound by phenylboronic acid (PBA) and its derivatives to produce cyclic boronate esters. Most polar organic solvents are soluble, while hexanes and carbon tetrachloride are insoluble. The molecular symmetry of this planar molecule is idealized C2V. Negative charges are present in these esters. Sugars can be identified via electrochemical and optical methods as a result of this reaction.
The boron atom has an unfilled p-orbital and is sp2-hybridized. Hydrogen bonding is used to produce units made up of two molecules in orthorhombic crystals. An extended hydrogen-bonded network is created by combining these dimeric particles. The molecule is planar, with a slight bend of 6.6° and 21.4° around the C-B bond for the two PhB(OH)2 molecules, respectively. Reagentless electrochemical sensors have been built using PBA modified electrodes. PBA is absorbed as a self-assembled monolayer film or a polymer thin film on the electrode surface.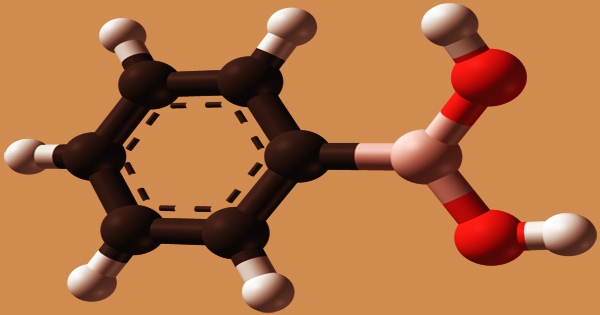 Phenylboronic acid can be made in a variety of ways. The ester PhB(OMe)2, which is subsequently hydrolyzed to the product, is formed by combining phenylmagnesium bromide with trimethyl borate.
PhMgBr + B(OMe)3 → PhB(OMe)2 + MeOMgBr
PhB(OMe)2 + H2O → PhB(OH)2 + MeOH
PBA is modified with a chromophore that should change its characteristics when reacting with sugar for optical detection methods for sugar detection. Electrophilic borates are used to trap phenylmetal intermediates from phenyl halides or from directed ortho-metalation in other methods to phenylboronic acid. Phenylsilanes and phenylstannanes react with BBr3 to produce phenylboronic acid, which is then hydrolyzed.
Transition metal catalysts can be used to combine aryl halides or triflates with diboronyl reagents. Transition metal catalysts can also be used to functionalize aromatic C-H. The coupling process can also be carried out in the water because this phenylboronic acid is water-soluble. Many organic substituents, such as esters, ketones, alcohols, and others, are compatible with Grignard reagents, allowing them to be used in coupling processes.
Boronic acids are dehydrated to produce boroxines, which are the trimeric anhydrides of phenylboronic acid. Phenylboronic acid is used as a source of a phenyl group in a variety of cross-coupling processes. Phenylboronic acid is frequently used as a reagent in C-C bond formation procedures. The uncatalyzed reaction of alpha-ketoacids, amines, and phenylboronic acid can yield alpha-amino acids. Phenylboronic acid and alkenes and alkynes have been shown to have Heck-type cross-coupling.
Polyol substances such as saccharides and poly(vinyl alcohol) form complexes with phenylboronic acid and its derivatives. Using phenylhoronic acid as a ligand for target glucose, glucose-sensitive hydrogels may be made. Phenylboronic acid can also be used to make aryl azides and nitroaromatics. Using aqueous bromine, chlorine, or iodine, phenylboronic acid can be regioselectively halodeboronated:
PhB(OH)2 + Br2 + H2O → PhBr + B(OH)3 + HBr
Copolymerization of 4V-vinyl-2-pyrrolidone (NVP) with 3-(acrylamide)phcnylhoronic acid yielded a copolymer containing phenylboronic acid (PBA) molecules. Because the complexes between the NVP-PBA copolymer and PVA decomposed in response to the glucose concentration, we were able to create glucose-sensitive insulin release systems. Boronic esters are formed when boronic acids and alcohols combine. The hydroxyl group is simply replaced by alkoxy or aryloxy groups in this transition.
Information Sources: