Thyroid Hormones
Definition
Thyroid hormones are vital to the growth and development of a fetus. Its chemical substances made by the thyroid gland, which is located in the front of the neck. The thyroid gland makes and releases two thyroid hormones: thyroxine (T4) and triiodothyronine (T3). Thyroid hormones affect every cell and all the organs of the body. Too much thyroid hormone speeds things up and too little thyroid hormone slows things down.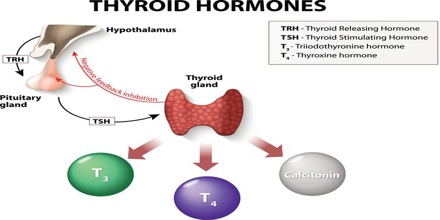 A deficiency of iodine leads to decreased production of T3 and T4, enlarges the thyroid tissue and will cause the disease known as simple goitre. The major form of thyroid hormone in the blood is thyroxine (T4), which has a longer half-life than T3. In humans, the ratio of T4 to T3 released into the blood is between 14:1 and 20:1. T4 is converted to the active T3.
Thyroid stimulating hormone (TSH), which is produced by the pituitary gland, acts to stimulate hormone production by the thyroid gland. The pituitary gland is stimulated to make TSH by the hypothalamus gland in the brain.
Production and Functions of Thyroid Hormons
The production of thyroid hormones is based on the organization of thyroid epithelial cells in functional units, the thyroid follicles. A single layer of polarized cells forms the enveloppe of a spherical structure with an internal compartment, the follicle lumen. Thyroid hormone synthesis is dependent on the cell polarity that conditions the targeting of specific membrane protein, either on the external side of the follicle or on the internal side and on the tightness of the follicle lumen that allows the gathering of substrates and the storage of products of the reactions.Thyroid hormone secretion relies on the existence of stores of pre-synthetized hormones in the follicle lumen and cell polarity-dependent transport and handling processes leading to the delivery of hormones into the blood stream.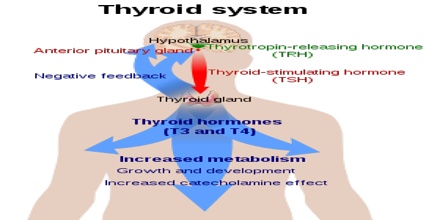 Thyroid hormones affect every cell and all the organs of the body. They:
Regulate the rate at which calories are burned, affecting weight loss or weight gain.
Can slow down or speed up the heartbeat.
Can raise or lower body temperature.
Influence the rate at which food moves through the digestive tract.
Control the way muscles contract.
Control the rate at which dying cells are replaced.
However, the thyronamines function via some unknown mechanism to inhibit neuronal activity; this plays an important role in the hibernation cycles of mammals and the moulting behaviour of birds. One effect of administering the thyronamines is a severe drop in body temperature.
Reference: