Hurricane Ida, one of the most violent storms ever to strike the United States, has claimed its first fatality. New Orleans has already experienced power outages as a result of the storm. Winds gusting to 230 km/h (150 mph) have blown roofs off houses and caused the Mississippi River to flow backward.
According to the Ascension Parish Sheriff's Office, the first death was recorded in Prairieville, a Baton Rouge suburb, and is thought to have been caused by a falling tree.
Ida is the fifth-strongest storm to ever hit the United States, making landfall on August 29, exactly 16 years after Hurricane Katrina destroyed Louisiana and Mississippi. Ida began as a category 4 storm, but as it moved inland, it was downgraded to category 2 storms with maximum winds of 165 km/h (105 mph). Despite not being as powerful as Katrina, which was a category 5 hurricane, Ida's storm surge (the rise in sea level caused by a storm) is projected to be exceedingly dangerous at 4.5 meters (15 feet), according to the National Hurricane Center.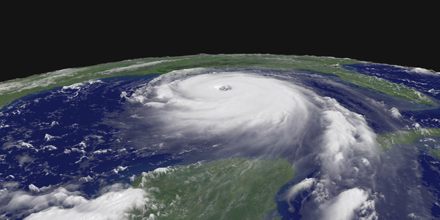 Ida will put the hurricane precautions put in place in Louisiana following Katrina to the test. Back in 2005, the levees burst, resulting in 1,836 deaths and $125 billion in damages. Fortunately, the levees have held up thus far.
"Since Hurricane Katrina, there has been a significant investment in this system. This will be the system's most severe test. However, we believe that system will hold, and that system's overall integrity will be able to endure the storm surge," Louisiana Governor John Bel Edwards told CNN.
Due to power outages affecting around 1 million people, New Orleans is currently relying on generators for power. Power is essential for hospitals, which are already under stress because of COVID-19, as well as pumps that remove water from the streets. With severe rain predicted, this will most likely be critical.
Hurricane Ida went from a few thunderstorms to a monster hurricane in just three days, leaving no time to prepare a mandatory evacuation of the city. The hurricane season in the United States is starting earlier and lasting longer than ever before, with storms that is stronger and more unpredictable. Storms are becoming more severe as a result of climate change, but forecasting them is becoming more difficult.
On average, the Gulf of Mexico is currently several degrees hotter than it was just a few decades ago. Storms become more intense as a result of the increased heat from the ocean. Greater moisture is held in hotter air, resulting in more precipitation during the storm.
President Biden signed the Louisiana Emergency Declaration before Ida's arrival, pledging that the country whole might be behind any rescue and recovery efforts.