Definition –
Agate /ˈæɡət/ belongs to the quartz family, which makes it a popular crystal for healing, especially due to its composition of silicon dioxide, a mineral that is also found in the human body. It is a common semiprecious silica mineral, a variety of chalcedony that occurs in bands of varying color and transparency.
Agates are primarily formed within volcanic rocks and metamorphic rocks. These stones have been seen to have dated back as far as Ancient Greece, however, with their mediocre durability, their every day uses are most commonly as decorations or jewelry.
Agate has a dreamy quality with signature bands made up of mineral deposits layered in a perfectly circular symmetry around its circumference. A combination of igneous rock with silica deposits found in groundwater, the otherworldly bands give this semi-precious stone its trademark appearance. What gives the Agate stone its incredibly powerful grounding abilities is its availability in different colors, including a palette of white, purple, black, gray, yellow, pink, red, and brown.
History: The stone was given its name by Theophrastus, a Greek philosopher and naturalist, who discovered the stone along the shoreline of the river Achates (Ancient Greek: Ἀχάτης) in Sicily, sometime between the 4th and 3rd centuries BC. Colorful agates and other chalcedonies were obtained over 3,000 years ago from the Achates River, now called Dirillo.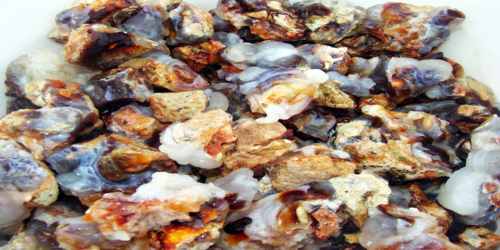 Occurrence –
Historically, Agate has been discovered with the artifacts of Neolithic people and was used as healing amulets and ornamentation dating back to Babylon. Its medicinal uses continued through the ancient Greek and Egyptian civilizations and spread throughout Africa and the Middle East into Russia. Agate sparked a world renowned stonecutting and polishing industry in Germany that flourished from the 15th to the 19th century and exists today.
Agate is found throughout the world. In the United States (US), it is produced in several western states; Oregon, Washington, Idaho, and Montana are the chief sources of gemstones. Most agates occur in cavities in eruptive rocks or ancient lavas. These agates have a banded structure, successive layers being approximately parallel to the sides of the cavity. It is probable that they have been formed as follows.
Metaphysically, Agate has a lower intensity and vibrates to a slower frequency than other stones, but is highly regarded as a stabilizing and strengthening influence. The layered bands of microscopic quartz in Agate may appear delicate, they are actually very strong. Agate is excellent for balancing emotional, physical and intellectual energy, and in harmonizing yin and yang, the positive and negative forces of the universe.
The agate-working industry grew up centuries ago in the Idar-Oberstein district of Germany, where agates were abundant. After 1900 most agates were supplied by Brazil and Uruguay. Most commercial agate is artificially stained so that stones unattractive because of their dull gray tints become valuable for ornamental purposes.
Formation and Characteristics of Agate –
Agate minerals have the tendency to form on pre-existing rocks, creating difficulties in accurately determining their time of formation. Their host rocks have been dated to have formed as early as the Archean Eon. Agates are most commonly found as nodules within the cavities of volcanic rocks. These cavities are formed from the gases trapped within the liquid volcanic material forming vesicles.
During cooling of the lava, steam and other gases form bubbles. The bubbles overtaken by solidification are frozen in, forming cavities. Long after the rock has solidified, water carrying silica in solution, probably as alkali silicate penetrates into the bubble and coagulates to a silica gel. Soluble components of the iron-bearing rock diffuse into the silica gel and produce the regular layers of iron hydroxide. Finally, the whole mass gradually hardens with loss of water and crystallization of much of the silica as quartz or chert. During crystallization, the colored bands are not disturbed. Varieties of agate are characterized by peculiarities in the shape and color of the bands, which are seen in sections cut at right angles to the layers.
In rib and agate, the bands appear as straight lines in cross-section. Such agate, with white bands alternating with bands of black, brown, or red, is called onyx. A ring or eye agate has concentric circular bands of different colors.
The priming layer are often dark green in coloration but can be reduced by iron oxide emitting a rust-like appearance. Agate is a very durable mineral and therefore is often seen detached from its eroding matrix, once removed, the outer surface is usually pitted and rough from filling the cavity of its former matrix. Agates have also been found in sedimentary rocks, normally in limestone or dolomite; these sedimentary rocks require cavities often from decomposed branches or other buried organic material. If silica-rich fluids are able to penetrate into these cavities agates can be formed.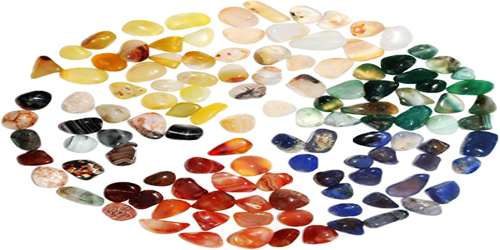 Types of Agates –
The world of agates is a facinating and ever-evolving places. There are hundreds, if not thousands of types of agates. They are found around the world. They bring wonder and magic to the planet with their swirls of color bands.
A Mexican agate, showing only a single eye, has received the name of cyclops agate. Included matter of a green, golden, red, black or other color or combinations embedded in the chalcedony and disposed of in filaments and other forms suggestive of vegetable growth, gives rise to dendritic or moss agate. Dendritic agates include fern-like patterns formed due to the presence of manganese and iron oxides. Other types of included matter deposited during agate-building include sagenitic growths (radial mineral crystals) and chunks of entrapped detritus (such as sand, ash, or mud).
Occasionally agate fills a void left by decomposed vegetatable material such as a tree limb or root and is called limb cast agate, due to its appearance. Enhydro agate contains tiny inclusions of water, sometimes with air bubbles.
Blue Lace Agate has a soft, soothing elegance; like sky-blue waters released from winter's grasp. Its graceful, circular design has a stimulating, positive effect on emotions and attitude. It is not a stone of protection, but rather of encouragement and support. Its circular flowing energy calms, uplifts and elevates.
Crazy Lace Agate is called the Laughter Stone, or "Happy Lace." It is associated with sunny Mexican fiestas and dancing, and brings joy to those who wear it. It is not a stone of protection, but of support and encouragement, elevating thoughts and promoting optimism. Its graceful design, in random lacy patterns, creates a circular flow of energy, stimulating for the mind and attitude.
Dendritic Agate is known as the Stone of Plentitude. It brings abundance and fullness to all areas of life, from business to agricultural endeavors. It was associated with the ancient Greek dryads, woodland and tree spirits, and was buried in the fields at the time of sowing to insure a good harvest.
Coldwater agates, such as the Lake Michigan Cloud Agate, did not form under volcanic processes, but instead formed within the limestone and dolomite strata of marine origin. Like volcanic-origin agates, Coldwater Agates formed from silica gels that lined pockets and seams within the bedrock. These agates are typically less colorful, with banded lines of grey and white chalcedony.
Throughout history and all cultures, Moss Agate has been known as the crystal of gardeners and agriculture. It was considered a miraculous healing stone for tribal priests of the past, giving them power to interact with our human organic system, and was used as a talisman to make warriors strong and victorious.
Other forms of agate include Holley blue agate (also spelled "Holly blue agate"), a rare dark blue ribbon agate only found near Holley, Oregon; Lake Superior agate; carnelian agate (has reddish hues); Botswana agate; plume agate; condor agate, tube agate (with visible flow channels or pinhole-sized "tubes"); fortification agate (with contrasting concentric banding reminiscent of defensive ditches and walls around ancient forts); Binghamite, a variety found only on the Cuyuna iron range (near Crosby) in Crow Wing County, Minnesota; fire agate (showing an iridescent, internal flash or "fire", the result of a layer of clear agate over a layer of hydrothermally deposited hematite); and Patuxent River stone, a red and yellow form of agate only found in Maryland, where it is the state gem.
Uses and Benefits of Agate –
Agate is one of the most common materials used in the art of hardstone carving, and has been recovered at a number of ancient sites, indicating its widespread use in the ancient world; for example, archaeological recovery at the Knossos site on Crete illustrates its role in Bronze Age Minoan culture.
Industrial uses of agate exploit its hardness, ability to retain a highly polished surface finish and resistance to chemical attack. It has traditionally been used to make knife-edge bearings for laboratory balances and precision pendulums, and sometimes to make mortars and pestles to crush and mix chemicals. It has also been used for centuries for leather burnishing tools. The decorative arts use it to make ornaments such as pins, brooches or other types of jewelry, paper knives, inkstands, marbles, and seals.
Compared to other gemstones in the mineral kingdom, Agate properties radiate a lower, more gentle frequency, which makes them an ideal piece for someone looking to slow down and get centered. Agate's soothing and stress-relieving properties help people connect with the energy of the Earth by bringing harmony to their mind, body, and spirit. When they feel unbalanced, Agate healing properties have soft vibrations that can recalibrate and realign them.
Agate is also still used today for decorative displays, cabochons, beads, carvings, and Intarsia art as well as face-polished and tumble-polished specimens of varying size and origin.
Agate stops the burning desires for things we do not need and assists those juggling commitments or multiple jobs. It helps writers express ideas in marketable form, and helps young children learn to walk and not fall as they get older. Agate also promotes marital fidelity. It is useful as a protection amulet when traveling, and is especially effective against traffic accidents.
Information Sources: